EVENT: Into the Oval at Formula DRIFT Round 4
The Formula Drift circus made its final East Coast stop at the short oval track known as Wall Speedway for Round Four of the 2011 Pro Championship. Many teams refer to New Jersey as "home turf," but which would be able to ride the banking to take home a trophy? Let's kick off the weekend's coverage with a stroll through the paddock and coverage of Friday practice.
This year's paddock was noticeably less crowded than prior events. Tanner Foust's retirement from the series was part of it, but Rhys Millen was also absent. He and his Red Bull Hyundai team were off to Pikes Peak for some serious hill climb action. Above, you can see Charles Ng's Mazda RX-7 looking somewhat lonely during load-in.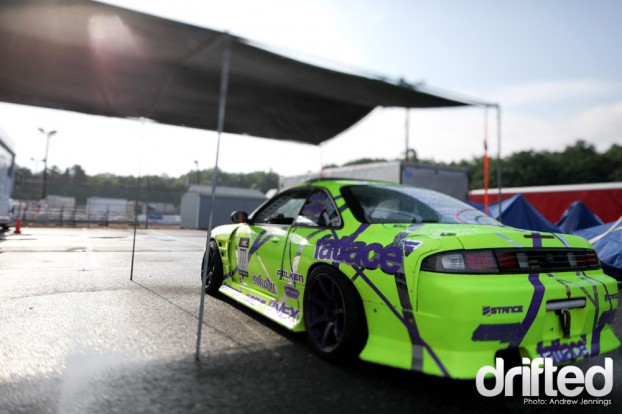 I'll take this opportunity to note that I brought along the Canon TS-E 24mm tilt-shift lens to the event. In some photos, like this one of Matt Field's Fatlace Nissan S14, you'll see the "reverse tilt" effect that draws a thin focus line across the image, making it look almost miniature. It was a fun lens to experiment with and I'm pleased with the result, but let us know what you think in the comments.
South African rookie Otto Graven also brought his sick looking Nissan 350Z to Jersey. It was his only his third event, but his skills seem to be growing quickly as he hangs around the experienced American pros.
After a quick paddock walk, it was time to check out the track. An overnight rain storm had left it a bit damp, but the track officials were already hard at work drying it out. This involved a blue truck dragging a gigantic tire around the tarmac, spreading the water out so the sun could evaporate it.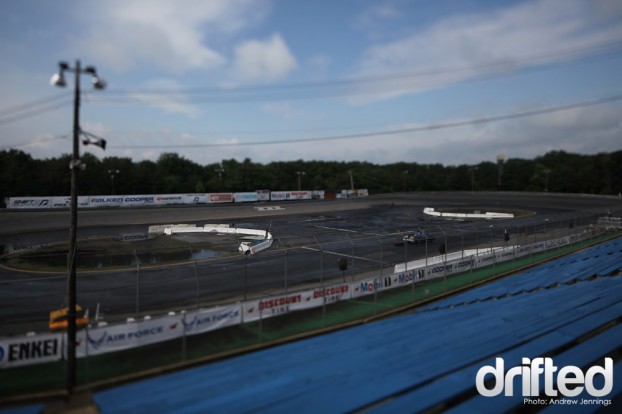 As this photo shows, there isn't a bad seat in the house. It's great for the fans, allowing them to view the entire lap from fairly close up. Check out my intro from last year for more on a lap of Wall.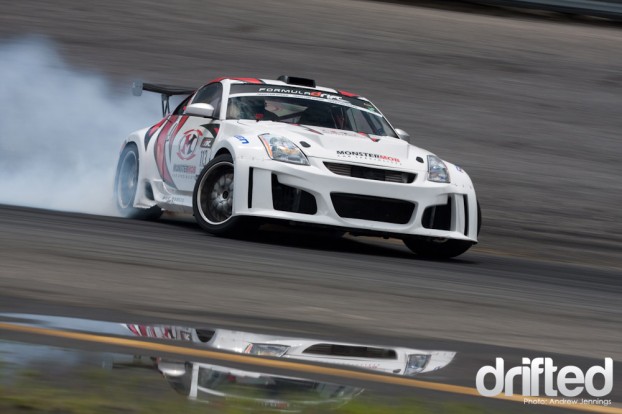 When practice began there was still some standing water on the track. It was far enough off of the main racing line that it did not affect any of the cars. At the right angle, the H2O made for some sweet reflections in photos though. Here Otto Graven gets familiar with the long rear sweeper.
Joon Maeng in the Bergenholtz Racing Nitto Mazda RX-8 was feeling good throughout the weekend too. I caught up with Joon on Saturday to discuss his season so far. Despite a rough start, he was still as optimistic as ever about the race. The team was working hard to support him, and he mentioned that they replaced the rear differential after qualifying. We'll see if Wall was the turning point for him when we get into the Top 32 competition soon.
Hachi rokus have traditionally struggled at Wall. Their short wheelbase can be tricky to pilot through the banked first turn. John Russakoff in the JSP Megan Racing AE86 was looking very collected though, overshadowing his teammate Taka Aono with faster speeds at each of the clipping points.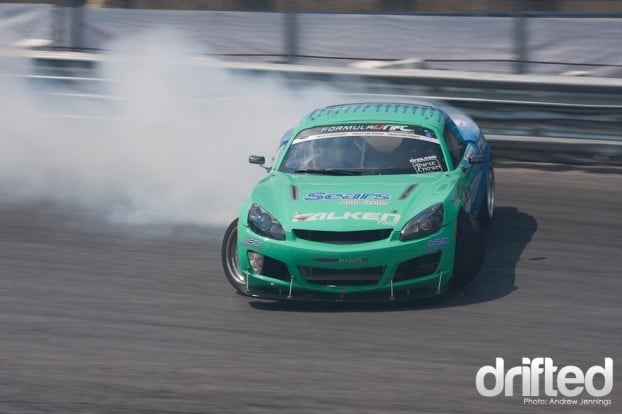 Irish drifting ace Darren McNamara has always been at his best in a short wheelbase car. His Falken Tire Saturn Sky had some of the sickest angles through the bank. I thought his crash last year might have given him some hesitation about the track, but he wasn't afraid to ride the metal railing all day long.
Dean Kearney had plenty of power to get his V-LEDS Federal Tire Dodge Viper sideways, but struggled with the track's right-left transitions. Here he practices flicking the car through the flat middle section of the figure eight.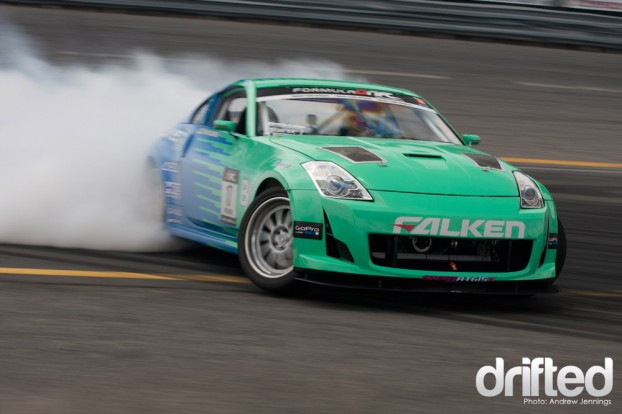 The new, hard topped Falken Tire Nissan 350Z seemed to suit Tyler McQuarrie just fine. After practice I asked him about his thoughts on this chassis vs. the old roadster. It might seem obvious, but he appreciated the increased visibility. In the convertible, the tire smoke would fill the cabin and stick around for the whole lap, partially obscuring his view ahead. The coupe doesn't have this annoyance and still looks just as cool lighting up the rear rubber.
Friday's practice session didn't see a lot of tandem action. Many of the drivers took it easy, leaving a gap to the car in front of them so they could work on their line before attempting a close follow run. The Team Need for Speed duo don't know the meaning of the term "take it easy" and gave the fans a great side by side showing. It was Fredric Aasbo's first time in the oval and he it was easy to see his excitement through the sinister looking Simpson helmet.
That's all for now. Next up is qualifying, so keep it here with Drifted for more from Wall!
Andrew Jennings is a photographer and editorialist based out of Nashville, TN. He has been covering the American drift scene since 2007, and his work has been published in nationally syndicated magazines such as Modified Magazine, Import Tuner, Performance Auto and Sound, and RIDES. Andrew may be contacted through his professional online portfolio, or the social networks listed below.
Professional Portfolio: http://www.andrew-jennings.com