EVENT: FD Round 4 Qualifying Results
Qualifying for Round Four of the 2011 Formula Drift Pro Championship pitted a field of 35 drivers against Wall Stadium's unforgiving figure eight. With only two chances to lay down a solid run, the pressure was on to avoid being in the bottom three spots and make it into Saturday's main event. Find out who made it through, and who was left sidelined. Above, Ken Gushi roared through the course in his Scion Racing tC, placing 10th for the top 32 bracket.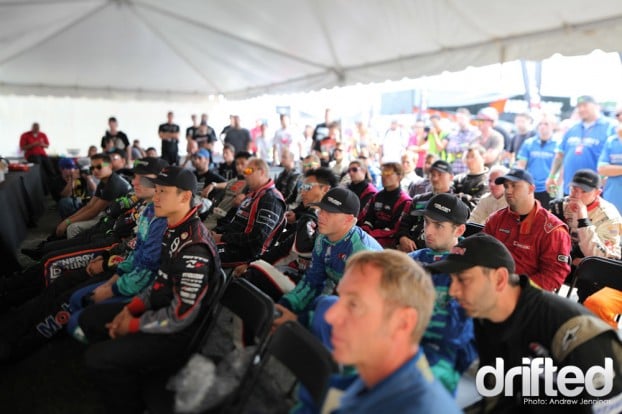 At the driver's meeting before qualifying, the competitors knew the drill. A little pep talk from the judges about driving hard, running close, blah blah blah. No big deal, right?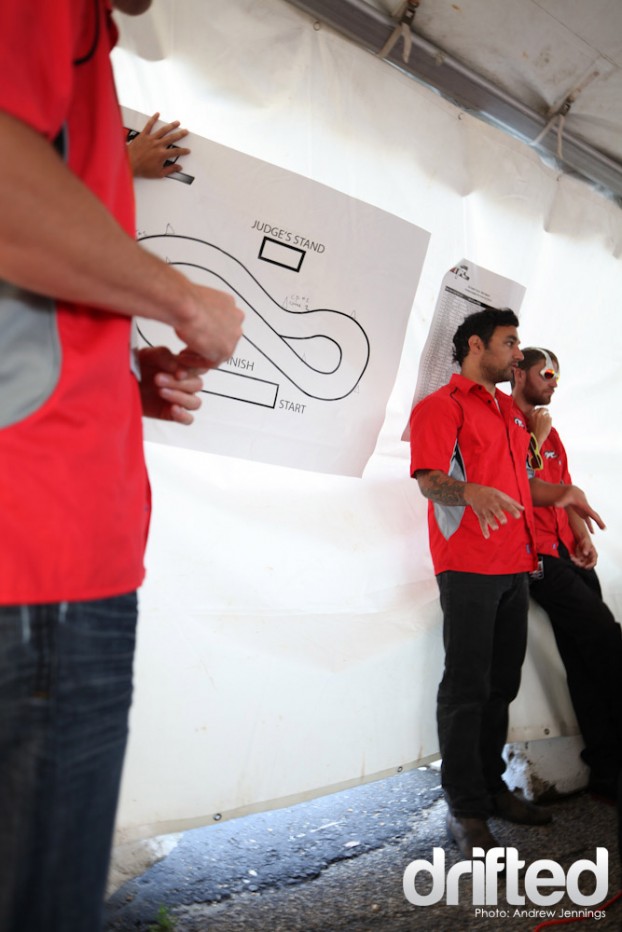 In fact, the judges made it clear that they were going to be as strict as ever with their scores. Some parts of the track were okay to take it easy through (rolling bumps they referred to as "whoops"), while other parts required a precise line and angle. Experienced drivers who knew the course layout didn't have much to worry about, but the judges wanted the rookies to step up and show the crowd what they were made of.
Even though the front decal on that car clearly says "Samuel Hübinette Racing," the man behind the wheel of the oreo-livery Dodge Challenger was actually Kenneth Moen. The Norwegian was granted driving duties while Sam was off to compete in the Traxxas TORC Series. Moen qualified a respectable 17th for his first time behind the wheel of the brutish muscle car.
Mike Essa in the GSR Autosport Nitto Tire BMW Z4 was not far behind, qualifying 19th. From where I stood, it looked like the car just wasn't dialed in for this course, very twitchy under braking and mid-corner throttle.
Toshiki Yoshioka is one competitor who seems to be better at tandem racing than qualifying. His sub 50mph speeds landed him down in 24th spot.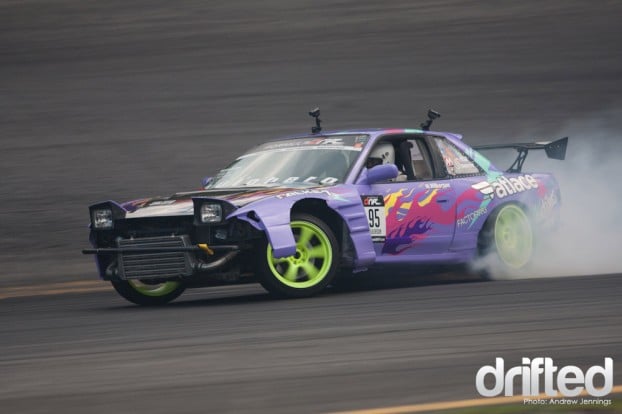 Anybody got some gaffer tape? During Walker Wilkenson's qualifying run he nailed the barrier, ripping off his front clip. Miraculously, he kept going to finish out his lap. His front fender was left hanging by a thread, lifting each time he got sideways in a corner. Formula 1 would call that active aerodynamics and probably frown upon it, but Formula Drift is open to all types of aero enhancements, intentional or accidental. His mangled car did cost him in qualifying, leaving him in 27th.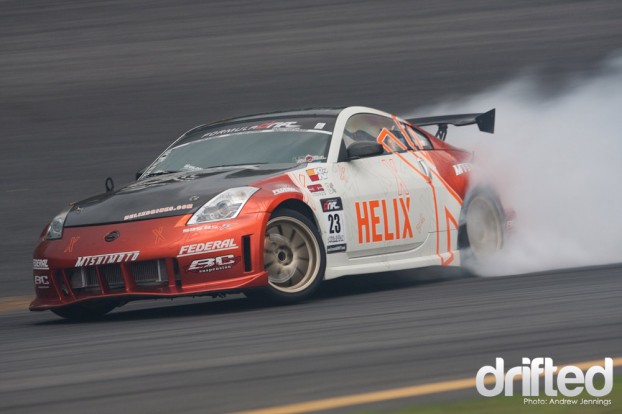 Matt "The Wolf" Waldin in the #23 Helix Energy Nissan 350Z qualified 20th, but lit up his tires as well as anyone. Just check out that cloud pouring through his rear bumper!
Championship points leader and round three winner Justin Pawlak was looking strong again in New Jersey. 7th place in qualifying set him up for a match with 26th seed Luke Lonberger in the first round of 32.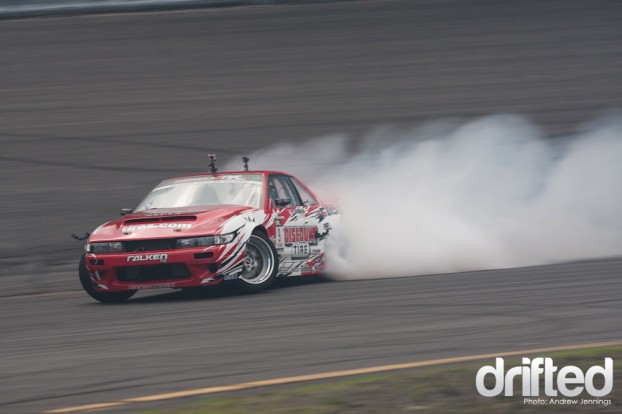 Daijiro Yoshihara showed that experience counts in New Jersey. The two time Wall winner qualified in third place for Sunday's main event.
Not to be outdone so easily by his Falken Tire teammates, Vaughn Gittin Jr. stepped it up and qualified second in the Monster Energy Ford Mustang. His angle across the banking was like a Gillette Proglide – totally smooth and right on the razor's edge.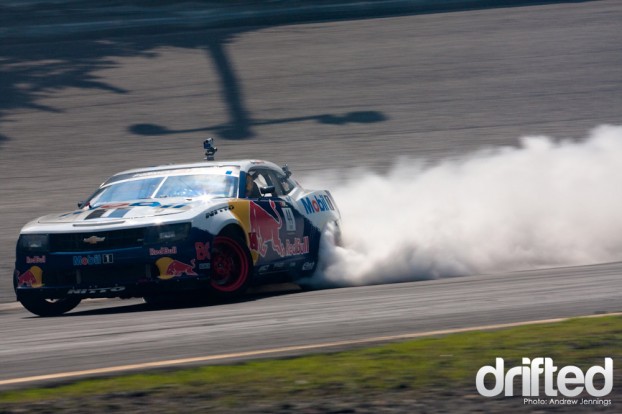 Hometown hero Ryan Tuerck took the top spot in this year's qualifying, hitting every clipping point and maintaining a high average speed throughout the course.
Below are the full qualifying results from Round Four. Out of the field of 35 entrants, only 31 successfully qualified for Saturday's race. That meant Tuerck would get a bye in the first round of top 32 competition. Was starting from the top 16 enough to vault him up to a podium? Stay tuned to find out.
Driver: Car# Score:
1 R. Tuerck #44 91.2
2 V. Gittin #1 89.2
3 D. Yoshihara #9 89
4 C. Grunewald #79 86.3
5 T. McQuarrie #17 85.9
6 C. Forsberg #64 84.2
7 J. Pawlak #13 83.9
8 J. Russakoff #85 81.5
9 R. Kado #614 81.4
10 K. Gushi #33 81.4
11 R. Petty #808 79.2
12 J. Maeng #51 78.2
13 O. Graven #113 76.7
14 K. Mohan #99 75.7
15 D. McNamara #8 74.6
16 M. Field #777 72.7
17 K. Moen #76 72.6
18 F. Aasbo #151 72.4
19 M. Essa #101 71.3
20 M. Waldin #23 69
21 O. Bakchis 68.9
22 C. Ng #84 68.6
23 E. O'Sullivan #35 67.6
24 T. Yoshioka #21 65.2
25 M. Powers #665 64.7
26 L. Lonberger #28 61.7
27 W. Wilkerson #95 61.7
28 D. Mertzanis #323 60.9
29 T. Aono #86 55.6
30 D. Kearney #43 53.2
31 J. Guthrie #27 27.9
Andrew Jennings is a photographer and editorialist based out of Nashville, TN. He has been covering the American drift scene since 2007, and his work has been published in nationally syndicated magazines such as Modified Magazine, Import Tuner, Performance Auto and Sound, and RIDES. Andrew may be contacted through his professional online portfolio, or the social networks listed below.
Professional Portfolio: http://www.andrew-jennings.com
Tags: 2011, 240SX, 350Z, 40D, 5D, 5D mark II, Andrew-Jennings.com, blog, BMW Z4, Camaro, Canon, canon 40D, Canon 5D Mark II, Challenger, Chevrolet, chevy, Daijiro Yoshihara, Dodge, Dodge Challenger, drift, drifted, drifted.com, Drifting, drivers meeting, EF 70-200mm f2.8L, Eos, Essa, Falken, Falken Tire, FD, Federal Tire, ford mustang, Formula D, Formula Drift, FormulaDrift, FormulaDrift.com, gittin, GSR Autosport, Gushi, Helix Energy, http://www.andrew-jennings.com, http://www.drifted.com, JR, judges, Just Pawlak, Ken Gushi, Kenneth Moen, Lonberger, Luke Lonberger, Matt Waldin, Mike Essa, motor racing, Motorsports, muscle car, mustang, New Jersey, Nissan 350Z, Nissan S14, Nissan S15, Nitto Tire, NJ, pawlak, photography, race, Racing, Round 4, Ryan Tuerck, Samuel Hubinette, Scion Racing, Scion tC, Team Falken, tire, tire smoke, Tony Angelo, Toshiki Yoshioka, Tuerck, USA, vaughn gittin jr, walker wilkerson, Wall, Wall Speedway, Wilkerson, Yoshihara, Yoshioka, Z, Z4