DRIVER BLOG: Nürburgring Roadtripping Part I
As we mentioned in our last update we were kindly invited to join the European Falken drift team at the Nürburgring for the N24 weekend festivities. A weekend of racing and drifting in front of huge crowds on the most dangerous and notorious circuit in the world, we didn't have to be asked twice! So after a busy week of putting the 1JZ engine back together in Matt's S14.5 after a bit too much rev limiter abuse we got packed up late on Wednesday night and loaded up the rig ready for it's cross-Europe journey.
You might notice above that Matt's car is sporting new aero, gone is the old Supermade kit from 2010 and in is a new Vertex kit courtesy of EPRacing. The Vertex kit suits the wing and aggressive stance a lot better I'm sure you'll agree.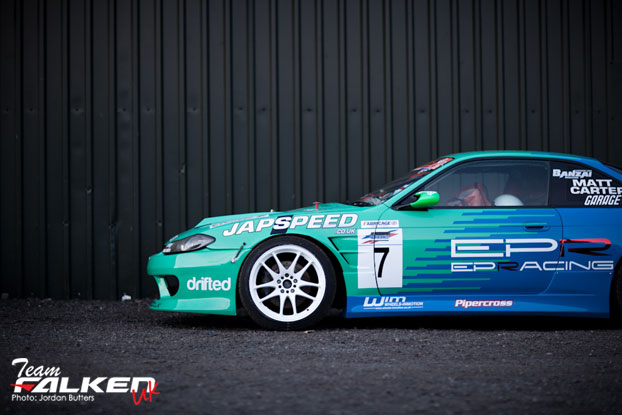 New overfenders complete the look, the old ones were slightly tired after a season of rubbing against competitor's doors!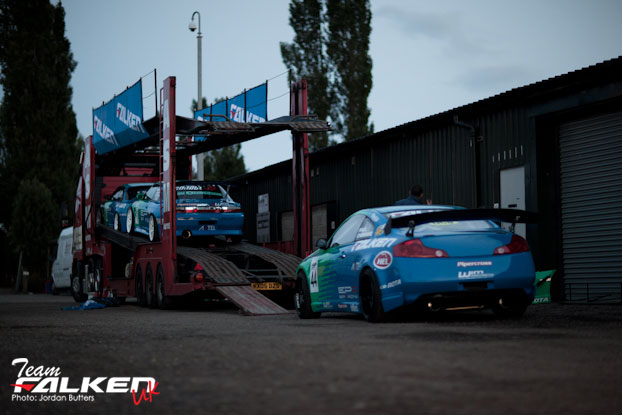 We grabbed the last few moments of light loading up the three-deck transporter that was to meet us at the Nürburgring. Of course Matt felt the need to decorate it with Falken banners! Can you spot the mistake on the top deck?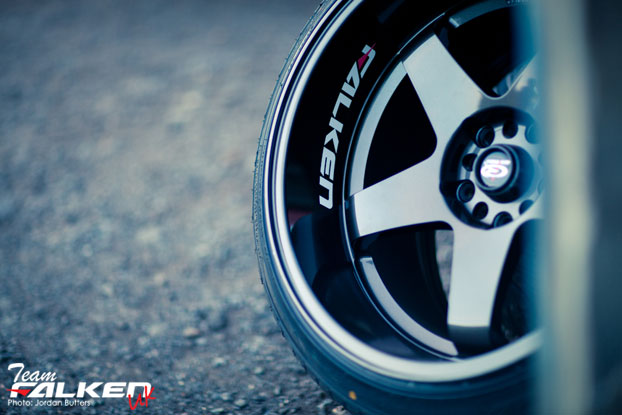 Along with the car we had to take any spares we thought we would need, naturally this meant wheels, such as the Rota GTR-D (18x12J!) above, but it also meant spare parts. As you may have gathered we aren't easy on our cars!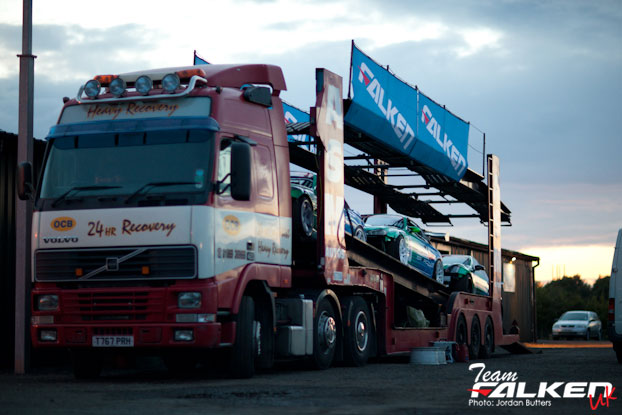 With everything loaded we waved goodbye to the cars. We told the driver to watch out for three Honda Civic Coupe's with green neons during the journey, praying that no-one tried a Fast 'n' Furious style heist on the transporter in transit!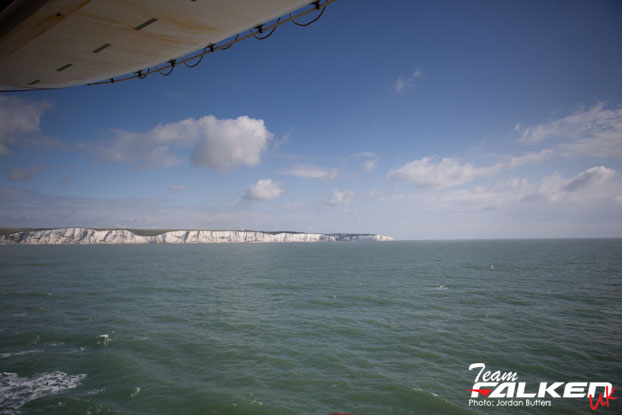 After a mad dash at 5am the next morning and with a minibus full of very bleary-eyed people we found ourselves on one of P&O's finest vessels on a very early morning crossing to Calais, France.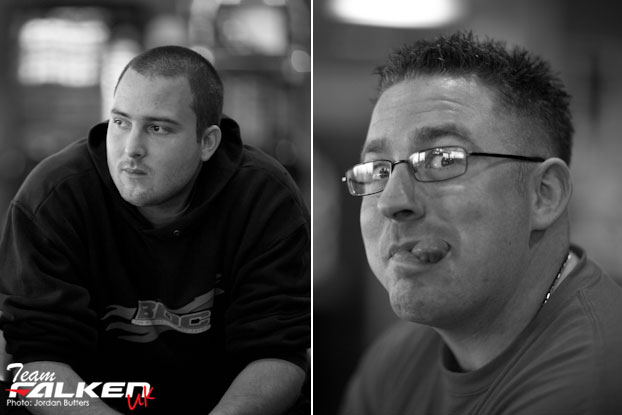 Matt contemplates the journey ahead whilst Alan, well, was busy being Alan.
France, Belgium and Holland all seemed to merge along one long motorway. If you think driving in Europe might be exciting and exhilarating, well it might be, just don't take the motorway from Calais to Germany, it'll drive you to despair.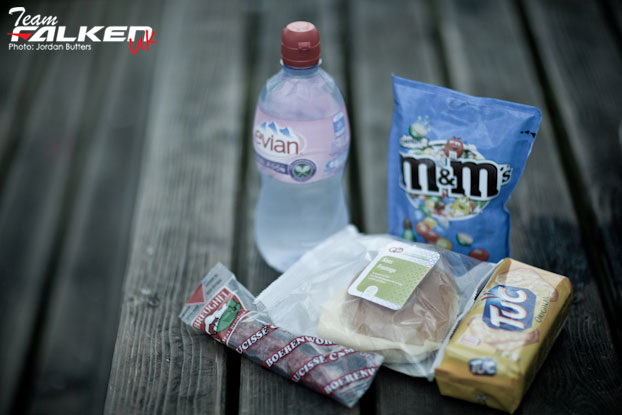 After a questionable lunch-break we were on German soil before you knew it! Germany, land of good beer, good sausage (please note, the sausage above is Belgian) and the Autobahn! If you aren't familiar with Autobahns they are long, wide, pretty straight, smooth sections of German motorway without speedlimits.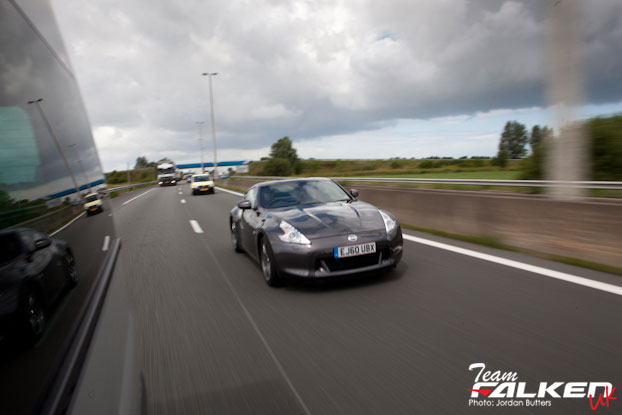 Sadly our van was limited to 62mph. So all we could do was watch whilst everyone else around us had their fun.
A swift departure from the Autobahn saw us heading along some pretty amazing winding roads up towards the 'Ring. Had the transporter been with us we'd have seriously had to fight the temptation to unload the cars and have a play on Das Touge. Before we knew it we were caught up in the frantic hustle and bustle of the N24 traffic!
We were to be accommodated in the 'FSZ' section of the circuit, which usually plays host to handling/skid pan type events. We spotted the flags and knew we had finally arrived, some 11hrs after setting off!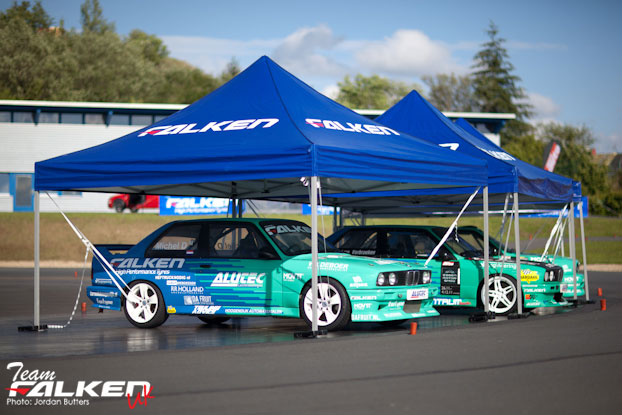 The European team had already arrived, set up camp and were unloaded ready for action, rather worryingly our transporter driver hadn't arrived yet and was somewhere in middle-Europe with our cars!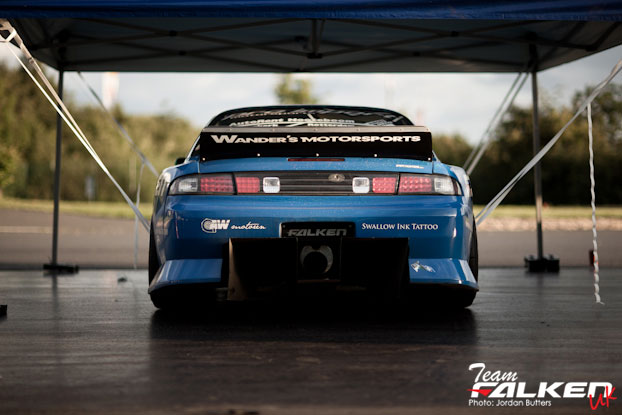 So we waited whilst the sun started to set over the beautiful Germany countryside.
Quite a substantial sigh of relief was heard when the truck finally rolled in the gate!
So we unloaded, parked up next to our hotels (note the Falken colour tents, the scoreboard is recording speed on the skidpan!) and enjoyed some of our European counterpart's fantastic hospitality…..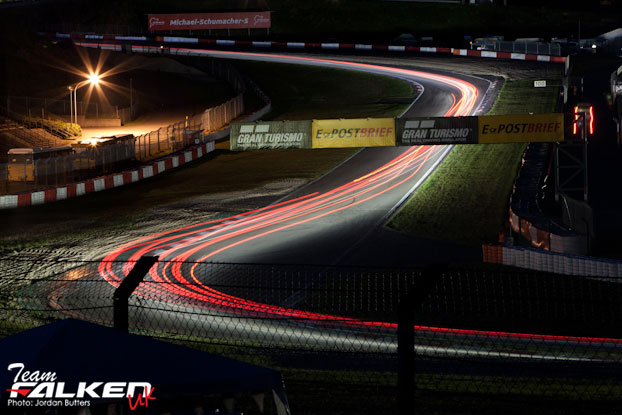 ….and took in night qualifying for Saturday-Sunday's 24hr race! If you get this chance you need to experience this!
In Part II we take to the Nürburgring GP Circuit for a 7-car Falken drift train in front of the N24 fans!