EVENT: FD Wall's Main Competition: Good Things Come To Those Who Wait
Wall Speedway's main competition was an all-out brawl. Round Four was the halfway mark of the season, and Justin Pawlak came into the event with a comfortable lead in the 2011 Formula Drift standings. Could anyone chase him down and close the gap? Follow the jump to find out!
The competition kicked off with some surprises right away. Vaughn Gittin Jr. was paired up with Jim Guthrie in the first round, and it seemed like the yellow FD would be no match for the Monster Energy Falken Tire Ford Mustang.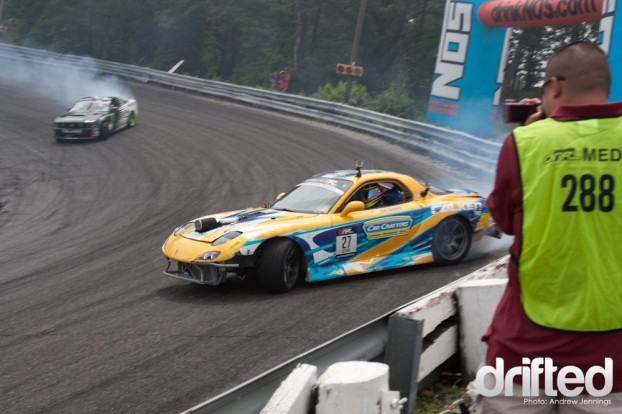 Guthrie spun on the first pass, giving Gittin an advantage with the judges. On their second pass shown in the photo above, Gittin held back and let Guthrie get a lead, avoiding any danger in case Guthrie spun again right in front of him. Guthrie didn't make any mistakes though, and put down a solid run. The judges felt Gittin's strategy had been playing it too safe, so they docked his points and asked for a One More Time (OMT) to settle it.
In the second attempt, Gittin was rock solid. He put down two sick runs to make up for his shortcoming and moved on to the next round.
Darren McNamara in the Falken Tire Saturn Sky took on Fredric Aasbo in the Team Need for Speed Scion tC for their first round match. McNamara has always loved the tight turns at Wall, exploiting Aasbo's inexperience in both car and track time. Aasbo made a lot of corrections in his line as he tried to follow the nimble Sky, losing the match while D-Mac advanced. Once he was out, Aasbo decided to pull a page from David Hobbs' book by heading up to the judges tower to co-announce with Jarod DeAnda. The Norwegian seemed to have fun, but I wouldn't recommend he quit his day job just yet.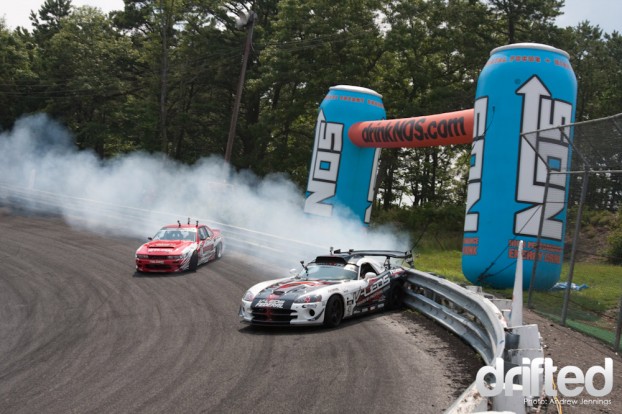 Further down the bracket, Daijiro Yoshihara got a front row seat with danger as Dean Kearney got into the wall. His love tap was one of the more minor injuries on the day as you'll see later on. The V-LEDS Federal Tire Dodge Viper escaped the corner, but Yoshihara would take the win to advance.
In the Top 16, Gittin found himself staring down the Irish invader McNamara. D-Mac had a moment of weakness during his lead run, straightening through the first transition. Gittin was once again flawless, keeping a close proximity to take the win.
Ken Gushi was the first to take on points leader Justin Pawlak in the top 16. Pawlak had been handed a bye in the first round when Luke Lonberger failed to get his car in working order. Although Gushi had good speed and a decent smoke screen, his line was far too shallow on the banking. Pawlak's more aggressive line was rewarded by the judges and he moved on.
Last year's Wall Speedway winner Daijiro Yoshihara had a similar experience with Kyle Mohan. Although Mohan had good speed, his line wasn't quite as close to the guard rails. With a little nudge to the clipping point board, Yoshihara went on to the Top 8.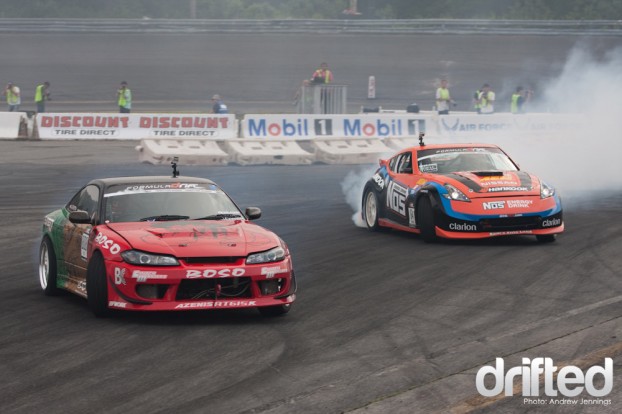 Ross Petty went up against Chris Forsberg in the last Top 16 battle of the day. As you can see, Forsberg had a lot more smoke and angle through his run. To make things worse, Petty spun at the end of their second run trying to keep up with the Nos Energy Drink Nissan 370Z. Chris moved on to the Top 8.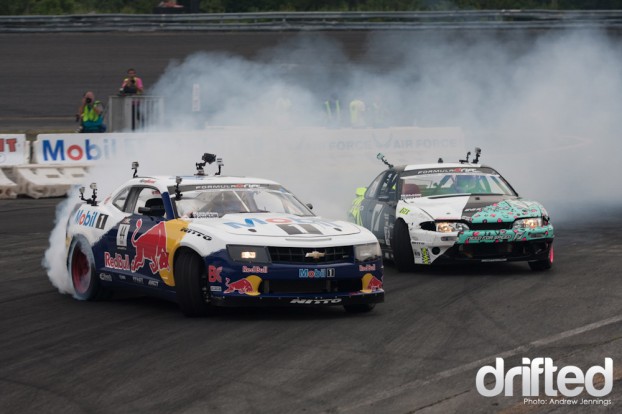 All of the action that has been mentioned so far was on the right half of the bracket. Back on Ryan Tuerck's side, things were going smoothly. His bye in the first round and easy win against Matt Field in the second elevated him to the Great 8 against Matt Powers. Powers was already driving a bruised car (what else is new?) from an earlier run in with John Russakoff. The Mobil 1 Gardella Racing Chevy Camaro laid down two perfect runs, and Tuerck continued his run into the Final Four.
Conrad Grunewald in the Hankook Tire Chevy Camaro was also cruising until he faced Tyler McQuarrie in their Top 8 match. McQuarrie tore through the course in their first run, gaining a sizable advantage with the judges. On the second run as the followed Grunewald, he looked flawless right up until the last corner. He couldn't hold it through the left hand sweeper though, looping the Falken Tire Nissan 350Z with only 20 feet to go. This handed the win to Grunewald, allowing him to advance to the Final Four.
The most exciting match of the night came next when Vaughn Gittin Jr. went up against Justin Pawlak. Those who attended the 2010 event will recall a similar match up. On that occasion it was Gittin who triumphed, but anything can happen in 2011. Gittin lead the first run, and Pawlak mirrored it perfectly like a green and blue shadow behind the black Mustang. Gittin's car began to feel the stress, and he needed to call a quick time out to let his engine cool down before their second pass. The battle resumed, and although I couldn't hear anything amiss with Gittin's V8, a gap formed between the two and Pawlak exited the final corner well ahead of his rival.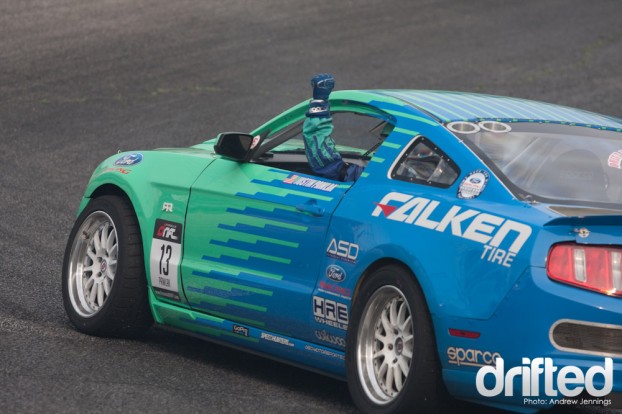 As Pawlak heard the news from the judges that he had beaten Gittin, he gave a fist pump to the crowd and did a quick burn out in celebration. If you were looking for a turning point in Pawlak's career, this was it. Overcoming his more experienced mentor boosted his confidence, and the points he gained will make him a tough man to reel in during the remaining rounds of the 2011 season.
The only remaining match of the Top 8 was between two of the fiercest Nissans in the field, Yoshihara's S13 and Forsberg's 370Z. As Yoshihara lead, Chris Forsberg got sucked up into the guardrail giving chase, slamming into the wall. His car looked like something out of the movie Hostel and I was sure that he wouldn't be able to continue.
His team was granted five minutes to fix the car. Two new wheels and some gaffer tape were enough to get the Nos Energy Drink Nissan 370Z back in business. Forsberg put up one more ditch effort, but it wasn't enough to overcome Yoshihara's advantage after their first go. Yoshihara moved on to the Final Four.
Ryan Tuerck went up against Conrad Grunewald in the first battle of the Final Four. The fans should have been treated to another sweet muscle car battle like Pawlak and Gittin, but one of the Camaros had other plans. Tuerck had a severe crash against the banking as he tried to lead the first run, damaging his car beyond repair.
When I say beyond repair, I mean like this. Not only did both of his left Enkei RP-F1 wheels get ripped in half, but the front mounting hub also come off with one! Five minutes would not have been enough to mend that mess.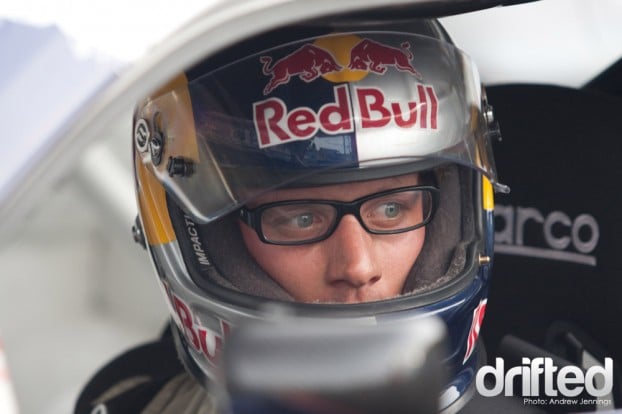 Tuerck was unhurt, but you can see from this shot that he was bummed about the crash. He chose to stay seated in his car while they hooked it up to the flat bed. In the end, he still earned some valuable points by making it to the Final Four. Grunewald on the other hand was assured a podium finish, a place he hasn't stood since 2005!
Pawlak and Yoshihara were left to decide the other man in the finals. After his win over Gittin, Yoshihara couldn't stop the charge of the Falken Tire Ford Mustang. The judges had a very tough one to call, but Pawlak's run caused Yoshihara to take some shallower lines as he tried to stay tight in the chase. This cost him points, and Pawlak moved on to the Final. Tuerck's car was out of the game, so there was no need for a consolation round. Yoshihara took third place, which is also his third podium of the year.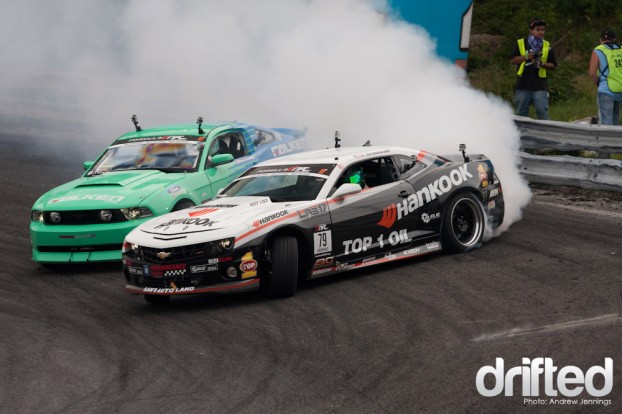 And then there two. Grunewald and Pawlak, mono y mono, Camaro vs. Mustang. If I were a betting man, I would have laid it down on Pawlak. Intially, his lines were just right: high on the banking with great speed to attack Grunewald.
Then, in the blink of an eye, it happened. The photo above illustrates Pawlak's mistake. In the flat, middle transition he straightened out and shallowed up his angle to try and draw closer to Grunewald for the last sweeper. Had the judges seen it?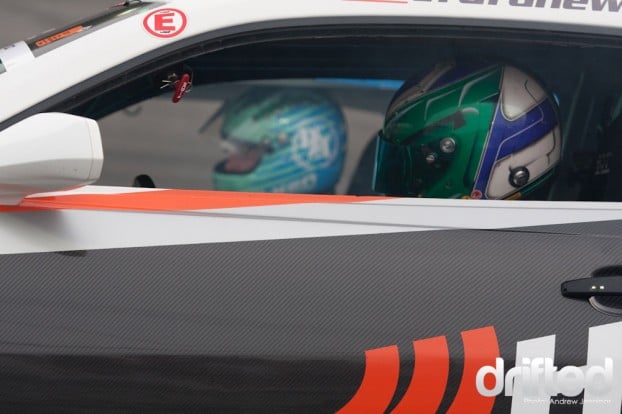 The moment before the winner was announced was tense. Both cars were called up in front of the fans to await the verdict.
By a score of 2 to 1, Grunewald took the victory in New Jersey. His face showed his joy with the well-deserved win. After racing for season after season, car after car, this one has been a long time coming, and that made it even sweeter.
Grunewald, Pawlak, and Yoshihara rounded out this year's podium at Wall Speedway. Pawlak's finish extends his points lead to 57 over Yoshihara, who now sits in second place above Darren McNamara.
Drink up boys, you've earned it!
The 2011 Formula Drift Pro Championship heads to Evergreen Speedway outside of Seattle on July 22, 23 for the next round. We hope you have enjoyed this coverage of the competition from Wall. Keep your browsers here with Drifted to see how the rest of the season shakes out!
Andrew Jennings is a photographer and editorialist based out of Nashville, TN. He has been covering the American drift scene since 2007, and his work has been published in nationally syndicated magazines such as Modified Magazine, Import Tuner, Performance Auto and Sound, and RIDES. Andrew may be contacted through his professional online portfolio, or the social networks listed below.
Professional Portfolio: http://www.andrew-jennings.com | Personal Blog
Tags: 2011, 240SX, 370Z, 40D, 5D, 5D mark II, Aasbo, Andrew Jennings, Andrew-Jennings.com, blog, Broken wheel, Camaro, Canon, canon 40D, Canon 5D Mark II, Chevrolet, chevy, Chevy Camaro, Chris Forsberg, Conrad Grunewald, crash, D Mac, Dai, Daijiro Yoshihara, Darren McNamara, Dean Kearney, Dodge Viper, drift, drifted, drifted.com, Drifting, EF 70-200mm f2.8L, Enkei RP-F1, Eos, Falken, Falken Tires, FD, Federal Tire, ford, ford mustang, Formula D, Formula Drift, FormulaDrift, FormulaDrift.com, Forsberg, Fredric Aasbo, Garage Boso, Gardella Racing, Gary Gardella, gittin, Grunewald, Gushi, Hankook, Hankook Tire, http://www.andrew-jennings.com, http://www.drifted.com, Jarod DeAnda, Jim Guthrie, JR, JTP, justin pawlak, Ken Gushi, Kyle Mohan, Matt Powers, mazda, Mazda RX-7, Mazda RX-8, Mazdatrix, McNamara, McQuarrie, Mobil 1, Mohan, Monster, Monster Energy Drink, motor racing, Motorsports, mustang, New Jersey, Nissan, Nissan 370Z, Nitto Tire, NJ, NOS, NOS Energy Drink, pawlak, Petty, photography, Powers, race, Racing, Red Bull, Ross Petty, Round 4, Ryan Tuerck, S13, s14, Saturn Sky, Scion Racing, Scion tC, Sky, SS, Team Need for Speed, tire, tire smoke, Tuerck, Tyler McQuarrie, USA, V-LEDs, Vaughn Gittin, vaughn gittin jr, Wall, Wall Speedway, Yoshihara, Z
Subscribe to Drifted
If you like this article why not subscribe to Drifted and we will email you our freshest content for free!