EVENT: Irish Drift Championship 2015: Mondello Park R1
For most people in Ireland, April brings a welcomed reprise from the bitterness of winter and a grand stretch in the evening. For the petrol heads who favour the smell of burning rubber tearing along at full lock, April sees the return of the Irish Drift Championship. Now into its 11th year, the paddock is once again filled with familiar faces in unfamiliar surroundings with fresh builds consuming much of the winter nights recently passed. With big builds and limited budgets, time constraints were prevalent and would see a number of top drivers scrambling to reach the grid on the Sunday. This season would see format changes to the competition layout. Gone is the Superlap format of the past, where drivers would have one make or break pass of the track to arrange the seeding of the Top 16 battles to come and gain valuable championship points. In its place, a Top 24 sudden death format is welcomed. The Top 8 from Qualifying would be safe and guaranteed a spot in the main show. The remaining 16 would battle it out for a place in the Top 16.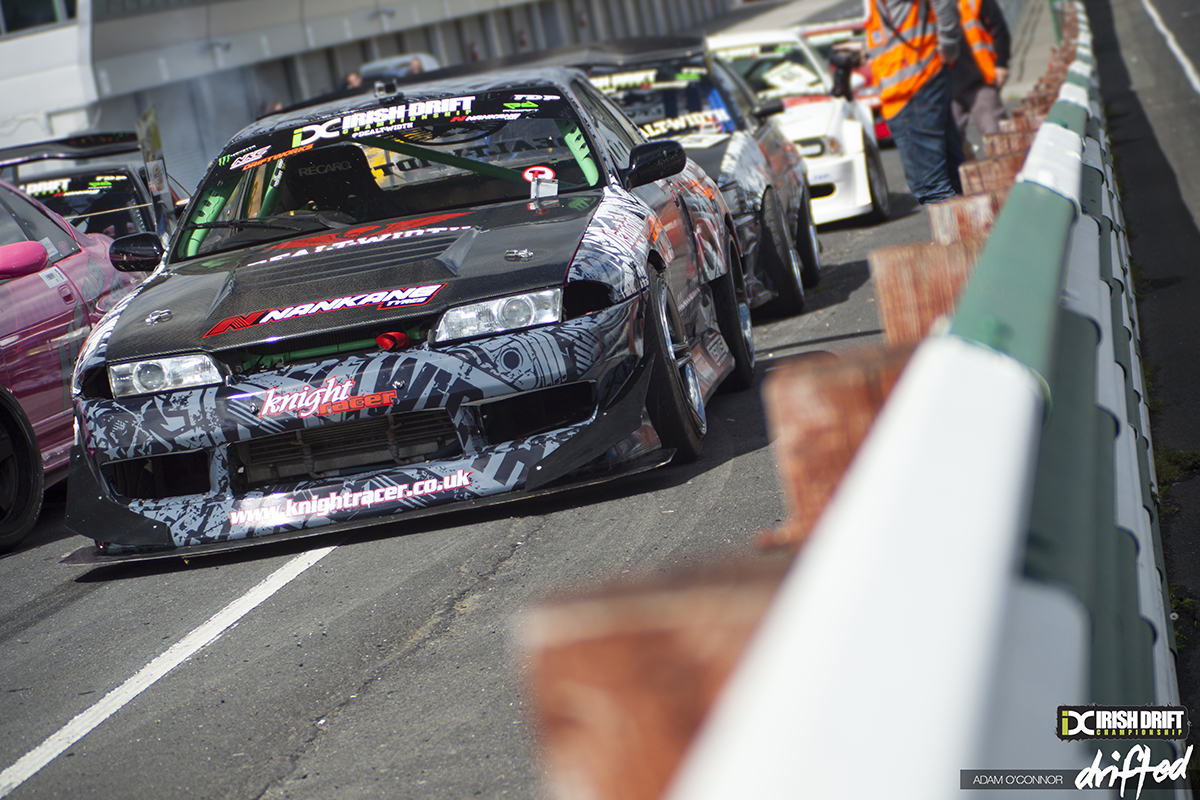 With 2014 being the most successful season for the Irish Drift Championship to date, head honcho, Dave Egan, has a clear vision in his mind of what 2015 will bring and is certainly set to top what has come.
Progression brings crowds and crowds bring sponsors. Team sponsors are now making up a large portion of the grid with the National Kart Centre, Team Dealtwidth, WKD Imports, Team, Hankook and more, running two or more cars in the Pro Championship.
Back with a new shell and new driver for the season, Low Brain Drifters and Luke Fink would join forces for 2015 taking on various rounds of the IDC and Drift Allstars. Fink has been to Ireland before on judging duty with the Drift Allstars but finally wanted to go toe-to-toe with the best drivers in Ireland. Facebook became a battle ground of a war-of-words days before the first wheel was turned in anger with Luke Fink, Nigel Colfer and many other drivers engaging in light-hearted ribbing and the occasional low blow, that would be settled on track come Sunday.
Low Brain Drifter boss Julian Barnes had only unveiled the new look Nascar V8 PS13 days before rolling into Mondello. Julian and Jordan had spent months rebuilding the car from the ground up putting in countless hours. Luke Fink has always operated on a go hard or go home motive behind the wheel and Friday practice would see Fink hit the wall hard due to the rear suspension coming apart after initiation making him a 'passenger' behind the wheel.
But in the spirit of Irish drifting, in stepped Pro driver Paul Murphy, Ciaran Synnott and MG Crash Repairs owner Mark Gaffney working tirelessly into the early hours of Saturday morning removing much of the front chassis and replacing it with items from a donor car. By Saturday afternoon, the only remnants of Saturdays off track excursion where the cable ties holding the Odyvia front end together, and a slightly squiffy nose job.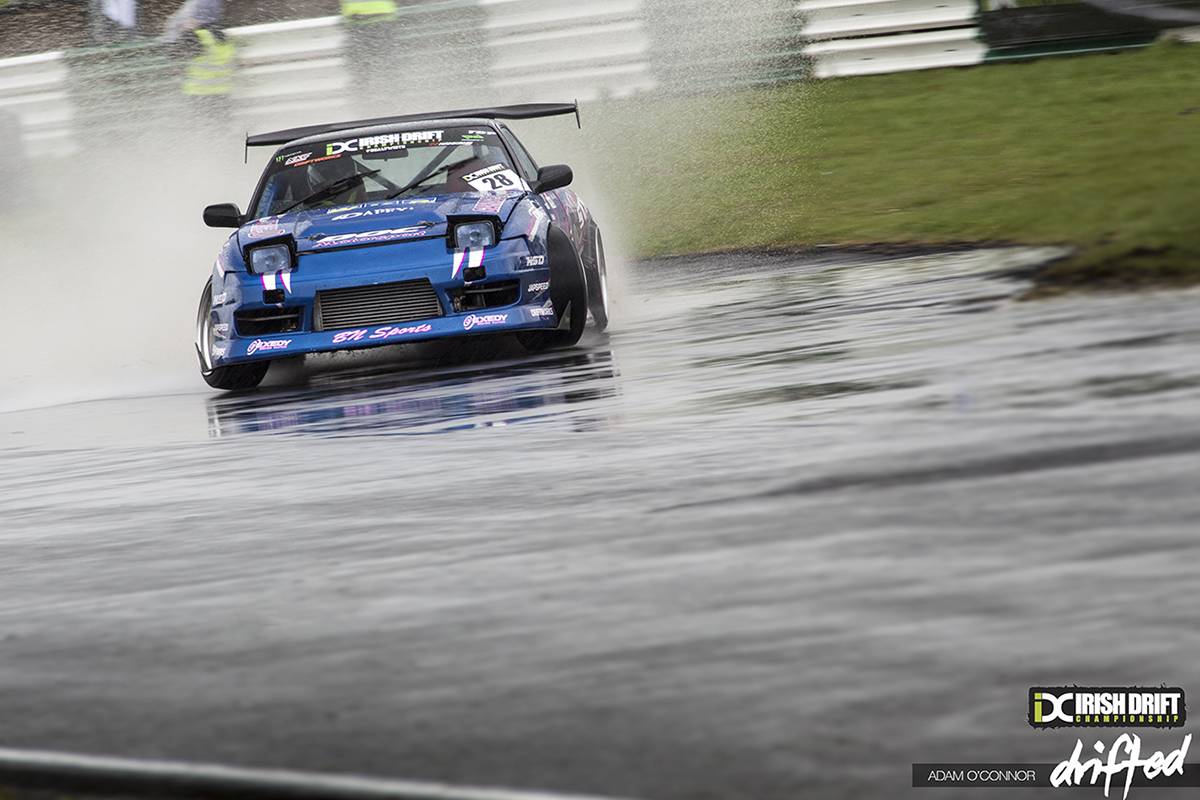 Saturday would see the Rookie and Semi-Pro classes go at head to head with Mother Nature once again taking its toll on proceedings. Constant deluge would saturate Mondello's tarmac creating large puddles dotted between clipping points.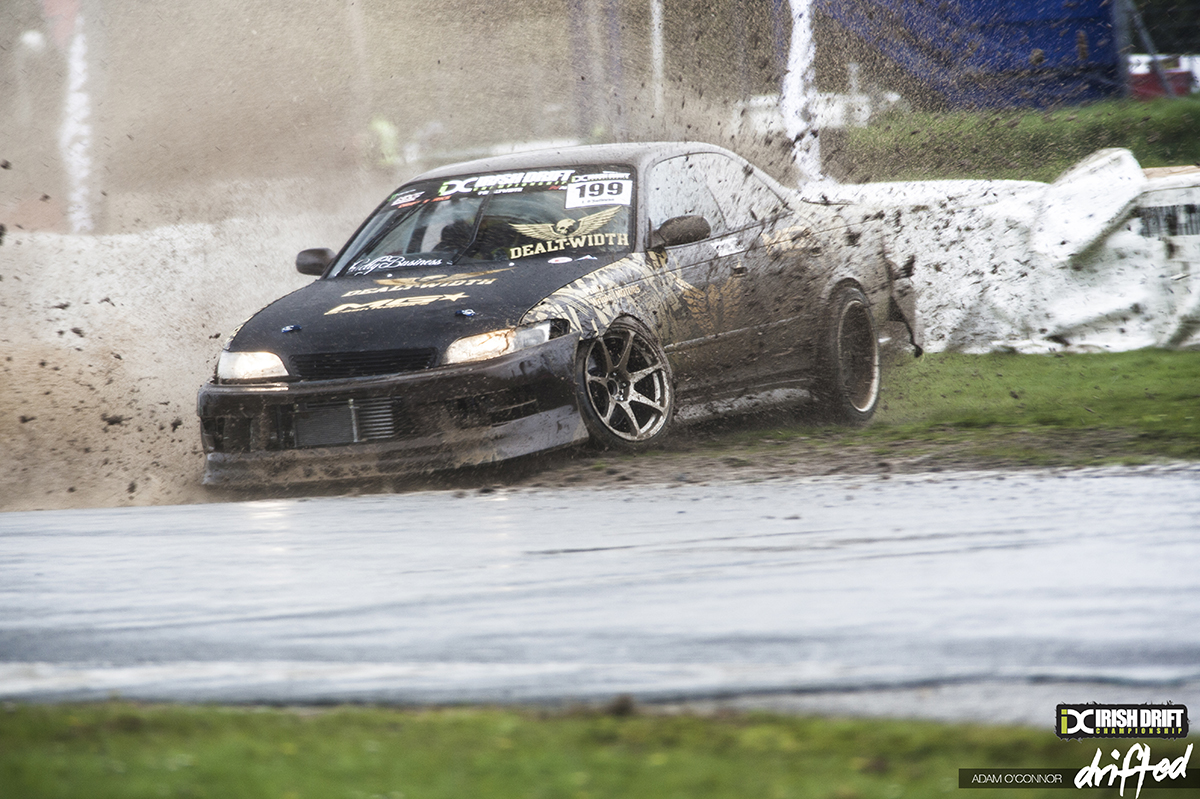 The greenery surrounding the track soon became a pig's playpen. Overshooting the entry or dropping a wheel into the growing crevasses would pull unsuspecting drivers away.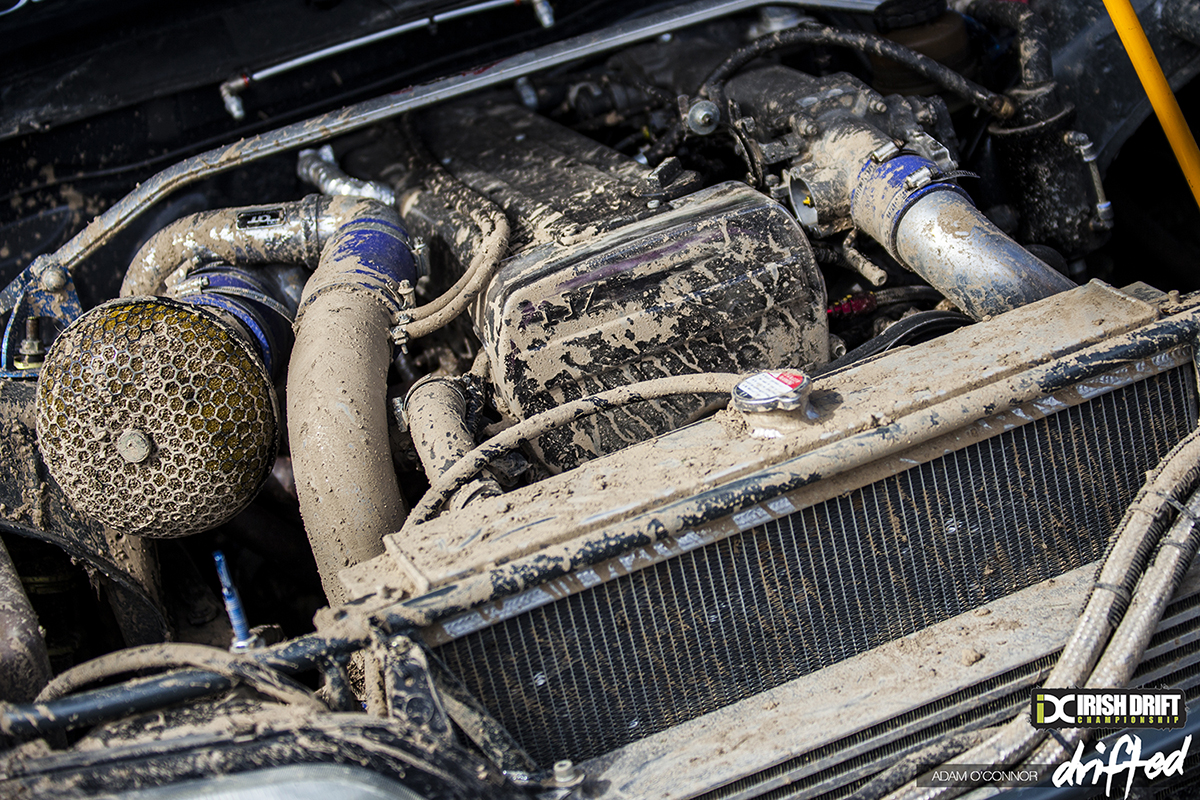 As Team Dealtwidth's Eoin O'Sullivan would find out, covering every inch of the interior and exterior of the JZX90.
One man not phased by the rain though was Anthony Galvin in the CAC Motorsport 2JZ 180sx. Anthony would steer his way to the top of the Semi Pro podium and be back out for action on Sunday.
Going into the weekend, there was only one man with a target on his back. Reigning Drift Allstars Champion James Deane has an astonishing record of podiums and was eyeing to stake a claim on the 2015 title early on in the season.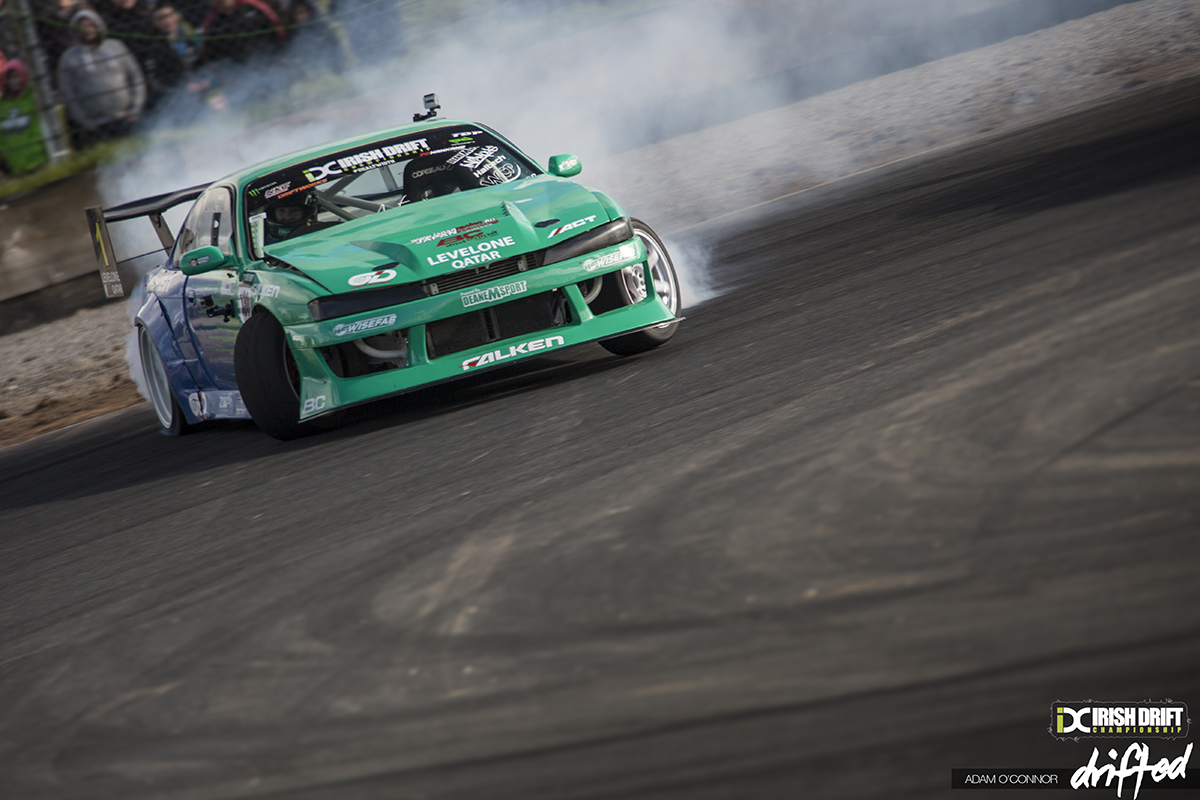 James operates at unbelievable levels of consistency and can deliver top qualifying laps with every pass of the track. He is a force to be reckoned with across Europe this season.
But one man who is not going to let James away with the title too easy is 2014 Irish Champion Duane McKeever. Duane would suffer mechanical issues Sunday morning, meaning he would have no practice and only one qualifying run to see himself into the Top 24, and in true champion style came in with 2nd place run, just 0.6 points behind James.
Spaniard Louis Lopez Mora made the 2,000km road trip for the weekend and is very quickly making a name for himself within the Irish Drift Championship for all the right reasons.
Pro driver and judge for the coming season Brendan Stone said he is one of this his favourite drivers, "as he tends to like the loud pedal", and when you have a thundering V8 under your Aerokit bonnet, that is never a bad thing.
Team Dealtwidth's Brian Egan has stepped up his game this season his a newly rebuilt 2JZ R32 Skyline, freshly wrapped by Moose Design.
Team Driftworks driver Jack Shanahan was looking to continue his winning ways from last weekend taking top honours at the British Drift Championship. Reaching the Great 8, Jack would run wide on the new outside clipping point dropping a wheel sucking him into the Mondello stones.
From rookie to pro in under 12 months, Sean Galvin has gone from strength to strength with each event.
With a ten year undefeated streak at stake, there was a certain tension amongst the grid that the man from down under would be checking in extra luggage on the way home in the form of a trophy.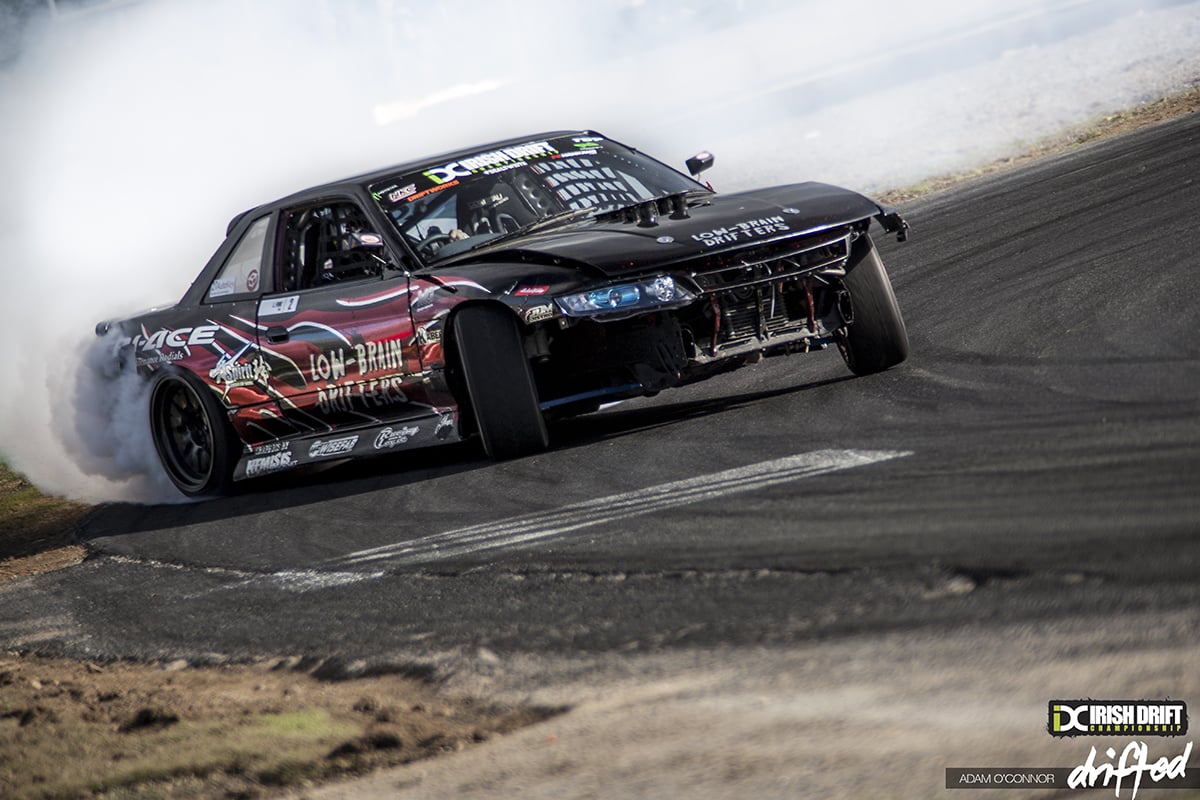 The battle seeding from Qualifying would mean that the only place Luke Fink could take on his main target for the weekend, James Deane, would be during the Final. He would come so close but eventually be stopped by social media archenemy Nigel Colfer in the Final Four.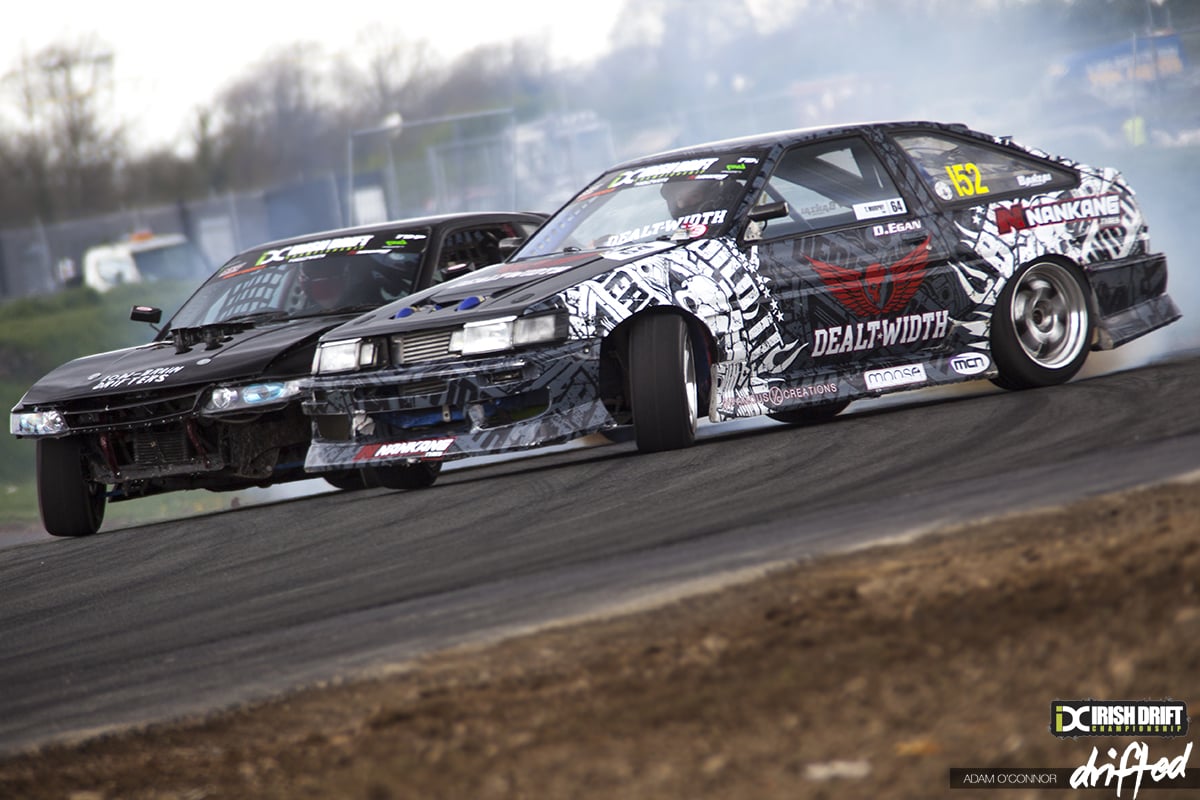 IDC's Dave Egan would see himself behind the wheel of a new SR20 Ae86 in the Semi-Pro class. Dave had purchased the ready made competition car from Pro driver Trevor Murphy over the off season but Trevor would then run into difficulty with his new build. Dave, busy organisating, running and commentating the whole event would let Trevor back behind the wheel of his old car for one last time.
British Drift Champion Shane O'Sullivan would continue on the winning formula 'if it's not broken, don't fix it', returning in the Japspeed S15.
15 years of age, 600hp and 18 months behind the wheel. Tomas Kiely is taking down the biggest names in Irish drifting one by one and getting driven to school 24 hours later.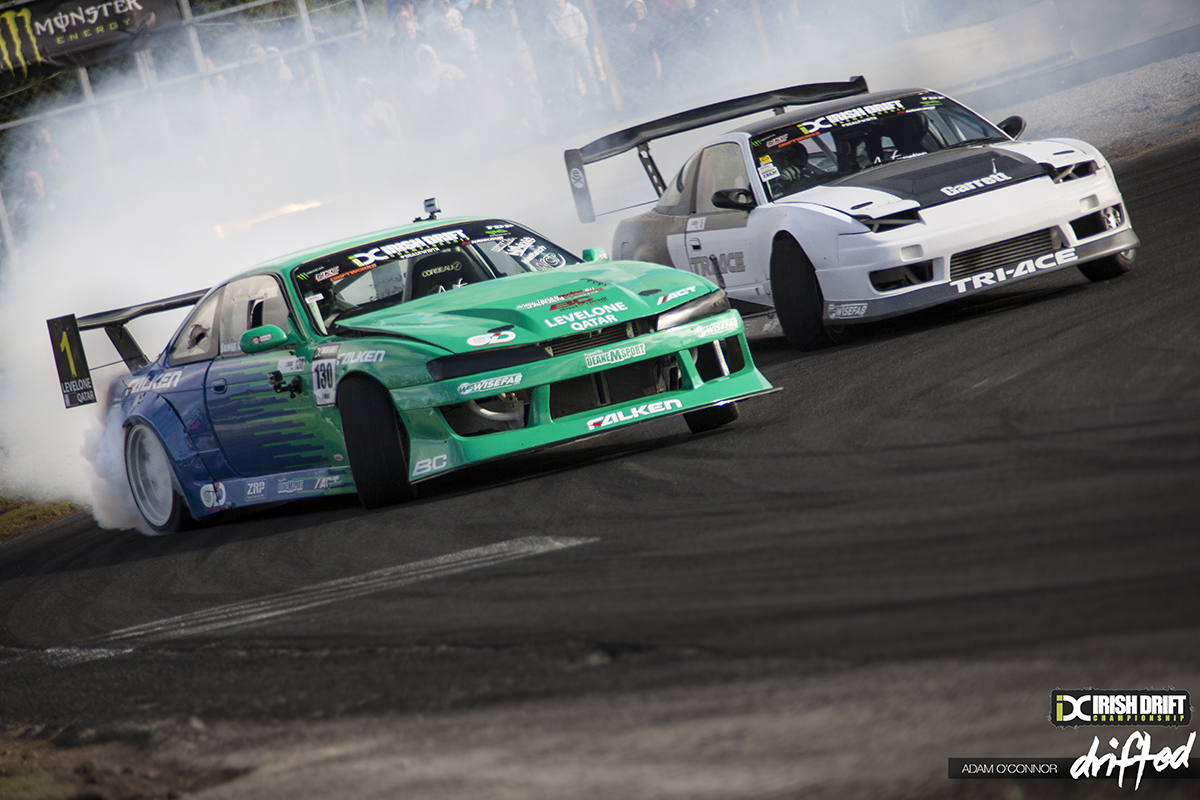 Once again the Deane domination would continue with James taking 1st place in Qualifying and taking top honours in the Top 16.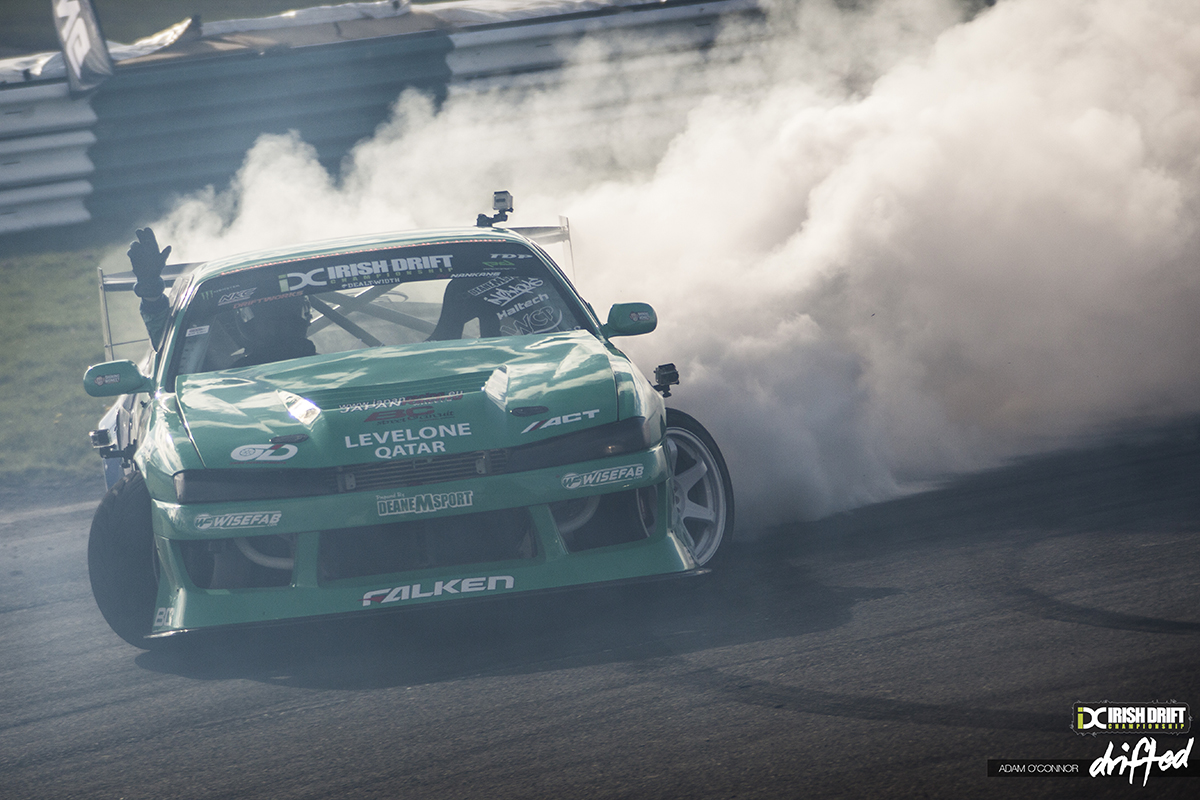 And what do you do when you take maximum points? Burn as much Falken rubber as humanly possible, plummeting Mondello Park Raceway into a haze.
James is becoming somewhat of a champagne connoisseur with over 80 career podiums and shows no sign of slowing down. James will travel across Europe to defend his European title and will without a doubt be back on track in Ireland whether it be behind the wheel of his 2JZ S14 or blowing the dust off his now-retired RX7.
Round 1 has certainly has set the precedant for the year ahead, and there isn no doubt Dave and crew, have a few tricks and drivers would their sleeve for Global Warfare in July, but next we look to Millstreet in Cork for the first ever round of Irish drifting held completely indoors. It will certainly be not one to miss.
Thanks for reading.
Words & images: Adam O'Connor