EXCLUSIVE: D1GP Stars Open Practice at Ebisu Circuit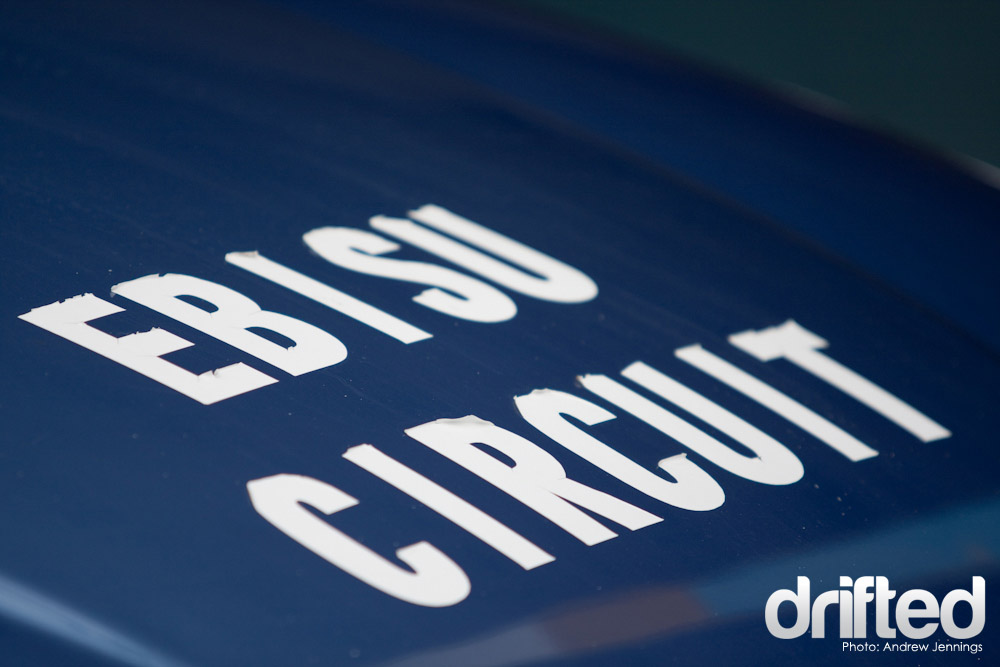 Imagine you are in Japan and your friend, a former D1GP team mechanic, asks if you want to head up to Ebisu Circuit for the day to see some open practice. What do you reply? Hell yeah! Read on to find out what happened on this Drifted exclusive adventure to one of Japan's coolest tracks.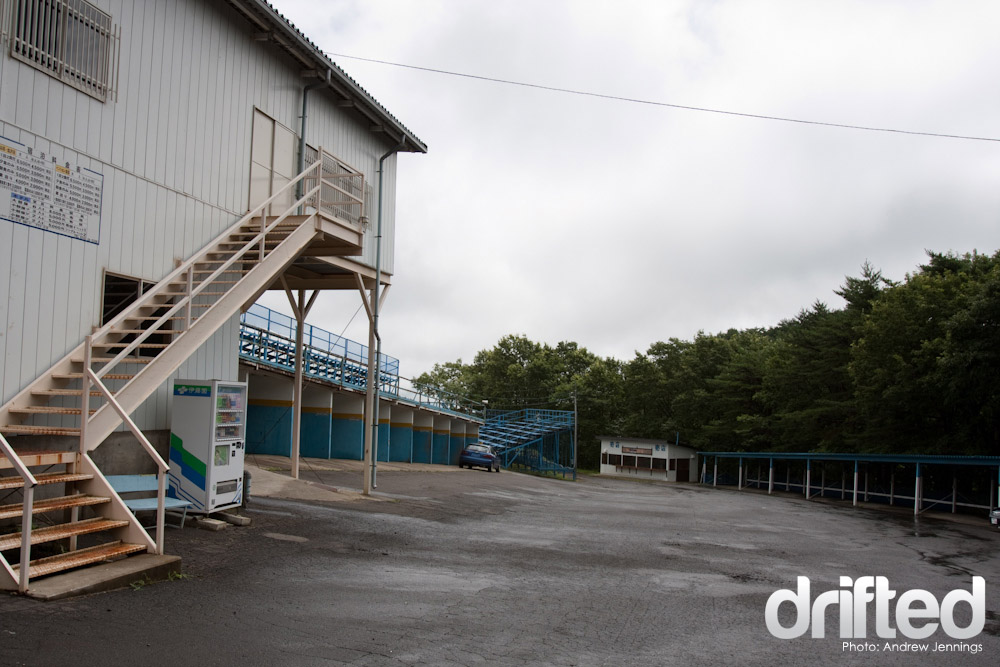 Our route from Tokyo to Ebisu took some time, approximately four hours of driving with one slight traffic jam. I had woken up at the butt-crack of dawn for this opportunity, but I had no idea what to expect. Ebisu isn't very close to any train stations, so I had considered it a track that was out of my reach. To say I had butterflies as we entered the main gates to the mountainside circuit complex would be an understatement. There was a light drizzle in the air, but I had the rain covers for my camera, so I was ready for just about anything.
As we crested the hill and came down to the paddock for the South track, where I was told all of the drifting took place, I was a little bit nervous. Were we the only ones there? The rumor was that a few teams would be around to do some unsanctioned practice shake-downs before the following weekend's D1GP Round 6&7 at the very same circuit, but where were they?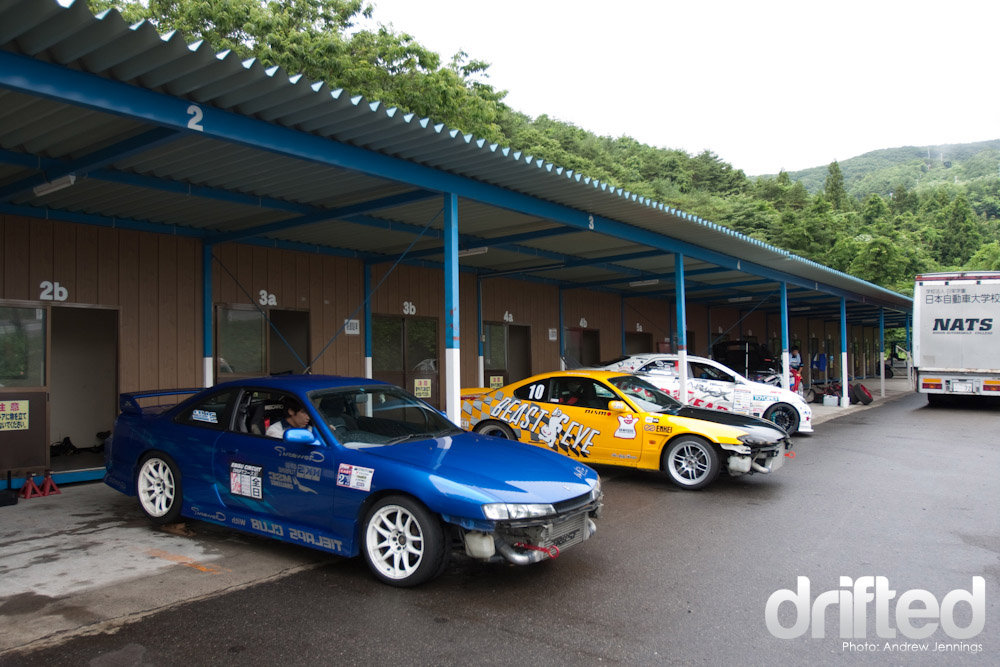 The road kept going, and curved down to reveal a row of support garages. My smile grew from end to end as I saw who had decided to come out for the day. Look past the two local (read: non-pro) Silvias and you'll catch a glimpse of something special.
Like a prize fighter suiting up for a sparring match, there sat Kuniaki Takahashi's Toyota Mark X. The drifting world knows him at Kunny'z, which is also the name of his tuning shop. To his right, sat another legend by the name of Manabu "Max" Orido.
Orido was a nice guy, but it was clear from the moment we shook hands that he wasn't expecting to see a snap-happy journalist wandering around his pit box on that day. I kept my distance for the most part and let him focus on getting some solid practice time in. His Supra was still in development, but had a few tricks up its sleeve.
To my delight, right as Takahashi and Orido went out for some casual tandem action, the rain let up and the clouds parted, revealing a warm sun that lasted for the remainder of the afternoon. It took some time for the track to fully dry out, so the pair only did a few runs before coming back in.
Elsewhere in the paddock, I noticed two more cars that had seen their fair share of drifting action. I never caught the name of the S13 driver, but the black Toyota Mark II Tourer sedan in the background belonged to another famous D1 star.
None other than Daigo Saito, 2008 D1GP Champion had also turned out in his own personal beater. There are plenty of guys that are willing to run without a front bumper, but Saito had no intension of even trying to duct tape fenders or a hood to his ride. As he came over the crest that lead onto the start/finish straight, the front suspension would unload and lift the front left wheel a centimeter or two off the ground. It was intense commitment for a practice run, and he did it consistently all day long.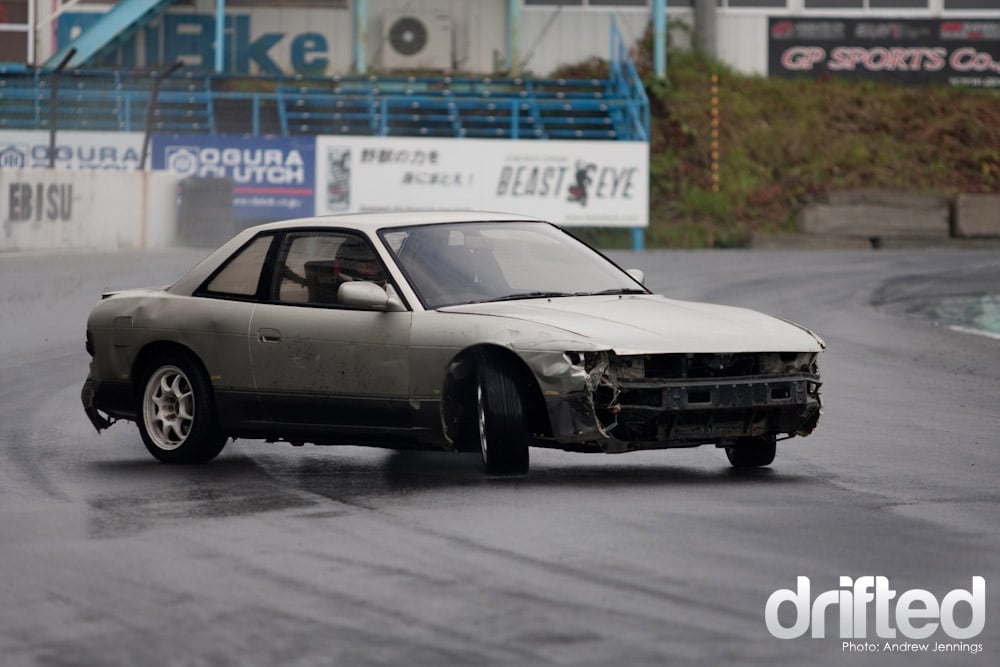 Saito's friend with the S13 gave the same line a try, but he ended up hitting the wall just infront of where I stood more than once (luckily not while I was nearby). When I say this was an unsanctioned event, I mean it was just a bunch of guys going at the track whenever they pleased. There were no marshals, no judges, only a handful of spectators, and probably just one or two of the circuit's staff members around.
Eventually Orido came around to see what all the fuss was about while his car was being serviced. Like a lot of people he has a very different demeanor in person than you find when he is in front of the TV cameras. I get the feeling that he psyches himself up a lot to take on his cowboy persona.
Before I forget, I also want to point out one of the cooler aspects of Orido's car. The Supra was fitted with a built-in air jack system on all four corners, allowing the mechanic to lift it up in just a second. Le Mans series cars use it to reduce their pit stop times, but in drifting there is plenty of time to get a regular human-operated jack under there. I later learned that this type of add-on is just par for the course on many of the top cars in D1, another reason it is one of the coolest forms of motorsport on the planet.
Getting back to the track, I decided to climb up into the flag stand for a few wide shots as things continued to dry out. You may know that the complex is owned by 2006 D1 Champion of Team Orange, Nobushige Kumakubo. He was no where to be found on this particular day, but I have to hand it to him for choosing what has to be the most scenic location for a little race course.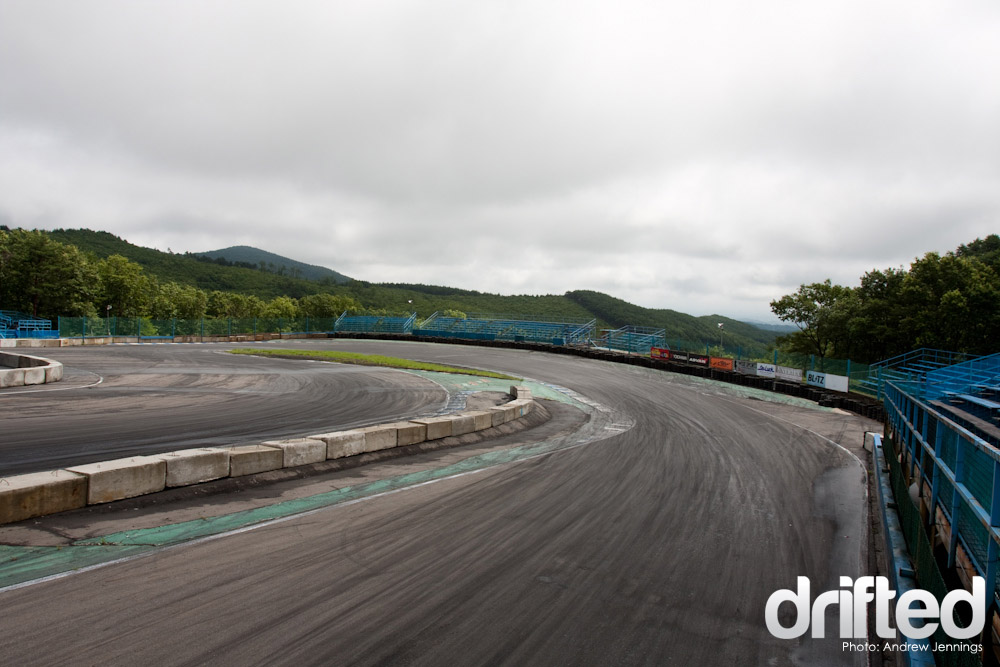 Seating is limited at the track, but it's all in proportion to the parking situation anyway. Nestled in Japan's mountainside the place is truly a diamond in the rough.
This shot shows a view looking down through the valley. No need to worry about noise pollution from way up here!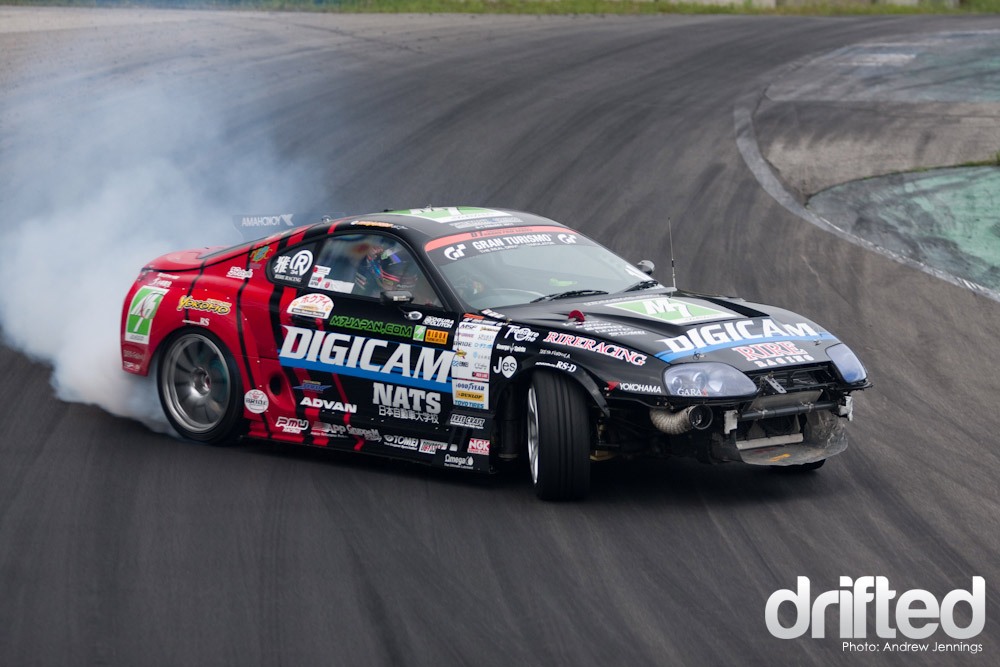 With the water gone, Orido and Takahashi were free to take on the track once more. Orido's current Supra may not have the intense graphic layout that I remember from 2005 when I last saw him in one, but it definitely looked and sounded mean.
I'm not sure what he had the boost set at for this practice session, but the Supra has been known to put out between 750 and 850 hp in past races. Just insane.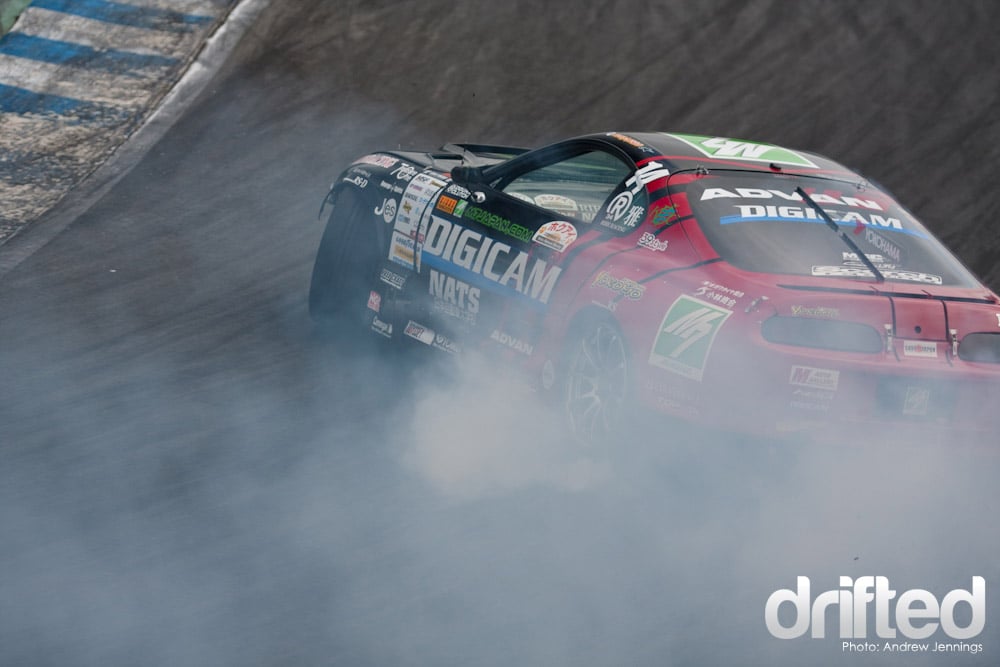 It's hard to see since the material is transparent, but there is a vertical diffuser that sits in the middle of the Supra's rear window. He had recently fitted this "mohawk" treatment as a substitute for a rear wing to improve the car's balance when going sideways. It was a very unique touch that seemed to be working just fine.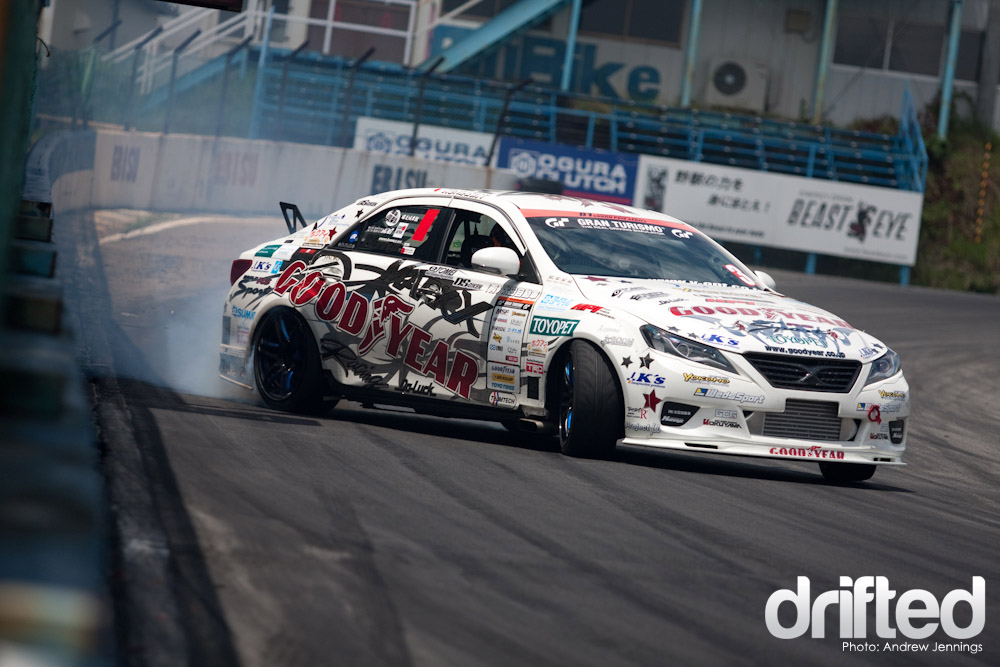 Takahashi didn't push his car quite as hard going into the first turn, yet still had good angle through the low-speed sections. He seemed to be fine-tuning the car's balance more than Orido.
As the day wore on, another team arrived to play around. Here, Daisuke Hasegawa of Team Vertex got in some time with his 600 hp S14.
From the inside vantage point I could look back at the crest that lead down to the first turn. This is what it looks like when cars are just on the limit of getting air time before the back end kicks out for a hair-raising slide. Awesome stuff.
I have to return to Daigo Saito's Mark II to close out this feature however. He managed to push his car harder than anyone else that day, maybe because of its beater nature. Halfway through the afternoon, the trunk became unlatched, but he didn't seem to care. It would lift as he entered the feature left-hand sweeper, perhaps adding that extra bit of downforce on his rear wheels.
Here it is again, passing me while I watched from the main grandstands.
Of course, this lead to some interesting tandem action when Saito and his friend agreed to do some friendly runs. I'm not sure if his friend knew just how close Saito intended to get: his front right tire came mere inches from rubbing into the passenger door of the S13 each time.
If Saito had gotten it wrong at any point, his intercooler piping would have been immediately trashed. Somehow he kept it in line the whole day, a preview of what was to come at the actual D1 competition.
If you keep up with the Japanese series you'll already know that Saito went on to win the Round 7 race at Ebisu. He currently holds the championship points lead over Youichi Imamura as they head to the final round at Fuji Speedway on October 22nd and 23rd.
I hope you enjoyed this behind the scenes look at how the pros prepare for battle in D1.
Andrew Jennings is a photographer and editorialist based out of Nashville, TN. He has been covering the American drift scene since 2007, and his work has been published in nationally syndicated magazines such as Modified Magazine, Import Tuner, Performance Auto and Sound, and RIDES. Andrew may be contacted through his professional online portfolio, or the social networks listed below.
Professional Portfolio: http://www.andrew-jennings.com