GRASSROOTS: Capital City Drift Season Opener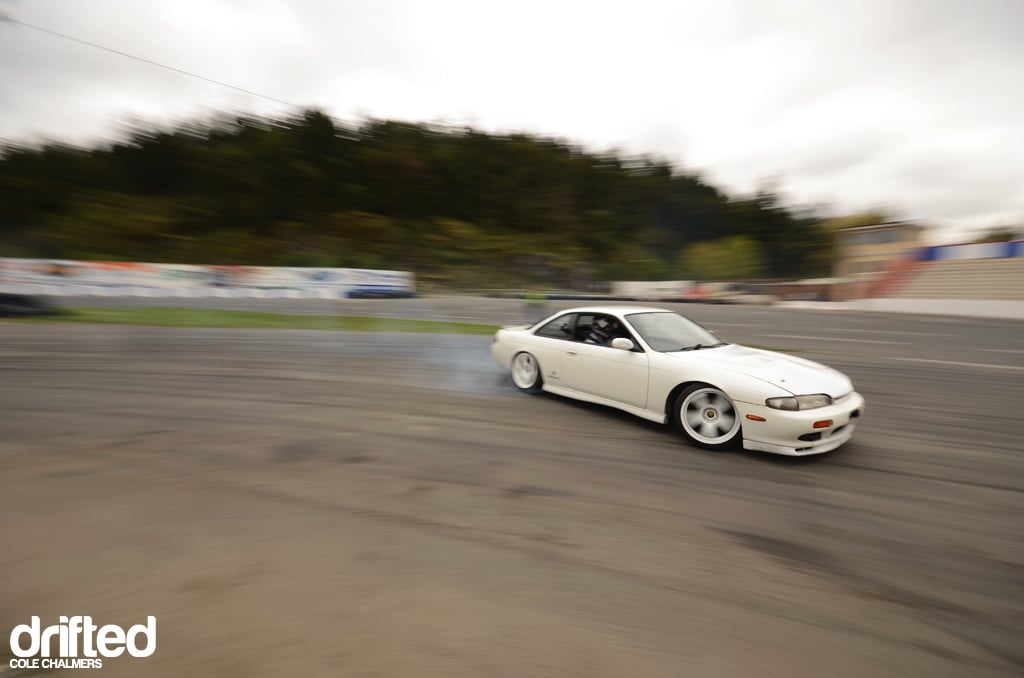 Winter came and went, now skid season is back in full swing. Last years heroes have spent the past six months building and testing. The kids who watched them at the previous events have saved up their precious pennies, bought their own cars, and have scrambled for seat time. The gates to Western Speedway in Victoria, BC opened and veterans and young blood alike were itching to burn some rubber and do battle at Capital City Drift's first round of their 2012 competition series.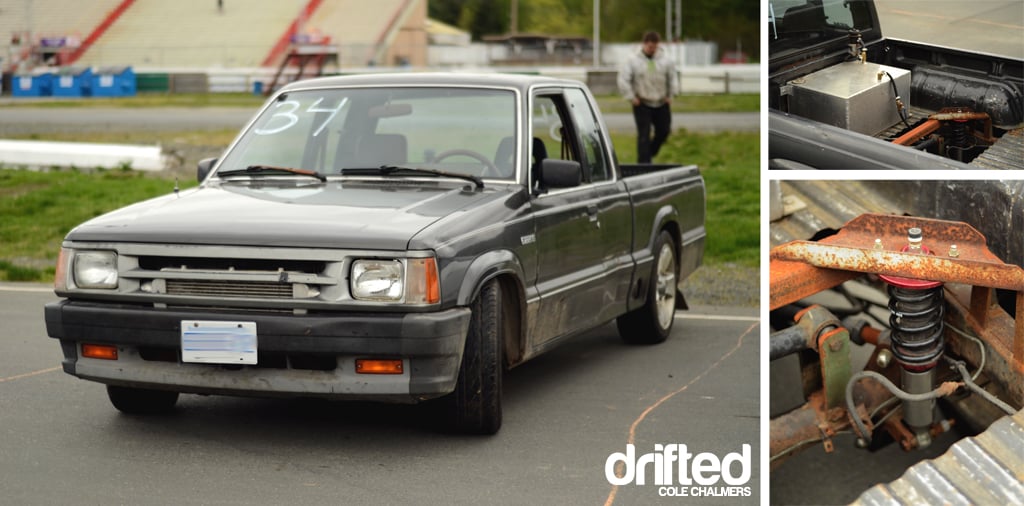 It never ceases to amaze me, both the ingenuity and creativity of drivers on the Island. They always strive to be different, whether in car or in style. When you wander through the internet, it's a myriad of similar looking cars and comments along the lines of "I want my car to look exactly like this!". Not this crew, there is something new every event.
Now, I don't know if it's the fact that we are seperated by water from the rest of Canada… but somehow, even with in a sea of s13's, drivers here find a way to stand out.
Better yet, most of them could care less about your opinion on it too. That's the way it should be, be original and build your car for yourself, not your peers.
My favourite of these cars has to be Corey Bergerud's 1969 KE10 Toyota Corolla. First off, how often do you see one of these? Second, how often do you see one sideways? That alone should be enough to get you excited, but the amount of work put into this thing is astounding. From the 3TC with Mikuni 40mm carbs, to the bodywork on the rear fenders, and everything in between.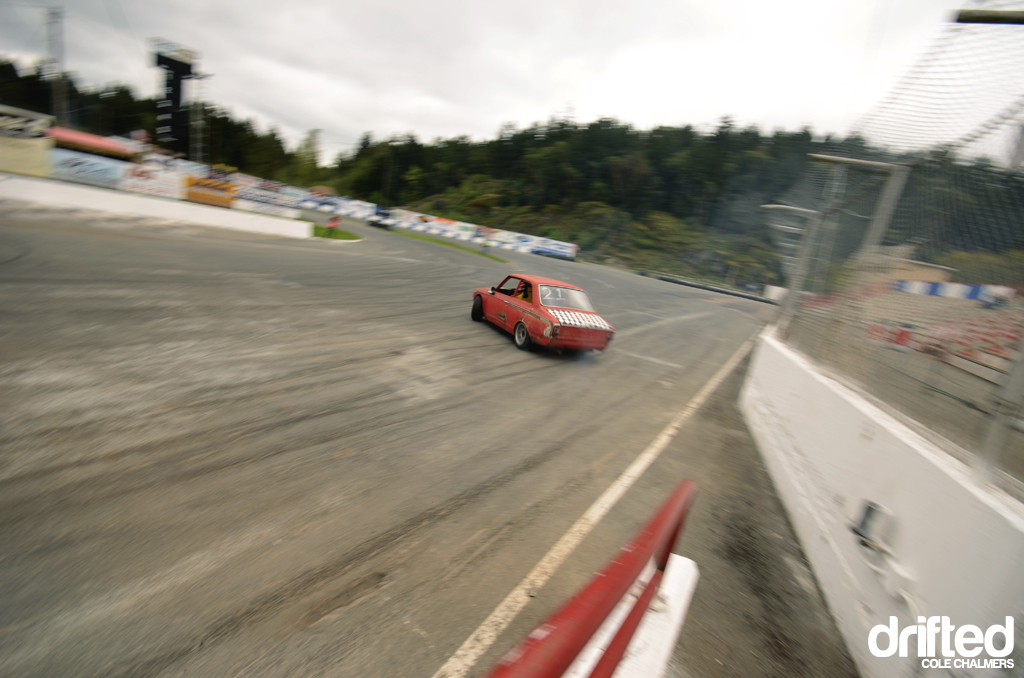 It is truely one of the most unique drift cars I have ever come across. To top it off, Corey pushes the car to it's literal limits.

A couple cars made their drifting debut at this event too. This Gangster looking GZ20 toyota soarer belongs to Pete Schroeder of Neptune Drift. This is seriously one of the gnarliest cars I have come across. The 1JZ with big single puts 350hp down to the 18x12J Veilside Andrews fitting the huge custom flares in the rear. Tucking under the front fenders are equally as menacing 18x10J Lowenheart D29.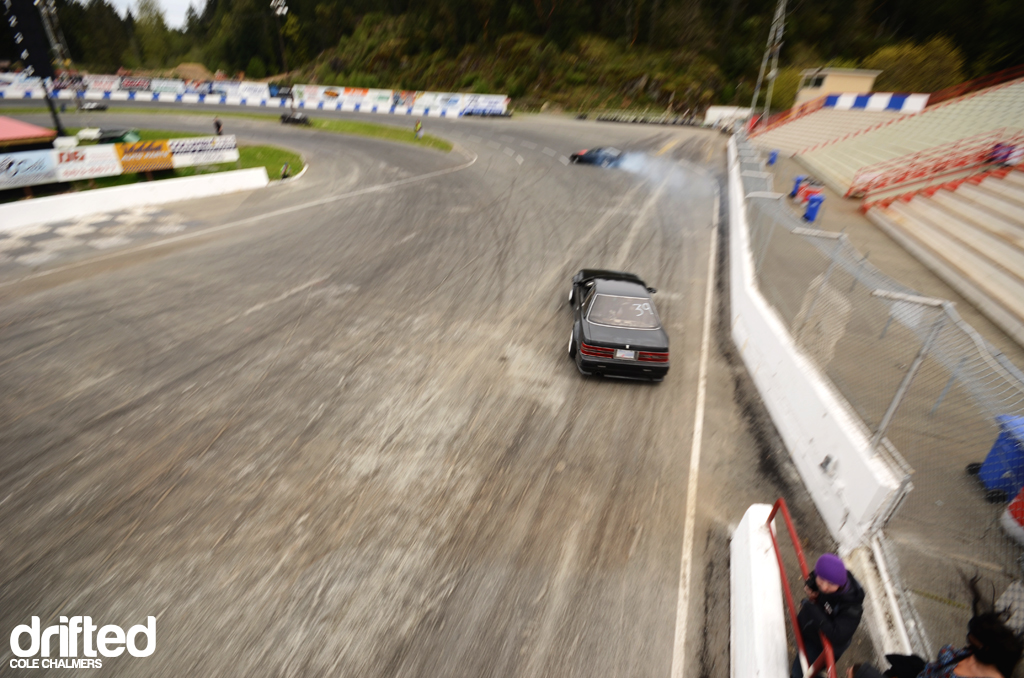 Pete has had this car tucked away in his shop for a few years and I've been dying to see it roast tires since I first caught a peek of it.
Chris Greenfield's LS1 240sx coupe (or the FREEDOM S13 as we nicknamed it) was another car to debut at the track. Chris has been building this car for the better part of  3 years. Even though I have my differences with the V8 movement in North America, it was cool to see such a long-term project come to fruition.
Despite having V8's and veterans to compete with, the newer crew of drivers that have filled the ranks this year blew me away. The level of driving coming out of kids with a couple months drifting under their belt was nothing short of outstanding.
A few had some minor bolt ons and suspension upgrades, but some were rolling on completely stock s13's, some even only running single cam KA's, putting up a proper fight for their first event.
My favourite battle of the day had to be Connor Ocherton and Nick Oldford. Connor isn't as new as some, but he has progressed so much since I first saw him drive last year. I've watched Nick drive for the past 3 years and he has always been super consistant.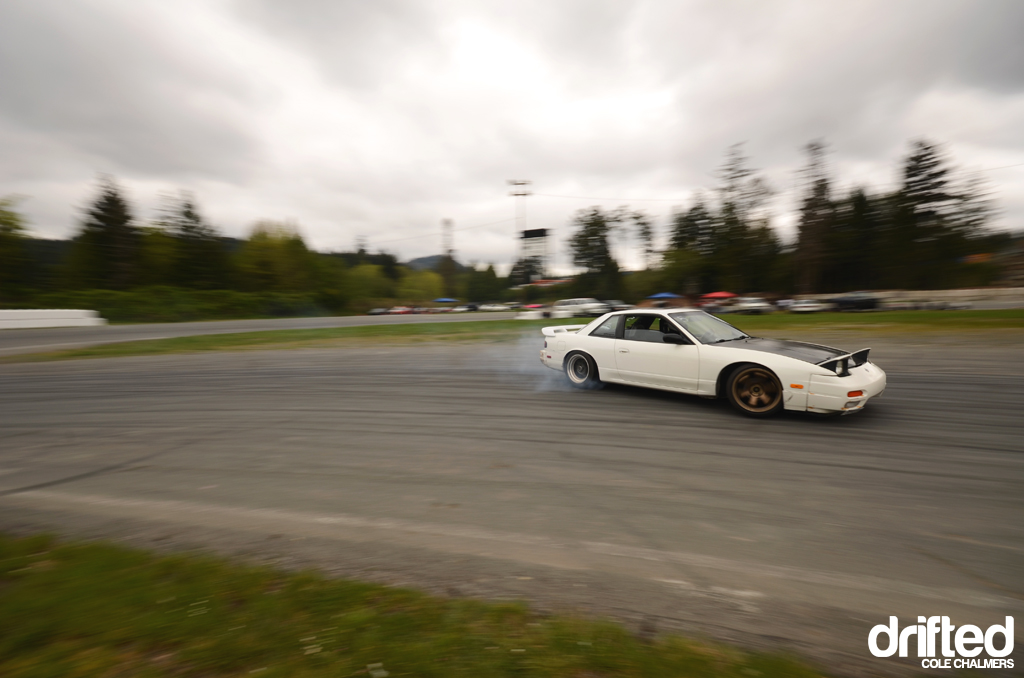 They were both right on eachother lap for lap and had the crowd, the pits, and the judges in a frenzy. Ultimately, after a one-more-time battle, Nick took the win and proceeded to move on and win the event, but it was impressive to see a young-gunner almost take out the guy who won the whole event!
Second place went to Kamloops local Cody Ross, a regular podium finisher at Captial Drift events. Cody and Nick had a solid battle for first but in the neverending battle of KA vs SR, Nick's SR20 coupe beat out Cody's KA24 hatch. A fresh car for Cody is almost done though, with an SR20 under the hood. Considering how well Cody can do with an underpowered KA, competitors better watch out when this thing hits the track.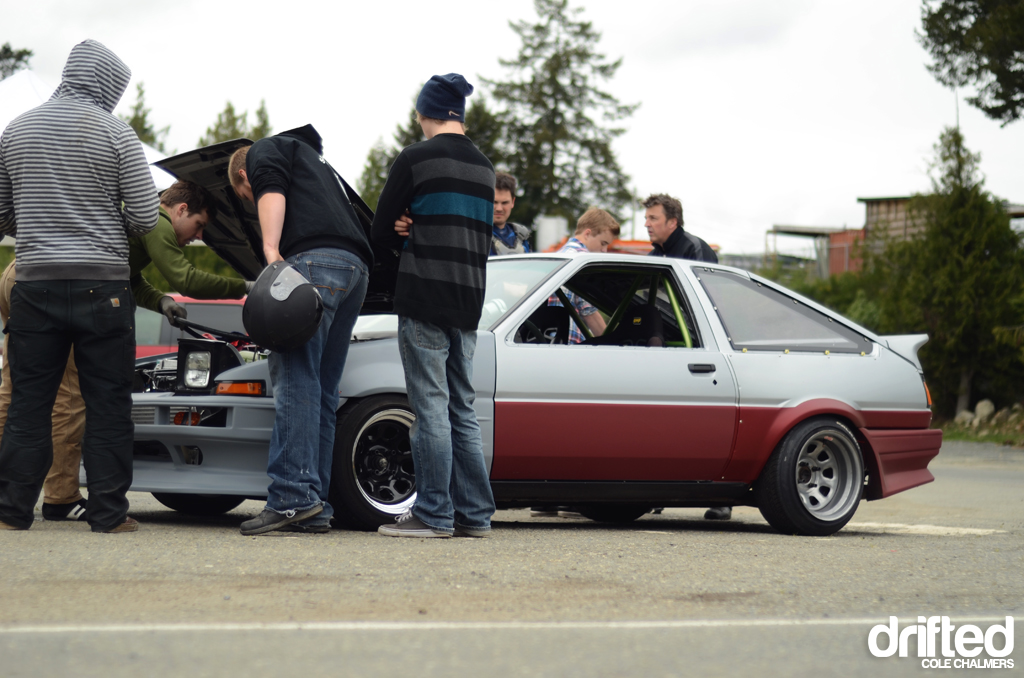 The battle for third place was a nail-biter. Matt Trigere just finished tuning his SR20 swapped AE86 for the event, in fact I think they were still doing tuning runs throughout the day. Josh Whitehead just installed coiloverd into his 3.5L swapped E30 BMW and on top of that this was his third track day in the car. Both Matt and Josh are talented drivers, but it was needless to say that they were both still feeling out their cars new set up.
Their first two battles were close, both drivers putting down their all to snag a podium spot. As the judges called a one-more-time, Josh's bmw was having overheating issues. He was given five minutes to get it back in working order.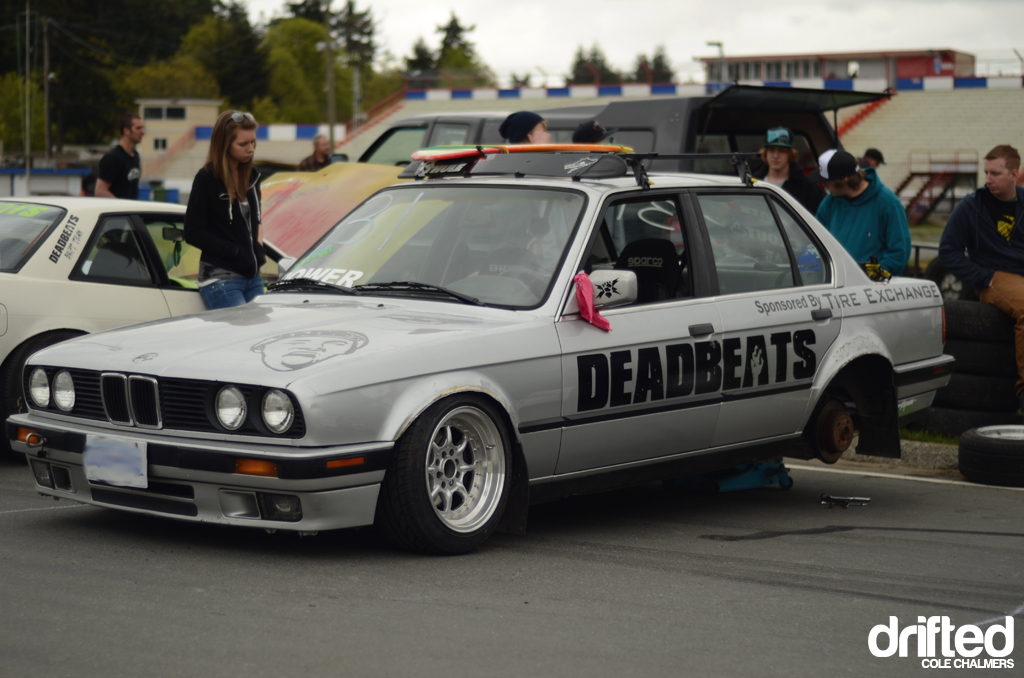 As the clocked ticked down, Josh, never being one to give in, climbed into his still overheating E30. I think the last words I heard were "**** it, let's go!"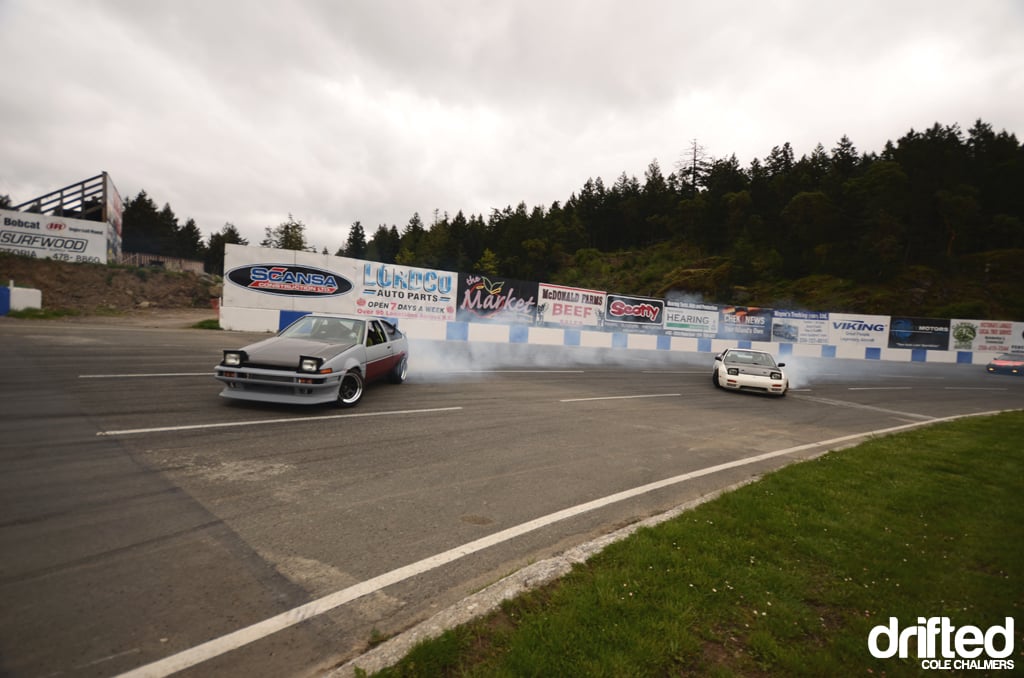 Unfortunately the hot motor got the best of him, it looked like the loss of power was enough to let Josh fall behind. Matt scored third place and, alongside Nick and Cody, was doused with champagne for their victory.
For a short while, it seemed drifting in Victoria was being threatened by rules and drama. After attending this event though, it's clear to me that the Island still knows how to keep drifting fun. To finish off here is my video from the event, enjoy!
::Cole