LIVESTREAM: Formula Drift 2012: Round Three: Invasion
Watch live video from driftstream on www.twitch.tv
Daily Motion stream below incase the Justin.tv stream fails!

Formula Drift Round 3 Invasion Palm Beach… by driftstream
Formula DRIFT Returns To South Florida at Palm Beach International Raceway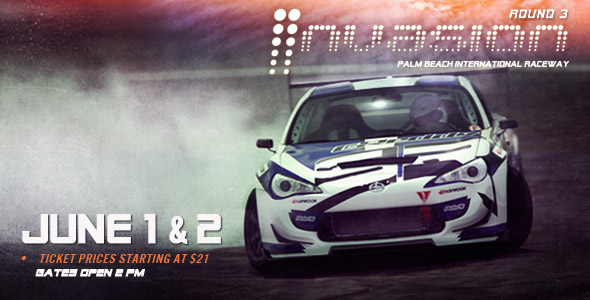 Palm Beach International Raceway (formerly Moroso Motorsports Park) is a multi-track state of the art facility owned and operated by a team of car collectors and racers; making the venue a true home for motorsports enthusiasts.
For the second year, the Formula DRIFT Championship will revisit South Florida and invade the area with the best drifting action it's ever witnessed. Drivers will be forced to adjust quickly to their new surroundings to earn a spot on the podium making for what will be one of the most exciting events of the year.
Throughout the course of the weekend, fans will also get the opportunity to catch some of the fastest time attack cars in the country battle it out during Round 3 of the Global Time Attack series.
Schedule of Events – ALL TIMES ARE EDT (GMT -5hrs) UNLESS STATED

Friday, June 1, 2012 – Practice & Qualifying
10:00am – 8:00pm – Will Call: Open for Vendors/Sponsors/Teams
10:00am – 10:20am – GTA: Session #1 – Track
10:30am – 10:50am – GTA: Session #2 – Track
11:00am – 11:20am – GTA: Session #3 – Track
12:00pm – 1:30pm – Pro/Am: Open Practice – Track
1:30pm – 1:50pm – GTA: Session #4 – Track
2:00pm – 10:00pm – Gates Open to the Public – Venue
2:00pm – 3:00pm – FD: Open Practice – Group 1 – Track
3:00pm – 4:00pm – FD: Open Practice – Group 2 – Track
4:00pm – 6:30pm – FD: Qualifying – All drivers in reverse ranking order
7:00pm – 8:00pm – Autograph Signing Session – NOS Energy Drink Booth
7:00pm – 9:00pm – Pro/Am: Qualifying – Track
9:00pm – 10:00pm – FD: Open Practice – Top 32 – Track
Saturday, June 2, 2012 – Main Event
10:00am – 8:00pm – Will Call: Open for Vendors/Sponsors/Teams
11:00am – 12:00pm – Pro/Am: Practice – Top 16 – Track
12:00pm – 12:20pm – GTA: Session #1 – Track
12:40pm – 1:00pm – GTA: Session #2 – Track
1:00pm – 1:20pm – GTA: Session #3 – Track
1:40pm – 2:00pm – GTA: Session #4 – Track
2:00pm – 10:00pm – Gates Open to the Public – Venue
2:00pm – 3:00pm – FD: Top 32 Open Practice – Track
3:00pm – 4:00pm – Pro/Am: Main Competition – Track
4:00am – 5:45pm – FD: Main Competition – Round of 32 – Track
6:00pm – 6:30pm – Pro/Am: Trophy Ceremony
6:00am – 7:30pm – FD: "Half-Time"
6:00pm – 6:20pm – GTA: Session #5 – Track
6:40pm – 7:00pm – GTA: Session #6 – Track
7:30pm – 8:00pm – National Anthem / Opening Ceremonies – Track
8:00pm – 10:00pm – FD: Main Competition – Round of 16 to Finals – Track
10:00pm – 10:30pm – FD: Trophy Ceremony and Closing – Main Paddock
*SCHEDULE IS SUBJECT TO CHANGE