Prodrift Round 2: Punchestown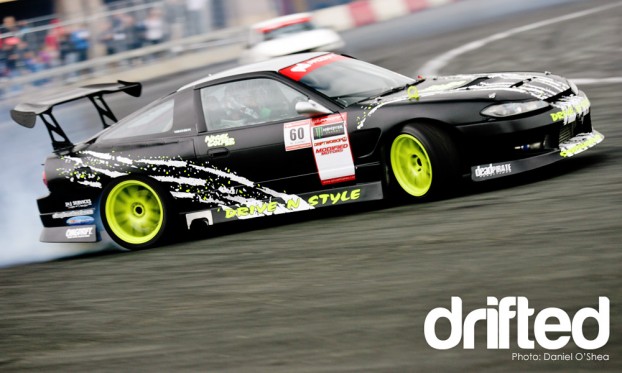 Prodrift returned to the famous Punchestown venue for the second round of the 2010 championship. This is a crowd favorite street course, with outside clipping points along a steel barrier that has claimed many bumpers and quarter panels in its last running.
Jay Rockett (pictured above), an admin over on driftireland.com, scooped 1st place in the amateur class. He also progressed to the unseeded pro class on his first day competing. The top 32 of the unseeded pros was full of action and excellent driving, with a lot of wall rubbing. The eventual winner of the class was Barry Leonard in his S14A Silvia pictured below.
The first bend of the track was a high speed 90 degree , with a large bump if you follow the inside line. A speed camera was used to aid judging as the cars would appear at high speed mid bend to the judges and spectators. Speeds of upto 120km/hr were recorded. The pic below shows Martin O'Meara's Entry into the first bend. The stands were the perfect place to take a few elevated photos.
John Paul McCarthy returned to Punchestown in his reshelled E36 M3, after a major collision with a wall in round 1. This did not effect his confidence and was back putting in a great performance in what is one of the loudest drift cars around, and also a crowd favorite.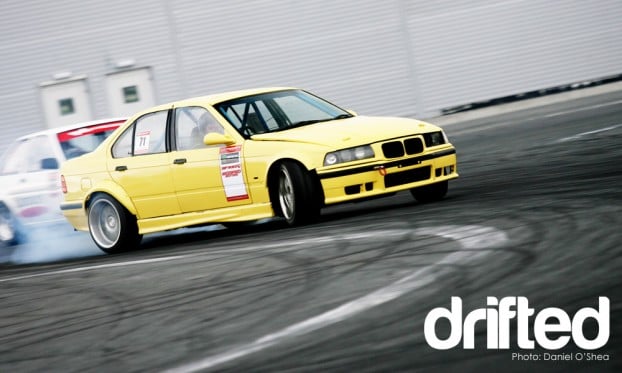 Mike Fitz (pictured above) in his Bridgestone sponsered Sil80 suffered gearbox failure during Super Lap, but quick work by his pit crew saw the gearbox replaced for his top 16 battle against Christy Carpenter in his Nexen S15 Silvia. Unfortunately for Mike, Christy was on form and progressed to the great 8.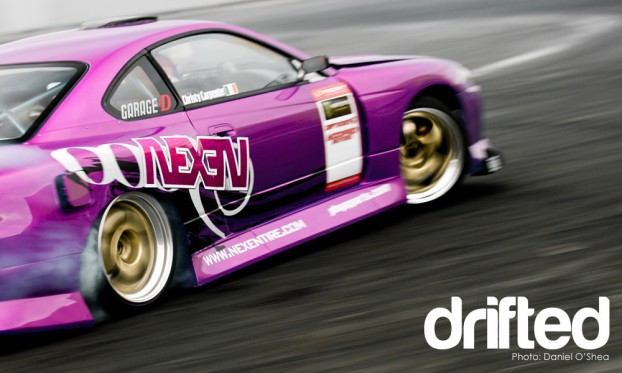 Christy's car has now been resprayed purple to match his new sponsor's colours and also team mate James Deane's SR-X7. James finished in 4th place over the weekend, and was one of the drivers trying backwards entry's at turn 1. Something to look forward to at round 3 perhaps!
(Above) James Dean and Gavin Lenihan
Also pictured in the photo above is Gavin Lenihan who progressed to the final after a controversial decision by the judges. Gavin was in the semi final with Alan Sinnott of Team Hankook who is in the photo below with Team mate Alan Lenihan. Alan Sinnott finished third in the event.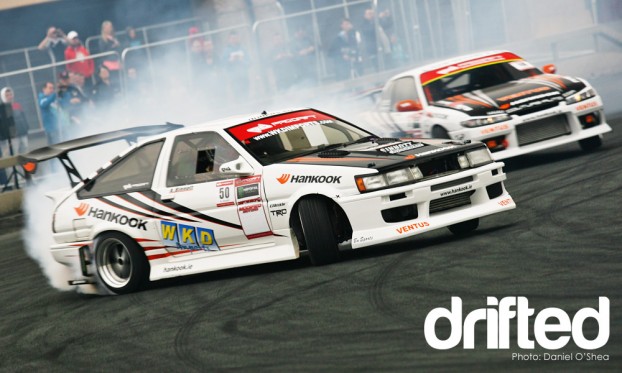 (Above) Alan Sinnott and Alan Lenihan
Gavin Lenihan faced Nigel Colfer in the final. Both S15 fronted 180sx', one SR20 powered (Gavin) and the other 1JZ powered (Nigel). Nigel did one better on his performance in Fermoy to take the win and now leads the championship.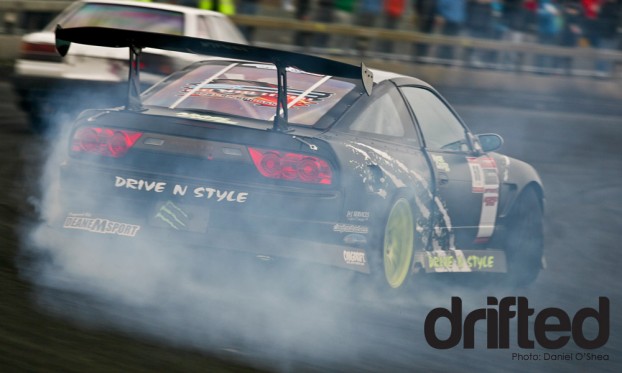 The next round of the Prodrift Championship sees an all new street track at Citywest in Dublin, which will see both rounds 3 and 4 over the same weekend on the 26th and 27th of June.
More photos on my Flickr Photostream