VIDEO: Drift Posse visits Planet Jupiter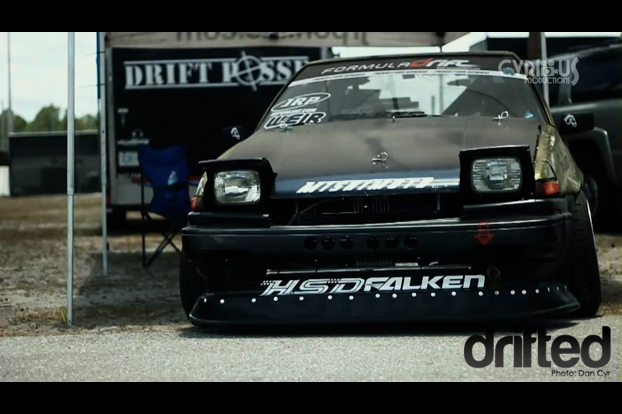 Planet Jupiter….sounds a bit cheesy right? Honestly, though, I can't really think of any other way to describe our trip to Jupiter, Florida for Formula Drift Round 3: Invasion. We got in on Thursday for the early practice, and right off the bat we felt almost as though we were on another planet. Once we'd made our way across the alligator-infested creek that welcomes you to the track, we went to find our pit area, and found that our pits were conveniently placed in sand. Mind you, we weren't the only ones contending with the sand-floored pit area, the rest of the privateers were in the same boat, so we didn't exactly take it personally. Still, it came as a bit of a shock…we've pitted in the grass before, but sand is a whole different monster. It was pretty breezy when we arrived, so there were sand bits flying everywhere, and finding their way into everything from my teeth to my cameras. The clouds in Jupiter were absolutely amazing. I missed out on making a time lapse this time around, but the clouds still made it into plenty of the shots, and looked really cool! On the other hand, they were blocking/unblocking the sun pretty much constantly, making shooting a very hit and miss affair.
From a videography perspective, Palm Beach International Raceway was fairly difficult to shoot…I left that weekend feeling a litttttle bit short on footage. I ended up being a little more inclined to go and find the show cars this time around, and I'm glad that I did. It was really cool to see the difference between the show n shine cars at FD from what I'm used to seeing at DMCC. I hate to say it, but it appears that our American brethren have definitely got some stylish rides hangin' around. The track itself was dead flat, and not tremendously interesting, so shooting had to be done creatively in order to make things look nice. Basically the one saving grace at this track was a wall lined with tires that ran all the way under the judging tower. It was the spot with the highest elevation (apart from the scissor lift, which some of the other photogs/videogs got onto before livestream claimed it) and wound up being my favourite spot of the weekend. Shooting early on with the first track layout was a bit of a risky matter. As most people know, both Eric O'Sullivan and Alex Pfeiffer found the wall pretty early on in the first practice. What people may not know is that Pfeiffer's crash managed to send body kit pieces and a side mirror (or a tail light?! or both?!?) over the wall into the nearest bystander…which happened to be me. I didn't get hurt or anything, but it's definitely an exhilarating experience having a drift car flying at you, and then getting hit by bits of it.
Ultimately, the weekend at PBIR was just plain fun. As I become more familiar with my fellow photogs and videogs, I'm finding the events even more fun to be at than they usually would be, and that makes standing around waiting for the perfect shot a lot easier to do…it honestly felt like I was laughing the whole weekend. I tried to display a slice of some of that fun with this latest piece, so I hope you enjoy it! Thanks for watching, and thanks for reading! I'll see you all back here on Drifted.com for FD New Jersey!!!
CYRIOUS PRODUCTIONS – FD Florida – A Couple Days on Planet Jupiter from Cyrious Productions on Vimeo.