Where to Experience Drifting on Racetracks in Las Vegas
The thought of drifting in a supercar on a real racetrack might not be the first activity you had in mind when we mention Las Vegas. However, adrenaline thrills are all the rage in Sin City, and thankfully, they've got plenty of motor racing action on offer for tourists looking for a spot of drifting action and a chance to tick a bucket-list box.
There are two hugely popular drifting experiences near the Vegas Strip: Dream Racing's Drifting Experience and the SPEEDVEGAS Drift Package. Here, we will review both experiences to let you know how much bang you get for your buck.
Contrary to what many think, Vegas is no longer all about casino gaming. In fact, there are some cities elsewhere in the world that have started to do that better than Sin City, with live entertainment such as sports becoming all the rage. Not only does Vegas have its own Motor Speedway, but it now has an NHL team and an NFL franchise on its way. If you're more of a racer than a card shark, then strap yourself in and discover what Vegas has to offer for budding drifters, taking you well and truly out of the comfort zone of your favorite virtual drifting games!
Introducing Battle Drift Vegas, Powered by Dream Racing
Ordinarily, Dream Racing is one of the most popular driving experience firms in Vegas, offering tourists and locals alike the chance to pay to drive adrenaline-fueled supercars around their track. However, the firm recently launched Battle Drift, which is an entirely new concept for the company. Ideal for two participants, you're both strapped up into the passenger seats, as you and your highly experienced drifting instructors go head-to-head to beat one another in an intense two-lap race around the circuit.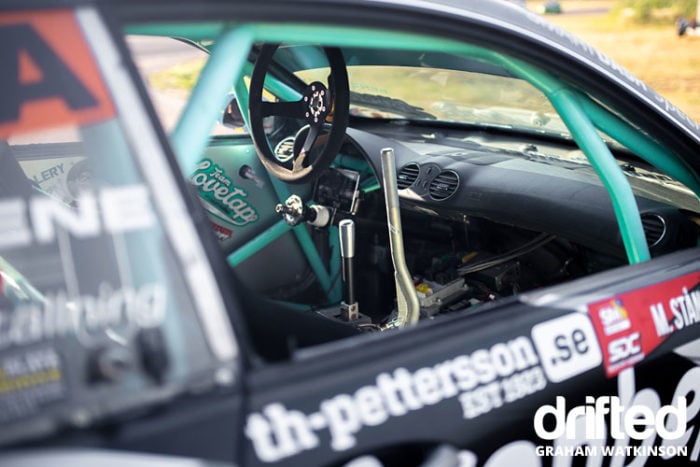 The intensity makes most people feel like they are in the white heat of a Hollywood movie car chase as you jostle for position throughout both hot laps — it truly is that jaw-dropping. If you like living on the edge — without control over your drifts — then Battle Drift is worth your consideration. They also offer Battle Drift experiences for one person, too, where you can concentrate on your instructor's technique and the raw, almighty power of your Dream Racing drifting car.
Aside from the Battle Drift, Dream Racing boasts the world's fastest and most comprehensive selection of exotic supercars. So, if you'd rather get behind the wheel yourself, see how many laps you can muster in one of those bad boys!
Choose to Drift One of Many Muscle Cars at SPEEDVEGAS
If you want a purpose-built circuit that allows drifting in supercars and muscle cars to shine, then look no further than SPEEDVEGAS. These guys have designed an adrenaline-fueled racetrack that allows you and your instructor to drift sideways along a dozen heart-pounding twists, turns and chicanes. Situated a 10-minute drive south of the Las Vegas Strip, SPEEDVEGAS is within easy reach for a breathtaking morning or afternoon.
What does the Drift Package at SPEEDVEGAS entail? You'll pay for two laps on the exclusive SPEEDVEGAS racetrack that we've already confirmed offers plenty for drift nerds to look at in awe. You'll ride in a typically American muscle car while any guests you may have with you can stand and watch from the viewing terrace. As part of your package, you'll also get entry to the SPEED Lounge and pit area, and you can also accept complimentary return transportation to and from your hotel on the Strip. It doesn't get any fairer than that!
If you want to drive one of their exotic supercars afterward, then you'll need to be at least 18 years old to drive. It's also worth noting you must be at least six years old to ride in the passenger seat for a drifting experience, but don't worry, all the insurances cover the cost of your experience. They also provide driver helmets at no extra cost, helping you to feel like a real motor racer.
Ultimately, either of these drift packages should be enough to get your heart racing. Who knew that Sin City was a veritable drifting playground in the heart of the Nevada desert? Don't forget to check out reviews of both experiences on TripAdvisor to help you make the right choice for you or your loved one.