7 Self Drive Cars You Can Lease Today
Owning a car opens a lot of opportunities. For many car owners, it means comfort and style when travelling on a daily basis. Some drivers are also earning extra dollars with their car through ridesharing. And for car enthusiasts and hobbyists, racing and drifting are a thing. Car leasing is also a profit-generating move. Luxury car rentals is in-demand for vacationers looking to travel in style to attend seasonal parties and events.
The comfort and style of owning a vehicle is really too great to miss. Add to that the availability of self-driving cars that gives amateur or newbie drivers the chance to hit the road with minimal maneuvering skills.
Have you considered buying your first ever self-driving car? If yes, you can choose one of the models from the following leading car manufacturers:
Toyota
A recent 2019 report from World Atlas ranks Toyota as the leading car maker by vehicles produced, which is now at 10,466,051. The company makes mid-level and luxury vehicles to suit the taste of its global market. As of 2019, the company has around 10 self-driving car models. Its Avalon, Camry, C-HR, and Prius models have adaptive cruise control. And its Corolla Hatchback and RAV4 have lane-centering steering and adaptive cruise control features.
Volkswagen Group
This German automaker has been around since 1937.  And the company has been heavily engaged in sports sponsorships, especially for the Olympic Games. Initially dubbed as the "People's Car" in Germany, Volkswagen cars are now in-demand all around the world. Its self-driving cars garnered the attention of many enthusiasts, even those who've just learned how to drive. As of 2019, the company has 9 self-driving car models, including Arteon, Atlas, e-Golf, Golf, Jetta, and Tiguan. These models come with adaptive cruise control that you could use to a full stop.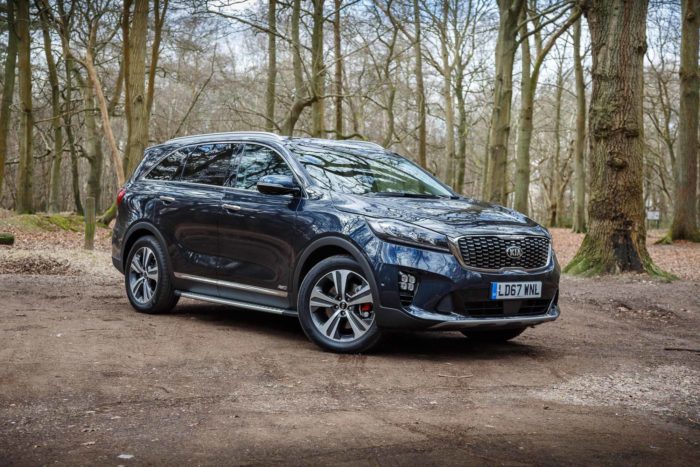 Hyundai Kia Automotive Group
Established 2000, Hyundai Kia Automotive Group is South Korea's second largest conglomerate. Hyundai continues to fascinate the world with its innovation in car mechanism and design. And staying true to its current slogan "New Thinking. New Possibilities," the company now has a line of self-driving car models to support its market's needs. For its Hyundai brand, people can choose to buy Elantra, Ioniq, Santa Fe, Sonata, and Tucson to enjoy adaptive cruise control features. For those looking for lane-centering steering and cruise control features, Hyundai Nexo is available. Aside from its Hyundai models, the company also has a Kia models, such as Sorento, Niro, K900, Optima, and Cadenza.
Ford
As the leader in large-scale car manufacturing, Ford continues to address and satisfy the market's demand for durable cars. Marrying stylish design and elaborately engineered under-the-hood-features, Ford now comes up with a range of self-driving cars that are again projected to be one of the mainstream models. As of 2019, the company launches Ford Expedition, Fusion, Fusion Hybrid, and F-150 and equips it with cruise control features. Its Ford Edge comes with cruise control and a lane-centering steering feature.
Nissan
This Japanese car maker has been around since 1933. And on April 2018, the company was recognized as the world's leading maker of electric vehicle (EV). As the company continues to aspire for growth, it now launches a series of self-driving cars, including Armada, Maxima, Murano, Sentra, Pathfind, Leaf, Rogue, and Altima. These models come with cruise control and lane-centering steering features.
Honda
Honda packs its driver-assist technology in its Honda Sensing features suite. Although each car model has unique specifications, the suite usually includes a lane-keeping assist system and adaptive cruise control. This suite is in its Honda Fit, Odyssey, HR-V, Passport, Pilot, Ridgeline, CR-V, Insight, Clarity, Civic, and Accord models.
Mercedes-Benz
Established in 1883 with the name Benz & Cie., Mercedes-Benz is one of the 9 oldest car makers that are still in operation today. Still upholding its "the best or nothing" slogan, Mercedes-Benz now boasts of its Active Steering Assist and Distance Distronic technology, which are fitted in the company's new line of self-driving cars. If you're planning to buy one of the company's self-driving cars, your options include CLA-Class, GLA-Class, G-Class, SLC-Class, A-Class, E-Class, CLS-Class, and S-Class. These models are fitted with lane-centering steering and adaptive cruise control features.
If you really need a car for safety and comfort purposes, you can easily consider the recent self-driving models a real life-saver. Or if you're planning to earn from your vehicles, you can also have these as a potential fleet for luxury car rentals. To ensure you'll get the best value for your money in terms of quality, seek expert guidance before buying anything.