BEHIND THE SCENES: Details from Formula Drift Atlanta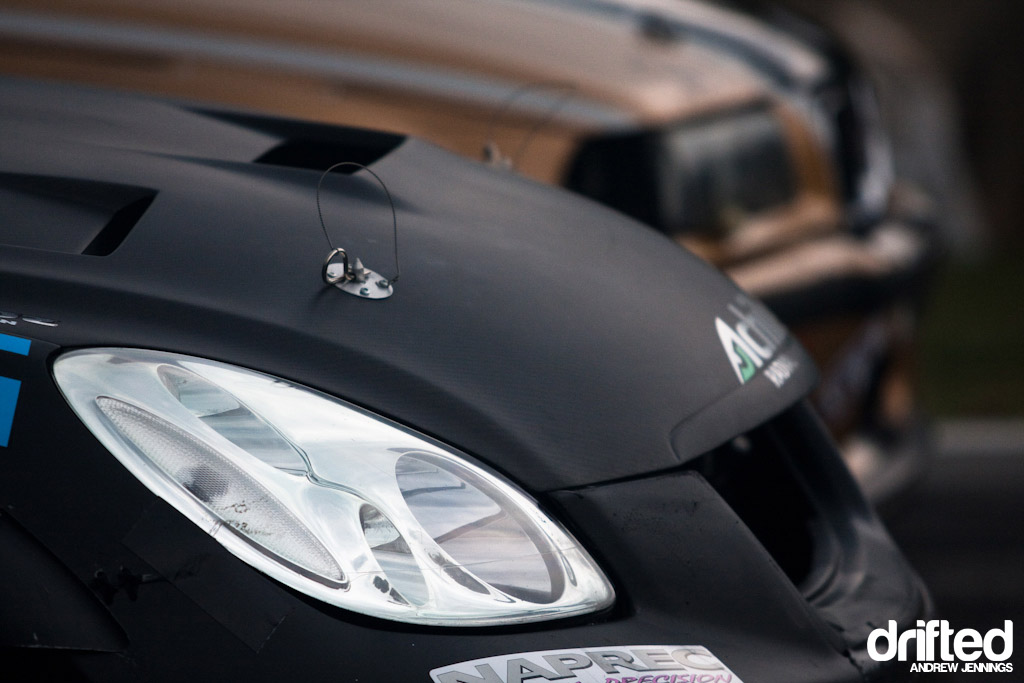 Formula Drift's second round of the 2012 season has now concluded, but that doesn't mean the stories are over. With plenty of new cars on this year's grid, let's take a closer look at some of the new ways each team is making their own mark on the sport.
Ryan Tuerck continues to be ahead of the automotive trends. His budget is modest, but he has chosen a wheel designed with flat spokes that allow for a very cool vinyl graphic to be overlaid on the front. It gives the car a very unique look that is in contrast to the growing number of HREs on the grid.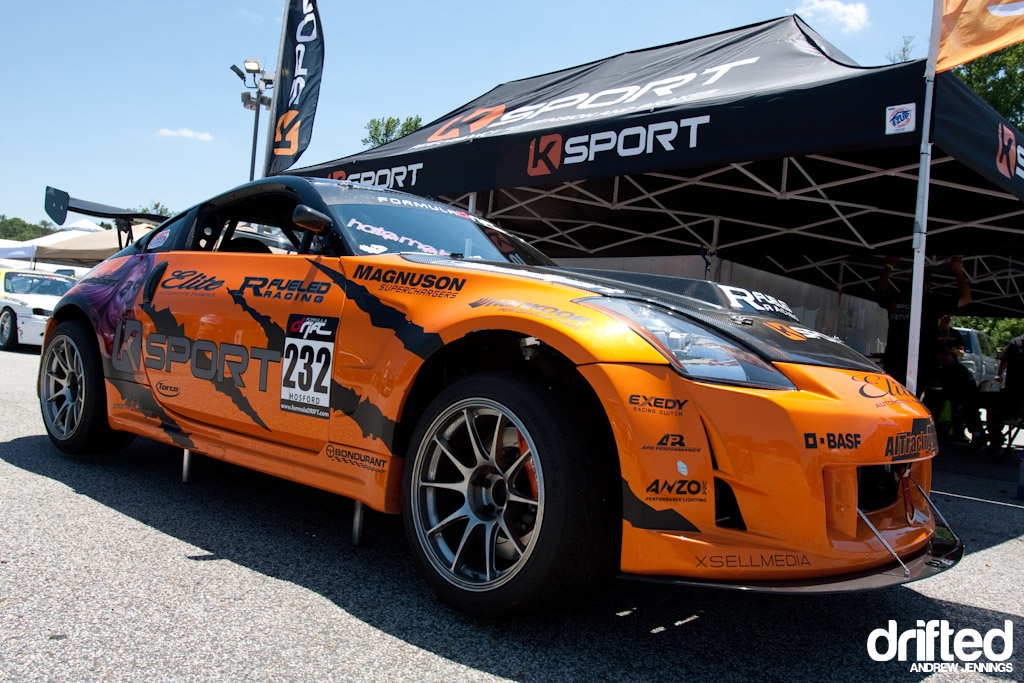 The Ksport team was looking baller with a set of built-in jacks fitted to Hosford's Nissan 350Z. I've always wondered why more cars in Formula Drift don't make use of this technology considering they would make changing tires so much easier.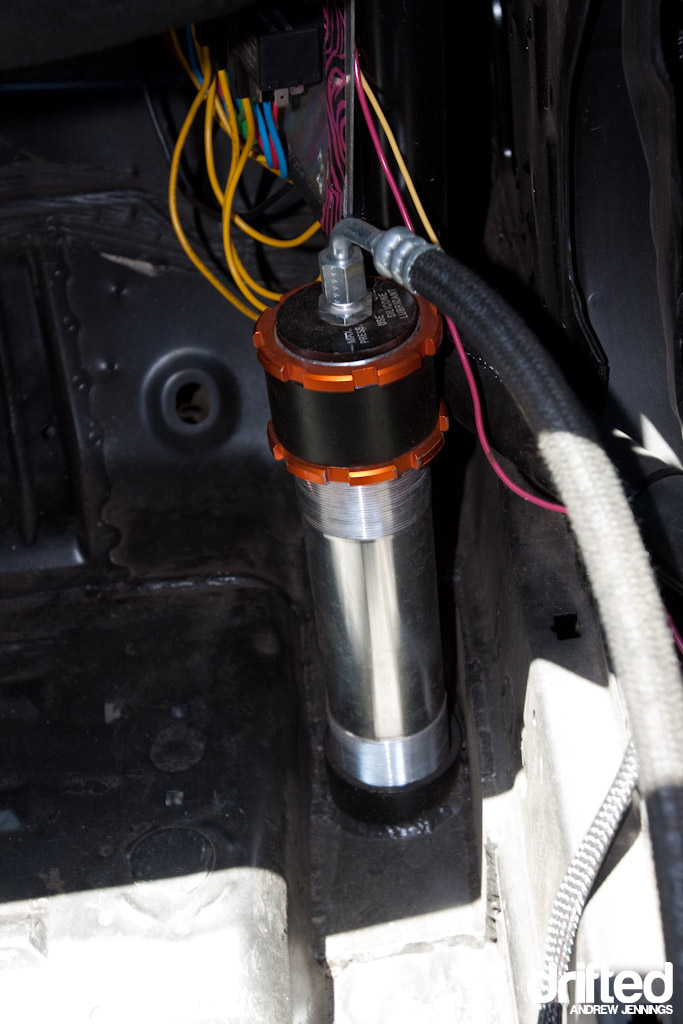 The hardware itself is actually pretty simple. Each corner just inboard of the wheel well is fitted with a piston as shown in the image above. They all link up to the control unit in the car's hatch. I don't know how much weight they add, but aside from a little bit of lost legroom for the driver there seem to be few drawbacks.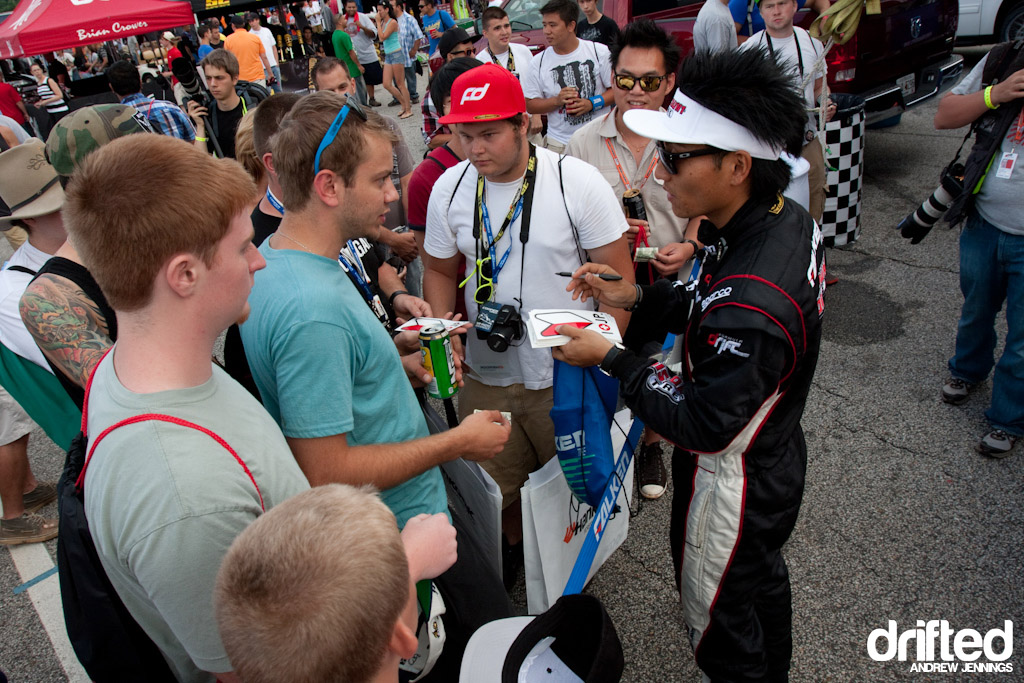 Elsewhere in the paddock Daijiro Yoshihara continued to take donations in exchange for stickers towards Japan's disaster relief effort. It's been over a year since the March 11th earthquake and tsunami in Northeastern Japan, and while it may not make front page headlines any longer there are still many communities that need support. If you feel inspired to contribute towards the cause, Yoshihara has all of the information you need on his own website here.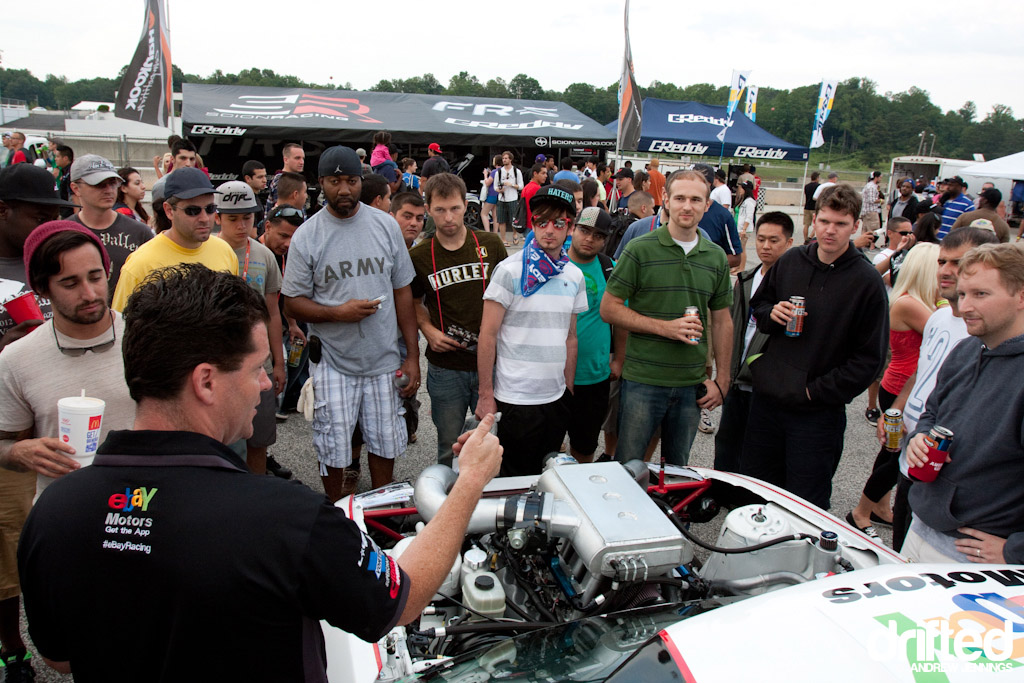 Down by the eBay Motors team booth, the engine experts were fielding questions about Tony Brakohiapa's Mustang. There seemed to be many enthusiasts of the pony car breed, and the eBay guys really knew their stuff from timing belts to manifolds and more. It's a great way to connect with the fans and for them to actually get advice on parts they could afford, rather than taking about some kind of Sprint car motor that had been dropped into a car they'll never own.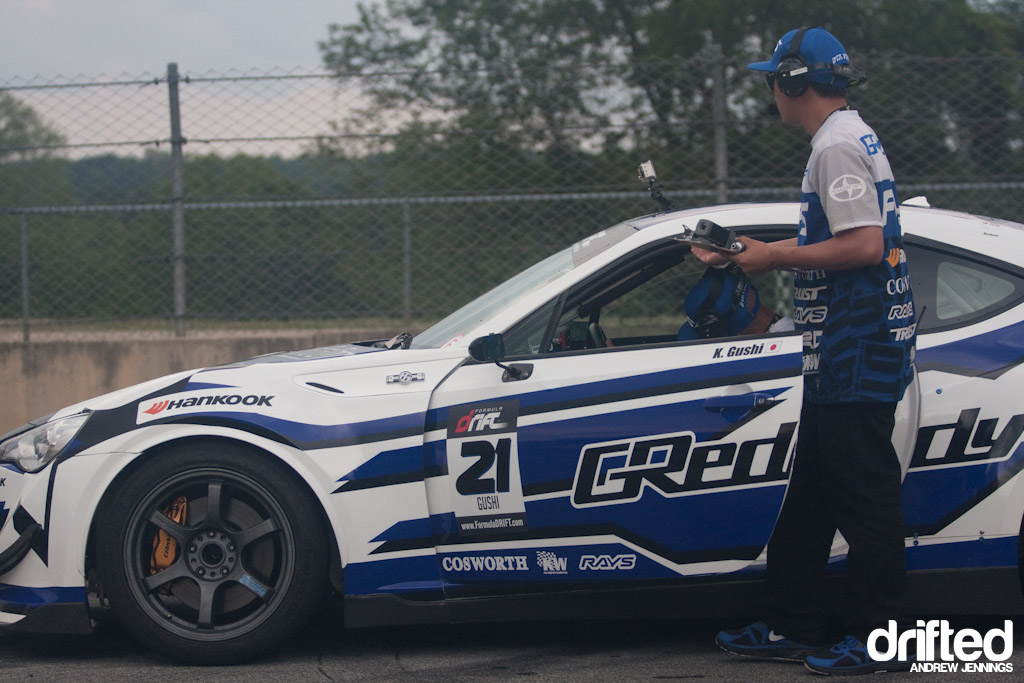 While you may notice that many teams, including the eBay Motors gang, had matching polo shirts, the Greddy Racing Scion team went the extra mile this year. Not only do they have matching shirts and hats, but…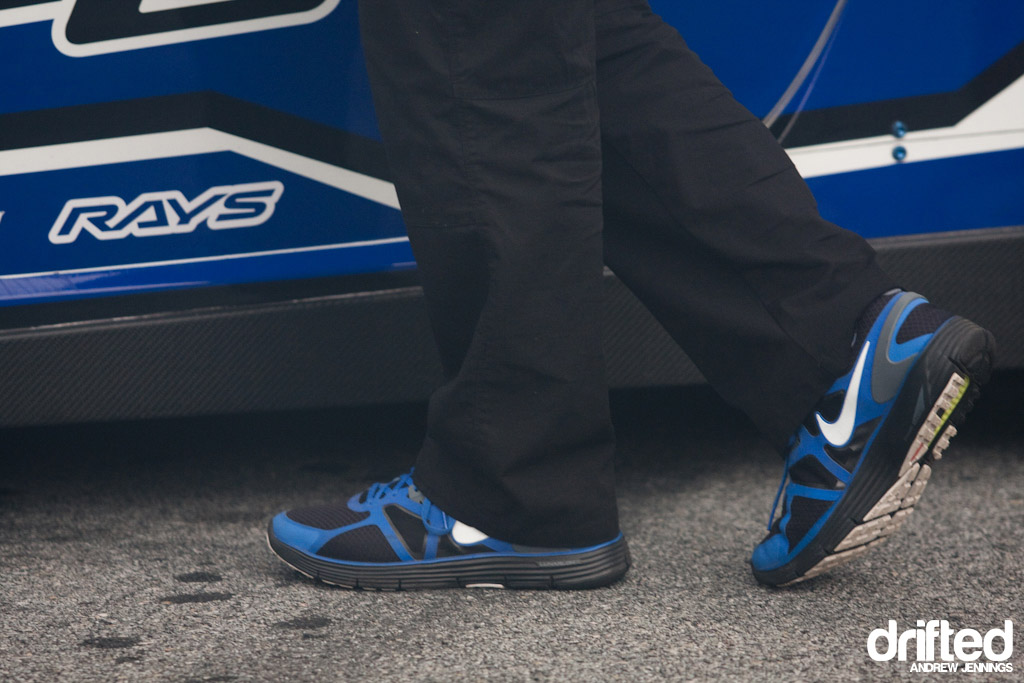 They also had matching footwear! Check out the cool kicks the mechanics and race crew were wearing throughout the weekend. They're no Jordans, but I'm sure Ken Gushi was pleased to have a Nike customized for his squad.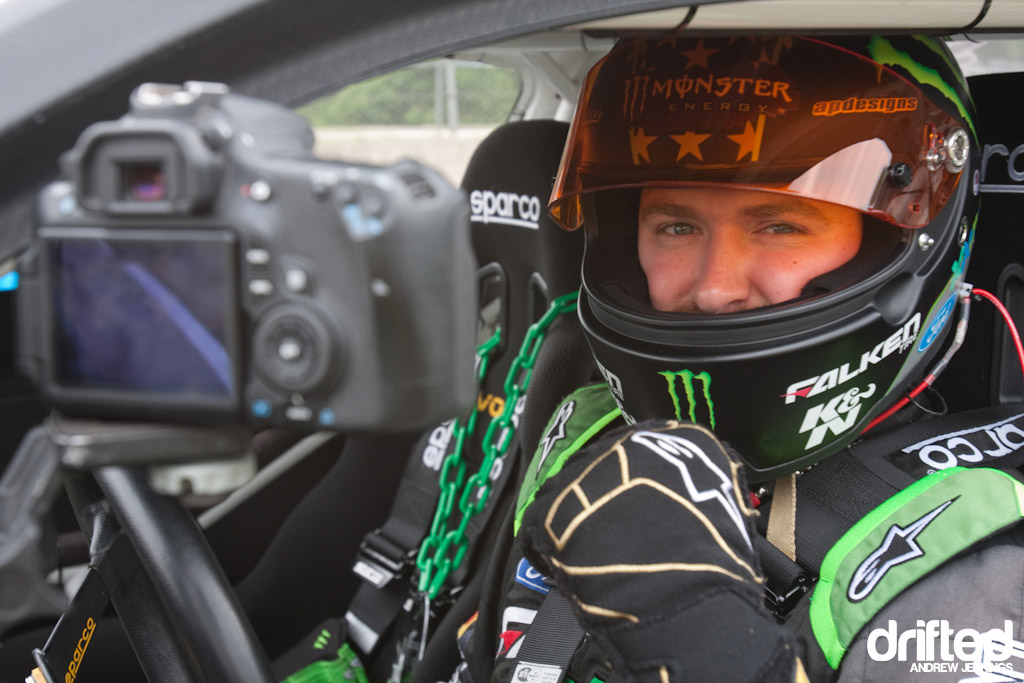 On the subject of budgets or favoritism, you can tell that Vaughn Gittin Jr. is still the no. 1 driver in the Team Falken Tire stable despite finishing lower in the points than Pawlak or Yoshihara last season. Case in point: the DSLR camera that was recording video of him throughout the proceedings.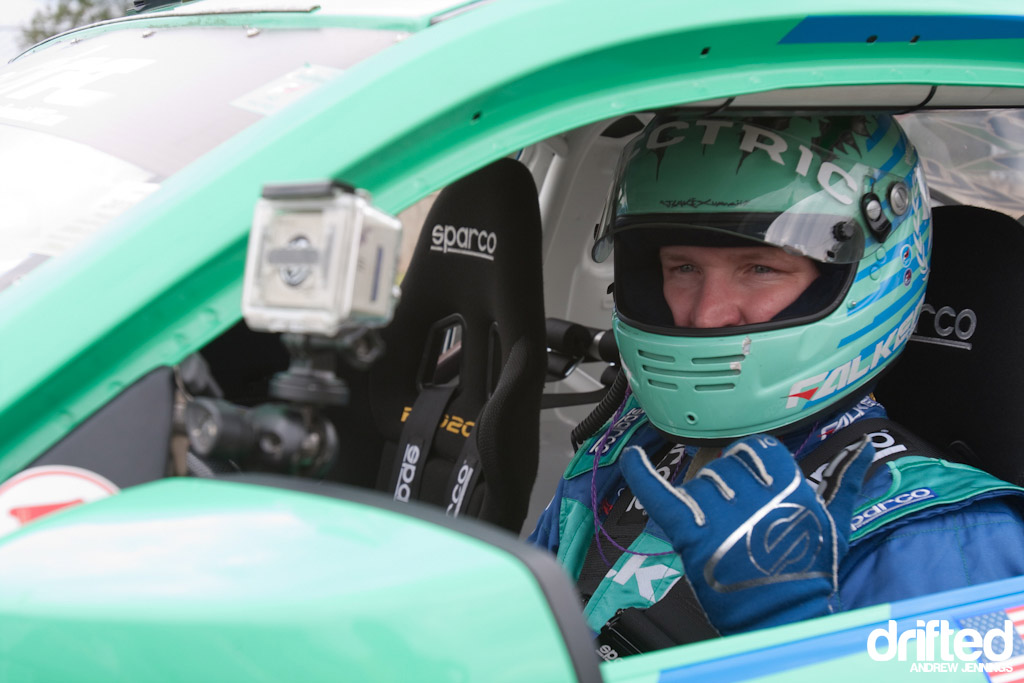 Compare that to the meager GoPro that was getting a close up of Pawlak during the race and the pecking order is clear. If Pawlak can get a little bit more personality into his image along with the great racing results I'm sure that the attention placed on him will change.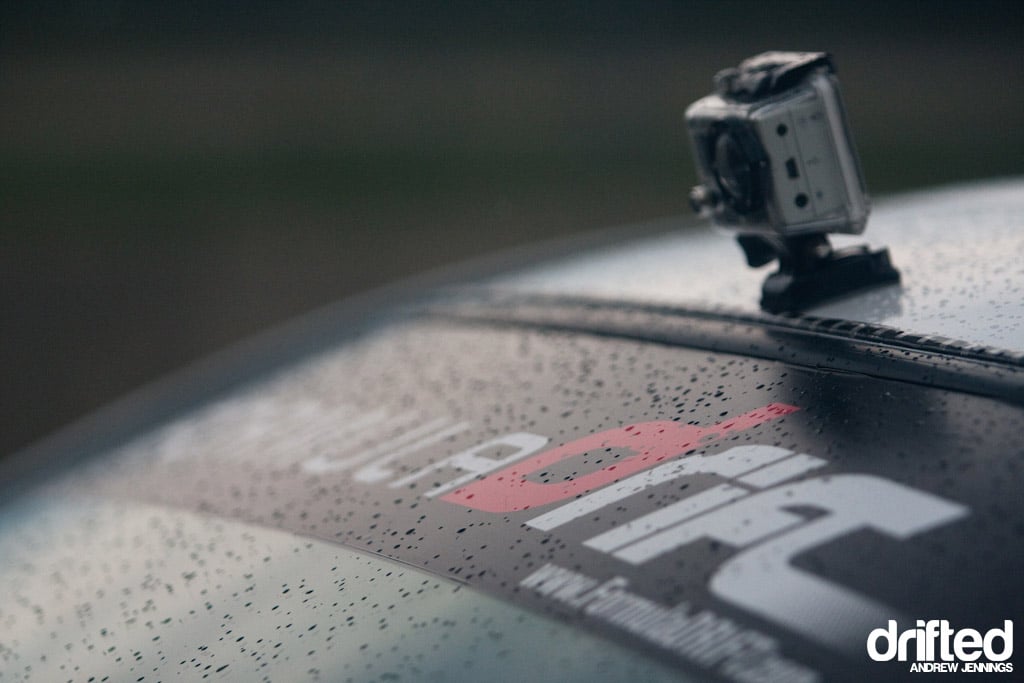 As I was shooting the portraits of Pawlak and Gittin rain began to fall up at the grid. I'm sure that the DSLR mounted to Gittin's car held up like a champ through it, but the GoPros did look much more at home during the light sprinkle.
The rain didn't accumulate to much so they cars continued to run practice before the Top 32 competition. It wasn't hard enough to make wipers mandatory, but not all drivers have them on their cars. A few of the top teams had eliminated them altogether during the car's build, probably to make room for wiring in the driver's cockpit rather than to save weight.
Fredric Aasbo's Team Need for Speed Scion tC was among the cars without a windshield aid, leaving the crew to wiper down the front before each run. I also took notice of the two holes you see here in the hood. They aren't the true exhaust pipes, but do connect to the exhaust manifold on the engine below, allowing for some spectacular flames on certain occasions.
The car wasn't running rich enough in Atlanta for that kind of theatrics, but I did catch a cool shot of Aasbo's tC letting out a little bit of smoke from those openings. It's a visual stimulus for the driver, and Aasbo mentioned to me that flames or other activity from that area really pumps him up during the race.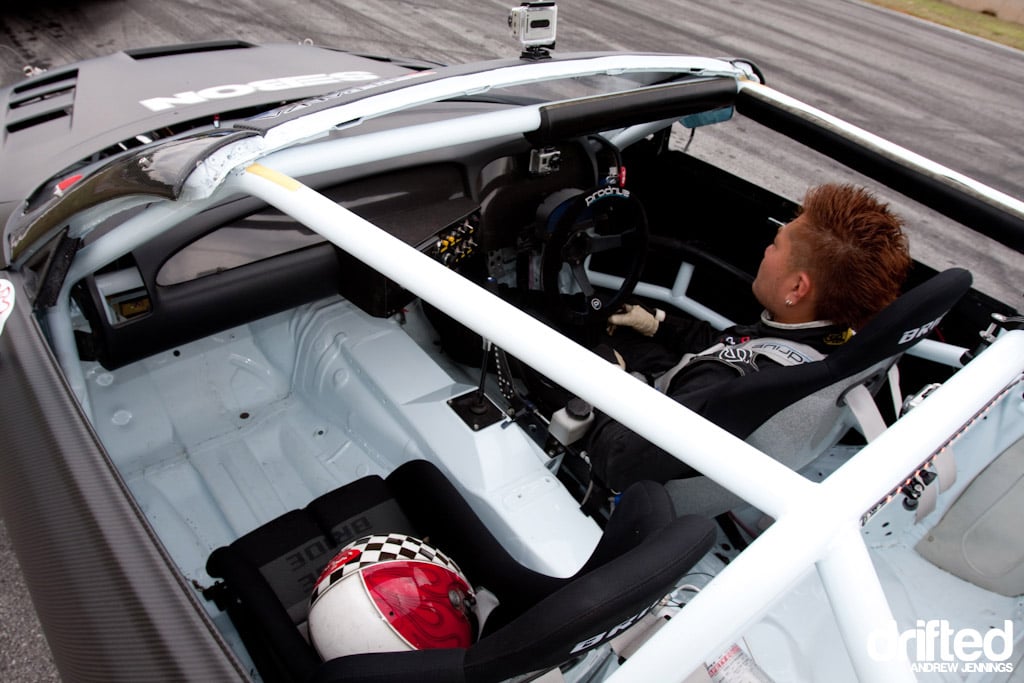 Daigo Saito didn't seem to mind a little bit of water getting into his super clean interior. He had a very calm demeanor between runs, as if this was all just another day at the office.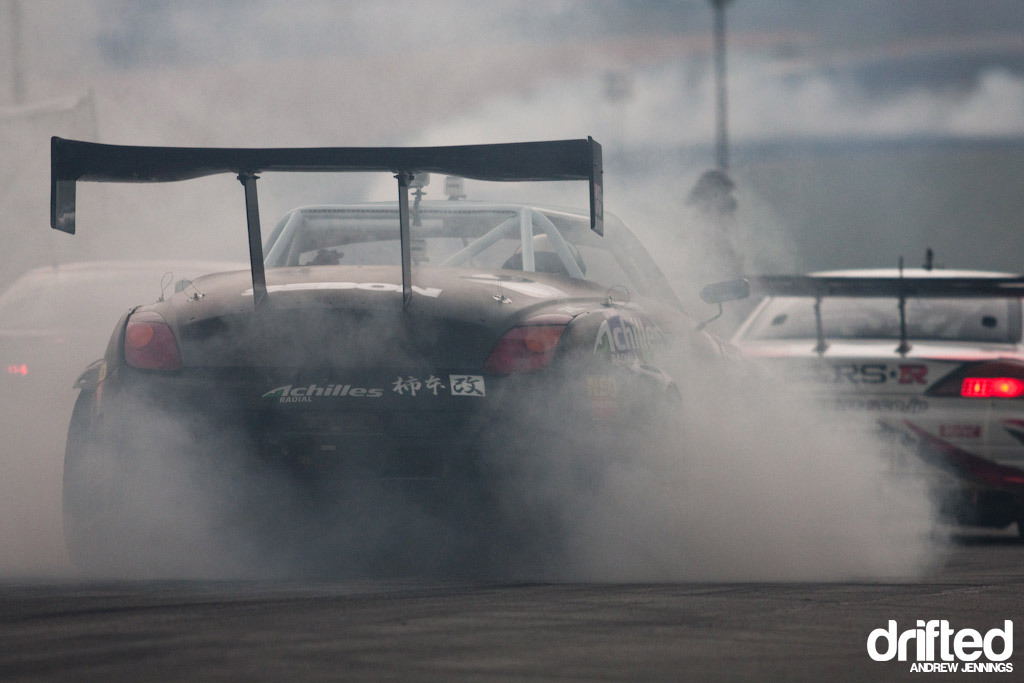 Everything about his car screams excessive, from the massive wing on the back to the over-boosted engine up front. He didn't hold back when it came to warming up his tires either, pulling some of the biggest burn outs on the grid in anticipation of a hot lap.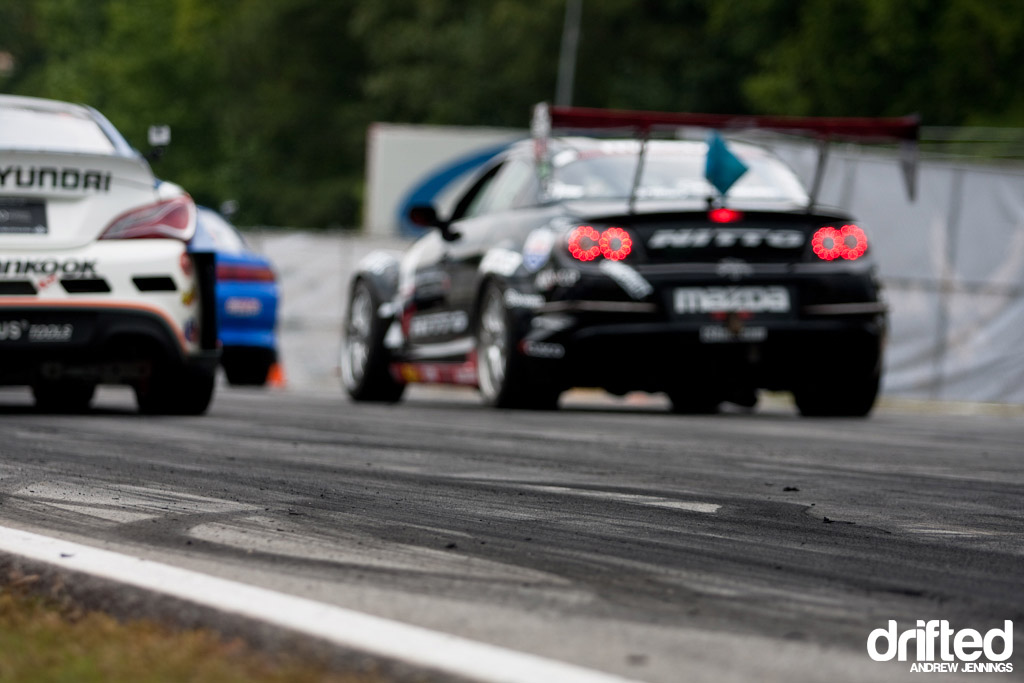 I'll end my thoughts with this shot of Joon Maeng's Nitto Tire/Lucas Oil Mazda RX-8. Maeng drove throughout the weekend like a man with nothing to lose, or as they say in some forms of racing "like his job depended on it." There are strong rumors throughout the paddock that this could be team owner Ron Bergenholtz's last season in Formula Drift. I wouldn't count on it being the last for Maeng though. He continues to get track time on the West Coast in his Lucas Oil sponsored Nissan S13.5, so at the very least he has a solid ride for 2013 ready to go. Here's to hoping the young talent is able to keep on the full calendar next year should the rumors come true.
So who's looking forward to Palm Beach this weekend?
Andrew Jennings is a photographer and editorialist based out of Nashville, TN. He has been covering the American drift scene since 2007, and his work has been published in nationally syndicated magazines such as Modified Magazine, Import Tuner, Performance Auto and Sound, and RIDES. Andrew may be contacted through his professional online portfolio, or the social networks listed below.
Professional Portfolio: http://www.andrew-jennings.com