BEHIND THE SCENES: Other Observations from Formula D Wall, NJ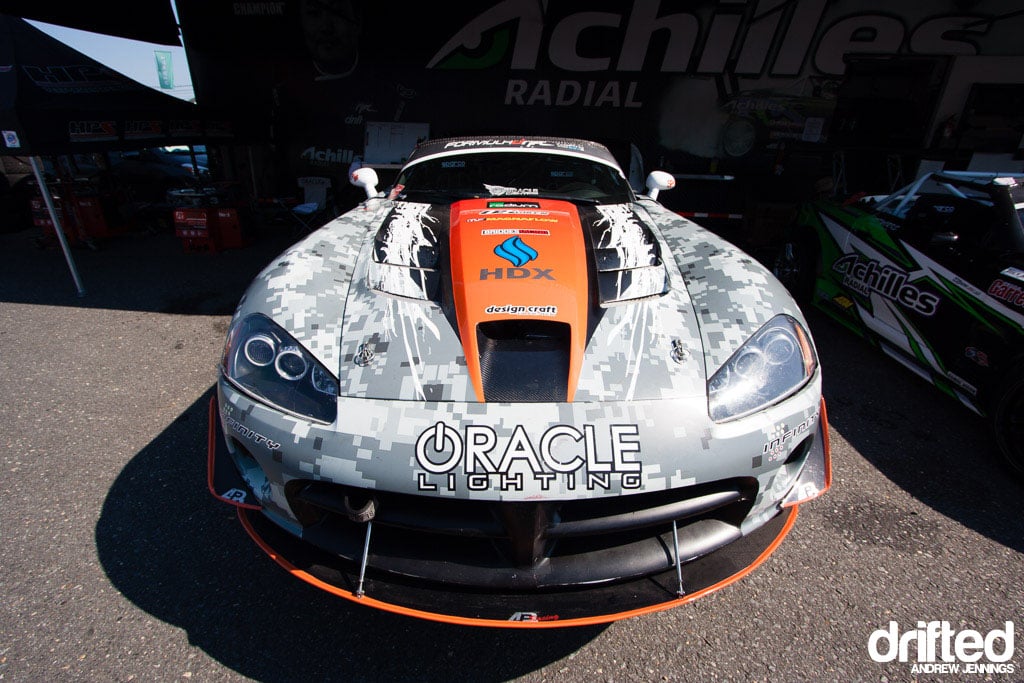 Round four of the 2013 Formula Drift Pro Championship is in the books. Having recapped the Top 32 competition, let's now turn the spotlight over to some of the off-track antics from Wall Stadium. There is a lot of effort that goes into making the show happen. Race weekends are always evolving, and in the sport of drifting, fun surprises are about the only certainty.
One of the first things to focus on as a journalist is the car setup each morning before the fans arrive. Dean Kearney had a big set back after his first practice session on the Thursday before the race, breaking the transmission in his Oracle Lighting Dodge Viper. A few grand was forked over the next day for a replacement box, and luckily the team was able to get it going in time for qualifying on Friday afternoon. Kearney did his part to make it worth the effort too, and qualify within the first top 16 in the new knock out format, a nice result that he'll be looking to repeat in Seattle.
Chelsea DeNofa came to Wall in 2012 with his season prospects looking up. He was finishing better at each event, and there seemed to be no reason to slow down. The guardrail had other plans, and completely totalled his E36 BMW. He returned a more experienced driver in a new E46, but the nerves had to be with him. Although he didn't get far in the main competition, just completing the event with a standing chassis must be a nice demon slaying for DeNofa.
On the reverse end of the paddock was a guy who doesn't seem to feel pressure at Formula Drift, or at least not show it. Danny George is the epitome of calm and collected, kicking back with his buds throughout while finding new ways to decorate his Wreckhouse Miata. The mustache and Cars inspired sunshade he popped onto the windshield drew lots of laughs from fans and rival teams alike.
Taka Aono is a quiet guy, and that's not solely because of his lack of diverse English vocabulary. Aono may have a bit of backing from Conrad Grunewald's team this year, riding along in the Megan Racing/Hankook rig to each event, but the meticulous commitment he shows his AE86 speaks volumes about his attitude as a participant in the sport.
Scion driver extraordinaire Fredric Aasbo may not need to turn a wrench when it comes to his tC, but he chatted with me briefly about his interior. The cabin is the driver's life, literally when it comes to safety equipment, so Aasbo inspects his harness and other fittings daily. He is one of the growing number of competitors to adopt a Hans device, something that hasn't held him back from constantly looking out his side window during his insane entry angles.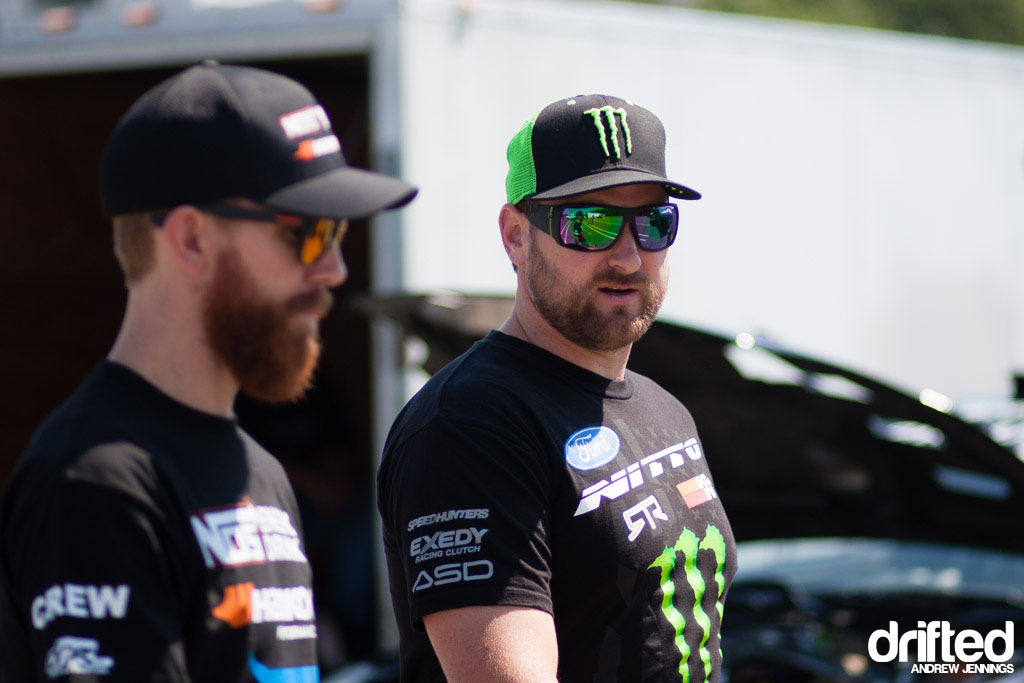 Vaughn Gittin Jr. and Chris Forsberg have been brothers in the drifting series since day one. It is not uncommon to see them and other Drift Alliance members hanging out in the paddock, rather than being focused on their cars. Having each won a championship at this point, they can let the mechanics worry about the car setup.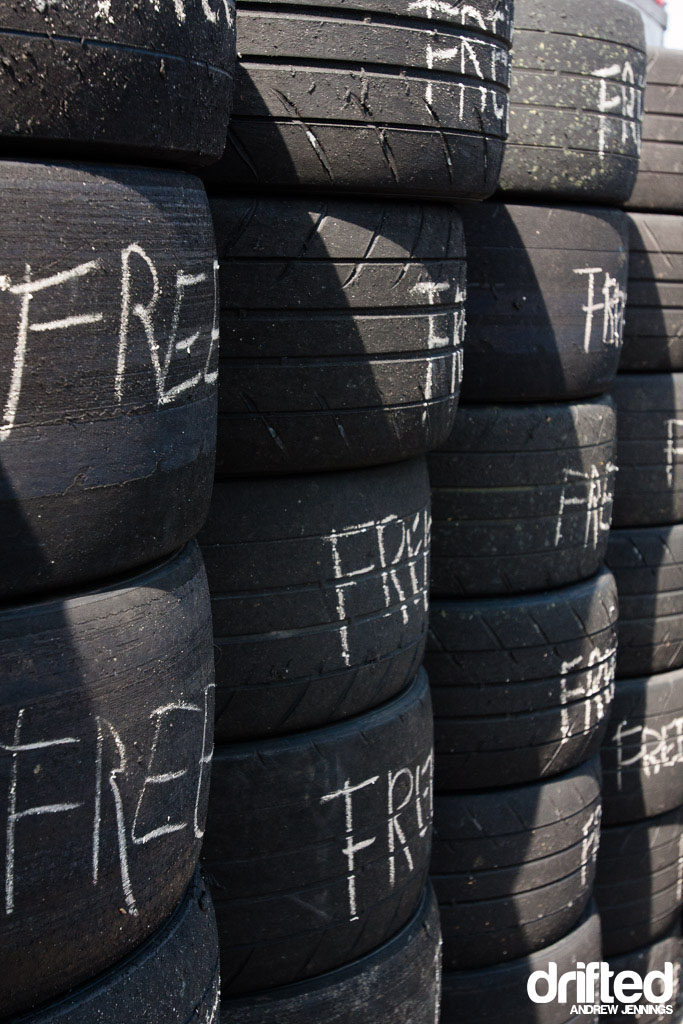 Every Formula D event creates an abundance of scrubbed tires. These Hankooks were all begging for a new home, kind of like stray kittens in a pet store window.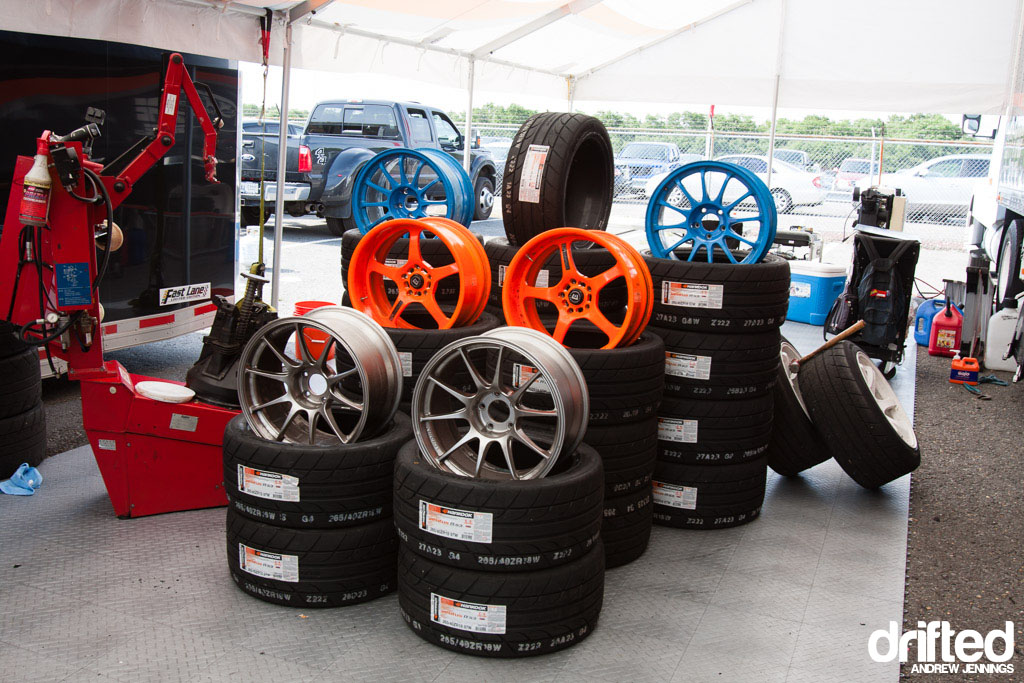 Looking away from the mass souvenir rubber piles, we find the source of it nearby in the form of a Hankook mechanic, slaving away like a modern day blacksmith. During Saturday's "half time" hour, the lonely fitter had given the teams plenty of new sets to get them through to the end of the event. The only thing left to do was entertain himself, removing a bunch of tires from their wheels to create a sculpture to the drifting Gods. Can you name the owner of each wheel that is displayed above? Shout it out in the comments below!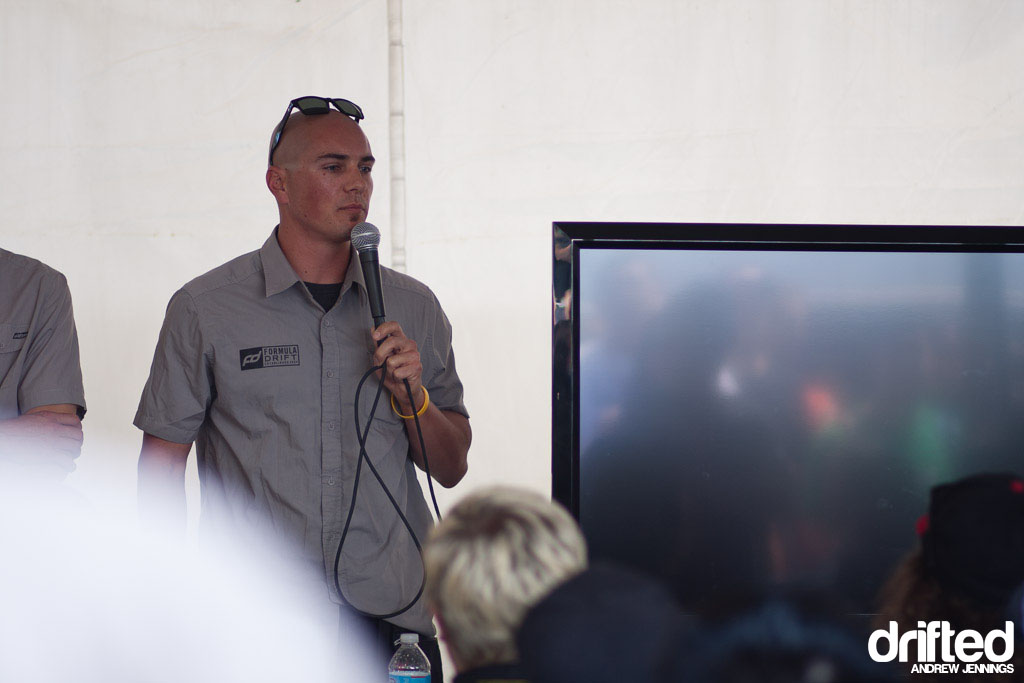 Ryan Sage, co-founder of Formula D, kicks off each drivers meeting with a few notes from the organizers. This year it was mainly about the new track layout, and what the field shout aim for during their battles.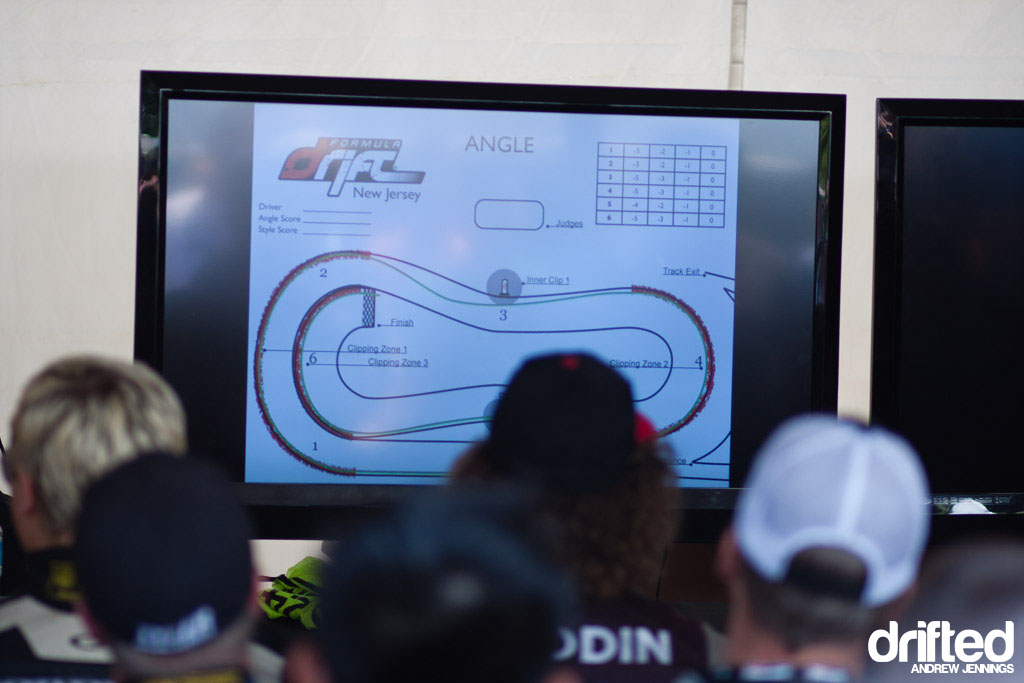 The middle section of the circuit was eliminated. It was always a point of contention among the drivers because it featured a lot of bumps and ruts to upset the cars. Given the distance, it also allowed lead cars to jump ahead of chasers, diluting the ability for the sport to show close action.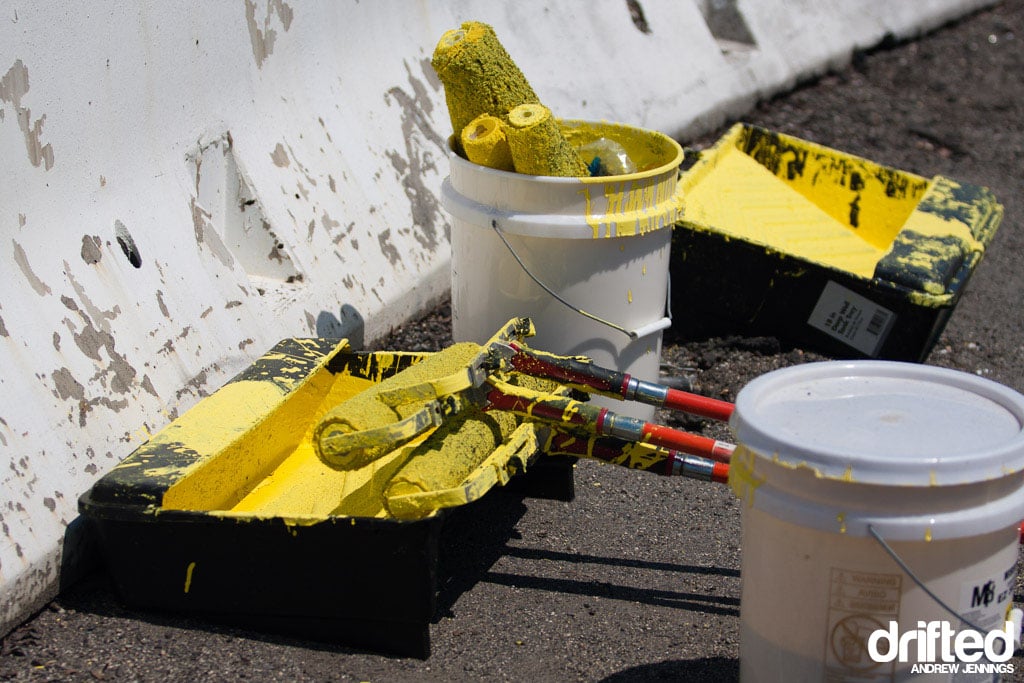 To help drivers navigate the new layout, and to ensure judges and fans knew the track boundaries, a layer of yellow paint was applied to the outside and inside lines. Seems legit, right?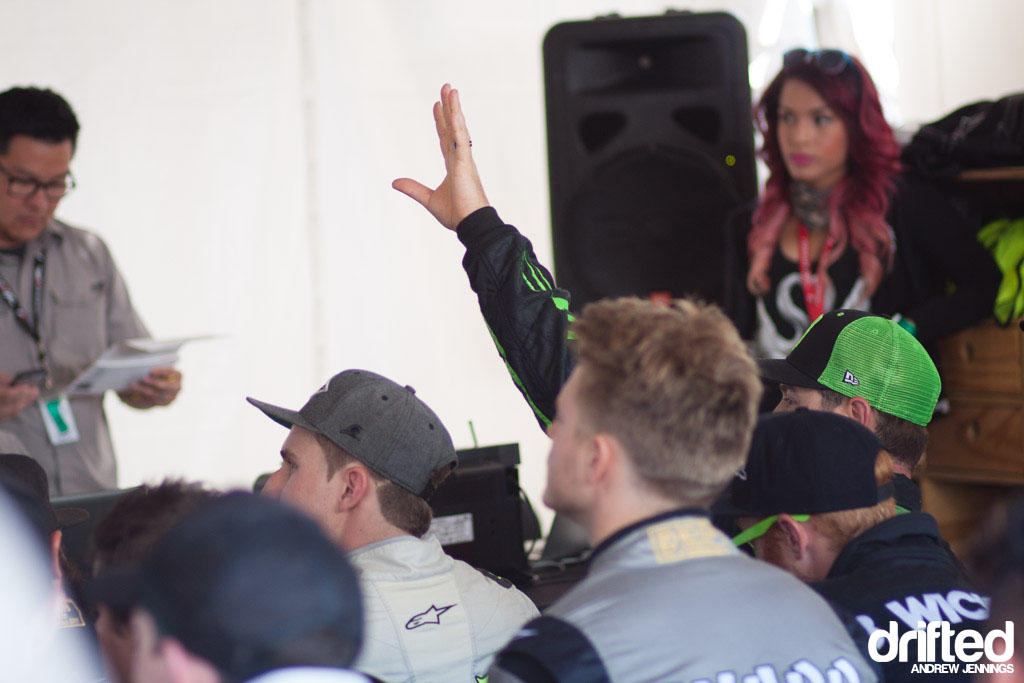 Oh wait, Gittin did you have a question about all of this? (As a side note, there has probably not been a single drivers meeting in the history of Formula D that Gittin didn't have something to complain about…) Apparently he, and some other drivers found this new layout to be challenging on the first practice day. So much so that he found it slightly unsafe, worrying he would not be able to see the new line while following through another car's smoke trail.
The organizers and judges were somewhat unsympathetic at first, unsure on the spot how to improve the situation at this late juncture before qualifying was about to begin. Gittin didn't relent, and staged a minor mutiny, asking all drivers who shared his view to raise their hands in protest. Notice Forsberg's orange arm up high in the background – this was a topic on their minds that morning walking through the paddock before the meeting.
Formula D's judges didn't argue with the drivers, and eventually worked out a solution. An additional set of flags were added to "Inner Clip 2", giving yet another visual reference to navigate with. Ultimately, this was just one example of how the sport is getting bogged down with details. Sage personally questioned every driver after the meeting privately, and only about one third of the field had any real concern about the track – the vast majority was going to attack whatever layout was handed to them.
Another interesting feature of Wall Stadium is the staging grid. It is only separated from the open paddock by a small metal fence, giving fans a front row seat as the cars warm up their tires for an upcoming run. Matt Powers is one of the more aggressive guys when it comes to donuts, and I think he prefers the audience.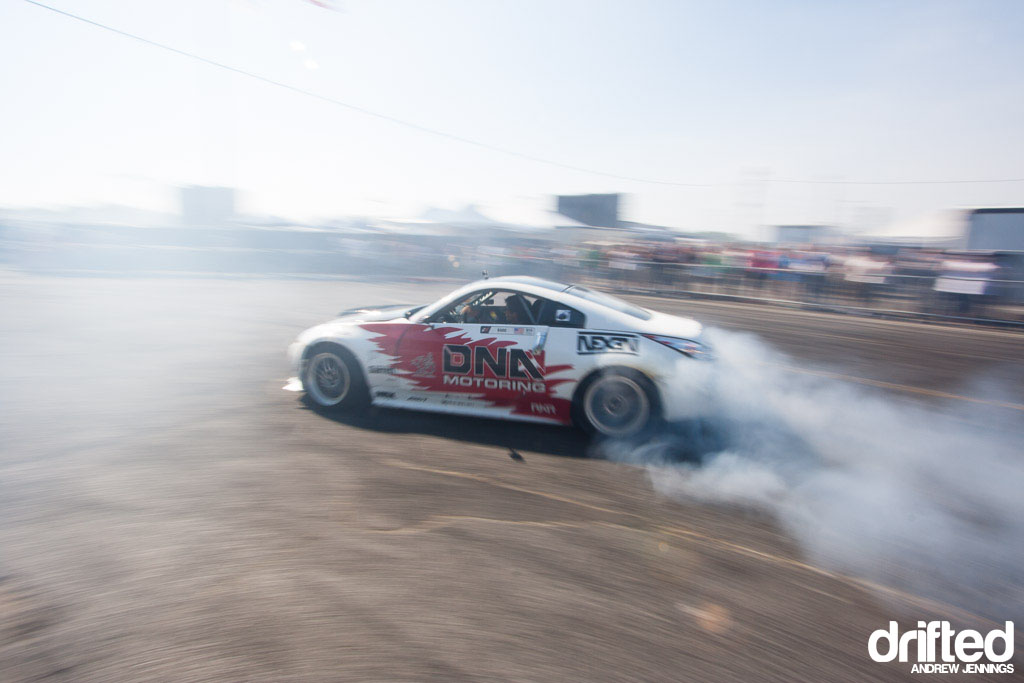 Ryan Kado got in on the fun too, and didn't even bother to put on his helmet! Ahhh taste that sweet vaporized rubber.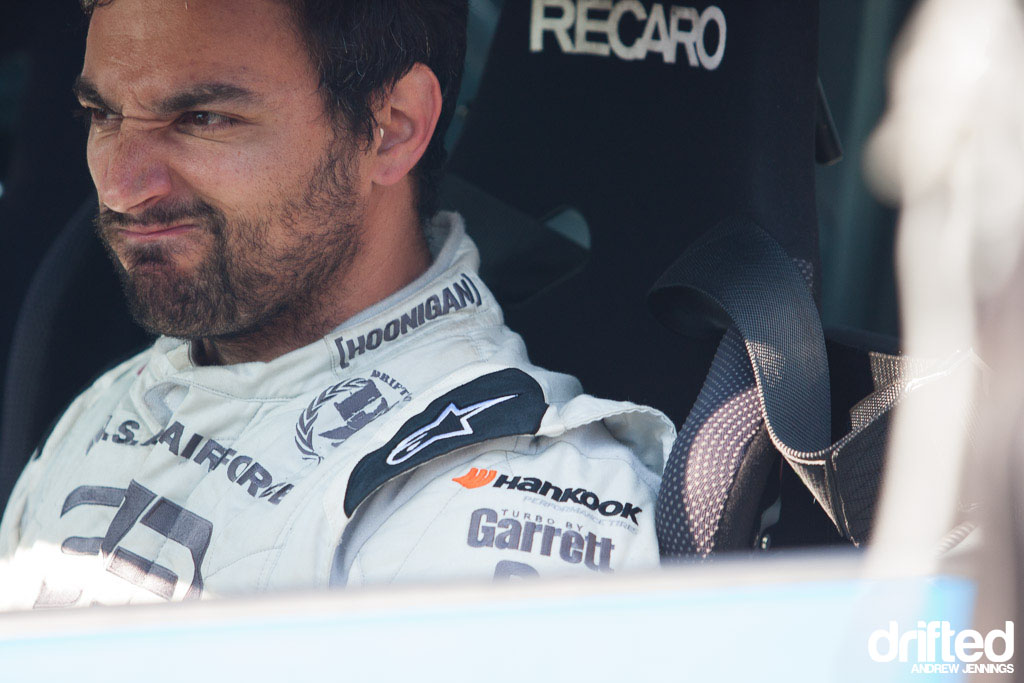 Before his final qualifying run, Tony Angelo was looking focused. Chatting with his pit crew and others on the grid, he knew what it would take to be in the show. Sadly, he couldn't turn that drive into a result, taking himself out agains the guardrail before he could finish the long first turn.
As the sun dropped lower into the horizon the track developed a wonderful sort of glow under the haze of tire smoke. Here, Pat Goodin awaited his second qualifying run, all of the tension building before he could launch along the banked start line. Getting up to speed is always tough at Wall, where the rear tires just want to fall away down the slope into the right hand initiation point.
Occasionally in drifting you can see the exhaust systems at play in real time. Here, Brandon Wicknick's exhaust seems to come alive as he powers through the transition, blowing a small hole through the cloud of smoke behind.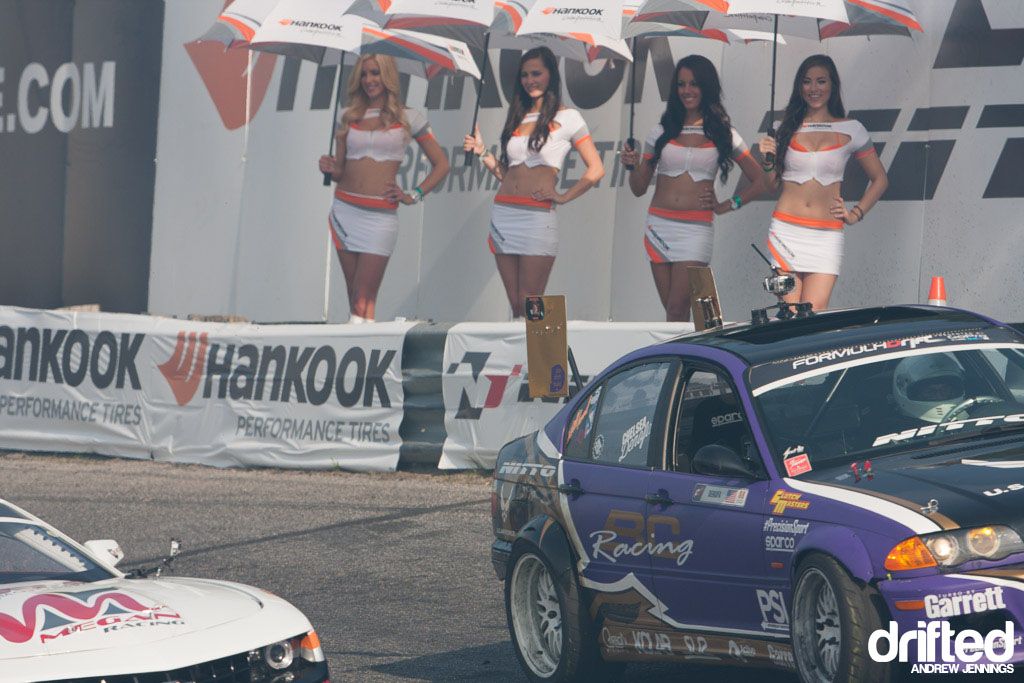 With the starting line so close to the grid and grandstands, the tire manufacturer's took advantage and asked their umbrella girls to walk out into the stadium if one of their drivers was up. Here, the ladies from Hankook cheer on Tyler McQuarrie during his battle with Chelsea DeNofa.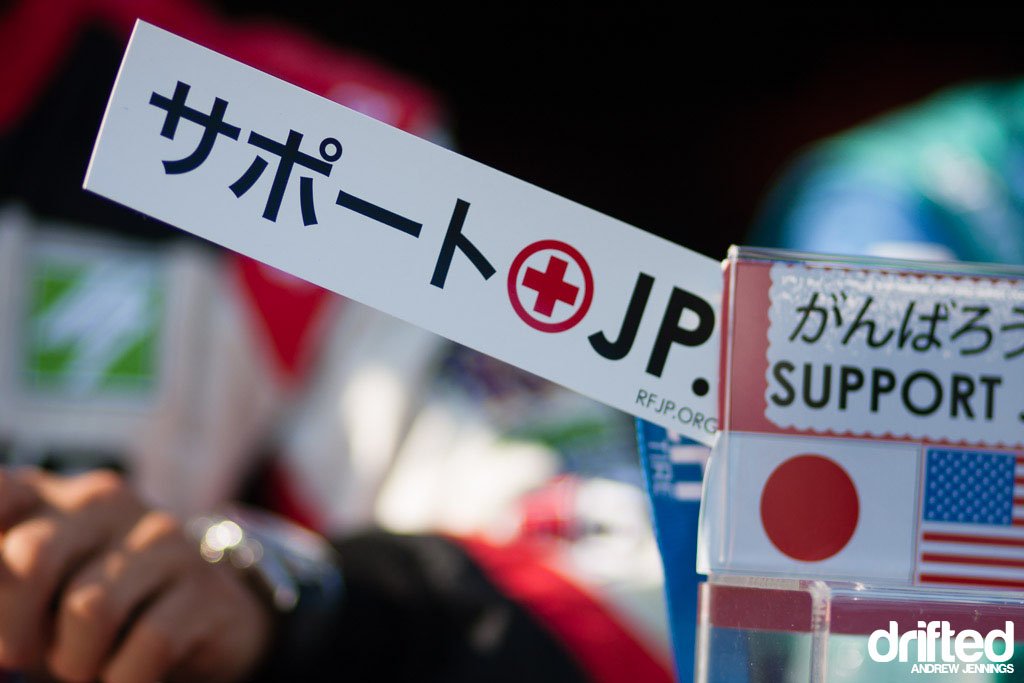 Back at the autograph sessions, Daijiro Yoshihara continues his fund raising efforts towards rebuilding areas of Japan that were devastated by the 2011 Tsunami.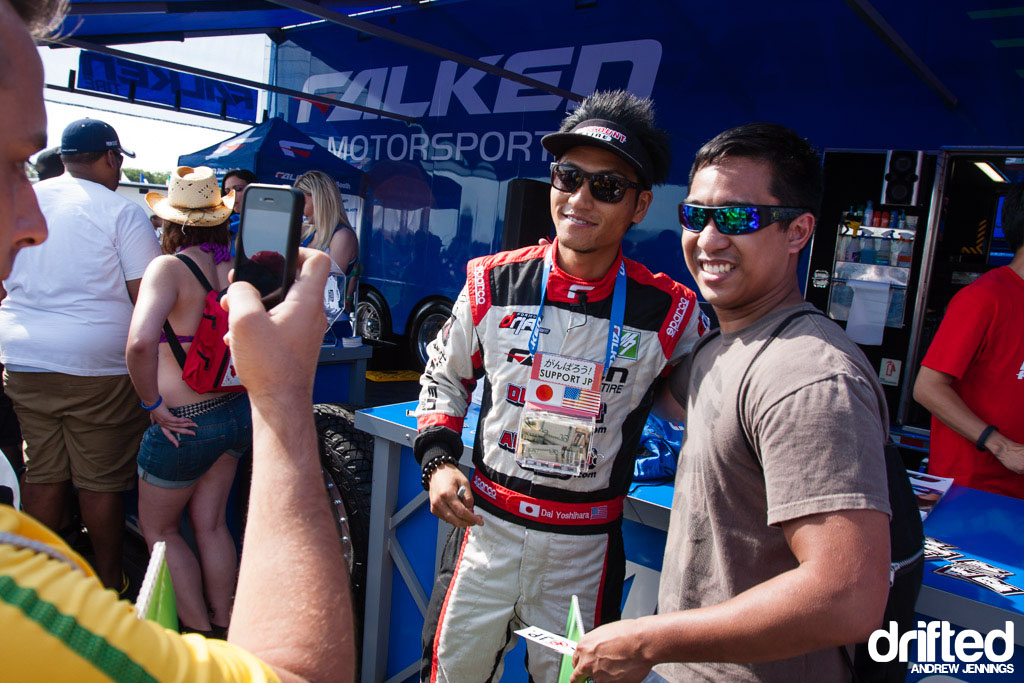 To date, Yoshihara told me he had collected over $50,000 for the relief effort, all by of the generosity of drifting fans. You guys rock, and Yoshihara is truly grateful for the support! If you want to donate online, please visit: http://www.donate-japan.com to make a contribution.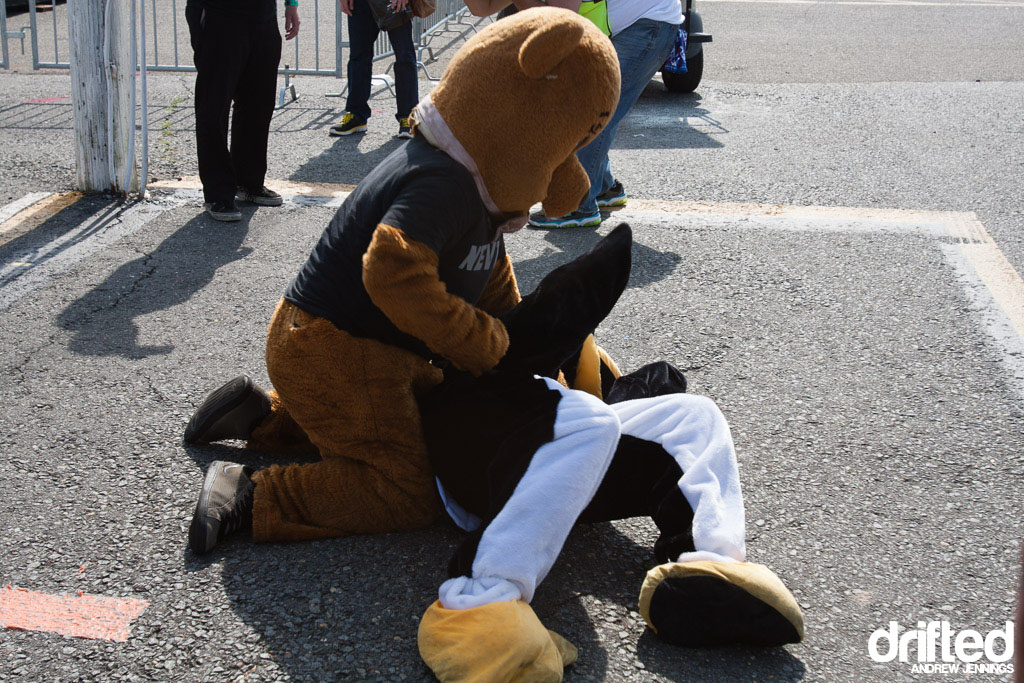 New Jersey brings out the crazy in some of the attendees, and also seems to bring out the mascots. I honestly have no idea what the bear was doing at the event, but a wrestling match soon broke out with the Mishimoto penguin.
Bear one, penguin zero. A definitive KO!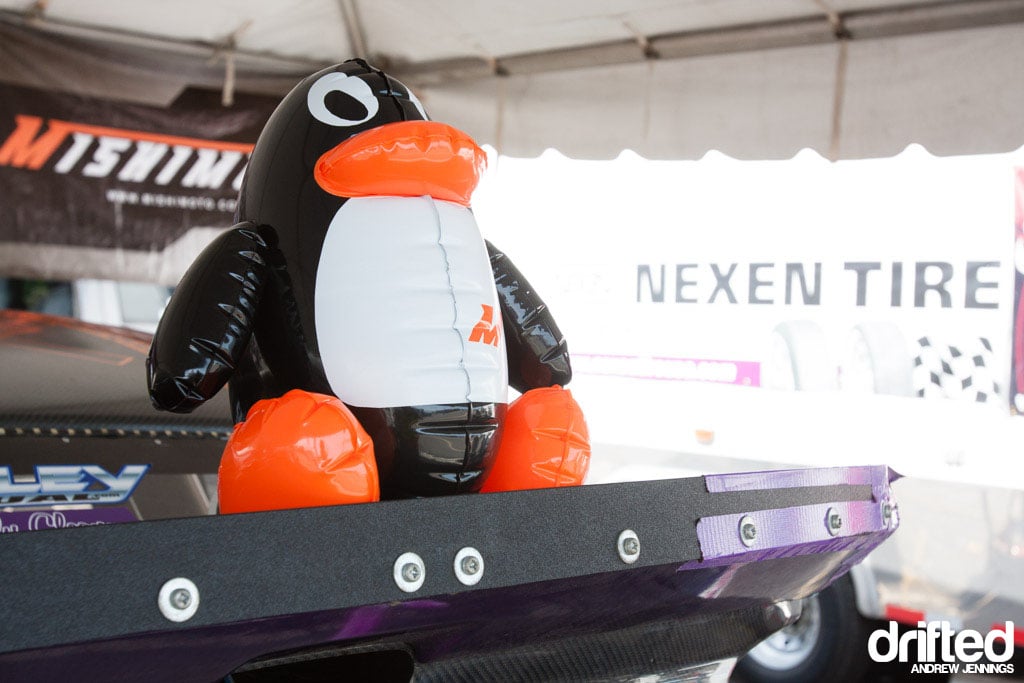 Mishimoto's penguin wasn't impressed… look for him to take revenge at a future event! Ha!
Thanks for checking out our behind the scenes insights from Formula Drift Wall, New Jersey. Keep it tuned here on Drifted for all the latest in Formula D action!
Tags: 2013, Achilles Tire, Andrew Jennings, Andrew Jennings Photography, Andrew-Jennings.com, Andy Yen, bmw, Brandon Wicknick, Canon, Chelsea Denofa, Chris Forsberg, Daijiro Yoshihara, Danny George, Dean Kearney, drifted, drifted.com, drivers meeting, Falken Tire, Formula D, Formula Drift, Fredric Aasbo, girls, Hankook Tire, M3, Matt Powers, Mazda Miata, New Jersey, Nitto Tire, NJ, Pat Goodin, Ryan Kado, ryan sage, Scion, Support Japan, Taka Aono, Takada Harness, tC, tire smoke, Tony Angelo, Umbrella Girls, vaughn gittin jr, Viper, Wall, Wall Stadium
Subscribe to Drifted
If you like this article why not subscribe to Drifted and we will email you our freshest content for free!