British Drift Championship Round 2 – Semi Pro – Llandow, Wales
This weekend saw the Semi-Pro second round of the 2010 Maxxis British Drift Championship. The event was held at the popular Llandow Circuit in South Wales and the weather forecast for the weekend was looking less than promising! Nonetheless, everyone was in high spirits – Llandow had always delievered fantastic weather and fantastic driving in the past and the way the day was shaping up we looked set to get both again.
With the Pro class getting their own event this round (Silverstone 23rd May), the Semi-Pros had Llandow all to themselves. This meant seat time central! Above, Matt House catches the dirt heading towards the second clipping zone.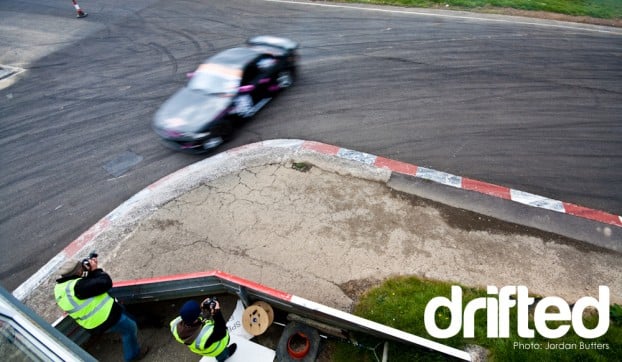 This is the first clipping zone at Llandow, drivers were asked to place their front inside wheel onto the kerb. Too far off and the next transisition became very tricky, too far in and the apex serves up a nasty dip that throws the car off line and causes some horrible suspension/steering casulaties.
Martin Griffith suffered front end damage to his turbo E30 BMW early in morning practice, clouting one of the huge tractor tyres (that you can see out of place in the background) that line the outside of the grass at this track. The tyres were placed there to deter some of the dirt-dropping overkill that had been employed at Llandow at previous events.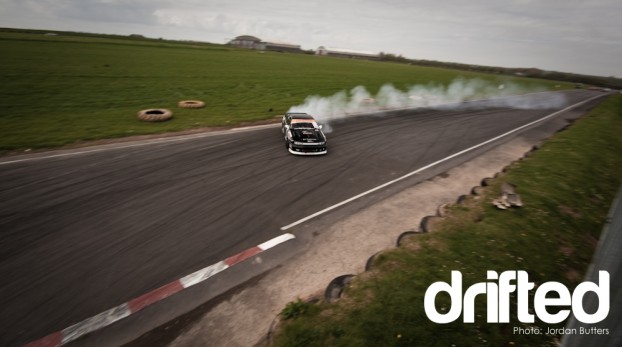 Round 1 Semi-Pro winner Jordan Patton throws down a long sweeping entry into the first corner. Llandow is ALL about the initiation, whether you like to hang on the handbrake or weight transfer from side to side you have to make it as fast and spectacular as possible. Jordan had just started to get to grips with the track but unfortunately couldn't put it together in Qualifying and didn't make the Top 8 finals.
Noel Phipps starts his initiation in the the tricky first corner at Llandow.
Ross Ianson of Speedhunters waits for the next car to set off from the Judging Tower. The tower sits directly above the first 90-degree corner and provides an excellent (and warm) view of the BDC corners at Llandow.
Danni Murphy was getting to grips with her new S14a but sadly suffered from problems through the day, scoring 59 points in her highest qualifying run.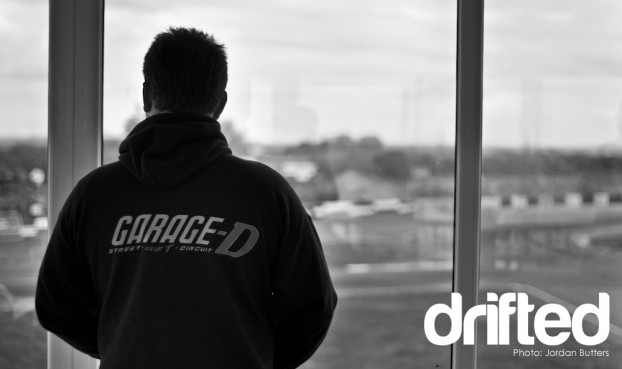 BDC Judge Julian Smith of Garage-D overlooks the proceedings. Julian is one of the most highly respected drifters in Europe and is set to make a comeback to driving in the coming months in a newly-built R35 engine'd R34 Skyline!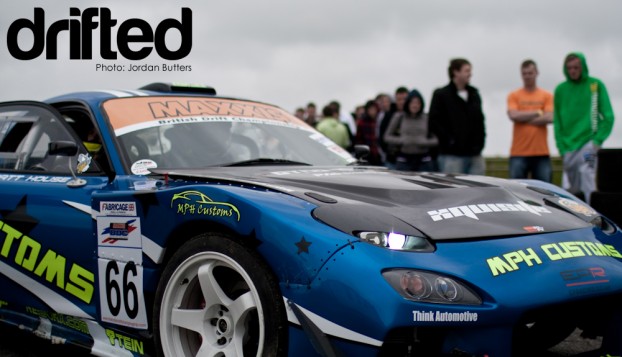 The crowd were offered the opportunity to purchase 'Drift Taxi' rides during a break in proceedings. This gives them a chance to experience drifting from inside the cars and also gives the drivers even more seat time, along with the chance to scare the life out of someone. Matt House's LS-powered FD3S RX7 waits to take passengers out for a spin.
Unfortunately moments later Matt DID give someone the fright of their life, hitting one of the giant tractor tyres head on and hopping the car over it, sending him sliding over the grass. The damage to the car was unclear but hopefully it isn't too bad.
Team Scream's Andy Redmond was improving with each run. I find it interesting to watch the tactics that different drivers employ in practice, some go for bust on every run, hoping to pull off epic entries, whereas others, like Andy, start off by taking it easy and build up speed and aggression with each run until they have it nailed. The latter is definitely how I'd play it. By the end of practice Andy was on point on the clips and throwing down some nice, fast and aggressive initiations, but sadly two spins in Qualifying ended his day early.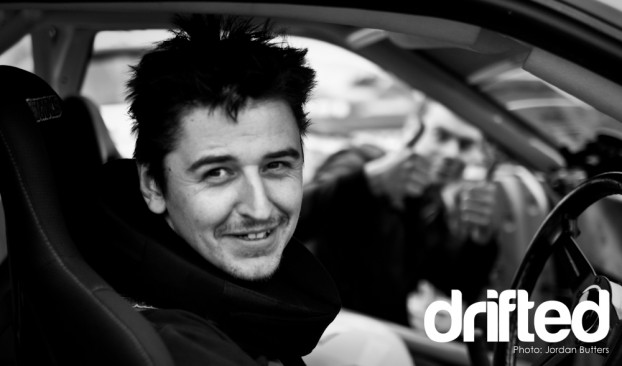 Team Green's Mike Cooper, always in high spirits at a drift event. Mike is becoming well known for his 'Zimbabwe Flick' entries at drift events. (Why should Scandinavia get all the credit?)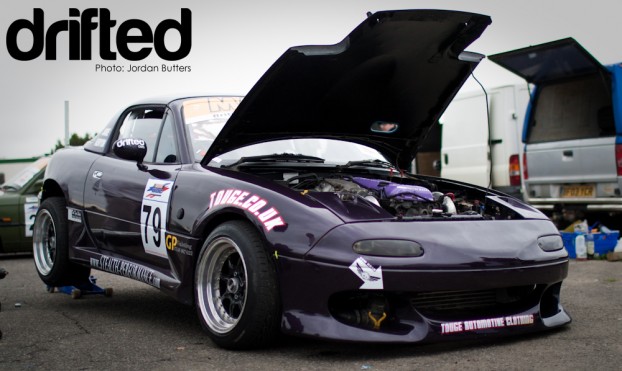 Jamie Kenyon's MX5 in the pits receives a fresh set of rear tyres. Jamie is a driver I love to watch! He has earnt the affectionate nickname 'Crazy Jamie' in the judges tower, based on his flat-out style and fast, balls-to-the-wall entries. As you might be able to tell from the picture, the little MX5 is powered by a Nissan SR20 turbo engine! Small light car + powerful engine = VERY fast results.
Karl Farrar seemed to struggle throughout the day in his SR20 Nissan Laurel, scoring 46 points on both Qualifying runs.
The Top 8 drivers following Qualifcation were –
John Glaister
Ian Phillips
Adam Blackwell
Mike Cooper
Phil Maclachlan
Matt House
Martin Griffiths
Marcin Klawikowski
John Glaister was on point all day, consistantly throwing in big entries and nailing the clipping points.
Just as the Top 8 drivers lined up to start their runs the poor weather we had been forecast arrived, meaning after dry practice and qualifying sessions the drivers would be thrown into Twin Battles (some for the first time ever) on a slippery, rubber coated, wet track. This could be interesting!
The first battle was a green-on-green affair, Team Green's Mike Cooper Vs Team Green's Phil Maclachlan. On the practice lap both drivers initiate, spin, and narrowly avoid a collision! Mike Cooper then follows trend with two more spins, handing Phil two 10-0 victorys. Phil progresses through to the Semi-Final.
Next up is Ian Phillips in the white Skyline Owners R33 and Martin Griffiths in the turbo LOW E30. Ian's car is fresh from the JDM Allstars round at Manchester where it took Jon Calvert to first place. Martin put up a great fight however Ian narrowly progressed through with an 8-2 first battle, followed by a 3-7 second.
Matt House (V8 FD3S) and Adam Blackwell (RB25 R33) took it to one-more-time after both spinning when leading their runs. After two more battles Adam progressed through to the Semi Finals.
The last Top 8 battle saw on-form John Glaister take on Marcin Klawikowski. The pressure seemed to get to John as he cut the first corner twice in succession, and following a one-more-time battle, Marcin progressed through to meet Adam in the Semi-Finals.
Phil Maclachlan and Ian Phillips went head to head next in the first Semi. Ian's fast and long entries weren't easily matched and Phil straightened in trying to keep up with him. Ian progressed to the finals with two 7-3 wins.
BDC newcomers Adam Blackwell and Marcin Klawikowski were up next. Marcin's CA18-powered S14a (I know!) struggled to match Adam's R33 and Adam progressed through to make it an all-R33 Skyline final.
Third and fourth place playoff between Phil and Marcin saw Phil throw down an awesome entry and carry high speed throughout the course ,taking the advantage into the first run with a 6-4. Marcin tried to follow suit which resulted in a spin, handing Phil a podium spot.
Everyone was looking forward to the Final between Ian Phillips and Adam Blackwell. Ian had been driving consistently well all day and Adam had snuck up throughout qualifying and Top 8 and had found himself in the final. Ian's first run was again a fast and smokey affair, giving him a 8-2 advantage into the final run. Adam put in his best run of the day, lots of angle, lots of smoke and smooth accurate transitions, however at the end of the run when the smoke cleared Ian was right up on his door, the judges scoring the second battle 5-5 and making Ian Phillips BDC R2 Semi-Pro winner!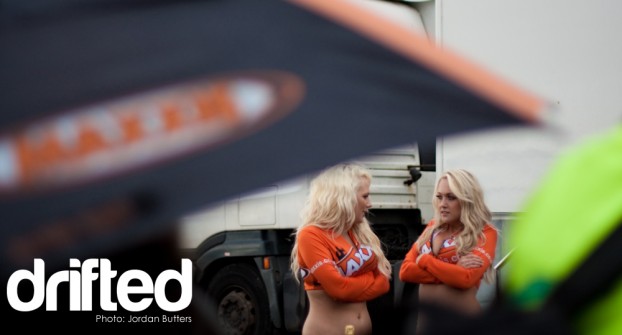 The Maxxis girls try and keep warm as the winners take to the podium, despite their attire!
Phil Maclachlan catches Ian Phillips off guard on the winner's podium.
The final four –
Ian Phillips
Adam Blackwell
Phil Maclachlan
Marcin Klawikowski
Thanks for reading and keep an eye out for Stephen Brooks' video in the coming days!