Car Parks And Concrete – BDC RD3 – BATTLE OF BRITAIN
Drifted's Graham Watkinson was at the British Drift Championship's Round 3 BATTLE OF BRITAIN event – lenses polished and ready to capture the action.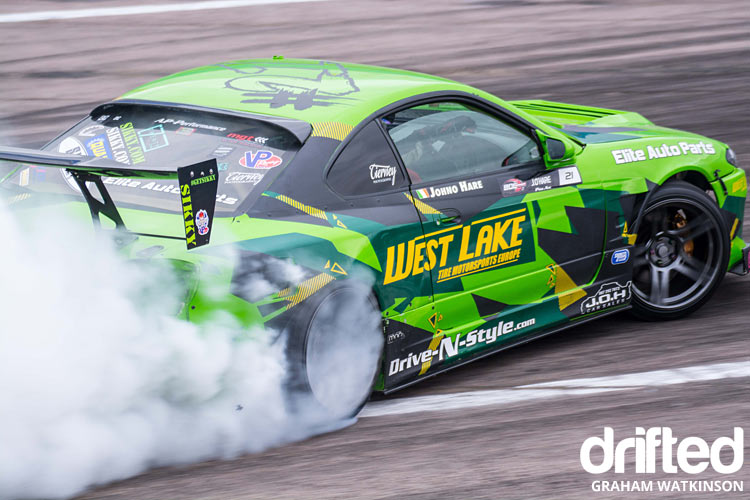 Round 3 of the British Drift championship takes us to a brand-new arena, not your average racetrack, not even a racetrack.
Let's set the scene, take your average carpark attached to fairly sizable exhibition centre, add some whitewash lines, a few cones and a fair bit of concrete. Hey presto a custom-built drift track to be proud of.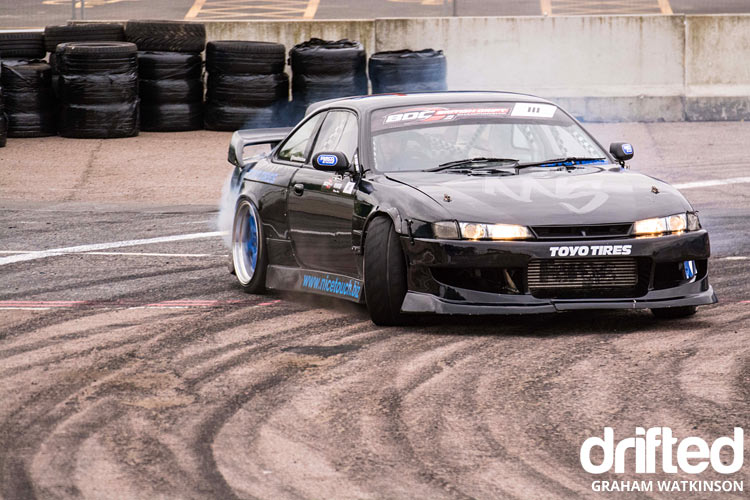 Setting up a circuit in a carpark certainly conjures up images of clandestine meetings for locals but rest assured this is a million miles away from that.
The British Drift Championship has teamed up with the newly revamped DriftGP to bring all the best drivers from far and wide. Bringing their skills from their own competitions and most importantly their cars showing the way they bring the continental smoke.
It's a different world and a different set of values and ideals. Some cars are just simply nuts. Thousand break horsepower smoke machines are the order of the day perfectly presented and perfectly powered.
Let's not hold back let's see it for what it is the best car and drivers that there are at this present time, equally on a par with Formula D, these beasts of tyre destroying mayhem are just the pinnacle that grace the international tracks right now.
Once again David Egan delivers a package this time teaming up with the DriftGP management that promises to break all records of attendance both at the track and online viewing.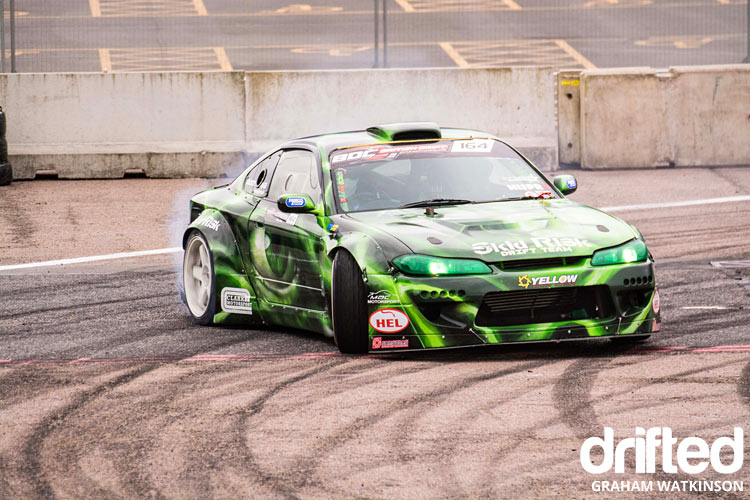 I can honestly say that having viewed the entire spectacle from start to finish it was quite possibly one of the most entertaining hard driven, wall ridden events to date.
The overall track layout was encouraged to bring out the best and dare I say worst of the drivers, laid out in such a way to maximise viewing for the open-air amphitheatre from a high banked slope topped with grandstands and the usual judging tower.
The crowds packed the elevated area without an inch to spare hoping for that ultimate vantage spot to view a track fit for a series of challenges where only the bravest would survive.
I arrived two days prior to the event with blind anticipation, hoping to see a track that would prove its worth and rest assured I wasn't let down.
Late Friday was a bonus practice session for all to mix it up, pro-am and pro thrown together, just a trail to see if the track was workable and to fine tune it before that actual competition.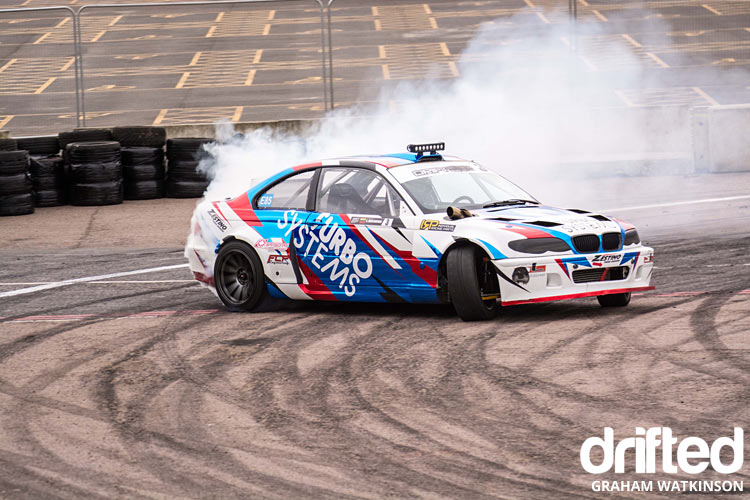 Before I get too far ahead let's address the second part of the title suggests, 'CONCRETE'. It's very well known that both the BDC and IDC are great advocates of 'the wall'.
This track carried on the tradition with very unforgiving wall runs, clipping points and an inventive crossover.
The initial start straight was long to encourage that third gear flat out entry which no surprise incorporated a wall.
There is no doubt that plenty of concrete requires precision drifting, it elevates the drama and some say the shock value but it also sends the message that this is the way of the drifting scene both here in the UK and Ireland.
Little to no run off causes issues that unfortunately are par for the course and I'm afraid to say damage was present.
This track no only demanded the reliability but also the necessity for a pit crew to be able to cope with not only the odd misfire or structural failure but also a whole rear end assembly if necessary.
It seemed a complicated affair and its honest to say that some cars were put in that position, whether or not this is for the growth of the sport but it now seems part of the regular spectacle.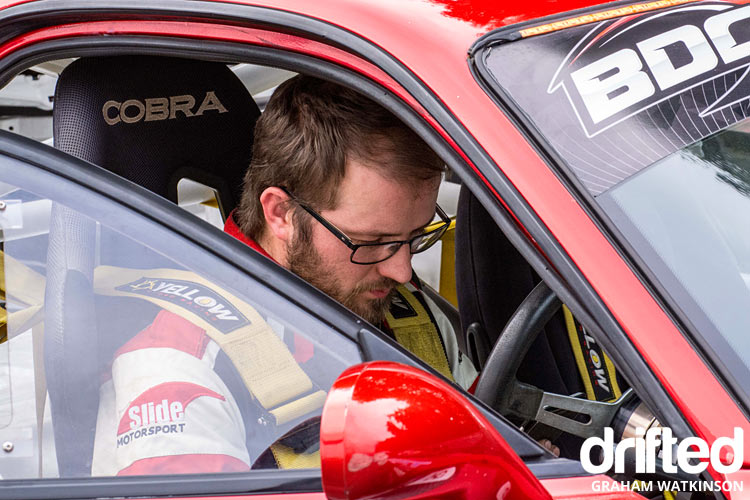 It did seem these adjustments to the series were well received by the crowds, the ultimate view and the ultimate competition.
This event was a pre-cursor for future events in the same format and quite possibly the same site. It does ring the changes for the BDC which seems to consistently improve on its brand both on and off the track, with its merchandise and its online media package.
It is a true reward for both its visionary and its spectators.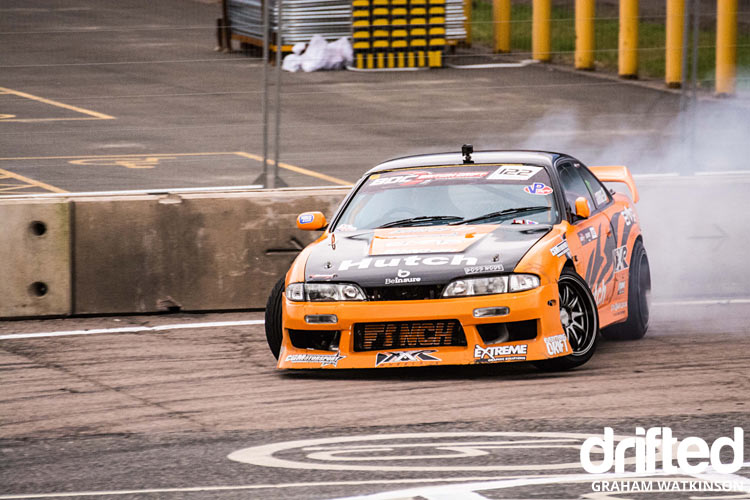 Onto the actual event, the weekend was set to the usual plan for the pro-am day and a few ruling changes were made for the pro day so it came into line with the existing DriftGP format. One more run found its way back to one more time but only for this event.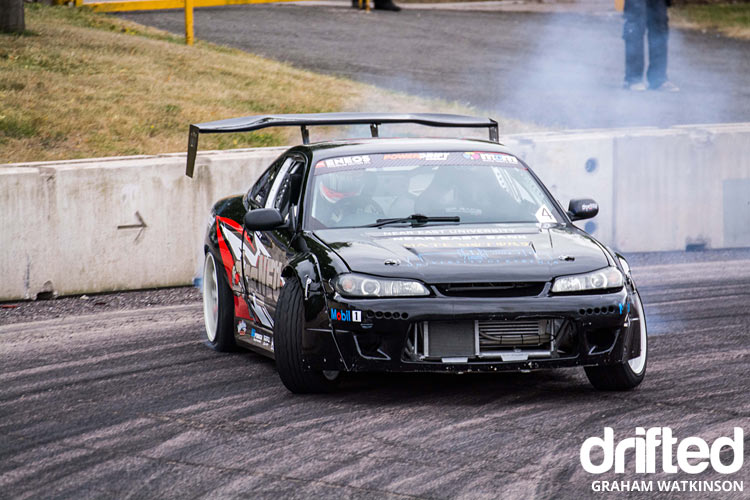 The day apart from those minor changes did follow the existing plan of practice, qualifying and top thirty two down to the finals.
Podiums counted for points in both the BDC and DriftGP standings and although technically first place was the winner of the "Battle of Britain" a third overall could count as a BDC win, catch my drift?
Pro-Am day
1ST - Brett Perry
2nd - Johno Hare
3rd - Mark Webb
These three gained the opportunity to progress to the pro day and take part in the Battle of Britain.
Pro day
1st - Duane McKeever
2nd - Sebastian Fonijn
3rd - Jack Shanahan
In conclusion, walls and concrete certainly do make an entertaining show they also make a great deal of damage to cars if not correctly driven.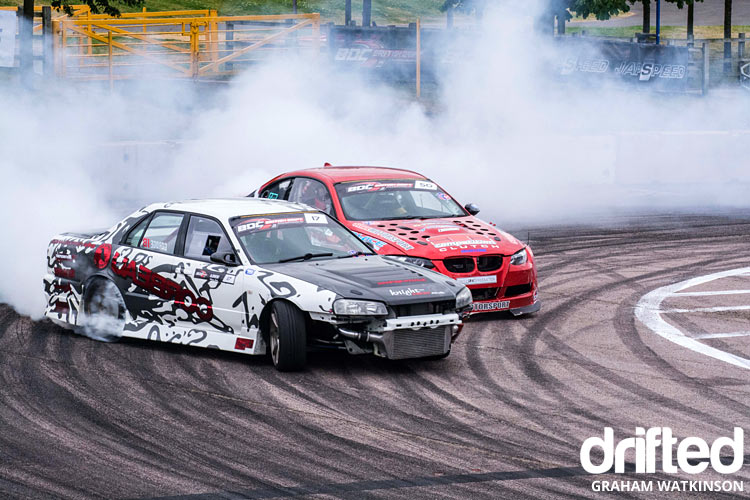 Can we say that this is now an acceptable part of the drifting competition scene, time will only tell and by all accounts one point three million hits online must count for something.
Of car parks and concrete, what does it prove? Like it or not, they are here to stay!
Battle Of Britain video
You can learn more about the British Drift Championship including upcoming events here.
You can check out the BDC Facebook page here.