DRIFTING EVENT: Street Driven Tour – The Finale
Putting the wraps on a successful second season, Street Driven Tour welcomed drifters and fans back to Las Vegas Motor Speedway for the second time in as many years with a full day of bash-style drifting and automotive excitement, it was rewarded with it's strongest attendance to date.
Held in conjunction with StanceWars and Supras Invade Las Vegas, Street Driven Tour's simple recipe of open-to-all drift bashing, a contemporary show and meet, local vendor support, signature Drift Mini Games, and new-for-this-year drag racing on the Las Vegas strip (the ¼-mile strip at the Speedway, that is) proved once again how much fun can be had with a full day of few rules, tons of drifting, and a friendly, recreational atmosphere.
Professional drifting support—solo runs, tandems, and plenty of fan ride-alongs—was on tap in generous supply thanks to Matt Powers (S14 Nissan 240SX), Forrest Wang (S14 and S15 Nissan 240Sx and Silvia), "Rad Dan" Burkett (JZA80 Toyota Supra), and Juha Rintanen (S15 Nissan Silvia), at times linking all three walls of the Vegas drift pad with ungodly amounts of smoke and speed.
Talented pro-am support was doled out thanks to drifters of the Southwest Drift series and Vegas Drift, and SoCal's Top Drift. Notable standouts include Vegas local Sean Abellana and his 1,000hp 2JZ S14 Nissan 240SX, George Kiriakopoulos (S13 Coupe), Bear Rzesnowiecky (S13.5 fastback), Alex Grimm (240Z), Traverse Hilsabeck (S13 fastback), and lots more.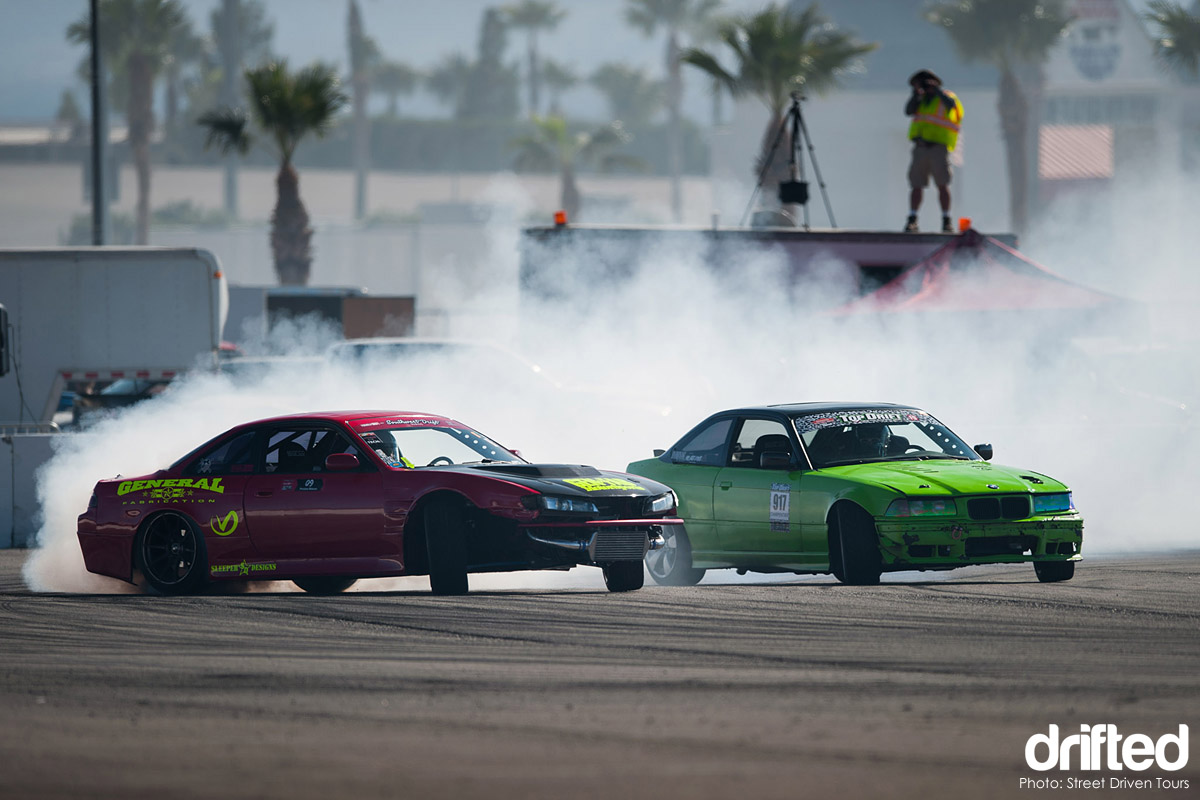 Local drifters from California and the Four Corners trekked to Vegas to strengthen the excitement, some—like T.J. Fry—coming from as far away as Montana to partake in one of the most fun, laid-back events in drifting.
Show duties were masterfully handled by Seattle-based StanceWars, who packed the LVMS lot with dozens of clean slammed/stanced, resto-modded, and performance-built examples of JDM, Euro, and Domestic tuning crossing make/model/vintage boundaries.
Held simultaneously on the LVMS grounds was the show and drag-race portion of the Supras Invade Las Vegas (SILV) annual event, adding plenty of tuned Toyota muscle cars to the show lot and drag strip throughout the day and into the night.
Providing a break from the fun with even more fun were Street Driven Tour's Drift Mini Games, challenging participating drifters to bouts of "Drift Soccer", "Hard Park Challenge", and the perennial round-closing event, the "Tire Massacre", the last of which being won handily by T.J. Fry and his S14, setting a new Street Driven Tour record-long burnout in the process.
After a full season of inviting drifters in four distinct regions of the U.S. to drift with some of the most talented pros and local ams in the game (previous rounds were held in the Northeast and Mid-Atlantic at VIR, Midwest at St. Louis's Gateway Motorsports Park, and South at Atlanta Motor Speedway), all of us at Street Driven Tour would like to extend our most sincere thanks to everyone involved with another year of fond memories of some of the most talented, driven, and genuine people in the sport, as we depart with a renewed mission: Do it all again, even better, in 2017.
http://www.facebook.com/streetdriventour
http://www.instagram.com/streetdriventour
http://www.twitter.com/streetdriven1
http://streetdriventour.tumblr.com/
#streetdriventour
#streetdriven
Cutting room floor