DRIVER BLOG: DriftSquid's Round 2 D1NZ Adventure
Hey Drifted fans,
I'm slightly late on the update for Round 2 of the D1NZ championship as Ive just been flat out back in Australia. But better to be late then never right?!
Well I'll get straight into it anyway, Round 2 of the D1NZ championship was held in at Manfield  raceway in the North Island. As most would be well aware my car suffered some mechanical dramas at Round 1.
The car was left at SPEC performance to get a few things done to the car after Round 1. For one the oil pump we put in the car to get it going again was just a normal N1 oil pump from your local Nissan Dealer. This was not going to be a safe option to keep using so Ian from HiOctaneDirect.com had some Steel gears machined up and sent over to NZ for Spec to put in my car. While Spec were at it I sold most of my gear off the car like the Turbo, injectors, fuel pump, ECU and a few other bits to do a few more upgrades.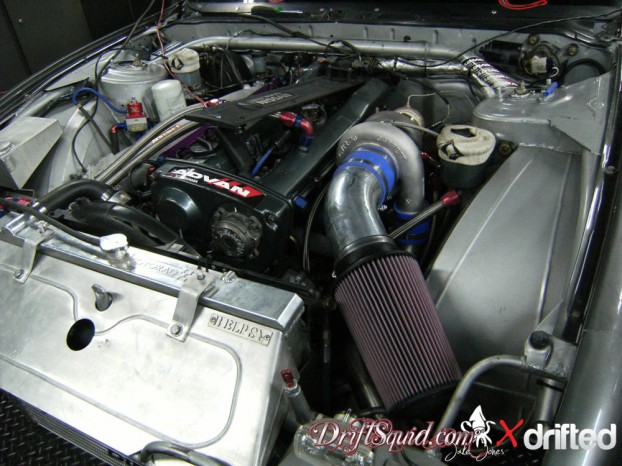 Garrett GT35r Turbo was fabricated onto my existing manifold
Bosch 1300cc injectors and HKS fuel rail
New Ethanol Fuel Pump
Custom ROSS balancer
Haltech ECU was also put in to make sure the car was always spot on.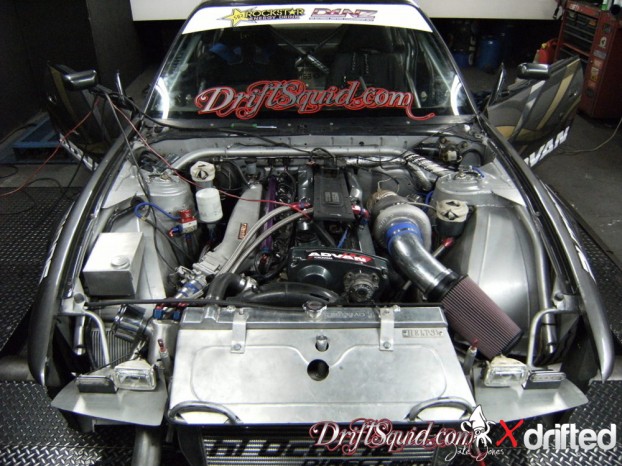 The main reason behind these upgrades was due to the turbo on the car was running out of puff and making the air temps climb quite high. Also I wanted to run E85 fuel to keep the car cooler. It was a lot of upgrades in one hit between rounds but I was sure it was for the better. Sure the car is going to make more horsepower now but i didn't think it would pull the following off…
Hard to make out from the photo but that 471RWKW! I was just as shocked as you guys. I had the Spec guys de-tune it as that was just not needed haha. The car was now running on a healthy 450RWKW on around 20psi of boost. I was more then happy with the outcome and couldn't wait to see how it drives now.
Now that the car was all ready I made the flight into Christchurch. We now have a long drive from the South island up to the North Island of New Zealand.
Along the way I saw some of the craziest scenery I've ever seen. These pics may bore you but if you were there you would understand it all. I loved the trip up.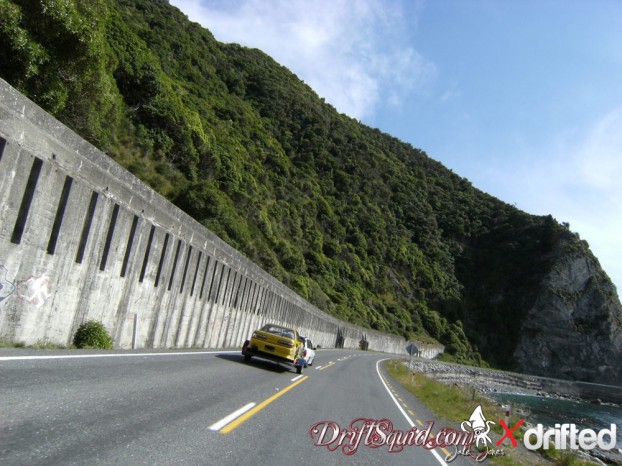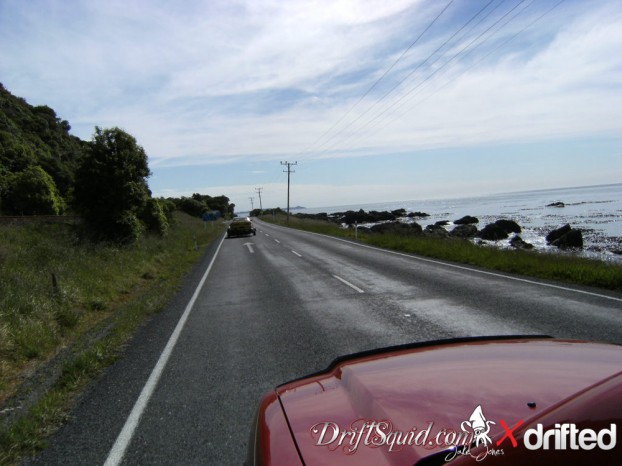 After around 5 hours we got to the ferry which takes you from the South Island to the North island.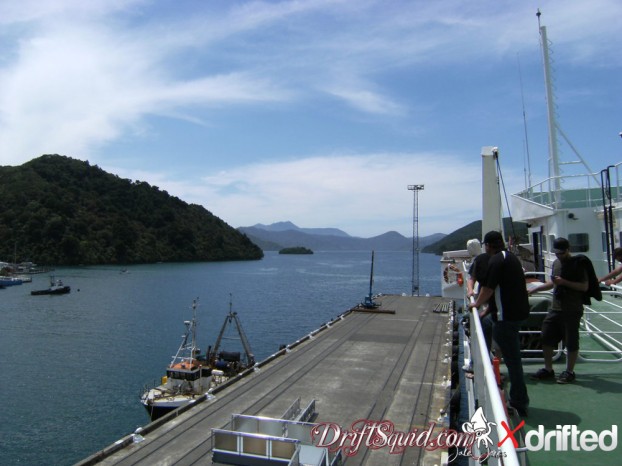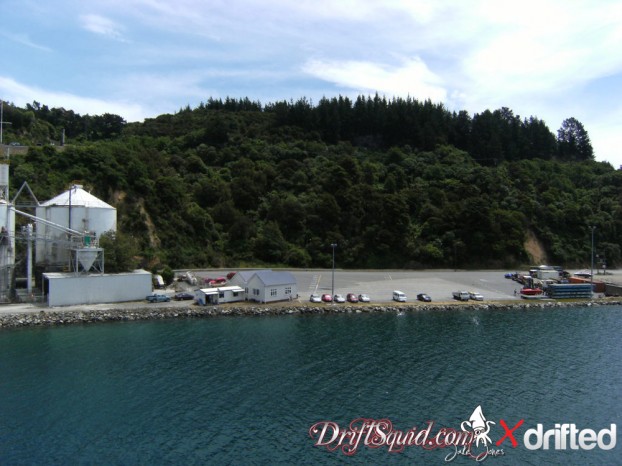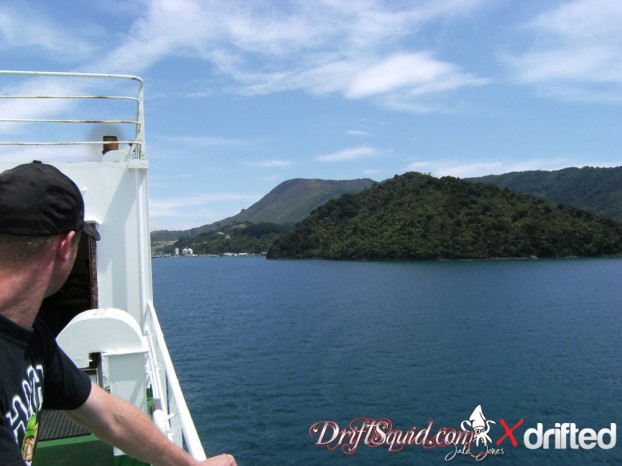 Once we got to the North island we then had a 4 hour drive to the town were Manfield is.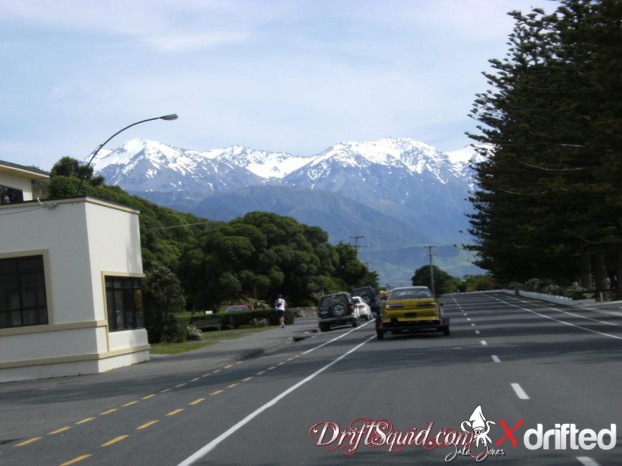 Lucky for me Redbull was available at every stop, thanks RB 🙂
As we got to the motel we packed all the cars in a best we could and got a few hours sleep for the practice day on friday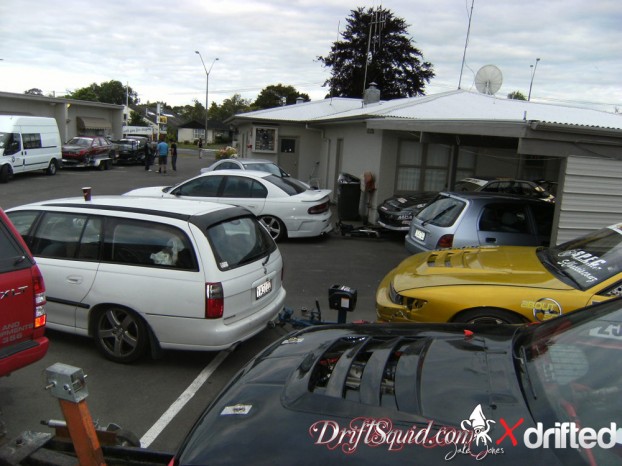 I woke up at the crack of dawn on the Friday morning eager to drive my car. The track was just around the corner so I didn't waste any time and rocked up first thing. Sure enough Mad Mike still beat us!
Mad Mike and Toni are helping me out with the D1NZ season and my car is being transported around in their Rig along with all my parts and so on. Mike and Toni have been such a huge help with everything. Thanks guys 🙂
Before we knew it I was out on track. The car has changed so much now its an absolute animal!! I couldn't believe how much it has changed. The whole way it reacts to anything I do was insane. The power is awesome now and with the amount of grip I'm getting from the Yokohama S Drives it really picks up speed fast.
But sure enough though my streak of mechanical dramas continued and the steering rack seized up. It decided not to turn right anymore so this put me out of the Friday's practice session. The car felt great though so I had no worries about going straight into qualifying on the Saturday.
I took the steering rack from my friend Phil's drift car. He blew his gearbox up and didn't need his rack so we changed them over back at the hotel. Thanks Phil 🙂
Saturday morning was another early one and I was damn excited. I couldn't wait to finally give the Qualifying a good run. Saturday morning was bringing in a big crowd nice and early.
They gave us a quick practice session in the morning which was perfect for me to test the rack out and make sure it was sweet. The car was feeling great so I did a full run pushing the car and at the end noticed my temp gauge went up to 90'C which I never saw it get to on Friday. I came back into the pits straight away as I knew something wasn't right and as I pulled up to the pits the temp went to 100'C. Not good.
We let the car cool down and topped it up with water to notice it all coming out straight away. The welsh plug on the back of the head had popped out. Talk about unlucky… Ive never ever seen this happen before on an RB26. Having qualifying coming up next and not having enough time to pull the head off and replace the plug I had to call it quits for the weekend. I was devastated to say the least.
All I could do now was make my car look pretty and put it on display for everyone.
With the car hitting another mechanical issue all I could do was keep my chin up and enjoy the day watching an awesome D1NZ show. I was lucky enough to get a spot in a corporate box and saw the day better off then most. I even tried taking some pics but to say they are worth showing, I'd be a lair haha (alright here is one)…..
Now that the car is broken again and in need of some more work it was taken back down to the South Island to SPEC performance again. SPEC have been working on the car and it should be up and running before the new year. I will then head down before round 4 and test it out to make sure we get all the bugs out of the car and have it ready.
Today is Round 3 of the D1NZ championship. I am not there as I couldn't financially afford to get there with the car being broken again 🙁 I'm positive the car will be ready to rumble in time for Round 4 next year. Lets hope things change in 2011 as this year I didn't finish one day with the car still running 🙁
I would have a video edited up but unfortunately my main computer is down and this laptop cant handle my editing. Stay tuned to Drifted.com as I will be updating my progress with some videos and pictures soon. I'll also have some clothing ready early 2011 to purchase, check out Driftsquid.com.
Regards
-Squid
If you want to learn more about the engine that powers the DriftSquid's drift car then check out our RB26 Vs 2JZ feature.