DRIVER BLOG: Earthquakes, Drifting and Explosions…..
Hey all Drifted fans,
Hope all is well. Some of you may have heard about my recent adventure but for those that haven't grab some grub and a drink, sit down and read through the crazyness that was D1NZ Round 4.
D1NZ!! The National Drifting series in New Zealand and host some of the best drivers from around the globe. I have committed to this series for the 2010/2011 season and my car has been in Christchurch while Ive been over in Australia working. Every time a round comes up I fly over a few days earlier to prepare for the round. Round 4 of the D1NZ series was one round ill never forget.
SATURDAY 19th FEB 2011
I flew into Christchurch on the last flight, landing at 1am Saturday morning.  A good mate of mine Paul (Tommo) Tomlin picked me up at the airport and gave me the quick run down on what was going on for the weekend. I came over a week early to do some testing in the car. The V4 rotary show was on the 19th and 20th of FEB and was a perfect way to get some good exposure and testing at the same time. Tommo had already got my car prepared and had it at the show stand that afternoon. I basically rocked up and everything was done! We went and got a couple hours sleep and then went to the show in the morning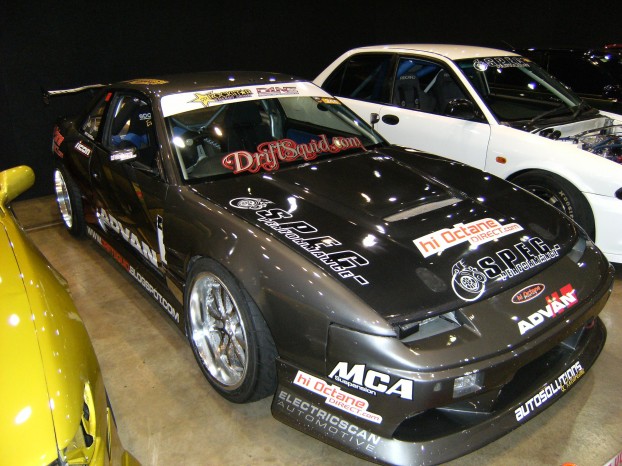 It was so good to see my car again, it had been a few months since I had seen it as I didn't make Round 3.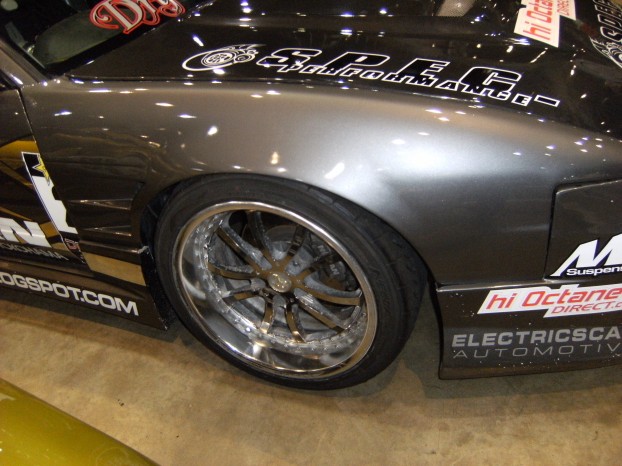 I damaged the guards badly at Round 2 and Tommo fixed then up for me since I had been back in Australia. I am now sporting some borrowed rims from MadMike as mine were just way to aggressive and made life hard for me! Couldn't wait to test the new front end out!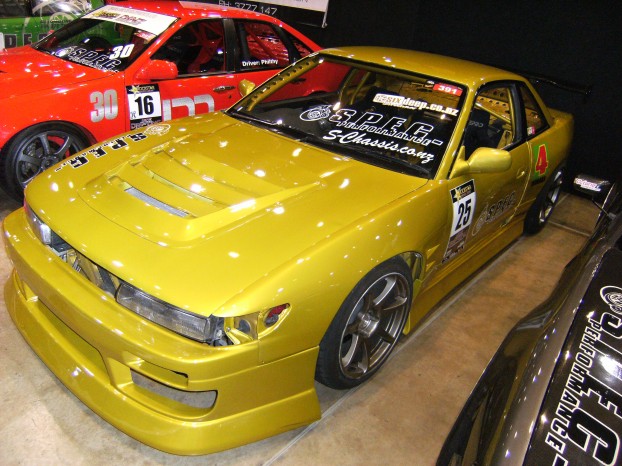 This is Paul 'Tommo' Tomlins S13. The donk is a SPEC performance built Sr20 running a ethanol mix and pumping around 350rwkw. Its one of those SR's that actually sounds good 😛
Another good mate of mine is Phillip Sutherland and this is his Cefiro with a 2JZ replacing the old trusty Rb20. Standard turbos on it and still makes around 300rwkw with a bucket load of torque
So they had our stand set up already and it allowed me to just walk around and admire some of the best built cars from the South Island.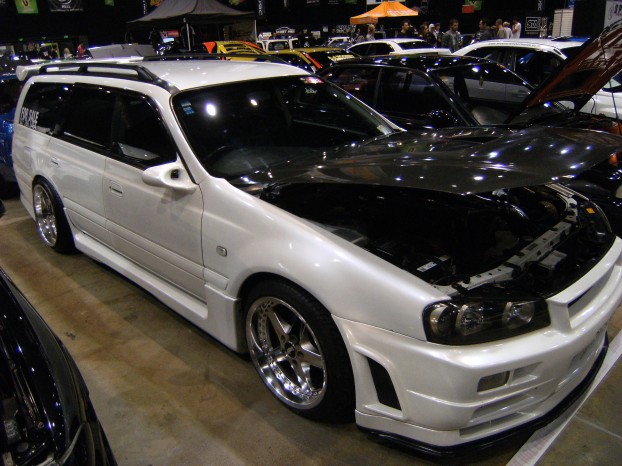 Stag on equips. My dream tow vehicle!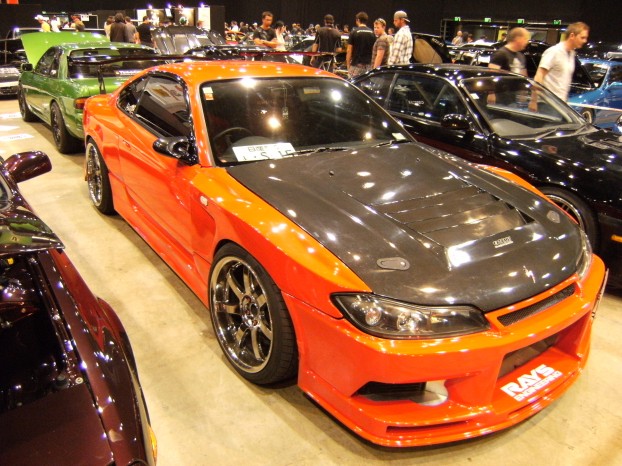 Mad S15 on Gram lights. Never seen this kit before either, I really like the styling.
R.I.P.S RB26/30 drag car. It was so awesome to hear this run.
3 Rotors…. 3 turbos… Why not!
The HKS EVO was so cool to see in real life. Disappointing that they couldn't run it around the track but the cost to run it is huge so understandable why they dint.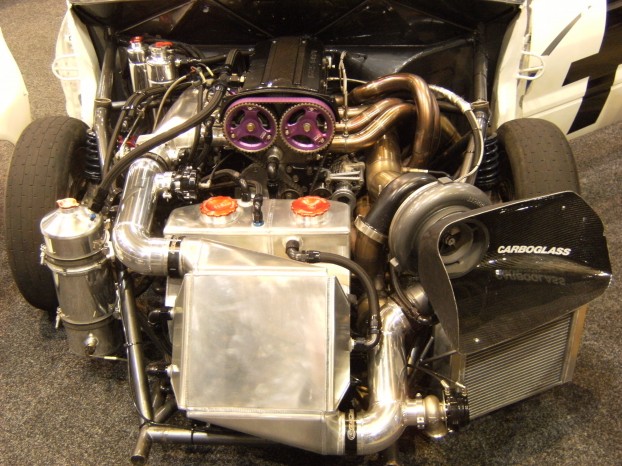 Not every day you see a tubed EVO drag car with a 1200hp Evo donk.  This was one of the newest built drag cars in NZ. Rumor has it that is was built by a workshop in 1 month. They shut the whole shop down and had 4 or 5 people work on it full time for that month. Crazy stuff hey!!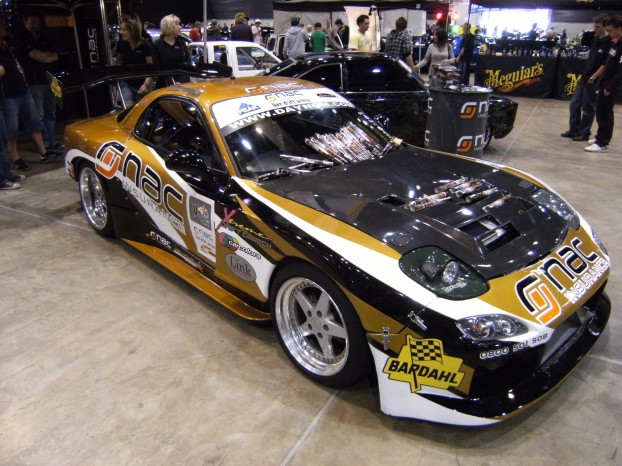 Daynom Templeman's FD Drift car (800HP 20B). This thing is NUTS!!!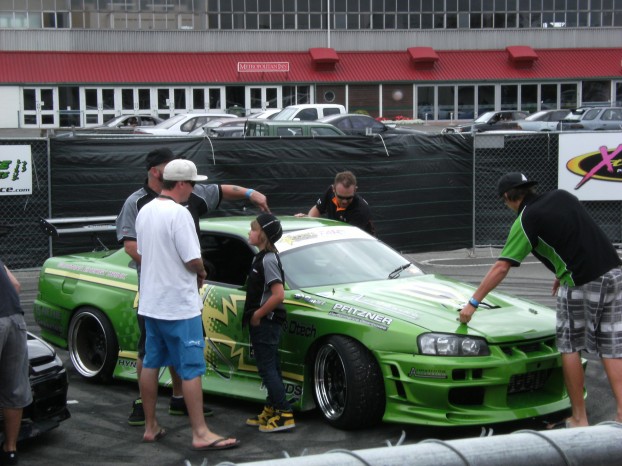 Cole Armstrong's R34 Drift car just after he did a burnout just outside the arena. This car sounds insane!!
SUNDAY 20th FEB, 2011
V4 Rota Nats had now packed up and moved to Ruapuna raceway.
I was so excited to see the action as they had everything from Drags to Drifting. The last time I saw a Drag car run was when I was a little kid as they shut down our Drag Strip back home. So to see 8 and 9 second passes again was so awesome!
I was then asked myself if I wanted to run the Drift car down the Quarter. I didn't hesitate and jumped at the opportunity haha. With 235 Neutons on the rear of the car with about 40psi pressure I was planning on getting a shocking time but…. I managed to pull of a 11.8 second pass @ 136MPH. The Onevia boogies now haha! We quickly thought about it and I was going to go get some slicks from SPEC performance after we did our first drifting display. As we all drove around to start out drifting display I sadly lost 3rd and 4th gear on the PPG dog box. I couldn't believe it, no noise at all. Just lost both gears. I knew it had to be a selector fork or something minor so back to the shop the car went.
MONDAY 21st FEB, 2011
We dropped the car back to the shop the night before and I was staying at Jon's house (Owner of SPEC performance). So we got up bright and early and went down to the shop so they could do a normal days work and I could get stuck into mine. I spent the whole day on my car fixing random bits and pieces and also got the gearbox out. When it comes to internals of a gearbox I refuse to go near it so I waited for Tommo to come round and start pulling the box down. It wasn't long till we found the issue and I just couldn't risk fixing the PPG dog box without getting all the dog gears and everything X-rayed and crack tested. So I went on a quick search looking for a RB25 standard gearbox. The going rate for one in NZ is $2000NZ which was crazy so I found a RB26 gearbox for $400 and as they have the same gear set we could slap it in my casing and be done. We picked up the box and got it back to the shop and stripped down only to find the selector fork for 3rd and 4th was busted. No wonder it was a cheap box haha! Luckily Tommo had a spare one back home. It was now the end of the day and we decided we needed to get the gears pressed off so we ran the gear-sets down to a local gearbox shop in Christchurch.
TUESDAY 22nd FEB, 2011 (The day of 'the quake')
Up early again and down to the shop. I was waiting on my gearset to be pressed off so I spent it the morning cleaning the car up a bit and checking every nut and bolt visible. By the time the gearset had been pressed off Tommo came around and we went to pick it up. We went back to SPEC with the intention of getting it all sorted and back into the car for a test that afternoon. As we placed everything perfectly out on the workbench the Earthquake hit!
There was no warning or any signs of a quake coming. It just hit and hit hard! SPEC performance is right in the center of Christchurch so it hit the workshop badly. I had no idea what was going on and just watched what Tommo was doing and followed. We ran straight for the exit of the building as it felt like the whole earth was about to collapse. I can't really describe what happened but the best way I can describe it to you is this… grab a pen or pencil and wobble it back and fourth so it appears to be bending. That's what the ground does . It almost looks like a wave and makes you mind flip as to how the hell its doing it. The walls move so much they hit you and everything in the workshop was falling down. It felt like it went on for ever but it was only around 10 to 15 seconds. Everyone in the workshop got out safely but as we glanced down the street we knew it was a total disaster. Buildings on the ground and people just trying to get to their loved ones. Everyone from the workshop wanted to go find their family's and friends so I said I would look after the shop while they went. Thinking no one would steal anything at a time like this I tried to see if I would be of any help to anyone around.  Before I knew it I went to check out the office in the workshop and someone had already tried stealing from the big cabinet. I couldn't believe it, the keys were on the ground and half the key was snapped in the door.
Before I knew it everyone was back and we decided to pack all the goods into the cars and head out of town ASAP. We locked up the workshop with everything a total mess and left it.
Driving out of town was crazy. I only got my camera out near the end so here are a few photos I got.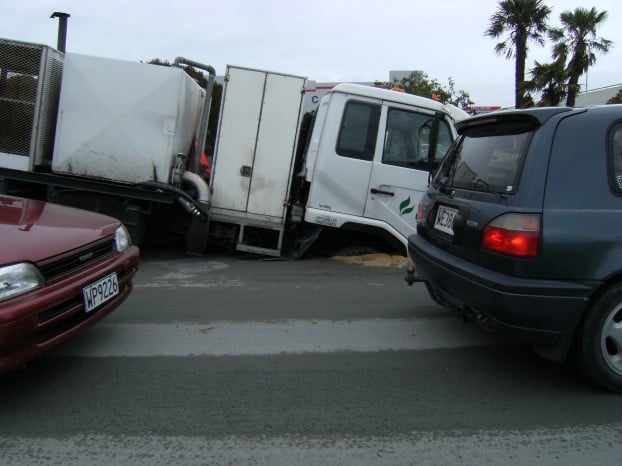 A truck completely sunken into the road.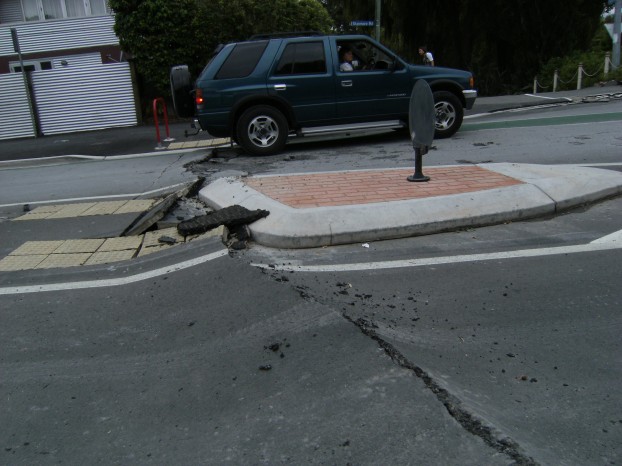 The only bridge still in tact for the whole town to get in and out of.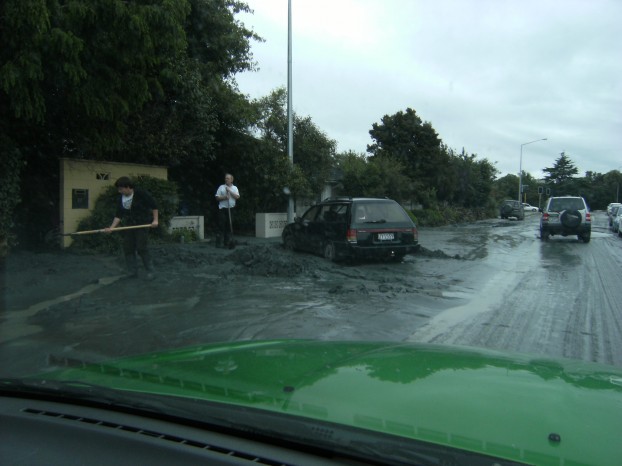 People trying to clear their driveways and cars from the black silt that comes from underground when a quake comes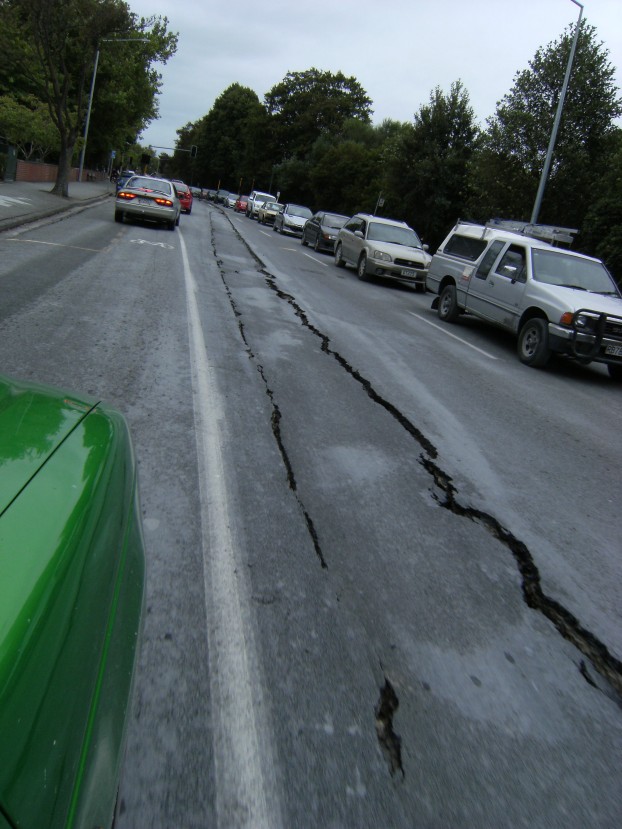 Roads completely separated and this was nothing. Back in the town some roads were heaps higher on one side compared to the other.
We got back to Jon's house after around 1 hour of trying to get out of town. Once we got back we packed everything up, got on the scooters and went back into town to see if we could help at all. It was hopeless as you weren't allowed anywhere so we couldn't do anything. The best thing we could do was stay out of everyone's way so we did. We spent that night at Jon's house with no power, no water, just 1 candle and a fridge full of CC. Throughout the whole night the after shocks got bigger and bigger. It was crazy and there was no way I was sleeping.
WEDNESDAY 23rd FEB, 2011
After a sleepless night and still no power or water or anything Jon decided to head to his Mum and Dads house way out of town. When we got there it was like paradise just to have water and power again. Its amazing what we take for granted these days. We saw everything onthe TV and didn't know exactly how bad it was. I found out they had flights going out of Christchurch so I said to Jon "Please take me to the airport and I'll get out ASAP!". Jon dropped me at the airport and it was crazy. People crammed in trying to get flights out and everything was booked up until SUNDAY. I had no idea what to do now!! Then I thought about it for a second and I could hire a car. After going to 4 different hire car companies and them saying yeah we got heaps of cars for hire but they all don't have fuel in them. Reason being that people that had flights getting out of the country dropped them off without fuel as the line ups at fuel stations were around 6 or 7 hours wait. Fricking crazy!!!
So with the last company I tried they gave the last car with fuel to the girl in front of me. As I was asking about it a girl in the corner said "Hey wanna hitch a ride with us girls?" I didn't even hesitate with my answer and away we went. I didn't even find it strange that I was hitch'n a ride with complete randoms. I was just happy I was heading out of Christchurch. I love the NZ scenery and on out 6 hour drive up to Picton where the Ferry is I took some snaps.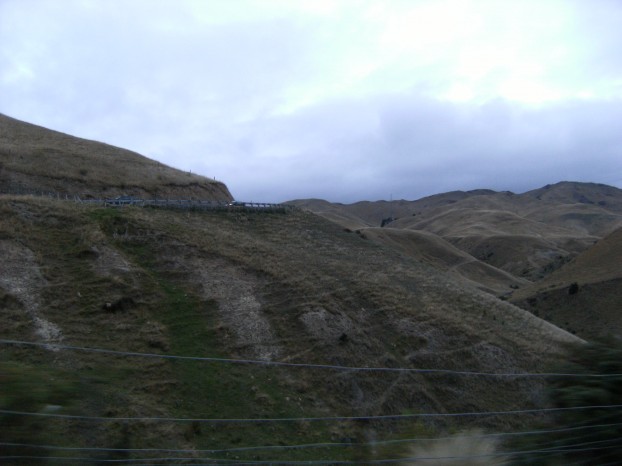 You may not see what is good about this pic but I love it!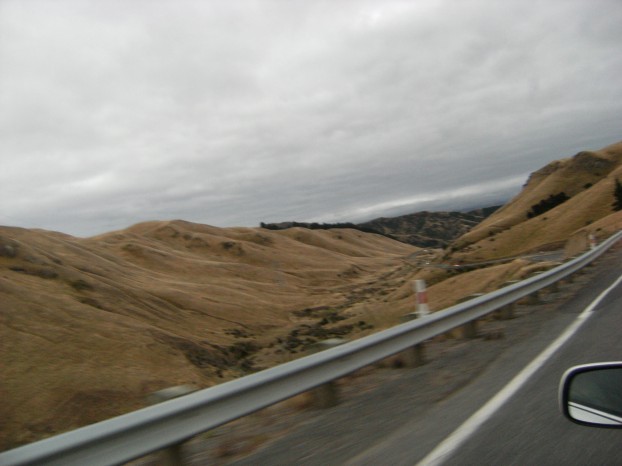 Love NZ 🙂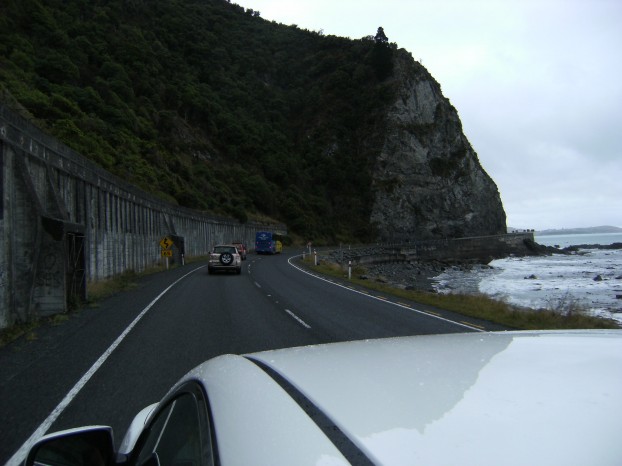 Going along the coast on the South Island is so awesome, this is now my second time and I don't think i could ever get bored of it. Just around this corner a heap of surfers were out in the freezing cold water. Crazy blokes.
Fresh water rivers and awesome scenery everywhere you look.
The 6 hour drive went quick and I guess we had a lot to talk about seeing as we didn't know each other. I couldn't believe how well it worked out as these girls wanted to get to Wellington and that's where I was headed also. I was going to catch up with fellow D1NZ drifter Hugo and we would travel up to Taupo Raceway together.
We got the the ferry in Picton at 10Pm and the trip across the islands was around 3 to 4 hours long. My phone was going flat so I contacted Hugo on Facebook when I got to the Ferry dock. To my surprise people everywhere involved with D1NZ had been trying to source me a drift car to use for Round 4. I couldn't believe it and people were offering left right and centre. MadMike's mechanic Ian Sheppard (Cromey) went to all the effort to get the car sorted that was being lent from Jacob. Cromey picked it up and got all my gear from MadMike's joint and made the long haul to Taupo for me the next day.
THURSDAY 24th FEB, 2011

Come 1am I am chilling on the Ferry overhearing all the people talking about the earthquake and saying the worlds ending… Then i get a phone call, from my good friend Jules in Queensland just wondering how everything is haha.. Thanks again Sis 🙂
It was 2am and the ferry docked in Wellington. Hugo the champ was waiting for me and off we went back to his home away from home in Wellington. I was a sick beach front house and just made me love NZ even more! Sadly I lost the photo I took so I cant show you guys how awesome it was to wake up to a beach front view!
Hugo and I then traveled down the road to SHRED Motorsport to pick up Hugo's crazy Honda powered AE86 ready for D1NZ R4. SHRED are Hugo's mechanics and do all the work on the car. They did some crazy work and the car is now making a nice 350rwkw, insane for an AE86 I know!
We packed everything up and then headed for the big 7 hour drive up to Taupo.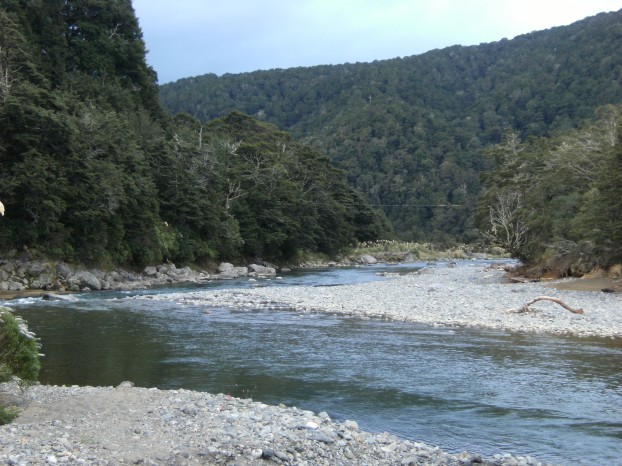 As we were on our way to Taupo we went down a wrong path and ended up here… It was this crazy little camping ground with a wicked fresh water river going past. Did I mention New Zealand is beautiful?!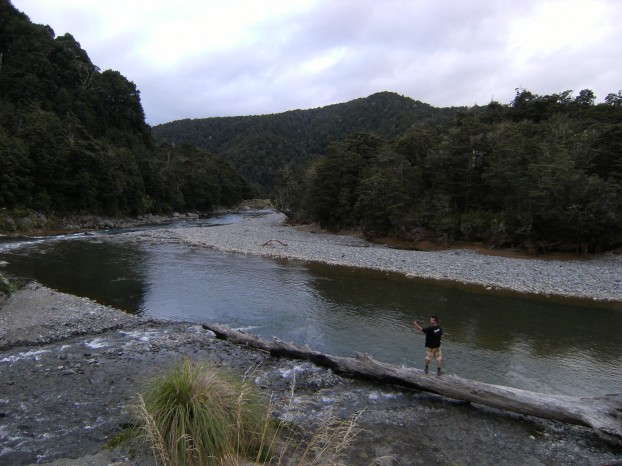 Hugo doing what he does best hahaha!
We then had to turn around…..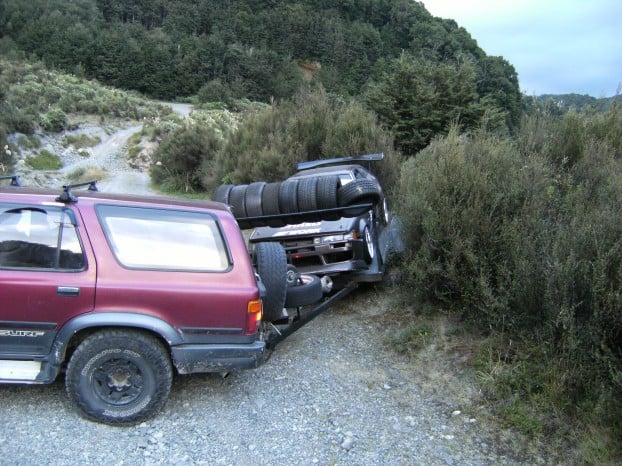 Hugo's crazy 'reverse, floor it' technique worked well! We got out no worries.
It wasn't long before we stopped again to see someone else wasn't having much luck..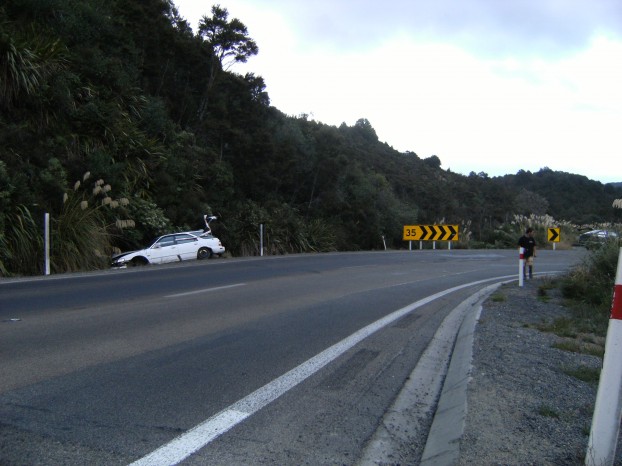 We stopped to help but sure enough this had happened a few days earlier by the looks of things.. So we got back in the Surf and heading to Taupo.. No more unplanned stops!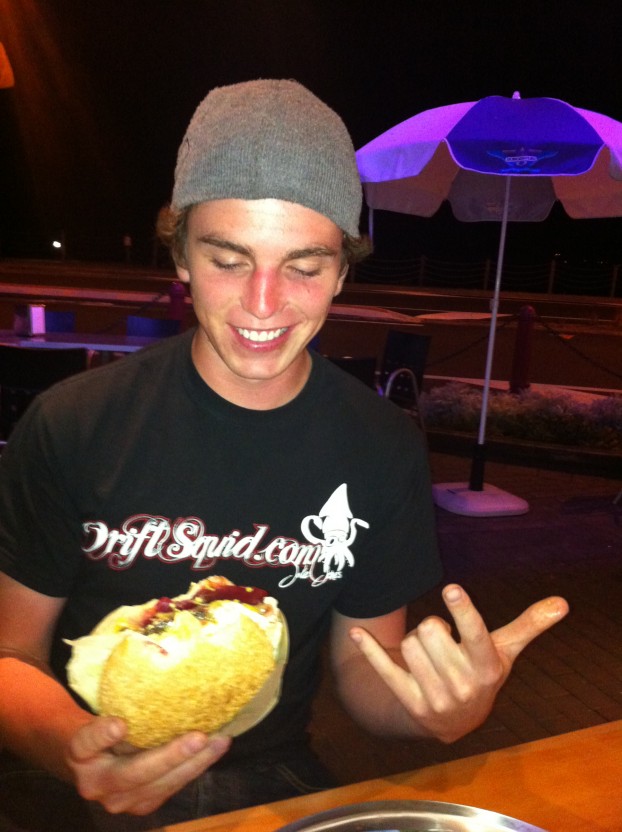 We finally made it to Taupo late at night and to have made it here i was so stoked… After everything I went through to now being able to relax and eat a 'Burger Fuel' MASSIVE burger made my day. Hugo didn't shut up about Burger Fuel all day so I knew I had to try one. Couldn't finish it though!  Weakling!
It was now time to catch up with the D1NZ crew back at the hotel they had booked for me. Over a few beers I went through what I had been up to and before we knew it it was 1am and we needed some shut eye for the Friday. Cromey and his good mate Ian rocked up with Jacob's Onevia which I was borrowing around that time also. Dedication from these guys was so awesome 🙂
FRIDAY 25th FEB, 2011 (D1NZ TAUPO, PRACTICE DAY)
Ohhhhh how pumped was I!??! Roll into the track and catch up with all the awesome people in D1NZ. Get a good look at the beast Jacob lent me. Its a Nissan Onevia with a basic suspension setup and RB25 making around 270rwkw. Enough to have a blast and do some decent runs in. I seriously couldn't wait!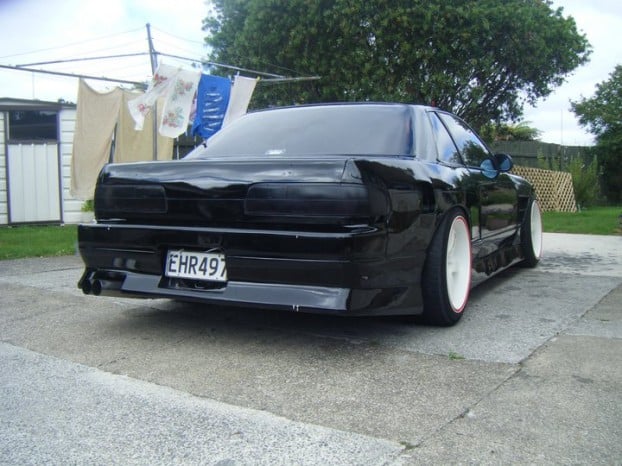 This is what the car looked like before I jumped in the drivers seat. I was just about to jump in the car and take it for a spin and I still hadn't even meet Jacob ! He's such a champ for letting a complete stranger jump in his drift car and go for a hack. With the help of E man and Cromey we put all my Yokohama Tyres on and got the car eye aligned to suit. Pumped up the pressures HEAPS as these Yokohama S Drives are really sticky. I was then ready for action.
Drivers briefing went by and then before I knew it I was in a borrowed race suit, borrowed gloves, borrowed helmet and borrowed car! It was crazy… and my first lap was even crazier 🙁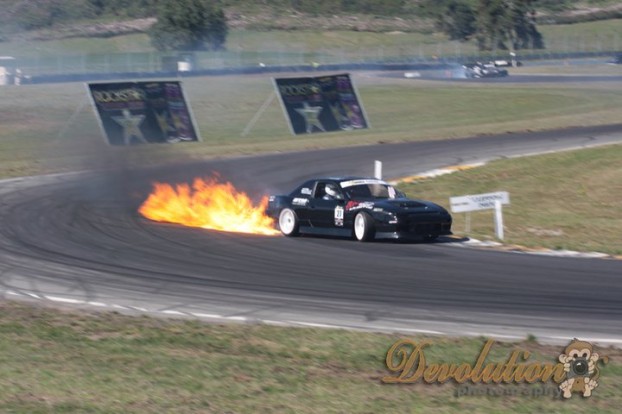 The car burst the return fuel hose line and the car caught on fire mid drift. I didn't notice until the flames started burning my neck.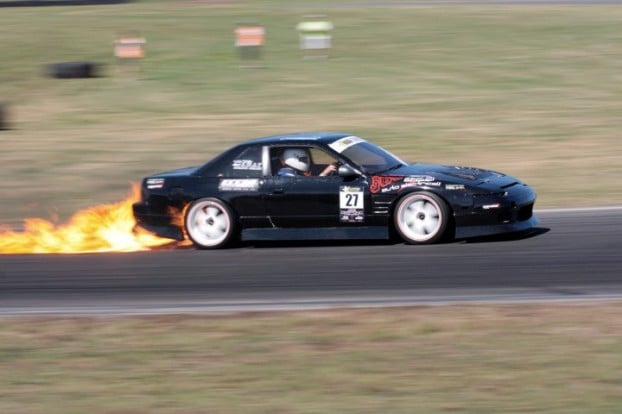 You can see in this pic if you look closely. The flames are coming from around the seat and in around my helmet. It was a scary feeling and it wasnt long before I was out of the car and everyone was putting the fire out. Massive thanks to Simon Anderson first one to drop his camera after this pic and run with a fire extinguisher to put it out. Gaz Whitter and a heap of drivers stopped also to help put it out. Thanks heaps everyone.
I was taken away and checked over while the car was towed back in.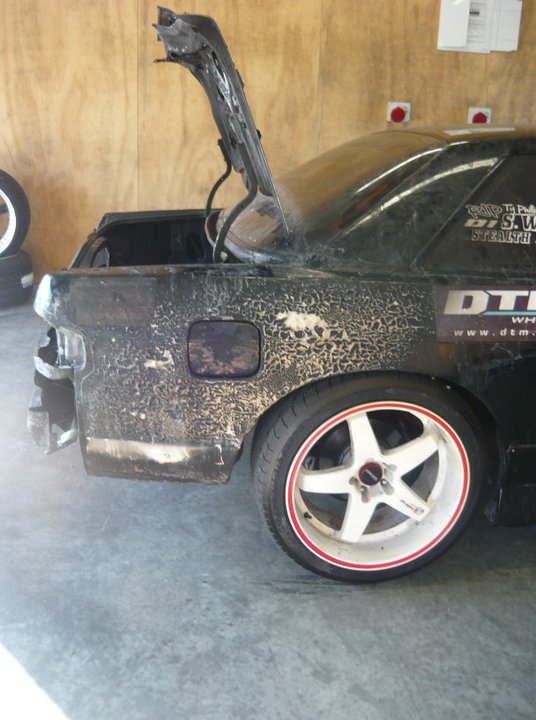 There was a lot of damage to the car from the fire and also from the boot being axed open to get to the fire. At this stage I still hadn't even meet Jacob and I had burnt half his car!
Jacob rocked up around 20 mins later and walks up to me and the car and says… "ahhhhh it aint that bad at all bro" "Sweet as". I felt so bad about it and Jacob was just happy I was alright!!  He was not fussed at all and by the next picture you can tell!
Jacob then said "gonna fix it and go again". By this stage that was the last thing I was thinking about. But then the Bennett Motorsport crew and SHRED Motorsport crew all jumped in and we went ahead to fix the poor girl. It was all hands on deck.
Before the day was out the car was rolled out of the pits under its own power. MASSIVE thanks to SHRED Motorpsort and the Bennett boys for getting it going again. Gee Much for the fuel cap also 🙂 and everyone for the support.
Some thought I was crazy to be heading back out but I was more pumped then before. Even overheard a mate saying I was either stupid or crazy but eh, couldn't care what they thought. The amount of work everyone put it, I was never going to say no to driving it again!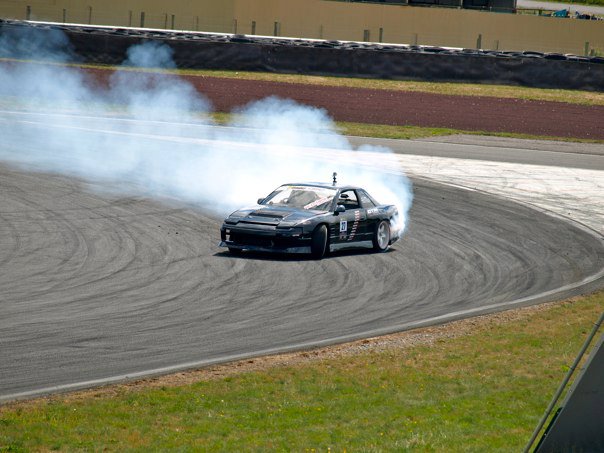 So I took it out and laid down my first lap in the last 10 mins of track time on the day. The car wasn't perfect but damn did it feel strong 🙂
I brought it back in the pits and we checked it over and deemed it fit for mad skidz….. 😀
Jacob was just as pumped as I was to see it going again. Once again thanks to everyone for the help and support on getting it going again. Appreciate it more then you could imagine.
We now packed up the shed and set of back to the hotel for a mad steak and a few beers. It was time to relax and get ready for the big day tomorrow 🙂 I couldn't bloody wait!!!
SATURDAY 26th FEB, 2011 (RACE DAY)
Bright and early the way I like it! We heading to the track straight away to check the car over again and get everything sorted… I tried making things look more colorful haha!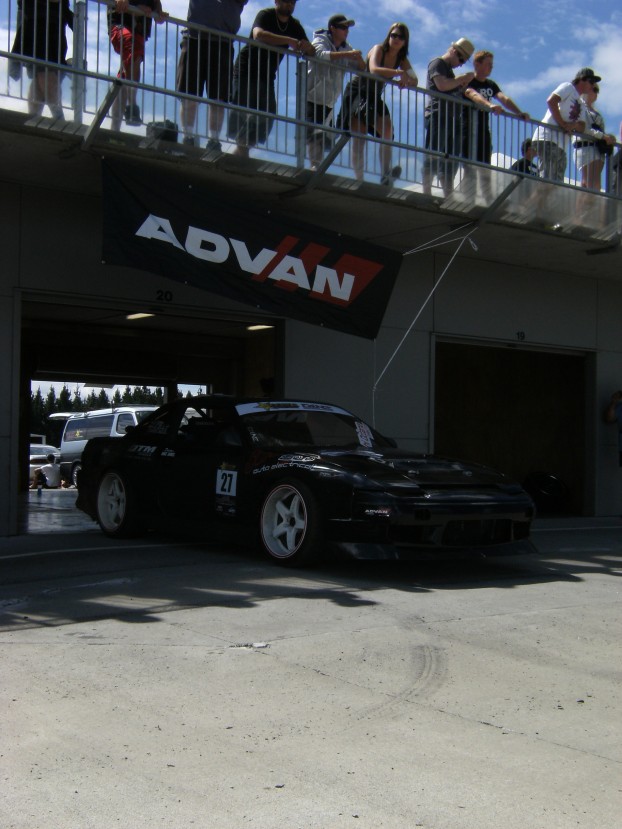 It was now into qualifying and I was super keen. I went out on some brand new Yokohama S drives to really put the hammer down. The first 2 laps I was pushing way to hard with the highest entry speed of the day and spun on both runs. I just wasn't used to standard steering lock and it was hard to adjust to. It was now down to my last run and if I was going to do a 'safe' lap I wouldn't get through to the Top 16. So it was all or nothing, pushed hard again and got another top speed into the first corner and pulled the lap off hitting all the clipping points right.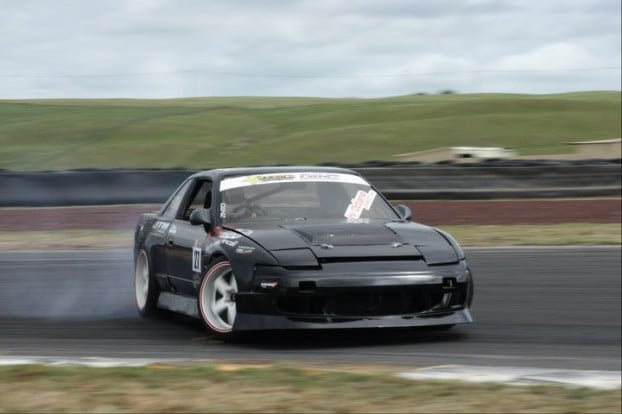 After that last run I was sure it would have been enough to just make it in the top 16. As I went back in the pits everyone greeted me. It was unreal, the support I had was awesome!
I now had the waiting game until everyone had finished their runs and we waited for the call of the Top 16.
While I was waiting for the Top 16 results a fan of mine who has been following me for years on Youtube came into my shed. I had no idea he was making it to Taupo and I noticed the custom shirt he was wearing with my car on it! Awesome!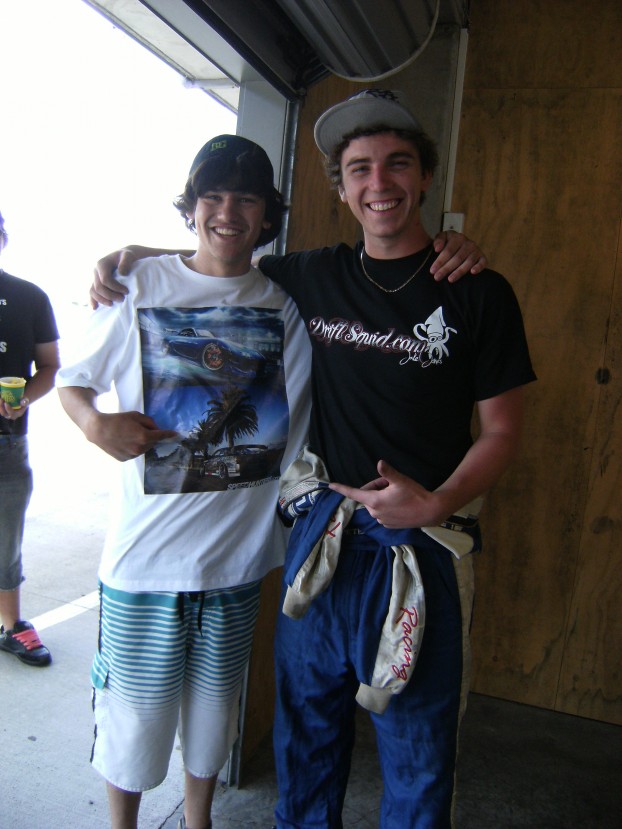 His name is Darryl and it was unreal to meet him. He came with his girlfriend so I gave them a few posters and they bought a few shirts from me. Darryl was hoping to see my car there but with it being stuck in Christchurch he will have to wait till Round 6. 🙂
I also took some time out for a few more fans. Was awesome to see the support….
I was having a blast, and then the news came through…. I had qualified 8th! Stoked was an understatement, I couldn't believe it. After all the things that had happened I was now into my first battle for over a year and it was in a borrowed car!
D1NZ have the top 16 driver intro's which is awesome… So out we went.
I was reppin the 'borrowed' look.. I was fair amped!
I went to check out who I was up against and it was Sellers. I could not wait to finally get a battle. Its my strong point in drifting and I was so excited. Went and had a good yarn to Sellers before we went out to battle and before I knew it we were heading for the first corner….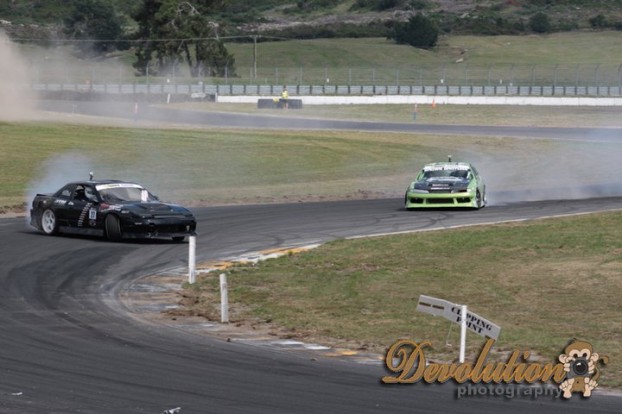 First up I was leading and Sellers was chasing. I was on a mission and didn't know I had a big lead.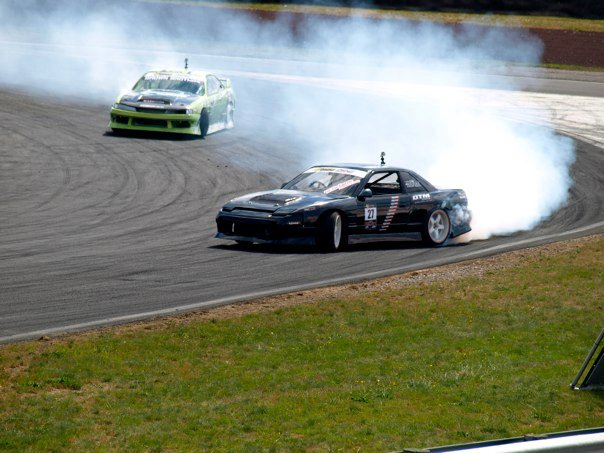 It was now my turn to chase and I was so excited!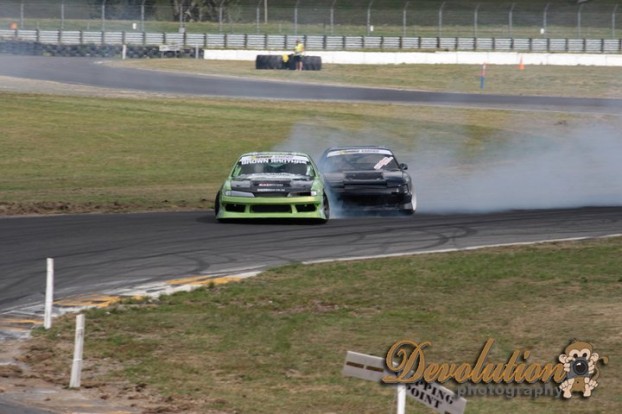 Was pushing hard, only cm's away from Sellers rear bar and on the corner after this pic I straightened up badly which caused a……..
Re-RUN!!!! I actually love getting a re-run as you know the other driver is trust worthy to get real close too and make it an action packed battle. So pumped!! I lead again on the re run.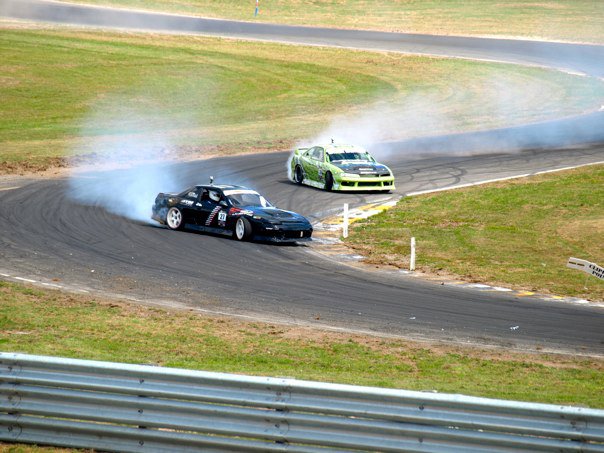 Pushing again and made for a nice lead. It was now my turn to chase and I made sure Sellers knew I was behind him….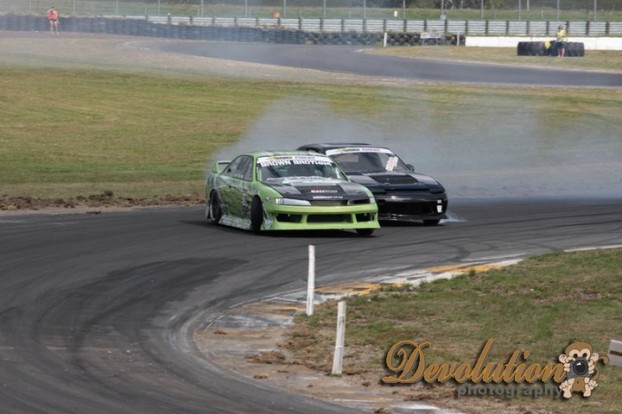 As you can see I was keen for a close battle but as things would have it I was coming around the last corner and just pushed that little too hard.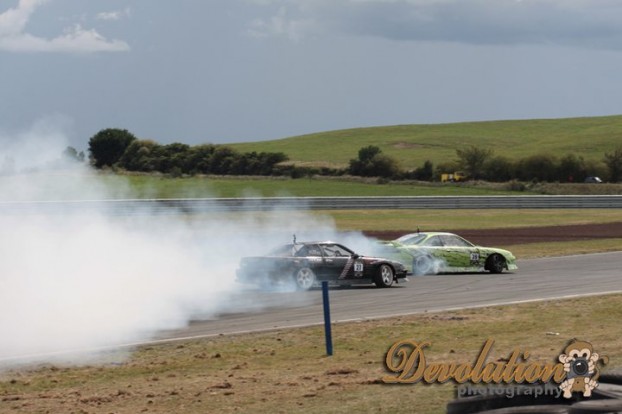 Again with standard steering lock the car just didn't have enough to keep it going. I spun on the last corner. All I have to say was it was still an awesome battle!
I was still mega pumped even after I was told I lost the battle.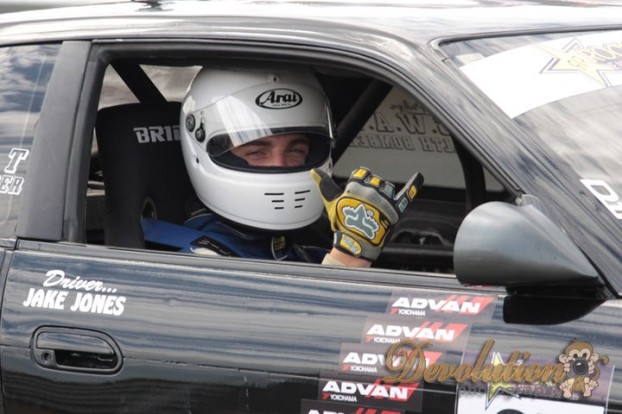 Like the ADVAN sticker job? It was now time to park the beast up for the weekend sign a few more posters and appreciate an awesome event that D1NZ can put on.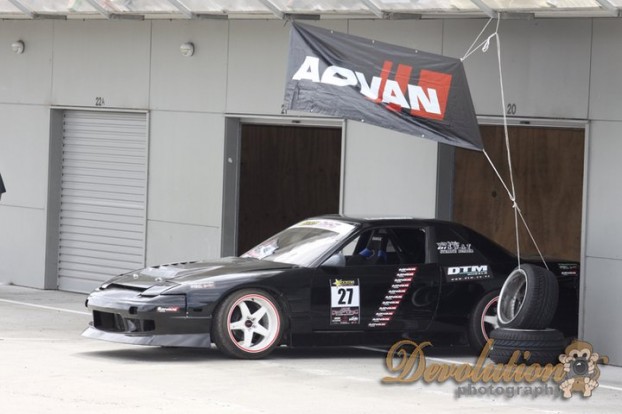 The ADVAN sticker job came up real good I thought ha!
The car was now nicknamed the 'crispy S13' haha… I had such an insane 10 days in NZ and I just cant thank everyone enough for the amount of effort gone into it all.
A massive thanks goes to the following people for making my crazy adventure work out the way it did….
SPEC performance
Paul Tomlin
Ian 'Cromey' Sheppard
E'Man
Hugo Maclean
Brendon White
Bennett Motorsport crew
SHRED motorsport
Fanga Dans crew
Gaz and Tony whitter
JT
Simon Anderson
Matt Malcolm
The whole D1NZ crew
The randoms for picking me up at the airport haha
ADVAN Australia and HI Octane Direct.com
And everyone else who I have forgotten and you know who you are 🙂
I am now working on getting my car out of Christchurch and up to the North island for the last round of the D1NZ series. Its going to be insane and I seriously cant wait 🙂
I'd also like to add my thoughts and best wishes go out to all those affected by the earthquake in Christchurch and the more recent disaster in Japan.
Hope you enjoyed the read
Regards
Squid 😉
Tags: ADVAN, burn, burnt, crispy, D1NZ, earthquake, Fire, Jake Jones, Jakes Jones, New Zealand, R4, Roadtrip, Round 4, Shred, Spec, travel, Yokohama