DRIVER BLOG: Team Falken Start Collecting Trophies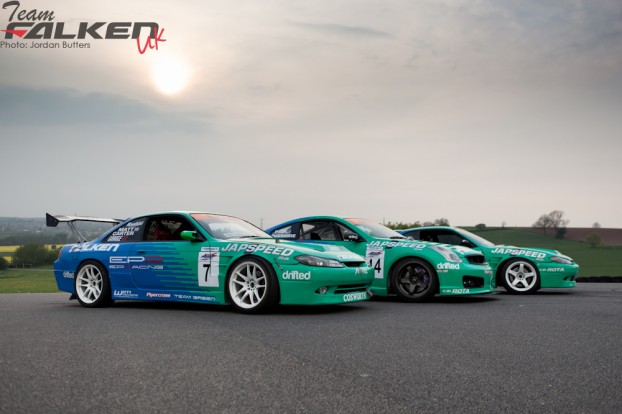 Its been a hectic few weeks leading up to the start of the 2011 season, so much so we have barely had a chance to keep on top of keeping our fans informed in between building cars, breaking them, fixing them and winning trophies!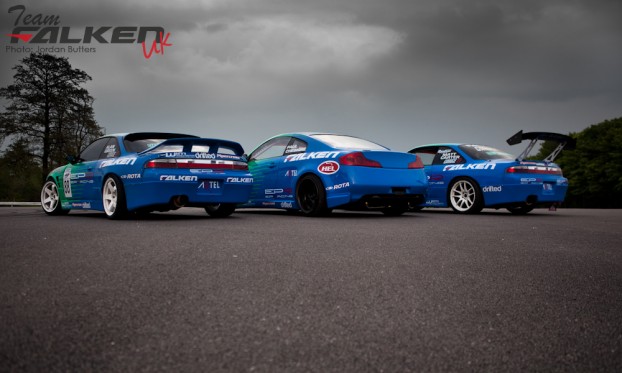 Round 1 of the British Drift Championship at Donington Park came and went and with it we claimed our first silverware for the 2011 season. After a manic few weeks leading up to the event trying to get the cars ready on time we finally rolled up at Donington Park bright and early on the Friday morning and unloaded the cars, the paint was barely dry!
So much so that Polo had to go out for practice sticker-less in the 2JZ G35! He jumped straight into the car and straight off the bat started to get to grips with a chassis and engine combination he'd never driven before.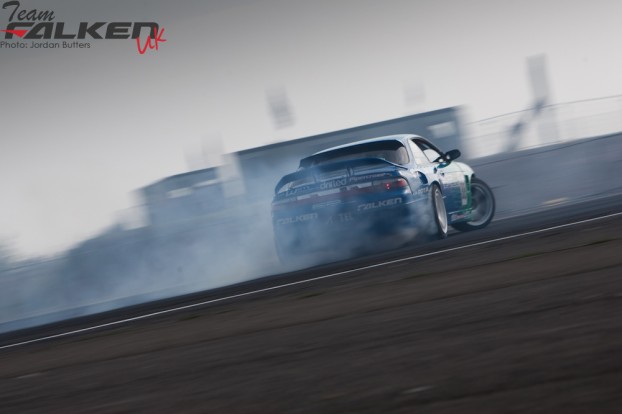 Matt and Alan were also out on track getting back to grips with things. Drifting is like riding a bike in some ways, you never forget as such but after a few months off-season it takes a little while before you're back into the groove.
Sadly during practice the clutch on the G35 started to slip quite badly and come qualifying time was all but completely dead! I guess that's what happens to a clutch rated to just 450bhp when you put 600+bhp through it!
Matt went out in qualifying and put in some solid runs, netting him 2nd place overall in the Super Pro Class with a score of 89pts.
Alan followed suit and qualified also, putting him through to the Top 16 in 13th position.
Due to Polo's clutch failure he had to jump into fellow competitor Danni Murphy's green S14A, which he dually did and scored 5th qualifier. In a car he wasn't used to driving! Unfortunately lady luck was not on Polo's side and he was drawn against Danni in the Top 16, meaning he had to concede the draw and bow out.
Not deterred, a new clutch was dropped into the G35 overnight and stickers applied and he went out on track on Saturday to further test the new car.
It certainly looked like it drove well!
Come Saturday Matt and Alan were both on fire, disposing of competitor after competitor.
Alan got the crowd going wild with his celebrations around the final clipping point, arm aloft out of the window!
Alan made it as far as the Final 4 before losing out to BDC newcomer Dan Hall. But went on the secure a 3rd place podium finish, our first for 2011!
Because of his high finishing position coupled with his previous season's results he was also allowed to compete in the Super Pro Class Top 16 alongside team-mate Matt, which he did, making it as far as the Top 8! Great result!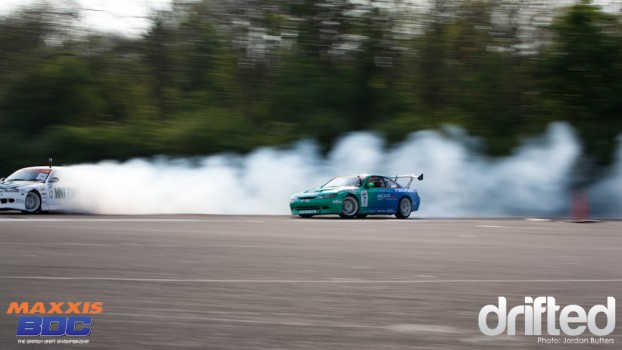 Matt was driving like a man possessed, the new Toyota 1JZ power-plant obviously working well in the S14!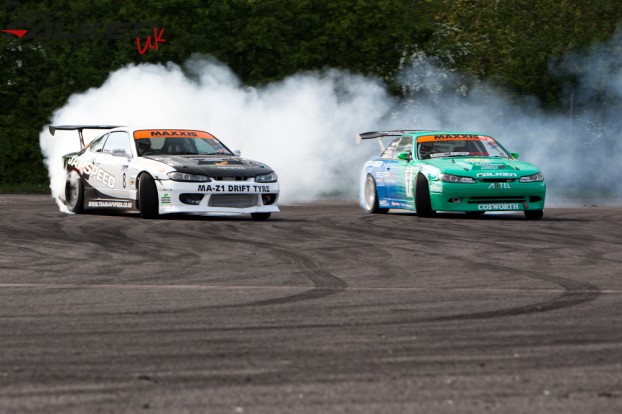 As Matt climbed through the Top 16 he certainly didn't have any easy draws. After a close battle with Team Japspeed's Paul 'Smokey' Smith, Matt found himself in the Top 4.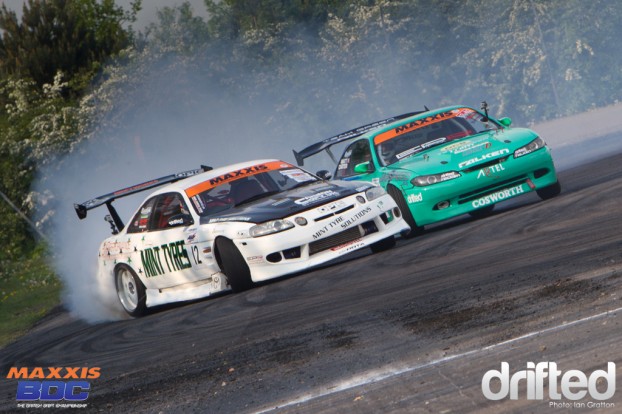 And then after disposing of Mint Tyre driver Wayne Keeber, the Final!
His opponent was to be Mark Luney in the SATS Cosworth Supra, winner of the 2010 Donington Park round and someone who had been unstoppable all day.
After two closely fought battles Matt had pushed hard but it wasn't quite enough to take the win. However that meant 2nd place and Team Falken's 2nd podium of the event! Also, despite Polo's unfortunate draw he still manages to score points based on his qualifying position, result!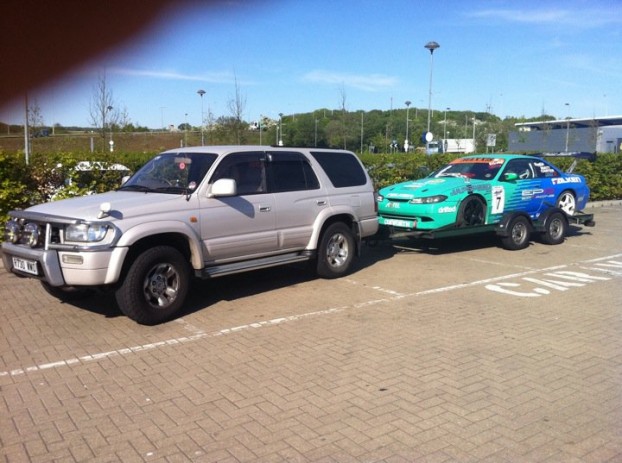 Following on from Round 1 of the BDC a few weeks rest and relaxation was on the cards before Round 2, however it wasn't to be! We had a call from the lovely people at Falken Europe just a few days later. They needed a car out in Bodensee, Germany for a demo at the Tuning World 2011 show! Road trip!
Matt loaded up his S14 and was on German soil before you could say 'guten tag'.
The demos at Tuning World attract huge crowds and mean Matt had the chance to drift with our European brothers Leonard Wanders and Remmo Niezen.
The crowd really got behind us at the event and fortunately this year the weather held out meaning there was plenty of Falken tyre smoke in the air!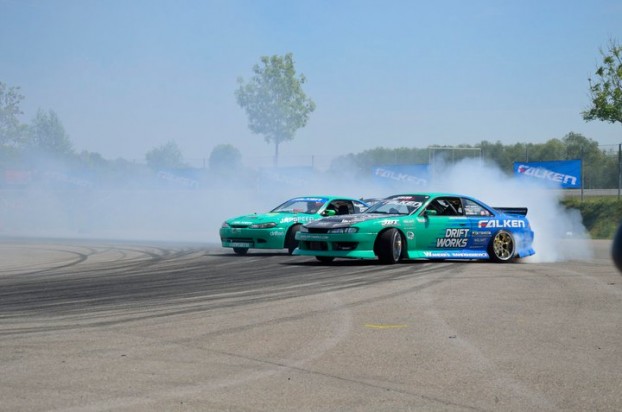 Thanks for having us over guys, hopefully we can do the same next year but with all three cars!
Back on UK soil again and the cars were staying loaded up as we were invited to take part in the Team Drift Battle Demo at Japfest, Castle Combe. Japfest is the UK's biggest Japanese car show and attracts a huge number of auto-enthusiasts from the whole of the United Kingdom.
Photo: Tim Burnett
With all three cars fixed and healthy we set off putting on a show for the crowd on the huge sweeping turns that Combe has to offer.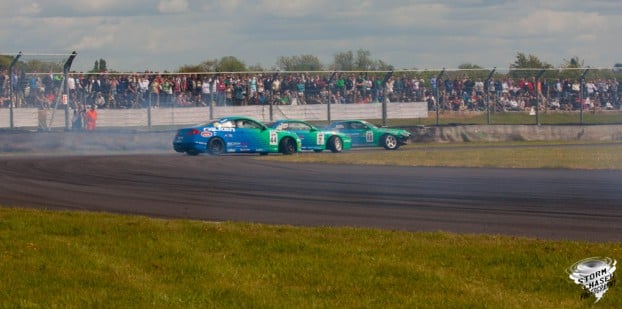 Photo: Tim Burnett
This is one heck of a fast track and every year at Japfest claims it's fair share of victims, mechanically and aesthetically!
Unfortunately the G35 was yet again one of those victims! Mid-corner the power steering belt snapped and Polo lost all steering. Thankfully no further damage was caused, but despite throwing a new belt on the same happened again! The decision was taken to retire the G35 from practice to investigate and to prevent further and worse damage occurring.
Photo: Tim Burnett
After managing to 'borrow' a belt tensioner from a Supra in the paddock the G35 was back out on track, and with all 3 cars back out on track we got to tandem drifting for the crowd!
Photo: Tim Burnett
Which was enough to net us 2nd place in the battle!
With Round 2 of the British Drift Championship just around the corner at Norfolk Arena this weekend (21st & 22nd May) we are looking to continue to expand our silverware collection! Saturday plays host to the competition event and Sunday we get to have fun at our favourite event of the year – the BDC Triple Tandem Drift event, which we won in 2009. If you're looking for something to do this weekend you could do a lot worse than to get down to Norfolk Arena and watch us rub door handles with each other and smoke some Falken rubber!
::Team Falken UK