In 2010 Mallory Park planted itself firmly on the drifting map within the UK offering monthly full circuit drift days.  After the typical bumpy start any venue experiences when it adds drifting into it's schedule word finally got round of just how amazing the place is.  It offers everything from tight and technical, gradients, long fast balls out 180 degree turns – its a great place for seasoned pros and those just starting out alike – areas of the circuit are gentle enough for beginners with plenty to build up to as a drivers skill and proficiency improves with every extra bit of seat time they get.  The circuit itself is set on the edge of the small sleepy village of Kirkby Mallory – if you could live in the village with an infinite supply of tyres and drive the circuit every day it would be nirvana.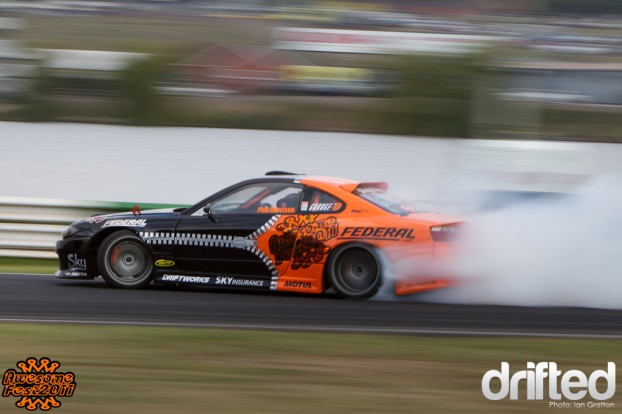 In October 2010 the guys over at Driftworks made an announcement on their blog.  It wasn't an event report, a photographic documentary of usual mad happenings in their HQ, a snapshot photograph or video of some cool drifting back in the day – it was the announcement of  Awesomefest!.  If three days of solid drifting wasn't enough to wet your whistle there was also:
track sessions for drifters
demos from pro drivers including ride alongs
2 different motocross tracks (already in place at the venue)
a fun fair
a big top housing a massive sound stage with music and dj's for most of the weekend
a skate park
a BMX ramp park
paint balling
on-site camping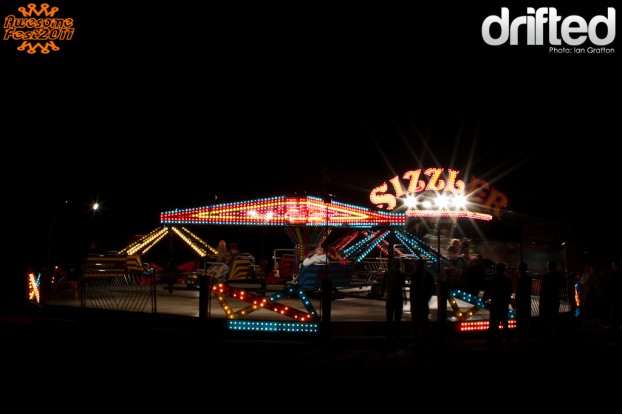 Best of all – once you'd paid for your track time and entry everything else was free – well apart from the food and drink to keep you going but thats understandable.
Nothing like this had ever been attempted in the UK, could it turn into something similar to the likes of the Gatebil weekends over in Norway or the Drift Matsuri that takes place at the Ebisu venue in Japan? Only time would tell.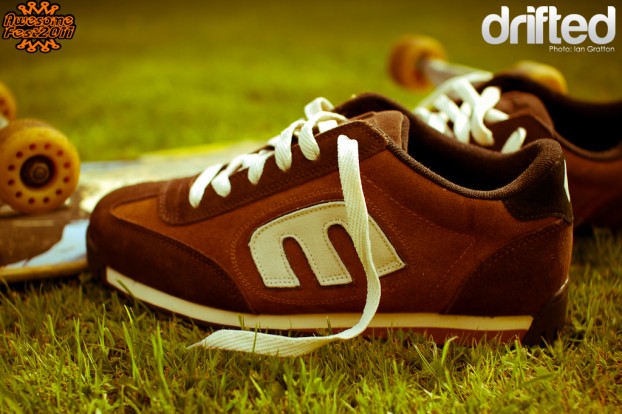 One thing I've found about drifting is an awful lot of the drivers and those interested in drifting seem to have dabbled in other extreme sports during their lives – and some still do.  Its almost like when our bodies get too warn down we get our adrenaline kicks from destroying tyres instead of bikes, skateboards and ourselves.  This was made obvious in the conversations leading up to the event as many photographers and videographers decided to dust down their old bikes and boards – its a pretty neat way of moving about the infield paddock and likely to end in injury in the parks.
As the event drew closer and closer regular updates on the Driftworks blog announced pro drivers that would be in attendance over the weekend.  Team Falken Tyres would be sending along 3 drivers from mainland europe to join up with its 3 UK drivers.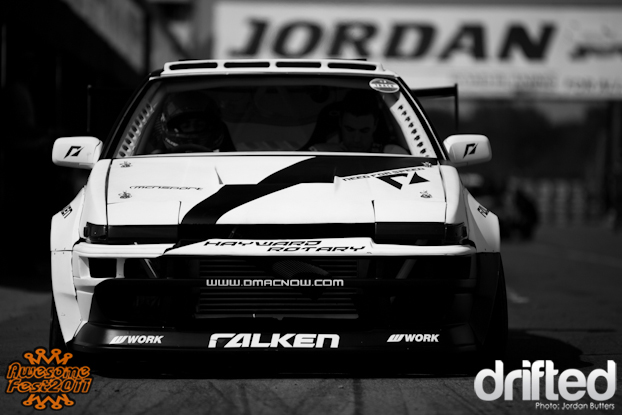 Formula Drift driver Darren 'D-Mac' McNamara would be present in the Need For Speed AE86,  Pro drivers from other UK and European championships were also in on the action.  It was going to be a truely global gathering.  It would also serve as a great opportunity to catch up with some of the other Drifted Crew with 3 UK contributors and Norway's Daniel Hovdahl making the trip with a suitcase full of video equipment.
I rolled into the infield paddock a good few hours before the main venue opened for 3 days of awesome. The huge graffiti-walls were already being put to good use.
The custom built BMX and Skate park in the paddock was put to good use over the weekend.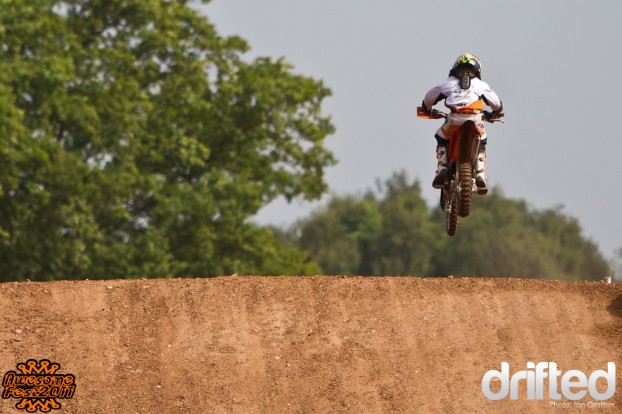 On the outside of the Leicestershire circuit a campsite had started to spread out into the countryside and a MotoX and mini-moto track had been craved out of the hillside.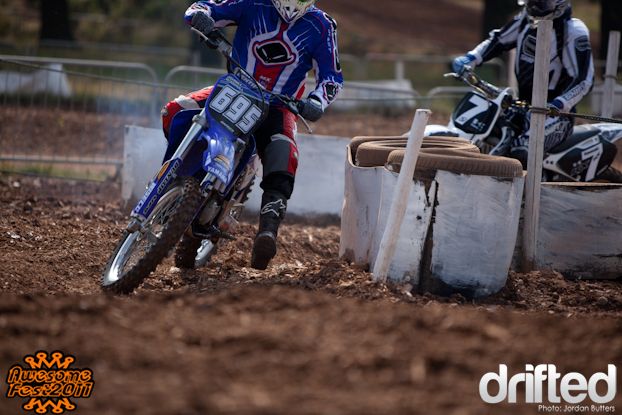 If you couldn't get your adrenal kicks at Awesomefest, give up, go home, take up extreme chess or knitting or something.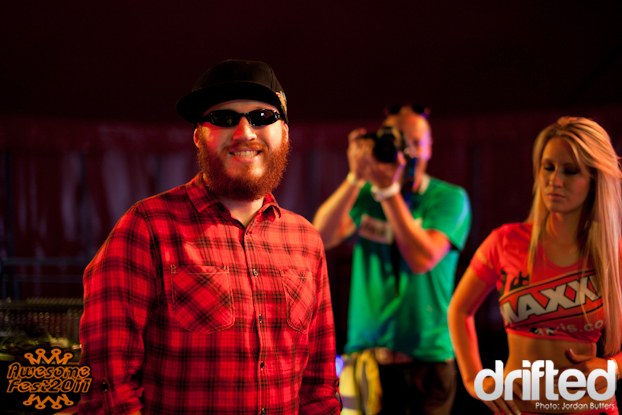 Something for everyone was the order of the day. Like your beards? Awesomefest 2011 hosted the first annual 'Beard-off' event.
The Maxxis girls showing their expert judging skills when needed.
The weekend was a pretty chilled affair, the main track time was separated into several sessions throughout the day with the track being open to basically anything rear wheel drive. This saw a good mix of pro-am level drifting mixed in with some oh-dear-God-this-isn't-ending-well beginner drifting. To add to the excitement the Pro drivers could join whichever sessions they fancied to mix it up with the amateur drivers.
Mallory Park isn't a circuit for the faint hearted but everyone at all skill levels was giving it their all. The first corner after the long fast straight is called 'Gerrards' and is, when you get it right, and without exaggeration, a 100mph initiation.
Go too slow and you won't make it round the long sweeper in one drift.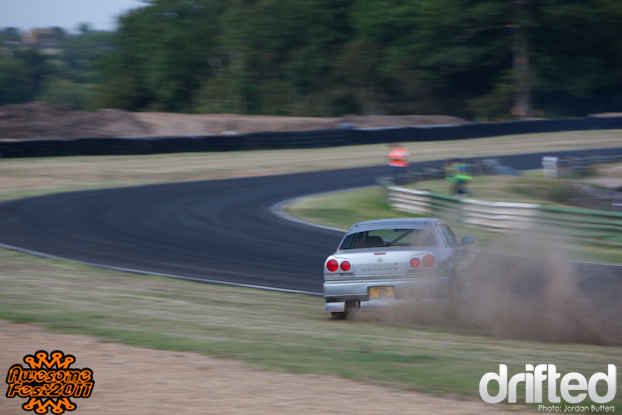 Go too fast and you'll find yourself skimming across the gravel towards the tyre wall.
The track claimed a fair few fibreglass body parts over the weekend! All in the name of awesome of course!
In the evening a Pro demo was scheduled and Europe's best attacked the circuit under the veil of darkness.
Many of the cars run without working headlamps so the venue provided floodlights at intervals to light the way.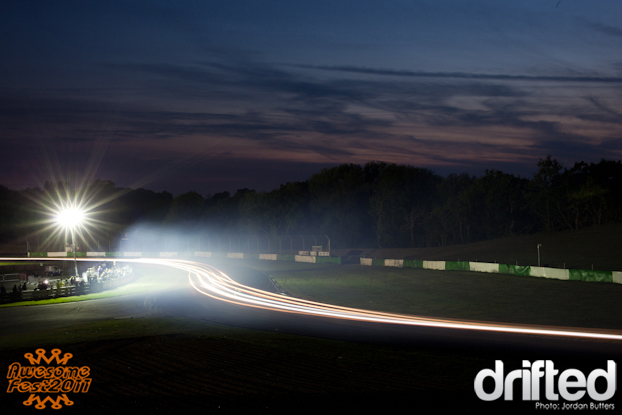 You may be wondering why such the delay in getting our shots up as Awesomefest was WEEKS ago right? We'll the reasoning is three-fold, hear me out….
Firstly we ended up with so many shots over the three days short of locking ourselves away from the world to crack on it takes time to get through them all.
Secondly we wanted to other reports and albums from the event to chill a little before we dropped ours, just to re-ignite everyone's memory banks as to how awesome Awesomefest really was.
Thirdly, if we're being honest, Awesomefest has us stumped. How do you start to put into words a hugely chilled weekend spent witnessing some of the best open pit lane drifting, night drifting, BMX, Moto X, Paintballing, Mini-Moto, Skateboarding, Live Music , Funfair, Huffy Slidering action you've ever seen over two and a bit days?
Answer – you don't, you put all the pictures up in one big batch and let the light do the talking. Awesomefest 2011 was……well, awesome.
Make sure you pick up your tickets for Awesomefest 2012 NOW from Driftworks. They have a special limited time offer on!