EVENT: D1NZ Grand Final – Part Two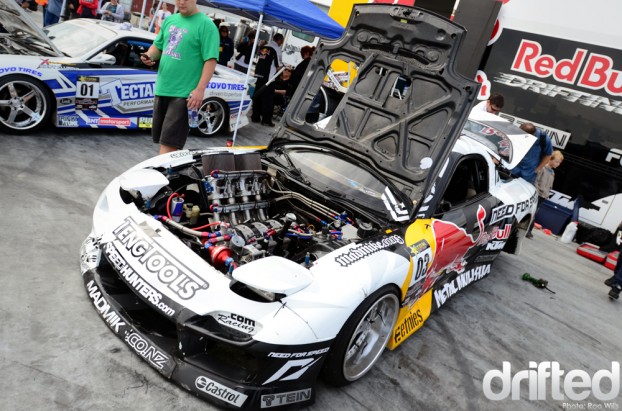 Picking up from where I left you in part one, I was back at Hampton Downs Raceway for the business end of the Rockstar Energy D1NZ National Drifting Championship Grand Final. It has been a very close and competitive season with only 50 points separating the top two drivers leading into the final. Today would decide who would be crowned the 2010/2011 D1NZ Drift King.
The morning started in very similar fashion to the previous. Here is head judge and ex-D1NZ driver Nick Teeboon explaining the judged section and clipping points. D1NZ has a lot of people that help behind the scenes, so I'd quickly like to point out who some of them are. To the left of Nick is his brother Dan, who takes care of scrutineering/marshals/pits and any off track adventures. And on the right we have the two other judges, Kyle Jackways and Sam Groombridge, followed by D1 commentator and former D1NZ Drift King Jairus Wharerau. Oh and I almost forgot, standing above them all is Theresa Knight who makes sure all the drivers get out into the grid on time!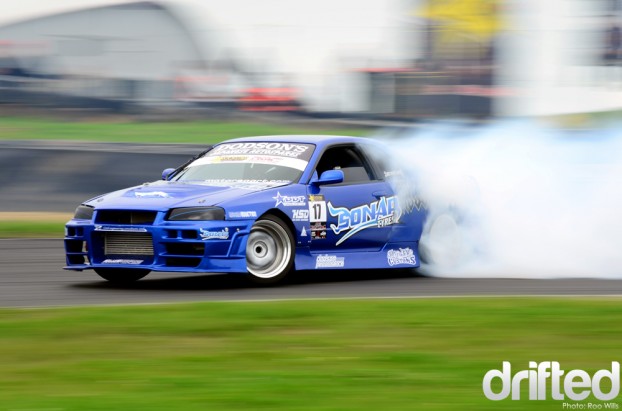 The morning was dedicated to D1 testing and qualifying. Curt Whittaker laid down the best run of the day with 87.00 points!
Hampton Downs Raceway would be a very fun track to drive I imagine, as it is full of elevation changes. Here is Cole Armstrong flying over the hill on turn 2.
Gaz Whiter is always one to watch out for, and qualified second with 86.86 points.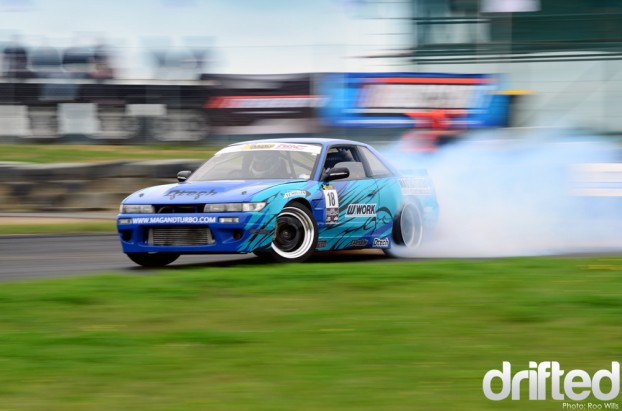 Newcomer Bruce Tannock has really improved throughout the season; who knows where his graphics scheme is from?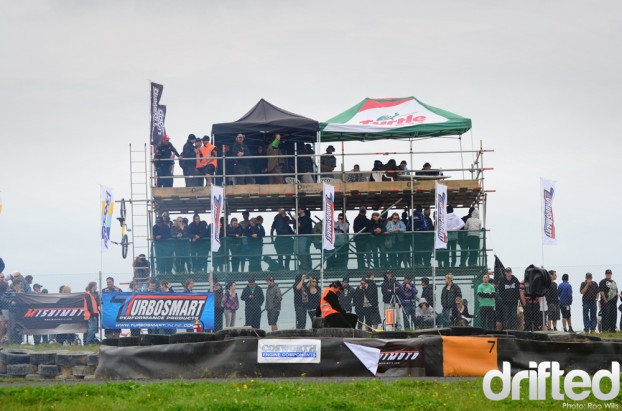 Not all tracks in New Zealand have a suitable building to judge from, so this structure was erected for the weekend. Up top we have judges and staff while the lower level was open to drivers' teams and spotters.
Unfortunately Matt 'Chuckie' Jackson didn't qualify but his car sure looked great out on track. This is Chuckie's first event in his new RX7 and I'm expecting big things to come!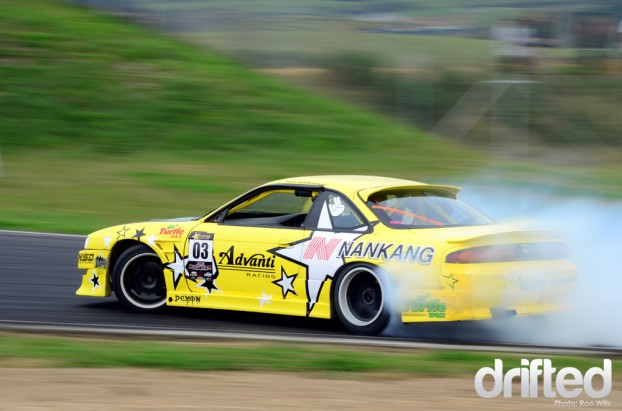 Andrew Redward is another driver that has had a few mechanical issues this season in his LS-powered FC3S I posted in part one. Luckily though he never sold his previous drift car, this Nissan Silvia, so after the LS2 managed to self destruct a spark plug he nipped home to get it! The old girl can still perform too; Andrew took out the no. 4 qualifying spot.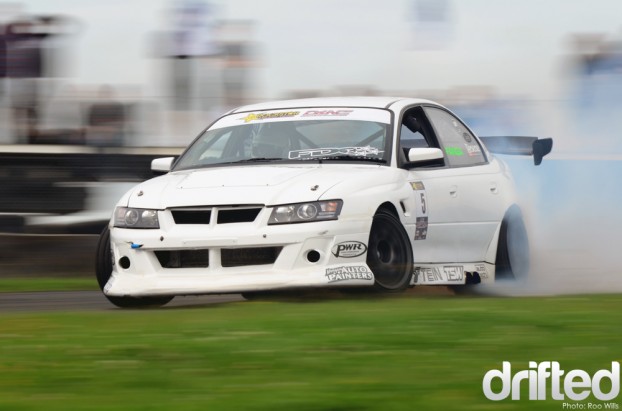 I really love the clean look of Fanga Dan Woolhouse's Holden Commodore, it sounds just as good too!
After qualifying the Top 16 drivers did a parade lap for the crowd and then parked up for introductions. It's always interesting to see how each driver reacts differently.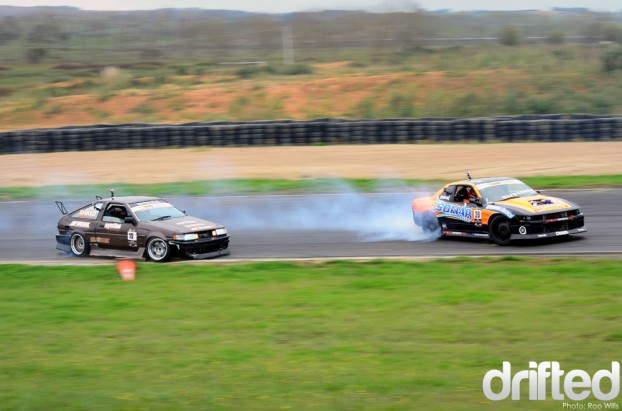 One of the first battles of the afternoon was between Hugo Maclean and Mac Kwok. Hugo won and moved on to the Top 8 for the first time.
A battle of the S14's, Andrew Redward vs Jason Sellers. Jason moves through!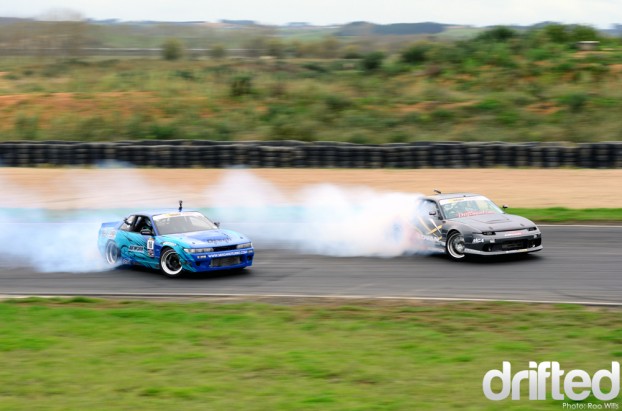 Drifted driver Jake Jones vs Bruce Tannock. Jake takes the win. Keep an eye out for Jake's driver blog soon.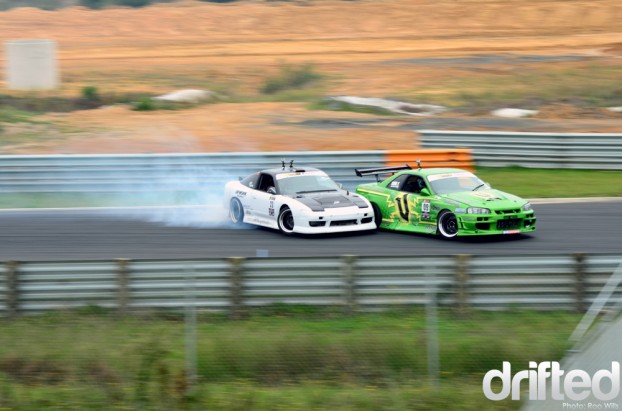 After a very close battle between Josh Coote and Cole Armstrong the judges called for a OMT. Unfortunately Josh could not make the re-run as seconds after this photo he actually hit Cole and this did some damage that his team couldn't fix inside the 5minute rule.
Moving through to the Top 4 we have Carl Ruiterman and Curt Whittaker up first. Both of these drivers are very talented and it was close, but Carl gets the win and goes on to the final.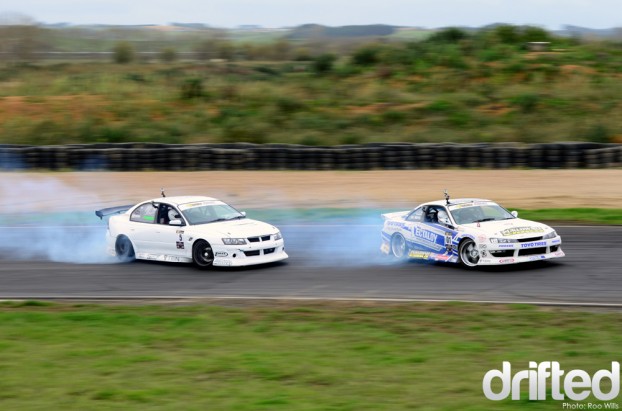 The other battle in the Top 4 was between Fanga Dan and Gaz Whiter. After a OMT the judges gave the win to Fanga Dan and he moves on to battle Carl for 1st and 2nd…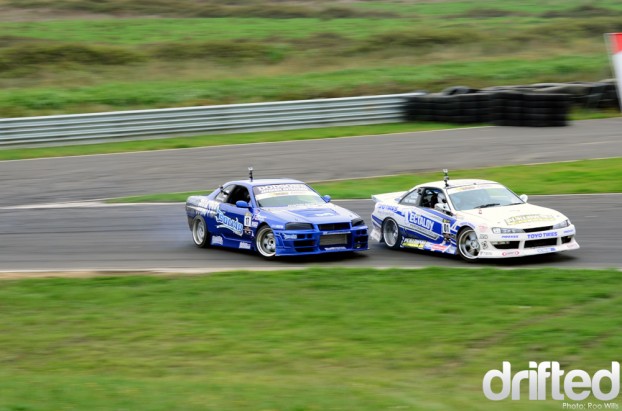 ..while Curt and Gaz battle for 3rd and 4th. Curt takes the win!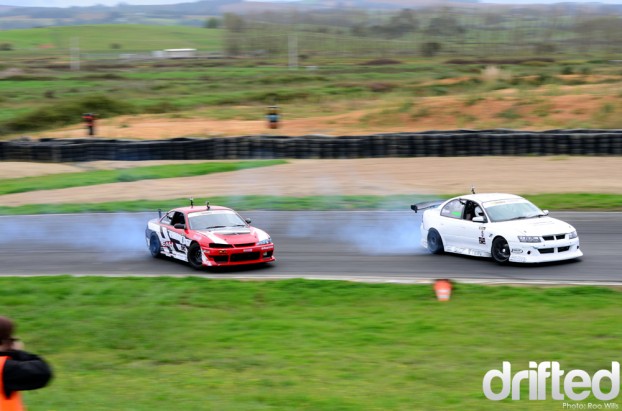 It seemed like a round full of OMT's as the battle for 1st and 2nd went one more time too. After a lot of deliberating Carl was handed the win.
It has been an amazing season for these two drivers, Gaz Whiter and Curt Whittaker. They have been at the top of the table all year and only 50 points separated them leading into the final.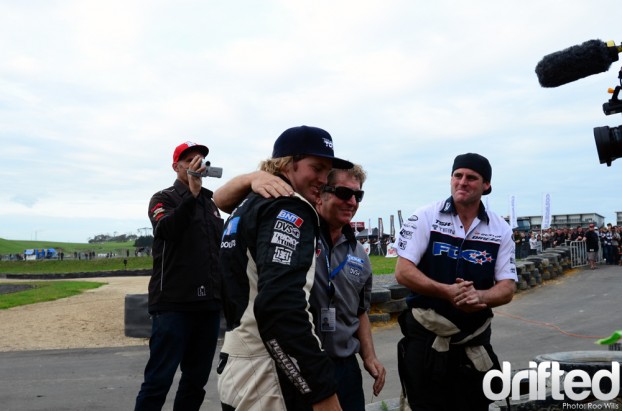 After the judges added this round's points to the season totals, it was announced that Gaz Whiter is the 2010/11 D1NZ Drift King! It has been a tough year for Gaz and his father Tony both mechanically and emotionally. I was really happy see him take the win. This makes it his 3rd consecutive D1NZ Champion title!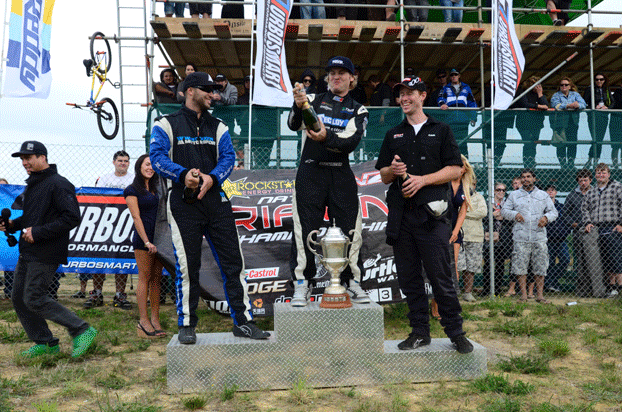 In true motorsport fashion they showered eachother in champagne and said a few words to the crowd.
This has been an amazing season to be part of. I have met a lot of new people and travelled all around the country with a great bunch of mates. Thank you to all of you involved, I can't wait for September when it all starts again!
Check out Olly Jepson's video of the event –
Results:
D1NZ Grand Final (Round 6)
1st Carl Ruiterman
2nd Fanga Dan Woolhouse
3rd Curt Whittaker
4th Gaz Whiter
2010/11 D1NZ National Drifting Championship Standings
1st Gaz Whiter
2nd Curt Whittaker
3rd Carl Ruiterman
4th Cole Armstrong