EVENT: Drift Allstars 2015: The British Drift GP R1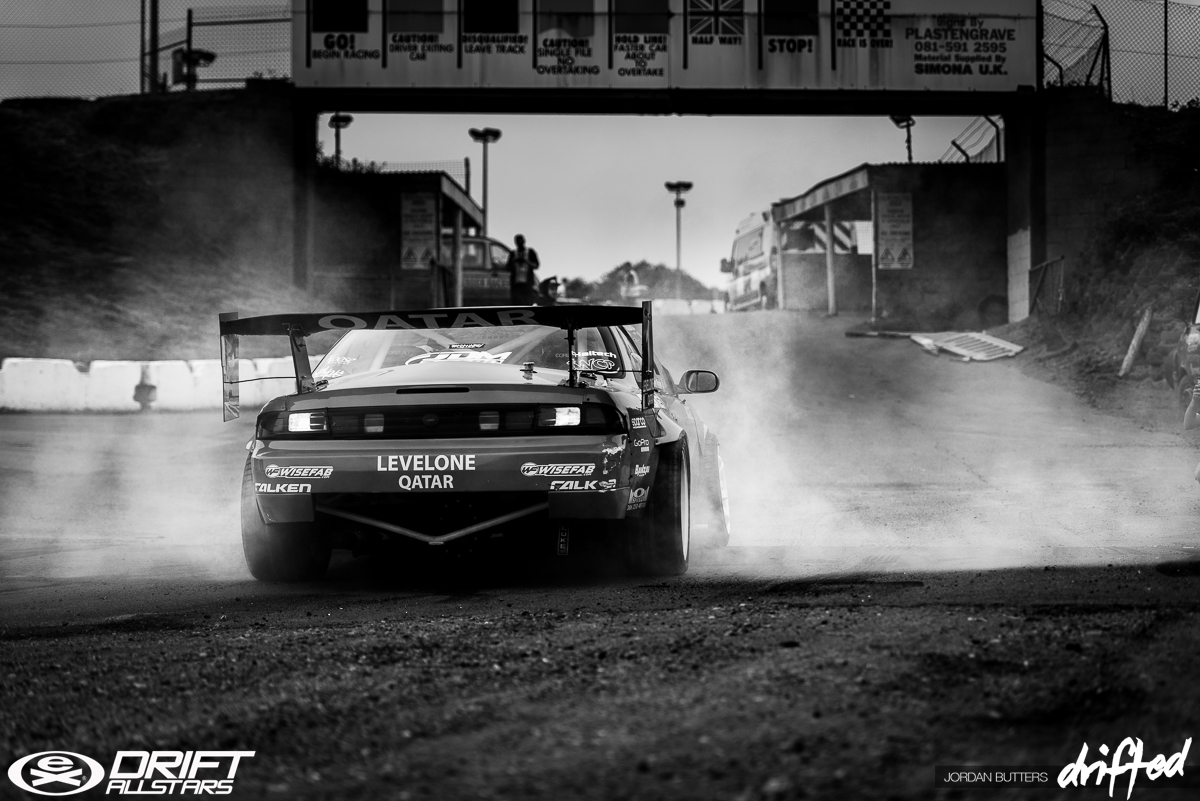 Setting the bar high comes with its own inherent risks. You establish a level of expectation which you then have to live up to.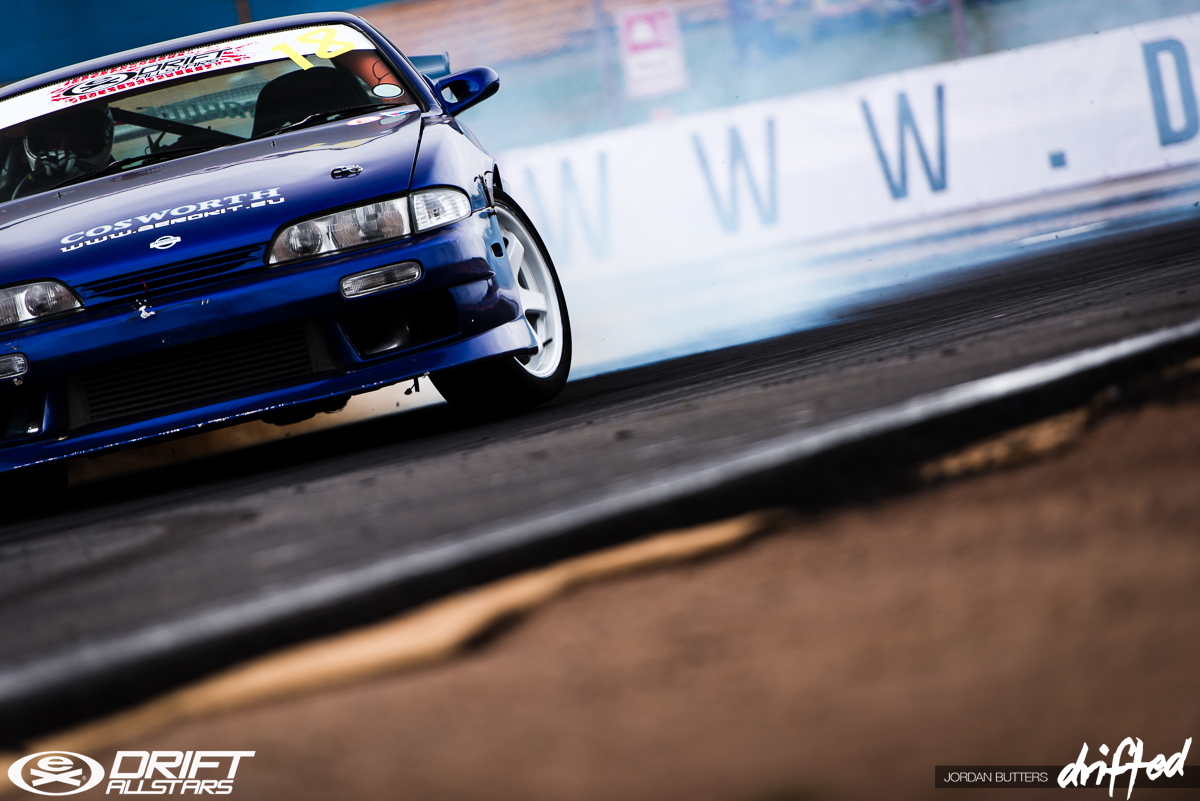 You're only as good as your last 'whatever' - this mantra rings true no matter what you do - be it photographer, driver, or event organiser.
Coming off the back of an unprecedentedly successful 2014 season, the Extreme Drift Allstars team didn't make life easy for themselves. Last year's event opener, in the heart of the city of London, was unlike anything I'd seen before. Set against the backdrop of the City itself, and the towering glass and steel institutions of Canary Wharf, the best drivers from across Europe battled it out in scorching and typically un-British weather on the site of the 2012 London Olympics.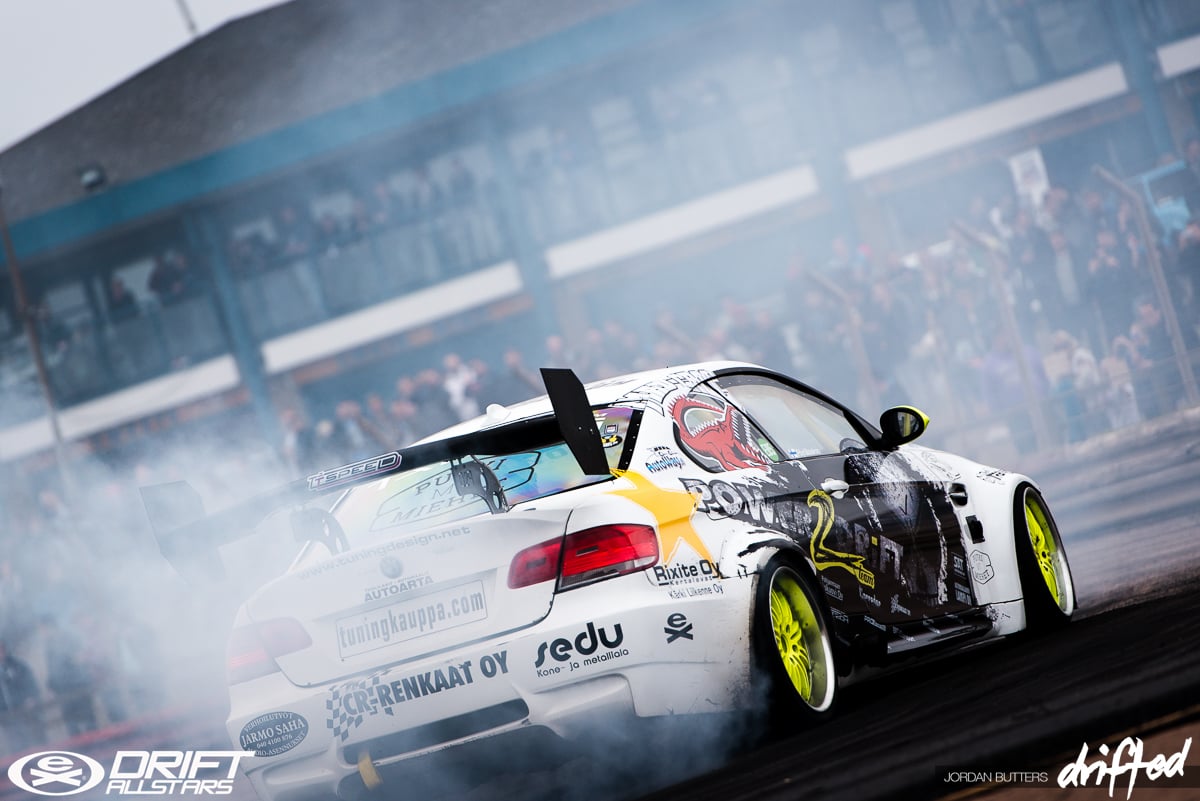 We had a blind initiation, jumps, wall scraping, fired, on-point driving, incredible battles and the ebb and flow of a bustling crowd, the likes of which is only really possible in this country if you take drifting to the people, rather than expecting them to come to you.
As you can imagine, putting on a spectacle of this nature isn't easy, no matter how good you are and credit where credit is due, the Extreme Drift Allstars team knocked it out of the park. Cue 2015, and the closer that we got to the date of the highly-anticipated British Drift GP without a venue confirmed, the more concerned everyone became that last year's event was a one-off.
But, just as swiftly as a suitably epic venue was procured, right next to London City Airport, it was snatched away. The reasons are unclear, but I would guess that London's pursuit of bringing the eco-friendly Formula E series to the city was deemed too important to risk.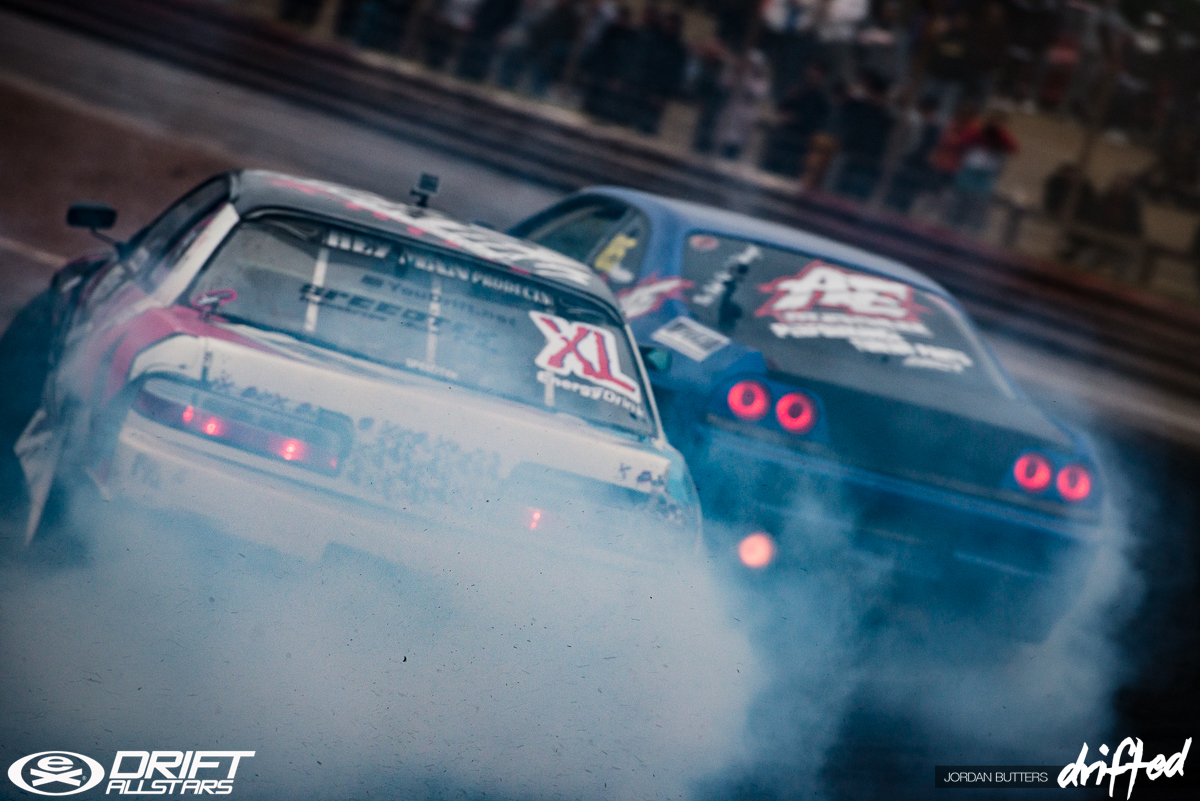 With time ticking, once again the hunt for a suitable arena was on. And one that could provide the perfect battleground for the season opener.
With just two weeks to go before the event, and ferries, flights and accommodation booked for many, the organisers faced their biggest challenge of all - finding a new venue that could host the event and do justice to the crowd, and world's, expectations.
I'll be honest - when the replacement venue was announced as Essex Arena Raceway, just outside London, I was initially more than a little disappointed. From a purely selfish, photography-based, point of view, how was Essex Arena going to live up to the slick glitz of the City?
Upon my arrival, I realised how mis-guided my perspective had been up to that point. Over the course of the preceding days the Drift Allstars team had transformed the speedway circuit - with the addition of a new loop-through section and sponsors' branding around the perimeter it was now a venue suitable for battle.
I also had to remind myself that, despite the no-so-posh venue, Drift Allstars still has its trump-card - the drivers. Boasting one of the most impressive roasters of pro drivers from across Europe (and now around the world), the series always manages to deliver incredible drifting and inch-perfect battles, no matter where it lands.
That's what matters to the fans at the end of it all. While us photographers might want an incredible backdrop and endless angles to choose from to give ourselves an easy ride, and those sitting at home, bashing angrily-worded comments and status updates into their over-worn keyboards are just grateful for a reason to moan, if the driving is jaw-dropping and the action relentless, then we should all be happy to see good drifting - right?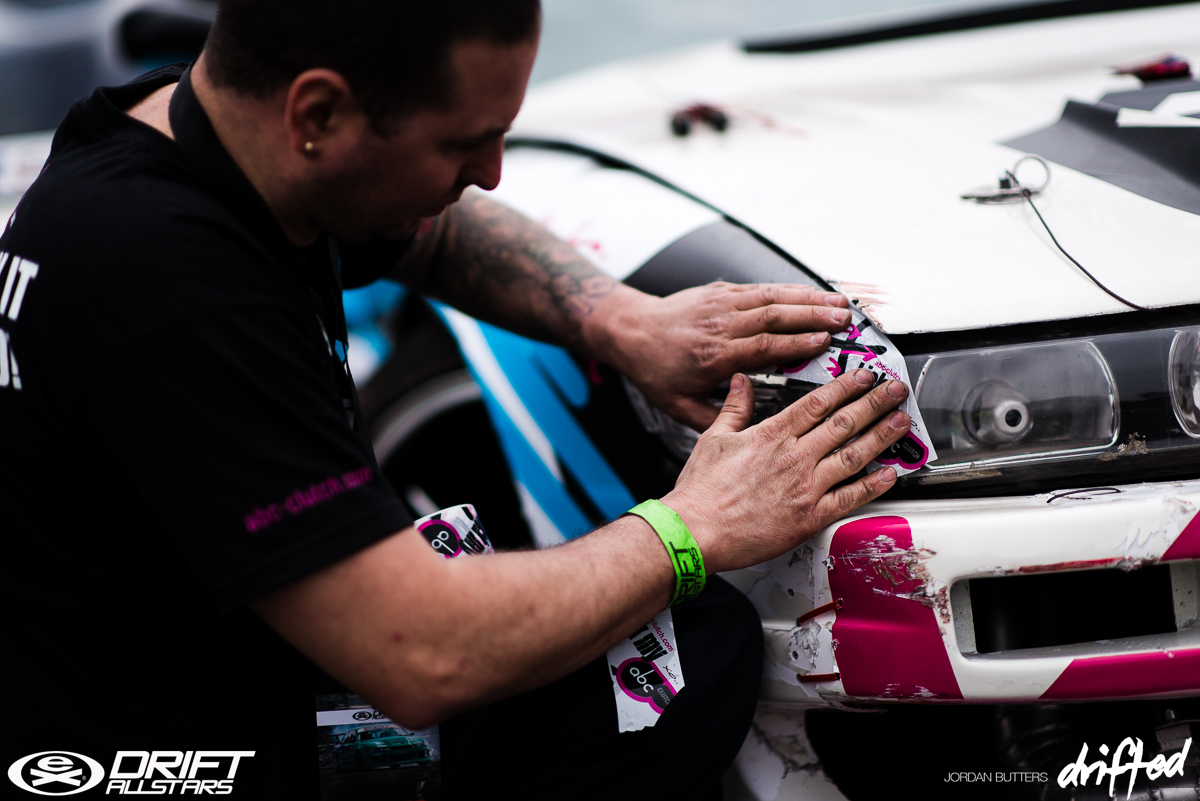 And that's exactly what we got from Extreme Drift Allstars R1. As a circuit, Essex Arena Raceway is as unforgiving as they come. A tarmac oval, ringed in reinforced steel barriers, there's no room for error what-so-ever. There's no run off, no gravel or sand to slow you down - if you make a mistake you're pulling parts of your car out of the wall.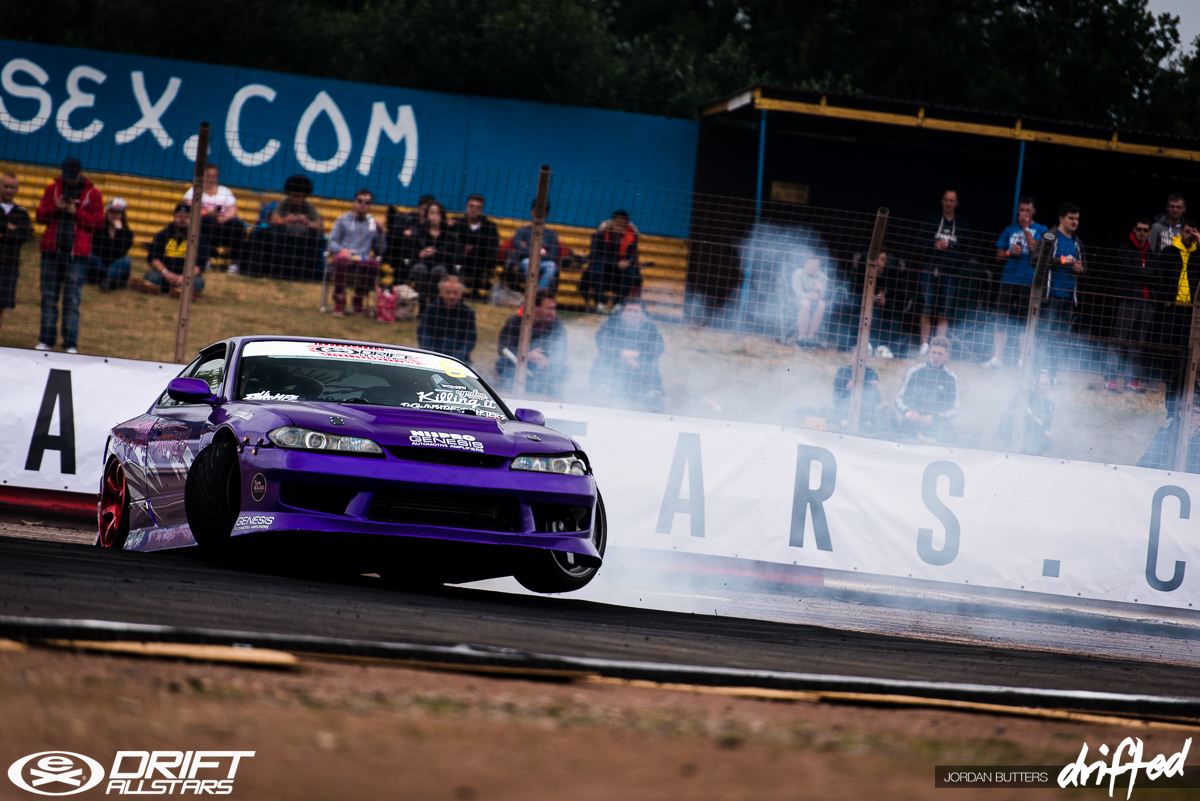 The loop through added for the event mixed things up even further. Essex Arena is used for speedway racing, so the tarmac addition to the circuit had to be laid on top of the existing shale track so as to be removed after the event. As a result there was no way to avoid the inevitable jump up and dip down on and off the new piece of track.
Much like the famous Riga jump in Latvia, the was enough to pitch the cars up on three and sometimes two wheels as they cut through, depending on the angle of attack.
Throughout the day several steering and suspension repairs were called for as the drivers figured out the best way to attack the feature without losing too much speed or grip.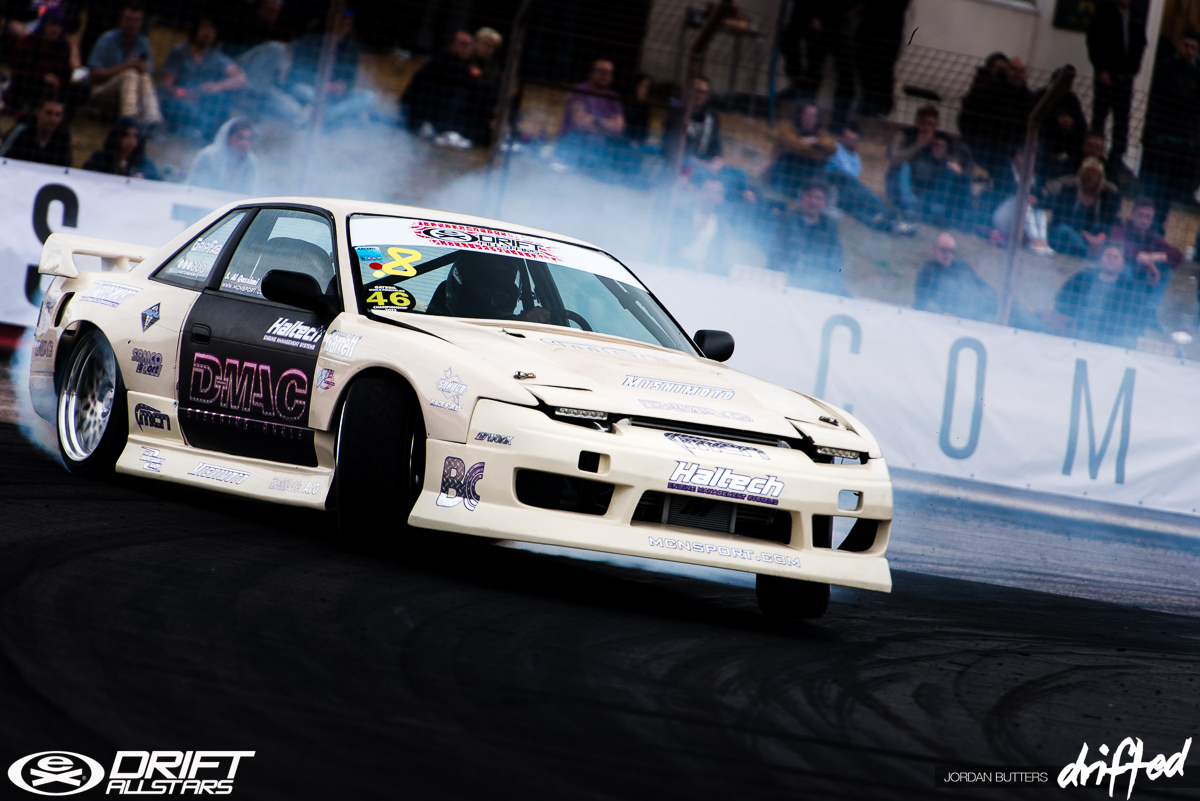 Backing off to set the car up for the cut-through seemed to make the problem worse, whereas if a full-throttle attack was maintained, the bumped seemed less severe.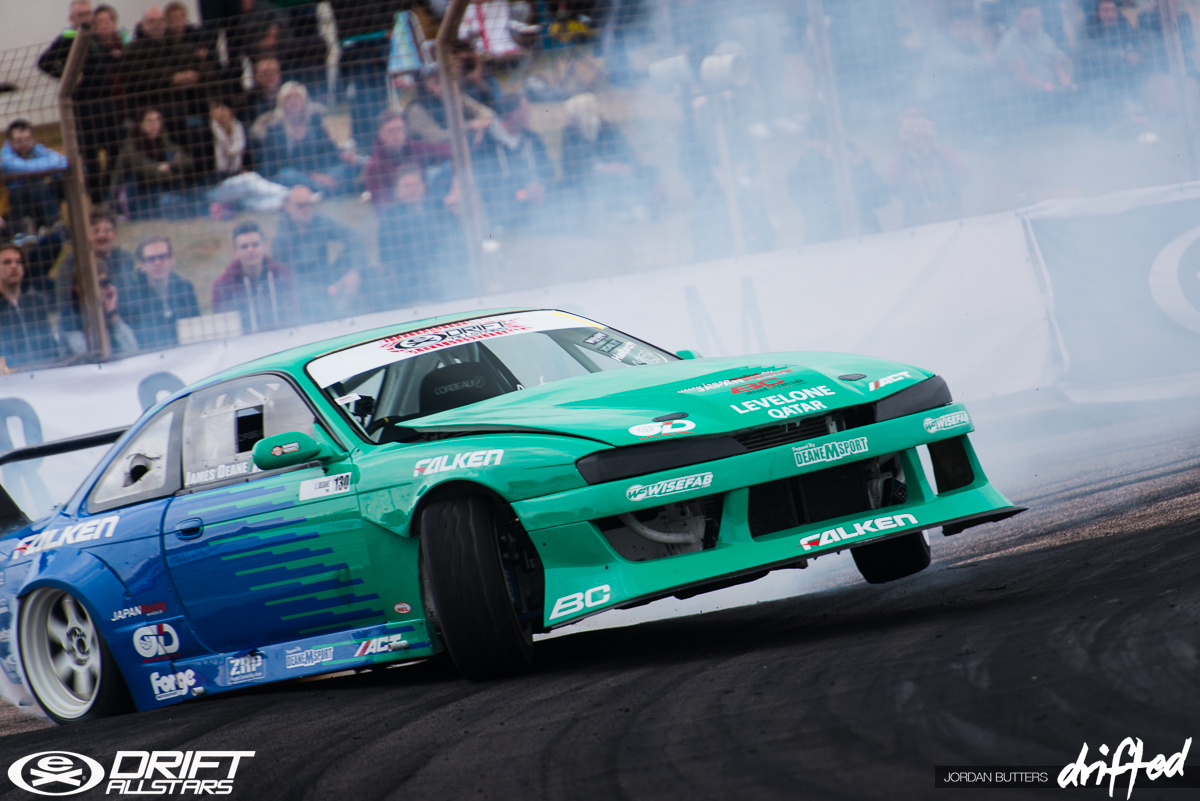 Whatever the chosen approach - full throttle or gently-does it, both were enough to keep us photographers happy.
While the field of drivers was smaller than last year, due to event clashes and other commitments, the tried-and-tested formula of mixing the usual seeded Drift Allstars pros with local wildcard entries always throws up some interesting results.
Australian Luke Fink was flown in especially for the series and, driving the Mosler V8-powered Low Brain Drifters PS13, was always going to be one to watch.
He set out his stall on his qualifying runs, performing high-speed, screaming laps of the circuit and playing up to the crowd before exiting the arena to a rapture of applause and in a cloud of Tri-ace tyre smoke.
Current European champion James Deane was also on point during practice and qualifying. James's high-angle yet super consistent style has earned him admiration around the world.
Most recently, he's been spending time in Qatar and the Middle East, helping to build the level of driver skill and growing the emerging drift scene there.
Sultan is one of the many Middle Eastern drivers looking to hone there skills during the off-season back home. The European climate offers the perfect chance for tracktime and guidance as its so hot in the Middle East at this time of year.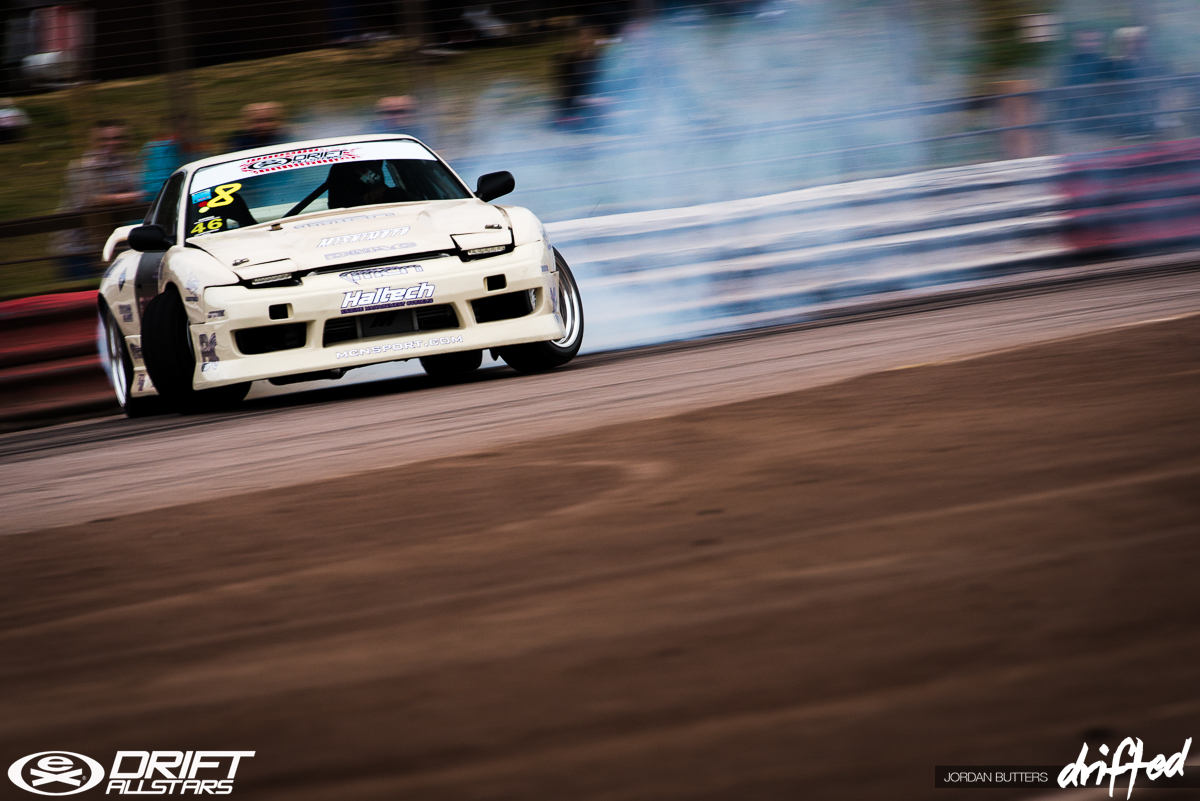 Piloting Darren McNamara's MCNSport Onevia, it was clear to see that James's influence is paying off, as Sultan got to grips with the course quickly.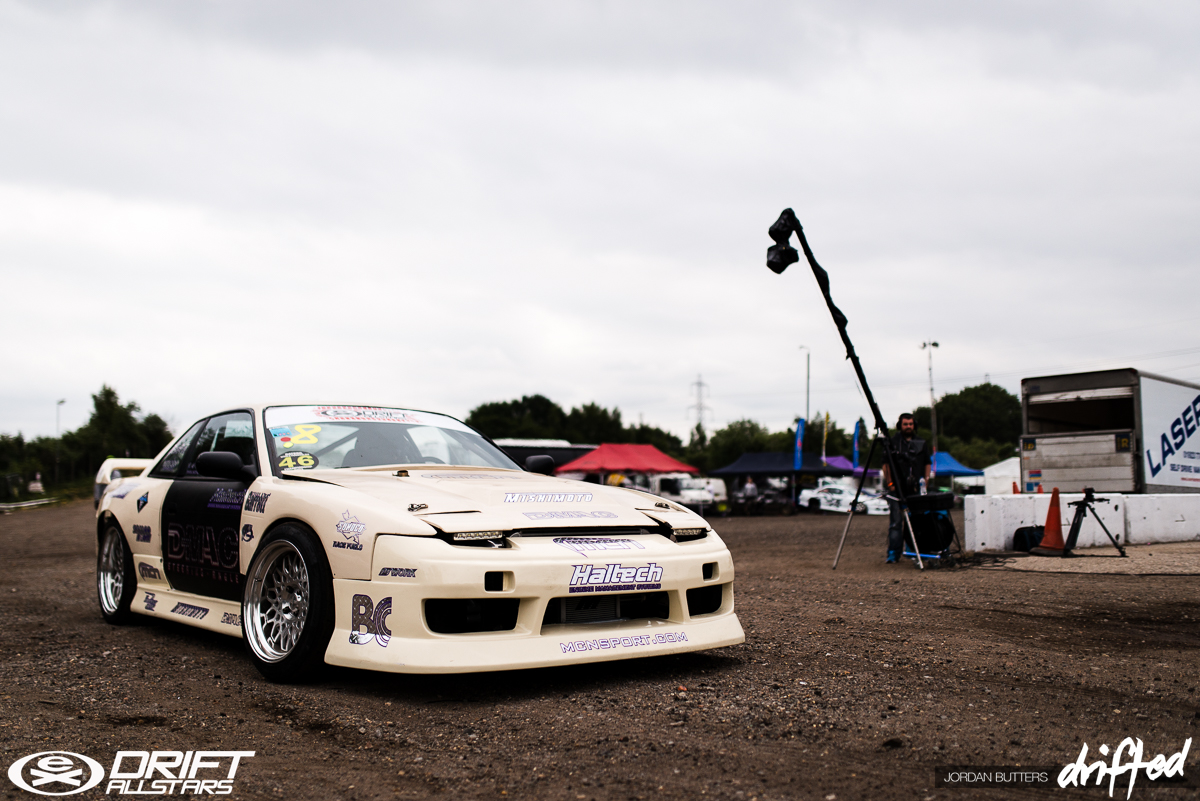 Sadly, it would be a mechanical fault during the drivers' parade that would end Sultan's event before it really began. Nonetheless we're sure he'll be back in the fight soon.
It would also be Juha Pöytälaakso from Finland's first time competing at the British Drift GP.
While his Power2Drift E92 is immaculately prepared, Juha isn't afraid to push hard, and impressed from his first practice run to the last.
Another contender for 2015 and another well-prepared BMW is that of 'Forest Beast' Janis Eglite. Having closed out last season with some good results, the Latvian's clean and consistent driving style ensures that he's always one to watch.
He's now also part of the Tri-ace tyres team, and the partnership seems to be working in his favour.
With the top four qualifiers made up of Drift Allstars pros, it fell to the local drivers to try and upset the balance during the Top 16 battles.
The arena acted as a great leveller, as the higher-powered cars were generally unable to pull a huge gap on lower-powered chase cars.
Flip things around however, and it gets very tricky to keep 600-800bhp and super-grippy tyres under control when chasing someone with 300-400bhp on part-worn or budget tyres.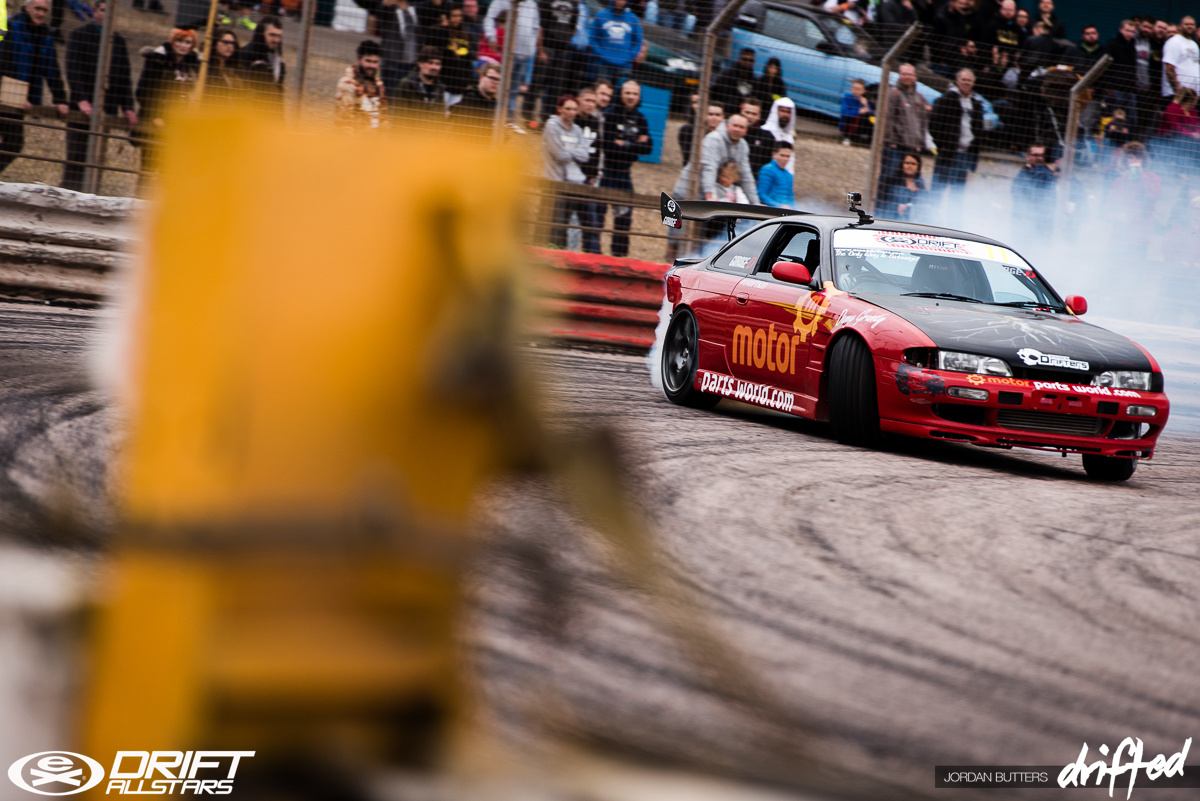 Local driver Danny Grundy impressed fans and pro drivers alike with his tandem skills.
Facing James Deane in battle must be an imposing and daunting task, yet Danny kept his cool and held his own against the Irishman, despite losing out on the judges' call.
As the arena lights sparked into life, we also saw several battles that were worthy of being finals themselves.
Janis Eglite faced Australian Aleksandar Kantarovski in the Top 8 and neither driver wanted to concede an inch.
As things got heated following a coming-together and the duo were sent to one more time, it would be Eglite who edged the win.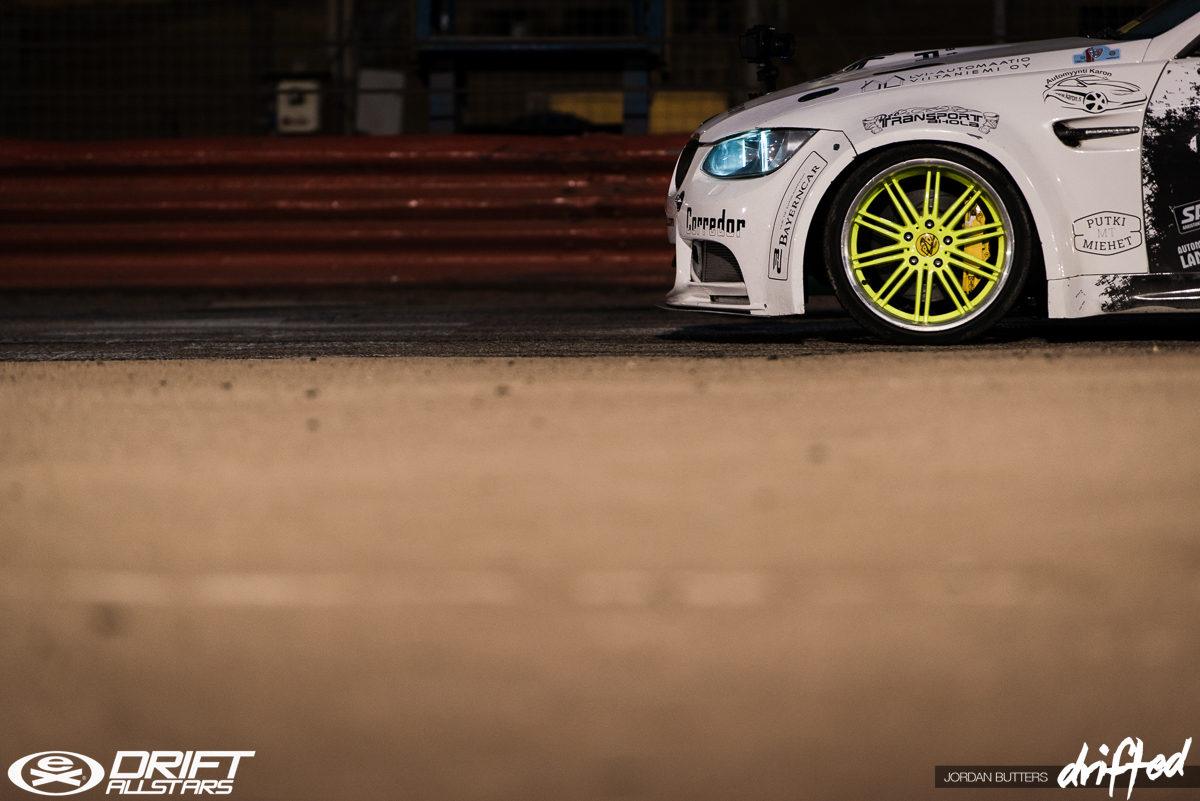 His next battle was no easier as he pitched his LS-powered E46 against Juha Pöytälaakso's E92. Europeans take their BMWs very seriously, and you'd be hard-pushed to find two more well-presented and high powered examples being pushed this hard.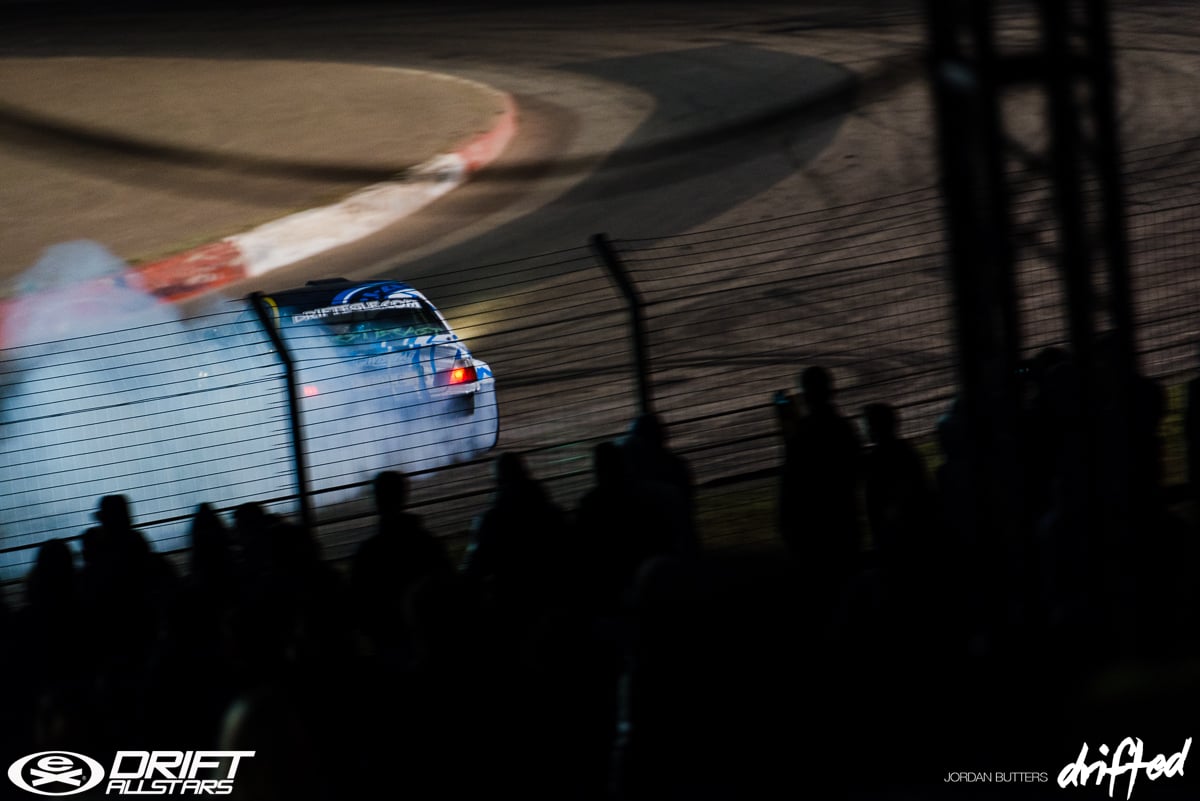 An on-form Eglite took the edge, and was awarded his place in the finals.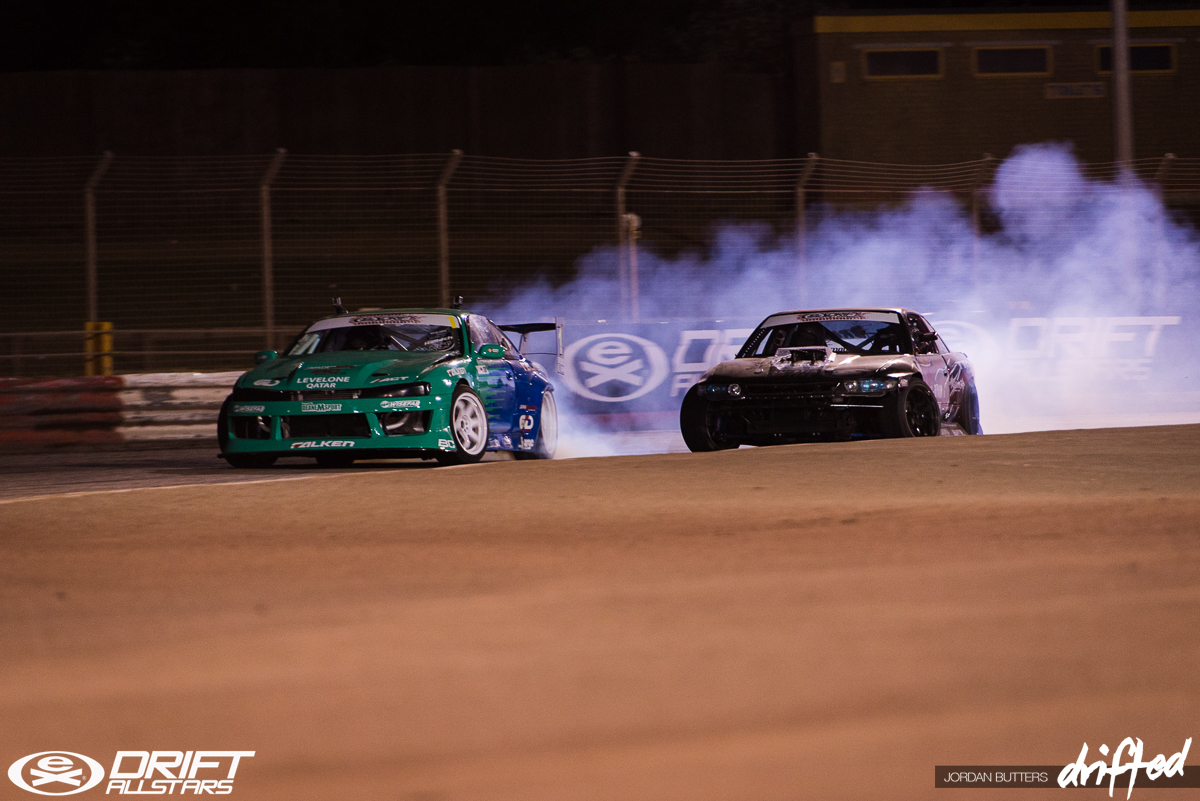 One battle that everyone wanted to see was James Deane vs Luke Fink. We got our wish in the Semi Finals.
The duo had never met in battle before. As two of the world's top chase drivers, we knew we were in for something special.
Luke's style is hard, fast, super-aggressive and a little bit wild - well suited to the screaming race V8 that lives beneath the bonnet of the LBD PS13.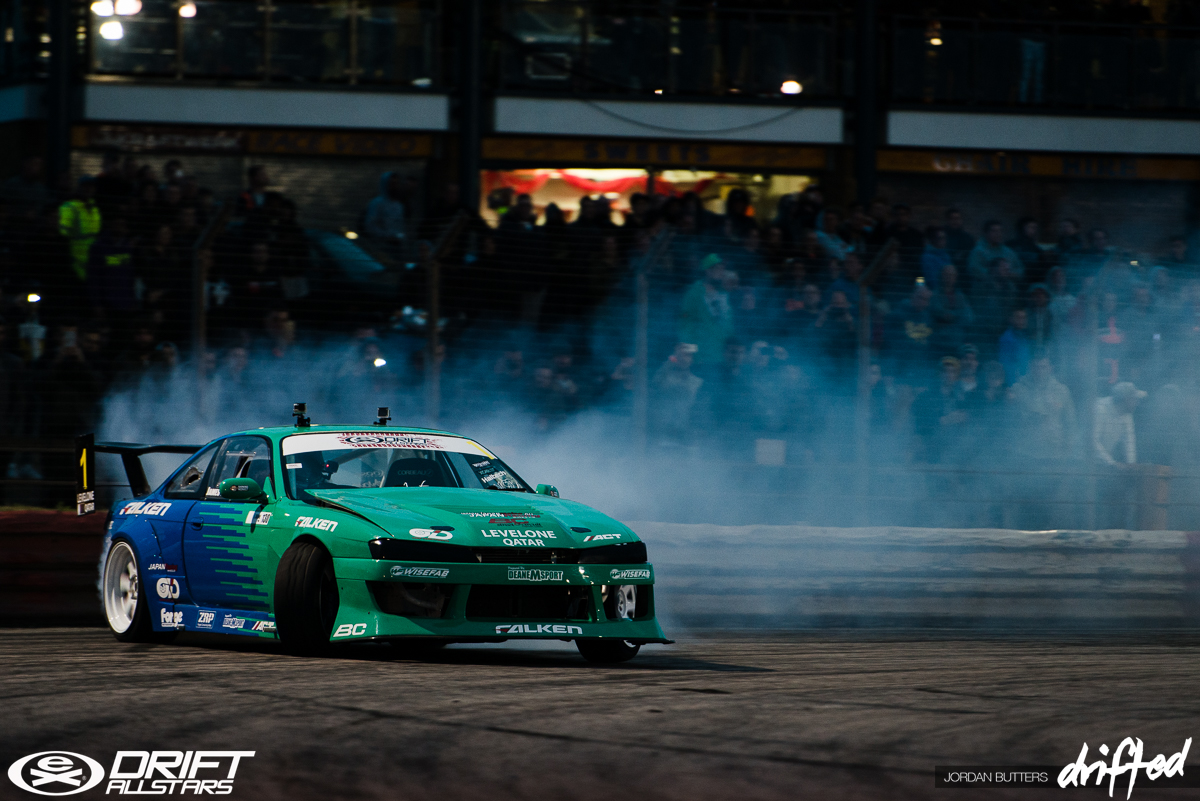 James on the other hand is equally fast and aggressive, yet super-consistent. There isn't a driver in the world that I've seen him not be able to keep up with and stick it right in the door.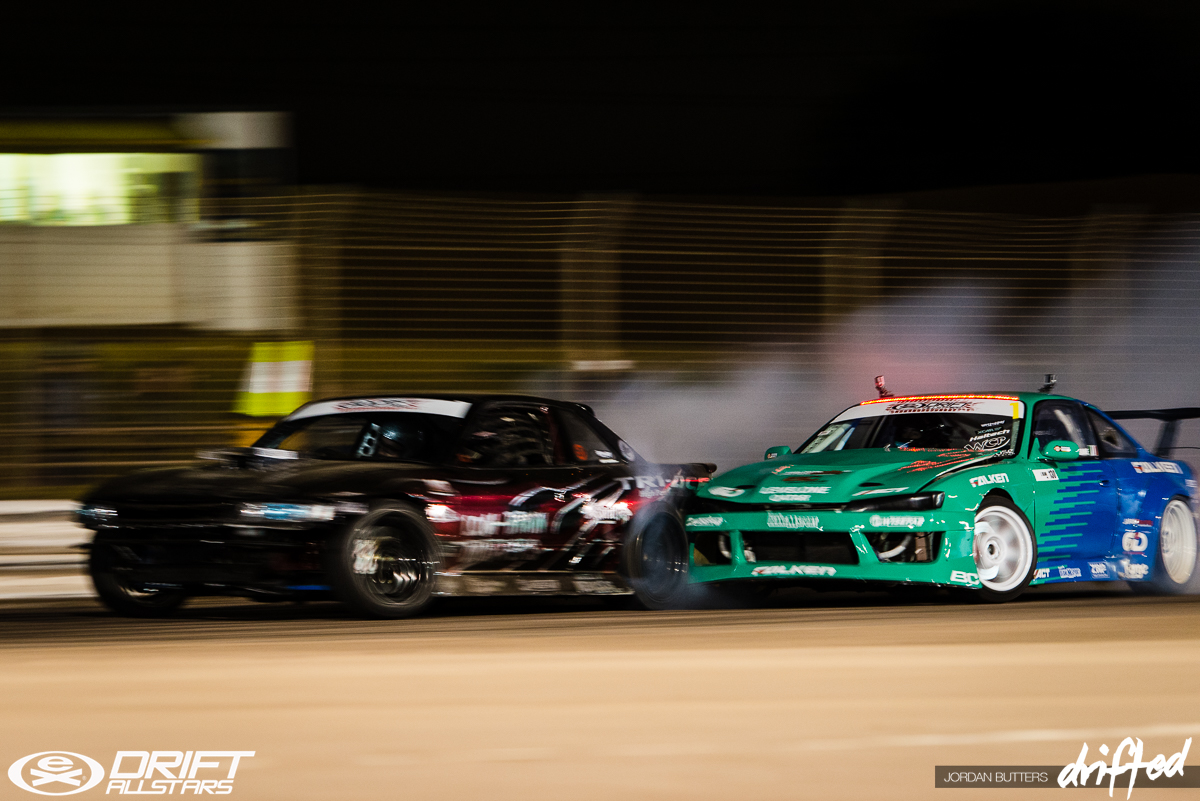 Ultimately it would be Fink that would take the victory this time. James would push slightly too hard coming out of the first bend, and despite a hefty bootful of left-foot braking, couldn't scrub up enough speed to prevent contact.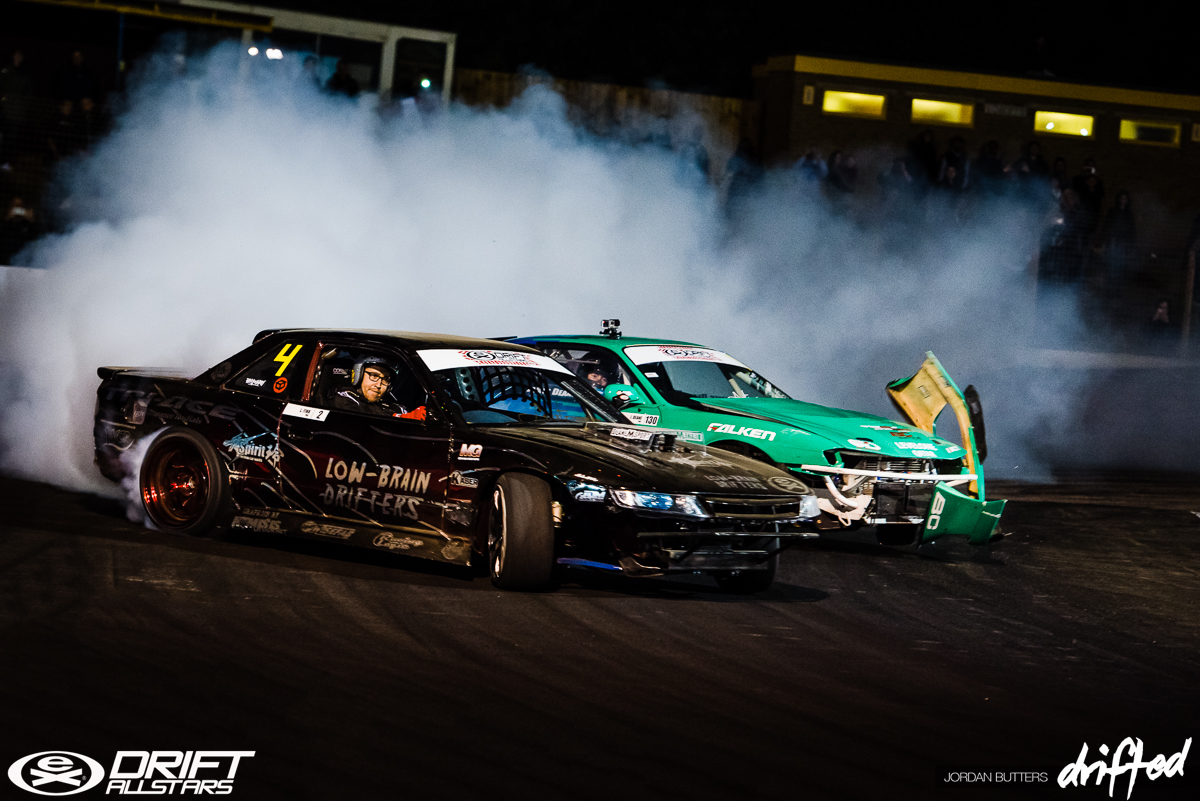 I'm confident that this isn't the last time the duo will meet this year, and I'm hoping every meeting will be as adrenaline-fuelled and crazy as this one.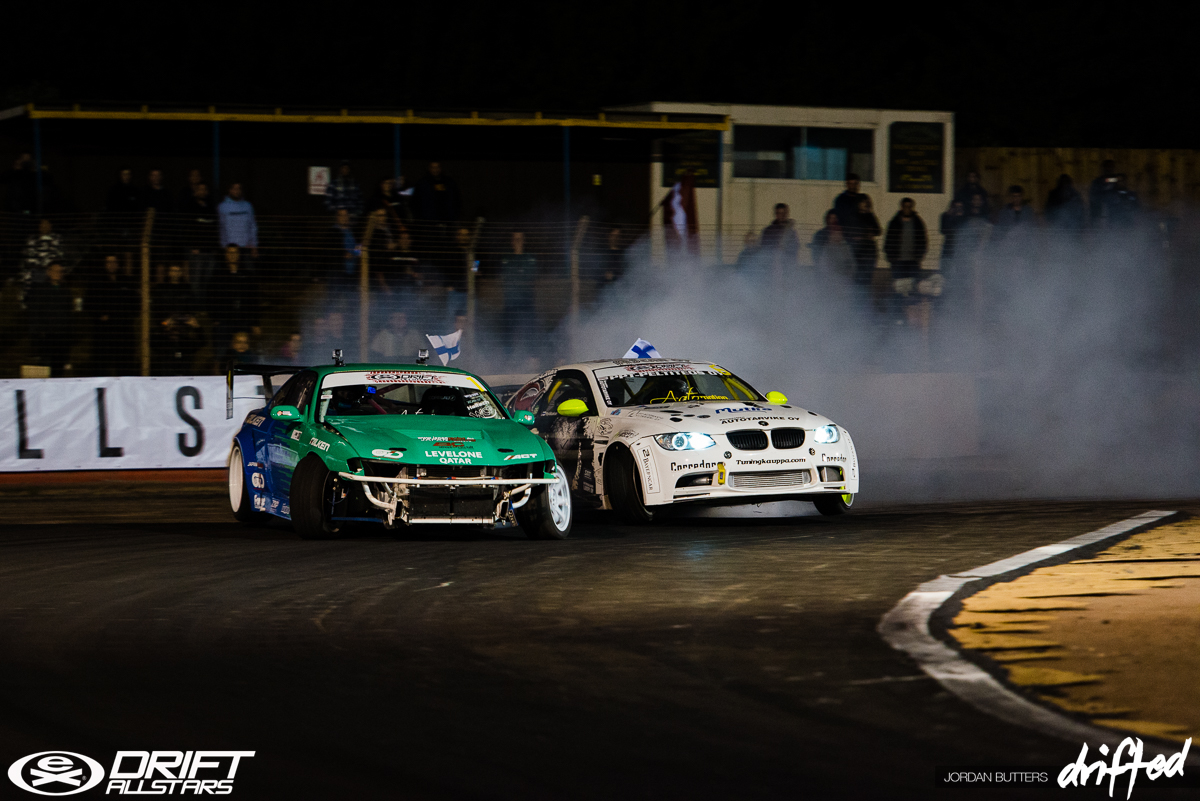 Deane would regain form against Juha however, securing him third place. As the smoke settled, we were left with Eglite and Fink in the final. Two drivers new to each others' style, yet equally aware of what the other was capable of.
It would be Fink's chase run that would secure the victory and take him into the lead in the race for the 2015 championship. Nothing was stopping him - he was only ever going to win, or crash hard trying.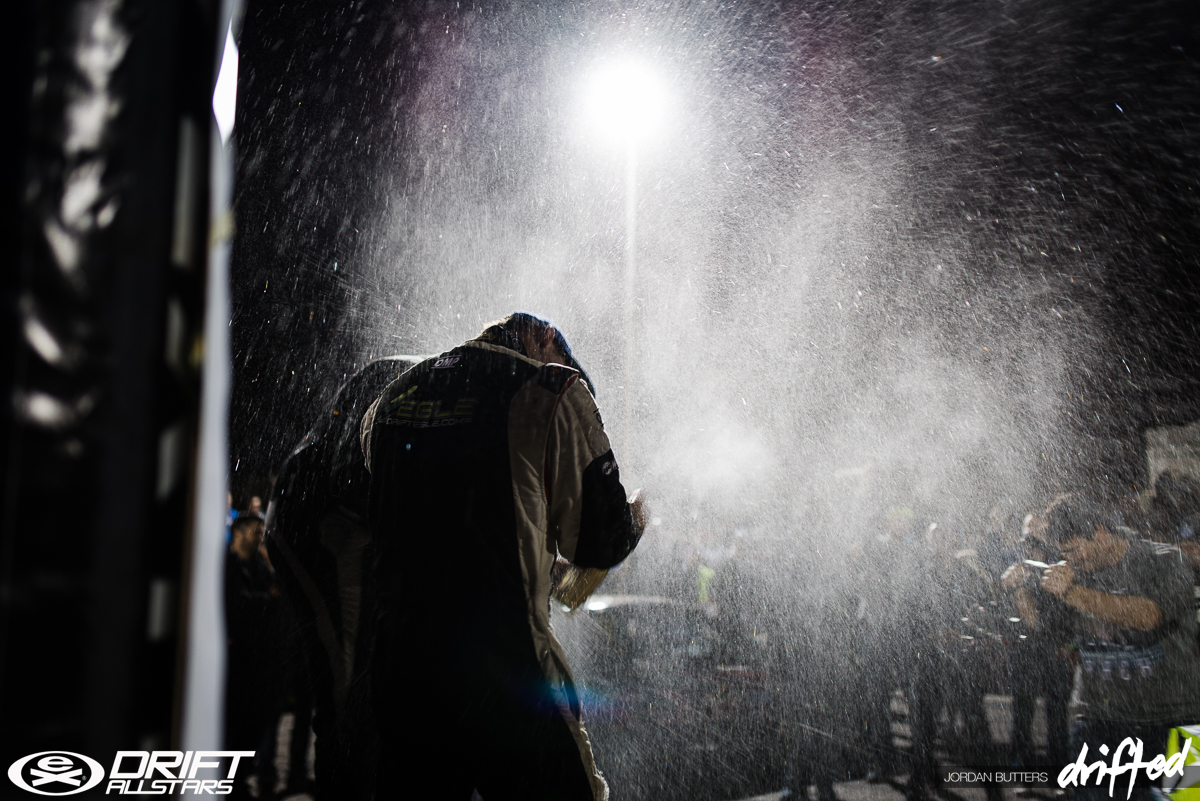 When you think about it, Fink's approach at the British Drift GP mirrors what I was saying at the start about the very basis for this event. Only by pushing hard and taking risks do you progress and stand out against the rest.
Bringing the highly-regarded British Drift GP to Essex Arena Raceway was a huge risk, but one that paid off. Rarely have I witnessed such raw driving from start to finish, both from the pro drivers and unsung local heroes too.
Essex Arena Raceway ended up being the perfect catalyst and set the pace for what promises to be a fast, exciting and action-packed season. Bring on Round 2 in Sweden!
Words & Images: Jordan Butters
Bonus Images