EVENT: Drift Allstars Europe Round Four 2013 – Drift GP of Lithuania
Drift Allstars European Series Round Four would be hosted on the streets of downtown Kaunas, which is the second biggest city in the country of Lithuania. For those who do not know, this event was a late addition to the 2013 European Series.
The Lithuanian event was born after an online contest where every fan in Europe could vote for their country to host a Drift Allstars European round. Out of 36 competing countries, Lithuania won with over 5,000 votes. To make it even more special, the event organisers got permission to hold it in the city of Kaunas on public roads, making it only the second ever event to be held on public roads in Europe.
It was an amazing achievement from such a small country of just 3 million people. However, they say the best surprizes come in small packages.
With Lithuania being in the centre of the Baltics, with surrounding countries like Latvia, Russia, and Ukraine, another international lineup was on the cards.
The Polish were back in force with another team, this time the  STW Drift squad.
Mareks Wartałowicz's BMW E31 has got it all: slammed, low, wide, ridiculous offset, over fenders, and 700hp to boot! Can you get any more extreme than this?
Lithuania also has the girls! Lot of beauties like this walking the paddock of downtown Kaunas!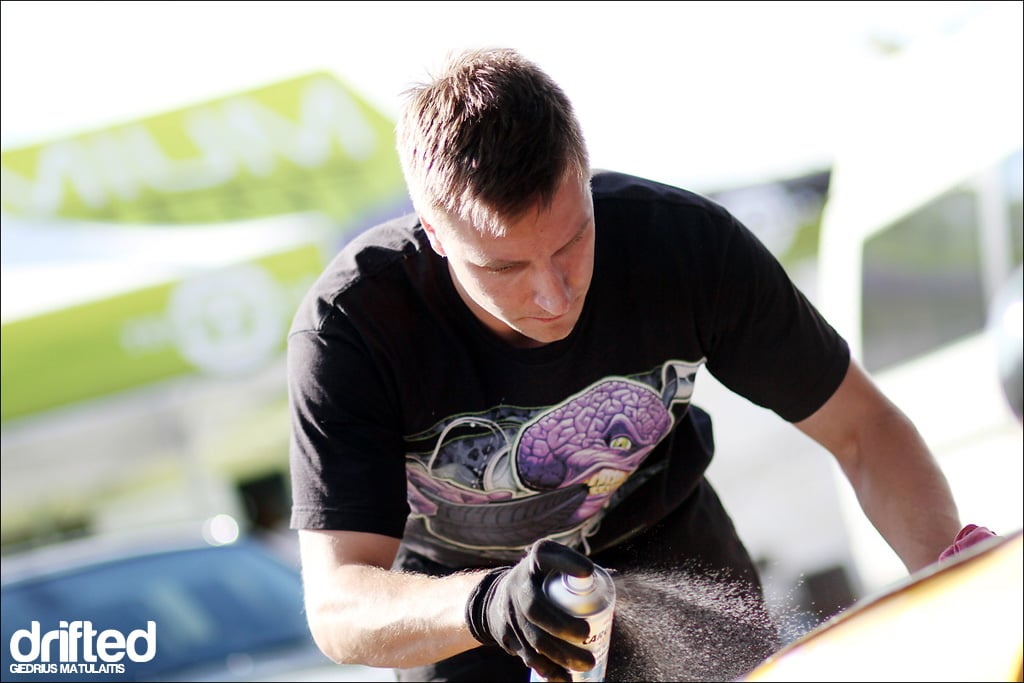 Juha Rintanen – could he take his third win in a row? Or would someone stop his domination of the 2013 championship? Juha has been the nearly man the last few years but this Flying Finn has been building his program year by year. With huge experience all over Europe, Russia, and a full season in D1 also under his belt, could 2013 be his year?
Michal Rzoska, another new driver from Poland, attacked the streets of downtown Kaunas.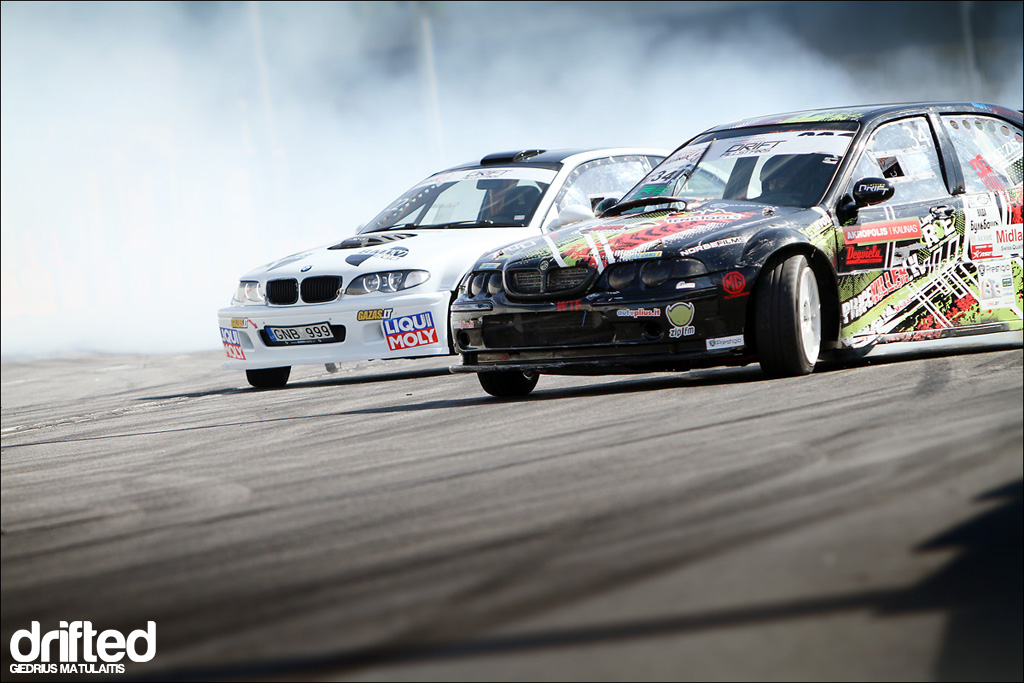 Elvijs Kezis from Latvia being chased by local driver Andrius Vasiliauskas in his amazing sounding E92 M3 powered BMW E46. Yes that is an MG rover, and yes, it is a supercharged V8!
Nigel Colfer was back in force in the Aerokit/Marangoni Tires Nissan S13. He had probably the hardest week of his career, forced to rebuild his car in Riga after a huge shunt. With the car being based in Eastern Europe, and many of the custom suspension parts and chassis parts coming from Western Europe, he just barely got all the parts together in time for Lithuania.
Alex Golovyna was back in force this weekend in the Zeetex Tires Nissan S13. Alex has been slowly rising through the ranks in Eastern Europe. He qualified first in Hungary last year at Drift Allstars/EEDC event at Mariapocs, and with every event he gets better and better. At just 24 years old he is another name for the future!
Mad Max Tvardovskiy giving it big guns his Maxxis Tires Nissan R34 on the streets of Kaunas.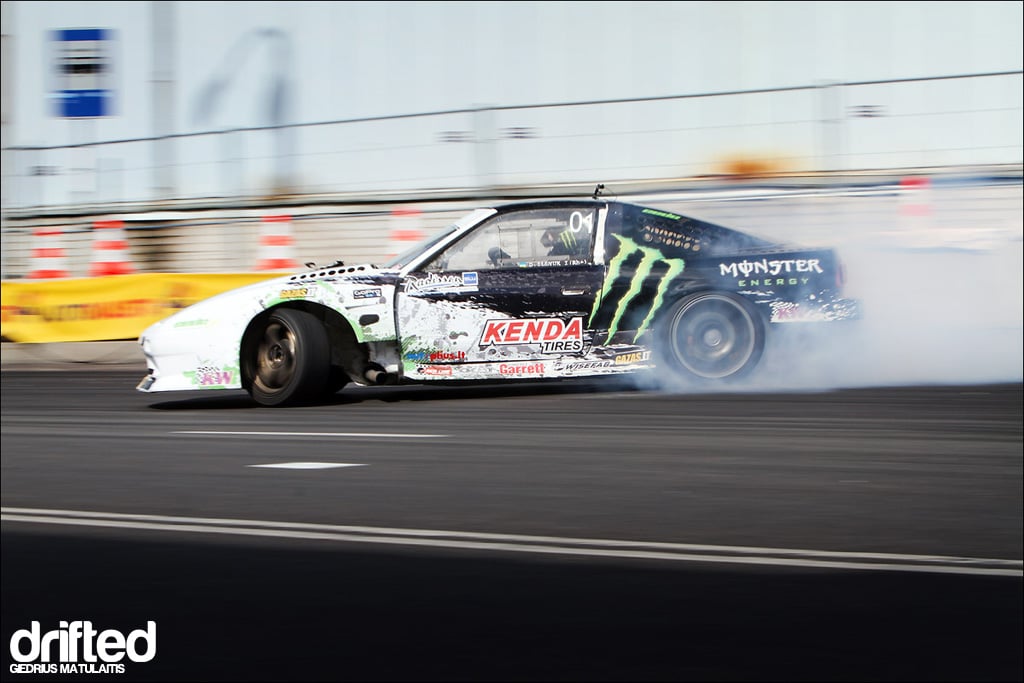 Dmitriy Illyuk in his Monster Energy Kenda Tires Nissan S13 was back and a man on a mission after having some mechanical gremlins in Latvia. The current EEDC champion and top guy in the region had a lot to prove. Speaking with Dmitriy he is now waiting for a power upgrade as his SR20 just is not suitable anymore amidst every car being between 500-800hp. Grip and power has become the game.
Another local driver was Timas Simniska in the Drifter.lt Toyota Soarer. Being based just 5 minutes drive from this circuit, it was as close to a home race as he could get!
Jack Shanahan had a big shunt in practice and his team rushed overnight to get the car fixed with help from his father and Ronan Kearney. By themselves, I don't think they would have gotten it ready. However, it's at times like this that you see the paddock really get together – Team Rintanen/STW Budmat and all the local teams rushing to get parts to get him back on track.
Martin Richards R33 looking a bit tired with every panel telling a story! Still, a few dings did not stop him from driving like a crazed, possessed lunatic!
Kestutis Petronis, another local, young driver and former Lithuanian champion, was on fire from the get go in his 600hp 2JZ Nissan S14. Every country stop the tour goes to reveals even more new, young drivers. Is there any end to the talent pools in Europe at the moment?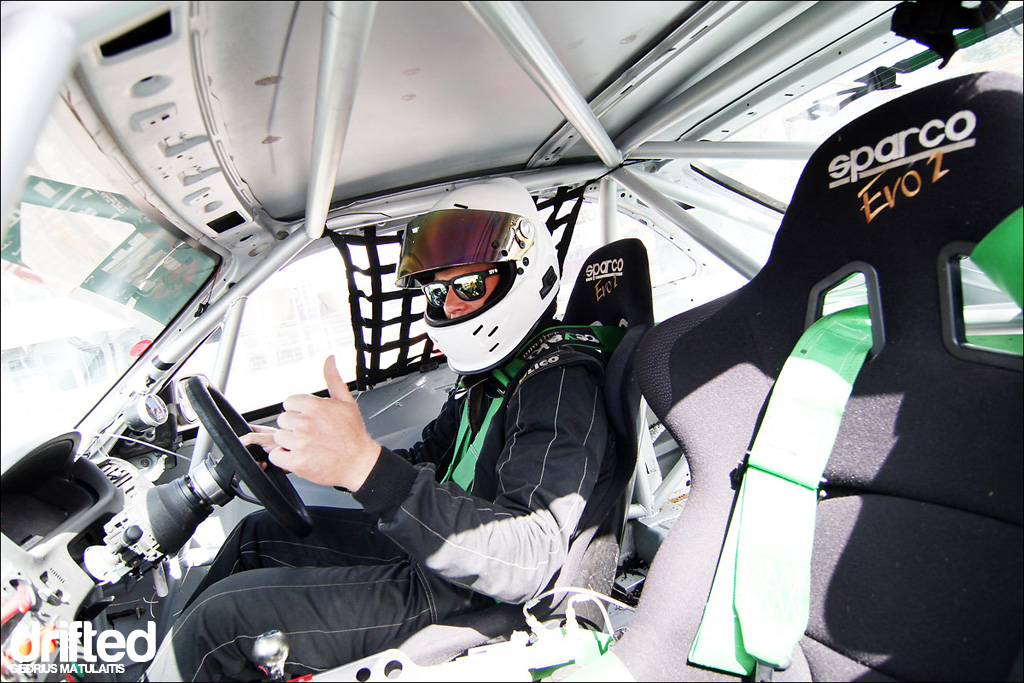 Martin Richards gives everything the thumbs up as he launches his Altenzo Tire Aerokit Nissan R33 for a run around Kaunas. He loved the street layout.
Mark Webb gets better and better every event in the Relentless Energy 1JZ Nissan S14.  Despite having a heavy car and low power in today's field of huge builds he is doing great. With big plans for 2014, big things are expected.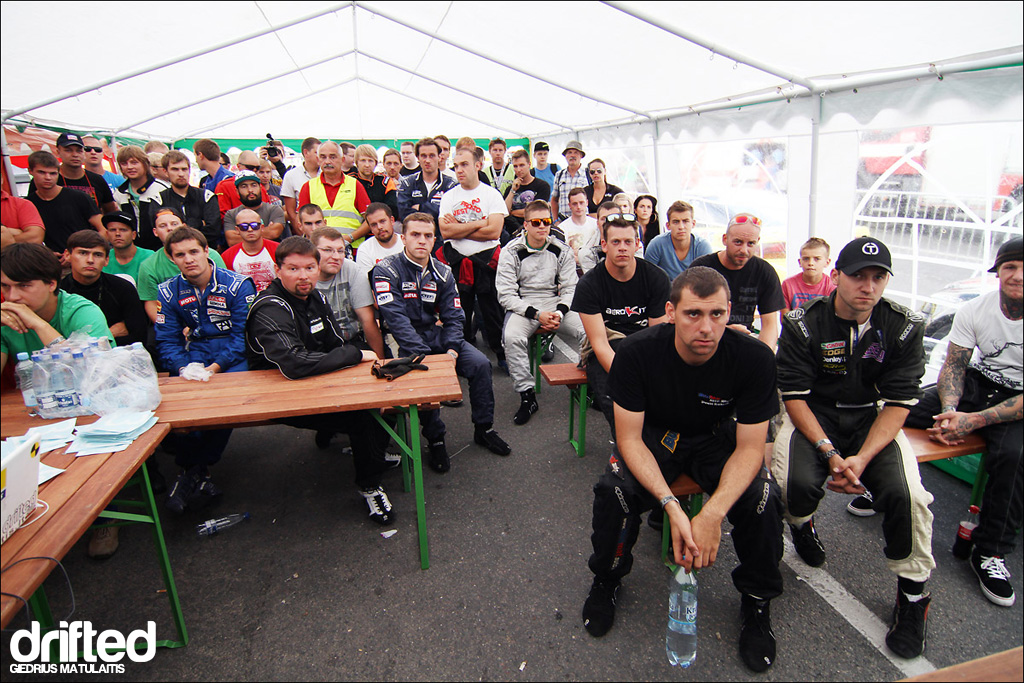 Ready for the briefing? Drivers briefings are always an interesting time at international events. 12 different nations and very uncommon names for the English speaking DA team make it a comedy too!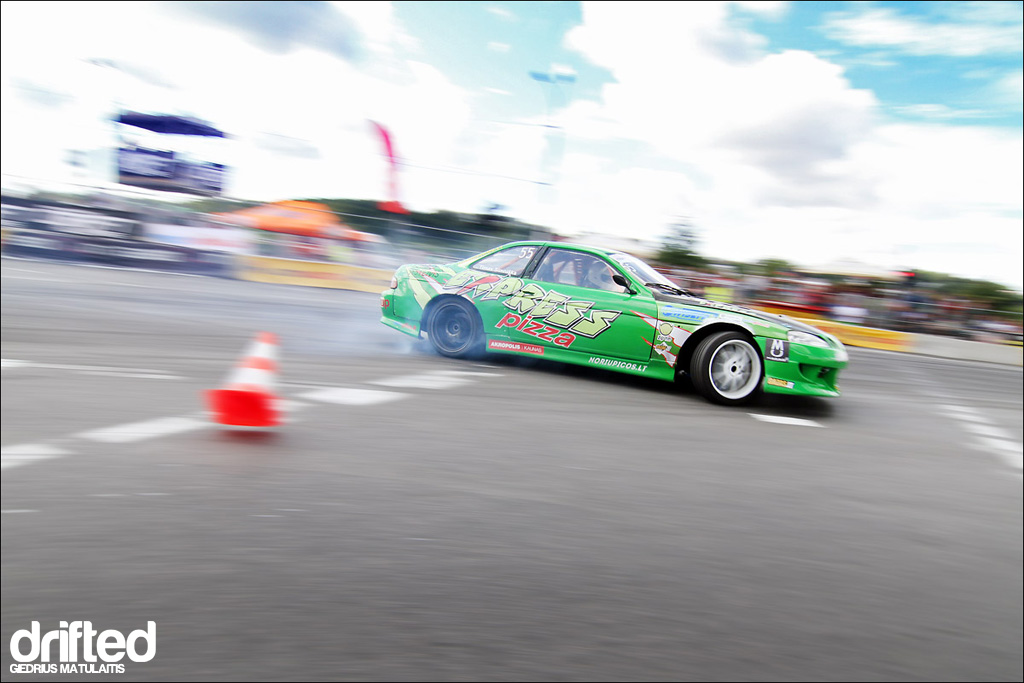 Timas Simniska in the Drifter.lt Toyota slides through turn 2.
Latvian driver Oskars Brediks in his LS2 V8 twin-turbo Rocket Bunny S13.
With little practice Max Tvardovskiy seemed to be right at home on this street circuit.
Zip tie city! You can see his team did a great job of repairing the NEXEN tire Nissan S14 over night. The crash destroyed the rear of the car, but luckily, like most pro drift cars built these days, the tubular setup crash bars saved his chassis.
Andrius Vasiliauskas Three wheeling through turn 2 in his amazing sounding, high revving, V8-powered BMW E46. He would qualify in 16th place – not bad against the big, international field of drivers.
All weekend there was the danger of weather, with conditions changing from 30 C in the sun, to storms and rain within 20 minutes. The weather played a huge factor on the event's results.
Marcin Steve Carzasty was flying in the dry conditions and was loving it. Stevie is another top driver from the Polish series and has risen in just one year of pro driving to being ranked one of the top three drifters in the country, making him another big name for the future. The rain would unfortunately catch him out later on, and three spins/mistakes were enough to end his day.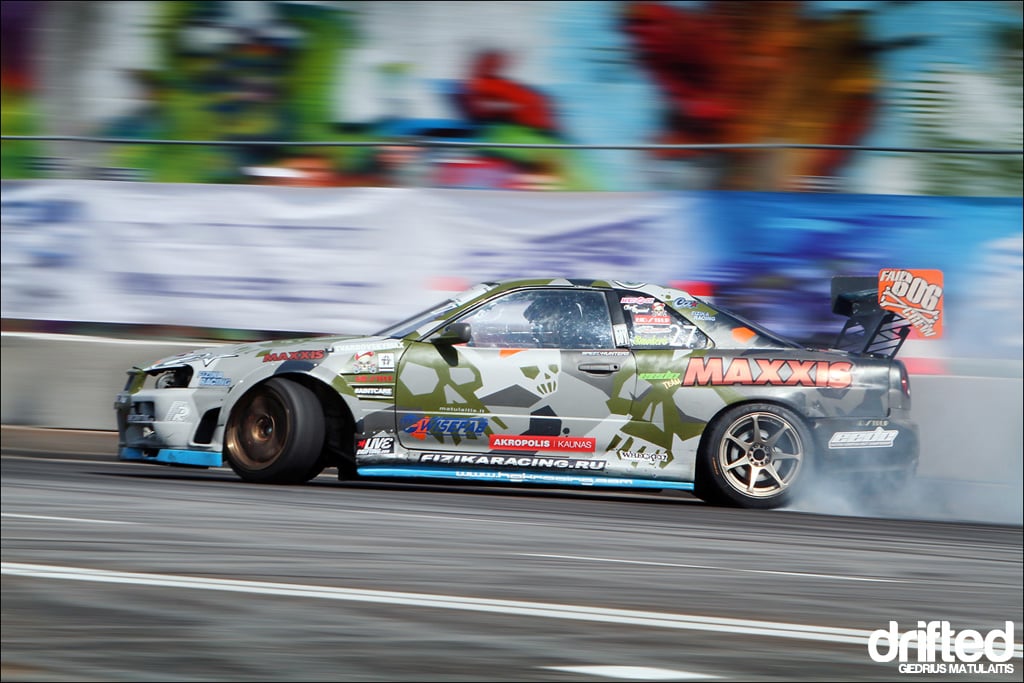 Mad Max would be another one of the drivers who would get caught out by the wet/dry conditions and qualify in a lowly 18th place, but Max is more known for his twin drifting than qualifying anyway!
When Nigel Colfer was back on track, he struggled to find a comfortable setup and qualified in a lowly 14th place. If this was any other sport, qualifying would have a huge impact, but the level of some drivers can overturn a bad qualifying session into a great event. Colfer proved this at the first round, taking third overall after qualifying down in 17th place at Plock in Poland.
Martin Richards would just pip teammate Nigel Colfer to take 13th place in qualifying.
After having probably the most difficult event of his career, Jack Shanahan would bounce back in his rather bent Aerokit/Nexen Tire Nissan S13 and qualify 12th place – a tough event for the young Irish driver.
Pawel Trela was also loving the track layout in his light and Nimble 2JZ powered Nexen Tire Europe Opel GT. He lies in fourth place in the standings at the moment. He had a tricky qualifying session and took P11 after the changeable conditions mixed up qualifying a lot.
Ingemars Jekabsons in his immaculate LS3 V8-powered BMW E34 was not afraid to rub the walls! After coming second the previous weekend he was doing well. He would take 10th place in qualifying.
Marek Wartałowicz is another very stong driver from the STW/Motul Oil team. He was another driver who liked the tricky street conditions and would qualify in 8th place.
Dmitriy Illyuk was on it, and out to prove a point – he would qualify in 7th place.
Janis Eglite was back in force. Nicknamed the "Tandem Assasin," he entered the series as a wildcard and has become an immediate title contender. At 24 years old, the Latvian driver has a huge future ahead of him. Eglite would take P6 in qualifying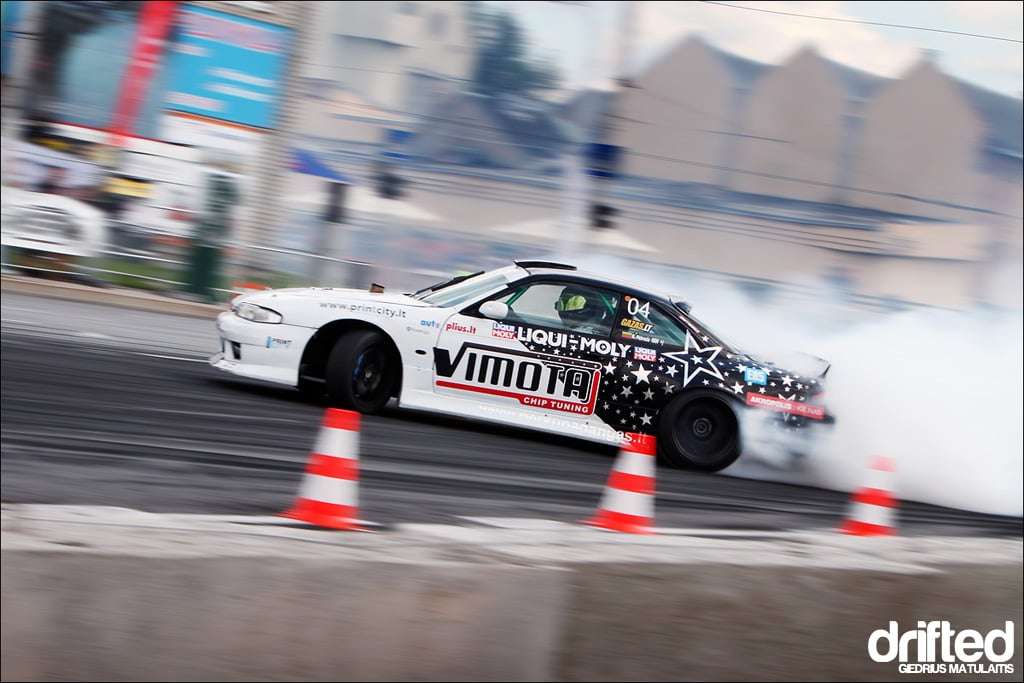 Kestutis Petronis would be the top local driver and qualify in an amazing fifth place, a great debut for the Lithuanian driver in front of his home crowd.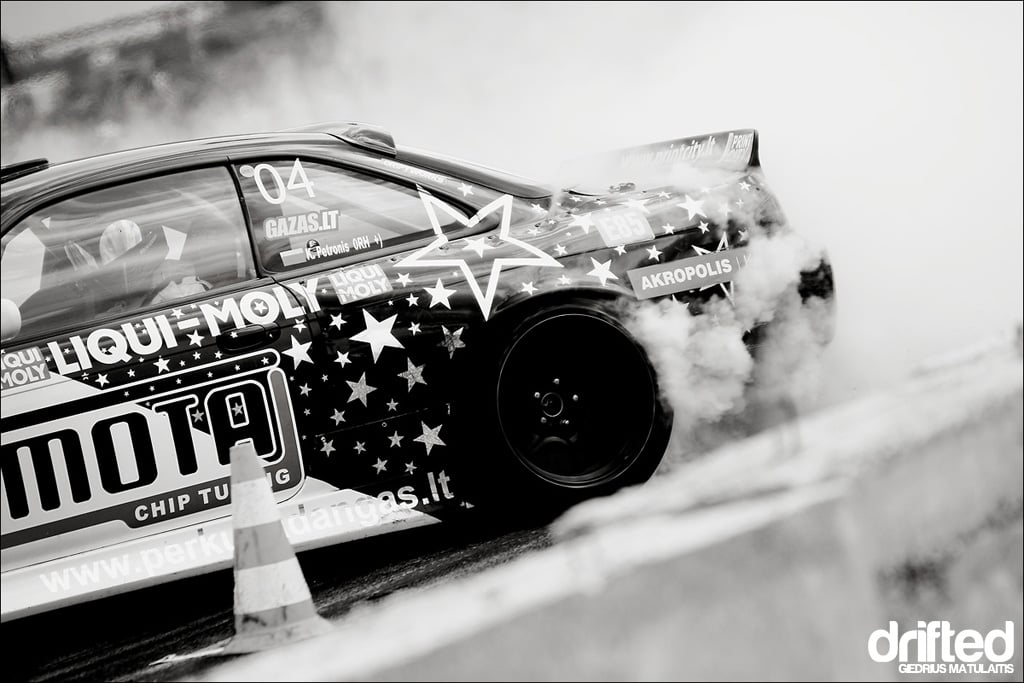 Here is another great shot of Petronis lighting up his tires.
Dawid Karkosik was back behind the wheel of his Budmat Auto Nissan S15 and clearly happy with his setup. He needed a good result to close the points gap on the championship leader Juha Rintanen. He would take P4 in qualifying.
Round one winner Bartosz Stolarski was in flying form again. He tried to use all of the available horsepower from his LS2 V8 Turbo Nissan S14 . The STW Drift team driver would lock out P3 in qualifying.
Juha Rintanen, the danger man who everyone had their eyes on. After a huge shunt on Saturday his team worked through the night to get the car ready. Amazingly, he would take P2 in qualifying, showing he has the pedigree to win a championship, and gathering valuable qualifying points even under the toughest conditions.
Finally it was Ukrainian mad man Alex Golovnya who would take P1 in the Zeetex Tires Nissan S13 after running an amazing line, tagging all the outside walls/clipping points to top the session with a huge score of 96 points.
The halftime show kicked off with the STW Drift team from Poland bringing out their world famous drift truck to the show. Here you can see Marcin Steve Carzasty throwing around the six ton truck like a normal drift car, linking the whole track with ease.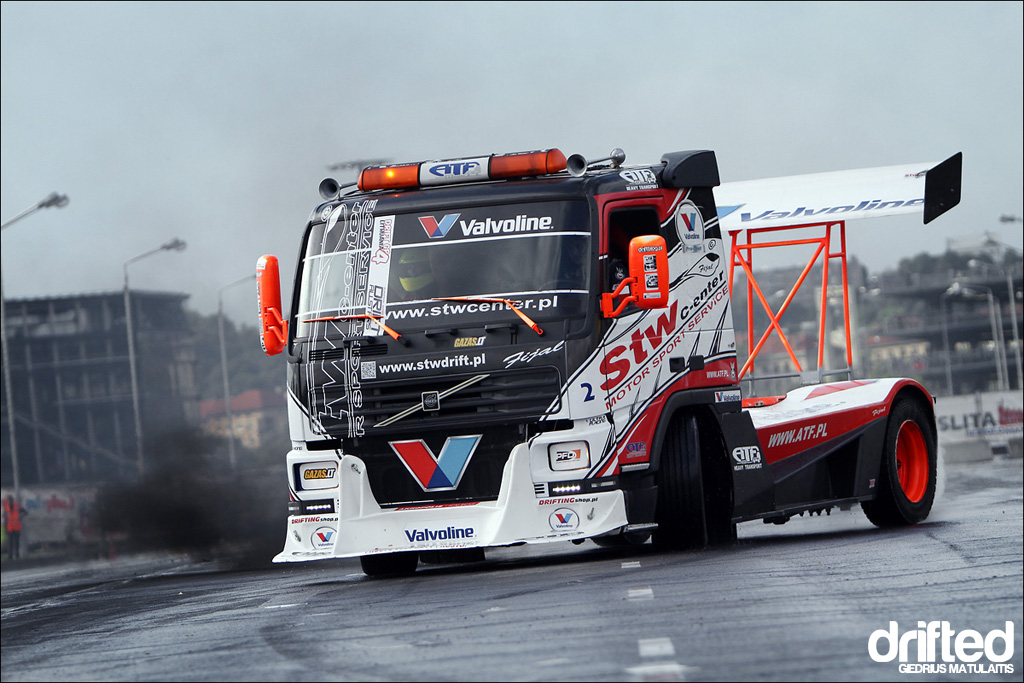 Great to see this truck doing its thing on a closed public road.
Team HGK Racing driver Kristaps Bluss was taking a weekend out. The team rushed to get the engine replaced for this event, but a week was not enough. He is planning to bring the Latvian force to the DA/EEDC double header in Hungary with even more power! This weekend he was the crew chief for Fail Crew's Mad Max Tvardovskiy.
Top 32 would kick off at exactly the wrong time as rainstorm passed over, immediately flooding the venue. With a 30 minute delay to the schedule the track got some more time to dry.
Pawel Trela being chased by the STW Mercedes SLS AMG camera/pace car!
The STW Mercedes SLS AMG pace car did not get a break all weekend and was seen charging around after cars, clearing the track, or handling chase camera duty. STW Team owner Adam Fijal said it's funny when a 570hp Mercedes SLS AMG cannot keep up with some of his drift team's cars on track. For example, a 600hp 2JZ-powered Nissan S14 can go faster sideways than an SLS can go straight! Shows how fast pro drift cars are these days.
Ready to launch, all the cars line up on the pre-grid in the Kaunas pits! The Kaunas pit area was setup on a temporary eight lane wide dual carriageway!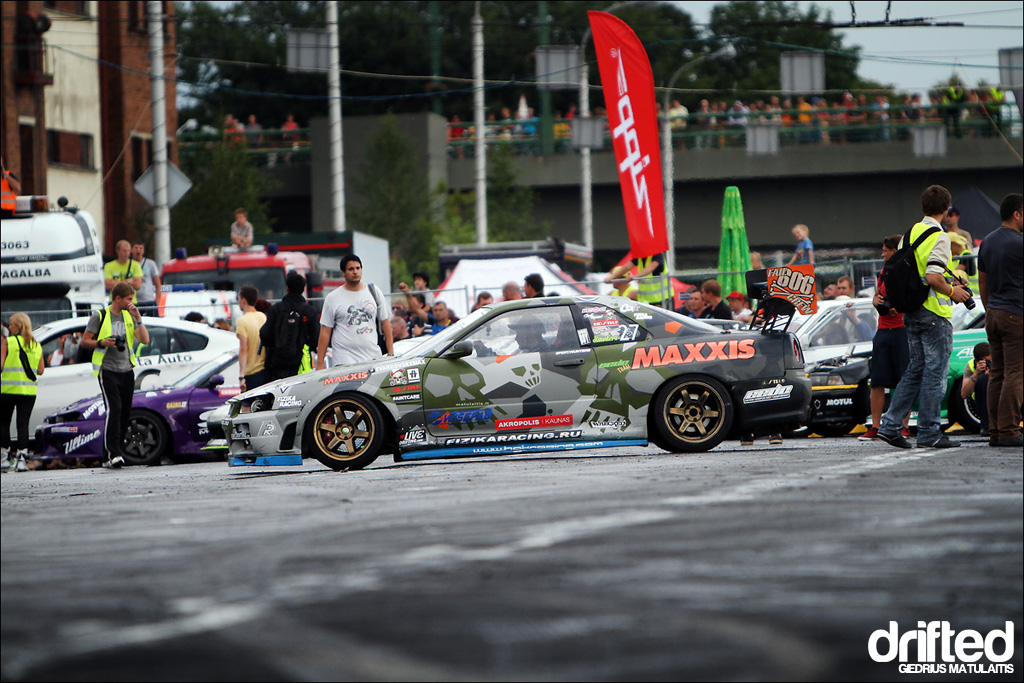 Russian driver Max Tvardovskiy turned up late for practice on Saturday but was on a mission. The Fail Crew were missing due to a number of mechanical issues and Max was the only one there!
Rintanen and Tvardovskiy would meet later that day in a Nexen Tire vs. Maxxis Tire battle, and Finland vs. Russia!
Top 32 here we go!
Webbie giving it the thumbs up. For the second time in a row he has qualified well, despite what may be a street car with the lowest power in the field. With big revisions for 2014 he will be one to watch. He loved the street course and that is part of why he loves drifting now!
Local driver Evaldas Kovalenka qualifed 22nd in his Nissan PS13.
Max is ready to rock!
Drift Allstars ambassador girls from Lithuania had it going on!
The rain is coming – "Run for cover!" they said. They sure were not wrong!
Then the heavens opened just before top 32 and torrential rain started taking pit awnings away in a freak storm. Even some of the team's pits flooded in just the 20 minutes that it lasted!
Martin Richards getting sideways in downtown Kaunas behind the wheel of his Altezo Tires/Aerokit 1JZ-powered Nissan R33.
Local driver Timas in his Toyota Soarer would be paired against Jack Shanahan who was having one of the more difficult events of the season. A big crash and just barely qualifying would put his weekend at an all time low. He would get knocked out by Timas in the top 32 after the difficult changing conditions during the battles.
Dawid Karkosik back behind the wheel of the BudMat S15 was looking better then ever.He has risen through the ranks of the team and looks like another Polish star on the rise. Karkosik and Richards would have a great battle, so good that it went to a one more time. In the end, Dawid got the advantage and went through to the next round.
Kestutis Petronis launching off the line in his 600hp 2JZ-powered Nissan S14.
Got wing, got downforce, got rain! The Maxxis Tires R34 had it all – and it had a mad Russian behind the wheel!
The Flying Finn Rintanen had a tough weekend battling all conditions, be it a big crash on Saturday, or the changeable weather conditions during the main event. In the end, it was anyones race to take control and win. All he had to do was maintain his championship lead.
The sun came back – would we see a dry main event?
Bartosz Stolarski, winner of round one, and Nigel Colfer would battle in the top 16. Stolarksi and Colfer met previously in the final four at round one, and Colfer went all out to get revenge in Lithuania. Stolarski would make an uncharacteristic error in his lead run, leaving Colfer no where to go but collide with the Polish driver. Colfer ran a steady lead run and thus take the win proceeding to the great 8.
Stolarski on his chase run after Colfer. He chased hard but it was not enough to beat the Irish driver after his big mistake in the first run.
Eglite went up against Trela, two of the best tandem drift drivers in Europe right now. Eglite has risen to being a title contender, previously the underdog in round two, in what can be said as an uncompetitive chassis compared to other drivers in the series.
Eglite pushed his BMW E30 hard against Trela's 600HP 2JZ-powered Opel GT, and even on this course's changeable conditions had enough to progress to the great eight.
With each event we get to see more of the Pawel Trela we used to see in his Nissan S13. He has shown big improvements and lies fourth in points overall.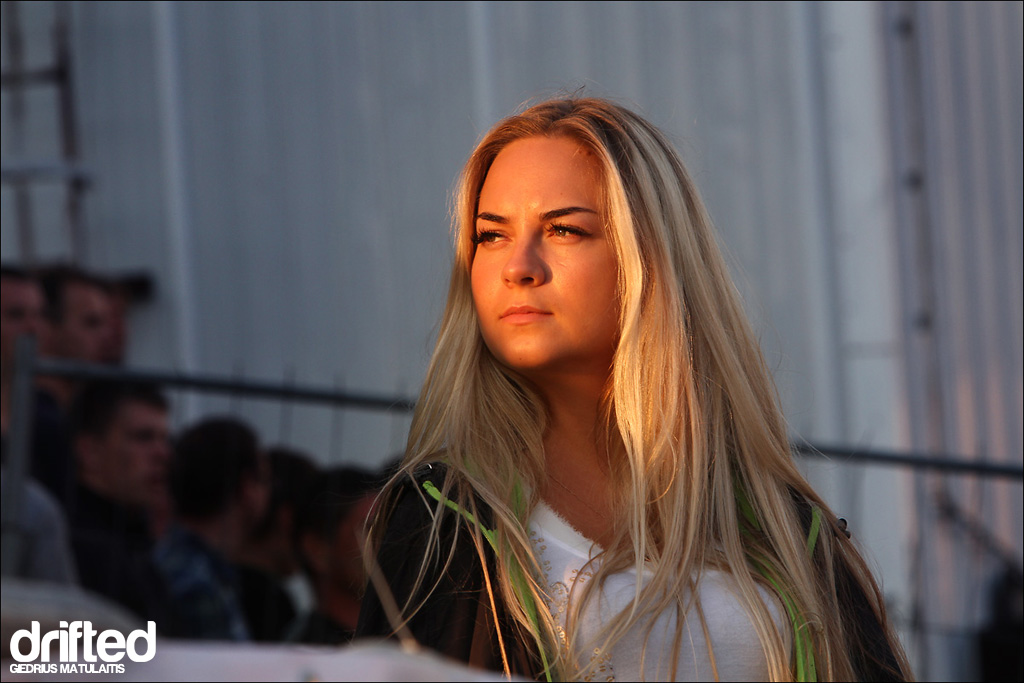 Ingemars Jekabsons, one of the top Latvian drivers, had made the trip down South. His car is pretty bespoke on the surface, but once you start looking closer it's a very high level, pro spec chassis with a 500hp LS3 V8 to boot. That car can move!
Marek Wartałowicz in the STW Motul Oil BMW E21 had a mixed weekend.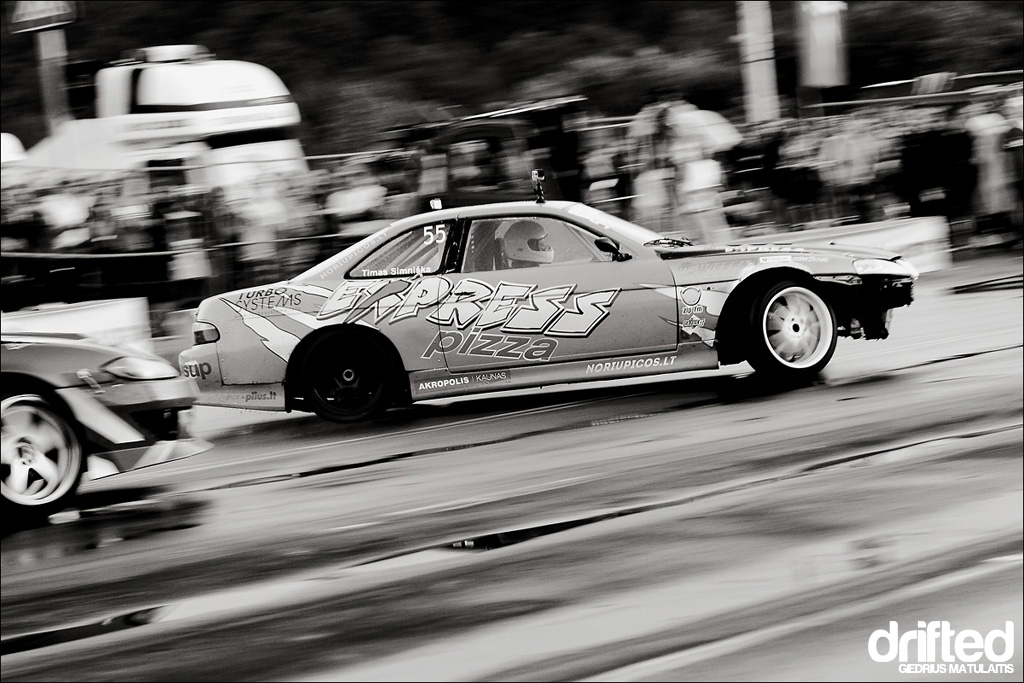 Dawid Karkosik chasing local driver Timas.
In the great eight Rintanen would meet Illyuk. A very close battle between the two, but Rintanen had the pace on the day to take the win.
Alex was pushing hard and was hungry for the win!
The final four would prove to be some of the best drifting this season. Sparring partners Juha Rintanen and championship rival Janis Eglite would face off again for the third time this season! Eglite was on the form of his life and chased Rintanen hard in his chase run, litterlay sticking his E30 to the back of the Nexen S14.
Eglite would take the win and claw back some much needed points in the championship chase.
Eglite stuck to Rintanen's car in what was one of the best tandem battles this season!
The final would not be any easier as Eglite met Budmat Auto driver Dawid Karkosik, who is also a title contender.
Eglite pushed his car to the very edge, using every millimetre of trackspace to gain as much momentum as possible in the wet, tricky conditions. It worked, and he took the win over Karkosik
Final results from the 2013 Drift Allstars Europe Round Four event from Lithuania:
1. Janis Eglite – Latvia – Xtreme Motorsport
2. Dawid Karkosik -Poland – Budmat Auto
3. Alex Golovnya -Ukraine – Zeetex Tires
The standings remain tight as the racers head off to Mariapocs, Hungary next for a double header featuring both the EEDC and Drift Allstars series.
Photos: Giedrius Matulaitis