EVENT: Drift Allstars Europe: Round Six 2013 – Poland: THE FINALS
Drift Allstars Europe would make its final stop of the 2013 season at the home of Polish drifting. Some can say this was one of the first places drifting was viewed in eastern Europe.
Cars arrived late Friday and early Saturday morning for a capacity-filled event!
The crazy 2JZ Powered STW BMW E21 with side exit exhaust expelling all exhaust fumes from its 700hp setup!
Pawel Trela was a man on a mission to sign out his first year in the Opel GT. Could he take the win on home soil?

Tech inspection in Poland was a big job with 75 cars from 12 different countries. With a proper European series its been great to see all championships align with rules and regulations and that can be seen in the car builds with so many top cars on show. Juha Rintanens car gets the final check over above.
Norwegian driver Christer Halverson would also attend hoping to sign his season out on a high. The monster 800WHP BW 3 litre engine Gulf Oil S15 would be at home on the Poznan track a lot like the tracks he is used to in Norway.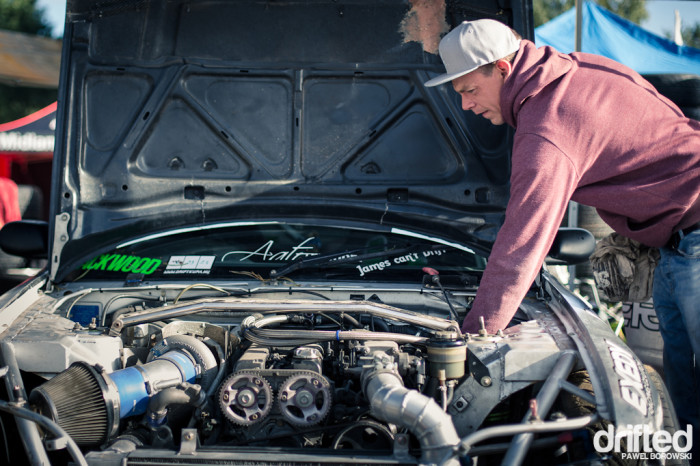 After his 3rd place in Hungary Martin Richards would be hoping to jump up in the standings and clinch that 4th place in the series. A five-way battle for 4th in the standings would be on.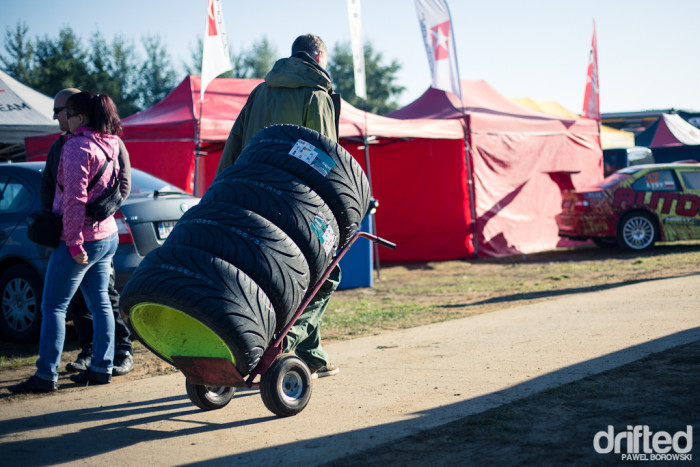 Lots of tyres where going to be used this weekend with many cars ranging from 600-1000hp. Tyres were now lasting just two runs….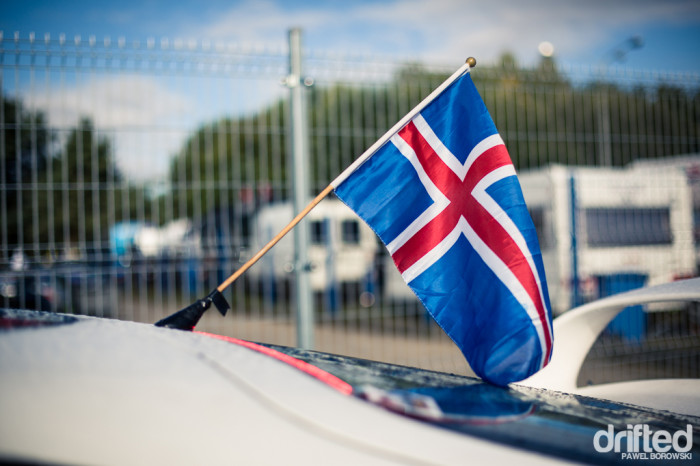 A big Norwegian team were in town supporting 2012 champion Ola Jaeger and Christer Halverson.
Pawel Trelas 2013 Nexen Tire Europe Opel GT ready for action.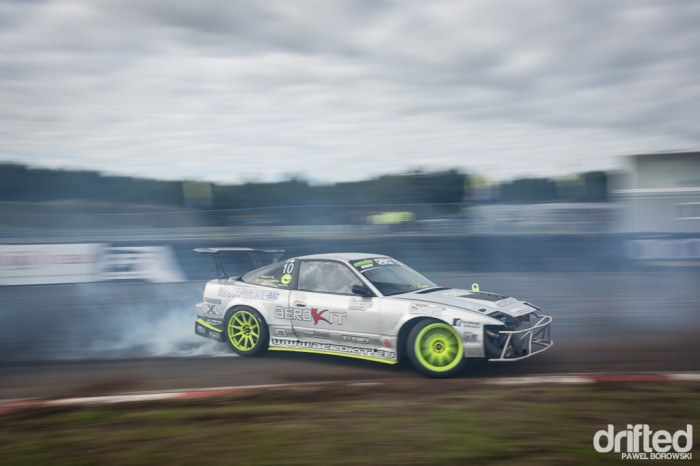 Nigel Colfer would want to end the season on a high after having a season he would rather forget so far!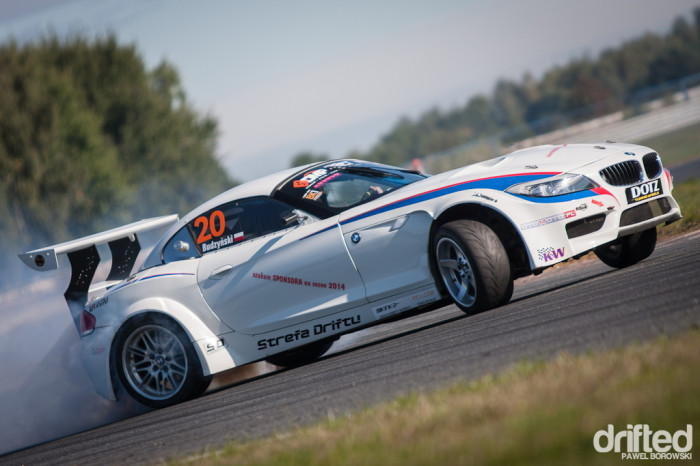 Szymon Budzynski's BMW M5 powered Z4 sounded amazing all weekend. Great to see so many new different and diverse chassis's being used in professional drifting.
Marek Wartalowicz STW Drift Team BMW E21 ripping around Poznan – this car just looked at home on the fast sweeping course.
Marek turning on the E21 Smoke show.
Latvian driver Vents Pecaks in another crazy twin turbo LS1 BMW E36
Team Finland was also in town supporting countryman Juha Rintanen and Pasi Koliseva. Crew Chief Keijo Kössi Ketola AKA Spanner has had a tough year but the team have pulled through the season.
Team mate Pasi Koliseva has had a tough year with some mechanical gremlins and a new platform car to develop. He is going to bounce back in 2014…
Bartosz Stolarski Nissan S14A looking wide.
This has to be the most evil BMW drift car in existence.
Budmat Auto were also out on course early shooting the intro for their event film, with 2012 Polish Champion Maciej Bochenek. This would be the last day off the 2012 season the two time champion would hold the number 1 plate. A new Polish champion was to be crowned!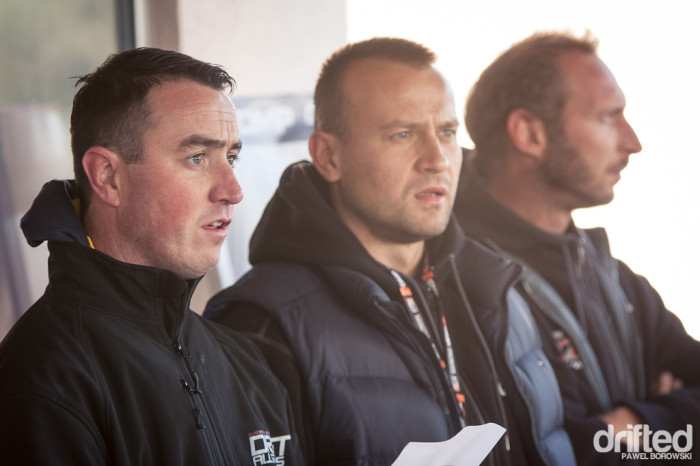 DA crew giving the morning briefing. With 75 drivers, 12 different countries and many different languages it always a challenge!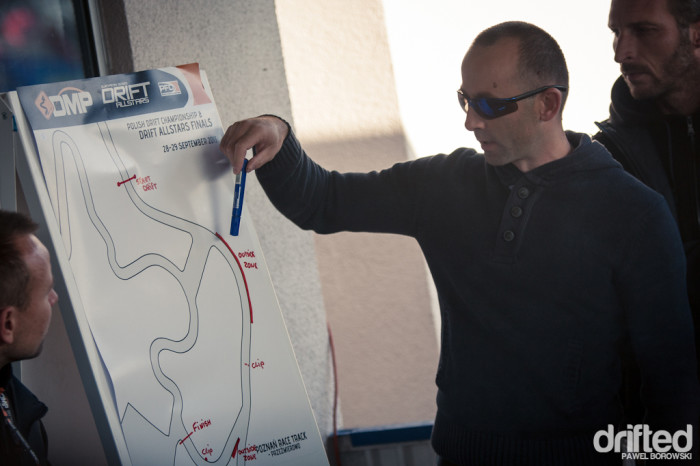 The Poznan circuit can be regarded as a power track with some drivers using 4th gear for the whole length of the run of the circuit. With four bends and fast transitions to get the perfect line through the final bend you really need to be at the top of your game. With Polish drivers contesting events on this exact layout for the last five years the home track knowledge would play a huge advantage for this weekend.
Drivers listening for every bit of detail laid out by the judges criteria. With such a talented lineup of Europe's best drivers just one mistake would even mean not making it through to the top 32!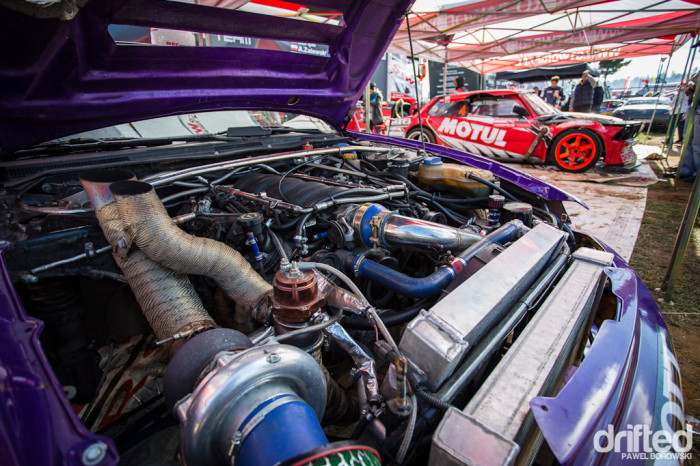 STW Drift team driver Bartosz Stolarski's monster LS3 stoked single turbo putting out near 1000hp. Bartosz would just need to finish in the top eight to secure the 2013 Polish PFD Series. After his win in RD1 Plock, Stolarski still had to put in a good weekend to secure his first title.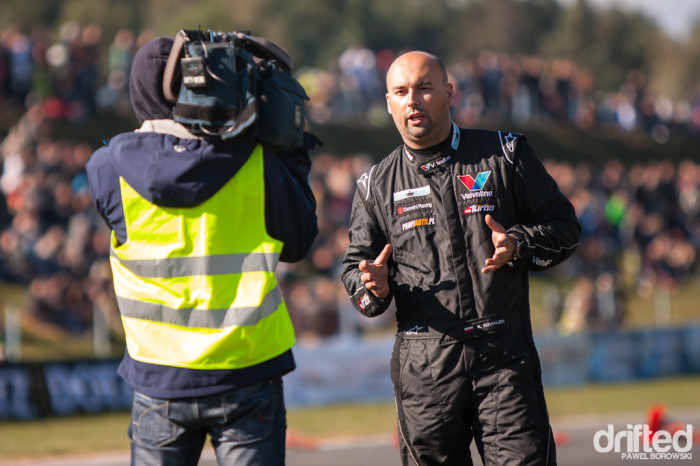 The media was out in force at this event with Karol Kowalski hosting his Drift Kings TV show whichs air on TV Turbo in Poland! Drifting is big business in Poland and the fastest growing motorsport in the country by a long way!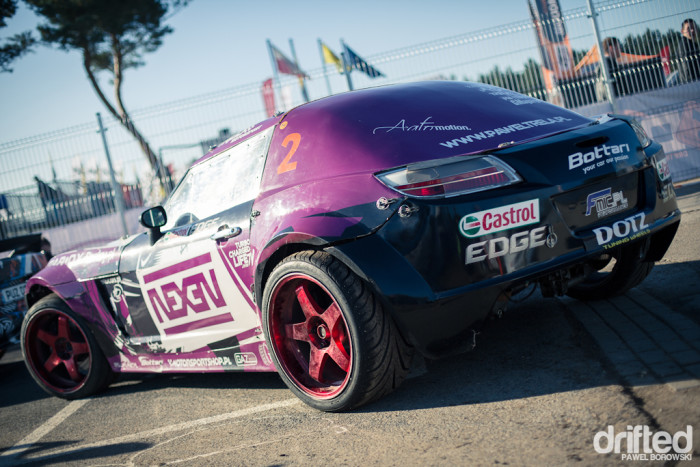 Pawel Trela's Nexen Tire Europe Opel GT nicknamed the "MAYBUG".
Ola Jaeger would revel in this fast track layout sending out signs the Norwegians meant business!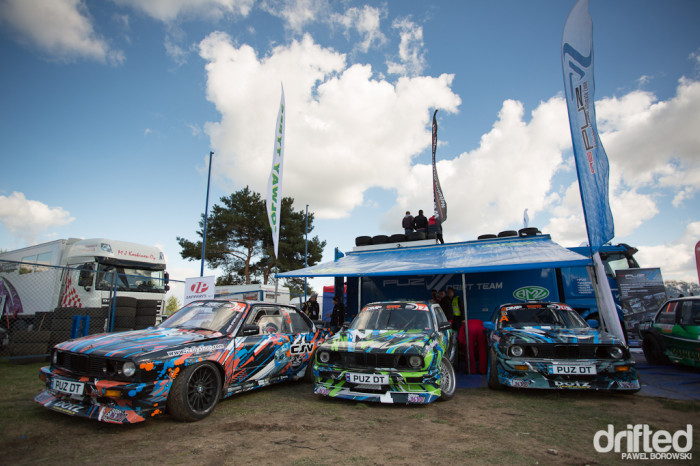 Puz Drift Team would also look strong at this track with all three drivers knowing the track very well. Between Hypki and Mospinek they have taken some wins in their crazy LS3 Chevy V8 BMW's.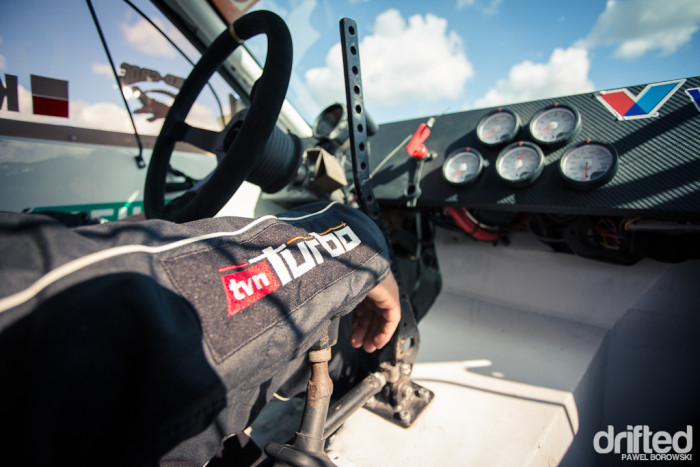 Left hand drive Nissan R34 only in Poland .One of four Nissan R34's competing this weekend!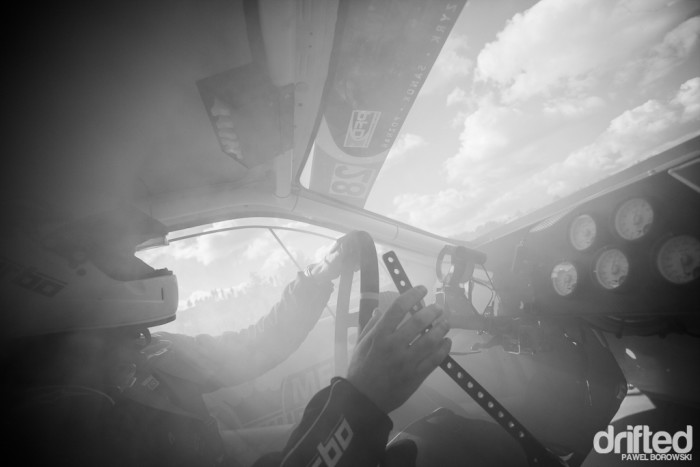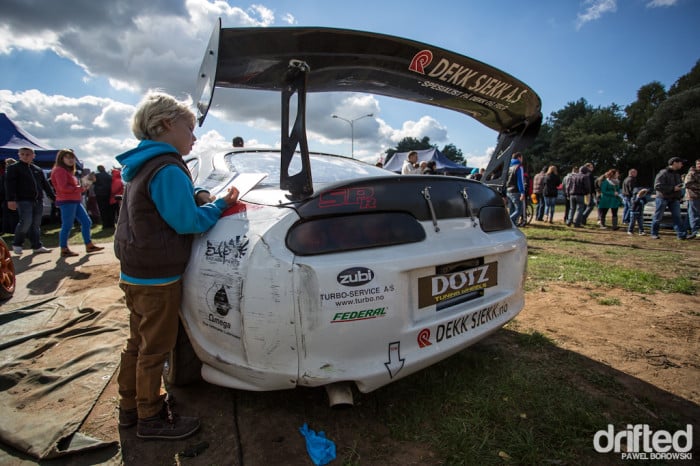 It was a capacity crowd at Poznan with the biggest ever attendance for a rift event at the circuit gain showing drifting is growing at a fast rate all over Europe. Fans loved the open pitlane access getting the chance to get up and close to the cars.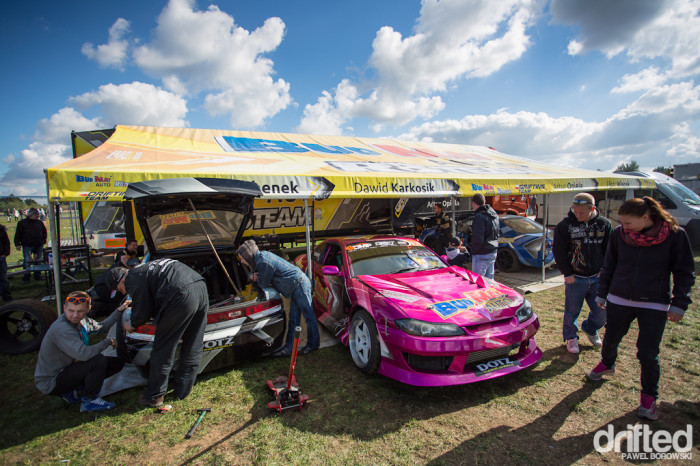 Budmat Auto always one of the teams attracting a lot of attention. Championship contender Dawid Karkosik would have some problems with his S15 and would change to a Nissan R34 for the rest of the competition, adding stress to an already difficult situation.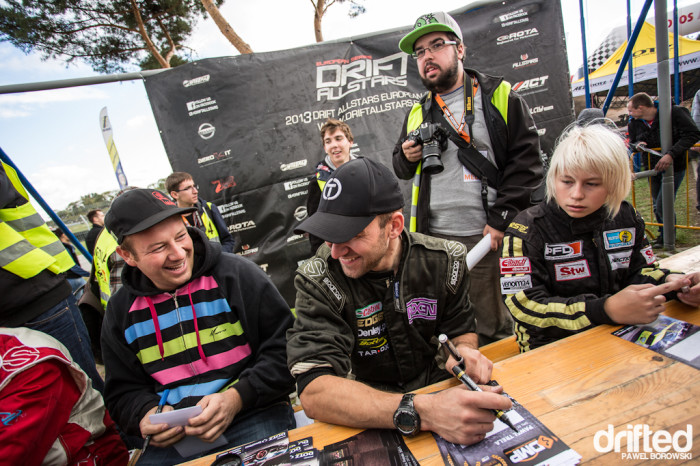 Autograph signings popular as ever. Adam Zalewski getting the most attention with fans having pictures with their hero. Pawel Trela is still the legend of the Polish scene been the 4th most popular motorsport athlete behind some world famous names in the country. Really shows these guys have big fan bases!
Team Puz always popular with fans!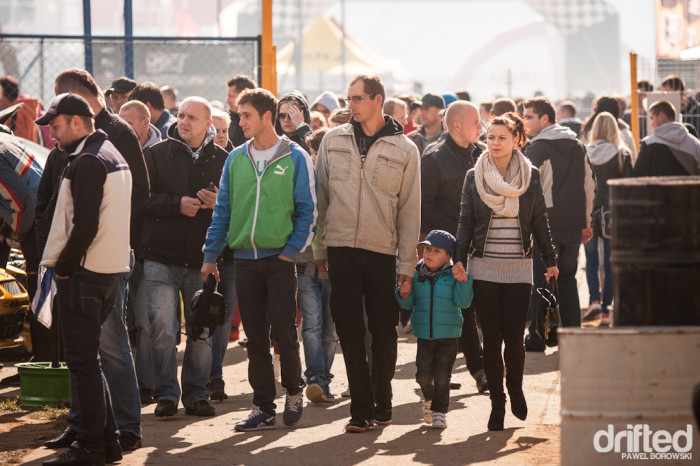 The pits was full all weekend; be it during qualifying, battles or during the downtime. Lots of people curious to check out the international drivers with over 25 present – the biggest international drift competition to hit the country!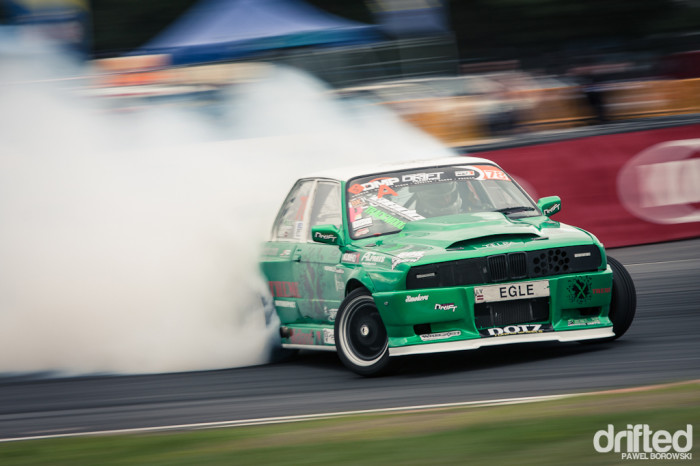 Janis Eglite was Mr Consistency all season, and with his Xtreme Motorsports E30 on the very edge of being competitive would need to extract every horsepower to keep up with the top guys this weekend. With rumours going around of a new car and rebuild for 2014 Janis will without doubt be a another danger man in European drifting in 2014.
Juha Rintanen on the other hand just had a slender 15 point lead over Eglite and basically needed to finish ahead of him to claim the 2013 title.
18 year old Estonian driver Harold Valdma would make his 2013 debut in the VAK Racing LS6 BMW E46. The young driver would be another one for the future with some great runs all weekend.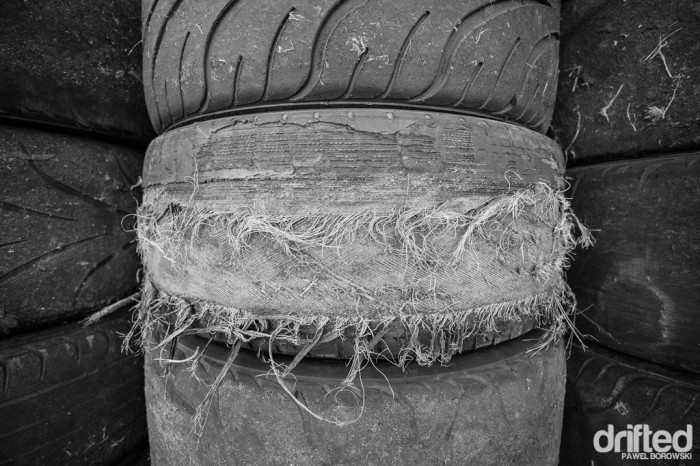 Tyre wear was an issue! Even in qualifying drivers took a steady first run as they knew tires would only last two out of their three runs. Any OMT battles would mean tyre changing!
Team Finland/Nexen Tire Europe getting a lot of attention in the pits!
Poznan is a great track for both the fans and the judges with the whole course fully visible. With 75 drivers qualifying for 32 spots the margin for error was tiny and with the talent level so high it was going to be a tough weekend for the judges.
Now it was time to qualify!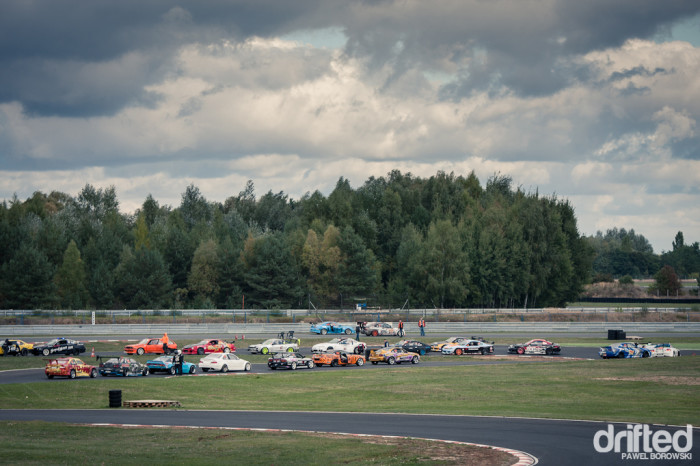 A big grid for Qualifying 75 cars/12 countries and nearly 40,000 Horsepower in total!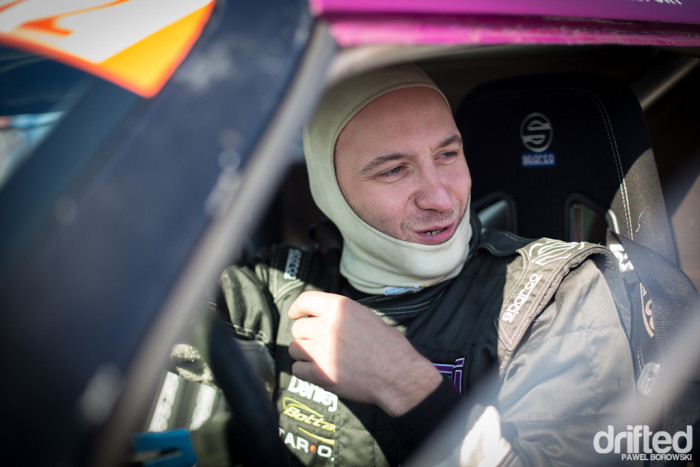 Serious business as Trela jokes with the media! Final moments for qualifying always interesting to see how the drivers prepare for those final moments as its usually make or break in the event weekend!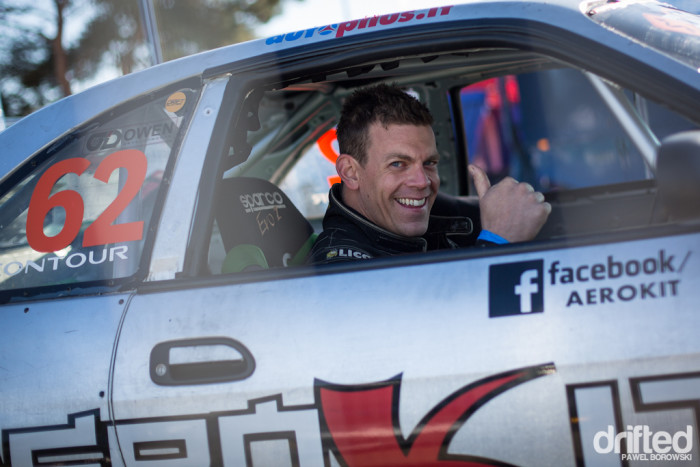 Martin Richards always smiling keeping his cool!  Maybe that has been his key this season as he is worlds apart from the driver of the 2012 season!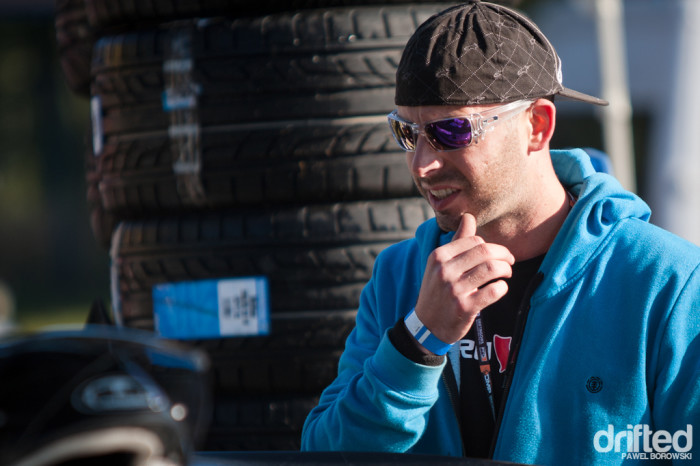 Nigel Colfer wondering what he has to do to get his season back in shape!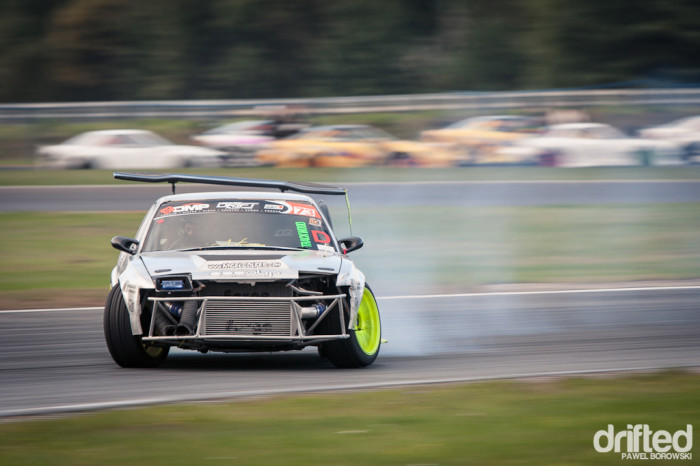 He would qualify down in a lowly 19th place meaning he would have a tough bracket to even progress from the TOP 32.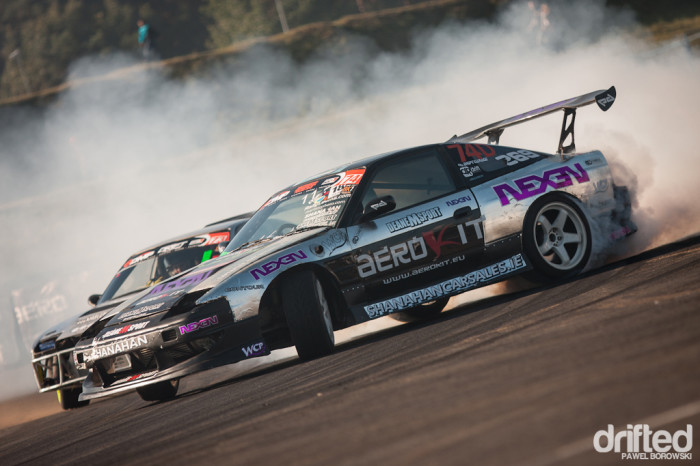 Jack Shanahan would also push hard and had the Aerokit Nexen Tires 180sx using all of its available power – even at 500hp it was quiet underpowered in this field of cars!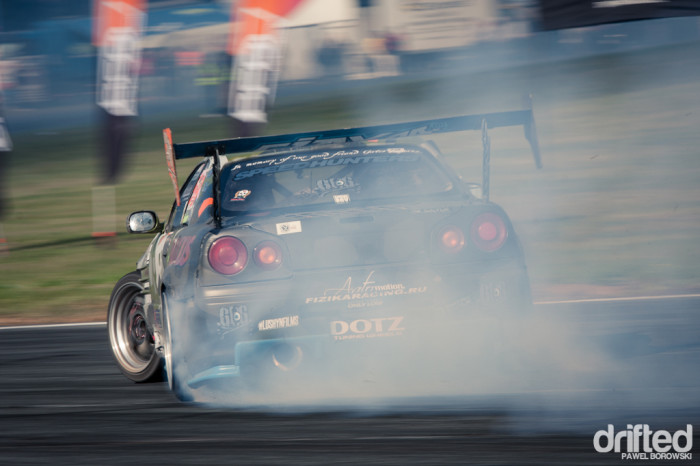 Mad Max from Russia would arrive late and with limited practice time in this hugely competitive field he was fighting a losing battle. He didn't make the cut.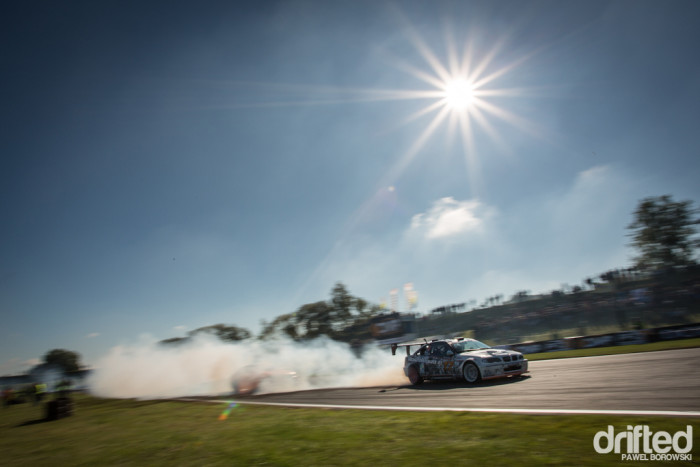 Harold Valma would make the cut qualifying down in 24th place but in this field just making top 32 was an achievement with some major names not making the cut! Expect big things from the Estonian driver in 2014!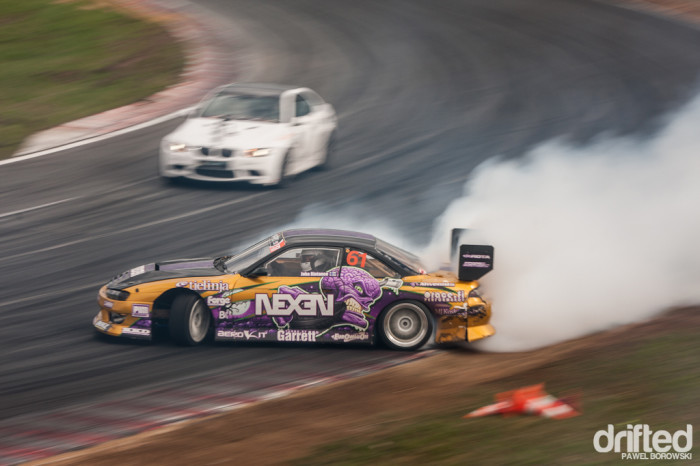 Juha Would push his car in qualifying and show his eye was still on the main prize taking P6 in qualifying! He would also claim a valuable five points to his championship points lead.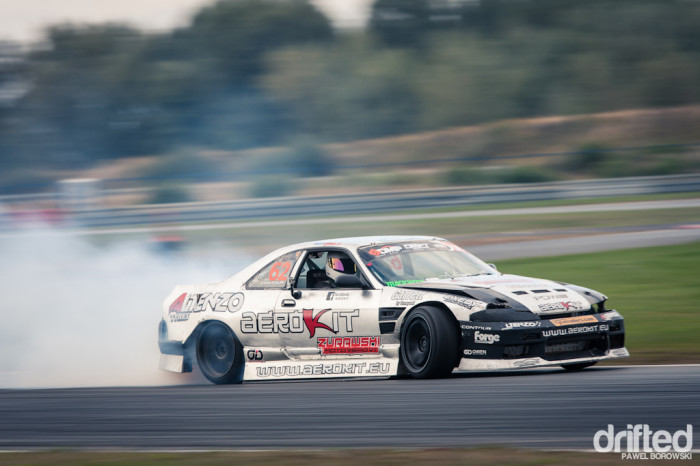 Martin Richards would lay it down in qualifying taking P5 with a great run showing he was hungry for the 4th overall in the standings!
Christer Halverson was flying in his Gulf Oil/Yokohama Tyre Nissan S15 with some of the highest speed all weekend. He would take P4 showing some major international drivers he means business for 2014 season! Christer actually said it was very like the Rudskogen track in Norway famous for Gatebil – a fast layout which suited his style!
Marcin Steve Carzasty;s potent 2JZ powered Nissan S14 was shining going around the Poznan circuit. He runs a 700hp 2JZ  with 100hp shot of NOS to keep things interesting. He would take P2 on the day very close behind Trela!
Pawel Trela would make his presence felt again and take P1 in qualifying. His 3rd time he took the number one spot. Could he convert it into a win?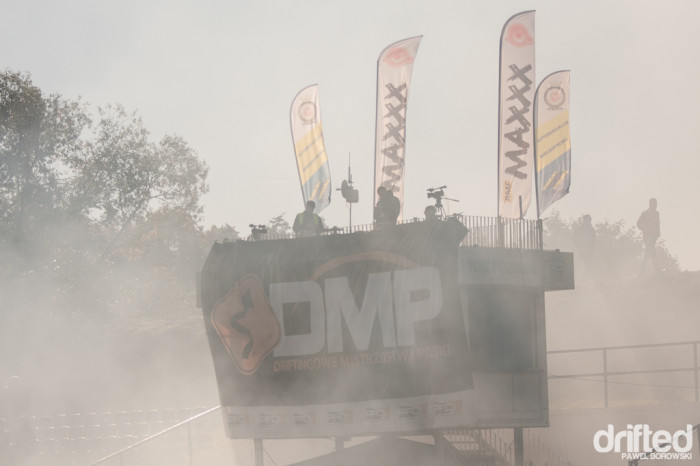 Smoke this was all that could be seen in open practice on sunday morning with eight to ten car trains all morning!
Wisefab would play another big part in the series with the two top cars running their kit! Many more of the grid will swap to Wisefab in 2014 in the pursuit of catching up in the development of the cars this season!
On to the battles!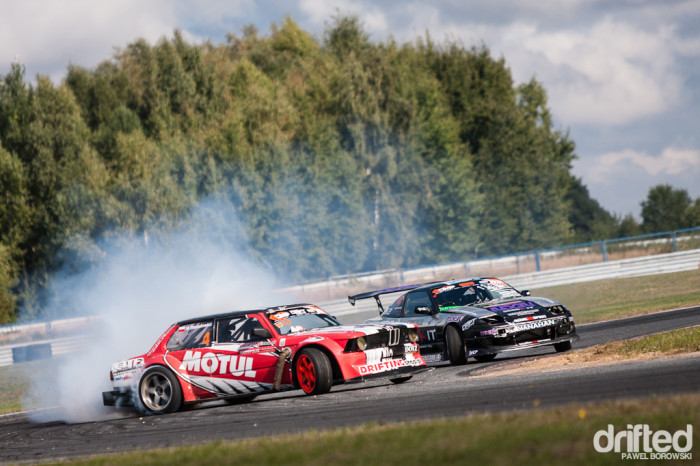 Marek in the STW E21 would be pushed hard by young Jack Shanahan. Jack pushed him to a one more time and with a boost pipe coming off in the second run that was the end of Jack's weekend. Jack was also the top placed four cylinder car with only three SR20's left  in the paddock. Still, a great season for his debut year.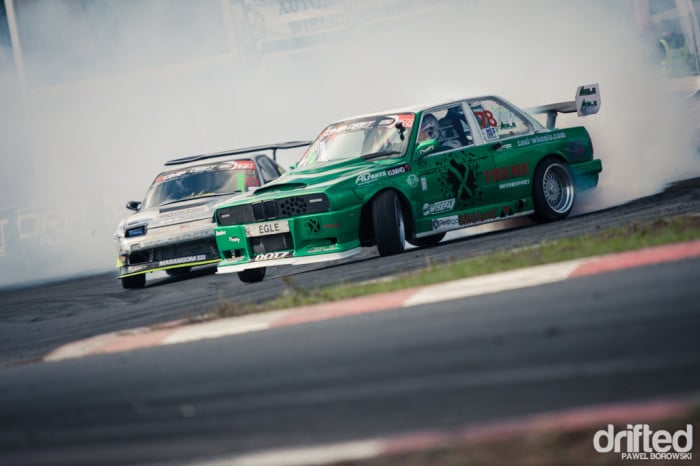 Janis Eglite and Nigel Colfer would once again meet. Janis beat him in Lithuania RD 4 and again Janis was pushing his underpowered BMW to the limit and a small mistake by Nigel on his second run was enough to end his weekend. Janis would move on and keep his championship hopes alive.
But the biggest upset was about to come! Juha Rintanen would face off against Danish driver Jimmi Hansen. In the first run Juha had a good advantage and all he need to do was hold it together but in his second run chasing Hansen he pushed a bit too hard nearly went off track and straightened a huge correction! Had the pressure got to Rintanen! The championship was now wide open for Eglite to win!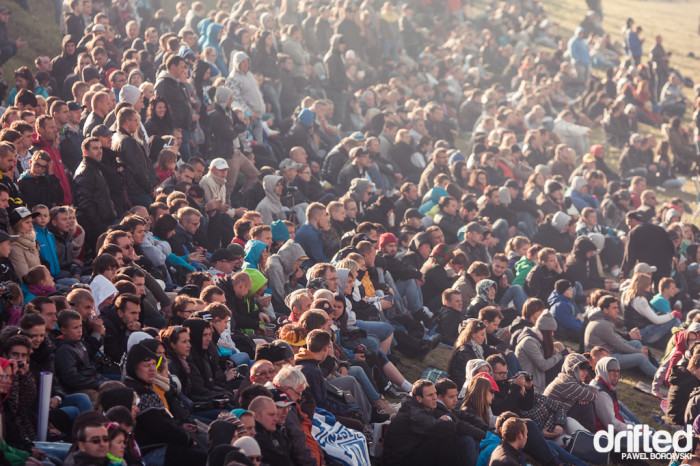 Again a capacity crowd came out to view the finals and we know these Polish fans are hardcore staying for the full event despite quiet cold conditions. It was top 16 time!
Marek would then meet Martin Richards in the TOP 16 a close run by the two but Marek just had the advantage and speed over the course and move onto the great 8.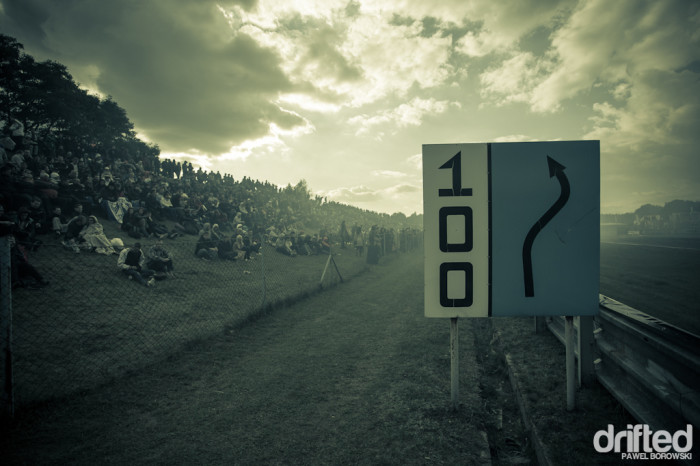 Smoke actually became an issue at one stage with no wind on track. At anyone time during the twin battles there was up to 1400hp on track destroying tyres in a cloud of smoke!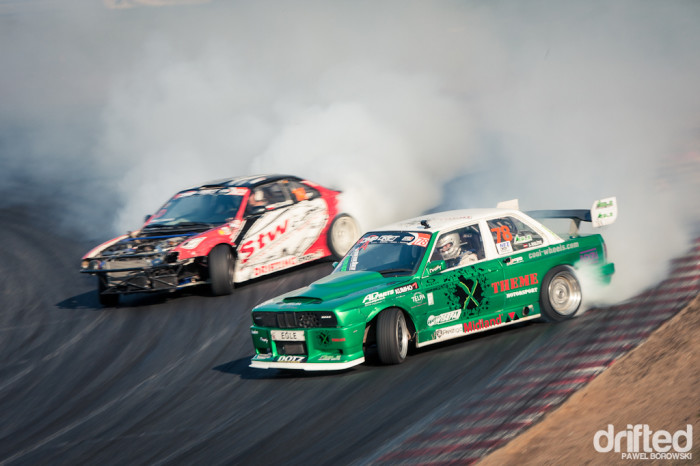 One of the biggest battles of the day was to now follow. Janis Eglite had it all to play for against Steve Carzasty the number 2 qualifier so it was not all going to be easy! Both drivers would have big mistakes in the first run but  a a real aggressive chase run by Carzasty was enough to give him the advantage and move on to the great 8!
Team STW team mates Bartosz Stolarski and Steve Carzasty would meet in the great 8. With Stolarski already confirming the 2013 Polish PFD title he was out for fun and a small mistake in his first run was enough to give the advantage to Steve Carzasty who would advance to the final four!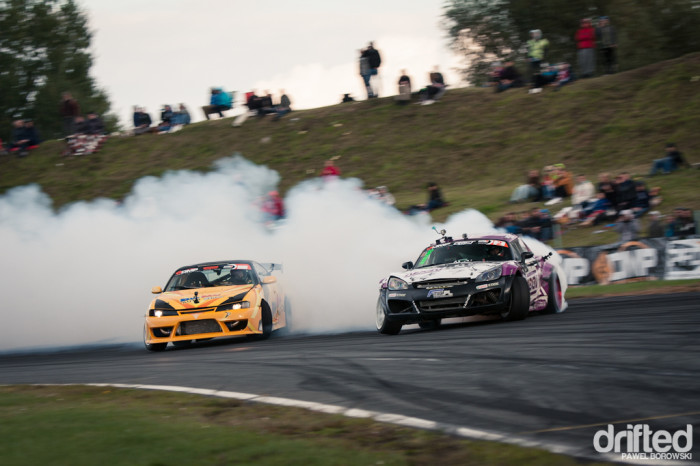 Another battle of the day was between Trela and Budmat Auto driver Piotr Wiecek. A raft of OMT battles couldn't decide it and in the end it was Trela who would move on to the semi finals! Great driving from both showing how close the driving on the day was!
Another shot of battle of the day!
Trela would push hard in his battle against Romanowski but was just on a mission to make his first final of the 2013 season. Trela would move on to the final.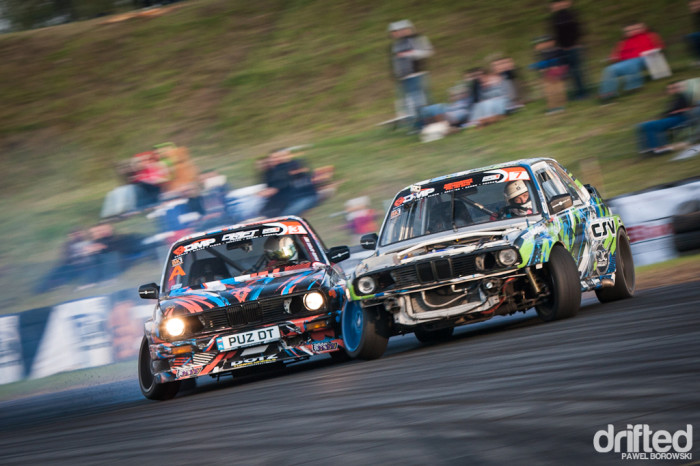 3rd/4th place battle would be an all Puz team battle. Romanowski would get the edge and take 3rd on the day. One of the first time he has finished ahead of team leaders Mospinek and Hypki!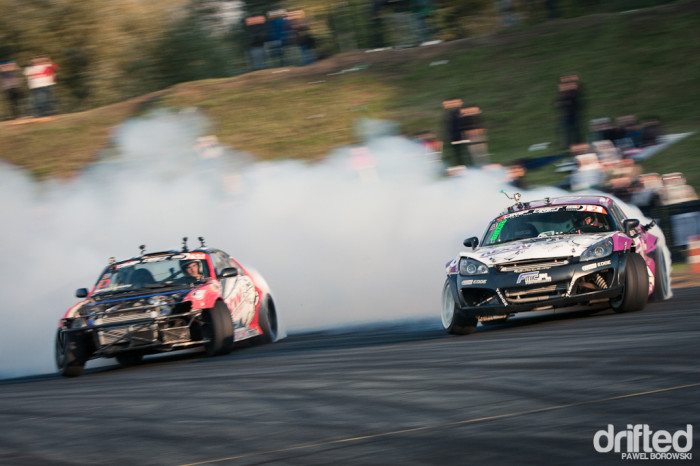 The final would come down to the Number 1/2 qualifiers. Pawel Trela the Polish legend against the new age of Polish drifters Marcin Carzasty. Both drivers have the same overly aggressive style to put the car on the absolute limit and beyond and this was a final to wait for.
A good first run from both drivers equaled things, but a big mistake by Trela in the second run was enough to give Carzasty the win!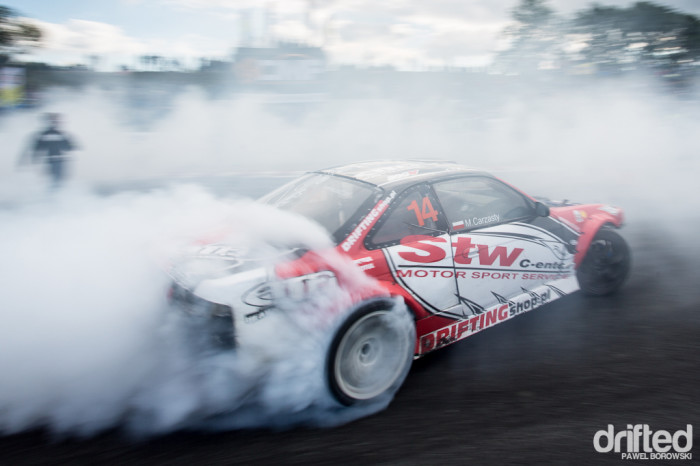 Burnouts by Carzasty in the victory lane would fill the nearby Poznan city with complete smoke.
Marcin Steve Carzasty your Round 6 winner in Poland! And a Polish lockout on the podium!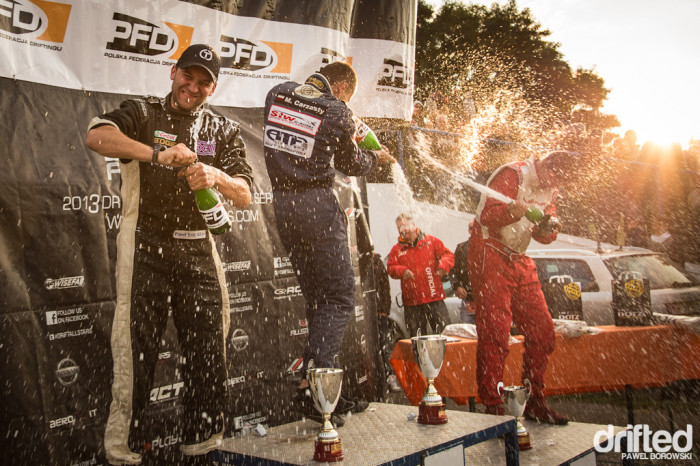 Drift Allstars Europe RD 6 / PFD Poland DMP Round 5 Poznan- Event Results
1. Marcin Steve Carzasty – STW Drift Team
2.Pawel Trela -Nexen Tire Europe
3.Krystof Romanski – Puz Drift Team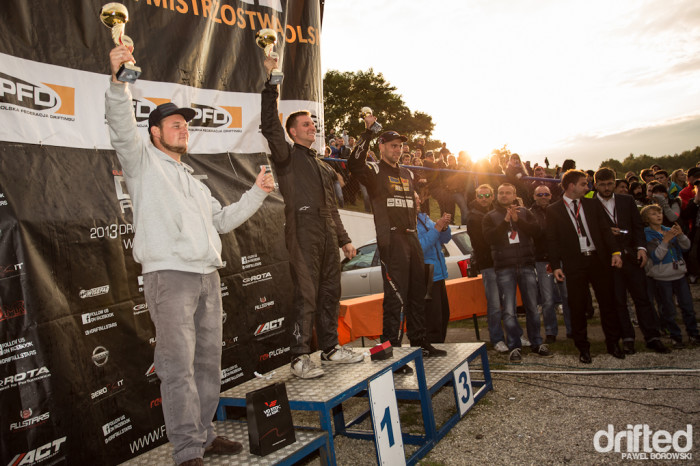 Drift Allstars Europe 2013 – Championship
1.Juha Rintanen – Nexen Tire Europe – Finland
2.Janis Eglite – Xtreme Motorsport -Latvia
3.Dawid Karkosik -Budmat Auto – Poland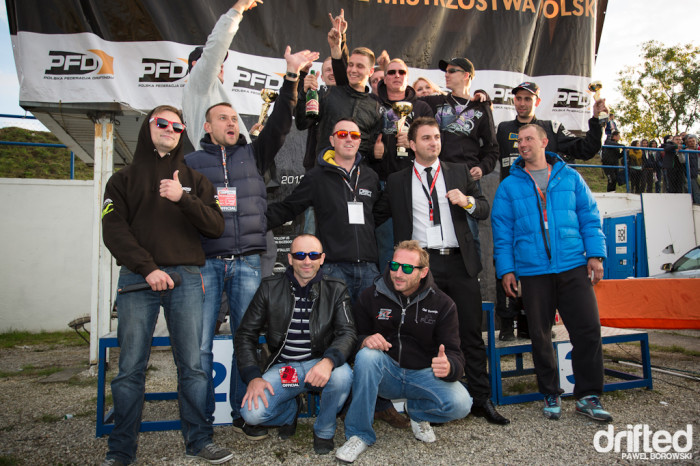 Rintanen sampling some sweet champagne after his very close title chase.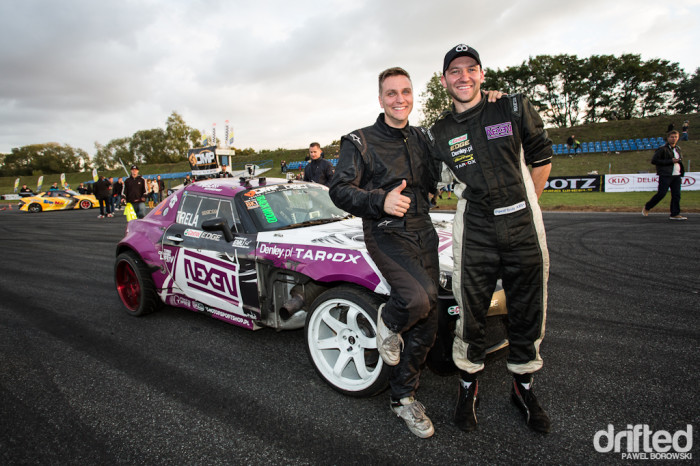 A good day at the Office for Nexen Tire Europe taking the 2013 Drift Allstars Championship. Second time in a row after Alan Sinnot taking the 2012 title chase and Pawel Trela taking the podium!
Will we see roles reverse in 2013 between this pair? Stay tuned because if 2013 was a small warmup for what we are told the Drift Allstars crew have in store for 2014! With many more star-studded international drivers joining the series in 2014 drifting has a bright future in Europe!
Photography: Pawel Borowski – Website