Drift Cup Round One Rockingham – "The next step"
Phase one of the next generation of Drift Cup competitors begins at Rockingham Motor Speedway.
Mid-March sets an early scene for a cool overcast day amongst the concrete and steel of an impressive backdrop. Rapidly becoming a new home for regular drifters both for practice and major league events, Rockingham has become a serious track that carves out its own style of either full speed top gear bends of the main circuit or that of the smaller track guaranteed to test even the bravest of drivers.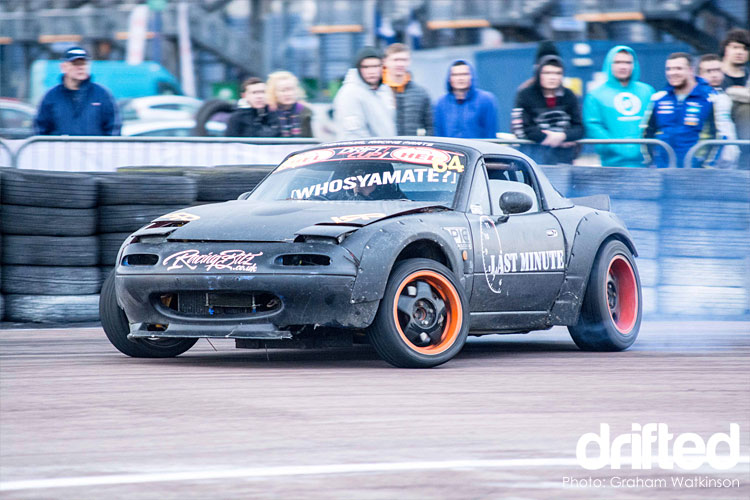 Let's get one thing straight from the start, whilst this is introduced as a grass root event I would personally call it grass root plus. A few years ago, this was indeed a true blue honest grass root series, not saying it isn't now but it has like most events evolved. The competitiveness of its drivers has pushed the cars and skills beyond the novice level.
Although some still compete at a novice level the cars and I fear the cost have grown side by side. Such is the human nature of competition this will always happen as the drivers seek to gain that edge over their rivals.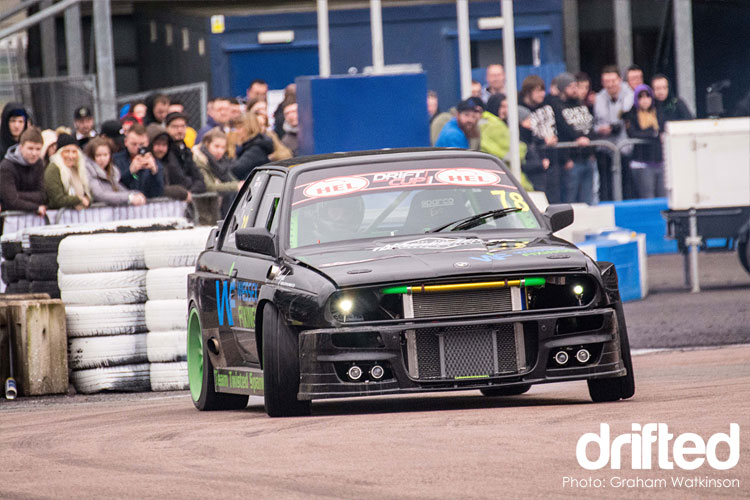 This year sees a new outlook on the series as Mark "Sweeps" Buckle has gained backing from some prominent sponsors proving that this is one competition to be taken seriously. The likes of Hel, Garage D, SuperPro, GFB, Cosmis and EP Racing have all supported the series this year showing their faith in Mark and Drift Cup.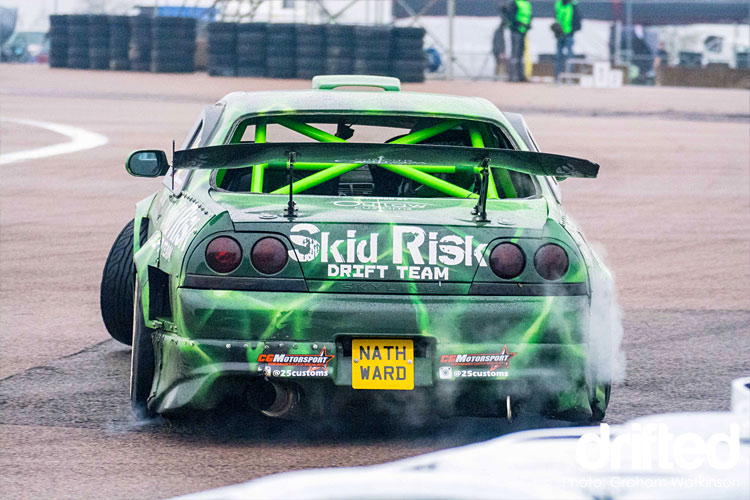 Like last year the outer paddock at Rockingham is our track of choice. A large expanse of concrete with a slight slope lends itself well to any design of track, Mark, this year has designed an open layout series of bends ranging in size and shape with the added bonus of tyre walls and barriers, all overlooked by a generous scaffold tower custom built to house the judges and commentators.
This very same track was thoroughly abused the previous evening by team drifters, the final event of the newly revisited Spring Matsuri.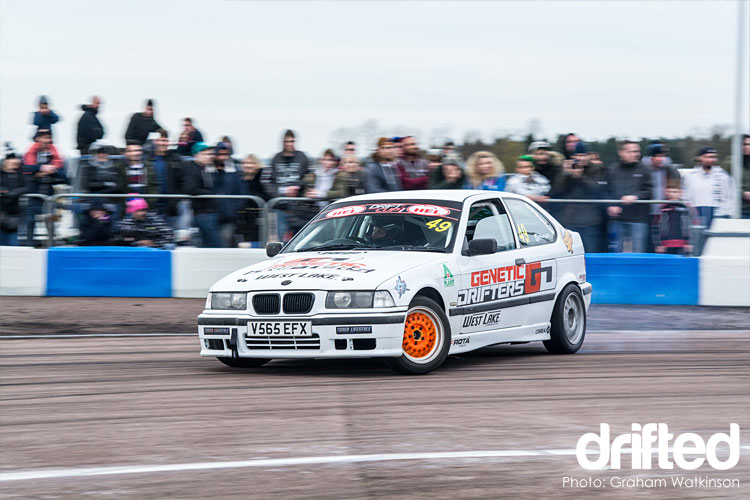 Matsuri whose actual translation is completely the opposite of what we think it is, but it is a festival celebrated in Japan, all be it quietly, which we can all testify this event certainly is anything but. Drift Matsuri is usually held at the end of the year to celebrate the previous season and the hard work of all, to let their hair down on the track.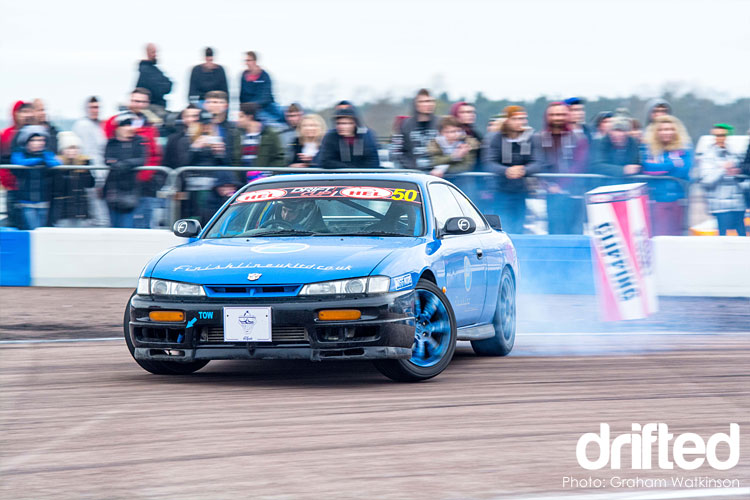 Last year saw the first Spring Matsuri which seems to be an event for A) drivers to shakedown their new competition cars and B) for the rest of the drifters to get out on a large track and just drive. So, to Sunday morning, the concrete church of drifters opens for business. With sign on and briefing complete the drivers take their place in the queue for practice to begin.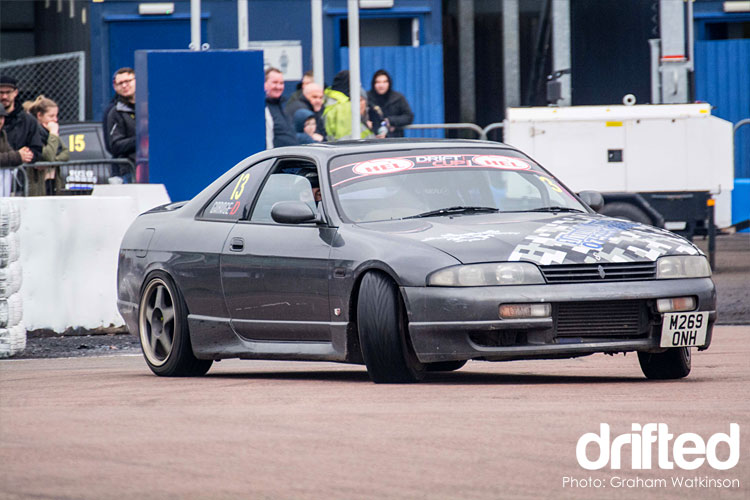 Some of the cars are already battle scarred, some have even failed to survive the night, but these events lend themselves well to shakedowns, failures, rebuilds and other impossible tasks. You can guarantee the drivers whose cars have failed although angered will be back with vengeance for round two, which funnily enough finds its way to my home track in Norfolk.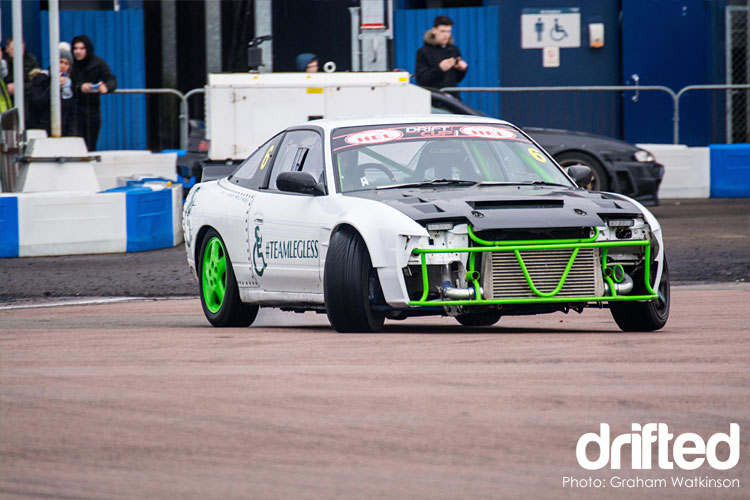 Let's take a slight time out, when I stand back and take a look at where this sport has gone over the last four years I see many things have changed, some for the better and some not so. I often think to myself where would drifting be without these types of meetings and competitions.
You could argue that competitions in general can encourage the bravery in all of us but also it can make the sport slightly more elite. I would argue no because Matsuri brings out everyone, the novices with their semi-converted road cars to the professionals with their unique custom builds. As for Drift Cup, where does this leave us.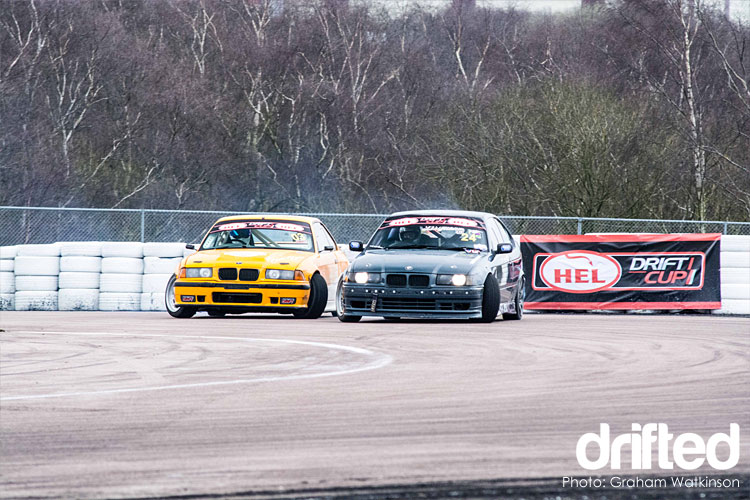 I would personally have to say cup driven competitions are a ladder onwards and upwards to bigger and greater things. My own experience stems from an entry level as a spectator, a past judge and as a photographer, so I could honestly say that I have a fair grasp of the concepts of most events. I can only judge on my own sight, my personal point of view.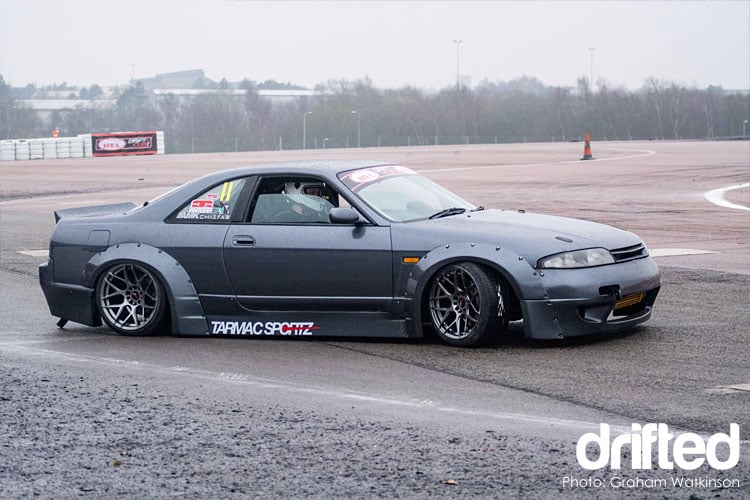 I have witnessed three levels of drifting now, the entry, the progression and the final goal, well for the UK anyway, and I can honestly say that without all three the sport cannot and will not grow or sustain itself. Matsuri as it stands certainly encourages us all as drifters to push the boundaries but competitions especially Drift Cup test us as drivers as well as people.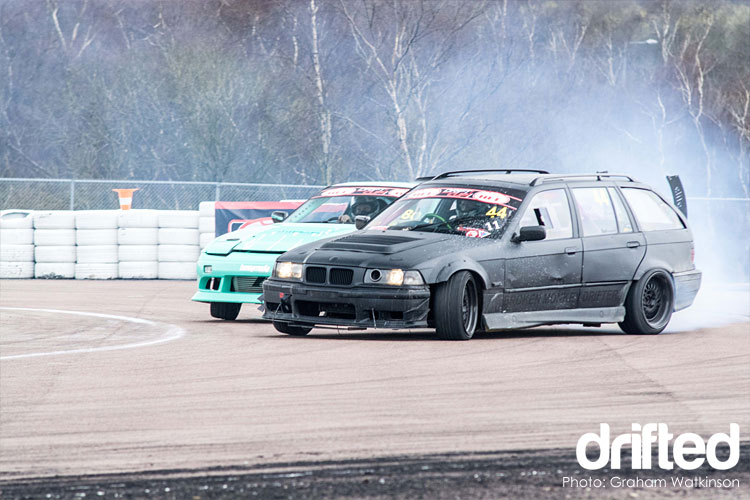 Back to trackside, the day progresses and the circuit dries. Like most competitive drift days, the qualifying gains you a top thirty-two place. A few surprises in there, regular faces and some new ones, but then again to me they are all new faces.
A slight break in action and then its back to the start line ready to stage the next round in the form of knockout battles. Thirty-two become sixteen, sixteen becomes eight. The formula is tried and tested, well worked and never ceases to throw up a few unexpected outcomes. The track conditions pretty much remain the same for the rest of the day.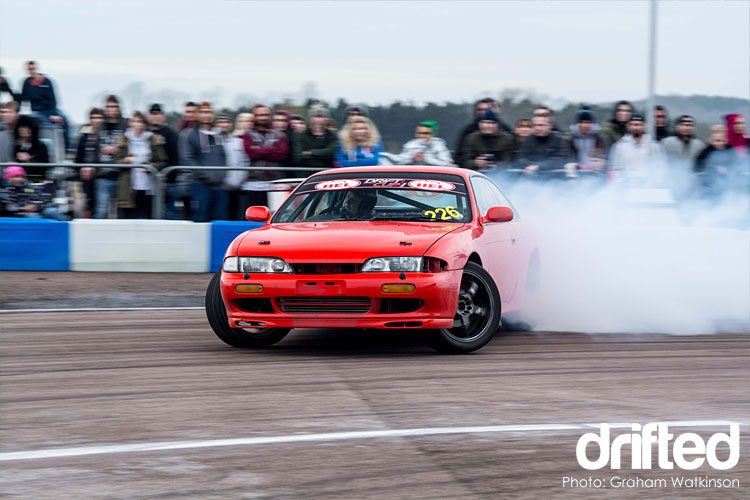 The cars and drivers constantly push the limit and finally they reach the top four. We know that once the top four has been achieved they are all out for war. After a day of highs and lows this is what we have all been waiting for, but the finals were not what we were expecting.
A few mishaps during the true final, a slight straight that forced the chase car from the track. The lead car stood up and took the blame due to a fuelling issue. The reverse was also eventful which was due to a snapped driveshaft and with no spares and probably no time to fix it a final decision was called. In fourth place Robbie Burgoyne, 3rd Haydn Cruickshank, 2nd Dan Brown and congratulations to the winner Alistair Sutton.
With the day complete, the trophies presented, champagne sprayed and the sun setting what is it that we can conclude from round one of the series. Drift Cup itself as a single entity is well established, still putting on a show and most definitely the next evolution of drifting.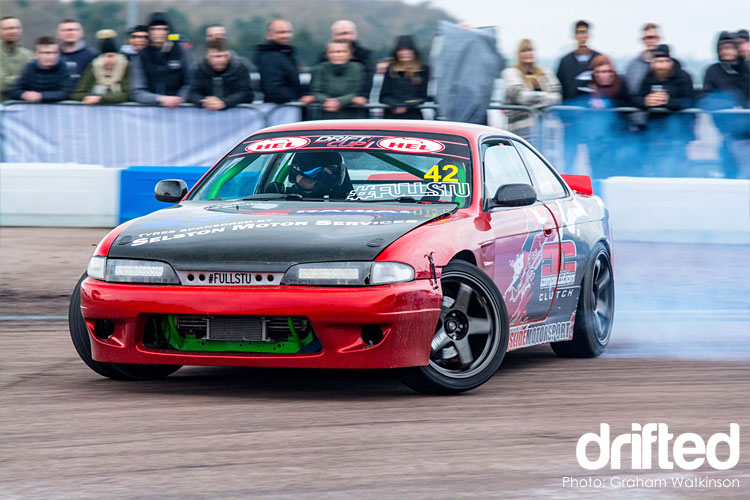 To all who see this as a ladder to greater things then all power to you my friend, but to those who have staked their claim in this division then welcome to phase two. One thing you must expect though is this is no easy route to the top, most along the way will also be making that journey and they will never make it easy.
This is indeed the next step.