EVENT: EEDC 2012, Round 3, Kaunas
EEDC 2012 Stage 3. Lithuania. The track everybody is afraid of. It's the second time we've brought the EEDC down here, with what appeared to be the fastest on layout our calendar. With 164km/h entries last year, and from recent experience in Riga, we could tell that it was going to be much faster this year (in Riga everybody has added about 15-20km/h to their entry's). Speed is not the only thing about this track; being very narrow in the transition zone from the first corner to the slower winding section means it is also a technical technical challenge for drivers.
The usual leaders: Janis Eglite, Gvido Elksnis, Ivo Cirulis, Darius Balys, Janis Lamberts… The young rising stars of EEDC: Elvis Kezis, Vents Pecaks, Dima Nagula… The unstoppable Dmitry Illyuk… A grid of monster machines and drivers from 5 countries.
The long Friday training session meant that everybody took it easy; cars were going in and out of the track all day long. There were many who took their cars off the tarmac and tried their off-road abilities, but gladly at the end of the day most of them where ready for the drivers parade to the center of the town. You have to participate just once to understand the feeling that rises when all of these racing beasts enter the old town and roar.

Saturday morning, more open track sessions. Some of the drivers had technical issues and locals helped them out to get parts. That is another thing about EEDC that I love; sometimes local teams work overnight on somebody's car just to get their opponents and rivals back on the track.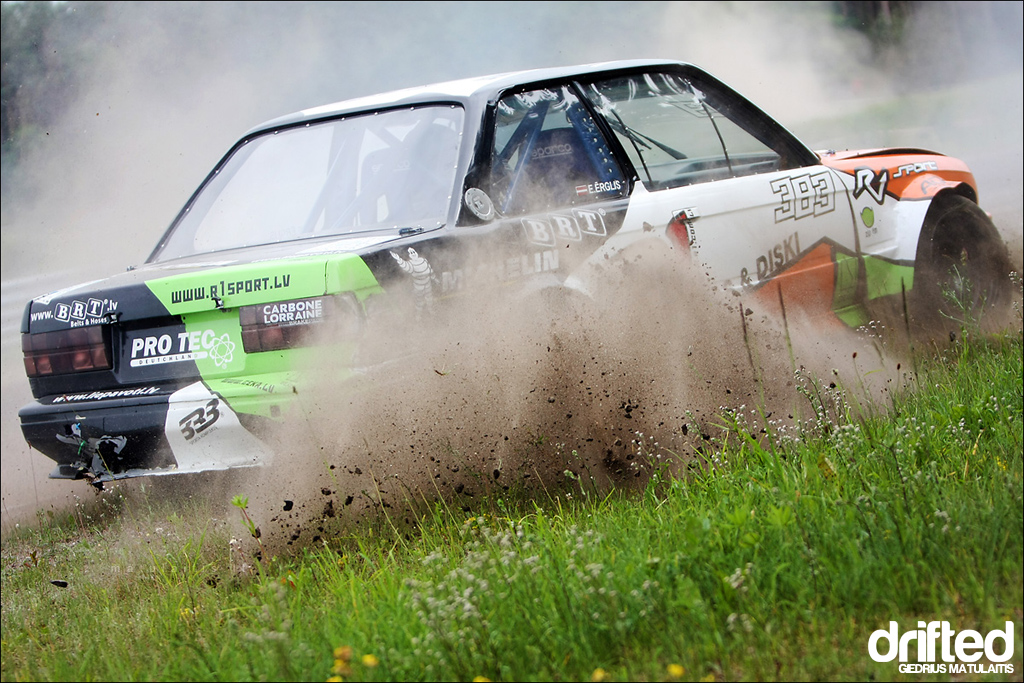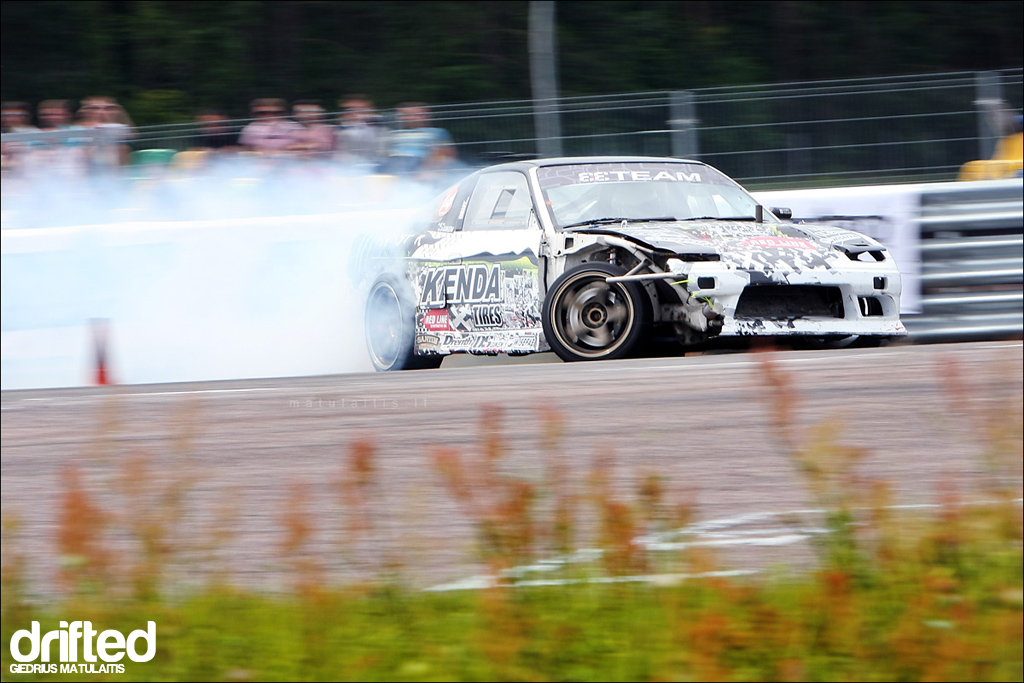 The race was on.
Qualification went by without any big surprises.The Top 6 drivers were separated by only 4 points. A 169km/h entry speed was achieved by Darius Balys from "Drifter.lt". The way drivers were distributed was to be expected. Despite this, the tandem runs revealed some surprises.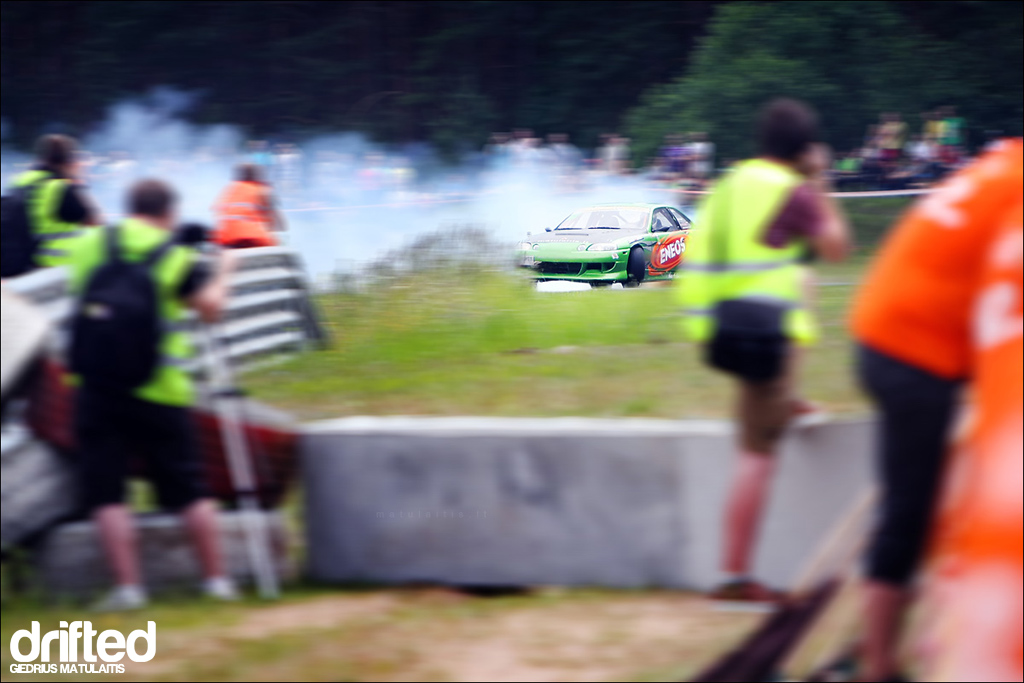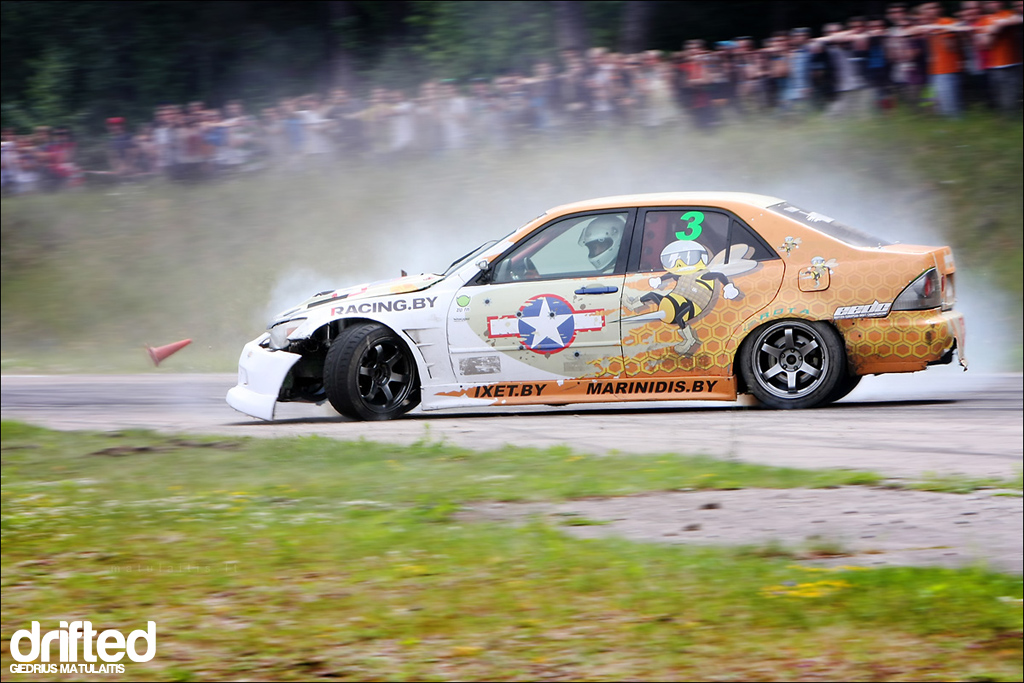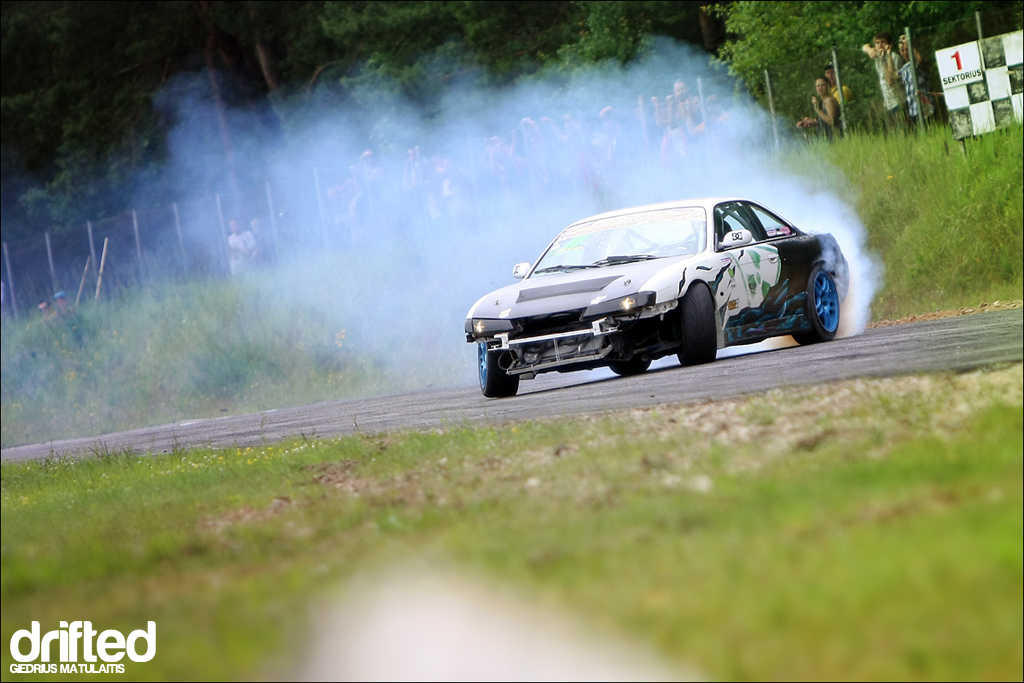 Top 16 - the so far unbeatable Dmitri Iliuk went off course and lost to the young Vents Pechaks with his monster BMW 357TT (twin turbo LS e36 with s14 suspension). Top 3 driver in the two previous seasons, Darius Balys, came in too hot and went off course, losing to fellow Lithuanian, Izidorius Paukstys.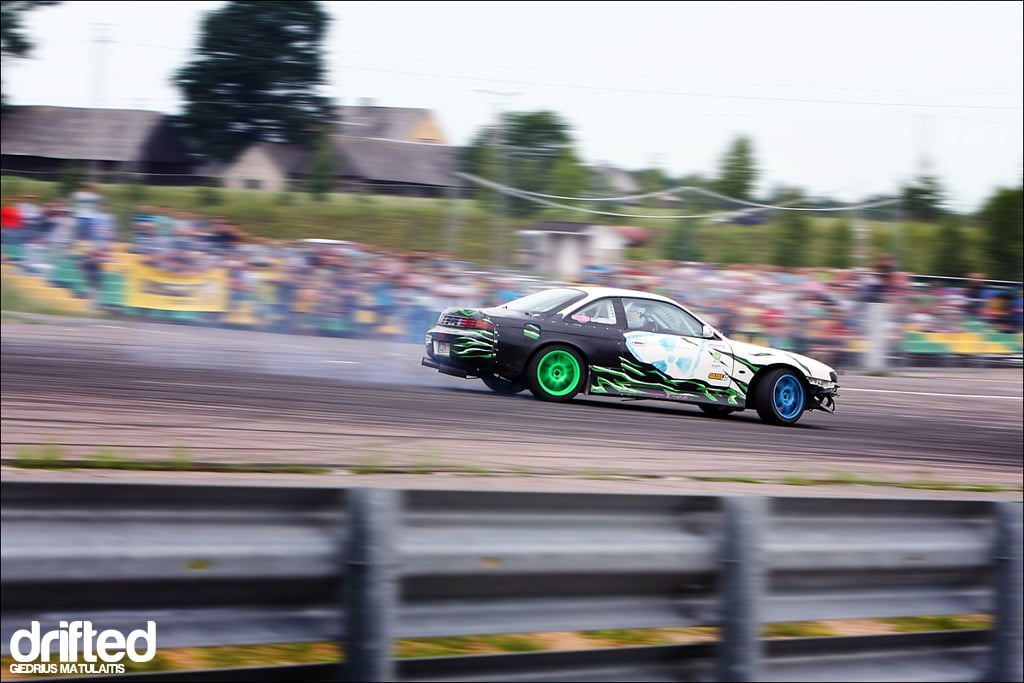 Top 8 - number one in qualifying and defending champion Janis Eglite "X-treme Motorsport" on his lead run against "new kid on the block" Dima Nagula Belorussia, broke his half shaft. He then borrowed a car from Ivo Cirulis "Linbazi". It truly was a heroic act and a demonstration of the true drift spirit. Unfortunately Janis was unsuccesful.
Janis Lamberts "the Robot" (Bornout.Lv), a driver who very rarely makes mistakes, sent two wheels off the course; Izidorius Paukstys gets a free pass to the Top 4. Gvido Elksnis (Race Solutions) drove a lead run where he showed the fastest entry speed on the track: 181km/h. He advanced.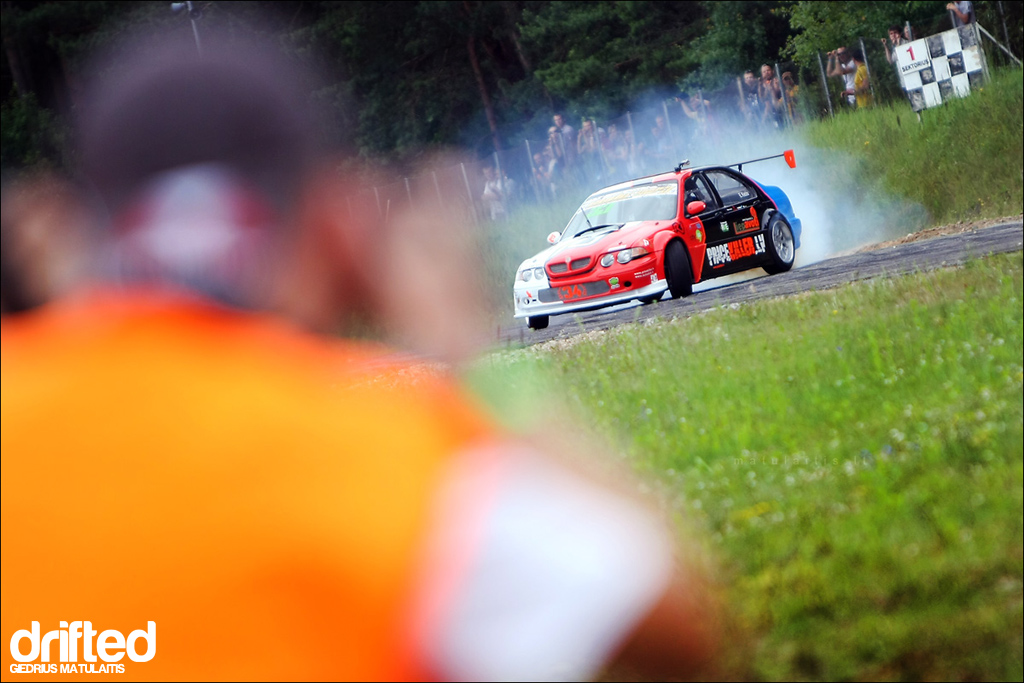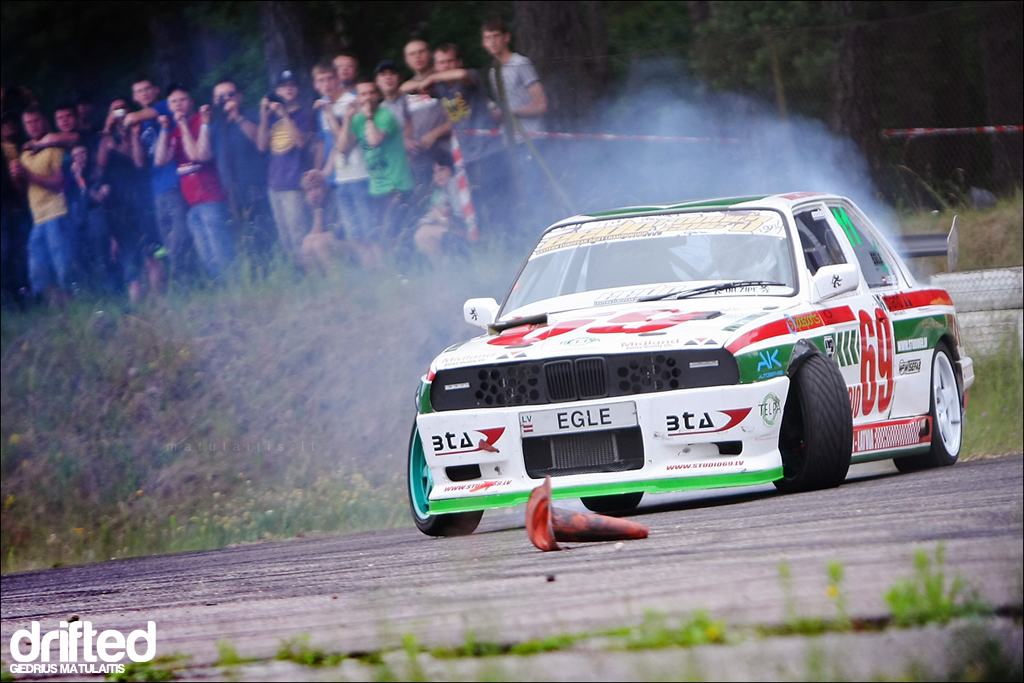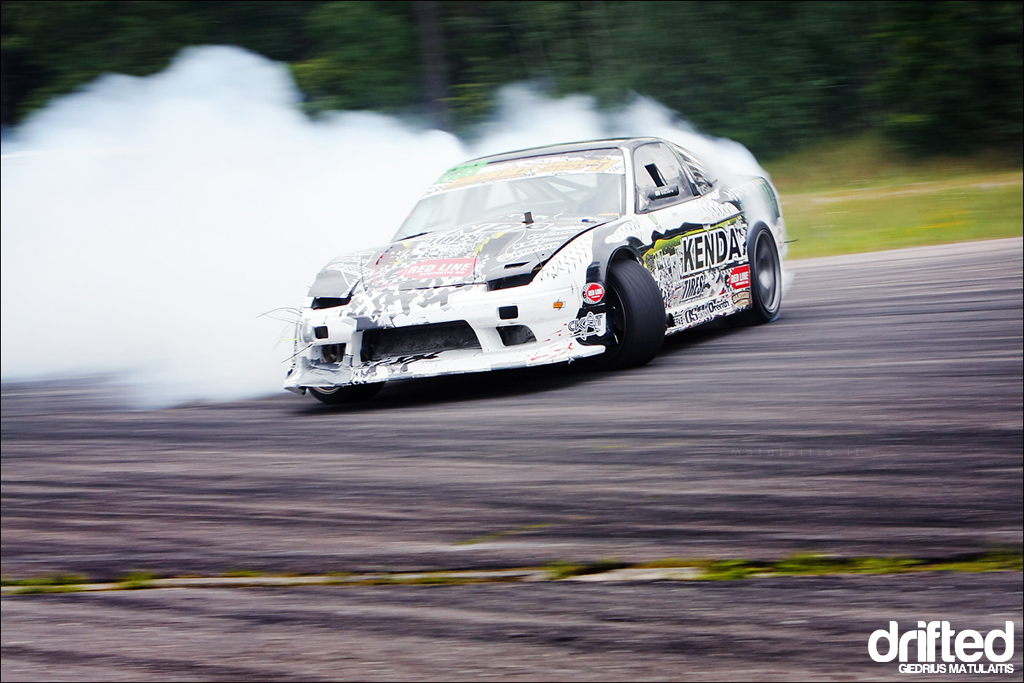 Top 4
Gvido Elksnis Latvia was spot on all weekend. Simply unbelievable driving from him. Unfortunately he dropped two wheels off the track on his following run and lost to the luckiest guy of the day, Izidorius Paukstys (it was his first EEDC event and he is mostly a Time Attack driver).
Dima Nagula Belarussia "Mega" (only his fifth drift event) was getting better and better with each run. In his first serious mistake of the day he spins on his lead run against another young Latvian, Elvis Kezis (R1Sport), who drove a Rover/MG ZS with a BMW V8 4.0 and Jaguar supercharger. Elvis secures the first podium in his carreer (only his second season).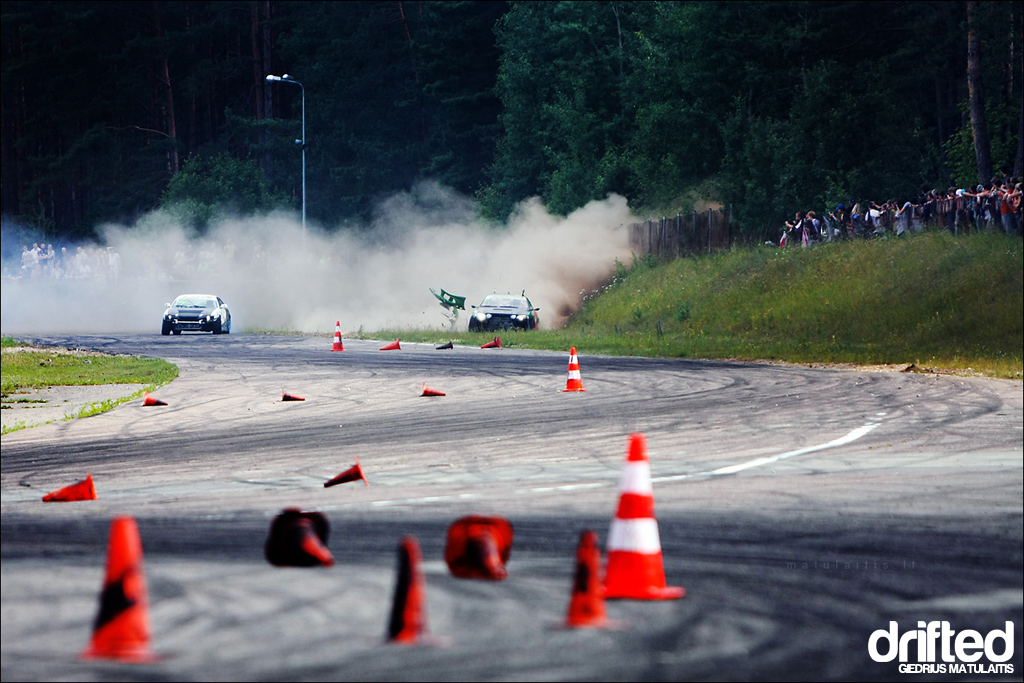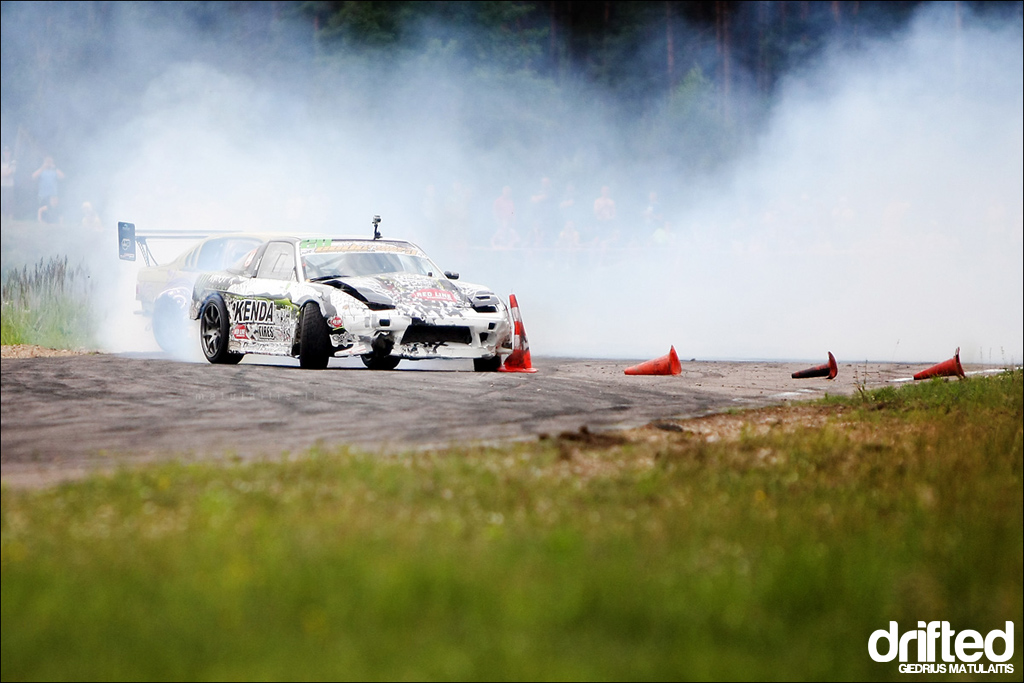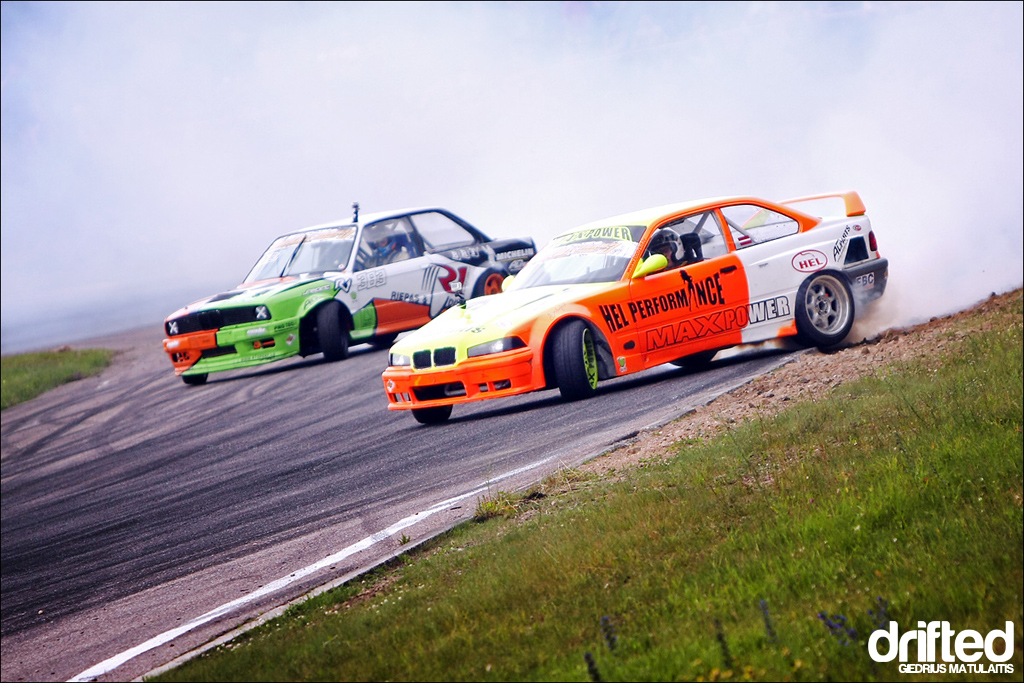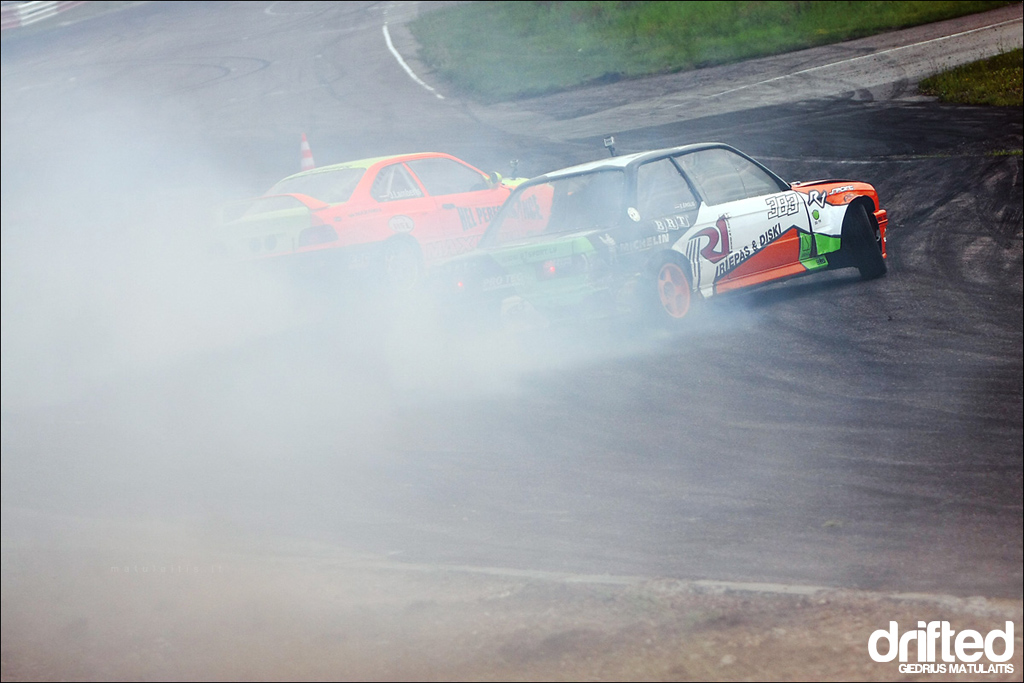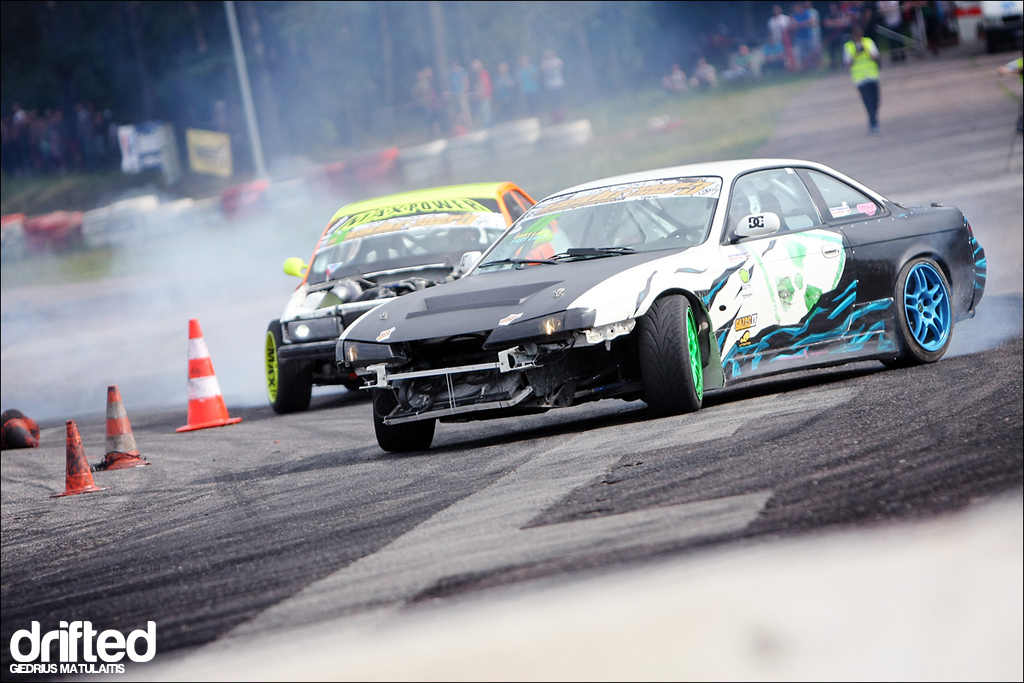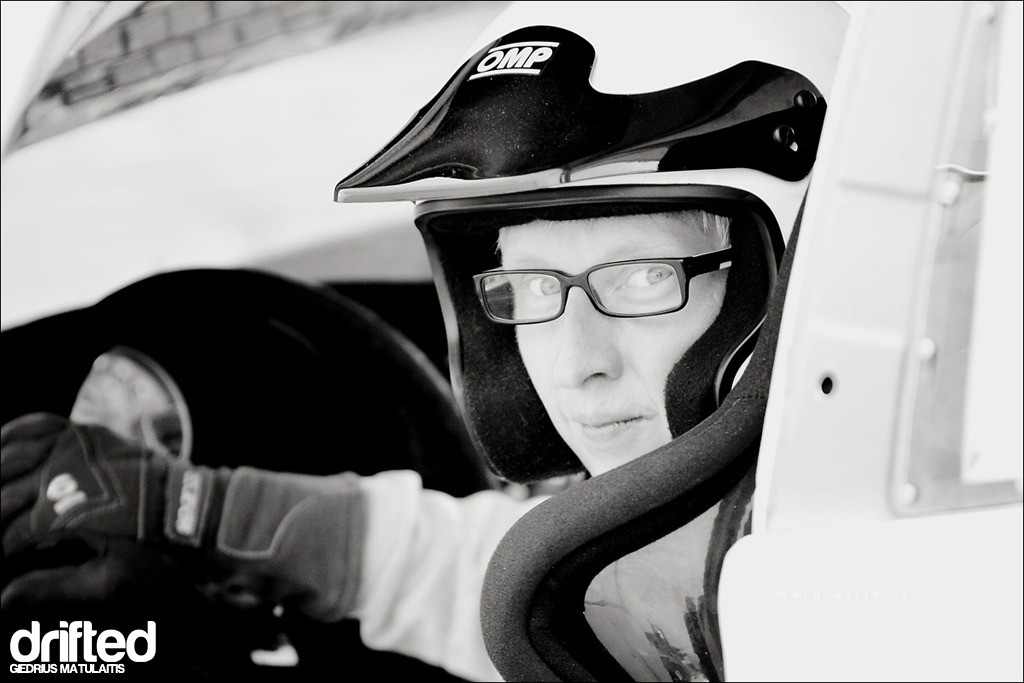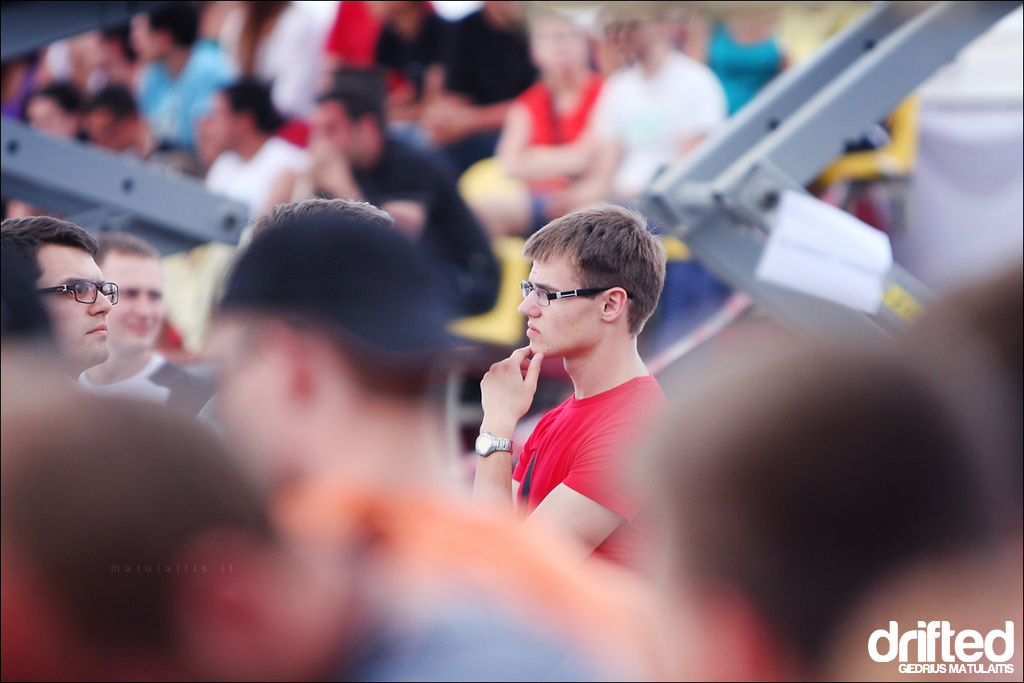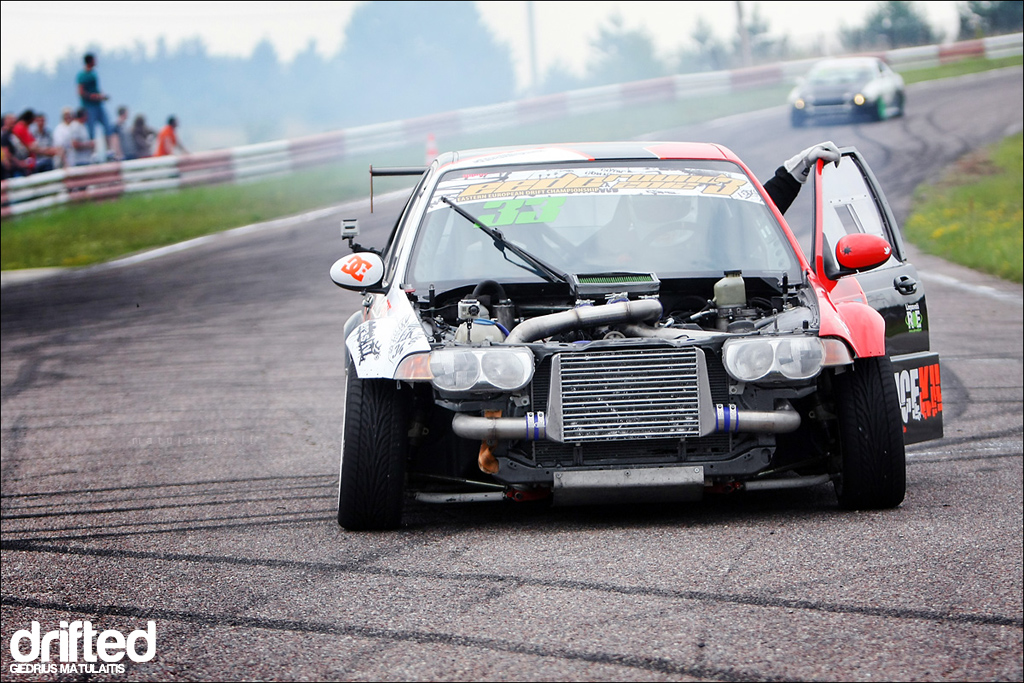 The finals went by without any further surprises: Elvis Kezis – first, Izidorius Paukstys – second, Gvido Elksnis – third.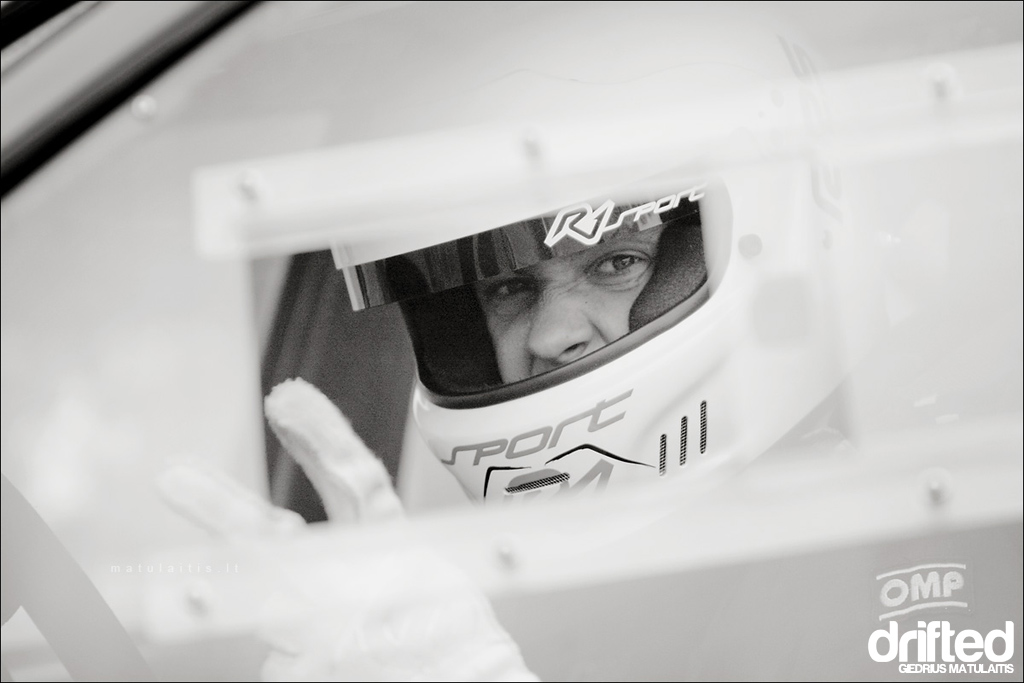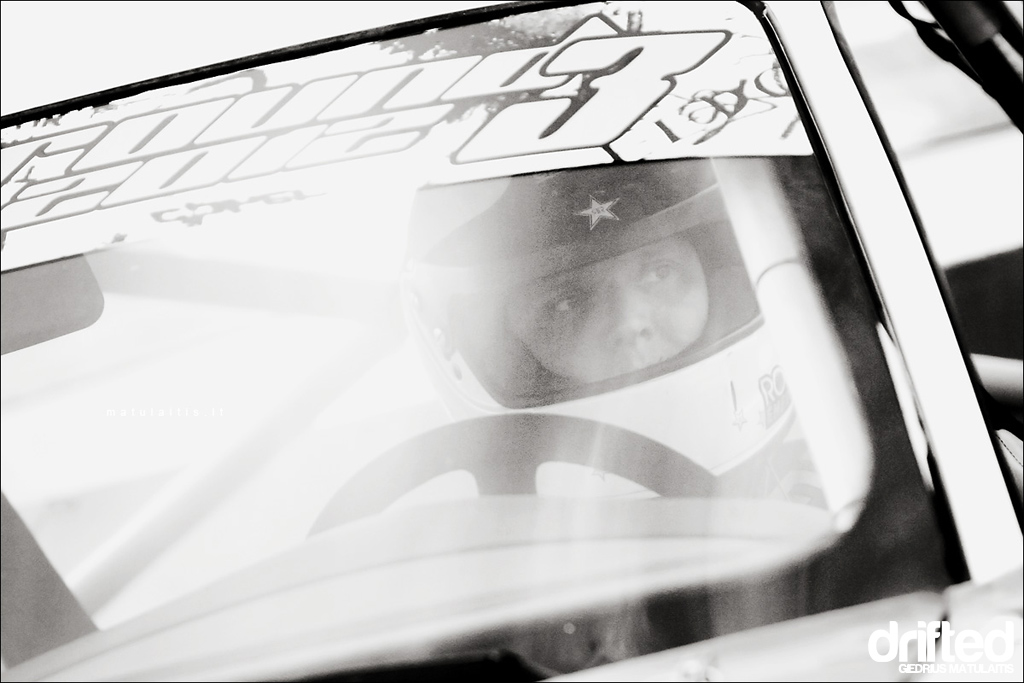 The track here in Kaunas is the most difficult one on EEDC calendar. Although more than last year, there were not many drifters who dared to come. The ones who did, did not regret their decision. The huge difficulties of this track train the drivers better than anything else. After the race, Dmitry Iliuk said to me: "I'm not feeling it right now, but I'm sure my skill went up so much!"
And one more thing, a comment from a spectator: "I had goose bumps every time they were driving". To hear that from a rally driver who is used to fly at 100km/h+ through the forest makes me truly proud for all our guys.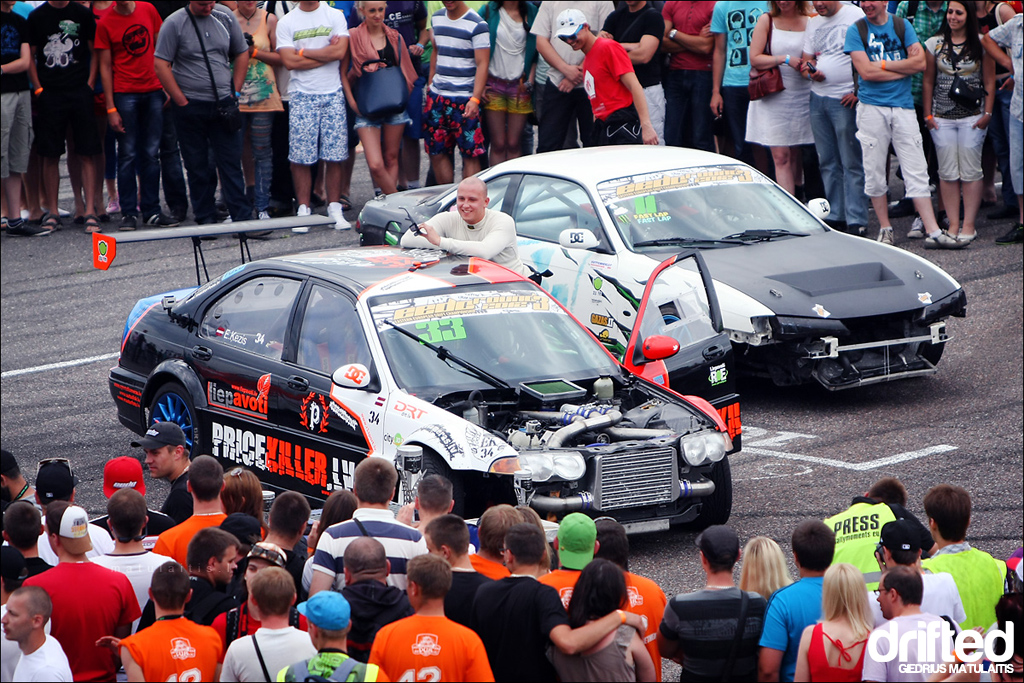 So until the next EEDC on July 21-22 in Saint Petersburg, and big thanks to all you guys that made this 3rd stage possible! Romas Poskaitis, Ramoska Linas, all NPteam crew. Giedrius Matulaitis, Giedrius Meskauskas "Drifter.lt" and many others.
Cheers
Mantas Kuzmarskis
EEDC