LIVESTREAM: Formula Drift 2012: Round Five: Throwdown

Formula DRIFT Seattle Live Friday and Saturday by driftstream
JustinTV Stream below incase Dailymotion goes down.
Watch live video from driftstream on www.justin.tv
Formula DRIFT Enters Evergreen Speedway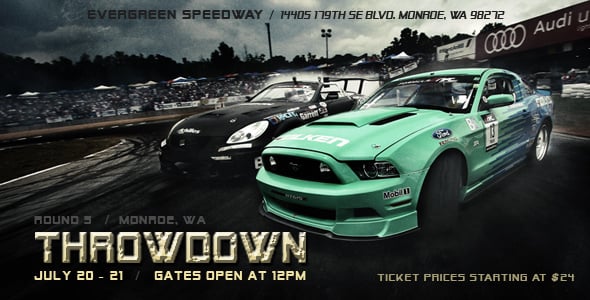 Evergreen Speedway is the oldest track on the circuit and was originally built as a horse-racing track. Located in Monroe, WA, Evergreen Speedway is only a short distance from Seattle.
The Pacific Northwest fans are some of the most die-hard drift fans in the nation. The energy and excitement is often compared to that of Irwindale and the original "House of Drift." The event's headline moniker, "Throwdown," lives up to its name as drivers push their vehicles to the limits of the track's banking and tight transitions through the course resulting in one of the most exciting action-packed events of the season.
Schedule of Events – ALL TIMES ARE PDT (GMT -8hrs) UNLESS STATED
Friday, July 20, 2012 — Practice & Qualifying
10:00am — 6:00pm – Will Call Open for Vendors/Sponsors/Teams
11:30am — 1:00pm – Pro/Am: – Open Practice
12:00pm — 8:00pm – Gates Open to the Public
1:00pm — 2:00pm – FD: Open Practice – Session 1
2:00pm — 3:00pm – FD: Open Practice – Session 2
3:00pm — 5:30pm – FD: Qualifying
6:00pm — 7:00pm – Pro/Am: – Qualifying
6:00pm — 7:00pm – FD: Autograph Signing Session – TBA
7:00pm — 8:00pm – FD: Open Practice – Top 32
Saturday, July 21, 2012 — Main Event
10:00am — 6:00pm – Will Call Open for Vendors/Sponsors/Teams
12:00pm — 1:00pm – FD: Open Practice – Top 32
12:00pm — 9:00pm – Gates Open to the Public
1:00pm — 2:30pm – Pro/Am: Top 16 Competition
3:00pm — 5:00pm – FD: Main Competition – Round of 32
5:00pm — 6:30pm – FD: "Halftime Break"
6:30pm — 6:45pm – FD: National Anthem / Opening Ceremonies
7:00pm — 9:00pm – FD: Main Competition – Round of 16 to Finals
9:00pm — 9:30pm – FD: Trophy Ceremony & Closing
*SCHEDULE IS SUBJECT TO CHANGE