EVENT: FD Atlanta – Behind the Scenes Extras
The book is now closed on the second round of the 2011 Formula Drift season. What to do with the photos left over in the hopper? Being the generous types at Drifted, we wanted to pull out some of our favorites to share with you guys. Follow the jump to see more from the weekend in Hot-lanta.
Vaughn Gittin Jr. has a very energetic personality in front of fans, or on TV. He likes to come off as a total rock star. Backstage during the drivers' meeting though, he is totally focused. No jokes, no sarcasm, just serious consideration on how to win. It's the kind of attitude that made him the 2010 champ.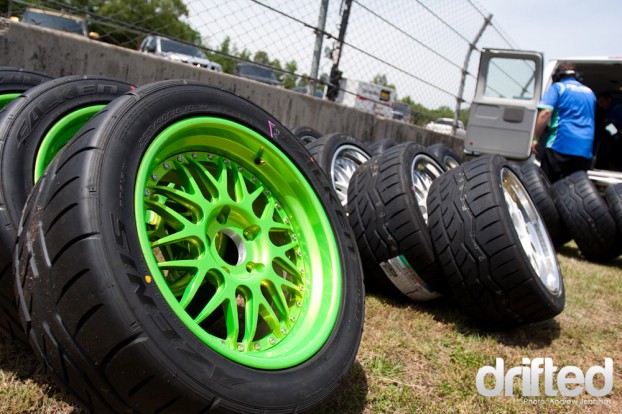 It's easy to tell which teams have the biggest budget. Just check out what wheels they are running. At over a grand per wheel, Team Falken brought sets of HRE wheels for each of their drivers. Somewhere in the neighborhood of $30k was waiting on the sidelines… before you add the rubber.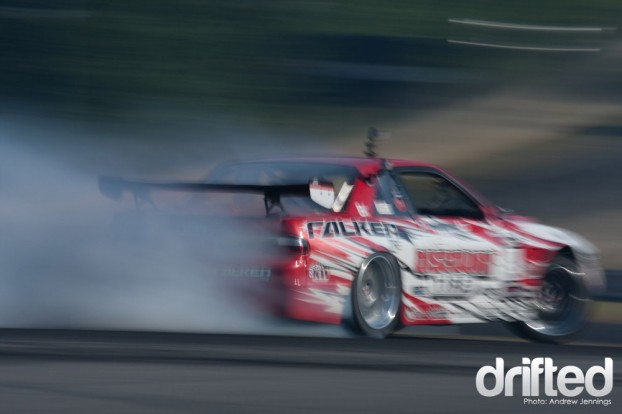 I love the way Dai Yoshihara's Discount Tires Nissan S13 would lean back as he drifted through the long horseshoe corner. It's almost as though the rear fender is riding right on the tire. Straight up gangster!
A spare clipping point sign waits for a shot at the big time. The cars beat on these things throughout the weekend, so it's inevitable that a backup will be needed. I wonder how many get used in a full season?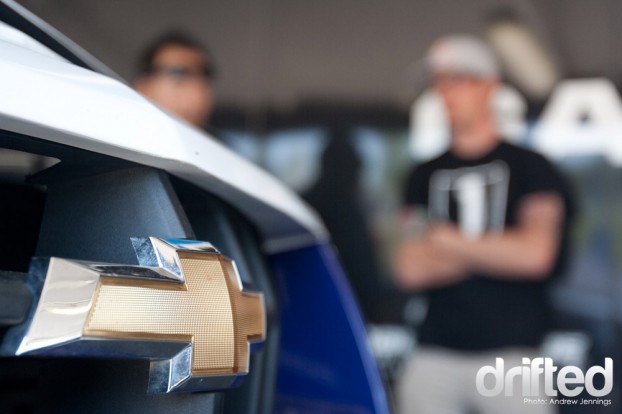 Is it the car, or the driver? Here the Chevrolet logo comes before Ryan Tuerck, seen out of focus in the background. Knowing Tuerck's skill in a variety of platform's, he is without a doubt the more important part of this relationship.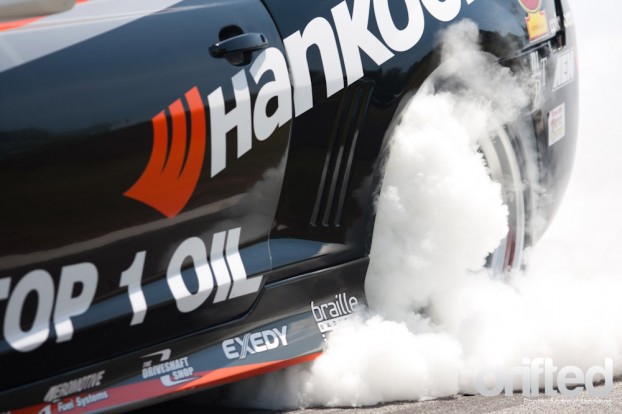 Up at the grid, each driver will do a healthy burn out to warm up a brand new set of tires before their run. Here, Conrad Grunewald shows you how it's done with a set of Hankooks.
As photographers, we strive to get as much tire smoke in our drifting shots as possible. After Pat Mordaunt's PM Racing Nissan 350Z had a small engine fire, dropping oil on the track, someone had to act as the guinea pig and see if the course was still suitable for racing. Matt Powers went out to put down a few runs, and managed to smoke the entire horseshoe! The white cloud covers the entire background of the photo above, something that no other driver was able to accomplish.
Thanks for reading! Formula Drift heads to Palm Beach, Florida this weekend June 3rd & 4th. Keep an eye on Drifted for the Driftstream and post-event coverage.
Andrew Jennings is a photographer and editorialist based out of Nashville, TN. He has been covering the American drift scene since 2007, and his work has been published in nationally syndicated magazines such as Modified Magazine, Import Tuner, Performance Auto and Sound, and RIDES. Andrew may be contacted through his professional online portfolio, or the social networks listed below.
Professional Portfolio: http://www.andrew-jennings.com | Personal Blog
Tags: 240SX, 350D, 40D, Andrew Jennings, Andrew Jennings Photography, ATL, Atlanta, blog, blogging, burn out, burn rubber, Camaro, Canon, Chevrolet, chevy, clipping point, Conrad Grunewald, Dai Yoshihara, Daijiro Yoshihara, Discount Tires, drift, drifted, drifted.com, Drifting, Falken Tires, FD, Formula D, Formula Drift, FormulaD.com, FormulaDrift, FormulaDrift.com, Georgia, gittin, Grunewald, Hankook, hotlanta, HRE, HRE Wheels, Matt Powers, Nissan 350Z, Nissan S13, Nitto, Pat Mordaunt, photography, Road Atlanta, rubber, Ryan, Ryan Tuerck, S13, s14, sign, SS, Team Falken, Team Need for Speed, tire, tire smoke, Tires.com, Tuerck, USA, Vaughn Gittin, vaughn gittin jr, Www.andrew-jennings.com, Yoshihara
Subscribe to Drifted
If you like this article why not subscribe to Drifted and we will email you our freshest content for free!