EVENT: Formula D Round 5: Throwdown: Part II
I always look forward to Formula Drift every year and it keeps getting better every year. The sport itself has grown a lot in Washington in the past year and having a sellout stadium shows that we here in the northwest love drifting!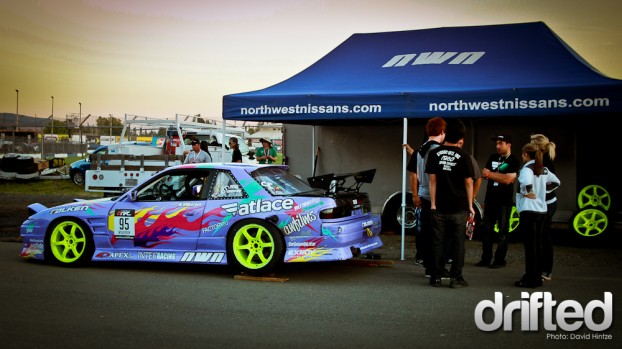 Local driver Walker Wilkerson and his much talked about Nissan S13, one of my favorite cars at FD this year.
After a long day of shooting day 1, I spent the night with friends, at the house of Driver Roland Gallagher and Nikki Miguel, both great drivers and Nikki being the only other girl competing in the upcoming XDC Extreme Drift Circuit coming to the local Pacific Grand Prix track. Coffee was a must that morning.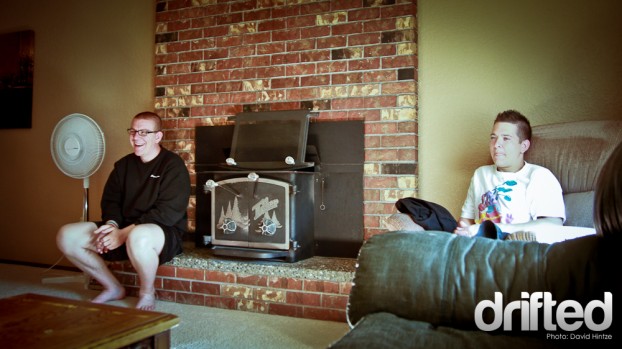 Drivers Erich Hagen and Kyle Pollard also spent the night with some of their pit crews, and spent the morning with some good conversation before heading out to the track.
This is the scene in the early morning, before the crowds rolled in. Everything is silent and empty except for the sound of practice sessions tire burning continuing on before the main event. What was thought to be a rainy forecast turned into a fantastic weekend
Day 2 started out with more practice, and I was able to get to this sweet spot looking down from the entry point to the 5/8th bank. Matt Powers and his Team Need for Speed Nitto Tires S14 and Cyrus Martinez in his Megan Racing 240SX.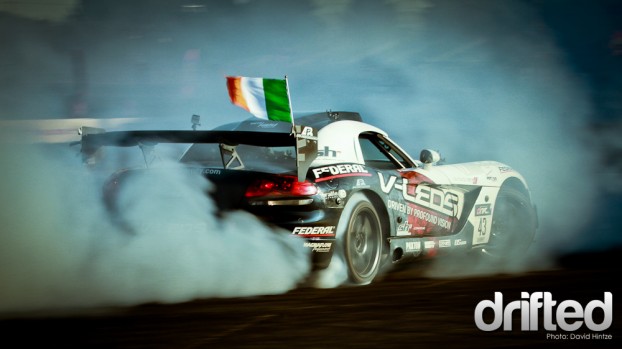 Dean Kearney and his 2008, VLEDs Federal Tire Dodge Viper SRT-10 knows how to bring the smoke, as he shows here coming down toward the end of the run.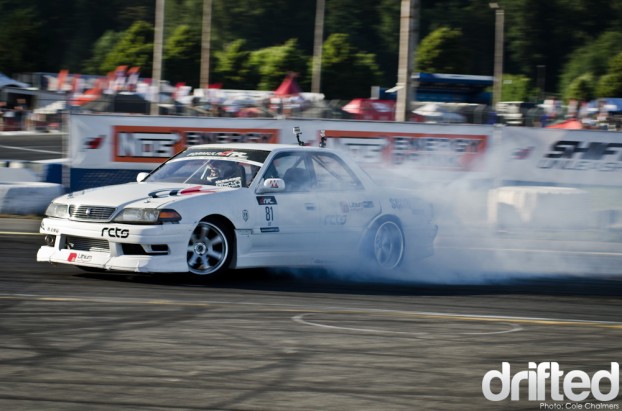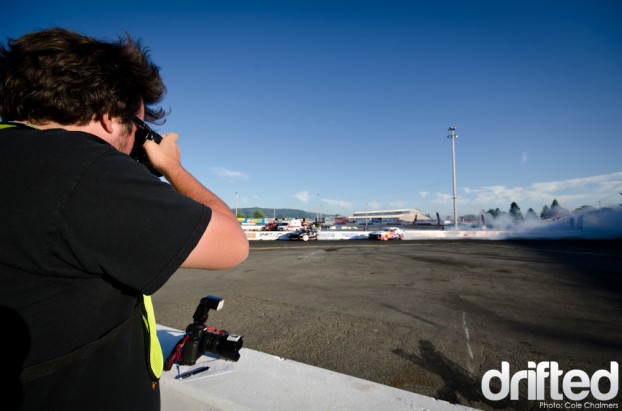 This is a fun spot for photographers, the concrete box that juts out into the track, only part of the track you cant see too well is the 5/8th bank, and thats quite a walk, EXACTLY why I left halfway through the event to buy a scooter at the store down the street from the track, just to get around on!
Vaughn Gittin Jr. and his Monster Energy Falken Tire Ford Mustang pulling ahead during one of many great runs he put down.
As the afternoon started turning into dusk, the sun setting behind the grandstands lit of the track in this fantastic warm light.
Rhys Millen and his Redbull/Hankok Tires Hyundai Genesis going against Kyle Mohan and his Nexen Tire Mazdatrix KMR, and tapping just a bit.
Kyle Mohan showing the crowd how to put out some smoke, Notice that last strip of sun still showing.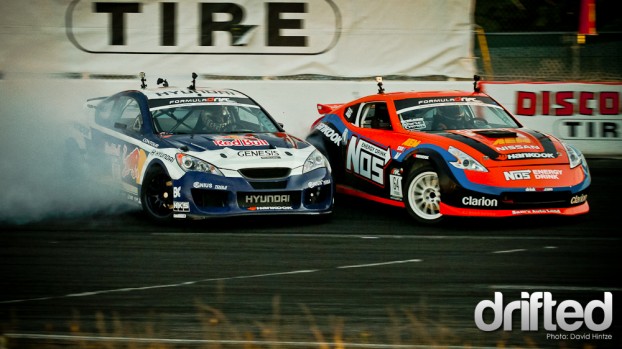 One of the final battles between Chris Forsberg and Rhys before the RedBull Genesis was knocked out.
Fredric Aasbo and his Team Need for Speed Scion Tc took third place after a fantastic run, and that left Forsberg and Dai to battle it out to the finish.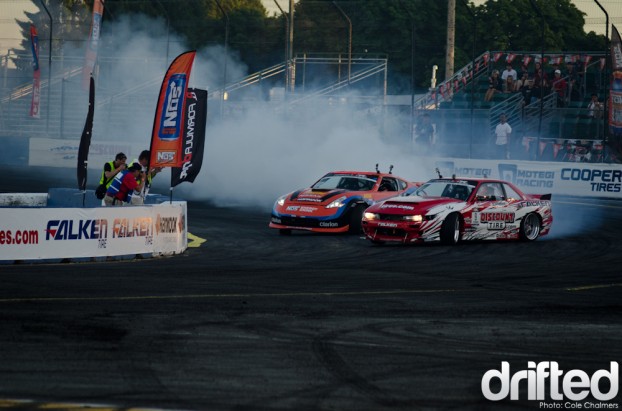 It was close, both drivers putting out their best and getting the most bumper to bumper id seen all day.
Props to Chris and his new NOS Energy Drink Nissan 370Z, you looked awesome out there taking 2nd place, but in the end Dai took first place.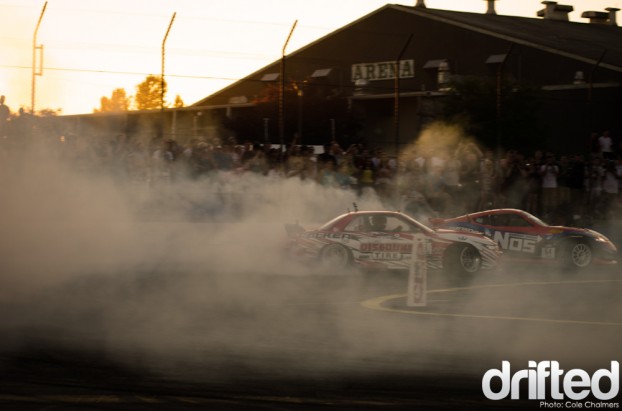 Chris Forsberg, Daijiro Yoshihara, and Fredric Aasbo posing after taking the podium standings.
Formula DRIFT Professional Championship 2011 Point Standings after 5 Rounds
1. Yoshihara, Daijiro
Discount Tire / Falken Tire Nissan S13
412 Points
2. Pawlak, Justin
Falken Tire Ford Mustang
397 Points
3. Forsberg, Chris
NOS Energy Drink / Hankook Tire Nissan 370Z
369 Points
4. McNamara, Darren
Falken Tire Pontiac Saturn Sky
345.50 Points
5. Powers, Matt
Need for Speed Nissan S14
328.50 Points
6. McQuarrie, Tyler
Falken Tire Nissan 350Z
317 Points
7. Tuerck, Ryan
Gardella Racing / Mobil 1 Chevrolet Camaro
308 Points
8. Grunewald, Conrad
Hankook Tire Chevy Camaro
300 Points
9. Gittin, Vaughn
Monster Energy / Falken Ford Mustang
291 Points
10.. Mohan, Kyle
Nexen Tire / Mazdatrix Mazda RX-8
266 Points
11. Aasbo, Fredric
Need for Speed / Hankook Scion TC
250 Points
12. Yoshioka, Toshiki
Retaks Nissan S13
238.25 Points
16. Millen, Rhys
Red Bull / Hankook Hyundai Genesis Coupe
207 Points
14. Gushi, Ken
RS*R / Hankook / Scion Racing TC
188.75 Points
15. Bakchis, Aurimas
Bakchis Racing / Forged Racing Nissan 240SX
185.50 Points
16. Wilkerson, Walker
Fatlace / Intec Racing Nissan 240
185 Points
Round 5: Throwdown Event Results
1. Yoshihara, Daijiro
Falken Tire / Discount Tire Nissan 240SX
Winner
2. Forsberg, Chris
NOS Energy Drink / Hankook Tire Nissan 370Z
Second Place
3. Aasbo, Fredric
Need for Speed / Hankook Scion TC
Third Place
Tires.com Triple Crown (after 2 of 3 events)
1. Yoshihara, Daijiro
Discount Tire / Falken Tire Nissan S13
212 Points
2. Forsberg, Chris
NOS Energy Drink / Hankook Tire Nissan 370Z
153 Points
3. McNamara, Darren
Falken Tire Pontiac Saturn Sky
144.50 Points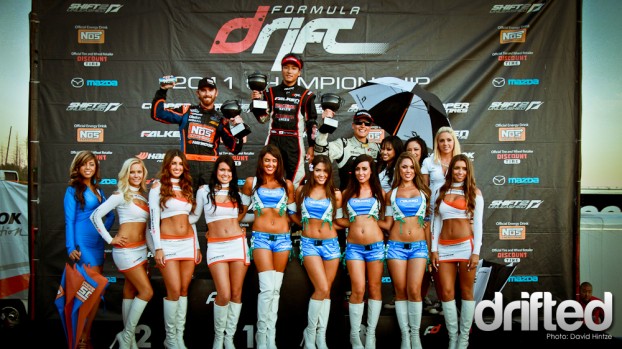 Look at all dem girls!
Photos: Cole Chalmers & David Hintze
Words: David Hintze
Check out the full galleries by myself and Cole:
Cole:
http://www.flickr.com/photos/photograptor
David:
http://www.GwagDesigns.com/Sports/Drifting
Tags: bank, cole chalmers, David Hintze, drifted, Formula D, Formula Drift, monroe, Oval, Pro, seattle, washington
Subscribe to Drifted
If you like this article why not subscribe to Drifted and we will email you our freshest content for free!