EVENT: Formula DRIFT Round 1 Streets of Long Beach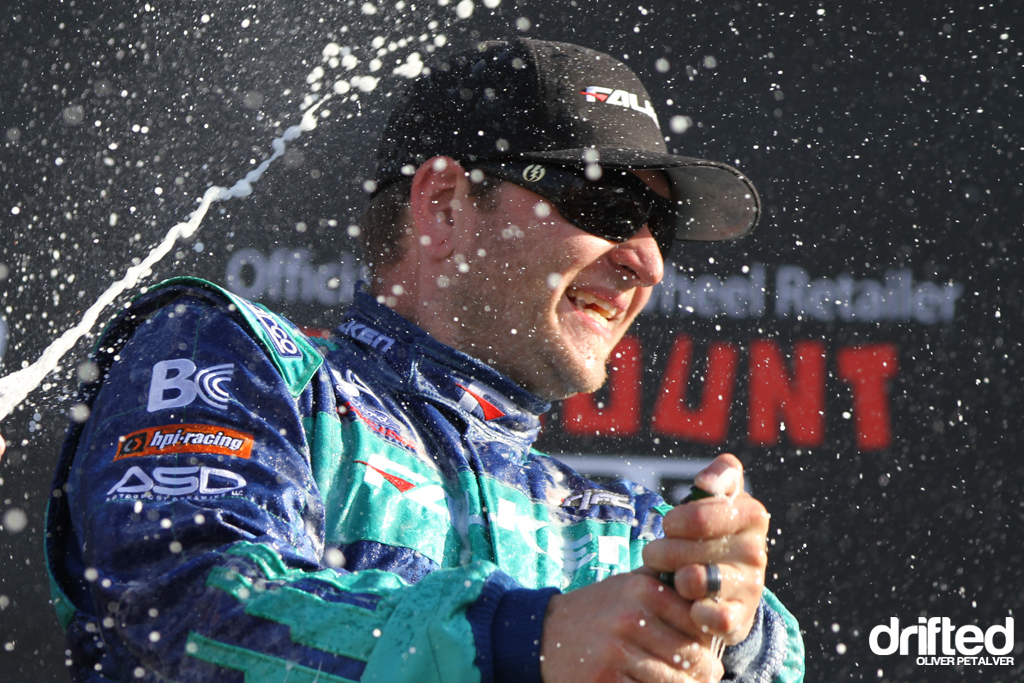 For the first time in Formula DRIFT history, Round 1: Streets of Long Beach opened up to a sold-out crowd! As many of you may have found out via Livestream, Justin "JTP" Pawlak took the top place of the podium 2 years in a row while Falken teammate and 2011 Formula DRIFT season champion, Daijiro Yoshihara, came in second. Drifting fans couldn't have asked for anything more — perfect Southern California weather with the scent of burnt rubber amidst an action-packed event!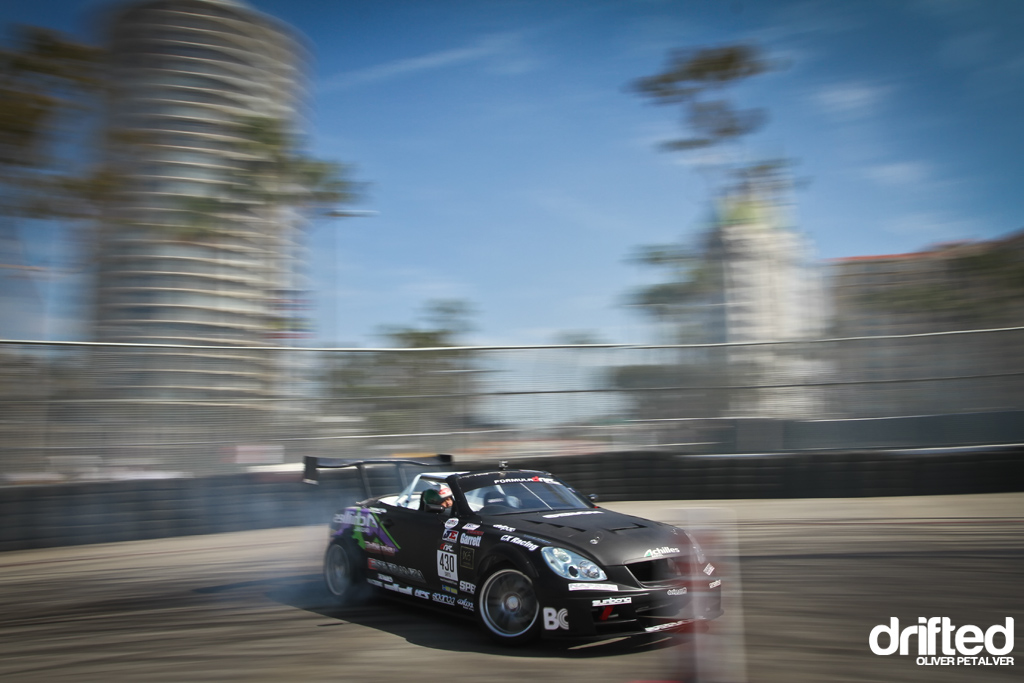 Another fan favorite, Daigo Saito, took third place in the Achilles Tire/Bridges Racing Lexus SC430. Saito, considered a "rookie" in the Formula DRIFT competition, is no stranger to drifting.
He is a Formula DRIFT Asia and D1GP champion. So you could see why many feel he's the strongest contender for "Rookie of the Year."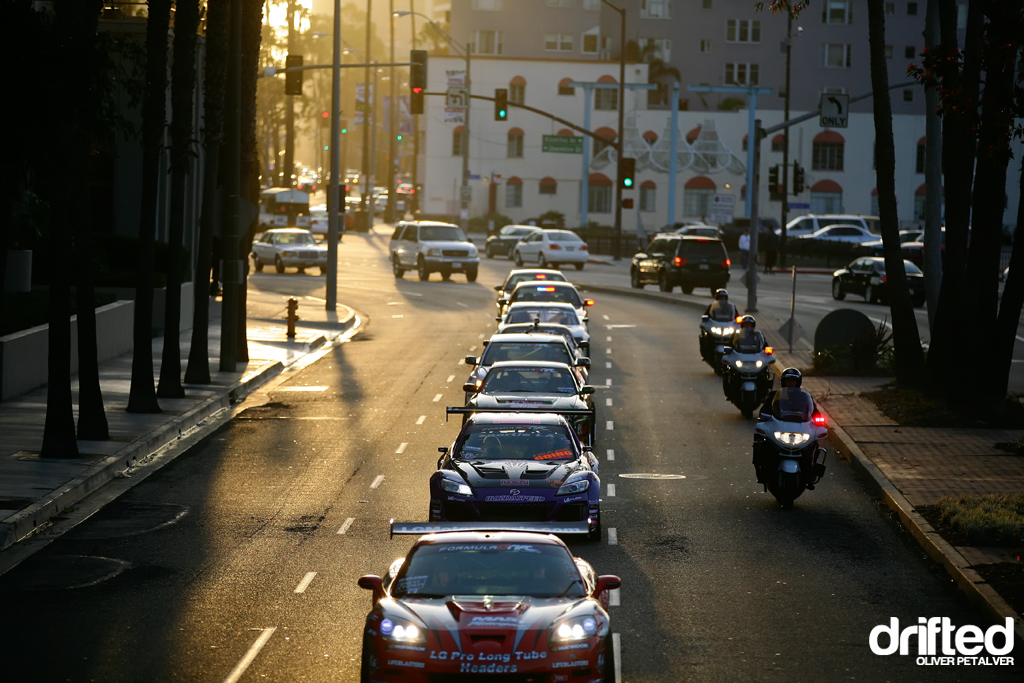 The 2012 season opener gave fans an insight as to how different this season really is. In addition to some rule changes, fans saw drivers switch teams, pick up new sponsors, change cars, and my favorite, new liveries. Unfortunately, some well-known drivers from the 2011 season won't be participating this season. In place of them will be drivers coming from the largest rookie pool in Formula DRIFT history -19!! Here, locals got to witness Formula DRIFT pro cars in their own streets a day before the festivities began.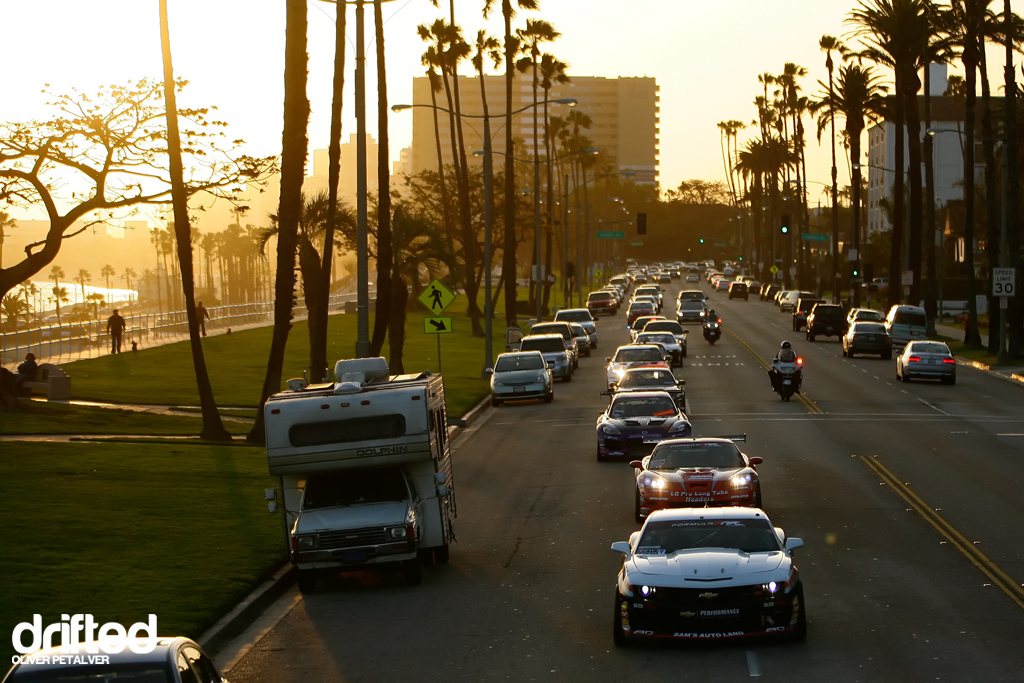 It was the first time the folks at FD decided to take a police-escorted parade to a local shopping center where guests got a chance to unwind before the big day.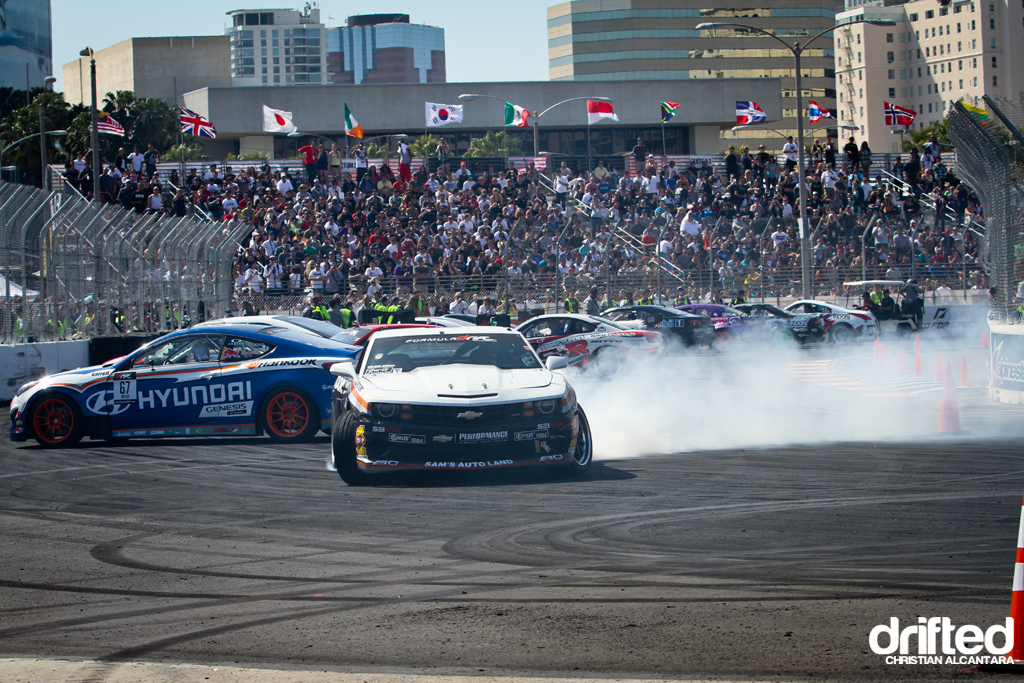 Conrad Grunewald, in his Hankook Tire Cheverolet Camaro, slides sideways during the opening ceremonies.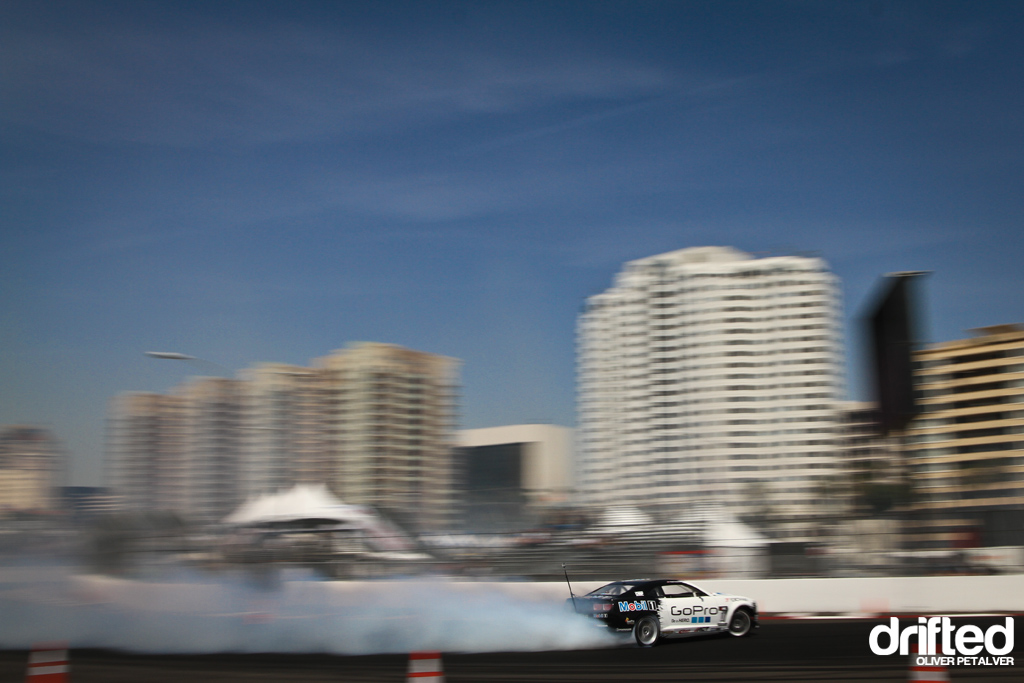 Some of you may remember Tyler McQuarrie and the recognizable teal Nissan 350Z. He was previously on Team Falken Tire. He won 2011 Round 7 at Irwindale. Shortly after his win, he announced he would no longer be with Falken Tire. The question of the off-season was who would pick up this very talented driver.question of the Gardella Racing picked him up during the off-season and he now pilots the Chevrolet Camaro previously driven by Ryan Tuerck.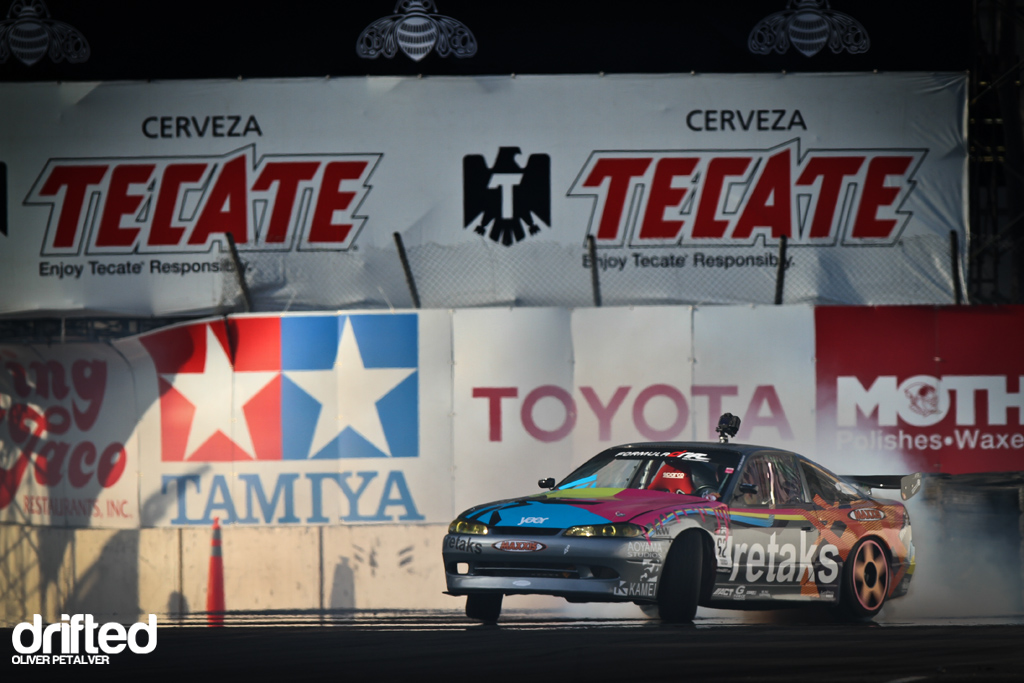 So where did Ryan Tuerck go? The Retaks team quickly picked up the talented driver and he now pilots the Nissan S13 (previously occupied by Toshiki Yoshihara). Tuerck quickly reminded fans why he's a strong contender for this year's championship and qualified first with a near-perfect run!
Yoshioka, in his Nissan S15, and new Team RS*R. Here he battles Chris Forsberg in the Top 16 where he lost.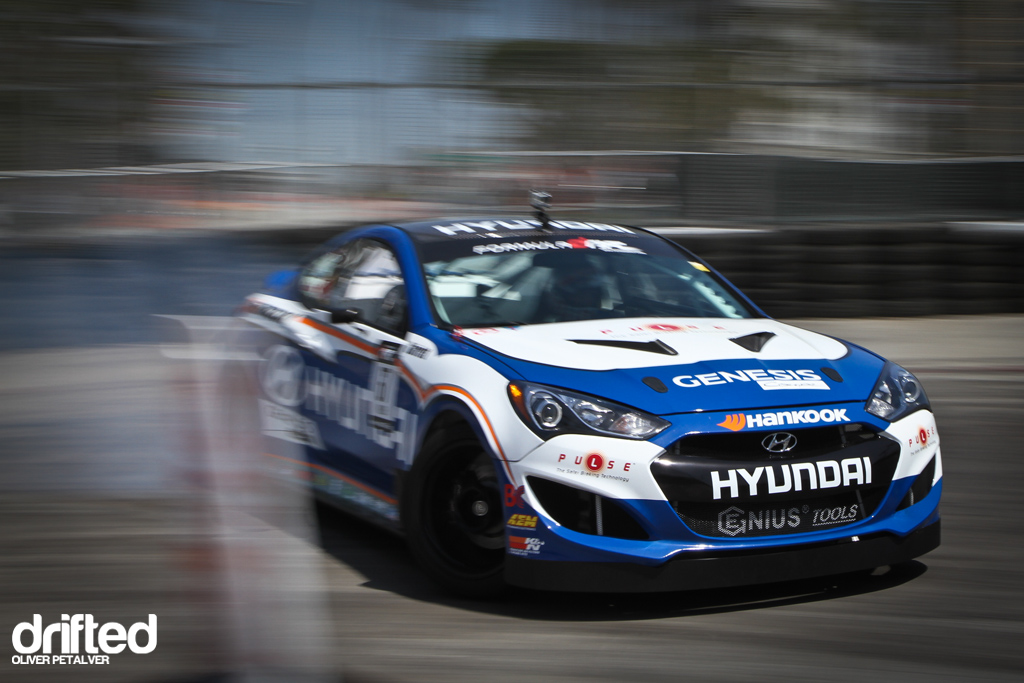 Rumors were floating that Rhys Millen was contemplating retirement after last year's drifting season. I guess the drifting bug got him as he is gunning strong for the 2012 season. As you can tell, Red Bull isn't so recognizable on his car anymore. They're still a sponsor as evidenced by a smaller sticker on the car's side. What do you guys think? I'm digging the new blue livery as it stands out more in a cloud of smoke.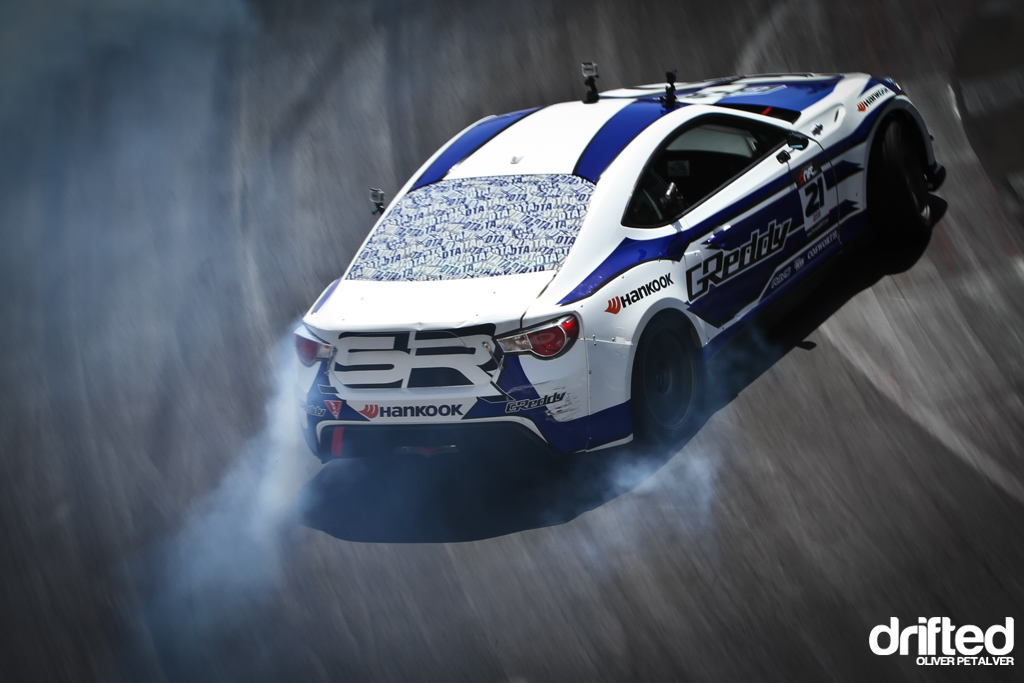 The long-awaited Scion FR-S was something the crowds kept their eyes on. Plus, the new livery is appealing to the eyes. Ken Gushi, previously driving a Scion TC, drove the FR-S all the way to the Great 8 until being defeated by Yoshihara.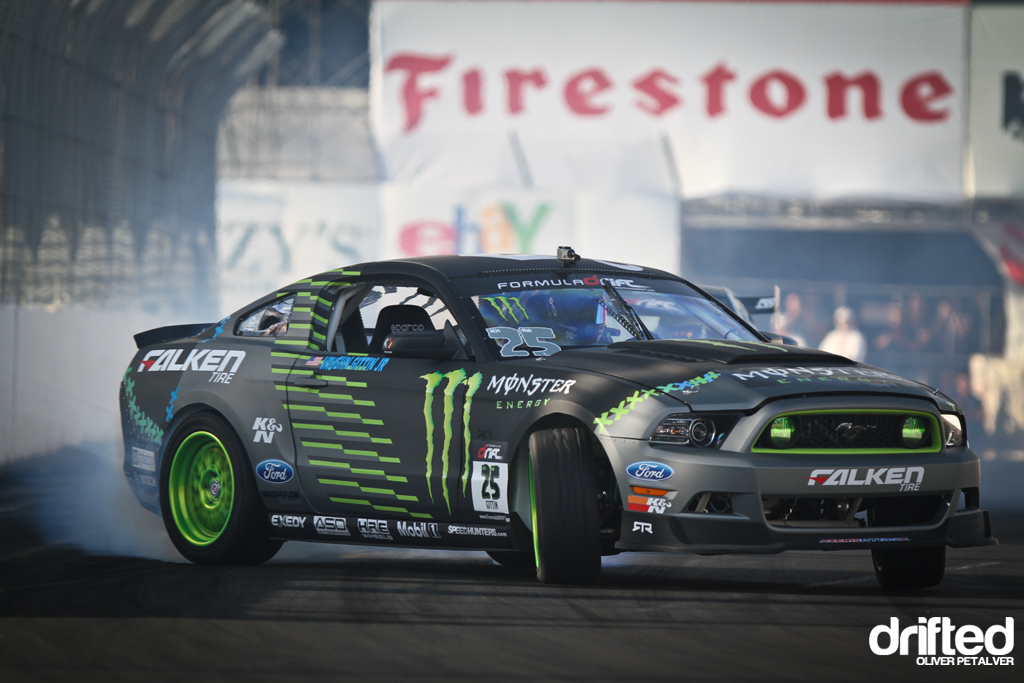 Vaughn Gittin Jr debuted his new livery with flat gray and the infamous Monster Energy green. He did pretty well this round considering he did not qualify in Long Beach last year but ended up losing to Aurimas "Odi" Bakchis during the Top 32.
2011 Rookie of the Year Odi Bakchi debuted his new electrifying livery after picking up Team M7 Japan as a major sponsor this year. Odi did very well and defeated a former champion, Gittin Jr. He ended up losing to Ken Gushi during the Top 16.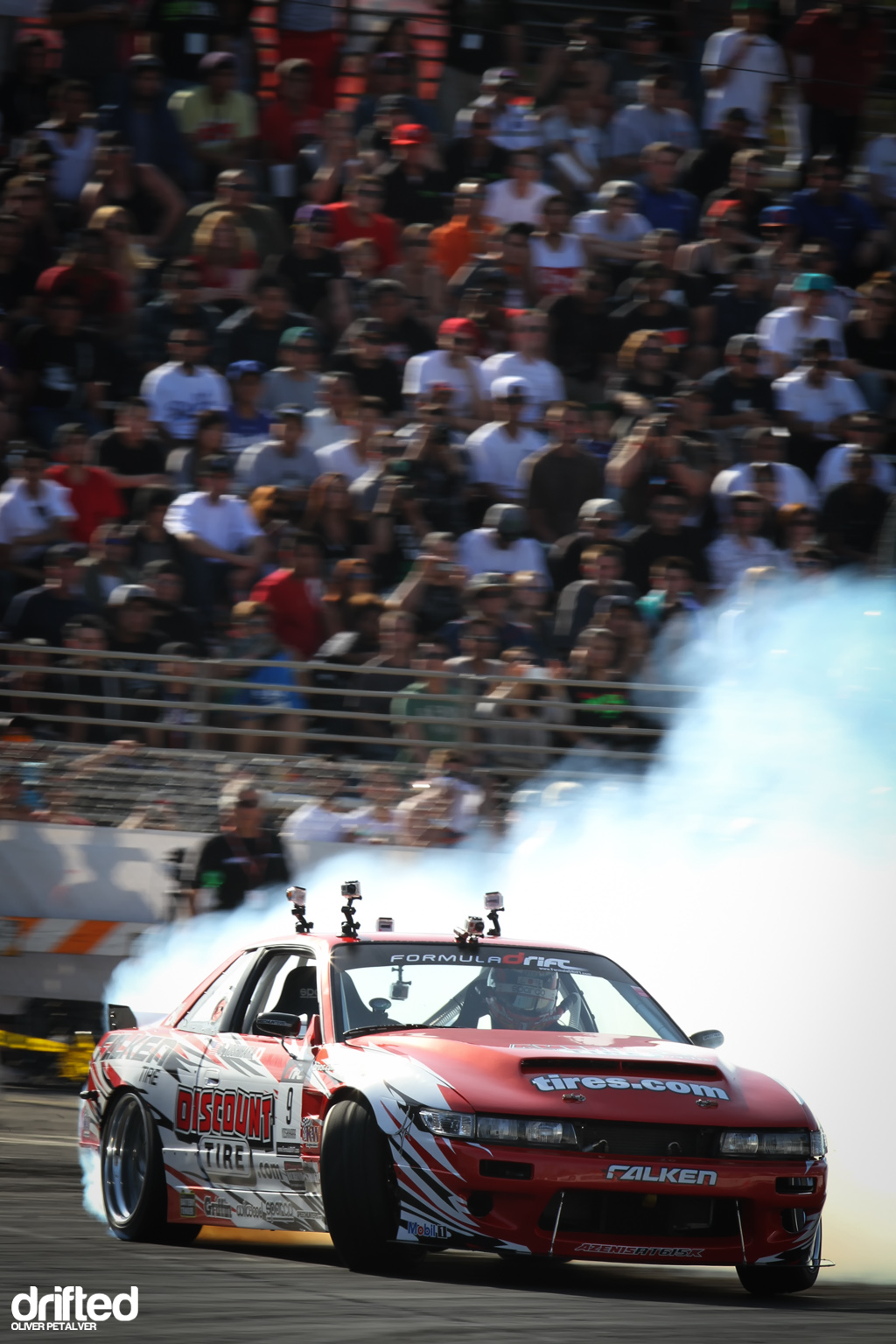 2011 Formula DRIFT champion, Yoshihara, came in a very respectable 2nd place behind Falken teammate JTP.
Here's another angle captured by our newest addition, Christian Alcantara.
Former Formula DRIFT judge Tony Angelo got bitten by the drift bug and decided to go back into the driver's seat. He made his way to the Top 32 but lost to Chris "The Force" Forsberg.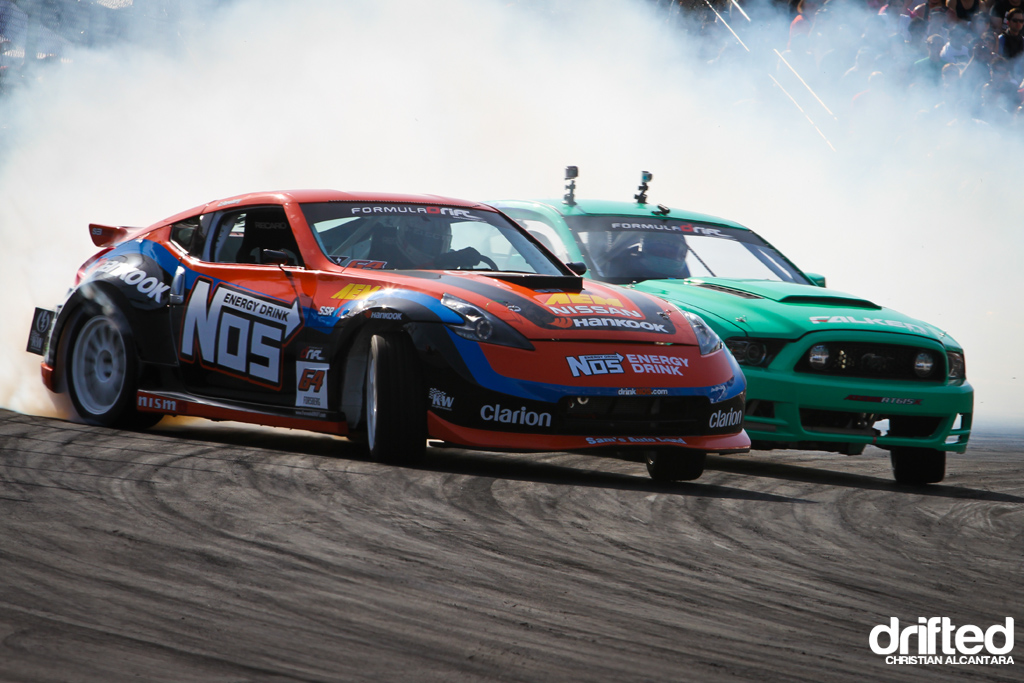 Forsberg battled Justin Pawlak in the Great 8.
Kenneth Moen and his Lutz Performance Nissan 350Z makes contact with the wall and cone during competition.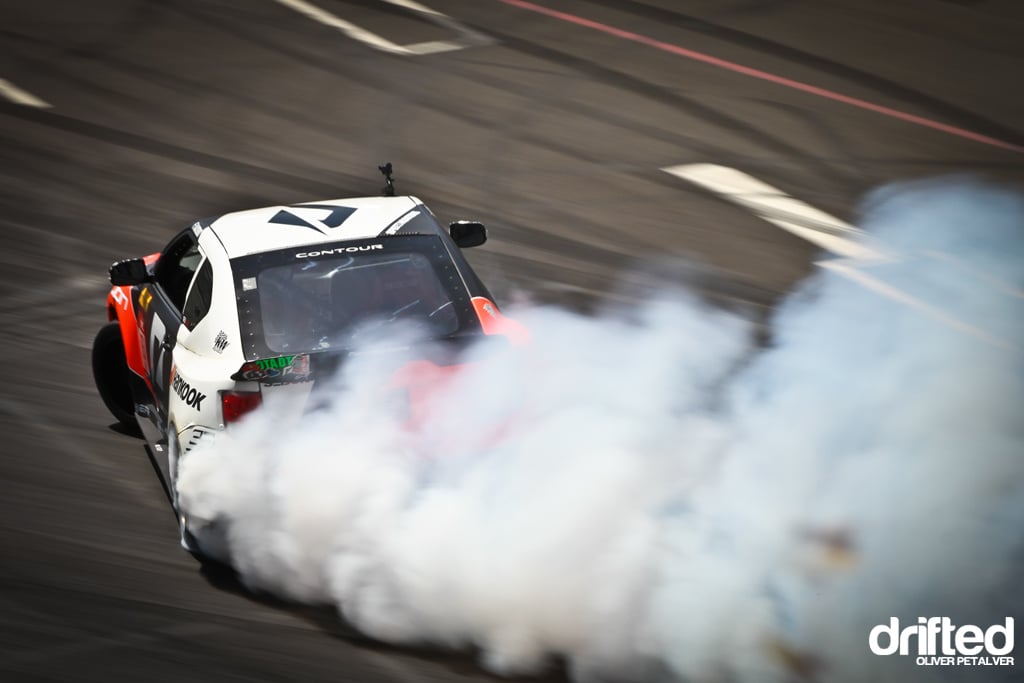 Need For Speed driver Frederic Aasbo debuted his new livery on the Scion TC. In place of the red paint is the new retina-burning orange hue. Aasbo made it all the way to the Top 16 but was defeated by last year's champ Yoshihara.
Need For Speed teammate and fan-favorite Matt Powers drifted his way to the Final Four but was defeated by winner JTP. He battled Daigo Saito for third but lost. Look closely and the driver's numbers and you'll notice Formula DRIFT gave teams the freedom to change the font of the numbering. What do you guys think?
Here's a bird's-eye-view of "rookie" Daigo Saito and his Achilles Tire / Bridges Racing Lexus SC430 as it navigates the first turn of the Long Beach course.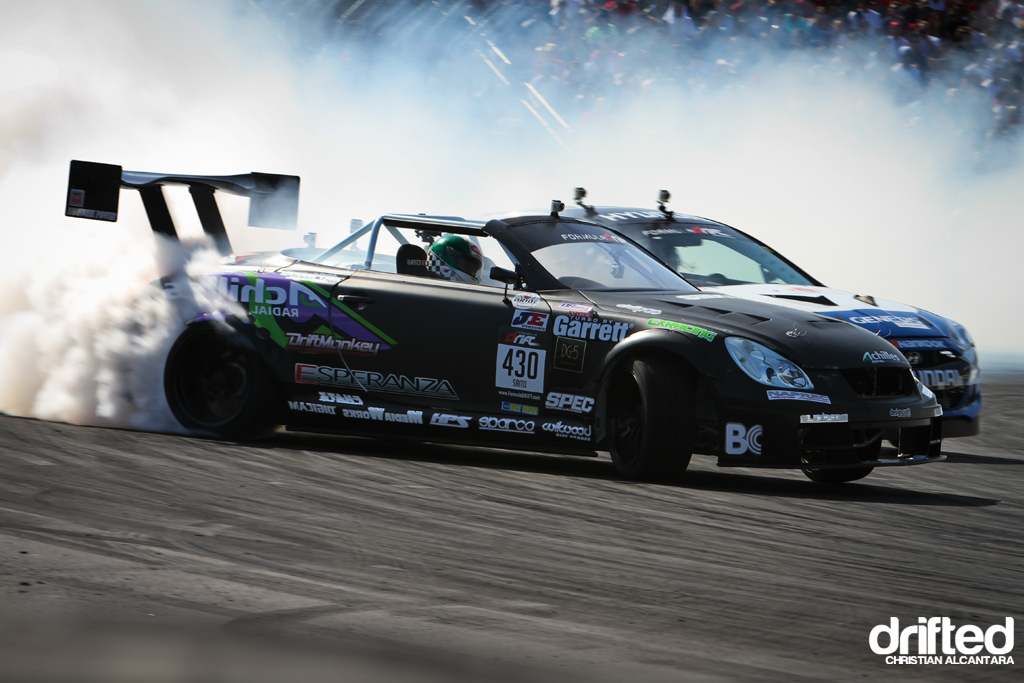 Here's a closer look at Daigo's humongous rear wing on his Achilles Tire / Bridges Racing Lexus SC430 as he slides against Rhys Millen and his Hyundai Genesis.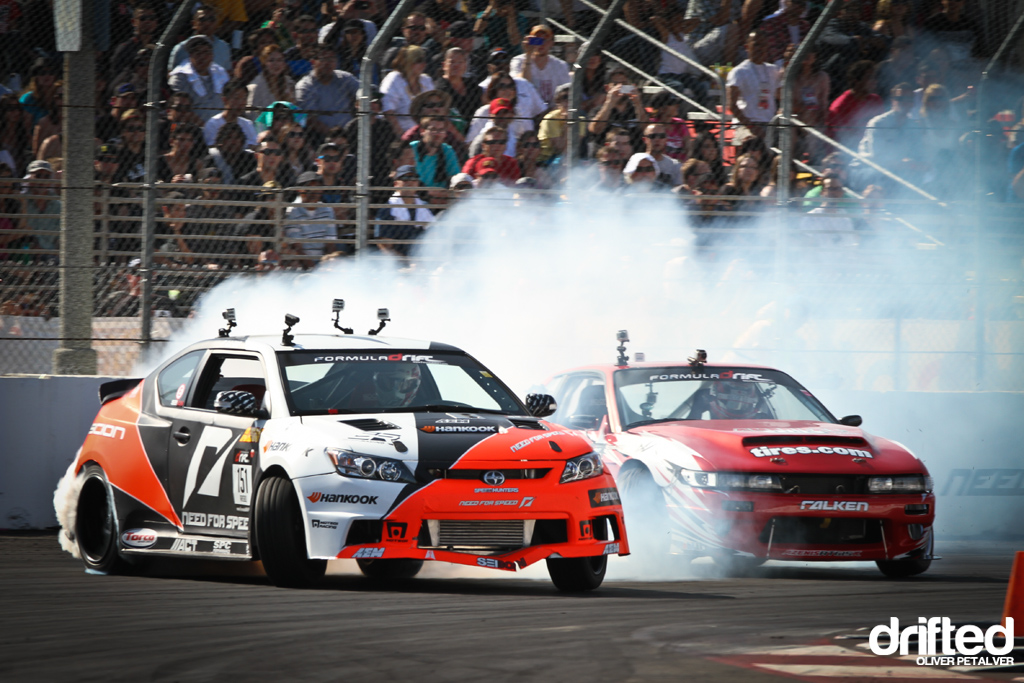 Aasbo leads Yoshihara during the Top 16 competition.
Here's an unusual sight. Aasbo's Scion TC in a handicap parking space at the local shopping center during the pre-event festivities.
The valet was caught checking out Odi Bakchis' M7 Japan / Nexen Tire Nissan S14 in front of Tantalum restaurant. Much different than the typical luxury car he valets every night. I wonder how much Odi tipped him?
The season opener of every Formula DRIFT event is always exciting. Old drivers debuted with new chassis and new liveries. 2011 rookies Odi Bakchis  picked up Team M7 Japan and Walker Wilkerson teamed with Falken Tire as major sponsors. This year, we have the biggest rookie class ever in Formula DRIFT history. Other notable drivers such as Samuel Hubinnette and Charles Ng are absent. Be sure to check out the next event happening in Atlanta on May 11-12. For more information, visit www.formulad.com
::Oliver Petalver