EVENT: Forum Fest 2012 Drift Exhibition
Forum Fest: I would say the biggest and best event in the Northwest. A combination of Drift, Drag and Show, at Pacific Raceways. A lot of hard work is put in by the guys at NWMotiv; they made this event possible, and this year having the largest pre-registration for cars made it out to be one of the biggest yet. Mother nature had other plans unfortunately.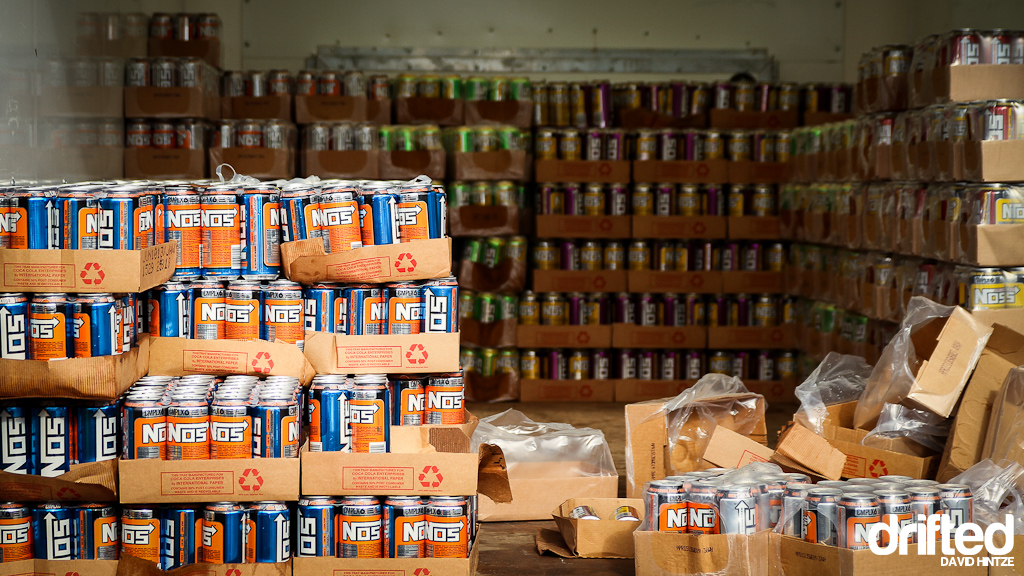 I woke up around 7am and slugged my way out of bed. I proceeded with a good hearty breakfast of McDonalds fat with a side of fabricated "potatoes". I'm sure glad NOS energy was supporting this event as that would be my next stop. Being only 10 minutes away from the track, I drove up and down the freeway for half an hour hoping to find some cars heading for the 9am check-in time to do some rolling shots. No luck. The mobile rolling shot rig I had set up on my car (complete with remote shutter next to my horn button) would have to wait another day.
I arrived at the track and got in the already increasing line to pay and park; I was able to get out and walk my car up as I shot some quick photos of the line. The venue was still a bit wet from the previous night's rain, but the sun started to come out and I was forced to go back and grab a pair of sunglasses.
More cars started rolling in for the show portion of the event, as the NWMotiv staff worked hard to get everyone in their proper spots. Vendors set up and NOS started bringing in the truckloads of drink they would be handing out. Big thanks go out to NOS as always for their continued support of Northwest Events.
I headed over to the area of track where all the drifters were setting up after grabbing a few more shots. 10am; start time. The trucks were going out to get media on the track.
FD licensed northwest driver Roland Gallagher was in attendance, sporting some awesome new vinyl designs on his Nissan S13.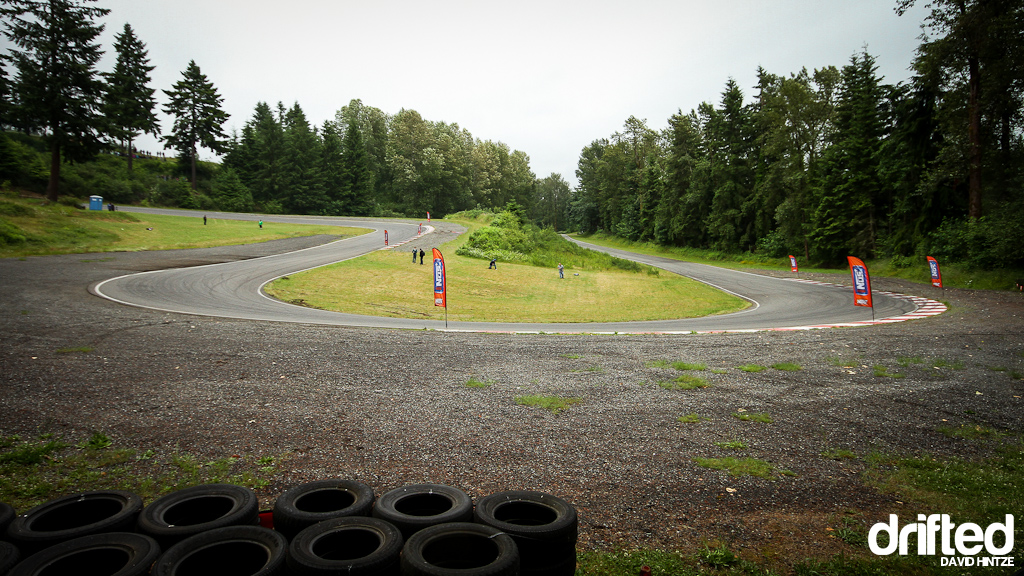 The track itself is pretty unique; a long stretch with drivers reversing after their run and taking the whole thing the opposite direction. The sweet spot is where most of the media goes; a slight hill leading to a downhill S-curve section.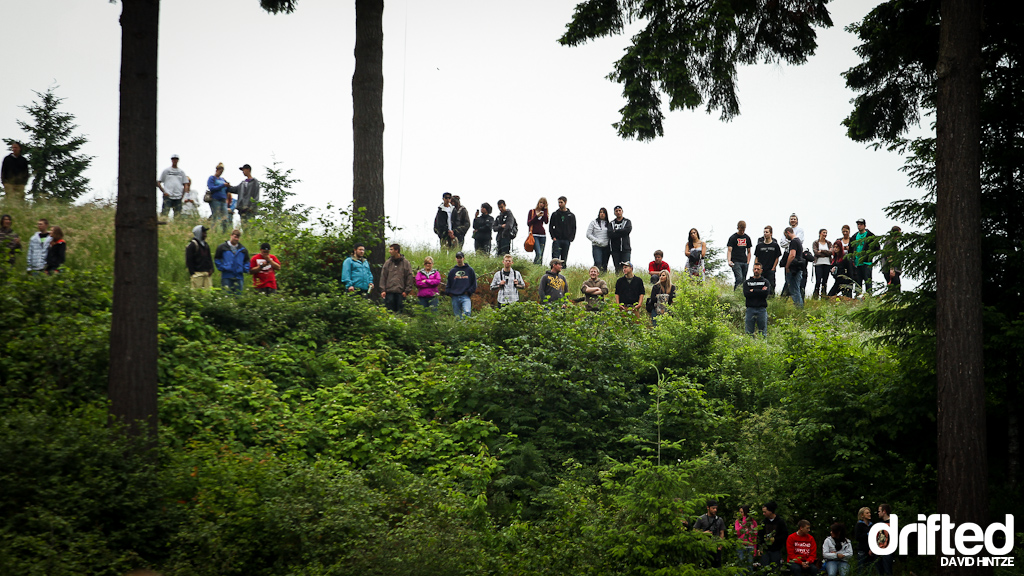 There's an excellent spot for spectators to stand on the hillside, giving a real good look down at the best part of this track.
A good mix of cars were out on the track for the day, all happy that the change in weather meant a dry track to slide on.
The drifting finally started after some delay, and the grassroots drivers were brought out and started their runs.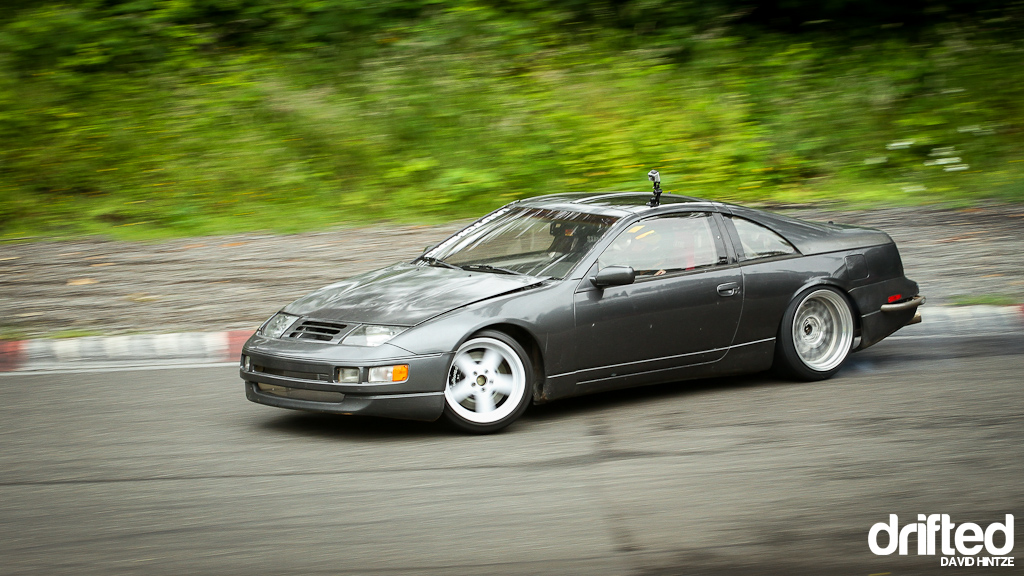 Unfortunately, this car wouldn't be able to take full advantage of its rear wall bash bars. No those things aren't welded to the frame; they've each got coilovers!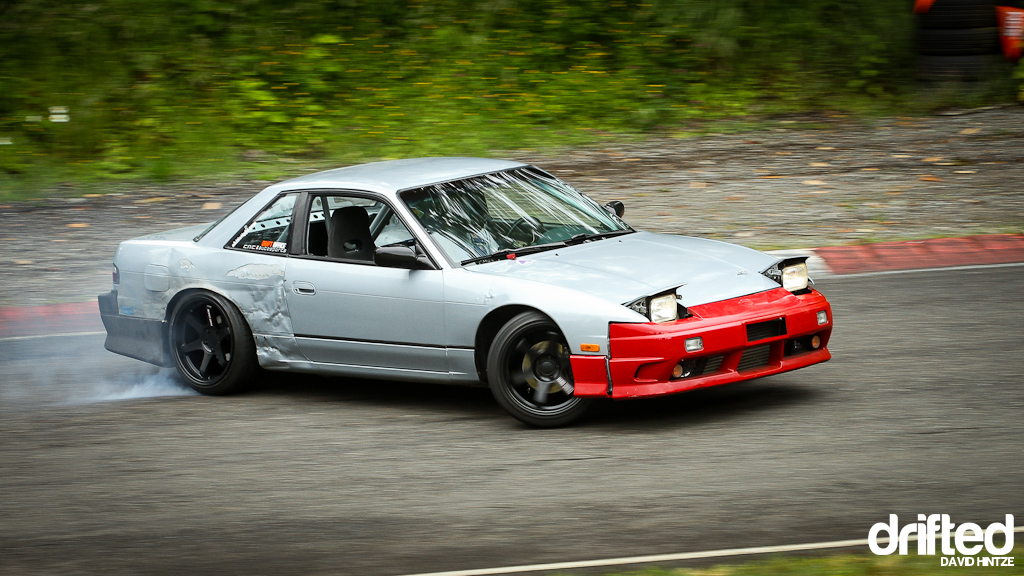 Shortly after all the grassroots drivers had completed their runs, a few sprinkles started.
This led the track to become a bit more slick; the first downhill section can be a bit tricky as far as speed goes, a slight miscalculation and you're backing yourself into the hillside.
And that was the first crash of the day, and first driver out.
Michael "Tweak" Klingele above in his Mazda RX-7
Kory Keezer above in his drift zombie.
As the rain increased in strength, I moved over to a covered area on the opposite side of the track and watched as my fellow media slowly got soaked to the bone.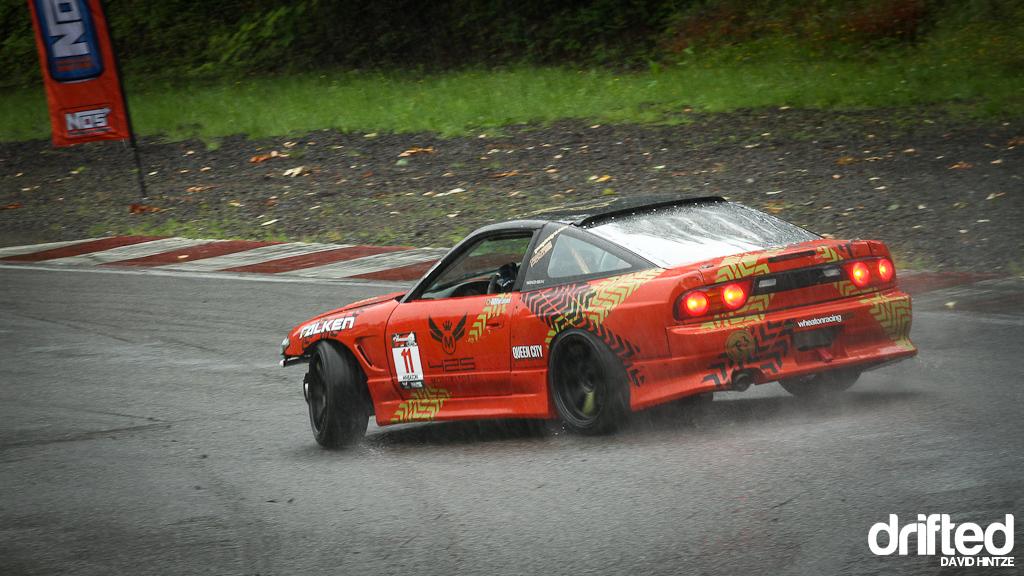 Drivers struggled to find grip on the river of a track that was forming. David Wheaton above was holding his line as he battled the wet weather.
The rain was coming down in sheets by now and after shooting the last driver in the ProAm run group I got a ride back up the start line to find a tent.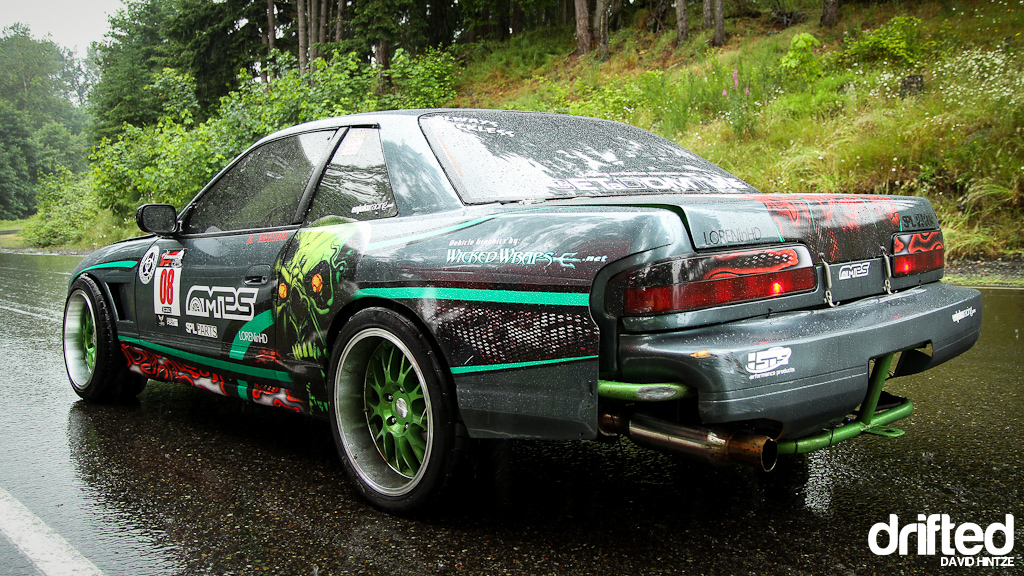 Some drivers gave up as the track was now essentially a river with elevation changes but there was still a line waiting to have some fun for as long as possible. I snapped this quick photo of Kory Keezers new vinyl design; seems the zombie theme is an ever growing trend.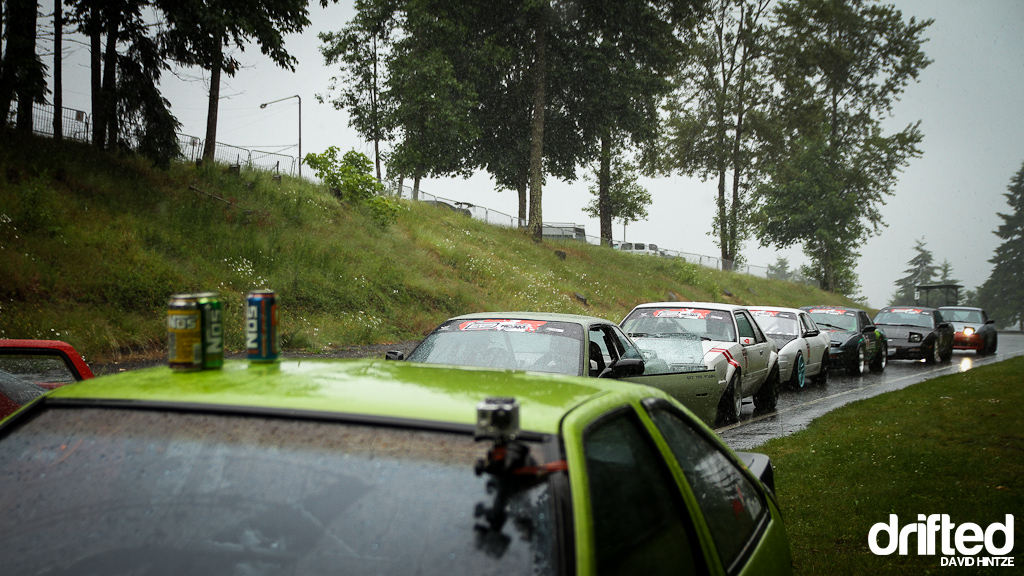 Eventually driving was called off, an hour break was decided to see if the rain would let up or get worse. It got worse. This is the way of Washington weather. I write this now during a nationwide extreme heat alert, where places such as Atlanta are as hot as 105, but here in Seattle its cloudy with fog and rain.
Me and a few buddies ran to the nearest covered area and then proceeded with an intricate game of tent hopping to get to the next destination. Drags had been canceled, and the car show was starting to dwindle as everyone found a car or tent to hide from the rain. I was already soaked to the skin and decided against shooting the car show.
As I left for work around 1pm the line to get in was still growing, as was the line to get out. It's Washington; it rains all the time but that doesn't seem to stop people from coming out and supporting the ever growing car scene.
-David
Full Gallery: