EVENT: GrassRoots/ProAm Evergreen Drift Round 1
The premiere event everyone was looking foward too at Evergreen Speedway. The first round of ProAm as well as Grassroots had begun practice before I arrived. Luckily, this event was scheduled to start later than most So getting off work at 3pm left me plenty of light to shoot. Over 40 Grassroots and 20 ProAm drivers made for plenty of action.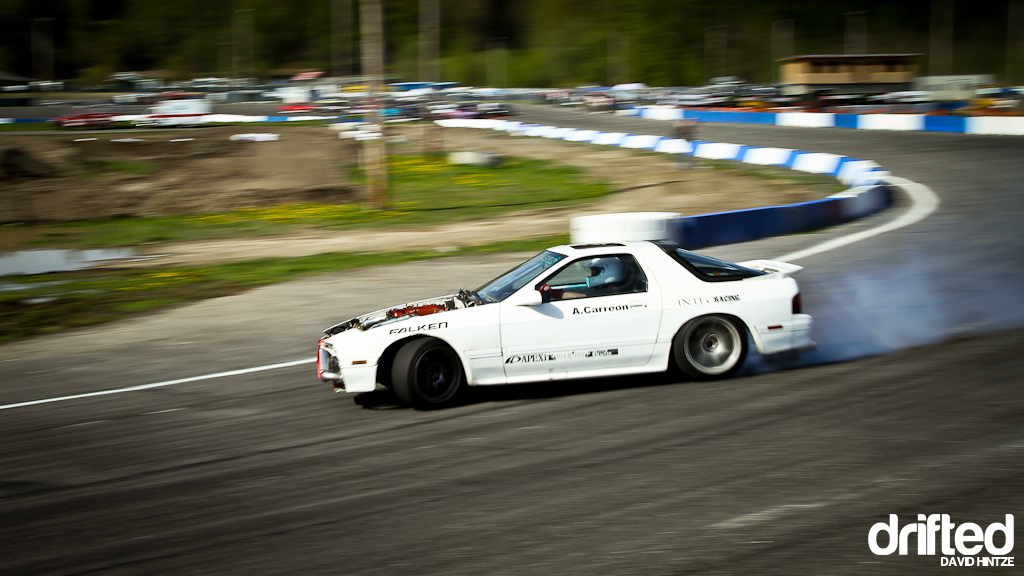 In the usual manor, Grassroots practice on the 3/8th continued on with intermittent runs on the 5/8th by our ProAm drivers. Anthony Careon above made the switch from Nissan and finally got his RX7 out on the track.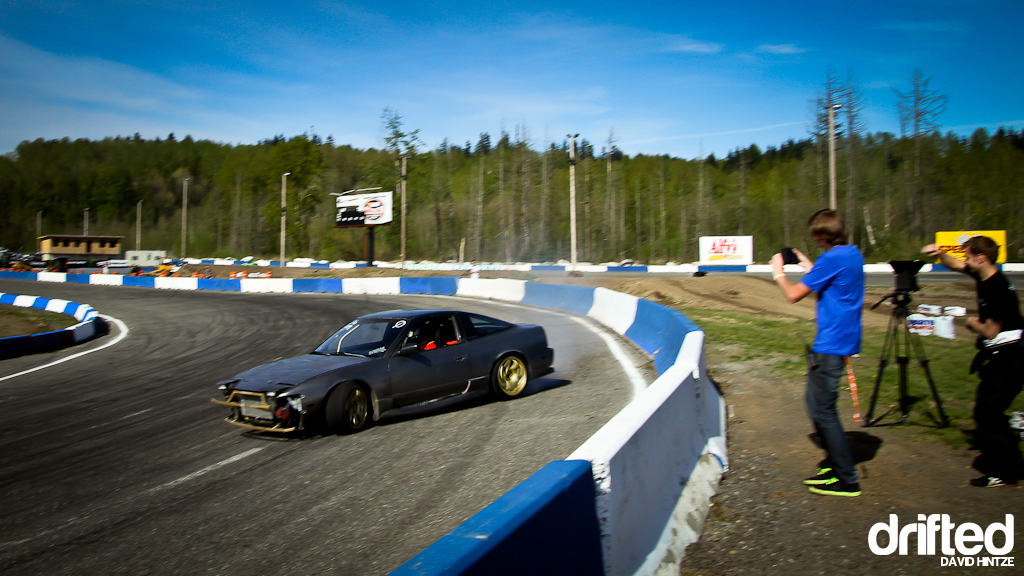 With the new 3/8th wall in place, media gets a great vantage point, and the drivers also get a bank to tap some wall, a couple people left their marks by the end of the day.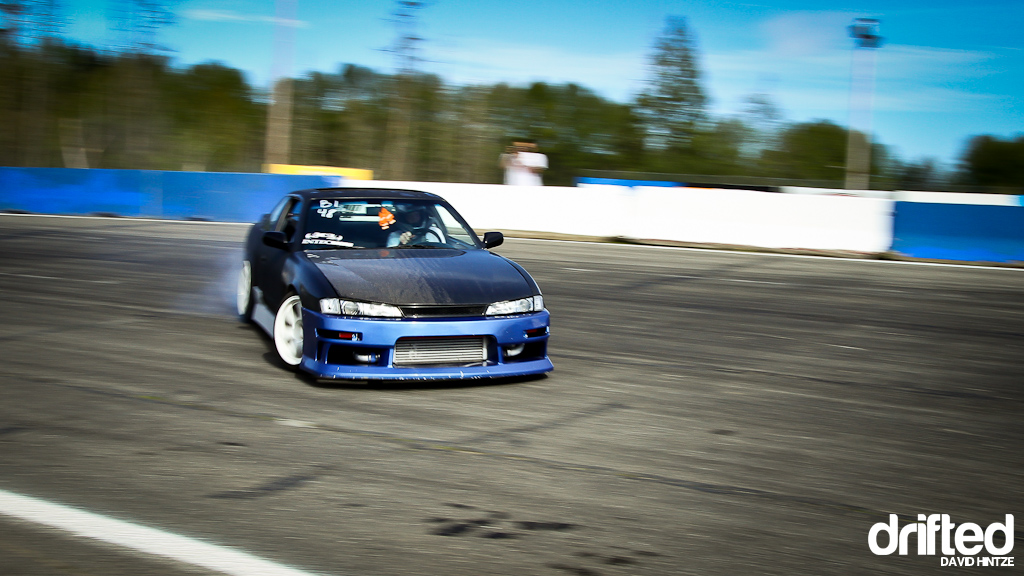 It seems there's about 10 new drivers at every event, its quite hard to keep track of, quite a few not having been on a track very much and many showing surprising skill on the bank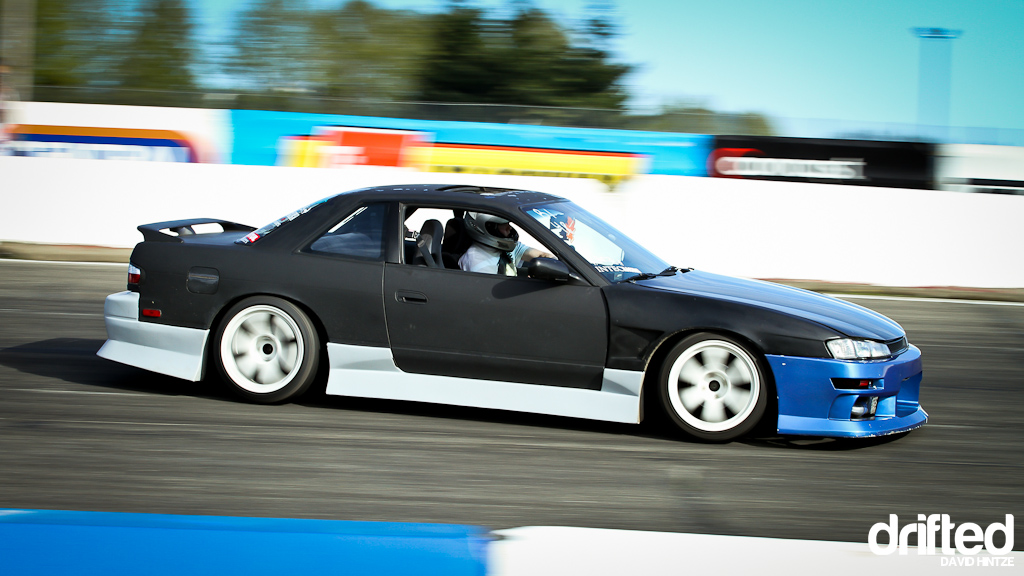 I'm definitely diggin the multi tone paint job on this car, however unintentional it may be.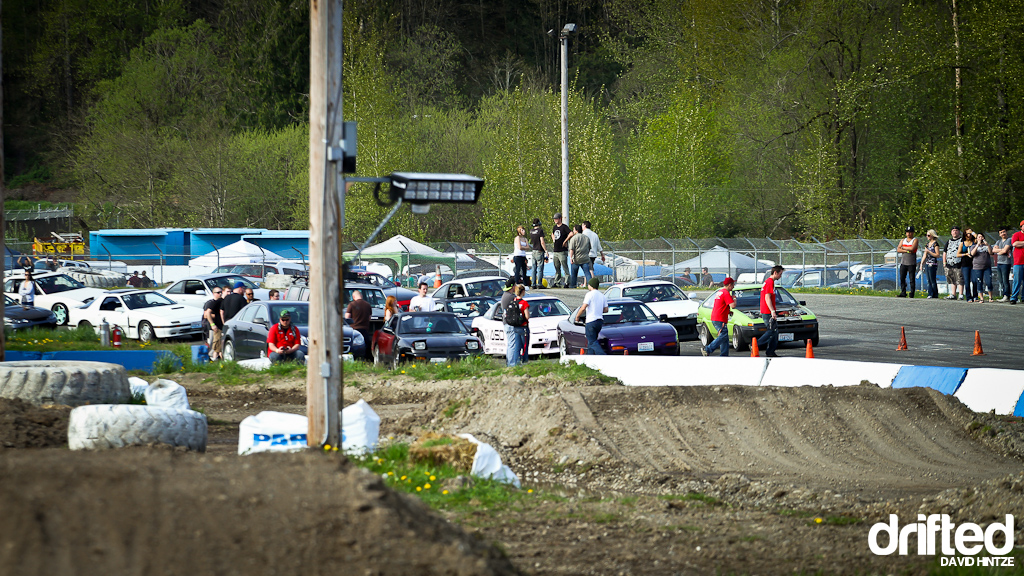 The starting grid was packed, and that's only 1 run group.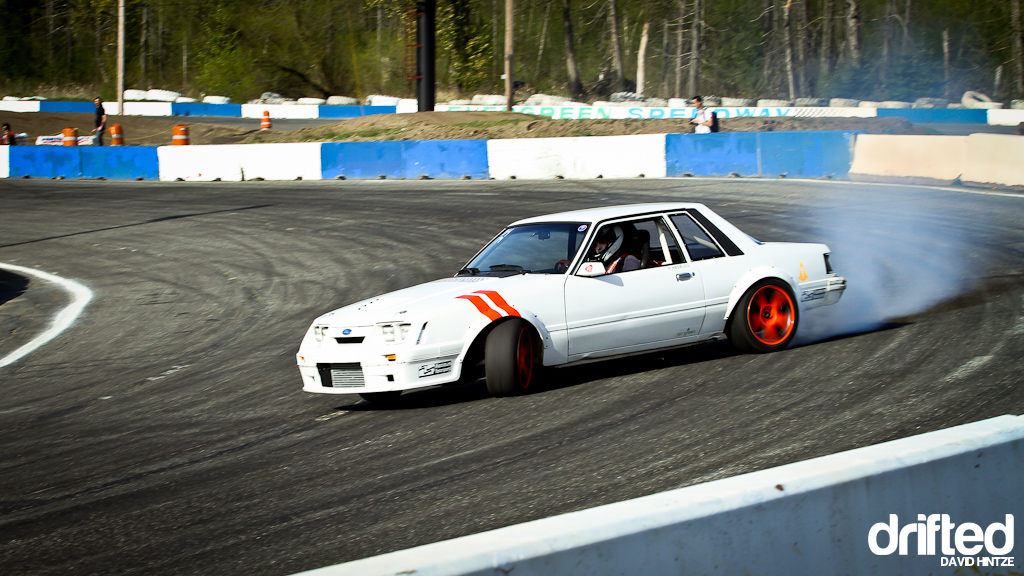 David Nedelcu's foxbody coupe. It's not too often you see a mustang like this getting slideways around the track. No one drives it like he does.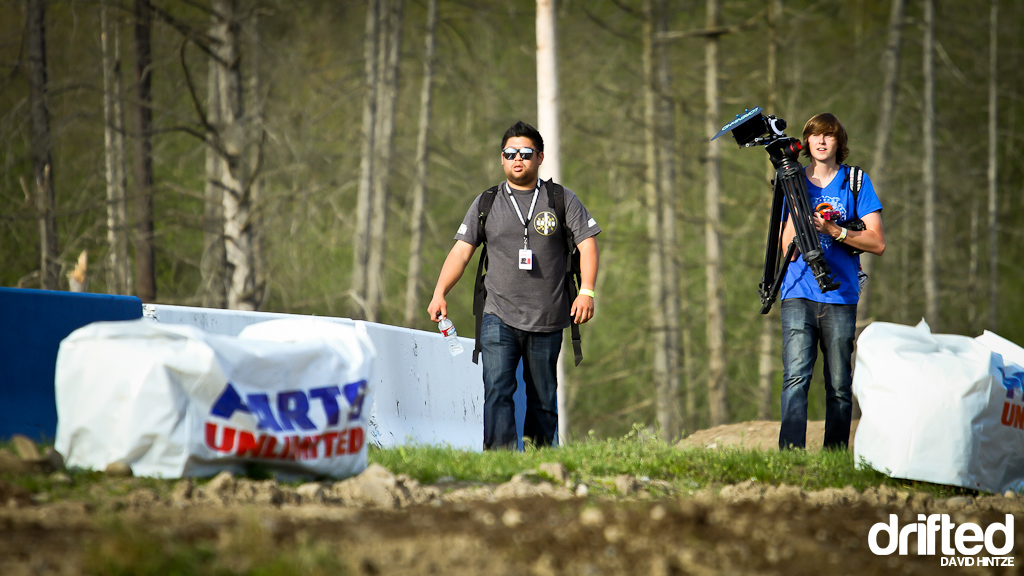 Yoshi Shindo of Motormavens, and Loren of LorenInHD taking a stroll, both these guys do excellent work.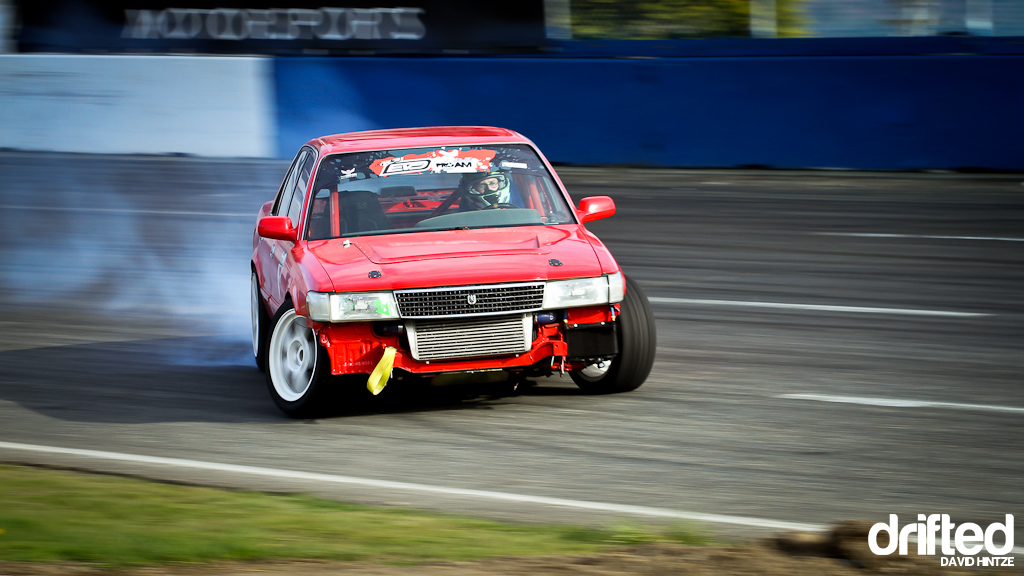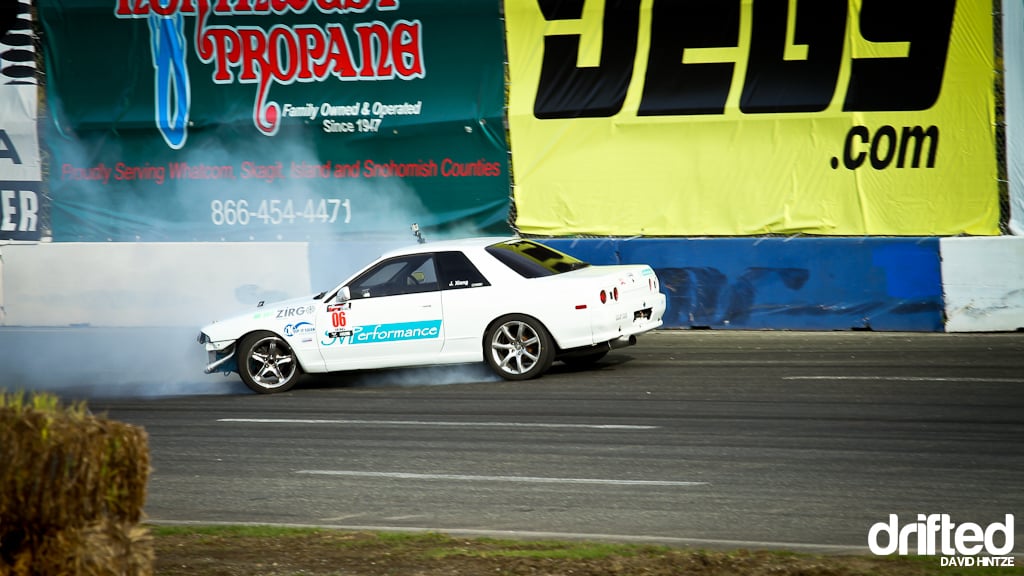 A few close calls on the 5/8th bank almost left a few drivers without a tail end, knowing how to control your car if it spins out it crucial at Evergreen, those concrete walls don't forgive.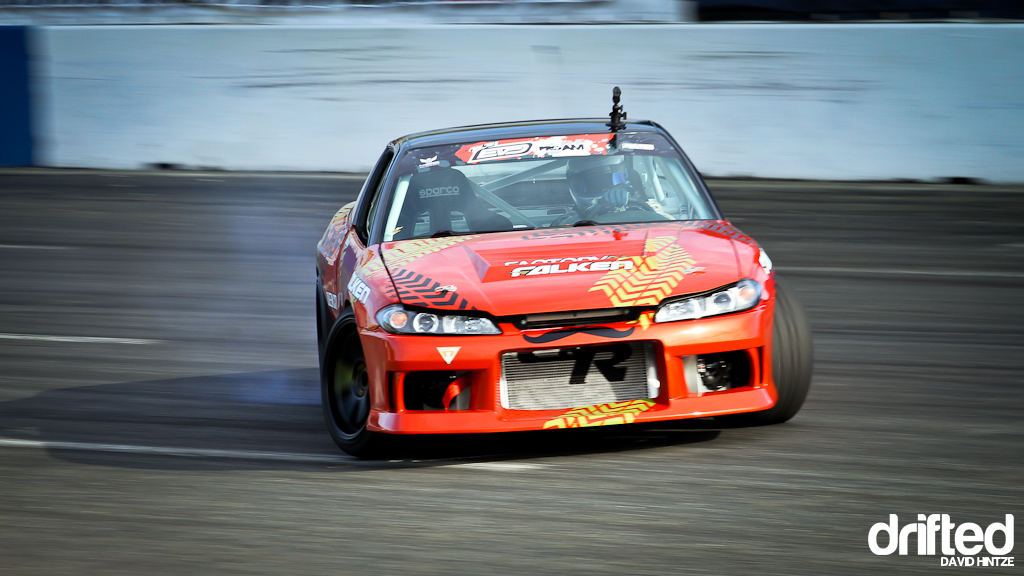 David Wheaton just got a new design on his car (not completed) from Factory83, featuring, well, wheat. And lets not forget that mustache up front, David is rocking a pretty mean one on his face as well.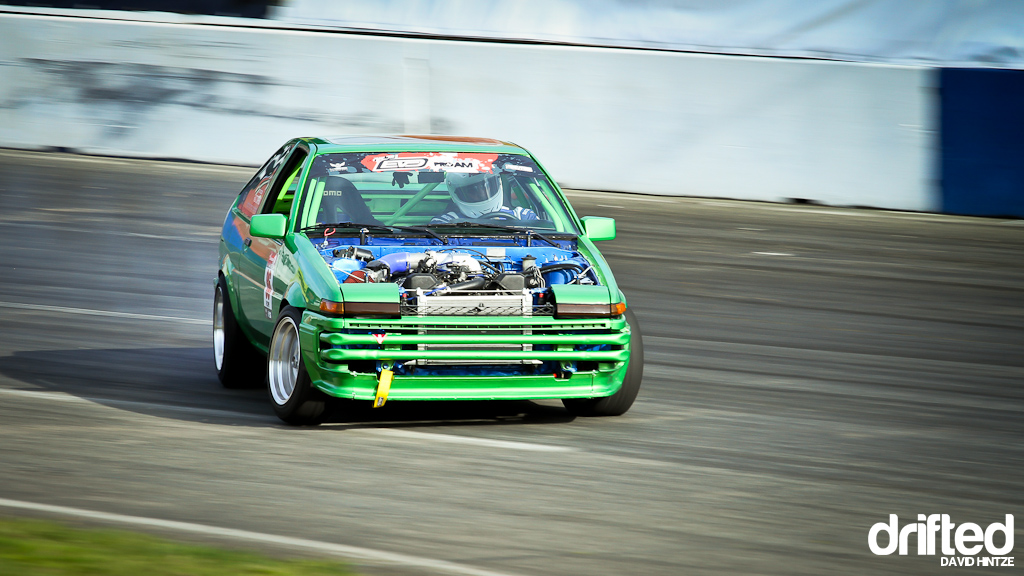 Kelly Thorpe is still one of the few who choose the Corolla, and I love this car!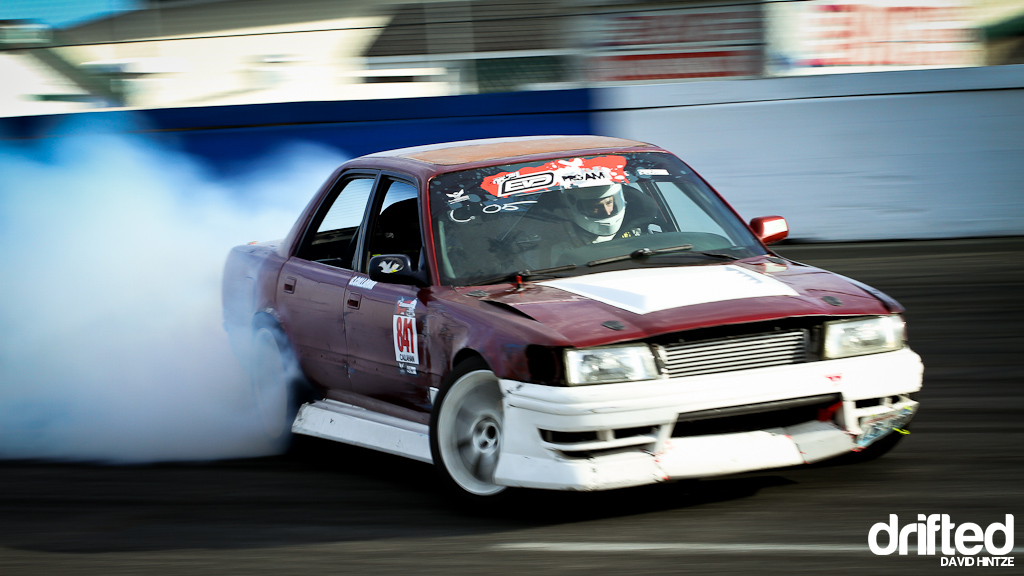 Galen Callahan is another one of the younger drivers to take on the 5/8th bank, but his skill and car are all he needs to get the kob done. I absolutely love seeing this car and driver on the track.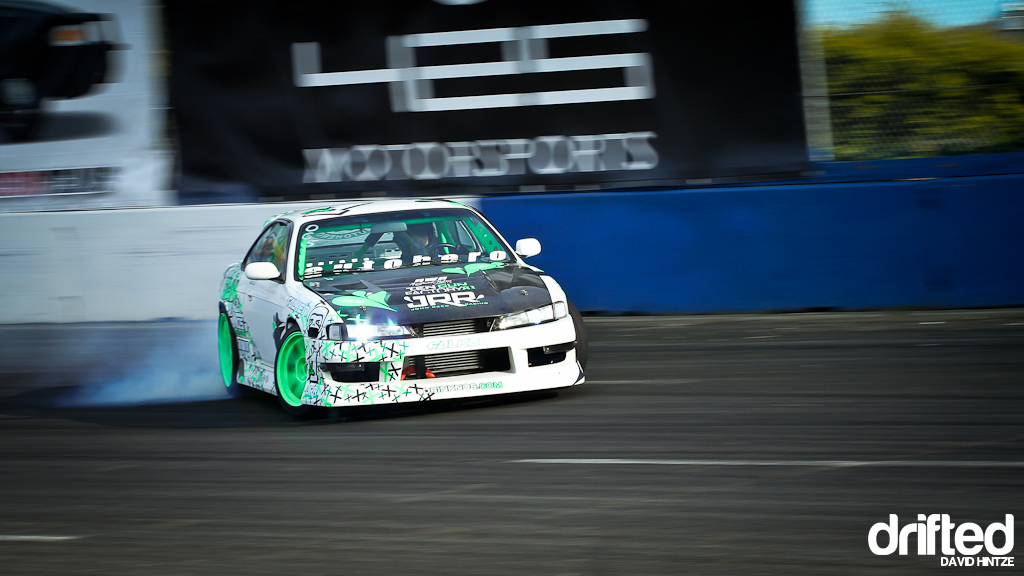 Rob Primo recently got some new vinyl work done on his car and he has major plans to compete at every event this year. He drives solid and I'm positive we'll see him in Formula Drift.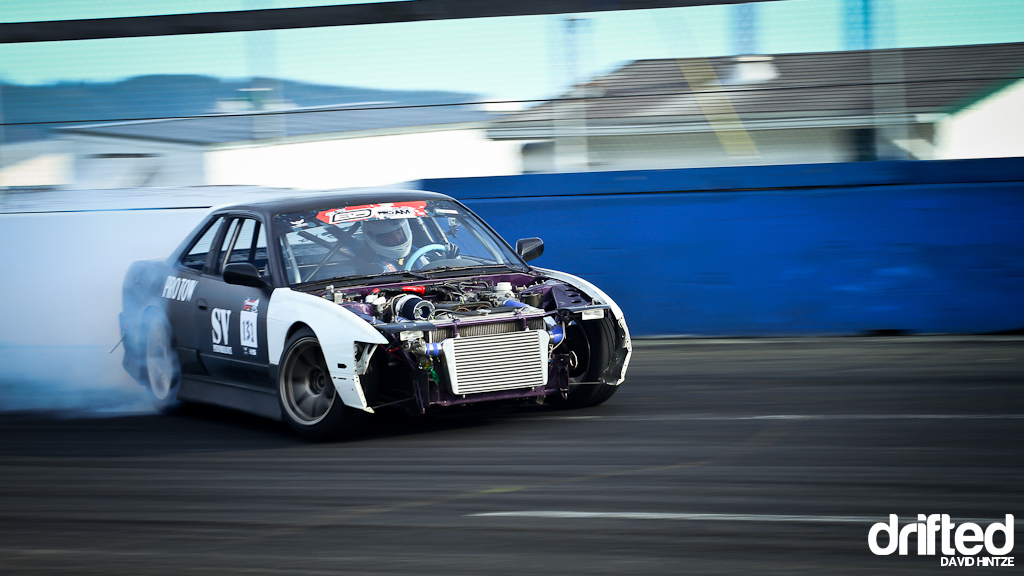 Jeremy Richter, a rookie, was surprising  judges with his consistent speed and skill as he tacked the 5/8th bank during practice.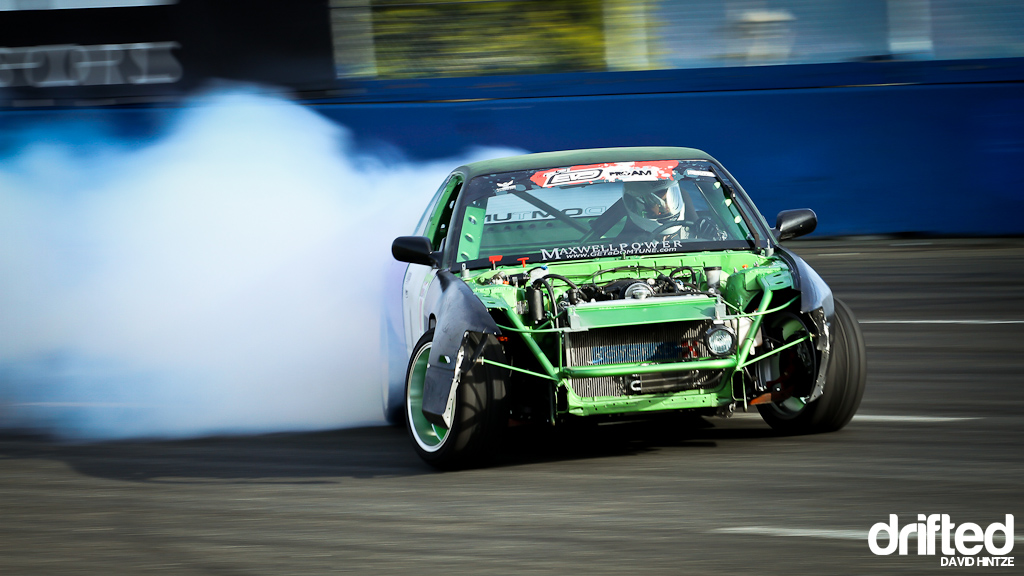 Kory Keezer brought out his new ride, still missing a few aesthetic parts in the front, but I think it looks beast this way!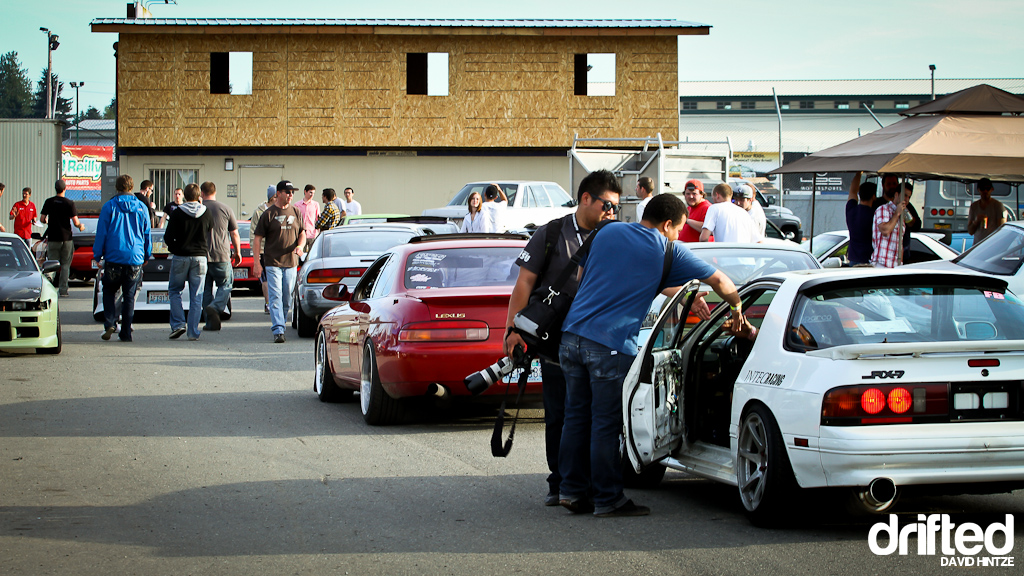 The pits were packed as well with drivers waiting in line to get on to the starting grid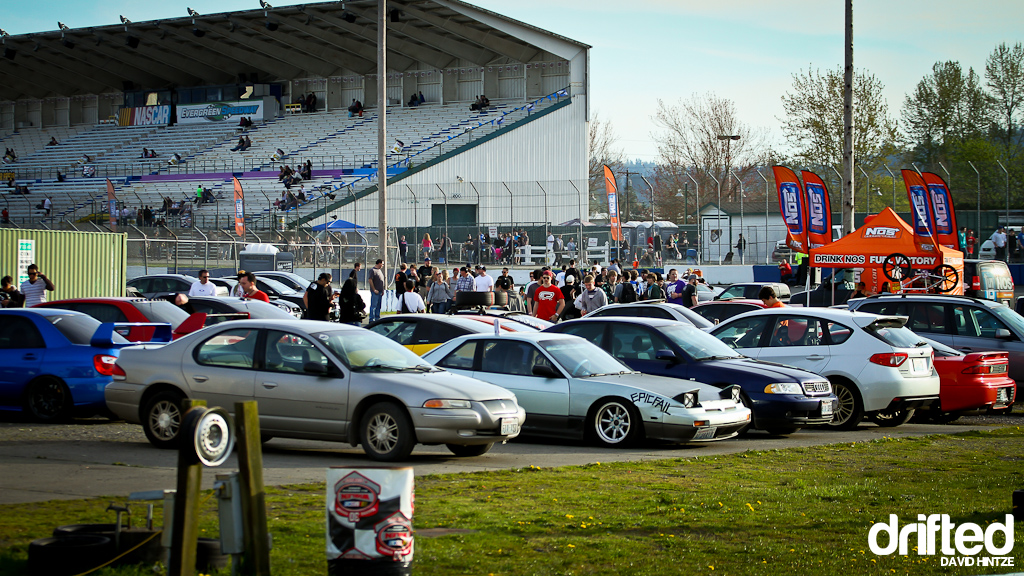 A brief intemission allowed people sitting in the grandstands to come down and walk part of the pit area that was open to the public. A few vendors, a small car show, and our lovely NOS girls were in attandnece.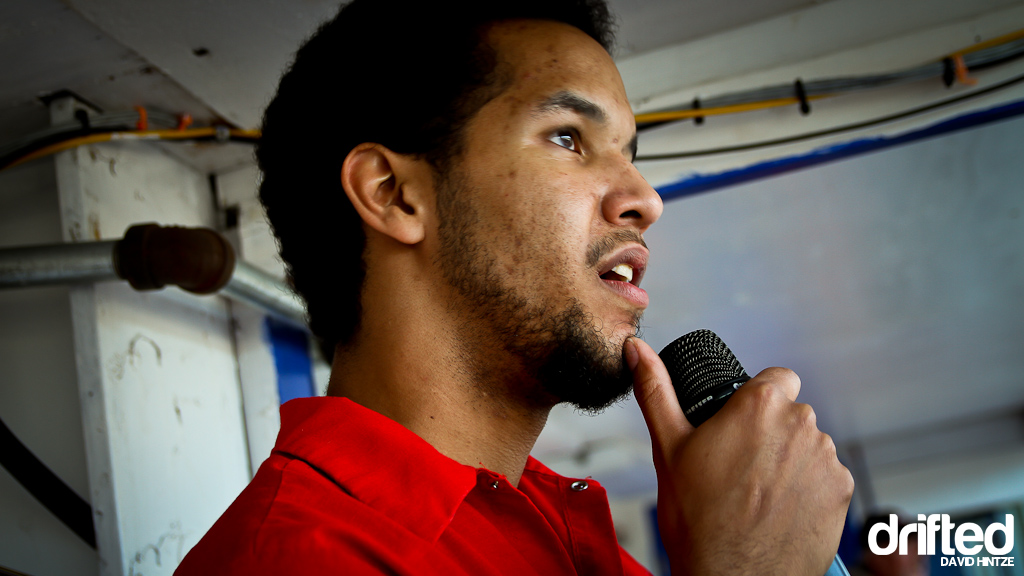 The voice of the northwest Mat Risher was in the announcers booth agian like always. This guy shows intense support for the community.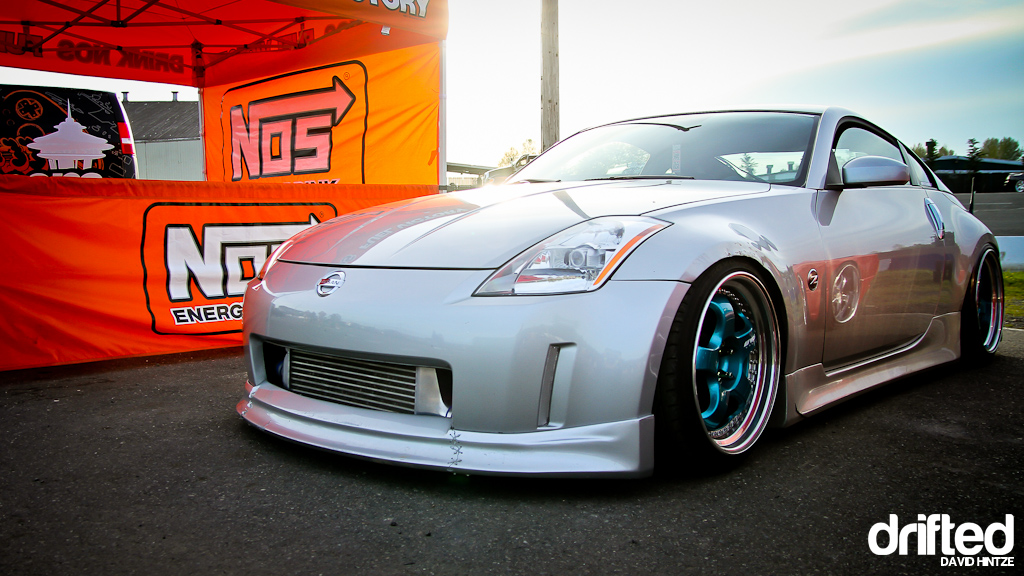 A almost perfectly clean 350Z  was at the car show parked next to the NOS booth,  belonging to the guy everyone in WA seems to know, Zach.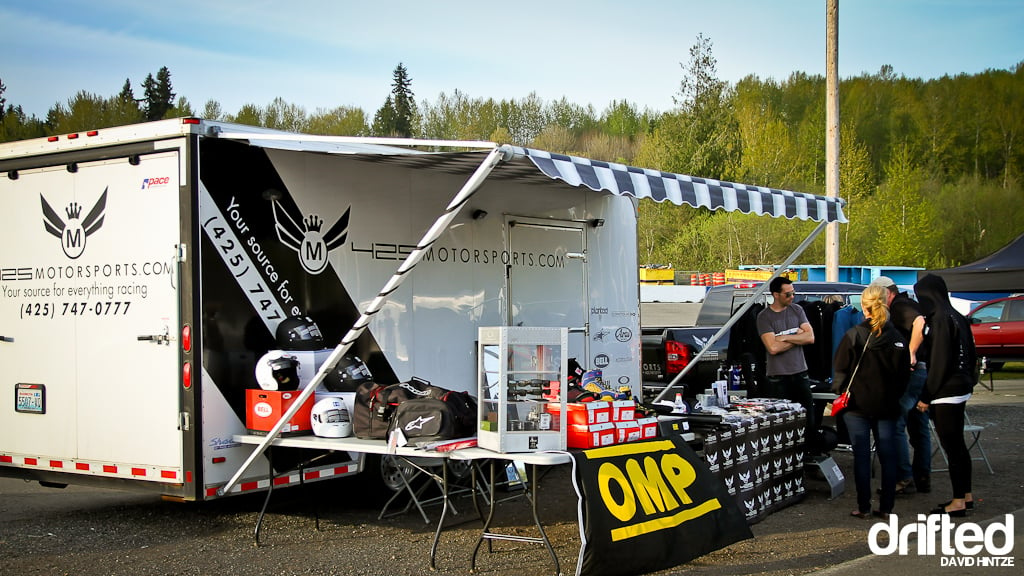 425 Motorsports was among the few vendors that showed up. They support many of our drivers here in Washington and have a lot to offer.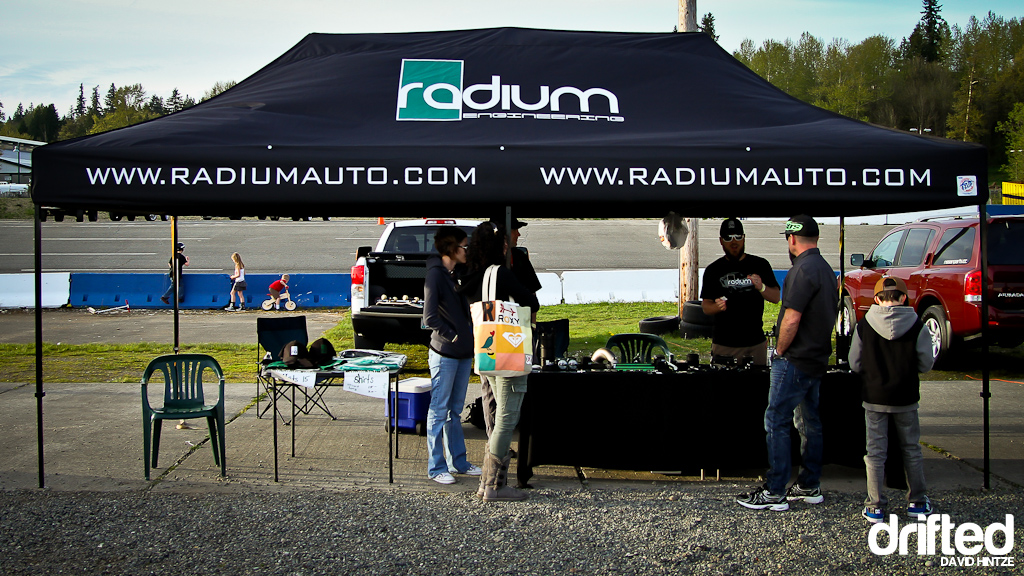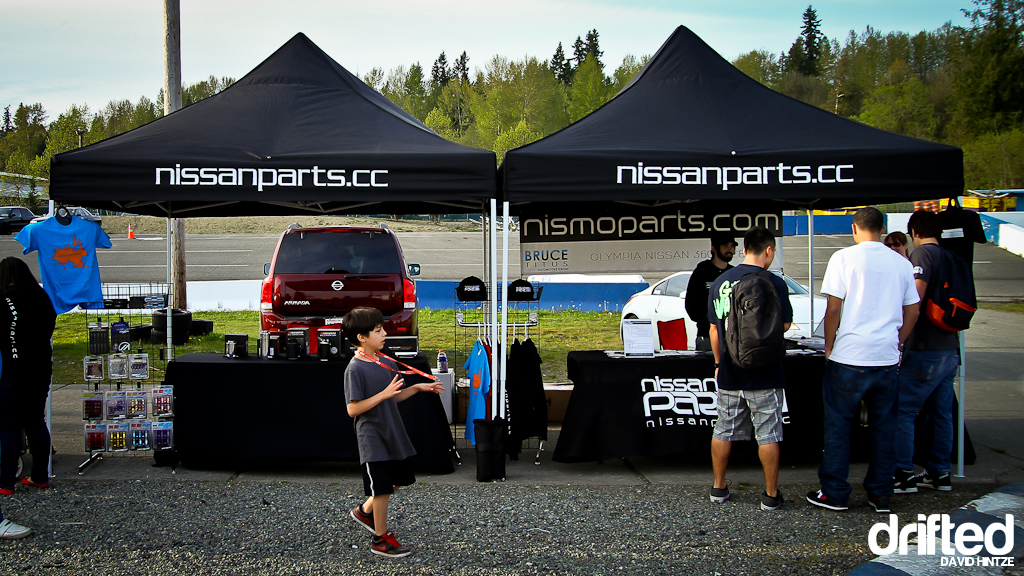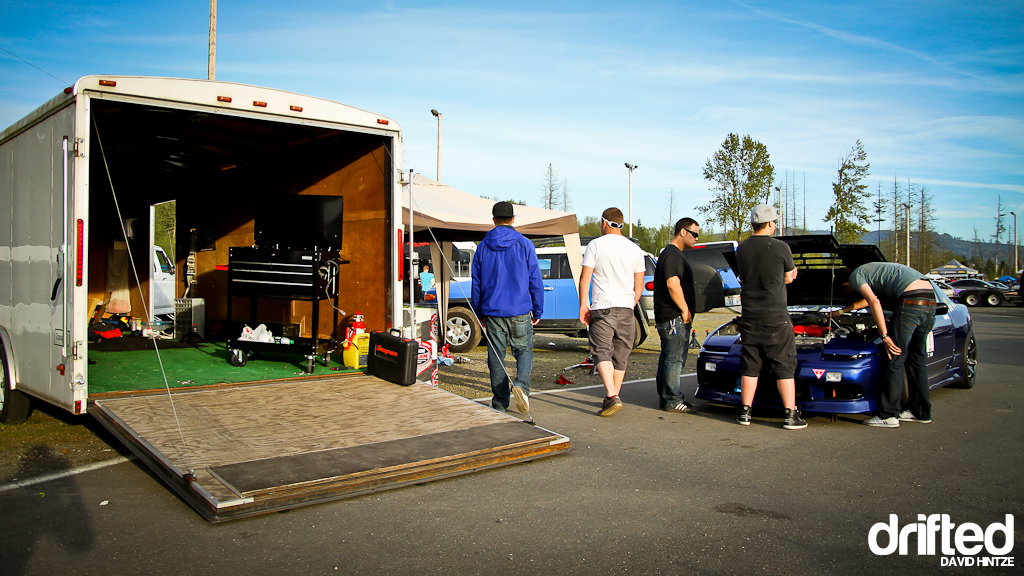 Moving down the pits drivers were working on their cars, getting ready for the final battles that were yet to take place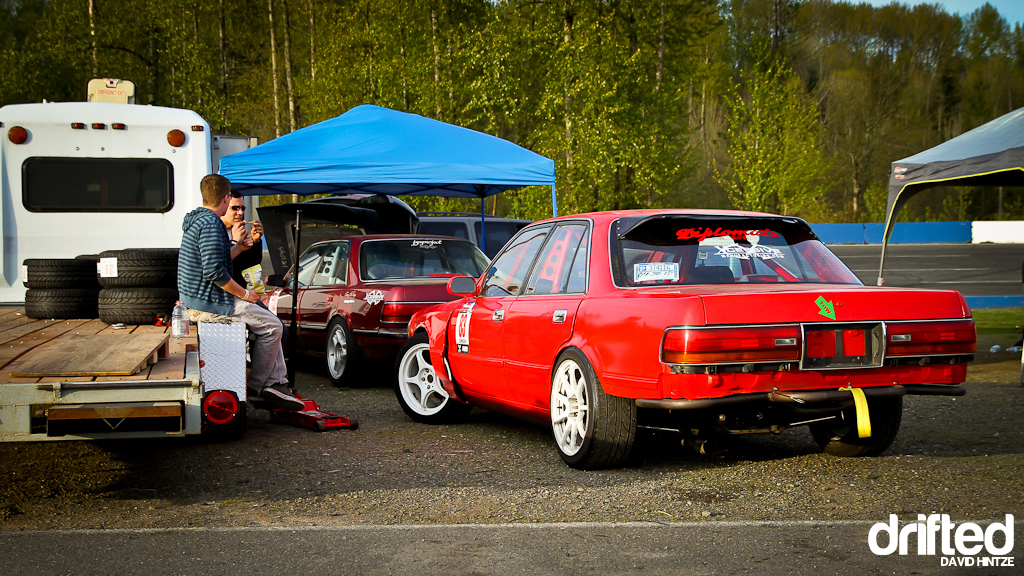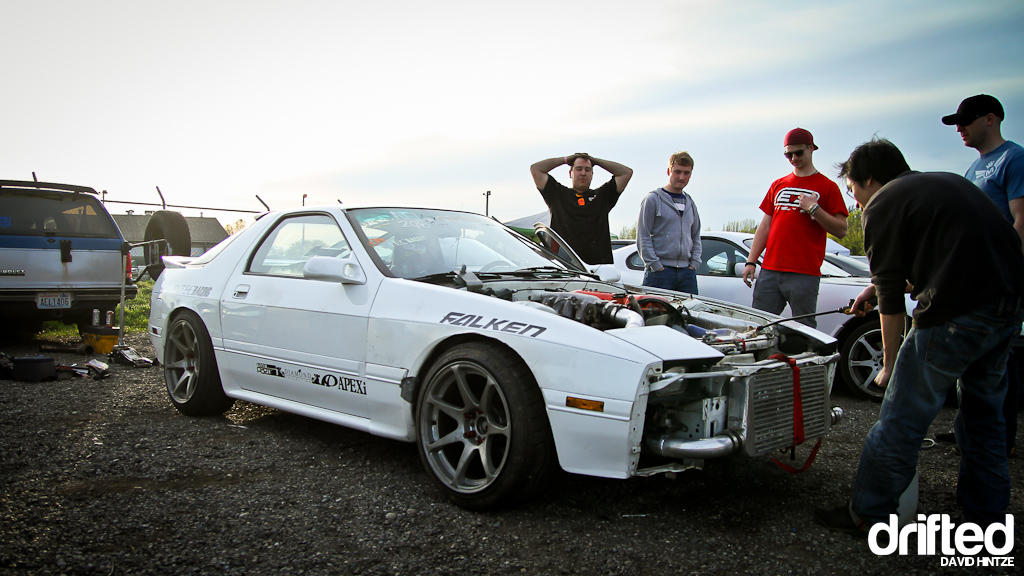 Anthony Careon get out from behind the wheel as his assistance get the car ready for the next run group.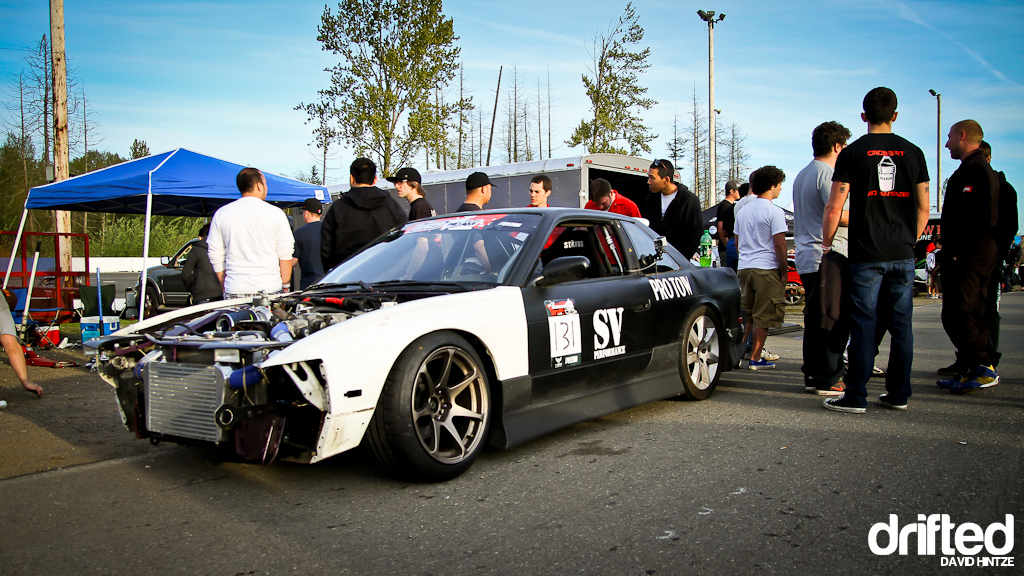 After seeing rookie  Jeremy Richter on the track, many people stopped by the pit area to check out his car and meet him.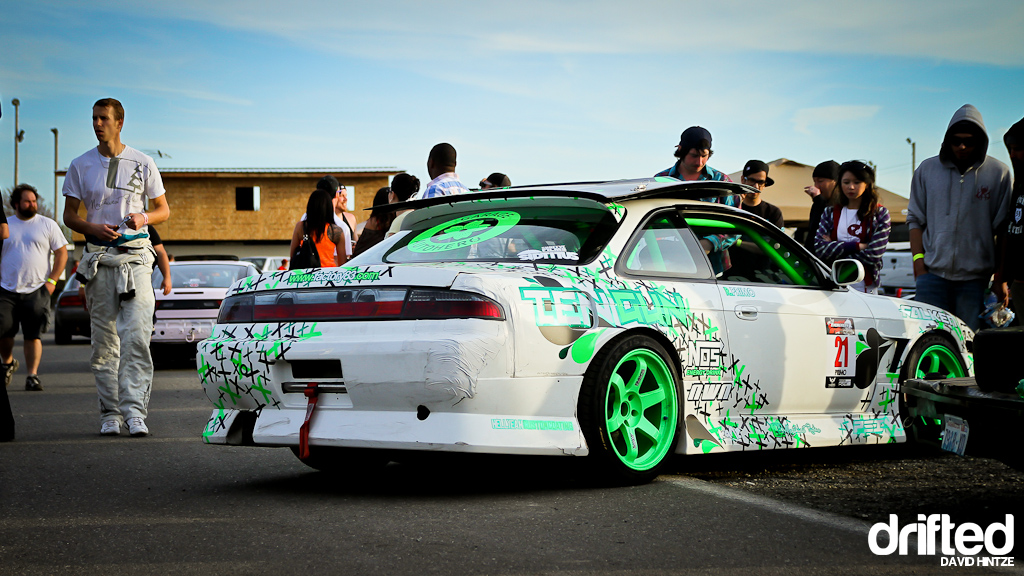 Rob Primo walks back to his car and his forming fan club. His car continues to present itself as unique with his new vinyl designs.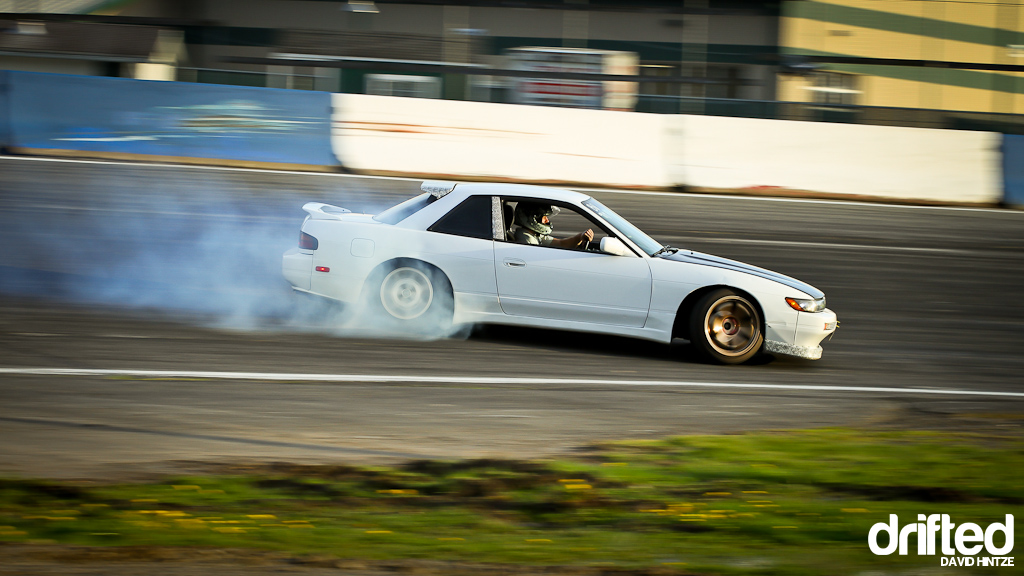 Marc-Andre Tatto who had won previous event last year was back read to take more wins home.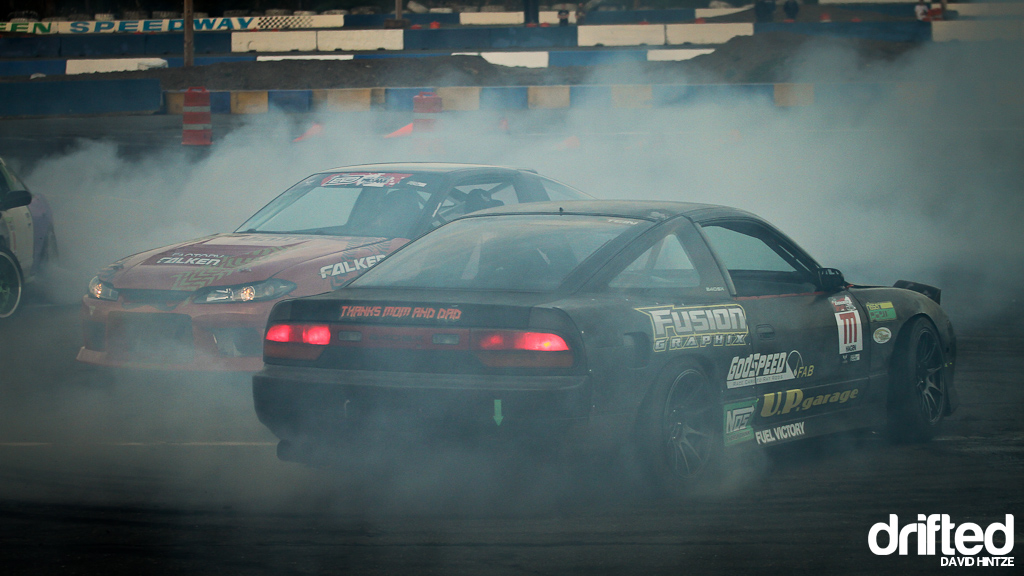 A little action during the event ceremony hypes up the crowd for the upcoming battles that would be taking place.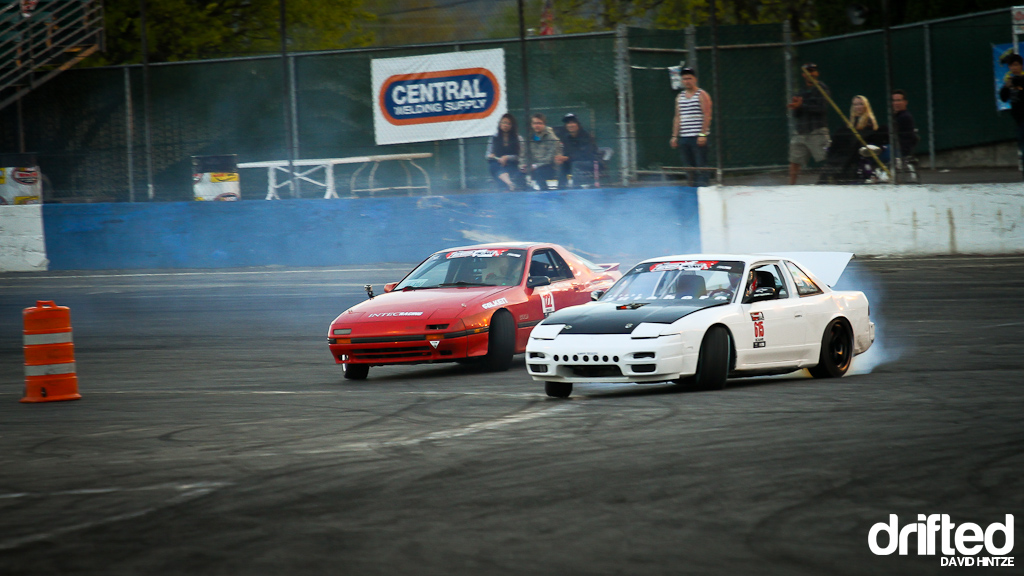 The tandem action started with some great entries, both drivers keeping their spacing pretty close, and not laid back.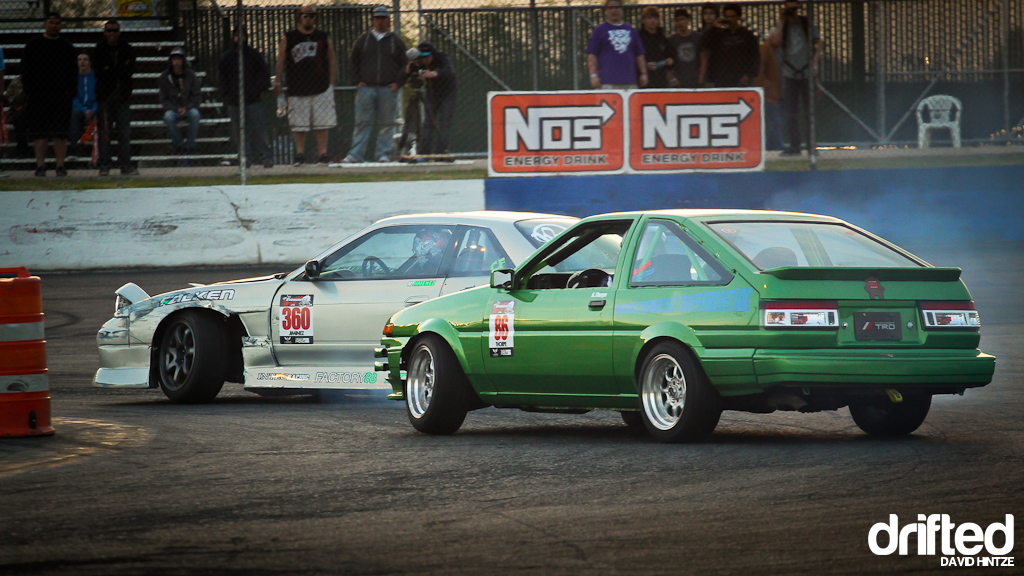 Kelly Thorpe put on a close run but ended up not moving on.
Rob Primo leads during the last few rounds of ProAm. The sunlight was starting to fade, adding another element of skill putting the drivers to the test. We dont tend to have man many events taking place during the night and this one was definitely the best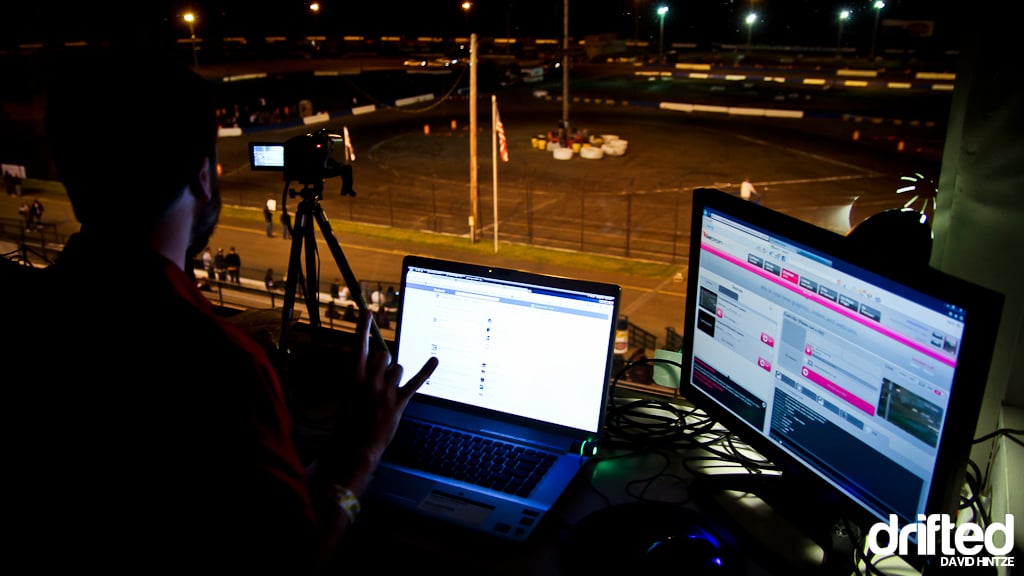 Back up in the announcers booth I watched the rest of the event with the guys up there.
Judges continued to demand a couple one more times as drivers with matched skill levels put down some rubber and awesome runs.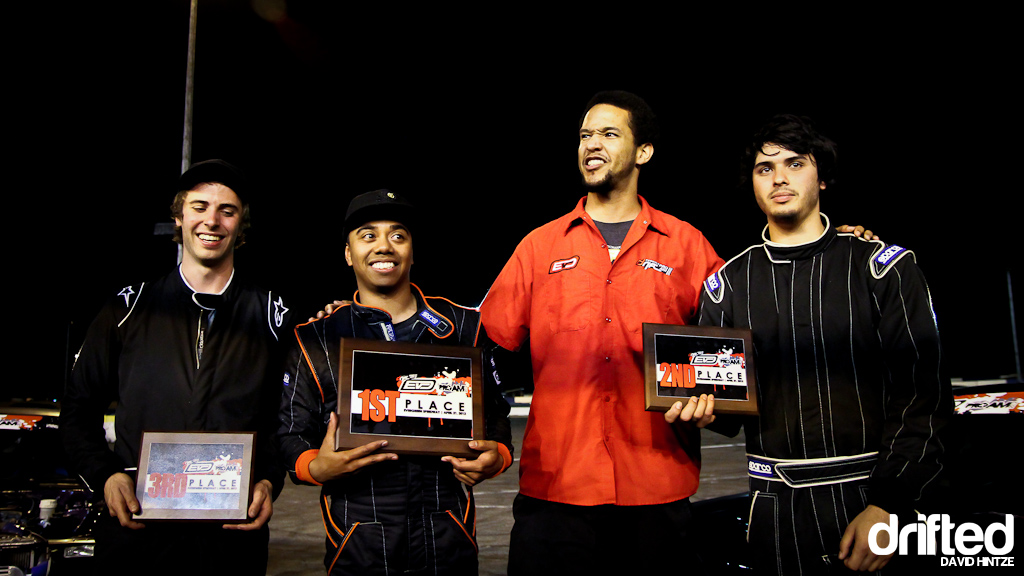 ProAm Winners: Left to Right: 3rd – Jeremy Richter, 1st Victor Moore, 2nd Nik Jimenez