EVENT: IDC Round 5: Mondello Park Raceway
This past weekend saw the curtains close on yet another year of Irish drifting. Mondello Park Raceway played host to the final round of the Irish Drift Championship as well as the annual Japfest car show. Mondello Park Raceway is Ireland's premier racetrack. It is the home of Irish drifting, with 2 of the 2013 IDC rounds taking place on its high-speed turns.
Japfest is an annual pilgrimage for all things 4 wheeled and Japanese in Ireland. With such an immense following for Japanese cars on Irish shores, the turn out was set to be mouth watering for all motor enthusiasts. Social media had hyped up the weekend with various blog, sites and clubs all bringing the best and the boldest motors up and down the country to Mondello Park.
With the 2013 IDC Championship done and dusted in weeks previous at Fermoy, newly crowned champion James Deane had promised to put on a show. For the first time in his drifting career the pressure was off with no championship points to play for, the silverware was already his.
Team Dealtwidth driver, Brian Egan has certainly found his feet in his first year of Pro Class driving in the IDC. 2012 saw Brian stormed the Rookie and Semi-Pro Championship. Brian plays the David VS Goliath battle every time he steps out onto track. His little NA F20 250hp powered Hachi-Roku is somewhat of a giant slayer, as Brian would record the highest drift speed of the weekend in qualifying.
Irish drift veteran Martin Ffrench was out on maximum attack in the newly rebuilt Nascar powered Low Brain Drifters V8 PS13. With a WiseFab kit up front, Martin was ahead of the game all weekend, flicking the PS13 backwards over Mondello's blind off-camber crest at over 90MPH.
County Kildare can still feel the trembles of this Nascar V8. The combination of Achillies smoke and 8 booming cylinders can send shivers down the spine.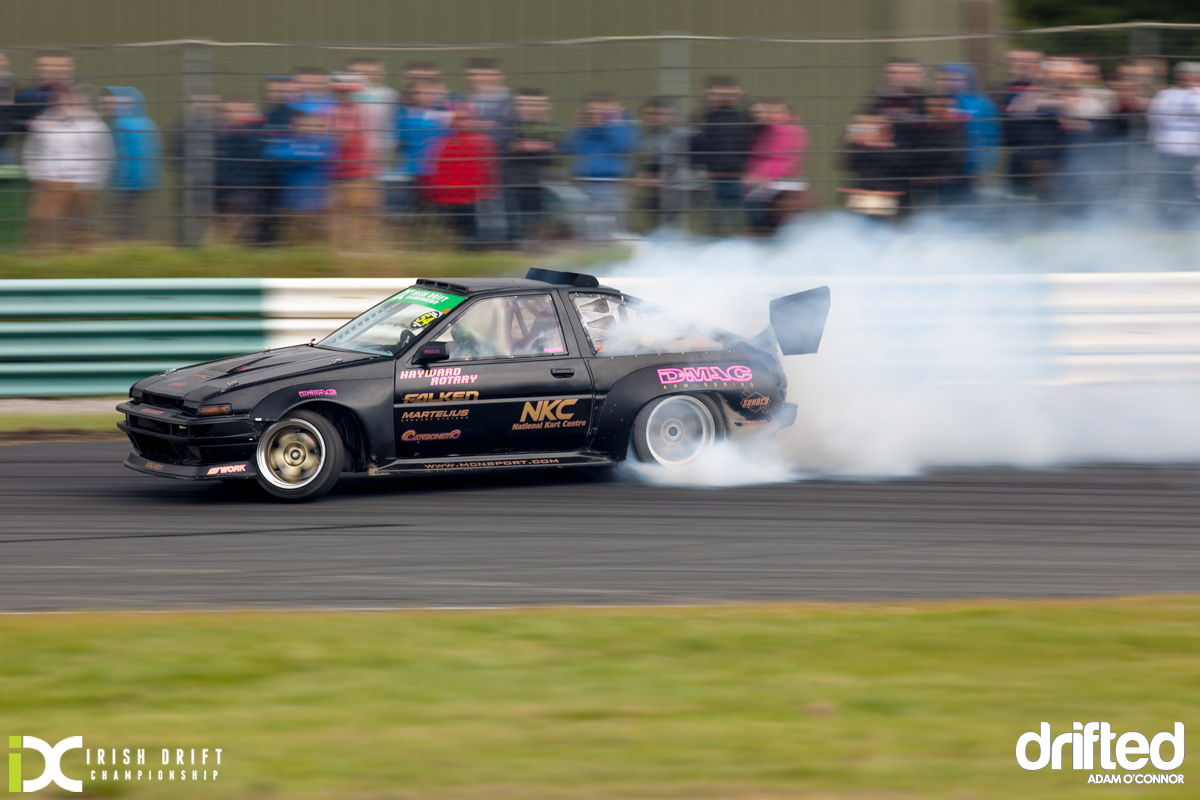 Formula D driver and Irelands own Darren McNamara had finally got his rotary powered custom built AE86 dialed in just before Japfest. Previous years have seen Darren's Corolla plagued with numerous gremlins forcing him to retire from competition but if Japfest is anything to go by, 2014 is going to be a big year for Darren and his Corolla.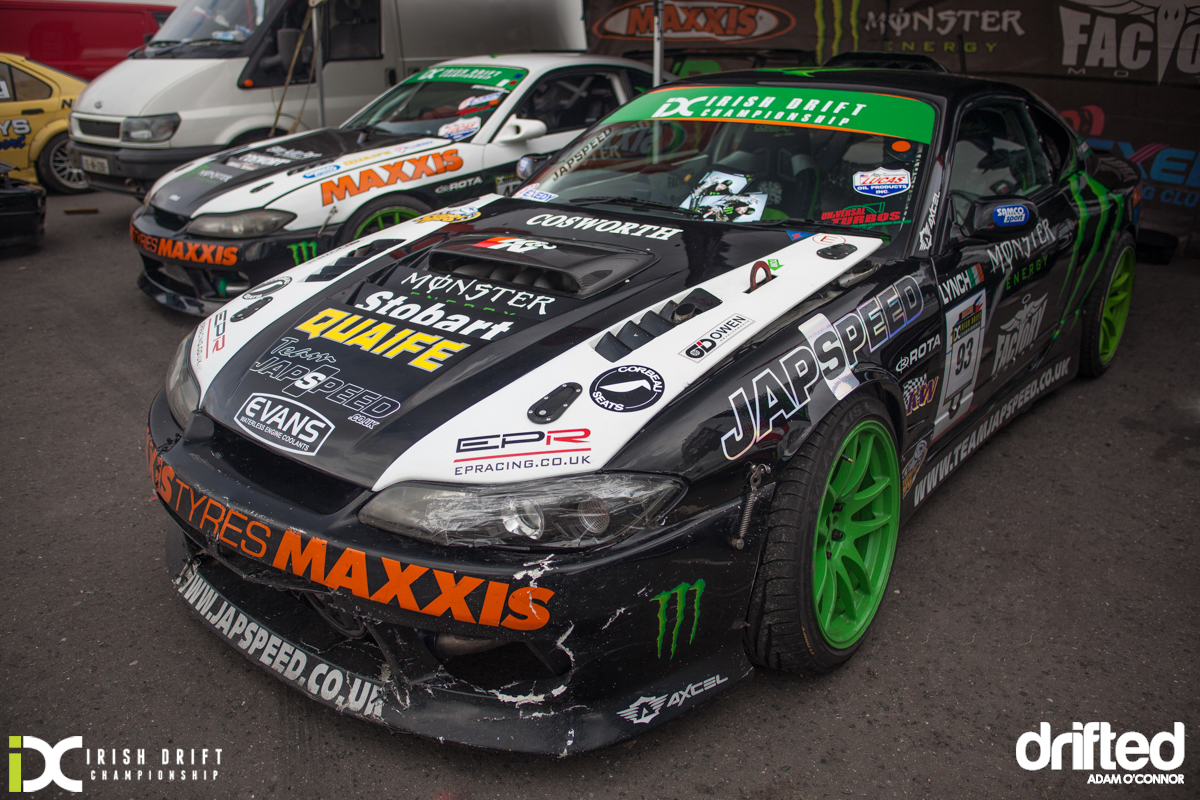 British Drift Championship regular Shane Lynch was back on home soil in his V8 powered S15. It's been a number of years since Shane has drifted through Mondello, but he got grips with the high speeds and tricky weather conditions just in time for main show.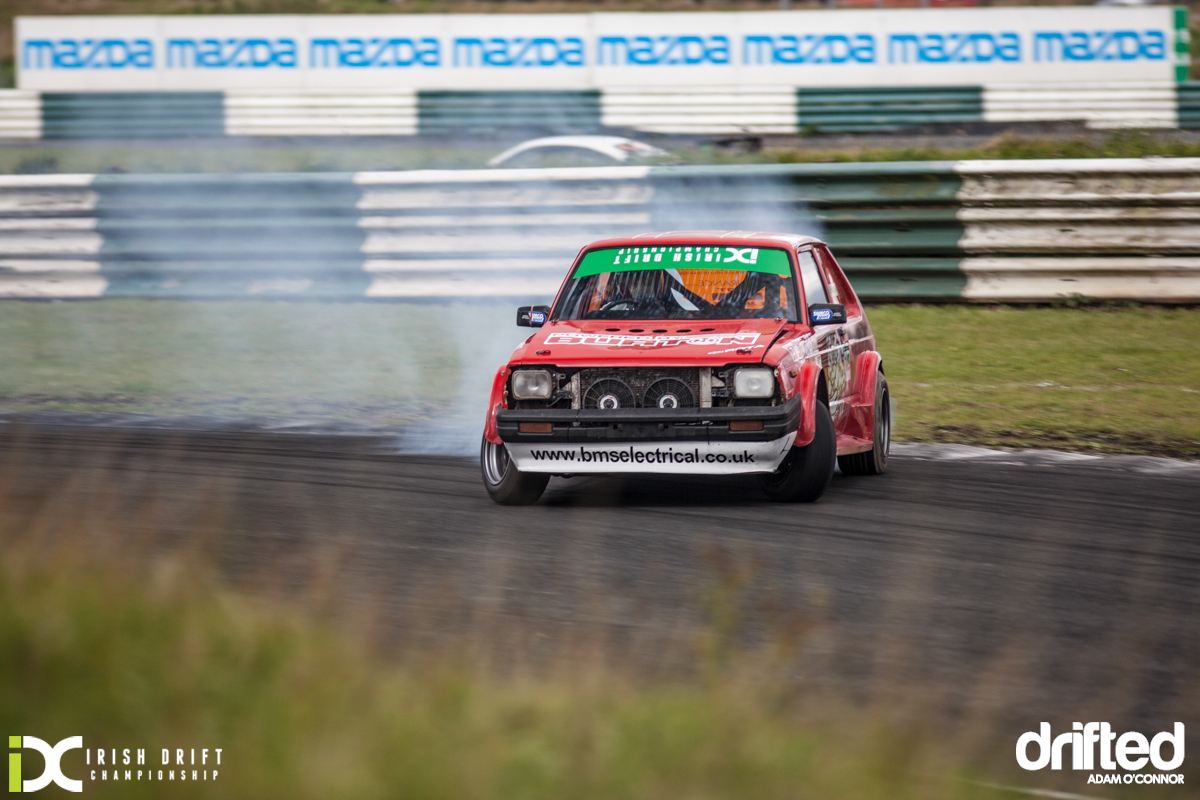 A number of drivers made the trip from the UK over for the event. Stephen "Stiggy" Evans and his little Toyota Starlet were ready to do battle.
As well as James Fuller, who had travelled across the pond in his incredibly prepared Rocket Bunny 180sx. James was sliding through Mondello at un-comprehendible angles all down to this amazing lock.
Mondello Park consists of two high-speed technical turns. Drivers are initiating in the first turn at over 90MPH blind, before quickly shifting down and transitioning to a tight left-hander that brings the battles close for a dash to the finish line.
Initiating at such high speeds means that drivers have little room for error. Late entries mean a trip into the Mondello dirt, for some it's a wheel or two but for others…
A cross-country excursion. Paul McCarthy receives a zero in qualifying for this trip into the dirt.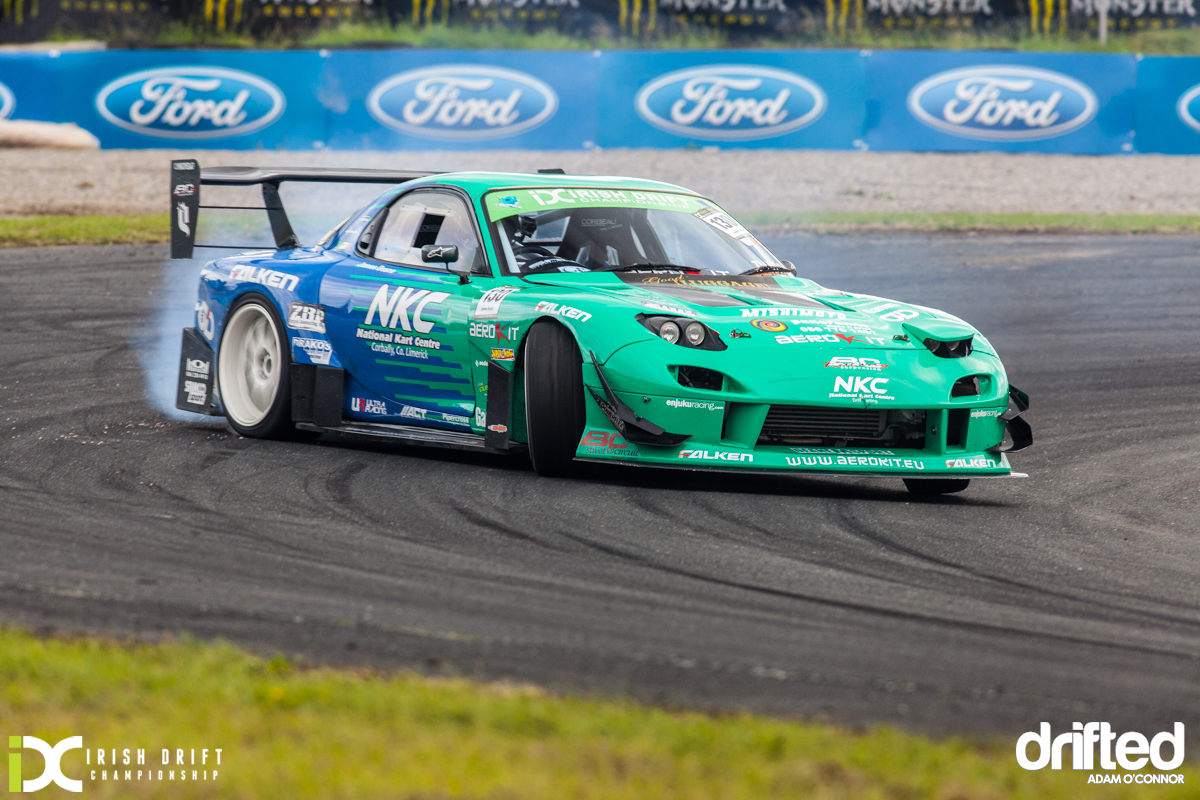 James Deane is the most fear man in Irish drifting. 3 times out of 4 this year, he has topped the podium in the IDC. James came out top qualifier on the day with an unbelievable 99.4 point run.
Team Japspeed's Shane O'Sullivan would take home the Superlap with a 28 points out a maximum 30.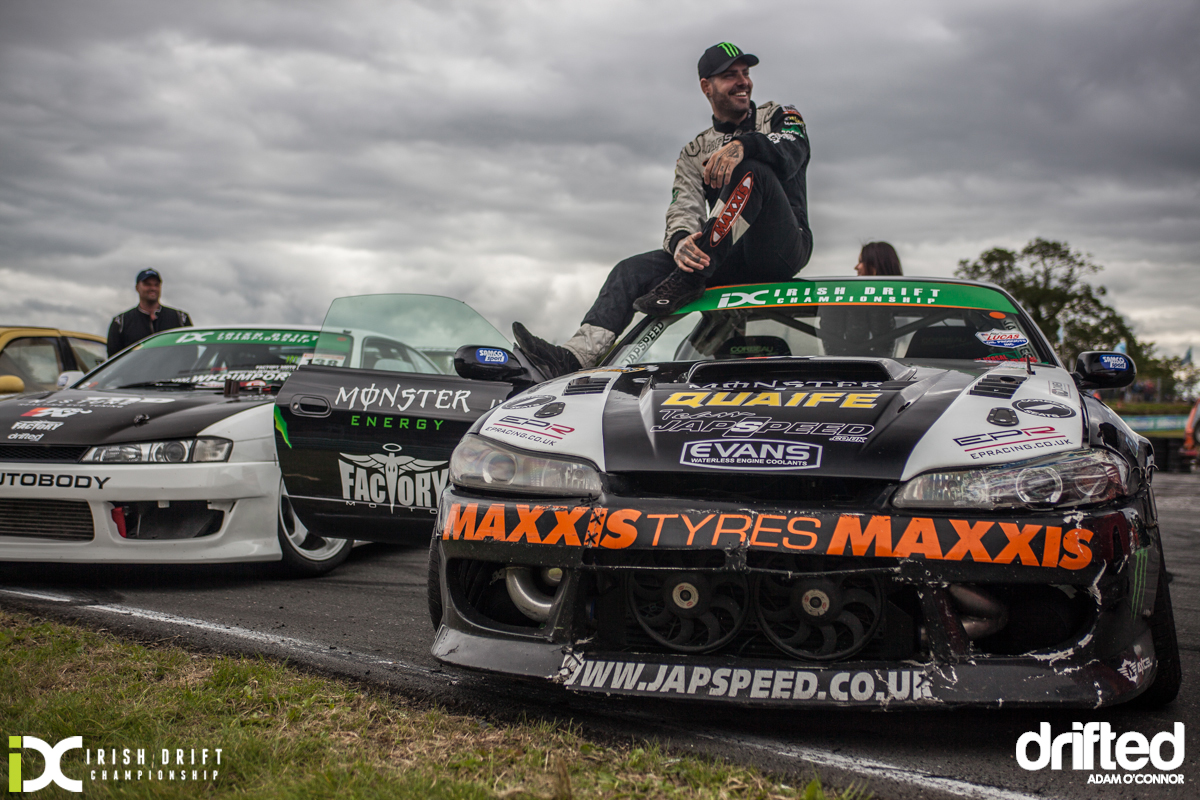 Team Japspeed's Shane Lynch was a fan favorite, especially the female contingent of the crowd. The autograph session was one of the busiest I've seen all year.
Team Dealtwidth Semi-Pro Dave Egan, MC for the 2013 IDC series has been amazing throughout the season. Dave knows the ins and outs of Irish drifting. Sun, snow or rain, Dave is always on hand to hype the crowd.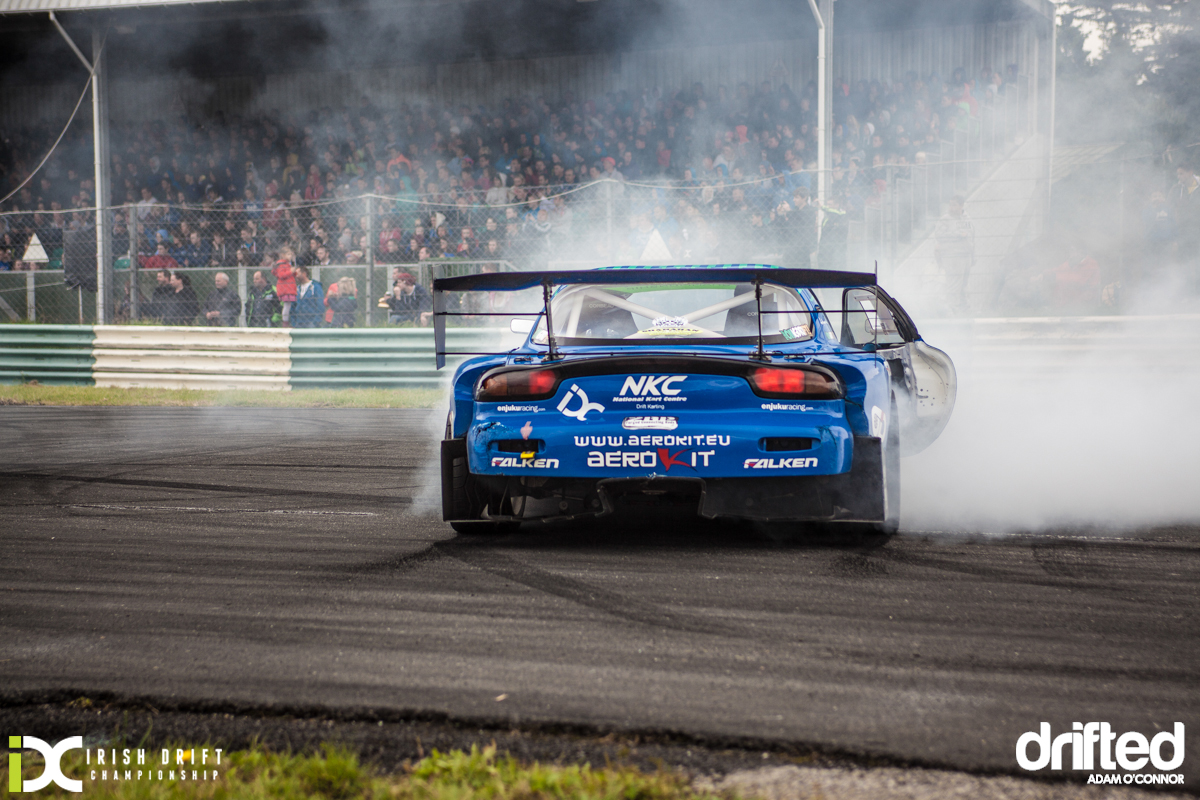 With top 16 ceremonies out of the way, the controlled chaos begins.
An on form Team WKD Imports Barry Leonard would see off Shane Lynch after a number of one more time battles.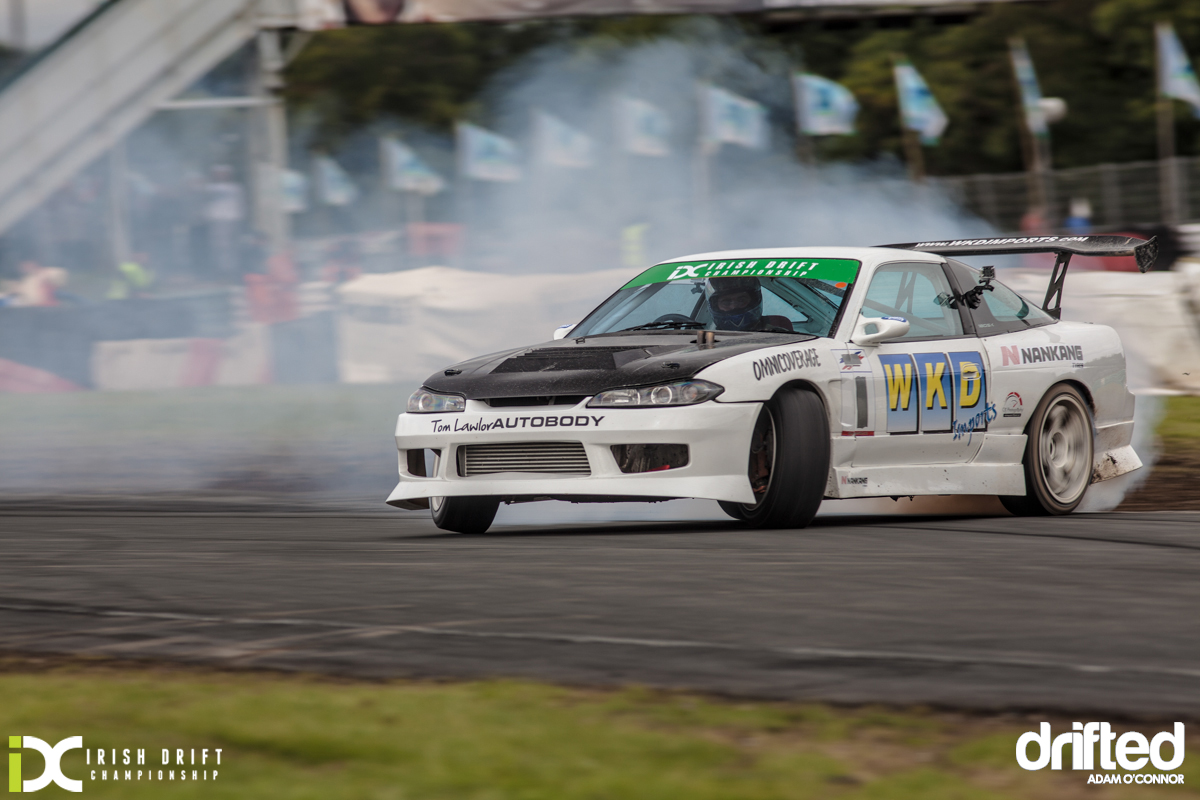 Team WKD boss Wesling Keating battled mechanical demons in his Rocket Bunny 180sx all week. Late on Friday Wez changed to his back up 180sx to make it all the way to the top 16, but sadly wouldn't progress any further.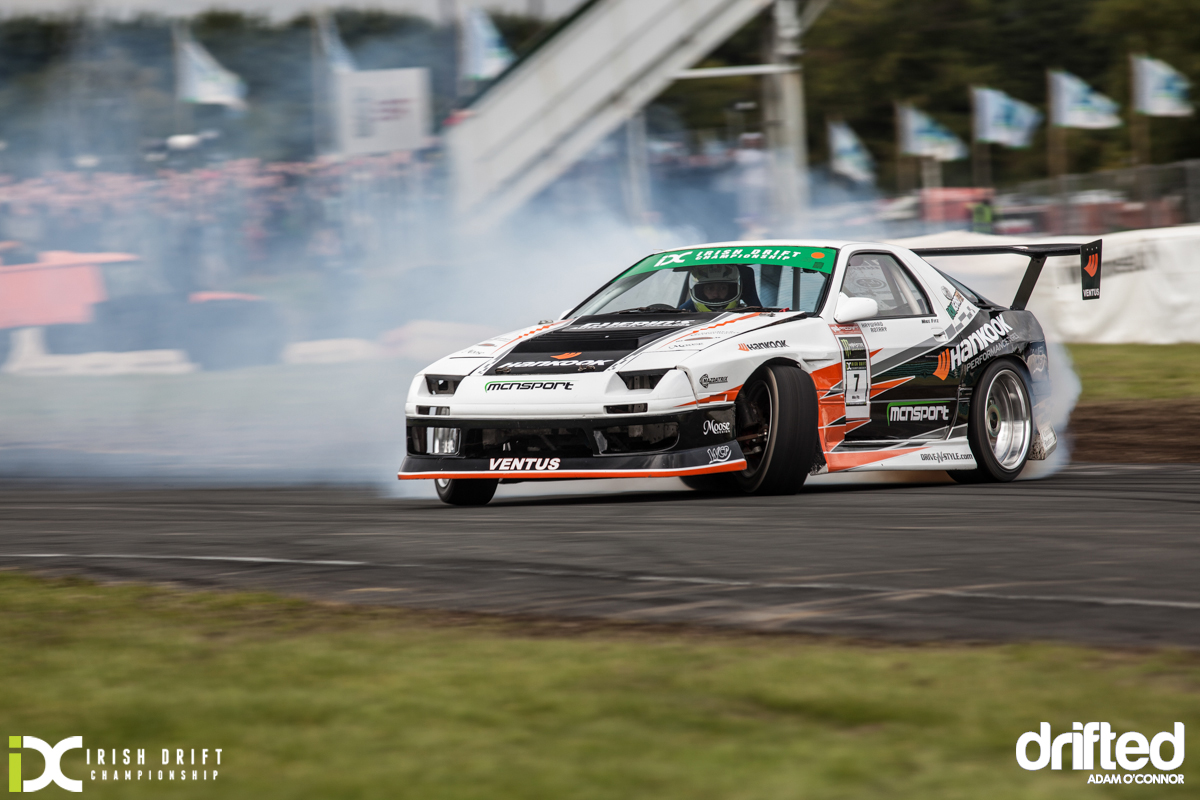 Team Hankook driver Mike Fitz battled his way through the top 16 with boost pipe failure plaguing his FC RX7 but luckily team mechanic Holly was on hand to get Mike back out on track ASAP.
James Deane with nerves of steel and balls of brass moved through the to the top 8 due to the mistakes of Alan "Chubby" McCord, who can just be seen in gravel trap of Ford Corner.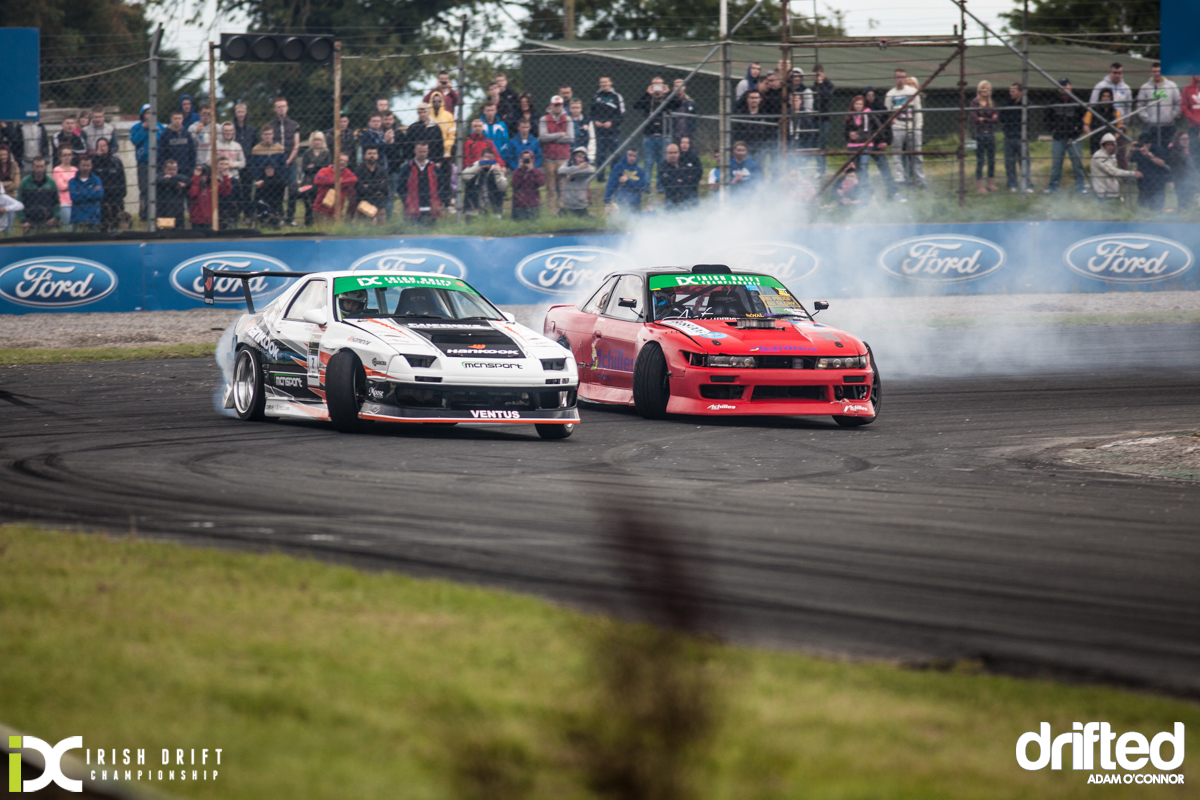 1.3 Rotary VS 4.4 Litre V8. The power of Martin Ffrench was too much for Mike Fitz with the Low Brain Drifters PS13 moving one step close to the podium.
Darren McNamara would move through to the top 4 with some controversy. John McCarthy would come into contact with the rear of the lightweight Corolla under initiation. The AE86's space frame rear end would take the brunt of the accident but D-Mac was back out straight away to complete the run and win the battle.
The Irish drifting rematch of the century came in the Top 4 battle with Martin Ffrench VS James Deane. Round 1 seen the two heavyweights of drifting come into contact on their way to the podium. To this day, the battle still splits fans on who should have went through. James got the nod on that day, and even went through to take the 1st place podium.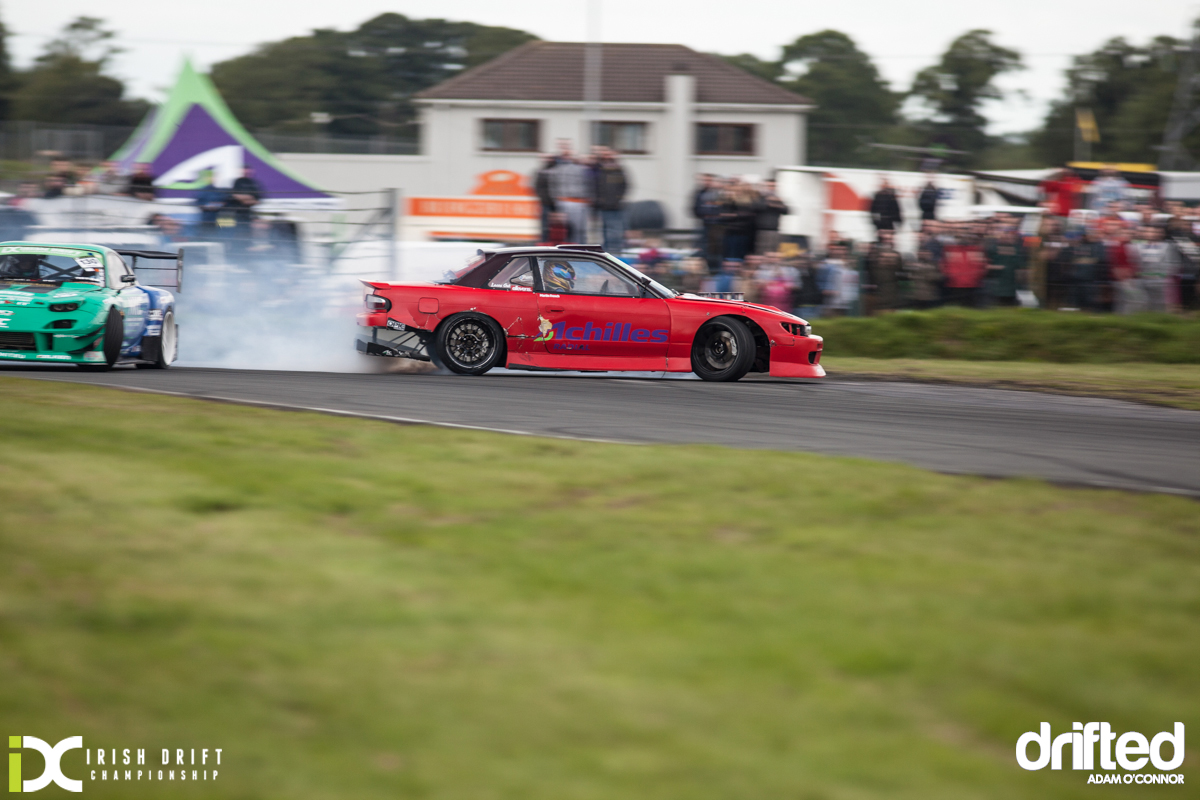 The battle brought new controversy but in a different outcome. Martin came in at full attack, but at the last minute, a clutch slip caused the front end of the PS13 to aim directly for Mondello's barriers.
Luckily, the foam barriers caught the PS13 side on. Martin drove the car out and after some light cosmetic work (ripping the front wing off) battle 2 was set to go. The 10-0 margin set from Martins off was too much to overcome with James moving on to the final.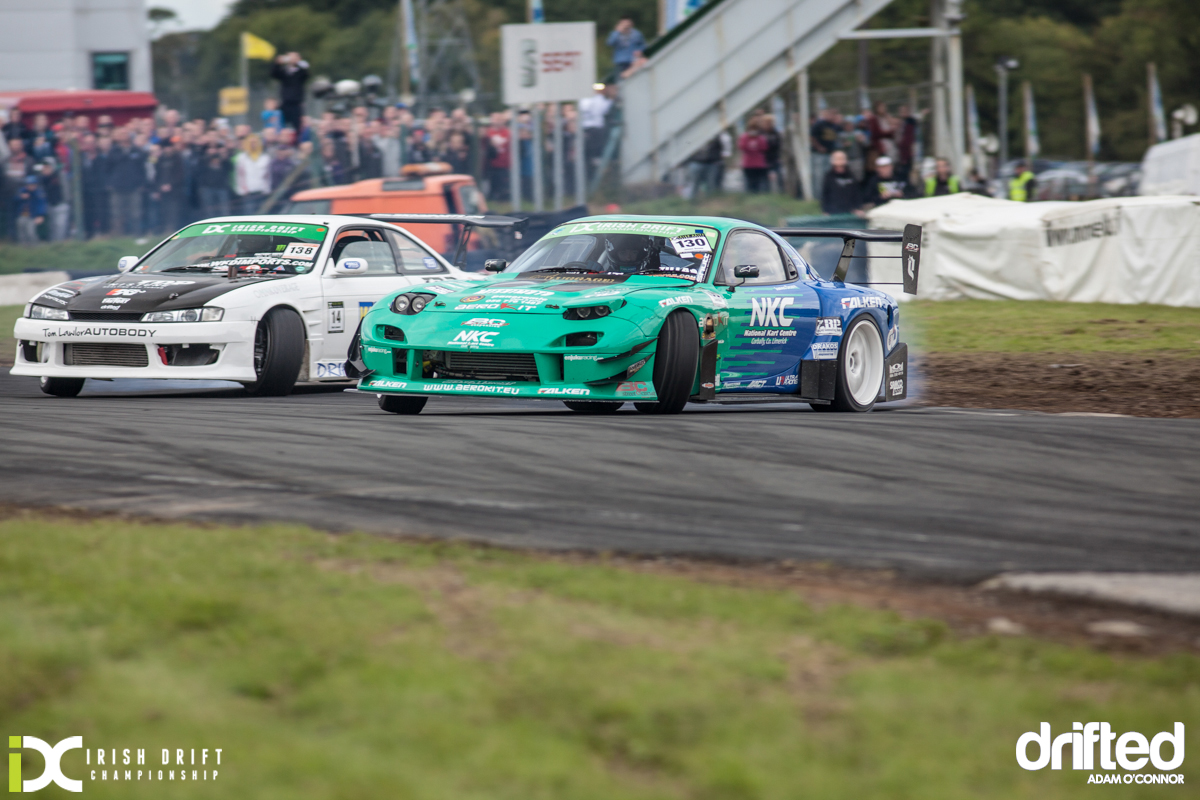 The final would see 2013 IDC Champion James Deane VS WKD driver Barry Leonard. Barry was on form all weekend in his S14, but the skill of Deane was too much giving James another podium for the Team Falken driver, making it 4 out of 5 for the year.
James is a deserving winner of the championship. The meaning of this win was written all over his face from the moment he stepped out of the car. Grinning from ear to ear, his hands visibly shaking, it hadn't really sunk in.
James has an amazing consistency to his driving. There is a deep-rooted natural talent within coupled with years of professional drifting under his belt at the age of 21 shows he's only getting started.
With track set to close at 6pm local time, it was somber around the track. Everyone involved began to realize that the year was over; the off-season was upon us. Months and months of endless nights, amazing builds and tedious thumb twiddling until April rolls around so it can start all over again.
With the first year of the IDC just completed, 2014 will bring big and better things for all involved.
Thanks for reading,
Adam O'Connor
Subscribe to Drifted
If you like this article why not subscribe to Drifted and we will email you our freshest content for free!