EVENT: Drift Allstars Europe Round 5 / EEDC at Mariapocs.
Drift Allstars Europe Round 5 would have its annual event at the Trackwood Festival. For the second year running it would also be a double header with the Eastern European Championship, the "Battle of the Iron Curtain". The Trackwood Festival was set and an epic 3 days of drifting was about to go off!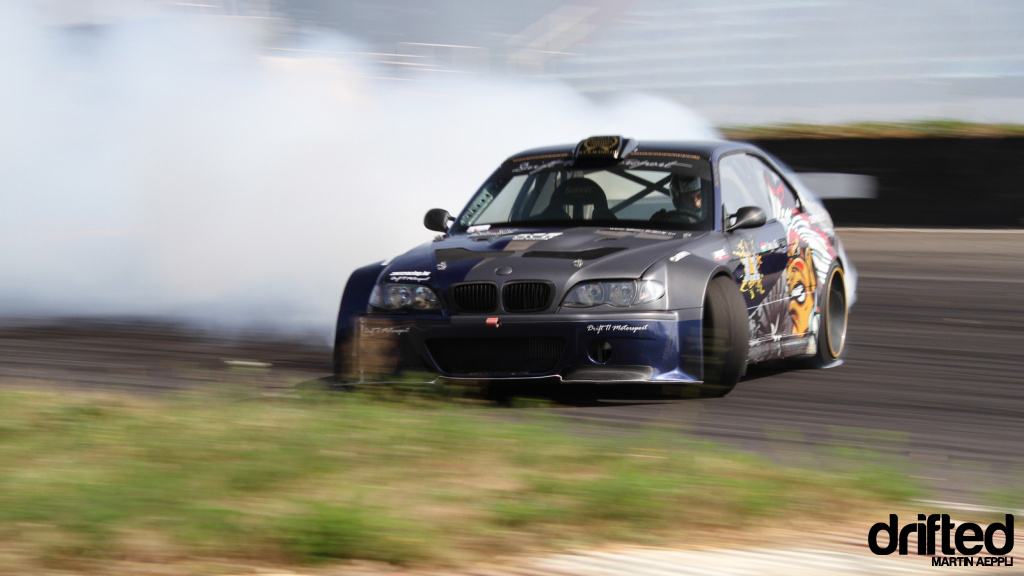 Every year you can see the sport of drifting evolve with each event on the tour. In Hungary, the car development has also jumped up in just 12 short months. Both the E36 and the S13 builds above followed the trend existing in the rest of Europe and fitted 600hp 2JZ engines with ALS! The Hungarians were now coming to play with the rest of the drivers.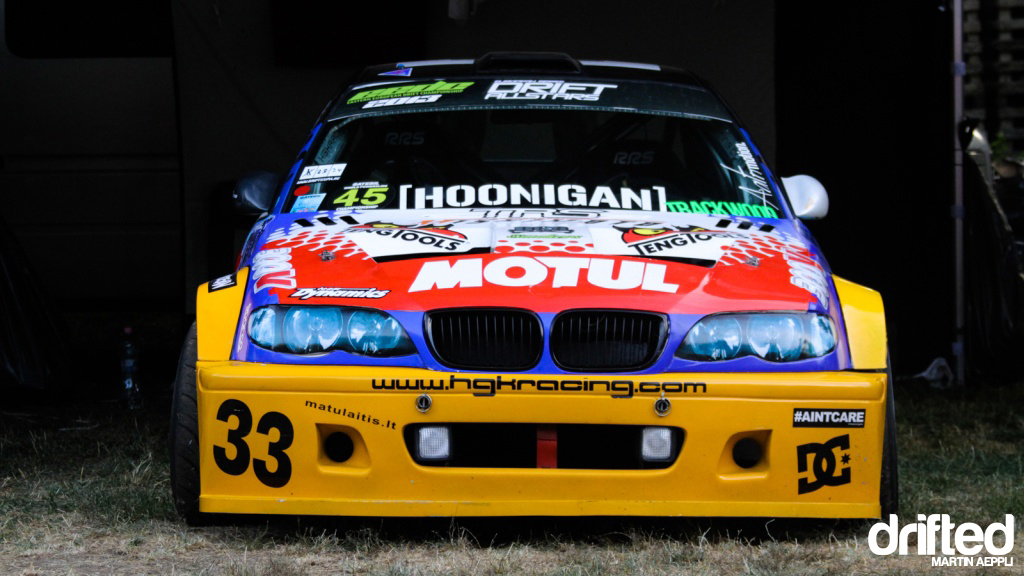 Kristaps Bluss' HGK Racing BMW E46 sitting in the pits ready to pounce. The team name for the car is "Croco"; why do you think it is called that?
Alex Golovnya was charging hard and was on a high after taking 2nd place in Lithuania.
Dmitriy Illyuk also made the trip over from the Ukraine in his Monster Energy / Kenda Tires Nissan S13. Mariapocs is one of his favourites and a podium here last season shows that.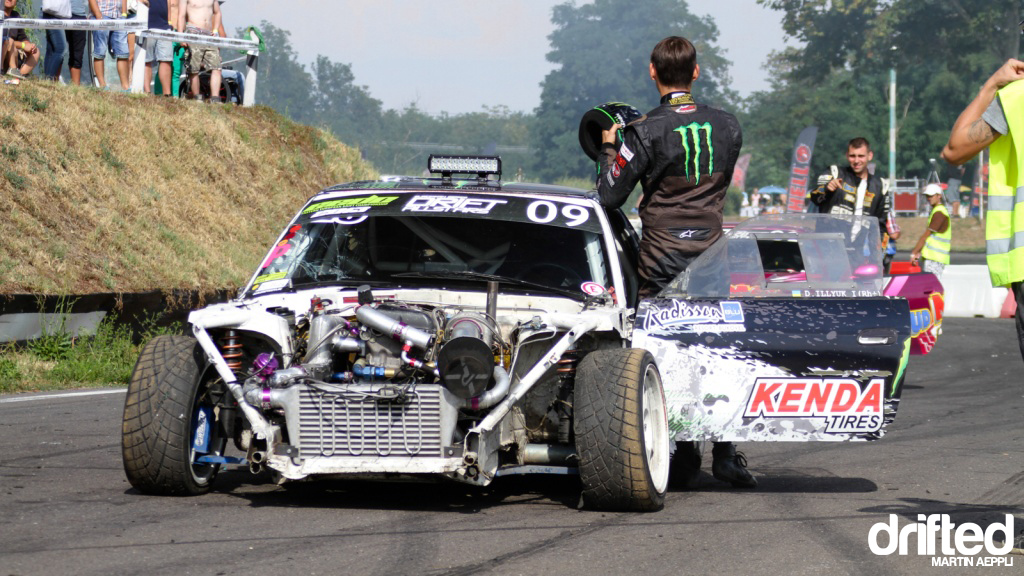 Unfortunately, after the second day his car didn't look quite as perfect anymore. After his huge off and crash with Sergey's Supra, he worked through the night with his crew to get the car back out on the track. Amazingly, he was back out the next morning with the car missing quite a lot of bodywork.
And as you can see he got to grips with the rather bent car pretty well, making great runs again on Sunday, despite the suspension mounting points not being quite in the places they were supposed to be. As Dmitriy put it, the car handled a bit like a banana. Nonetheless, he qualified in 14th place.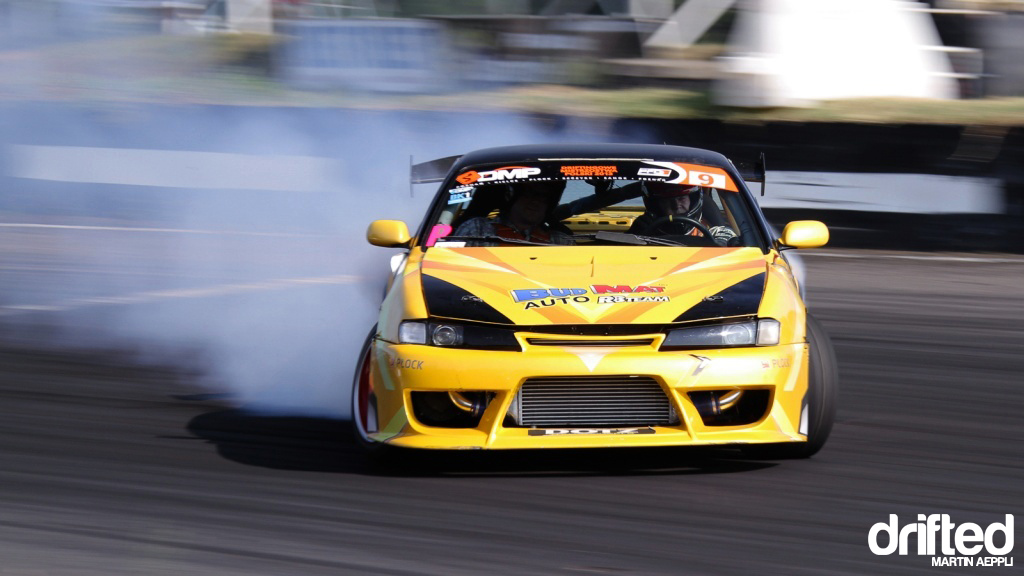 2012 Polish Champ Maciej Bochenek would also be back. After a crash in his own car the week before he borrowed one of the Budmat Auto team cars. Many top drivers would be pushing hard as sponsorship deals come up for grabs and results mean everything! Getting a few extra points to improve your position in the standings was incredibly important.
Mariapocs RD 5 Trackwood is often referred to as one of the "classic", must attend drift events of the year. One of those old school venues with lots of history of drifting in Eastern Europe. It's also one of the few circuits which drifts through a wooded section and runs through till midnight on the main event day! Only in Hungary.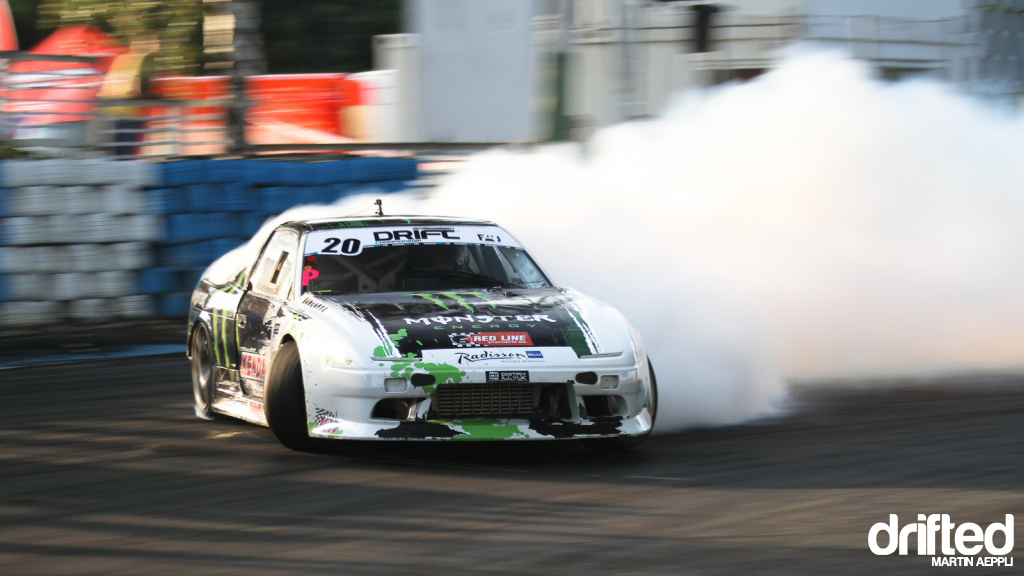 Here you can see the sun breaking through the trees and the smoke, creating a very unique atmosphere.
Every where I turned, this guy was there! Christian from AC Light Addicted would make the trip over from Switzerland with Martin Aeppli.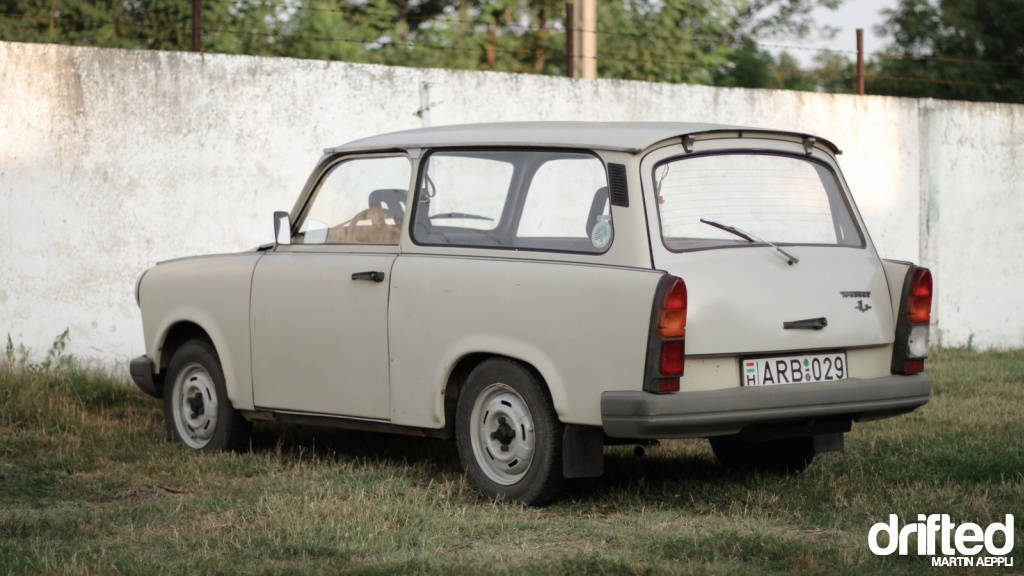 Some classic old school Eastern European cars could be seen in and around the venue.
Kristaps Bluss from HKG motorsport in Latvia would make the trip down to Hungary. After an engine failure in Riga he was out to make a point. Also he was still in contention for the EEDC crown so all was to play for!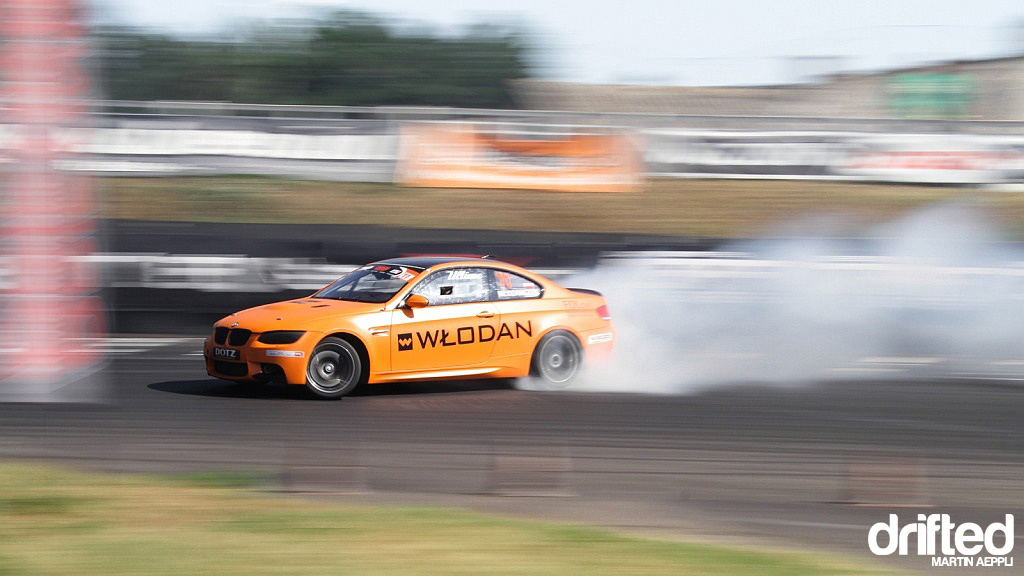 Mateusz Włodarczyk in the Wlodan Supercharged E92 M3 would make his second appearance of the year in Drift Allstars. After having some setup changes and testing over the last few months he has gotten a lot more used to the new chassis and found a great setup which he can now push the car on!
Xenikos Nasso would make the trip up from Greece for this event. This is one car not to be underestimated. A potent built 500hp Nissan SR20DET in this chassis makes for a great car. The engine was mapped by the Greek tuning company Extreme Tuners, who are quite famous for their mega-horsepower Mitsubishi Evos.
Ingemars Jekkabsons was also doing great solid runs. Another top latvian driver having taken 2nd place at Riga this year is one to watch. The LS3 V8 powered BMW E34 still a very heavy car but with rumous of him swapping to a newer chassis in 2014 he could be one to watch!
The Russian invasion continued with Sergey Kabargin in his pretty cool evil empire Toyota Supra. Sergey would struggle after many crashes and qualify 17th place.
Juha Rintanen's weekend started rather badly. After taking 4-5 laps he would have a major drivetrain failure where his differential, driveshaft and gearbox all failed at once. With no hope of parts the team rushed to find solutions.
Fortunately they found one quickly, when Juha was offered to switch to the Wisefab BMW E46 that Felix Chitipakhovyan was driving at the event. Juha pushed hard in the unfamiliar car and got used to the car very quickly and would eventually get P7 in qualifying.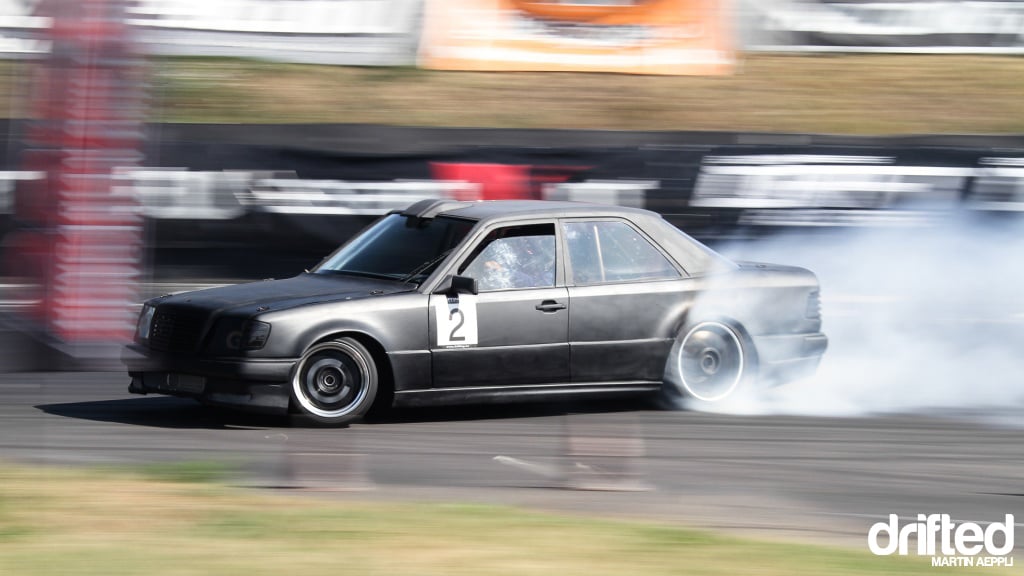 Going to Eastern Europe always means that you get to see some cool, uncommon drift cars, like this old W124 running a V8 engine.
Gvido Elkinis made the trip down from latvia. He seemed to be really comfortable on the Mariapocs circuit. Gvido also leads the EEDC championship so was looking to score as many points as possible and maintain his championship lead over the others.
Mad Max Tvardovskiy from Russia also attended the event. Max would be one to watch on this circuit as he actually took the win here last year!
Vents Pecaks, another Latvian driver in his twin turbo LS2 V8 BMW E36 smokes out Hungary
It's not very often that you see a Ford Focus drifting. This car is driven by Zandor Zentai and he would unfortunately miss the cut for the top 32 after qualifying down in 34th place.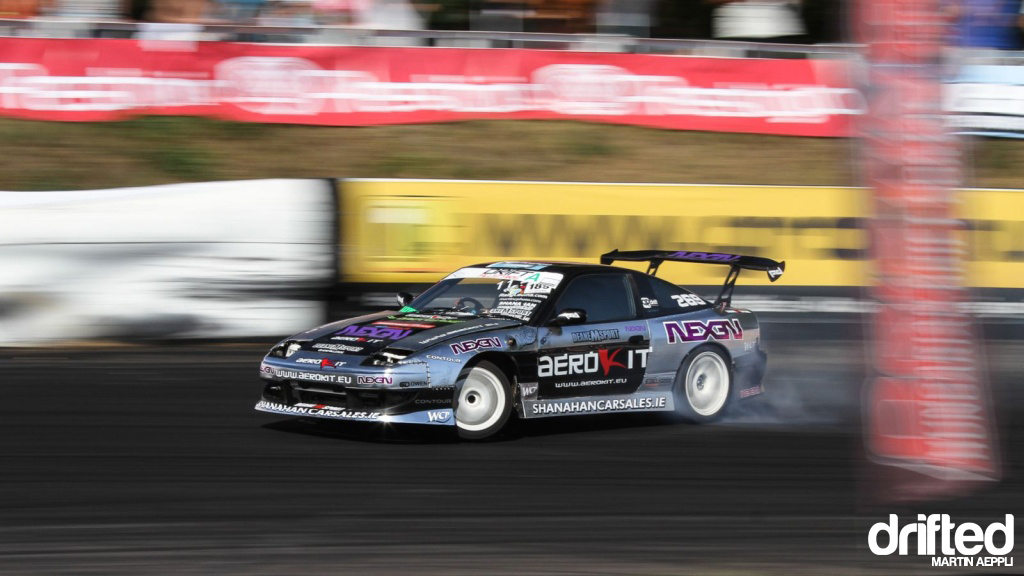 Jack Shanahan was back after his car had a major overhaul at driftgarage.hu in Budapest. After Lithuania the car needed a lot of love and the team at driftgarage and Team Shanahan more or less got the car looking like new again after the crash damage it had. Looking great now in its all new Aerokit/Nexen branding, Jack was again on top form.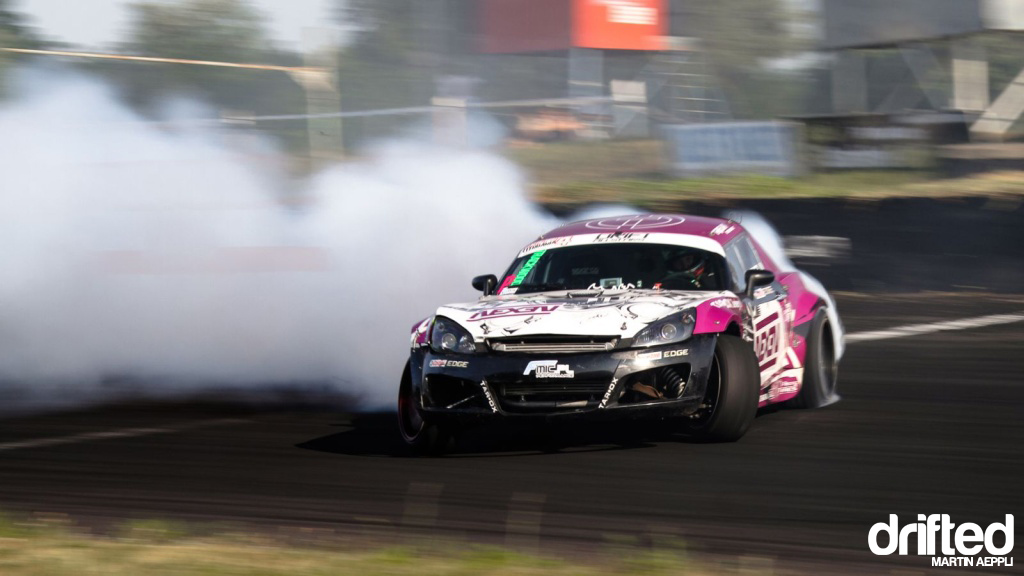 Pawel Trela was on flying form and set the place alight.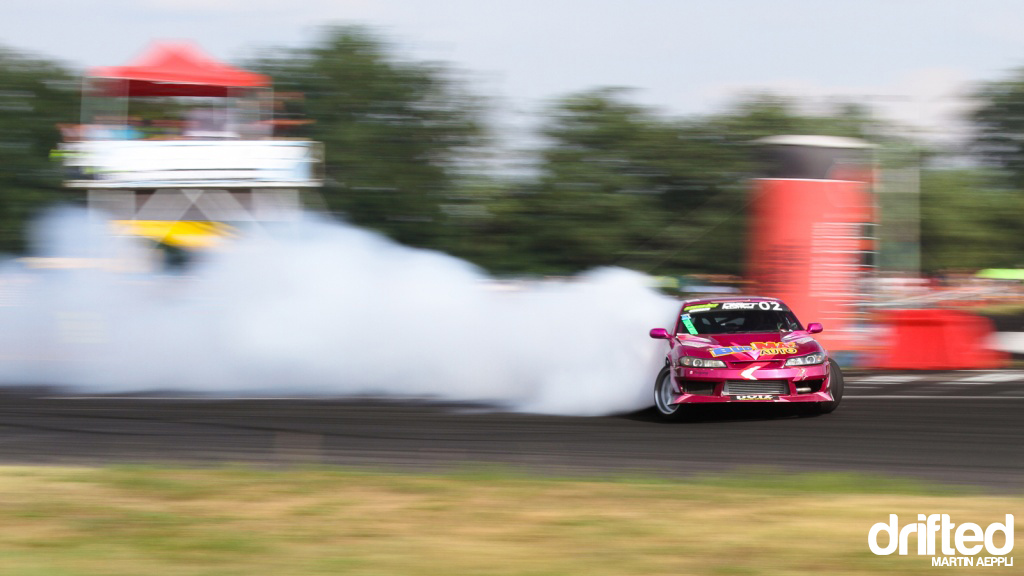 Dawid Karkosik was immediately at home when he got to the circuit on saturday morning. He was all in and needed a win to keep his championship dreams alive.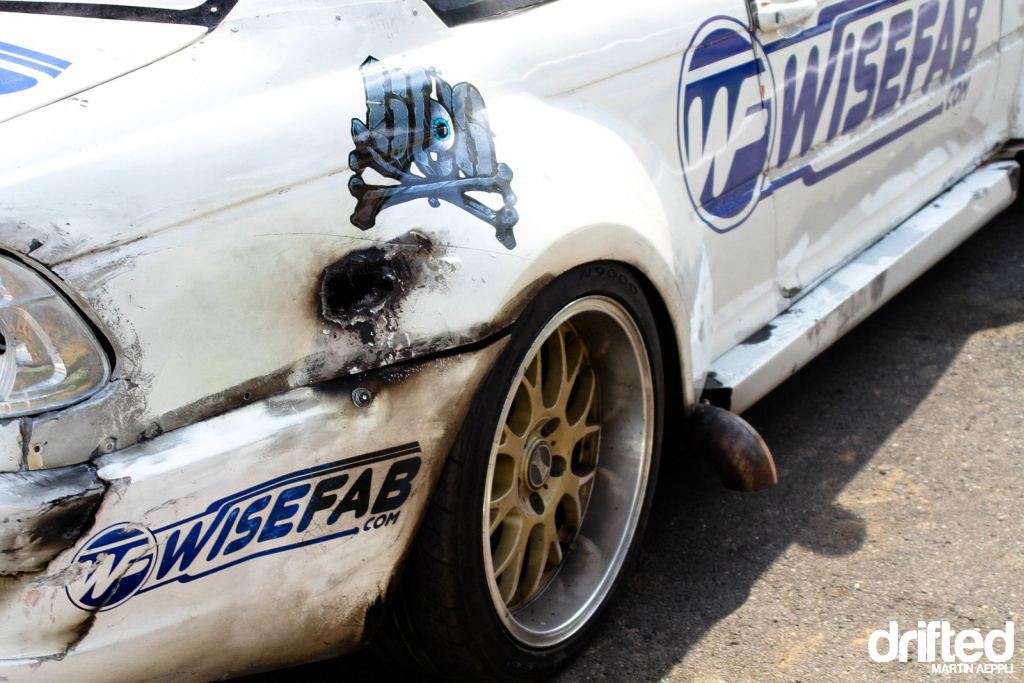 The Wisefab BMW 2JZ ran a bit too rich during the event and because the car's exhaust exits right in front of the right side rear wheel, there were some quite impressive fires in there. Which didn't bode very well for the fibreglass rear fenders, as you can see.
BandanaBoy doing his thing with for the best tracking shots! He cut the highlights clips for the weekend, which should be published soon.
Oscar Brediks in the LS1 powered Jap Factory Rocketbunny S13 seems to get better with every event. Only his third event in this car and he would just get into the top 32.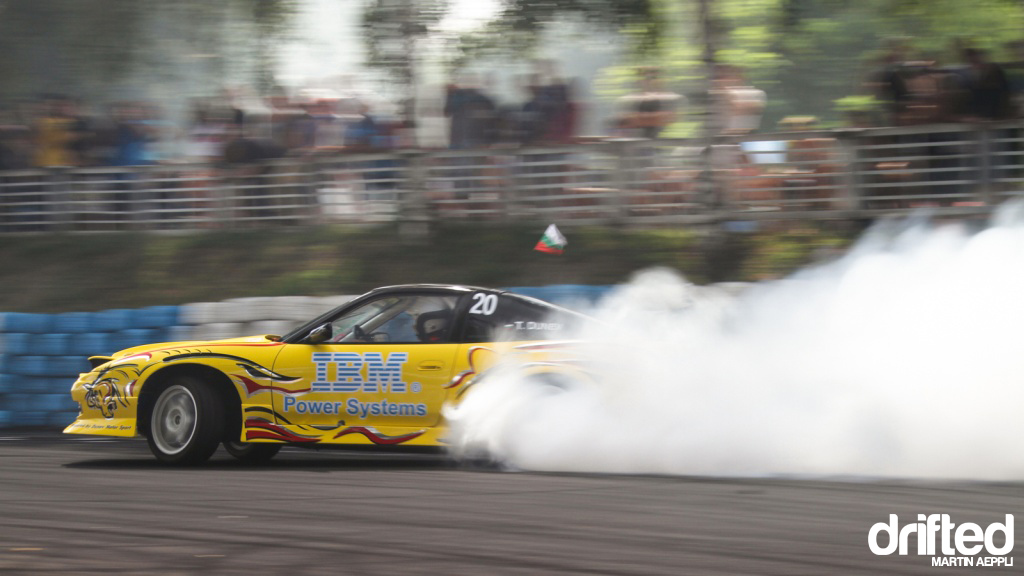 Bulgarian Champion Todor Dunev struggled in his new RB26 powered Nissan S13 and qualified in a lowly 26th place. He was the guy who beat Dai Yoshihara at the 2011 Wembley finals in London, nonetheless!
Slovakian driver Roman Kolesar was another driver to make an appearance, his BMW sounded well, he would qualify in 20th place.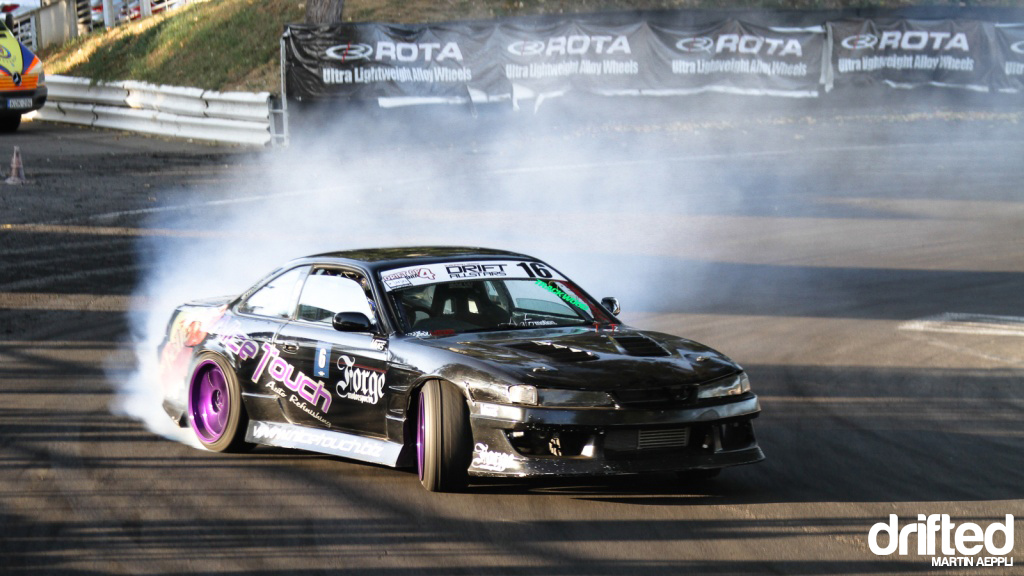 BMX Legend Mark Webb would continue his rise in form as he develops the car over this season, it was only his 5th driftevent ever but he got inside the top 20!
Hungarian fans where probably the most vocal of the season, screaming, shouting and sounding air horns all the time! You name it, they love to make a noise.
Belarus driver Sak Siarhei in this great looking 2JZ powered BMW qould qualify down in 19th.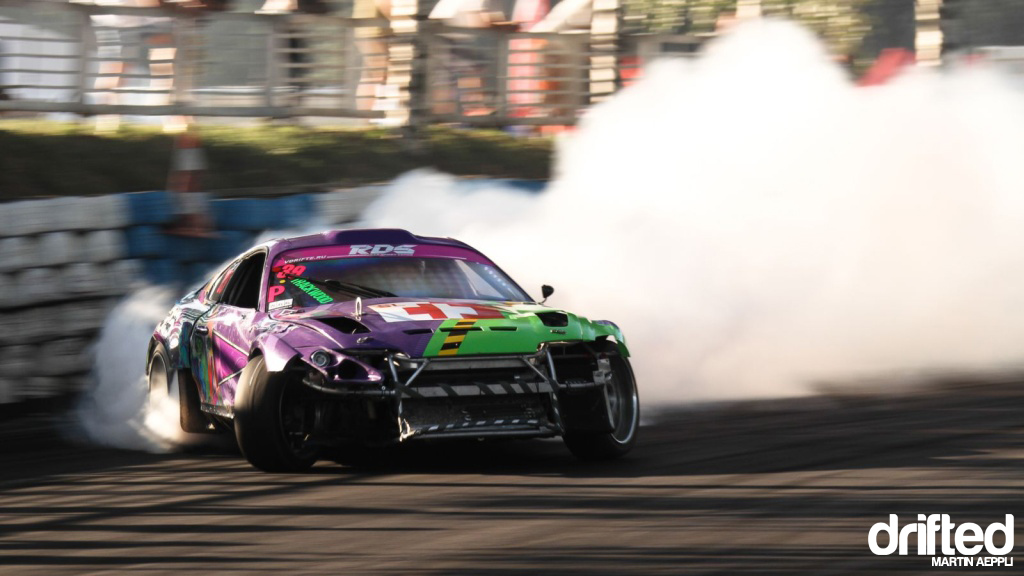 Sergey Kabargin was almost always driving without bumpers, probably to save the very expensive Top Secret bodykit he's sporting. Unfortunately the bodykit was on the car for one of his crashes though.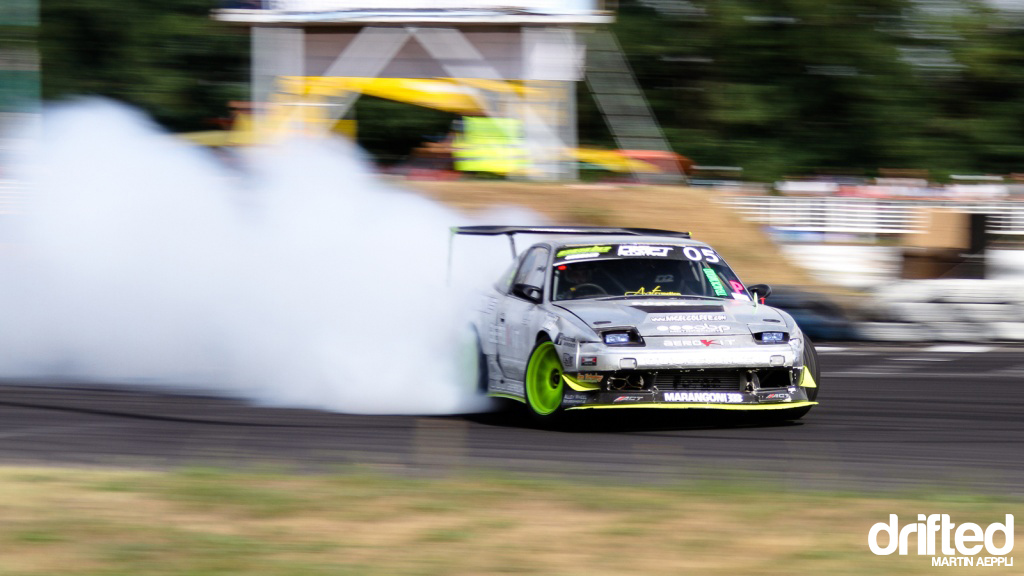 Nigel Colfer was pushing hard to gain back championship points. He has had a tough year and with the cars evolving so much in 2013 admits he has to do big upgrades to get back to the very top and competitive for next year. Nigel would qualify down in a lowly 15th place.
On saturday, a trend started to develop. Due to the huge amount of practice time available during the three day event, drivers were getting very confident, trying to get closer and closer to the walls. This resulted in the event turning out to be a bit of a crash festival, with over 30 crashes in total. Maciej Bochenek of Team Budmat had this big hit with the wall on his final qualifying run. His team rushed to repair the car for the battles as his first qualifying run had already netted him a 12th place.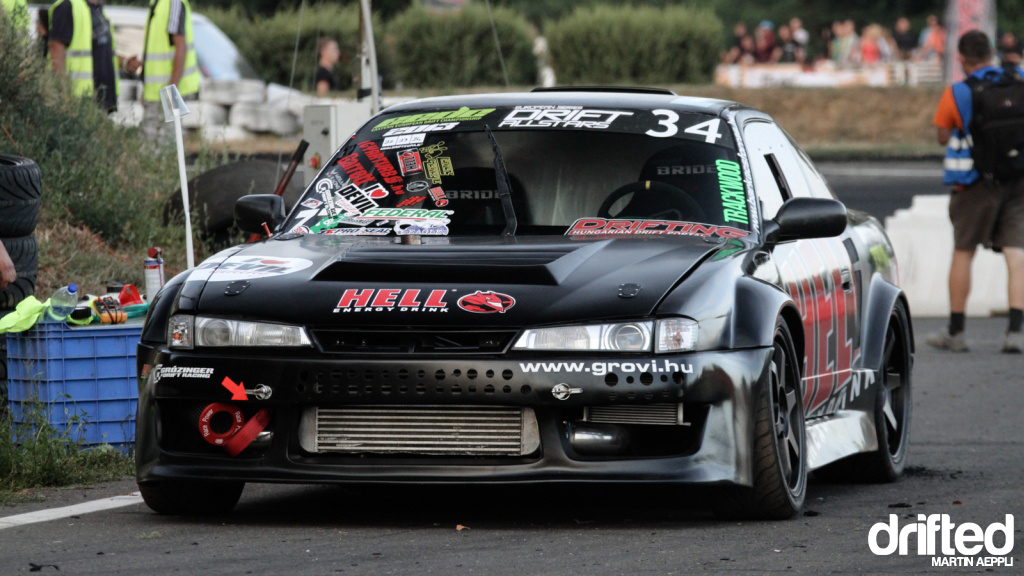 Local driver Zsolt Grozinger was out in his new 2JZ powered Nissan S13. He won the national class but had problems when he went to the start of top 32 for the international race. He qualified in 11th place, which made him the top Hungarian driver, but then clutch problems put an end to his weekend.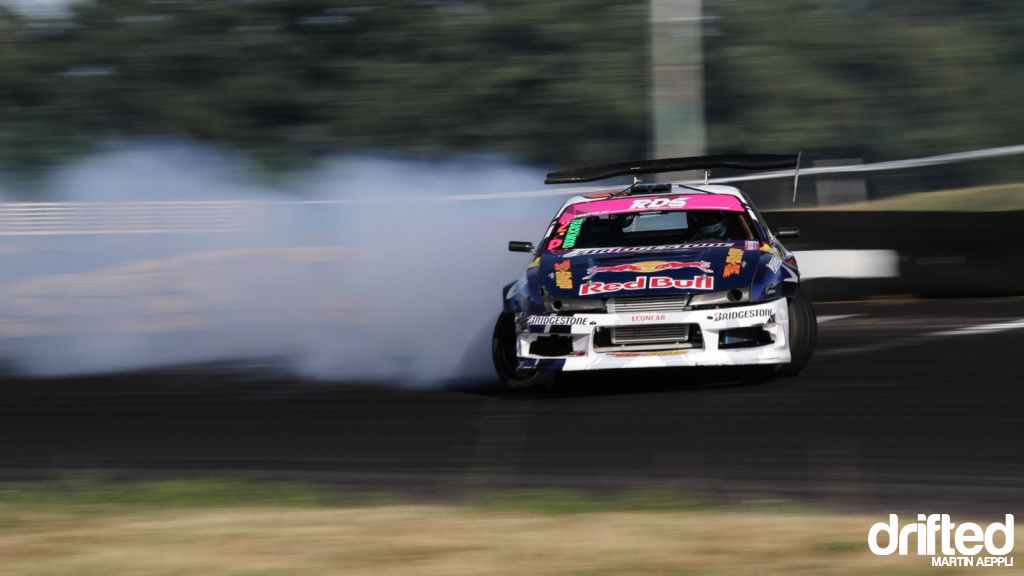 Nikita Shikov would also make the trek from Russian in his Red Bull/Bridgestone Tires Nissa S14. With every lap he got more comfortable with the track and would take P10 in qualifying.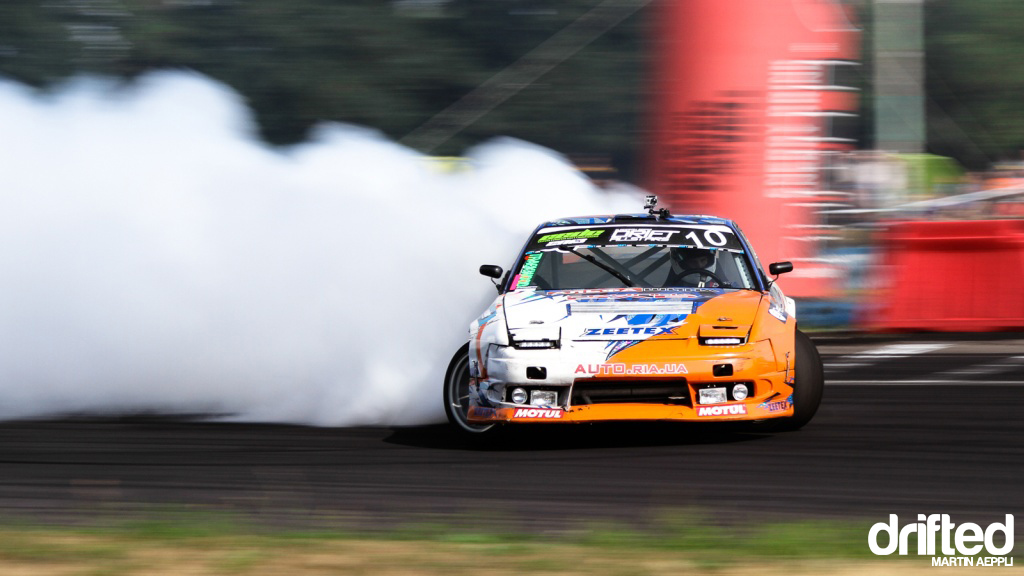 Alex Golovnya had turbo problems on friday but a replacement arrived on saturday. He pushed very hard but could not replicate his qualifying result of last year and took P9.
Kristaps Bluss got 8th place after some very impressive qualifying runs.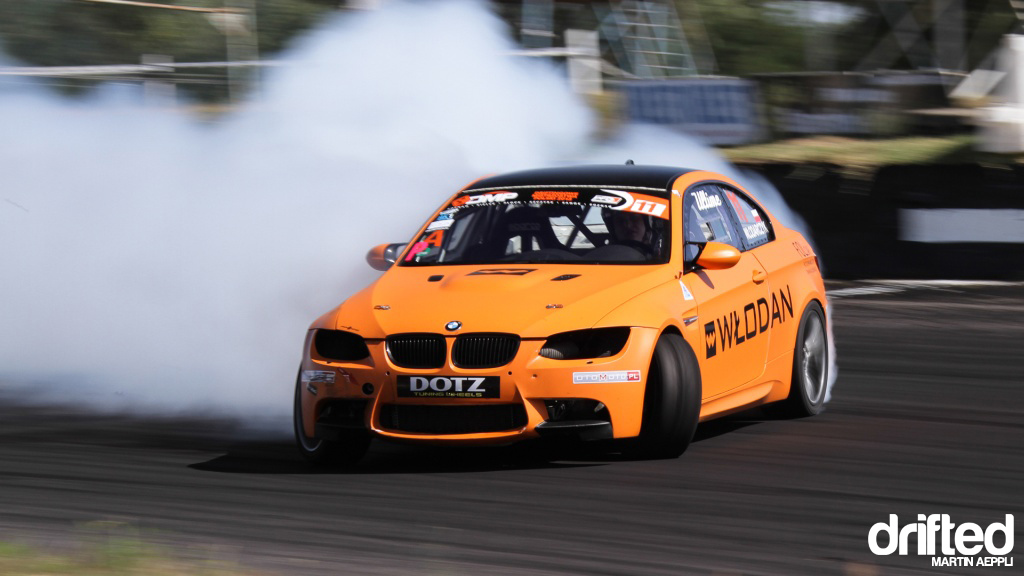 Mateusz Włodarczyk smoking out Hungary. His supercharged E92 sounded amazing on circuit and also went very well, with him taking P6 in qualifying.
Martin Richards drove very consistently in the Altenzo Aerokit Nissan R33.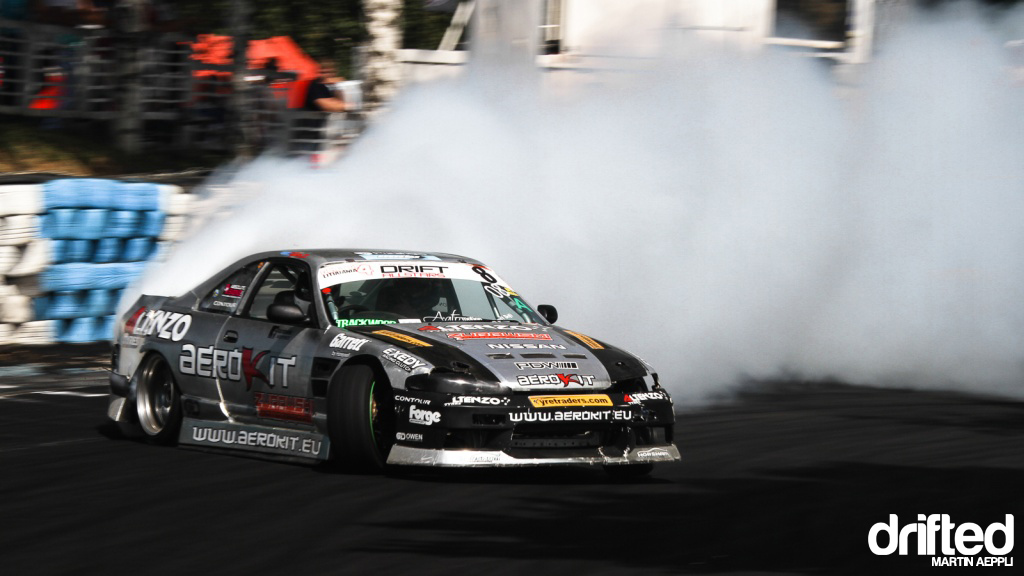 He seems to be on the form of his life lately and is probably the top UK driver at the moment. He took P5 in qualifying.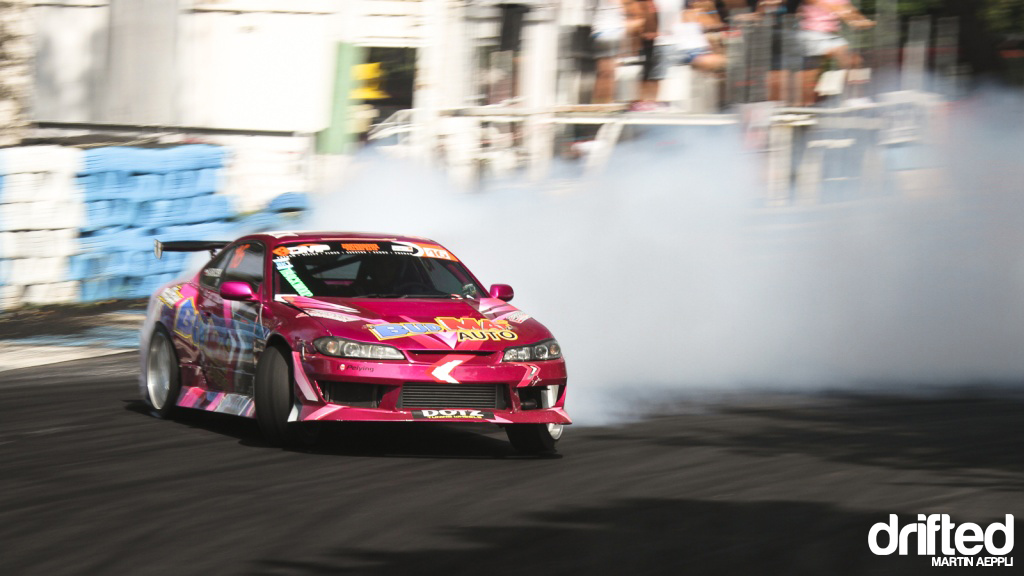 Dawid Karkosik would need to score as many points as he could to close the chase on Juha Rintanen. Even though he missed the friday practice due to other commitments, Dawid stamped his authority on the event by taking P4 in qualifying, grabbing vital points over his rival.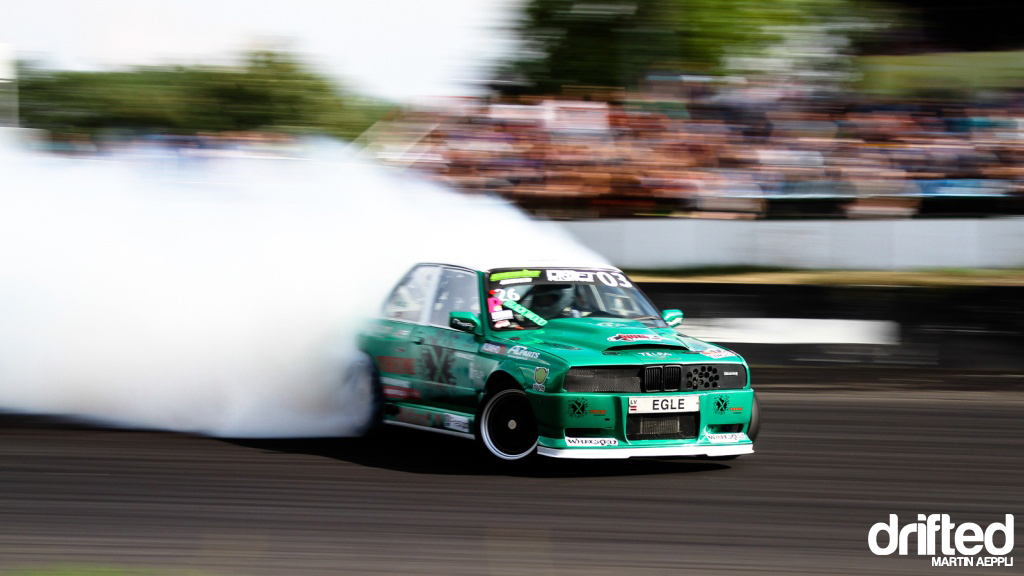 This would be Janis Eglite first time to the Mariapocs circuit, so it was interesting to see how he would cope under the pressure of the championship chase. He drove like a madman as usual and was third after qualifying.
Piotr Wiecek is now getting very settled in the Budmat R34 and actually prefers this chassis to the S14 he also has. He would prove his point and take P2 in qualifying.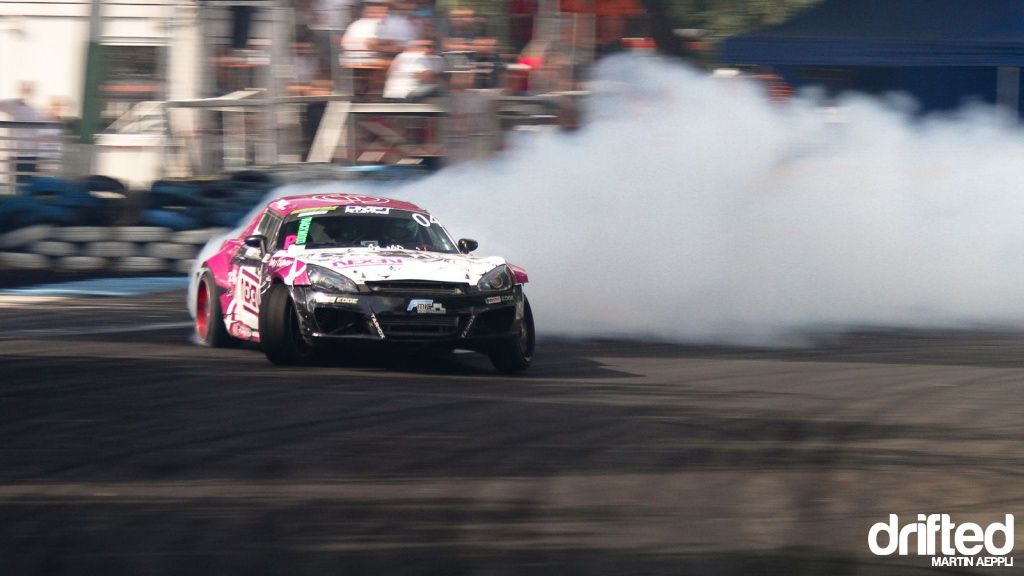 Pawel Trela was really going for it in the Nexen Tire Europe Opel GT. With every race, we continue to see the old Trela coming back more and more. He said he is now having fun after adapting to the new chassis and the more fun he has the more of the crazy Trela we're all used to. He proved this point by winning the qualifying.
After the qualifying, the national championship took place. The international battles only started after darkness had decended on the mariapocs racetrack, which only adds to the unique character of the Trackwood event.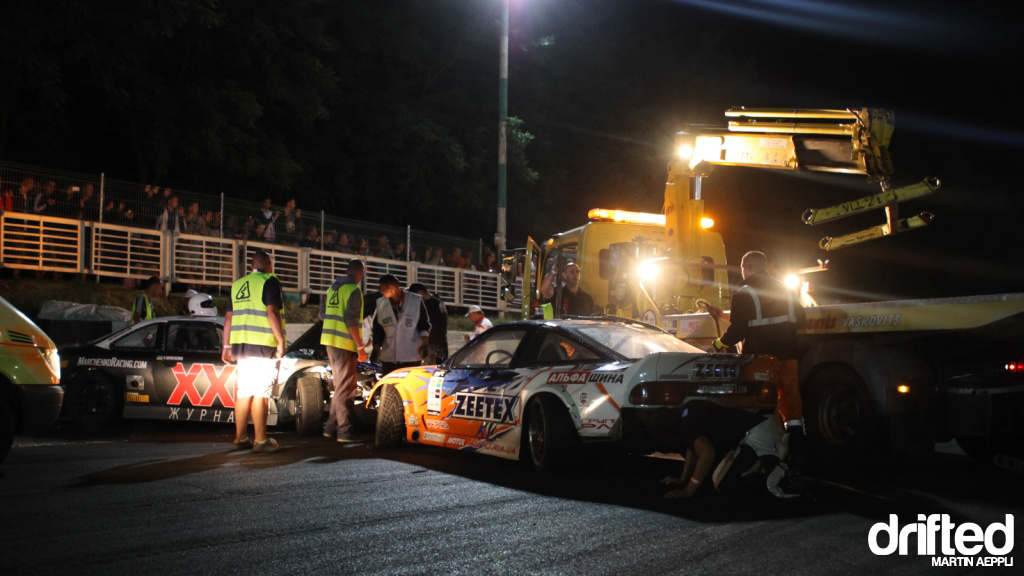 The top 32 kicked of with a bang with Vladymyr Marchenko vs. Alex Golovnya. An all ukrainian battle that would go to OMT during which a collison between the two would mean both cars getting towed off! This was only a taste of the carnage that was to come.
Juha Rintanen would march forward to the top 16 after beatign Ingemars Jekkabsons.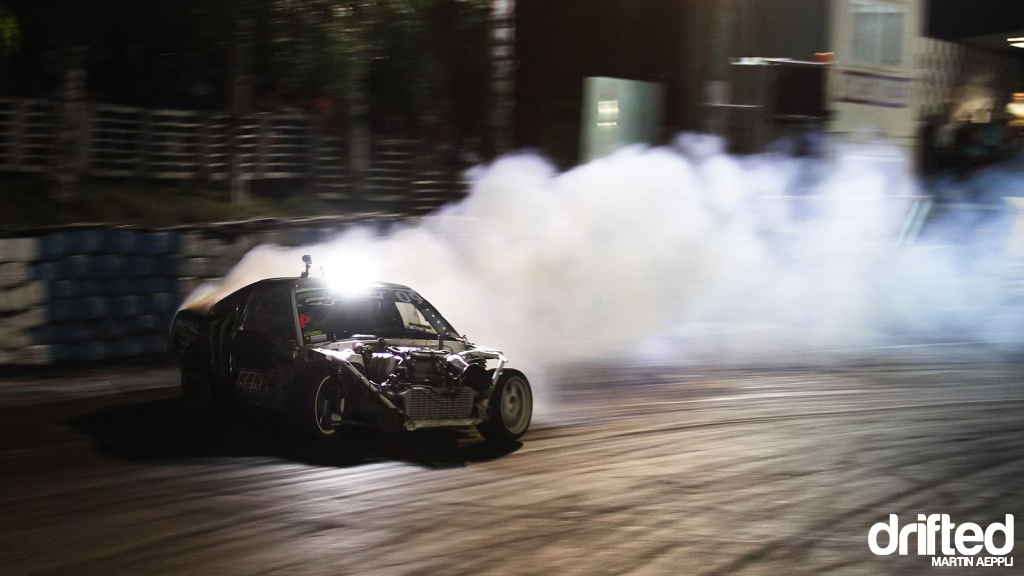 Dmitriy Ilyuk found a creative way to sort his front lighting issue after destroying his front end made entirely of fiberglass. He seemed to push even harder than usual and marched through easily to the top 16.
An all Latvian battle with Eglite vs. Brediks. Oscar had no answer for the man on form in his monster E30, who therefore marched forward to the top 16.
Felix Chitipakhovyan and Pawel Trela battled incredibly hard but Trela went off course and sustained quite some damage to his Opel. A rerun was formed and a further mistake was enough to give Felix his run to the final 16.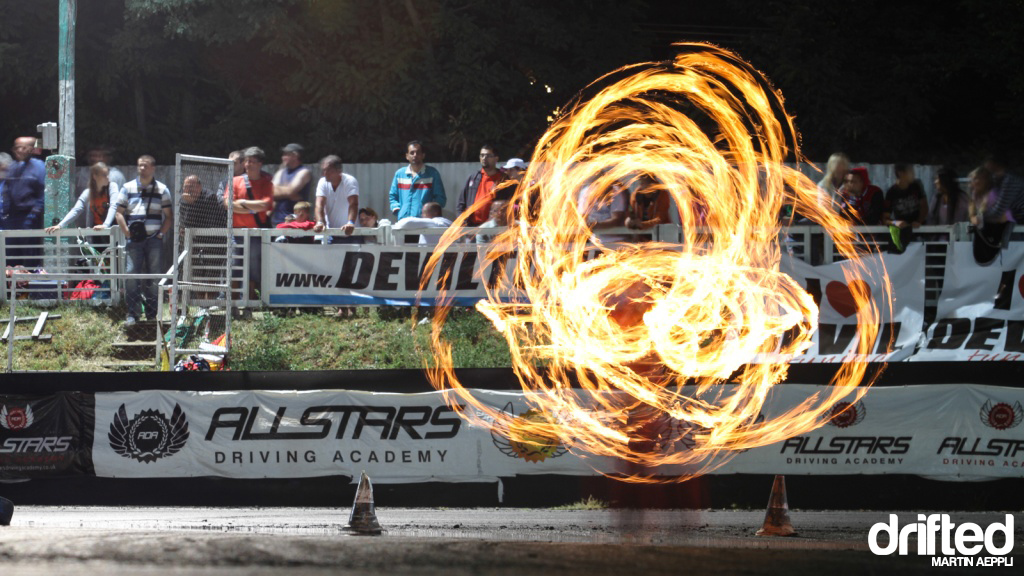 Like every year, the Hungarians showed that they know how to put on a show and had entertainment going on while crews got ready during the break between top 32 and top 16.
This was obviously a chance to have a go at some experimental photography.
The show obviously had to end in a big fireball!
It was another packed out show as over 6000 fans crammed into the small circuit of Mariapocs. Everywhere you went, from the grandstands to the standing viewing areas, it was nearly six people deep. Another record event for the Trackwood Festival.
Alex Golovnya would lead the charge and take his top 16 battle win over EEDC rival and championship leader Gvido Elkinis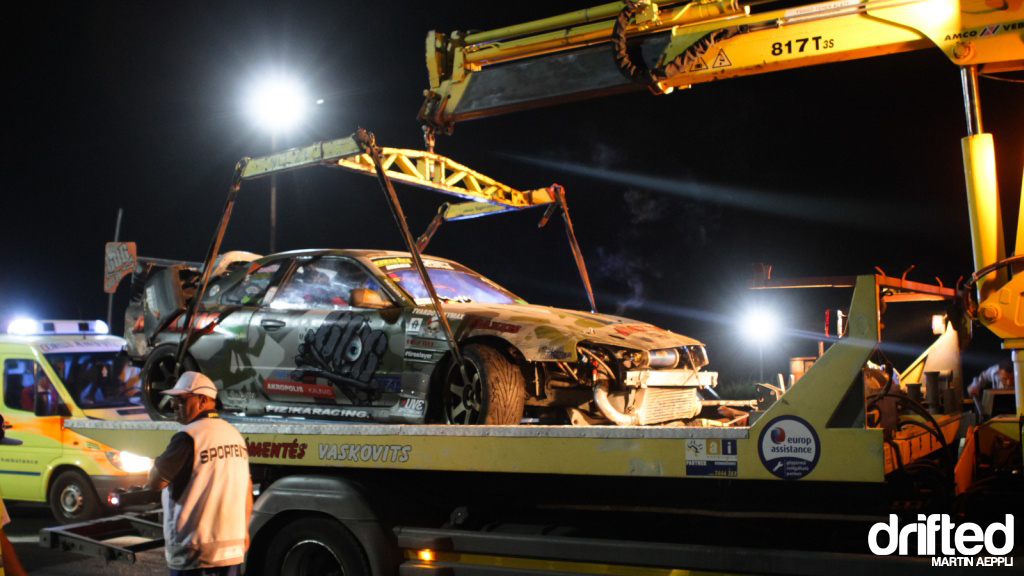 Max Tvardovskiy had a huge off while leading Martin Richards. He woudl clip the wall sending the car into a huge spin and Martin was very lucky not to run into him, as he later said he couldn't really see anything.
In the great 8, one of the biggest crashes of the night was between Pitor Wiecek and Juha Rintanen. A spin by Wiecek, maybe caused by oil on the track, spun his r34 out while Rintanen had nowhere to go and went straight into him.
Wiecek had won, but his car was damaged pretty badly, meaning there was a bye for one semi finalist.
Martin Richards lost to Alex Golovnya in the other semifinal, which meant that Martin had fought his way through the scary night battle to an awesome third place. It also meant that we had a Poland against Ukraine final, Mateusz Włodarczyk vs. Alex Golovnya.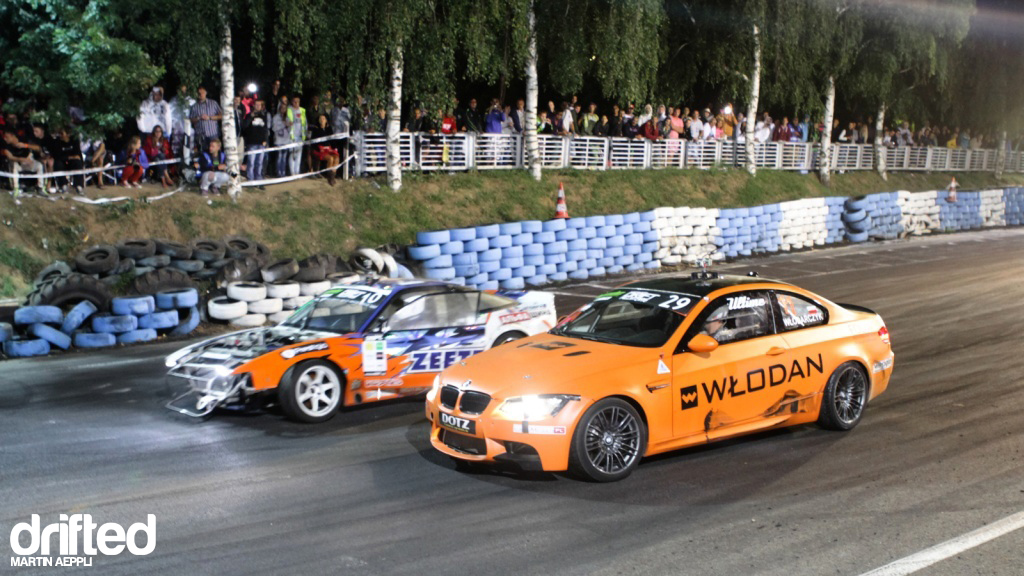 Mateusz Włodarczyk took off with great speed, but as ever Golovnya was on full attack mode. With both cars entering at the fastest speeds of the night Alex pushed that bit extra which resulted in him touching Mateusz Włodarczyk, pushing him into the wall. There was only small damage to both cars luckily, helped by the rallycross safety barrier, but the left rear wheel of Mateusz Włodarczyk's M3 was bent out of alignment, which meant that he could not continue. Włodarczyk got the win as it was Golovnya who caused the crash.
It now all comes down to the finals, The Drift GP of Europe at the Poznan Circuit in Poland.
Words: Drift Allstars
Photos: Martin Aeppli