EVENT: Into The Arena – BDC R2 – Super Pro
If you've read Part I of our coverage you'll have noticed that we made a subtle literary connection between great arenas and gladiatorial battles of years gone by and the venue for the MAXXIS British Drift Championship MMXI Round 2, Norfolk Arena. A tarmac oval surrounded by shale, enclosed in concrete walls and steel fencing and the scene for the pending Super Pro Class Top 16. If you thought the gladiatorial metaphors were over think again, time to don armor for the main event, the Super Pro Class….
Talk of the Super Pro Class was former Red Bull World Drift competitor Remmo Niezen in his Falken Tyre V8 E30 BMW. Remmo made the journey over from his native Holland to test himself against the best the UK has to offer.
The E30 fitting right in place next to the Team Falken UK paddock.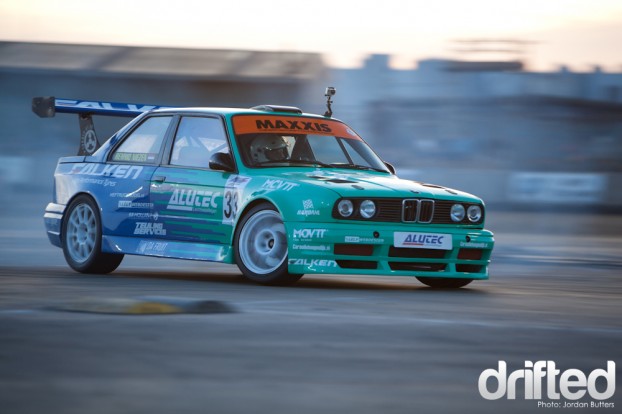 And looking superb on the track. More on this car to come in a future post.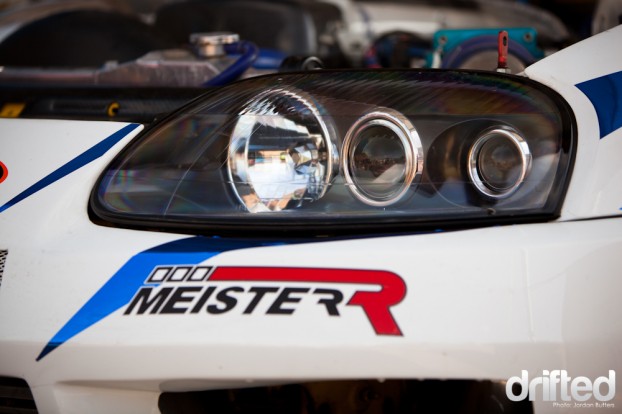 Mark Luney and the Cosworth SATS team were busy in the paddock changing the setup of their 800bhp Supra to suit the tight and technical track.
They found during practice that the Supra's legs were too long for the Arena so a quick diff change and de-tune put the car into a more competitive state. Which clearly worked as Mark placed himself as top qualifier!
Shane O'Sullivan made the journey over from Ireland and the Japspeed RB25 S15 was back on home soil temporarily before being shipped back to the emerald isle for Prodrift.
Stablemate Paul Smith is a Norfolk Arena local, making use of the regular practice days to hone his skills. You can just make out above the chip taken out of Paul's front bumper from an earlier clipping point scrape during qualifying. His strong runs netted him 2nd qualifying spot.
Having made the monumental journey down from Scotland, David Waterworth's S13.5 is looking at it's best if I may say so. David's super consistent driving put him in 3rd qualifying position.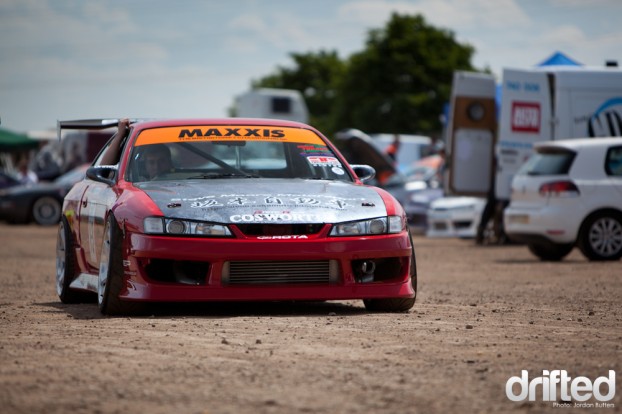 Another driver who has been with the BDC for a good few years is Steve 'Speed' Moore and his immaculate Kouki S14. If you're a regular reader you'll have seen this car plenty before, it really is one of the most photogenic cars on the grid.
So one more won't hurt right?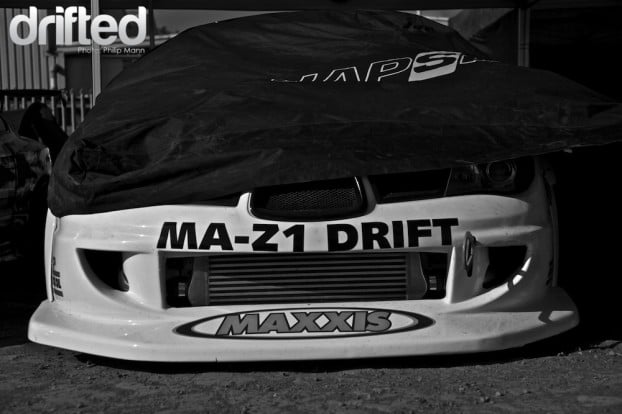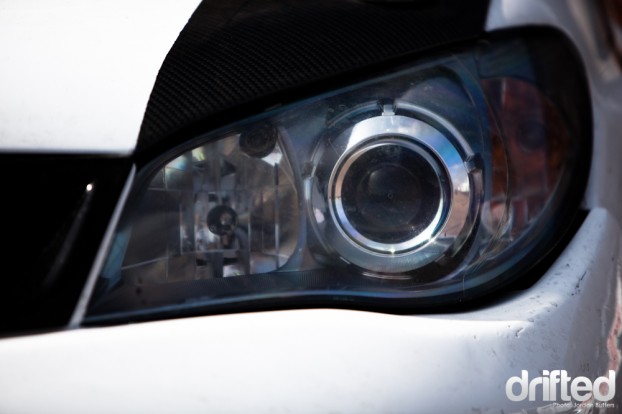 The Japspeed Subaru was sadly out of commission after practice after a rear hub/drivetrain failure.
Driver Steven Biagioni wasn't phased, and jumped into a borrowed S14 and qualified 5th. Maybe time for a return to an S-chassis?!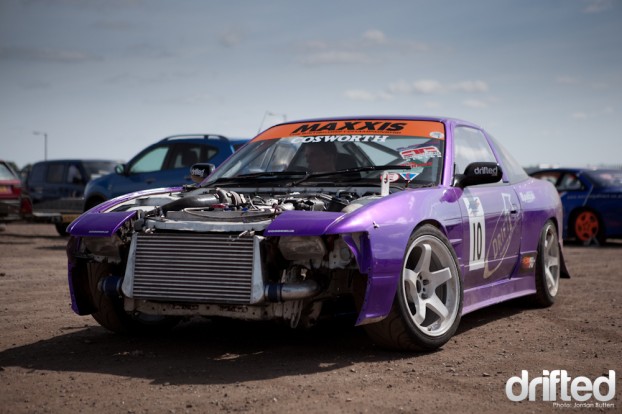 A driver worth a special mention is Ashley Stevens. After a highly successful 2010 season Ashley pulled the motor from his S13 to install a 1JZ Toyota engine. After completing the conversion and spending out his off season budget completely, Ashley received the news that the engine he had installed had a terminal problem.
After driving Round 1 in a borrowed car Ashley dropped another motor in only to find this second one had a problem during a dyno tune! Almost at the point of giving up for the season he was helped out by his friends and family for support and managed to source a good engine.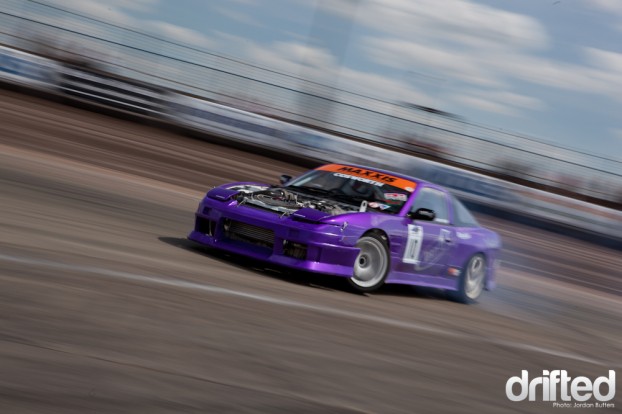 He finally got out at the Arena in his completed car, and looked completely at home!
As the sun set over the battleground the Top 16 Super Pros entered the Arena for their crowd introductions. Remmo Niezen towers over his slammed E30 above.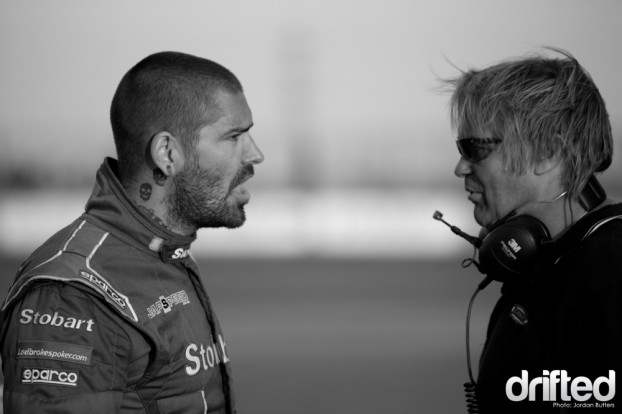 Japspeed and Stobart driver Shane Lynch has a quick chat with Arena marshall and staff member Malx.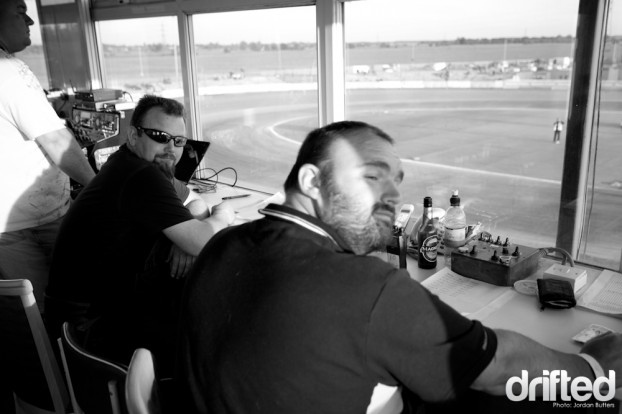 And BDC judges Julian Smith and Rich Newton ready themselves for action. Notice the beard-in-progress efforts in preparation to July's Awesomefest Beard-off.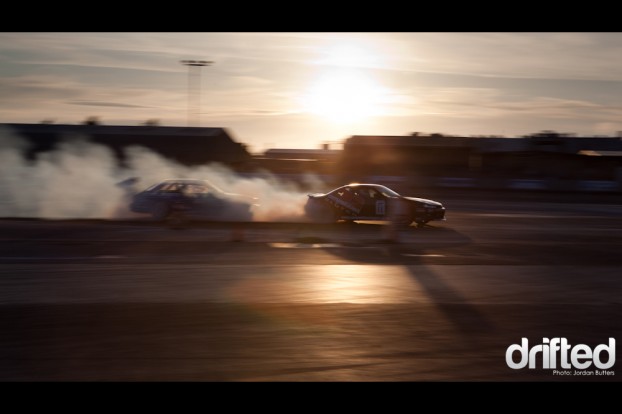 The Norfolk Arena event in the BDC calendar, or rather the timing of, is a photographer's dream. As the sun sets over the horizon the low orange light pierces the smoke trails and provides great opportunities to shoot 'contre-jour' (against the sun). Above, Dan O'Brien in the Competition Clutch S14 puts up a good fight against the chasing Falken E30 of Remmo. Remmo takes the win on this occasion.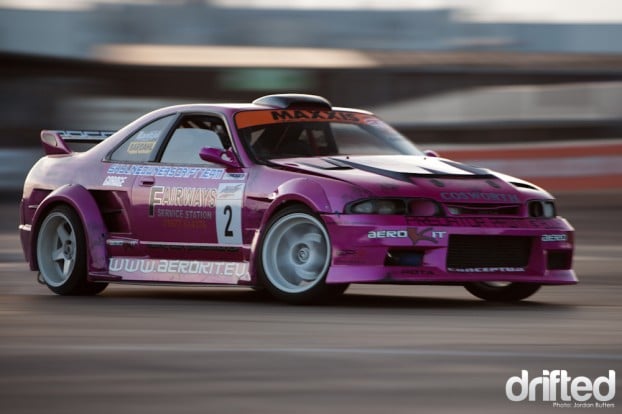 The shock-pink of Simon Perry's R33 looks great in the late-evening light. Your eyes are drawn to the custom rear arch (fender) setup. The two vents channel air across the rear tyres and draw more smoke out of the rear vents. A tactical modification as well as aesthetic I feel!
Matt Carter's Falken 1JZ S14.5 was sporting some last minute ventilation modifications. Norfolk Arena is notorious for low-airflow from drift cars and as such any extra air and cooling you can grab helps!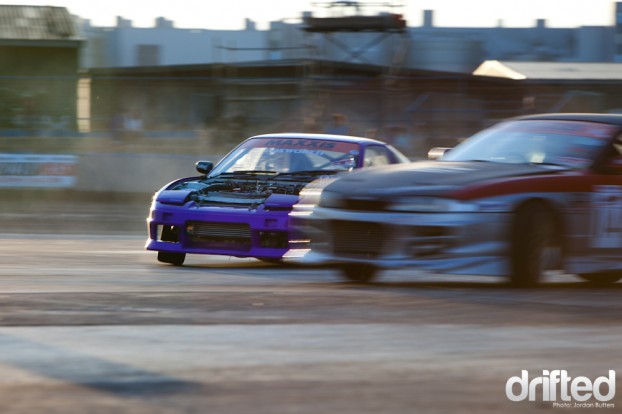 It must have been a pretty awesome feeling to finally get his car out in the twin battles again but Ashley was outed in the Top 16 by Stephen Biagioni in a borrowed S14 but still left the Arena with a smile on his face. He was later awarded the Hard Charger award at the event for his efforts in staying strong when everything was against him!
Si Perry faced off against Steve Moore in the Top 8 and progressed to the Semi Finals.
If there was one car you are guaranteed to come home from a drift event with plenty of shots of it's the SATS Cosworth Supra of Mark Luney!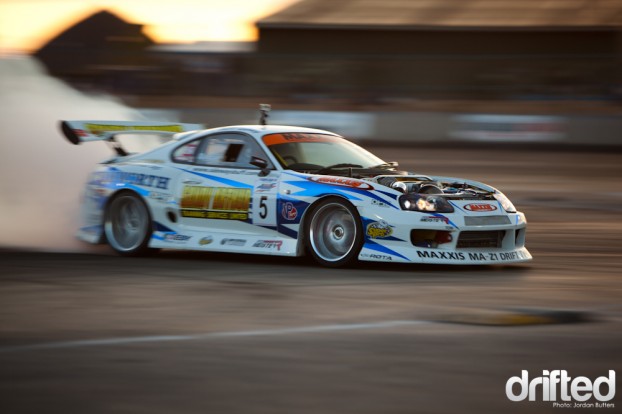 Mark progressed to face Matt Carter in the Semi Final, in a replay of Round 1's final battle.
With the Supra running poorly and Matt Carter on top form Matt took the win against Mark. The scorecards read 1-1 so far this season between these two.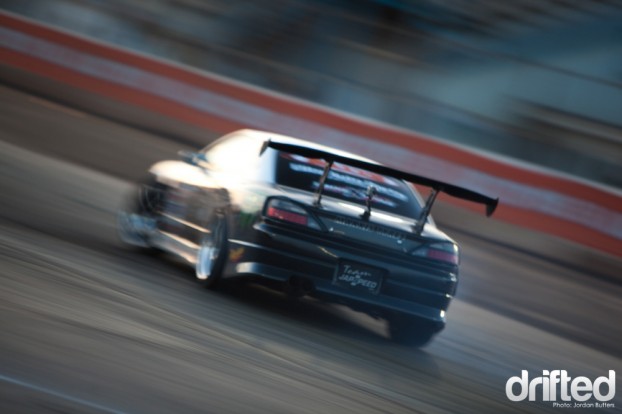 Japspeed's Shane O'Sullivan took out team mate Paul Smith in the Top 16, but suffered a mechanical problem after the run.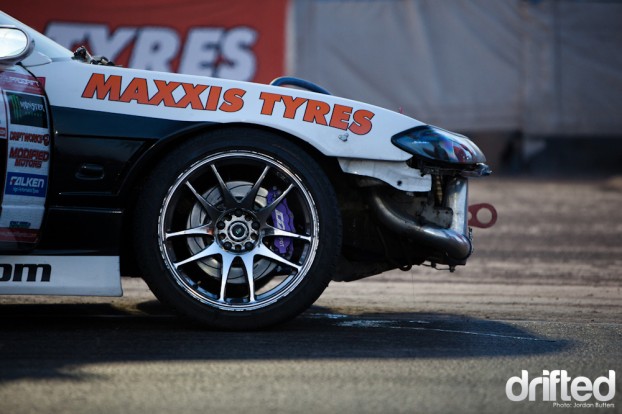 The sand in the Arena does it's job again and soaks up a fallen warrior's blood.
Visitor Remmo Niezen was up against Simon Perry in the other Semi Final. Some strong talk on the start line between the two drivers indicated a hell of a battle was about to happen.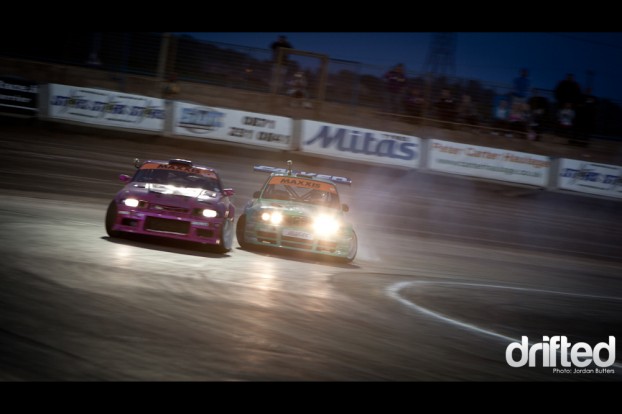 After a strong leading run in which Remmo opened up a substantial gap over Perry, he plays chase and tucks in on the Skyline's passenger door. Remmo heads into the final to face Falken team-mate Matt Carter.
Mark Luney took the win against Simon in a great 3rd/4th place battle, taking up his position on the bottom podium step,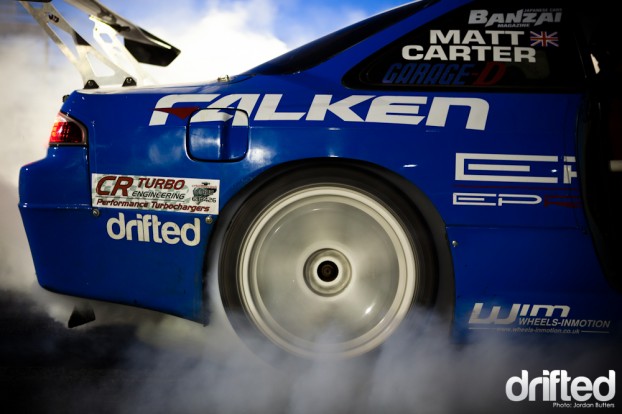 As the Final drivers readied at the start line and thick plumes of Falken tyre smoke filled the Arena there was all to play for. The all important championship points on Matt Carter's mind, and Remmo wanting to prove his place on his first visit to the British Drift Championship.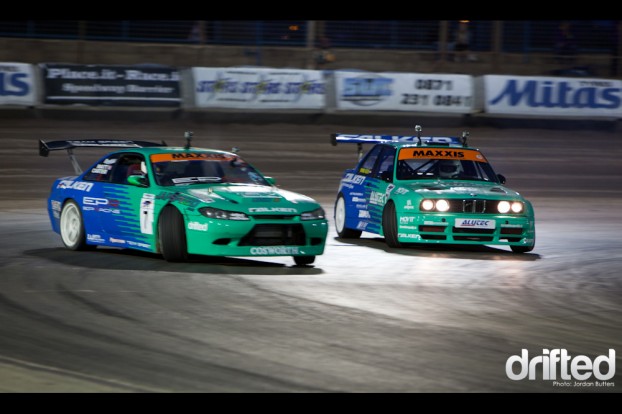 Two close battles ensued, both drivers tucking in close when the chance arose. Remmo appeared to have more angle on the first run….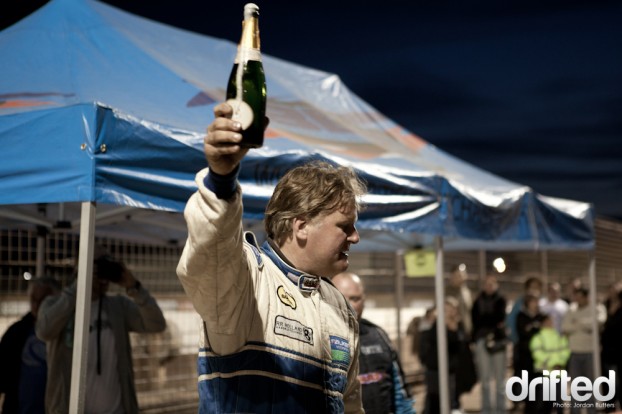 And with that takes the Victory!
Super Pro Class Round 2 Results
1st – Remmo Niezen – Falken V8 E30
2nd – Matt Carter – Falken 1JZ S14.5
3rd – Mark Luney – SATS Cosworth 2JZ Supra
As the drivers hung up their race-suits from the event and the crowd dispersed it was time to get our BBQ on!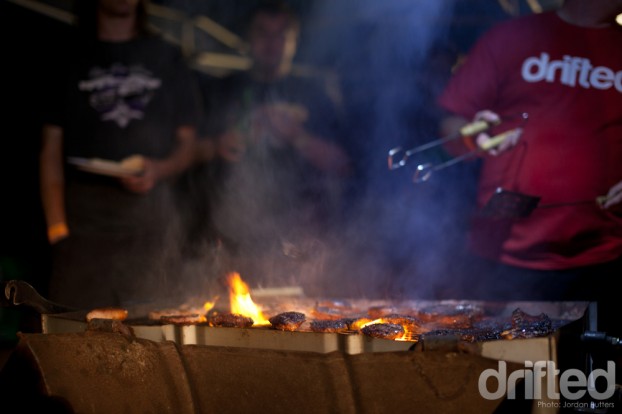 Round 3 of the MAXXIS 2011 British Drift Championship kicks off on the 2nd-3rd July and returns up to Teesside Autodrome for the first time since 2008! We can't wait!
Tags: 2011, Arena, Battle, BDC, British Drift Championship, drifted, Drifting, Falken, Jordan Butters, Mark Luney, Matt Carter, Norfolk Arena, Philip Mann, Remmo Niezen, SATS COSWORTH, Simon Perry, Super-Pro
Subscribe to Drifted
If you like this article why not subscribe to Drifted and we will email you our freshest content for free!