EVENT: Irish Drift Championship 2014: 10 Years On
10 years, 10 champions, 1 country. The Irish Drift Championship has capped off a decade of sideways action. To mark the occasion, IDC head honcho Dave Egan laid down the gauntlet to the Irish drivers, with 10 years gone and not one international driver standing on top of the podium.
The last decade has created 10 Irish Champions, 3 European Champions and 4 top flight Formula D competitors. Progression of Motorsport in any faction is natural, but progression on this scale is exceptional. Drifting has exploded worldwide in recent years, firmly cementing itself amongst its peers.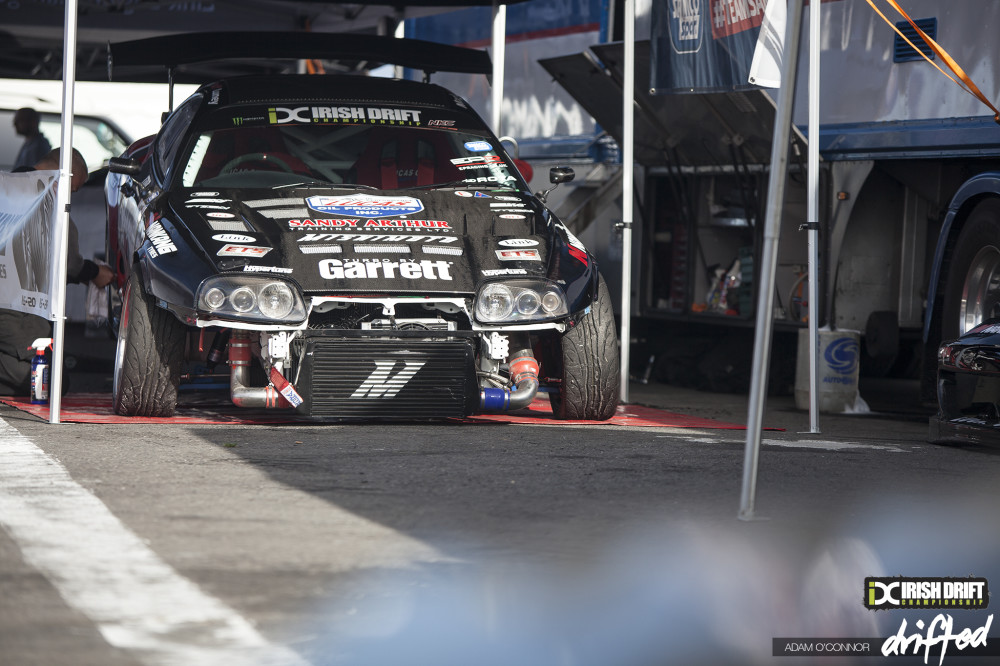 This past year alone saw Daigo Saito, Robbie Nishida, Matt Powers, Chris Forsberg, Phil Morrison, Pawel Trela, Matt Carter and more, hit the track on Irish soil, but none finished on top.
Drifting in the professional sense is still in its infancy; the gap between amateurs and professionals is manageable, but year on year the gap is increasing.
The underdog heroes of the weekends gone by may be no more. The privateer who takes his 300bhp S-Chassis to the podium in a Semi-Pro class will be blazed in the trail of space framed mechanical marvels with infinite horsepower.
For a small land locked nation with only 1 major racetrack, Ireland has created some of the greatest drifters to shred tyres professionally.
But Drifting will make or break you; only a select few have the heart and soul to devote their lives to a sport that in many nations will generate no real capital for them and their loved ones.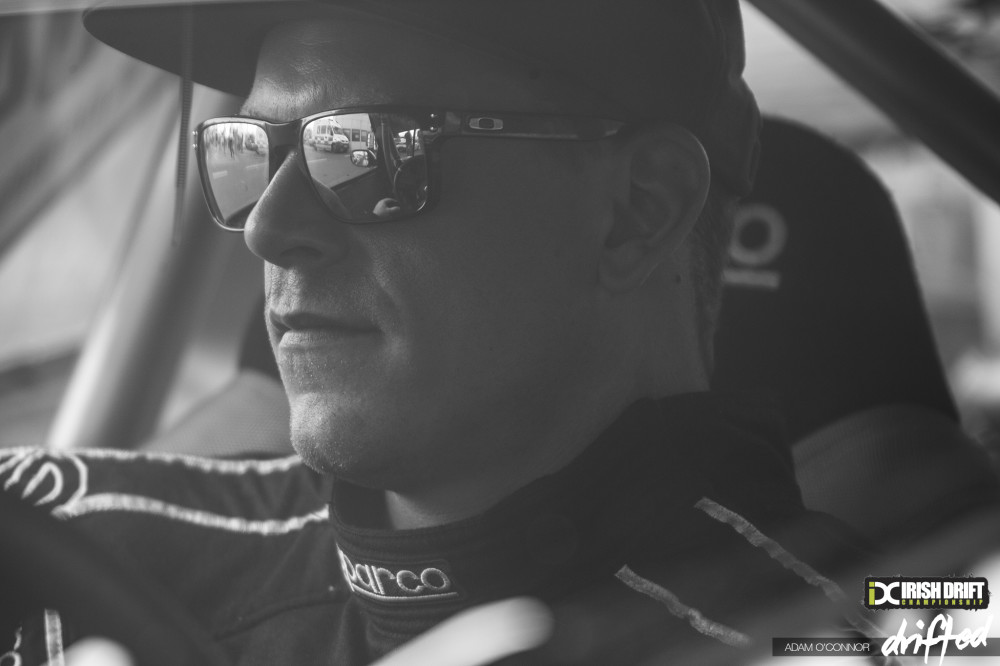 Although in a sport where capital gains are minimal, a solace can be taken from the fact that you know your opponent on the start line has the same passion and same heart that you have.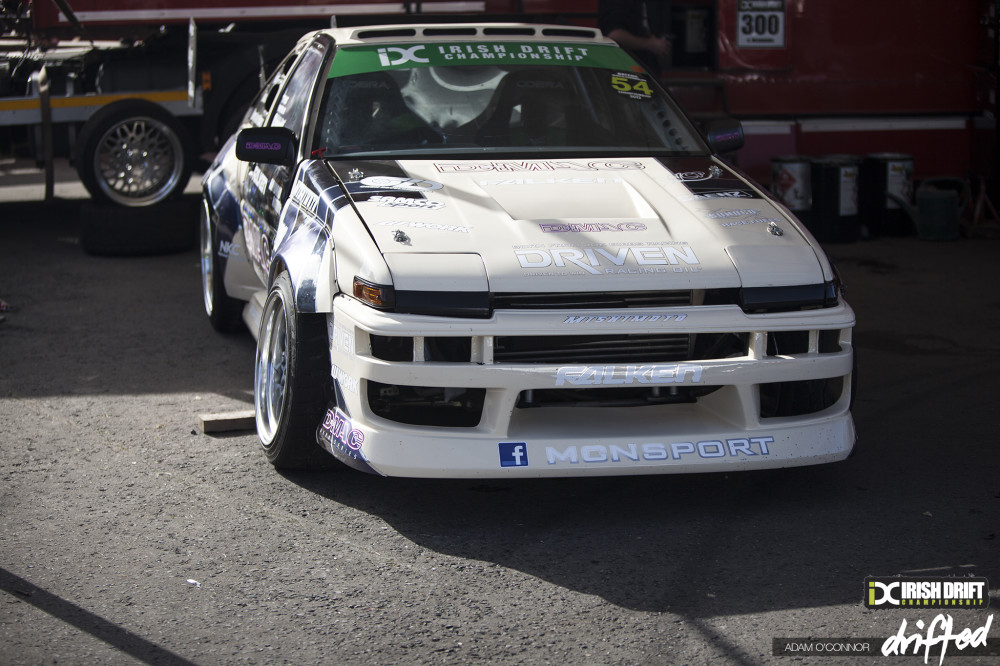 10 years ago Nomura, Taniguchi, Hibino, Ueo; these were the big names in Drifting.
But in a little rural country racetrack in Tipperary, a small gathering of friends could never have imagined that they would be held in a similar esteem to the legends that preceeded them.
Formula D has created a global stage for the best in the business to do battle in front of the biggest audience. It has allowed individuals to build a brand around them allowing them to do what they love, day in and day out. Chris Forsberg is one of these individuals, but what motivates him to travel over 3000 miles to Ireland?
Ireland has so much talent behind the wheel that it travels over into England and mainland Europe, but only a select few make it Stateside to showcase their skills. This is what brings the biggest and best names in the business to the little Green Isle to do battle.
Prodrift, and what has become the Irish Drift Championship has always placed a strong emphasis on Semi Pro and Rookie competition.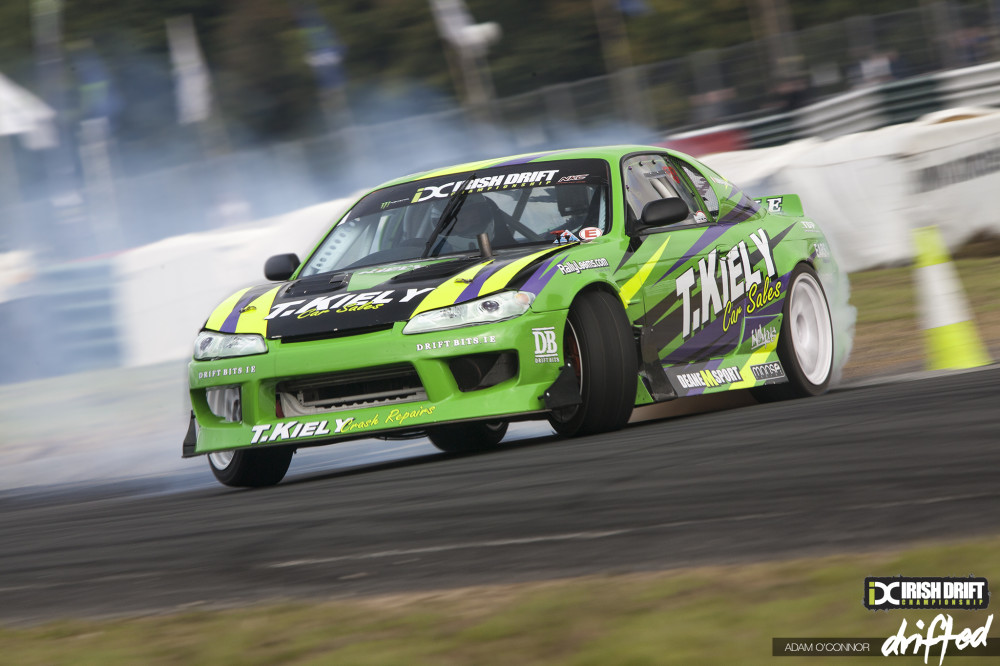 James Deane, Duane McKeever, Jack Shanahan and this season Tomas Kiely joined the group of drivers who have taken home Event trophies and even Championship titles before they could hold a provisional licence to legally drive in Ireland.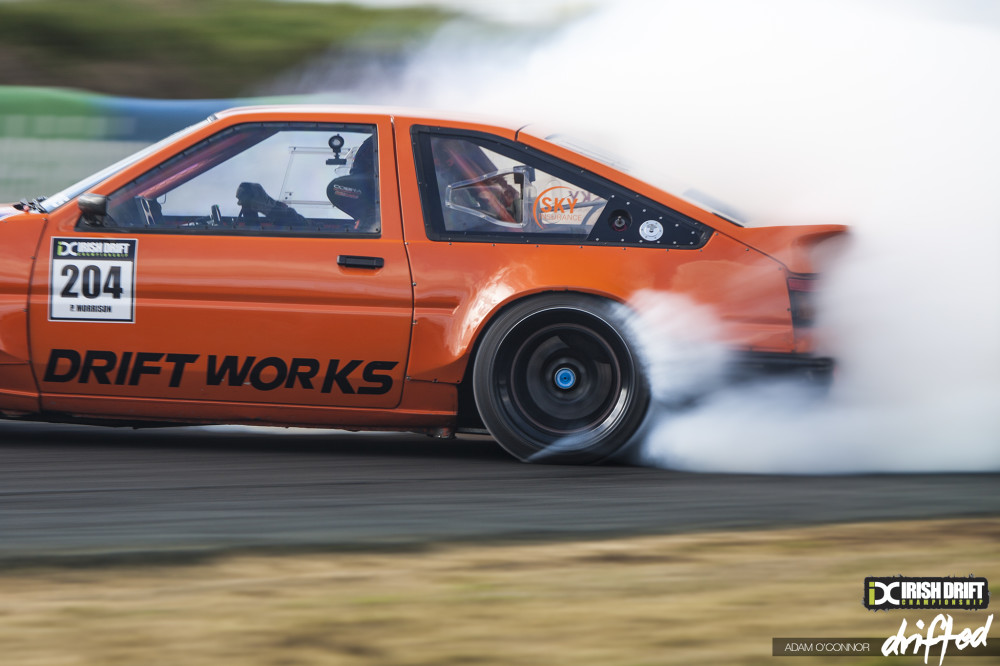 But as another season draws its curtains yet again, walking the paddock as the sun set on Round 5, a sense of what next, prevailed. Where will the builds go, how much power is enough and when will the progress subside?
One element that will never change is the level of commitment on track. The changes to start line positioning in Round 5 saw drivers reaching triple digits before initiating into Mondello's blind off camber crest. Something that in years past would have laughable to even talk about.
Increased speeds over past decade make every pass of the course do or die. Milliseconds can create heroes or zeros. One wrong twitch of an ankle, a degree of steering rotation off, an incorrectly timed pull of the hydro, all can end your weekend before your eyes.
And that's what draws the crowds. 2014 saw attendance levels reach new heights domestically with grandstands and barriers full. Worldwide viewership skyrocketted with the introduction of live streams.
Viewers mean sponsors. Sponsors mean investment. Investment means progression. What will the next 10 years bring to Irish drifting with these new prospects? Only good in my opinion, once the money is fed through the drifting community from the ground up, thus creating a solid foundation for what can be a major industry in Ireland.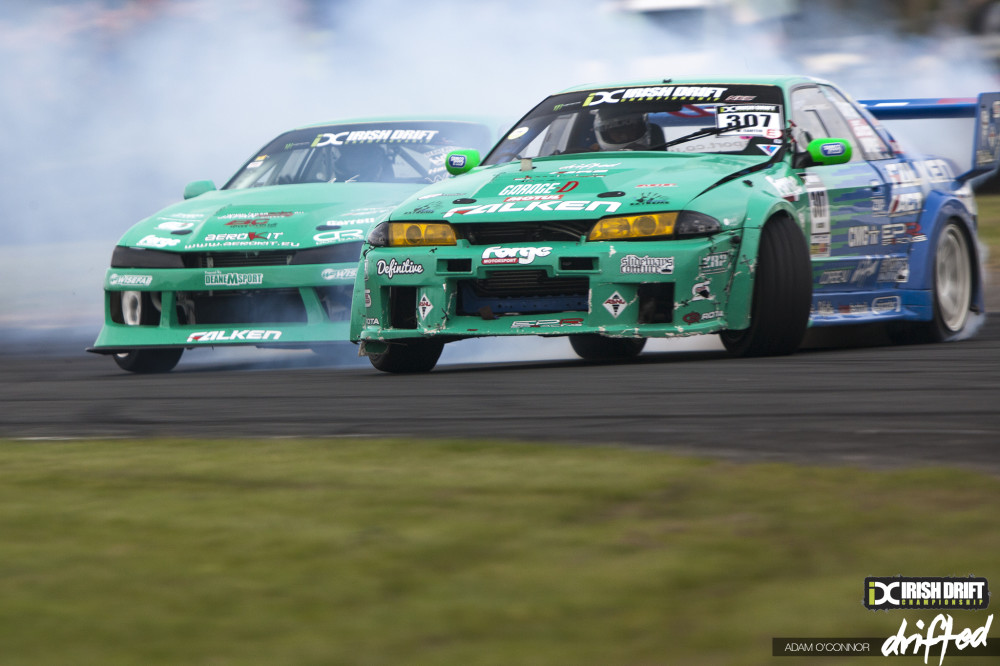 Team and manufacturer investment may become more prominent in Irish drifting with Team Falken leading the way at the moment, but will they return for 2015?
With the taste of champagne still on the lips of some competitors, the countdown to the 2015 season is already underway in some corners of the country. Getting to the top of the podium at this level of drifting begins in the cold winter months, tooling over each inch of mechanical perfection that drivers bring to the grid.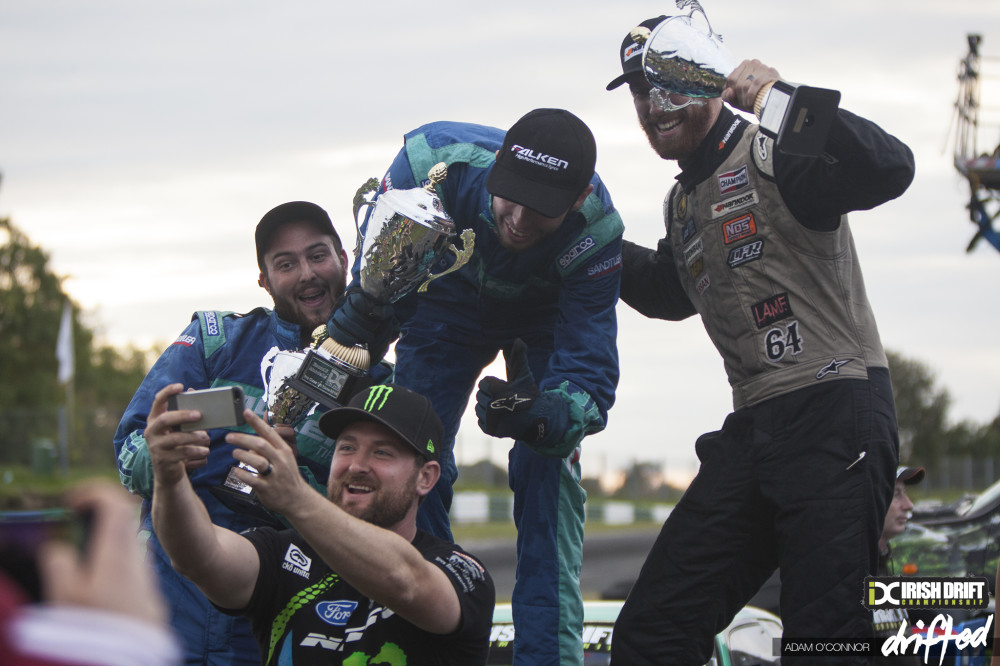 2014 has seen the greatest year of competitive drifting in Ireland. Social media was alight with excitement before the first car even arrived at the paddock. The names we know and love from years past would go head to head in some of the closest battling ever seen.
How will this season be topped? We can only wait and see.
10 years past. 10 years undefeated.