EVENT: Irish Drift Championship 2015: Millstreet R2
This past weekend we witnessed the Irish Drift Championship step off a cliff into the unknown. For the first time ever in competitive drifting, all sideways proceedings would take place completely indoors. A purpose built drift track was constructed in the Green Glens Arena on the outskirts of Millstreet, Cork. Week in, week out, the arena normally plays host to prancing ponies and their jockeys, but this weekend would see a lot more horse power being unleashed around the tight technical course.
IDC head-honcho Dave Egan worked tirelessly through the week, organising and installing a one off custom light and sound system to transform a blank canvas into what some drivers described a drift amphitheatre. Head judge Kieran Hynes maximised the limited space provided in order to create a looping, figure-8-style course with 8eight rear clipping zones per run.
With a slippery indoor drift arena and horse power figures reaching the realms of quadruple digits, smoke and grip levels were always going to be a worry. Ventilation systems and strategic openings in the arena created a constant draft throughout the weekend, but not even that could stop the Pro drivers bringing the Green Glen into a misty haze with every pass of the track.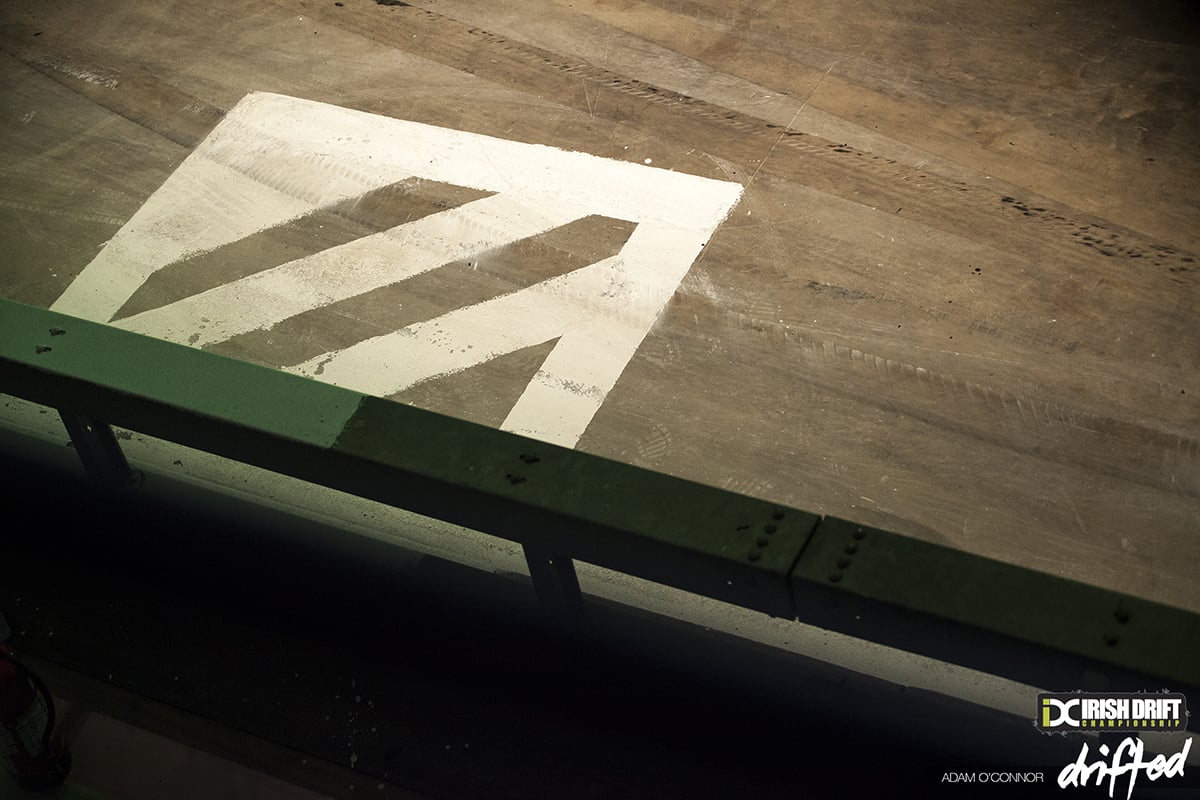 Bringing an event indoors allowed the IDC to play with light and sound in a different way to regular race track. Each clipping zone was illuminated in a white light and with drivers having to reach eight rear clipping points per run, making sure the judges and crowd knew a driver was nailing their line, each clip zone change to green or red whether they made it or not.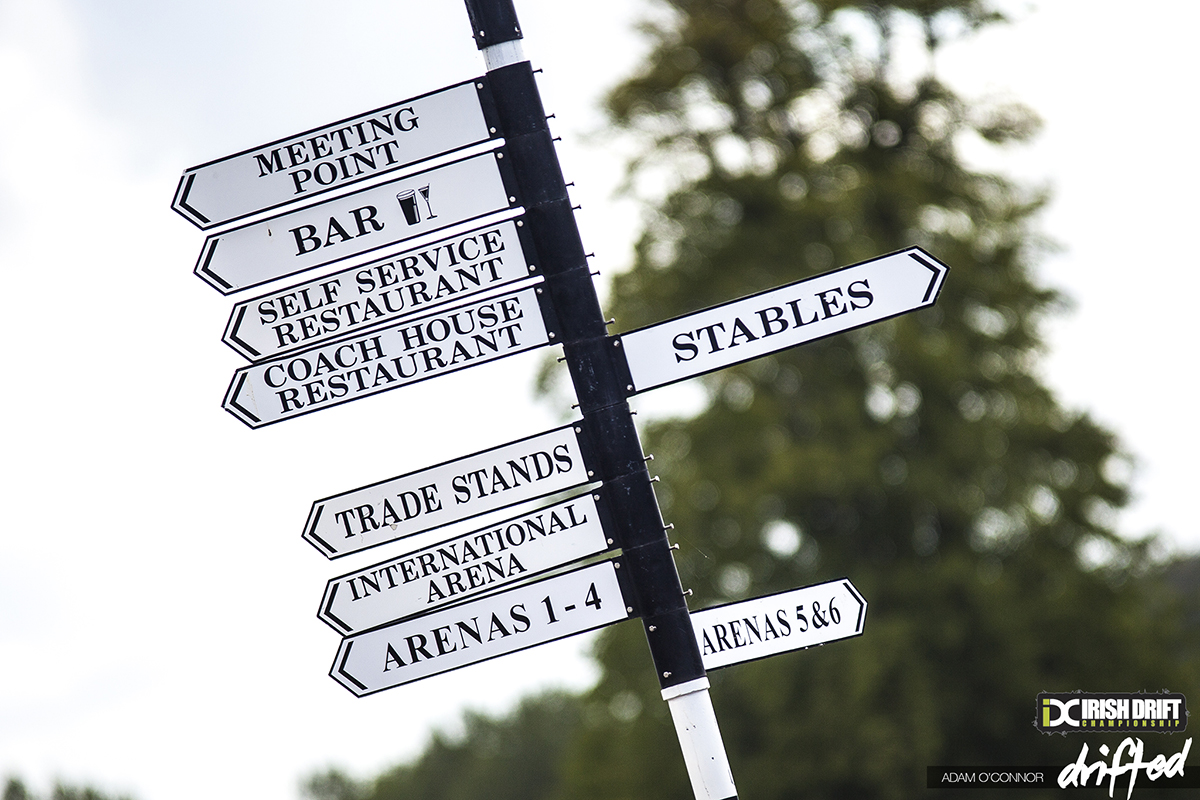 Ireland has long been held in the highest regard for our equestrian and horse racing pedigree. Numerous arena's like the Green Glens exist throughout the country and could possible see indoor events possibly becoming a yearly feature on the Irish Drift Championship calendar.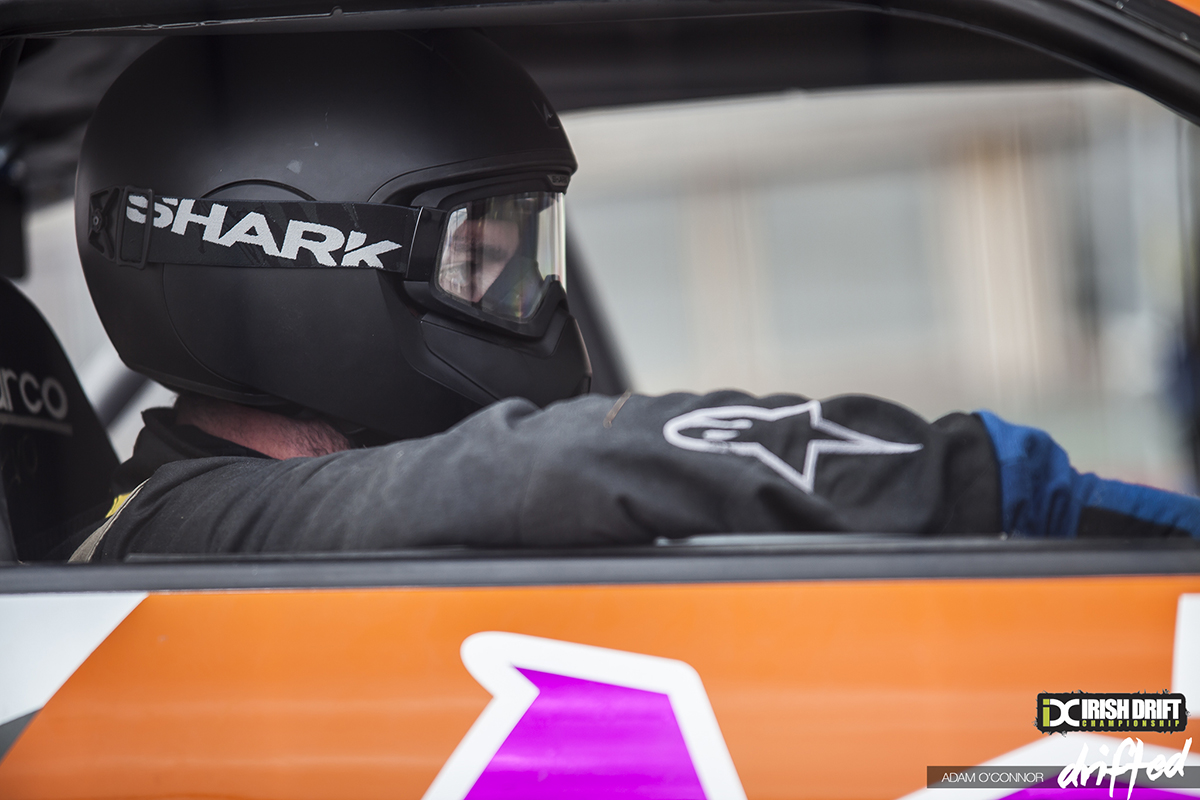 For the first time ever, weather would have no relevance on the weekend's proceedings and was a welcomed respite from the wintery conditions that normally go hand in hand with Irish drifting.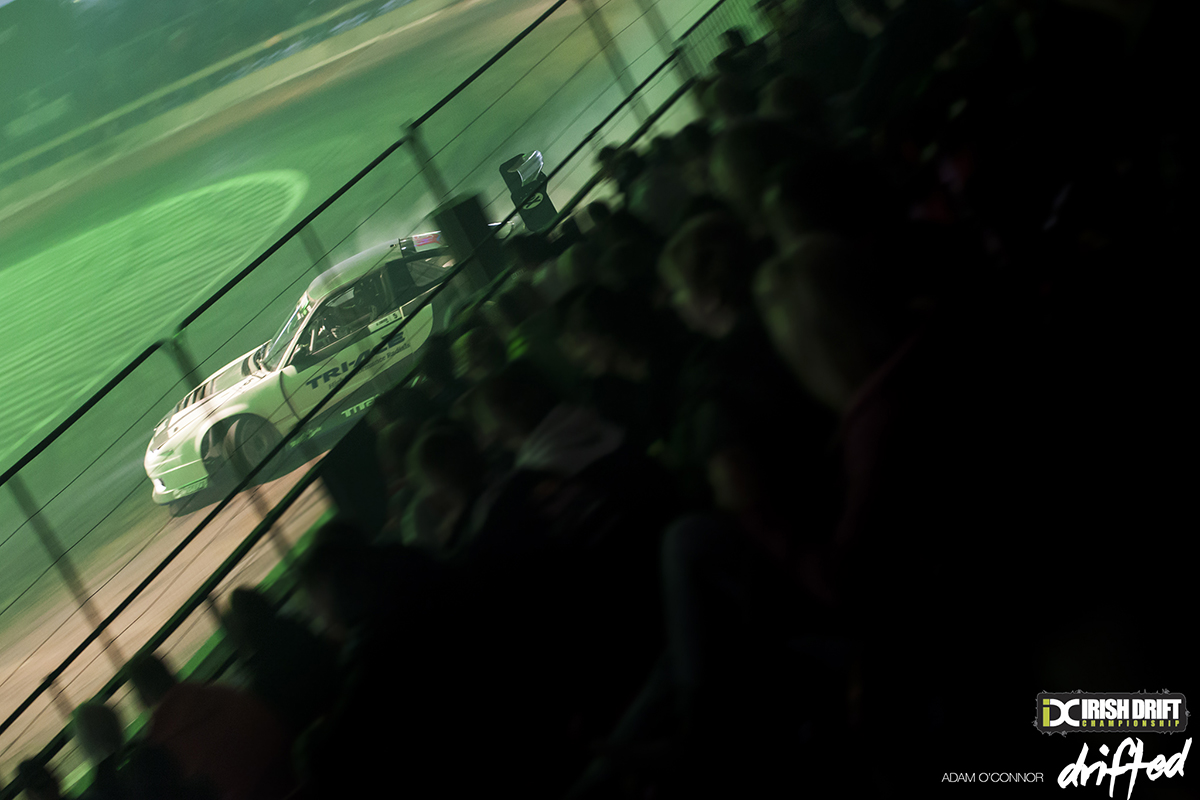 Crowd interaction was one of the key to the weekend, and what better to get the crowds heart racing, then sitting four feet from the rear spoiler at high speed.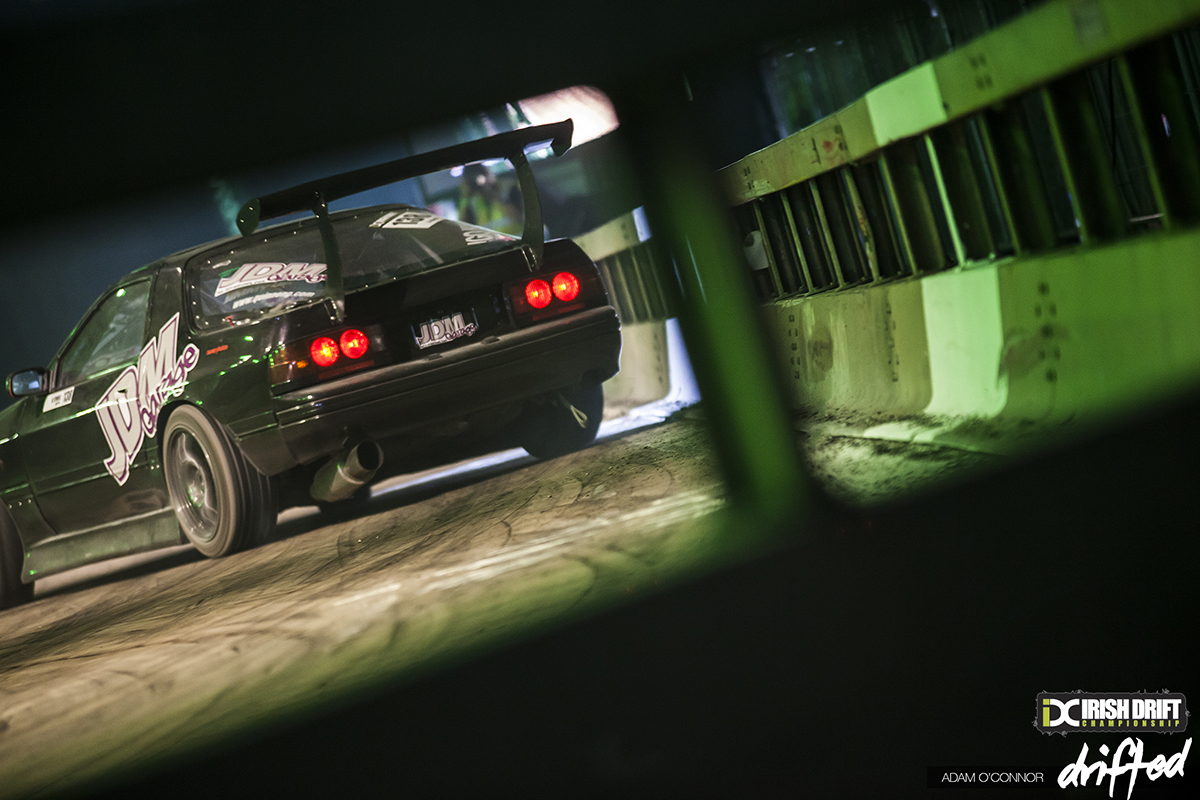 But with no risk, there is no reward. The difference of inches in rear axle placement can mean the perfect line, or the obliteration of pristine fibreglass quarter panels or even a driver's entire weekend.
As the weekend passed, an ever shrinking amount of drivers on the grid would have rear bumpers or tail lights left in place.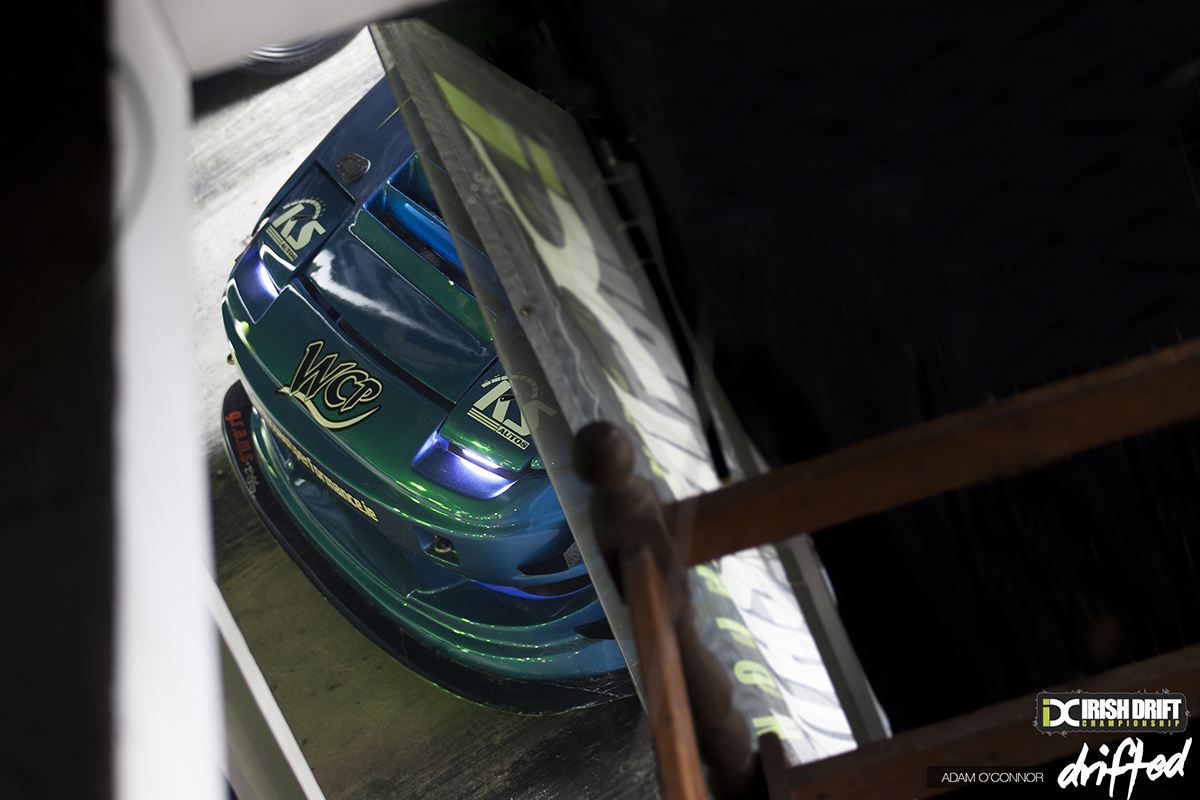 A last minute change to the track layout had drivers at a standing start within the building, and a short full throttle run up into the first clip, bridging the gap between Semi Pro and Pro drivers.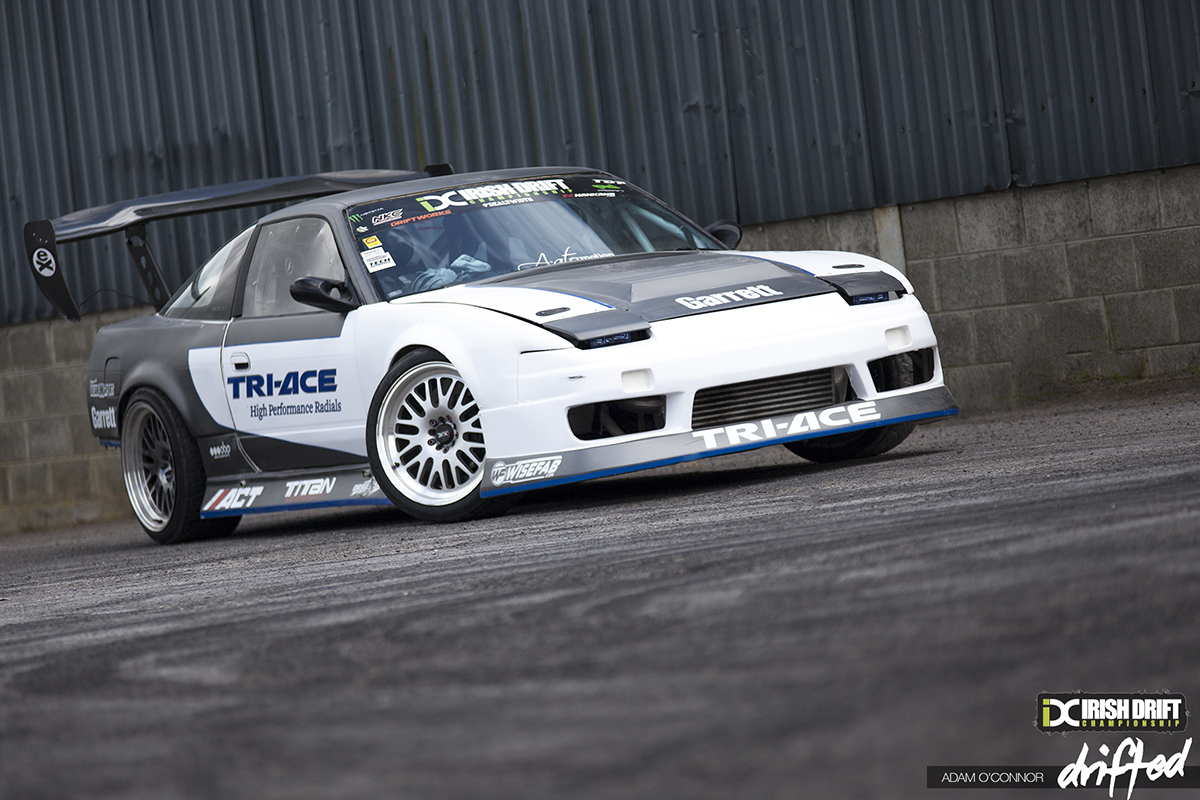 Nigel Colfer was getting some last minute preparation in before he sets off for another European conquest with Drift Allstars set to take place this coming weekend.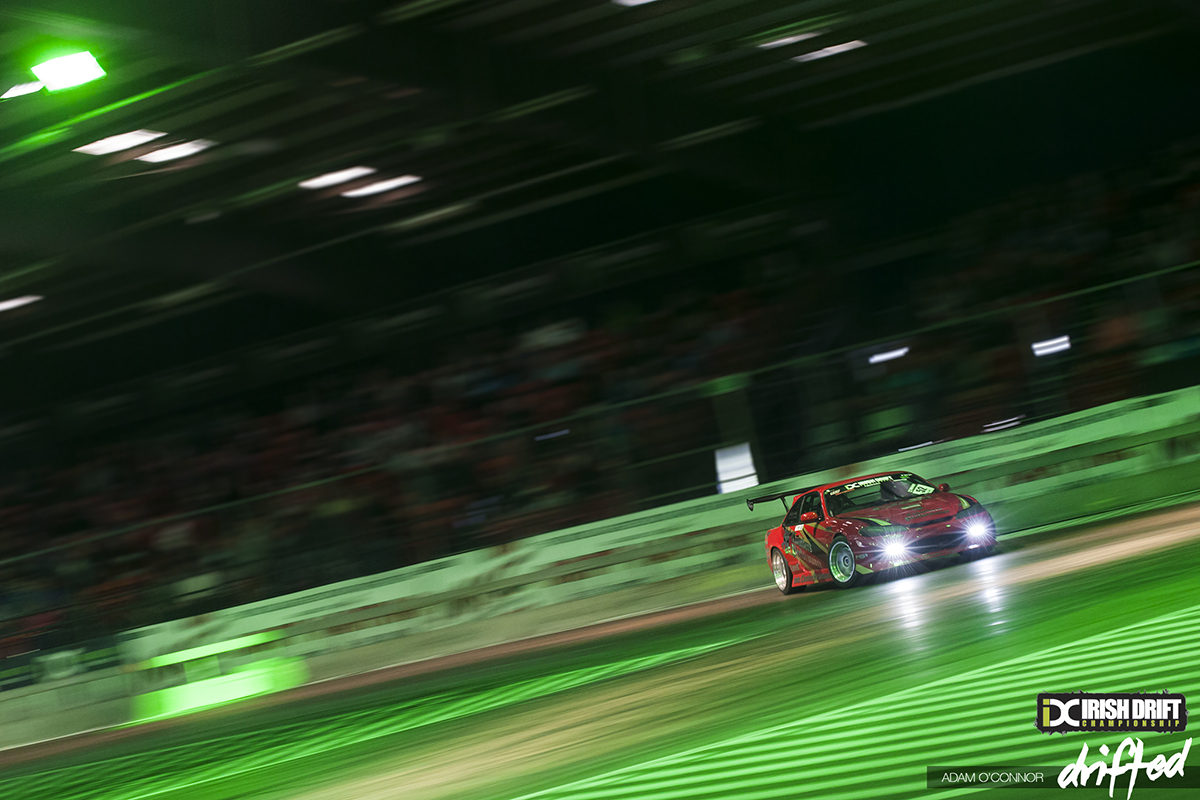 Saturdays Semi-Pro action was more competitive then ever with the lower horsepower cars reaping the benefits of Millsteet's compact set up.
James Deane had remained unbeaten in Qualifying for three years until this weekend. Jack Shanahan laid down the ultimate gauntlet, laying down a perfect 100 point and went un-matched for the rest of the session.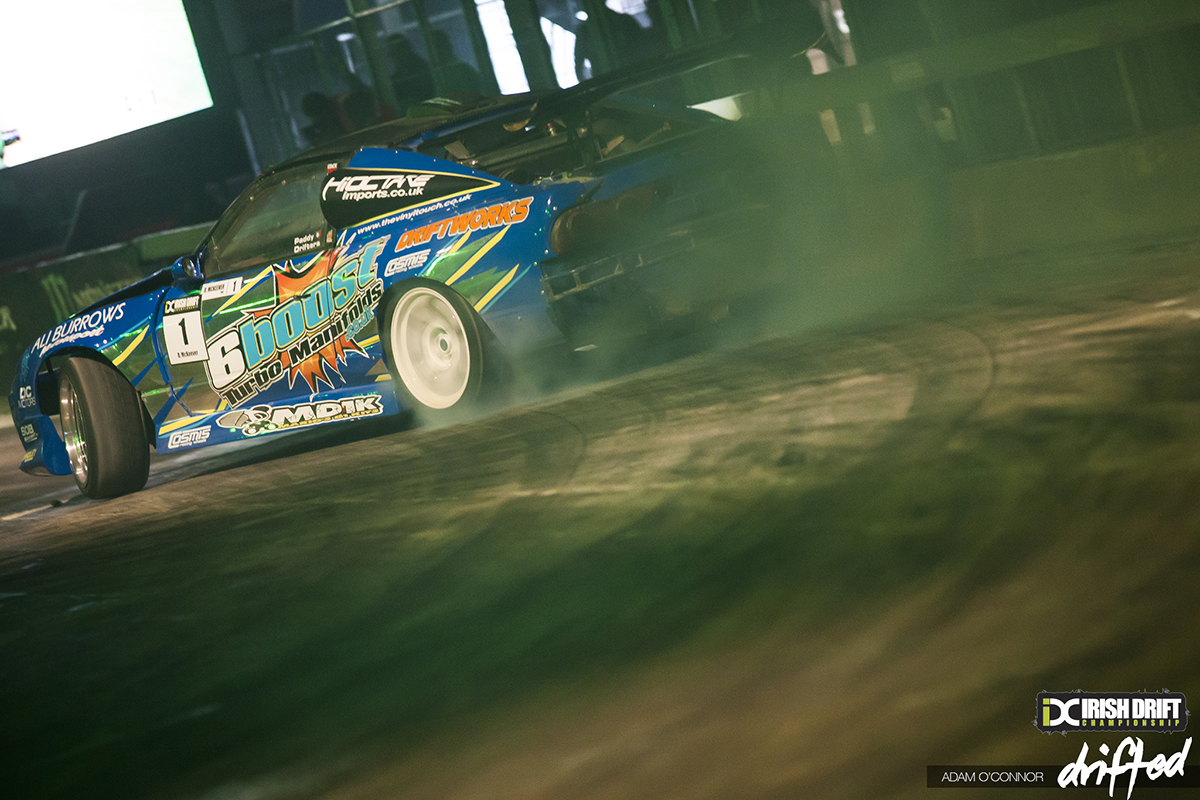 Current IDC Champion Duane McKeever was on course to a take precedence on the podium but would unfortunately see his weekend halted due to a broken drive shaft and engine issues.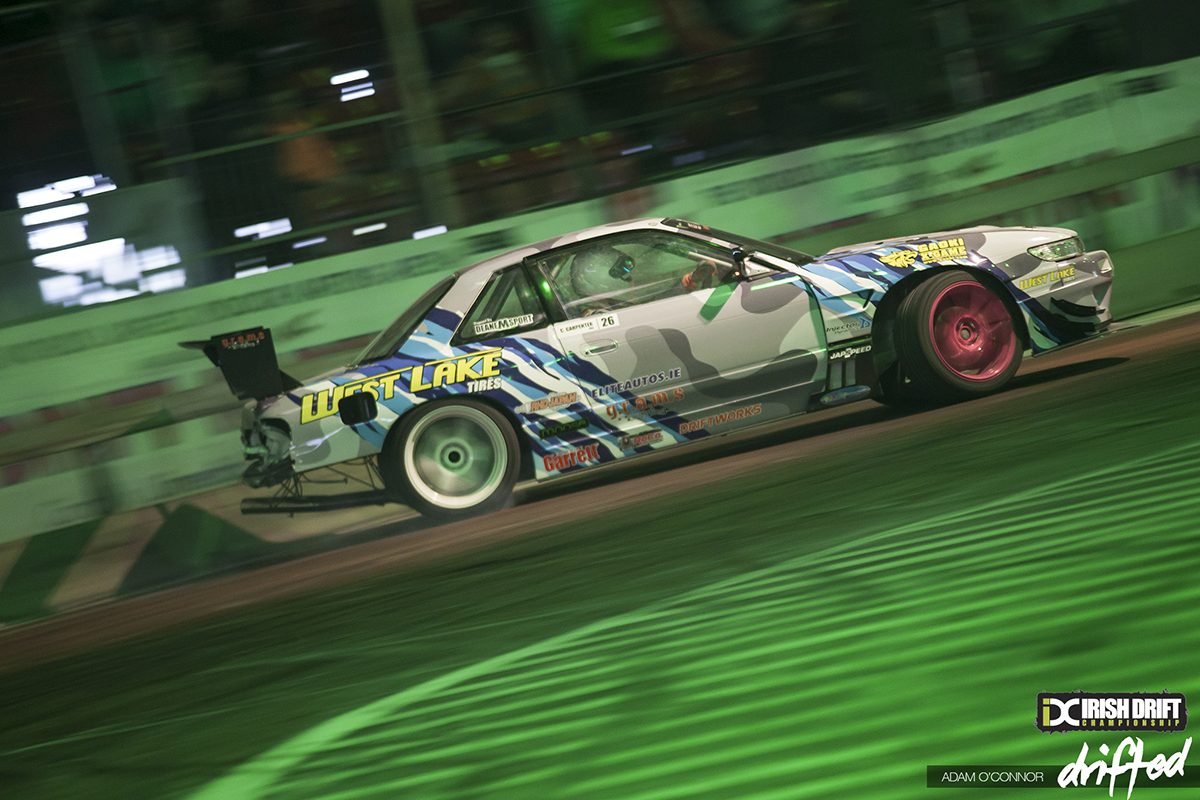 Returning to competition from 2012, Christy Carpenter was keen to make his freshly built PS13 and the walls of Millstreet closely accustomed to one another.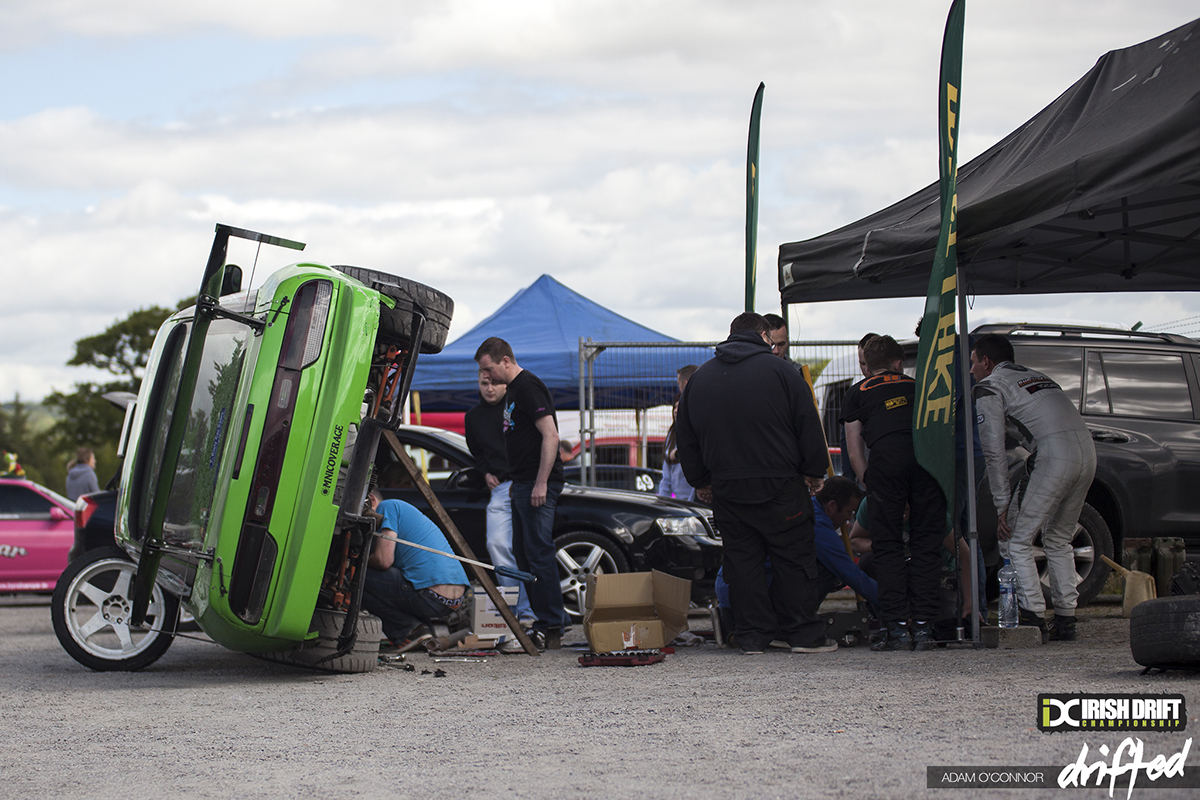 Clutch or gearbox issues ending a drivers weekend at the track are a thing of the past. Tomas Kiely was quick to have clutch gremlins ironed out at the interval.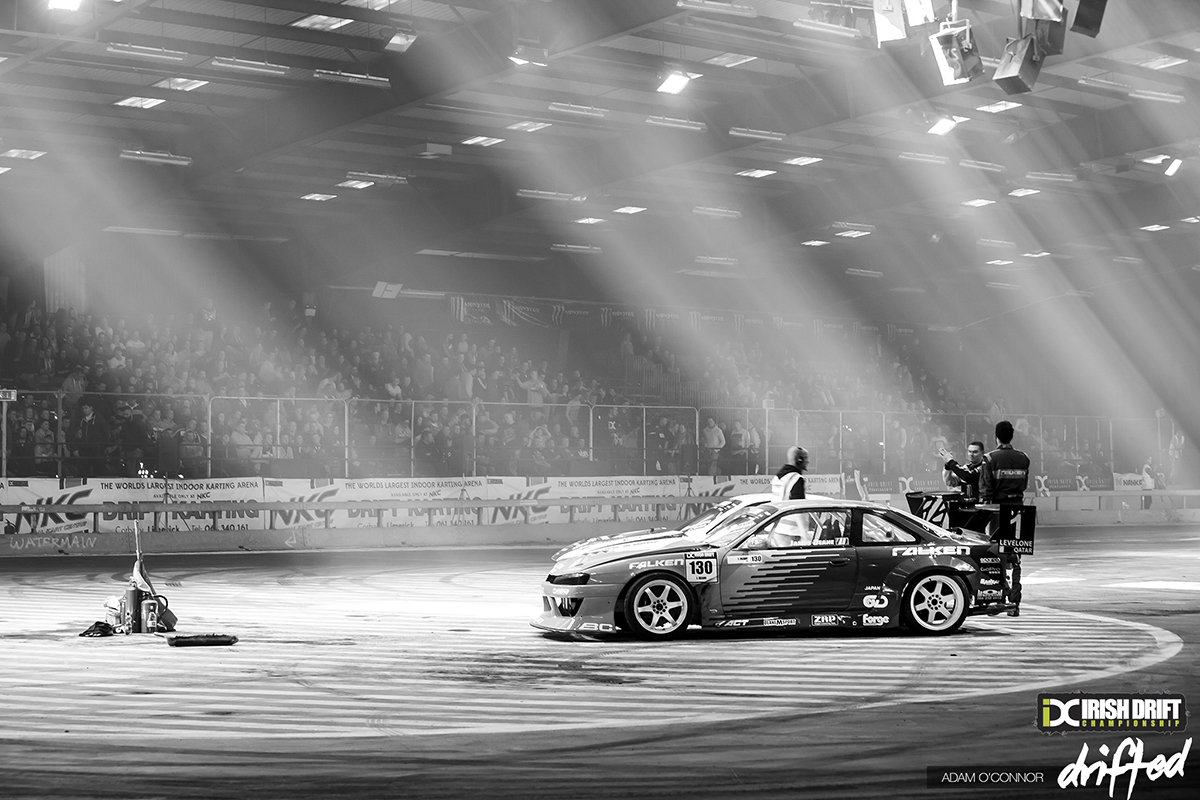 From the offset, one man shone through as the man to beat. James Deane has long had a crosshair aimed at his Falken race suit but to this day no one has managed to take down Deane "The Machine".
Former IDC Judge, Peden Nielsen kept on and off track activities serious over the weekend, and would make his way to Great 8 in the National Kart Centre 180SX.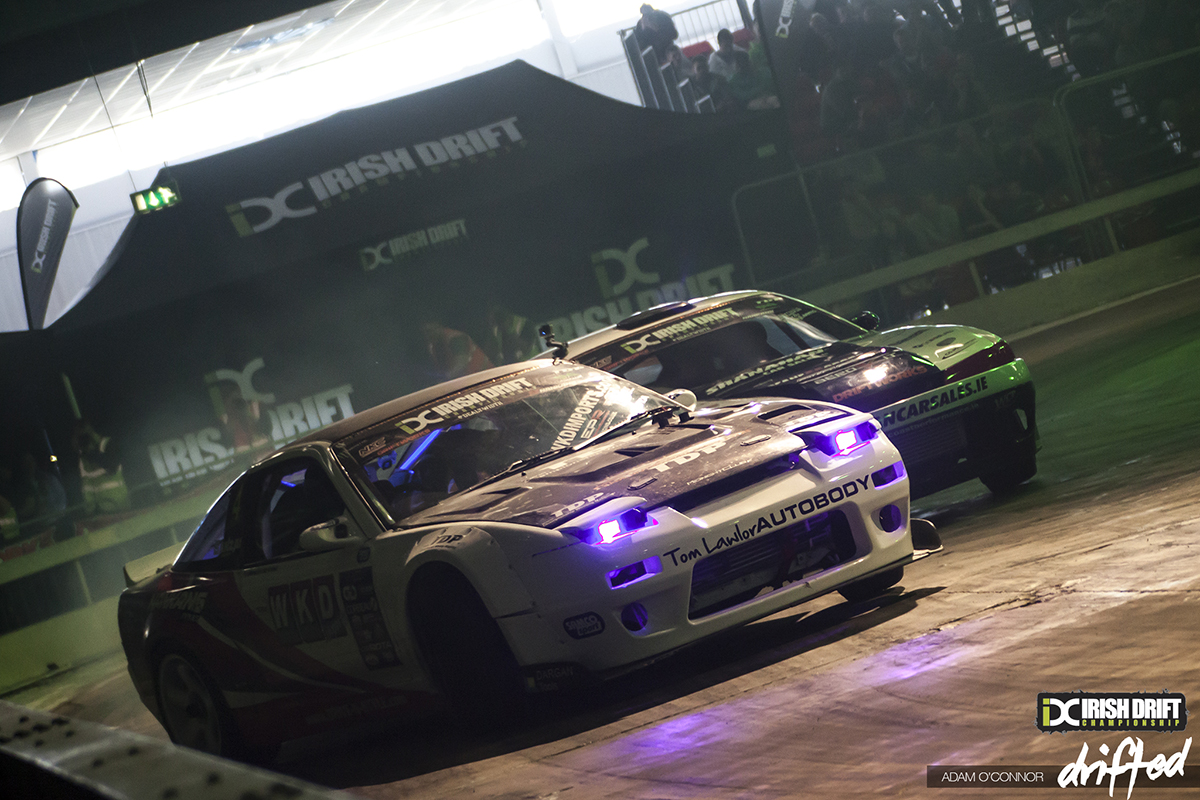 Team WKD Imports boss, Wesley Keating was on form all weekend  only to be stopped by Jack Shanahan.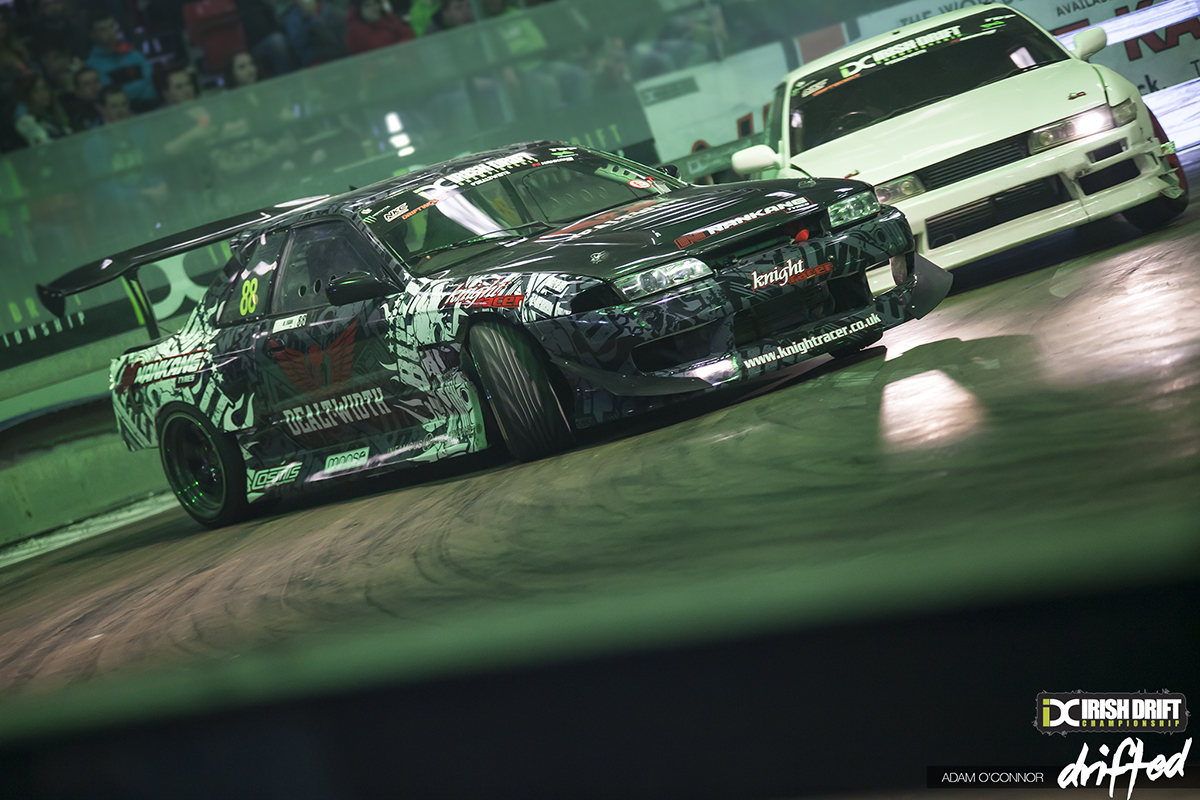 Team Dealtwidth's Brian Egan would be one of few competitors to keep him big wing assembly in tact after the weekend. The custom made wing lives to battle another day with Global Warfare 2 in less then a month away.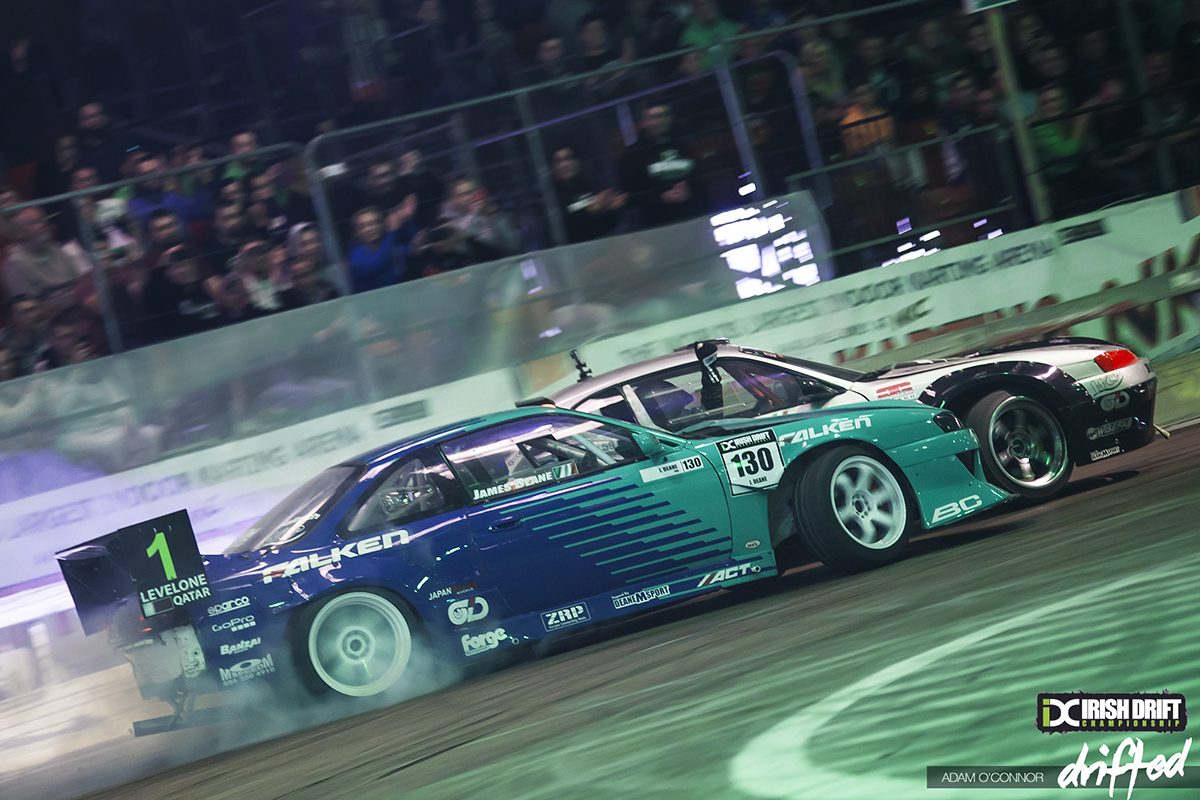 The master and the apprentice. Friends off track, enemies on the track, James Deane and Jack Shanahan brought the weekend to a close with a momentous final that would see two OMT runs put the judges, friends and fans on their feet to appluad their Herculean efforts to bridge a gap between them.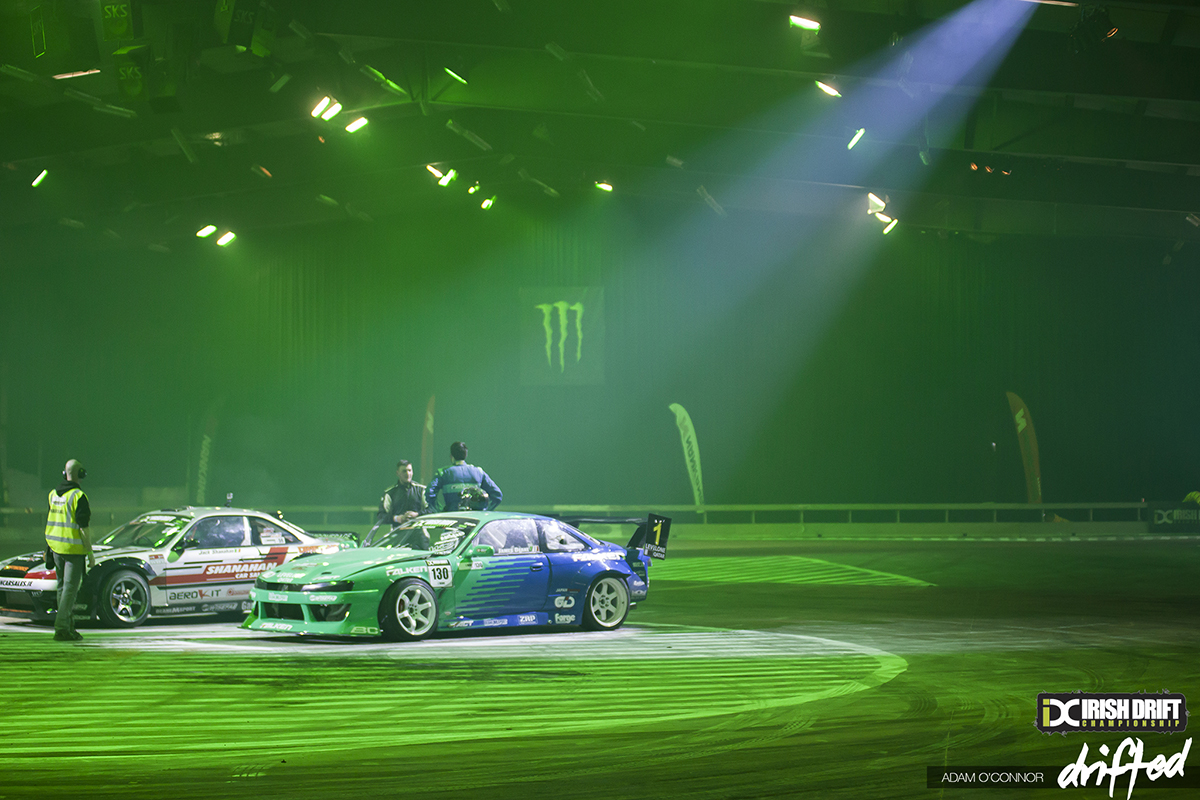 Time after time, under the spotlight of the judges, no verdict could be made. Both drivers could have lapped the circuit well into the night with an inseparable decision.
Ultimately James would be victor on the day by the slightest of margins over the three runs, and will have created a gap on top of the Pro leader board before heading back to Mondello Park next month.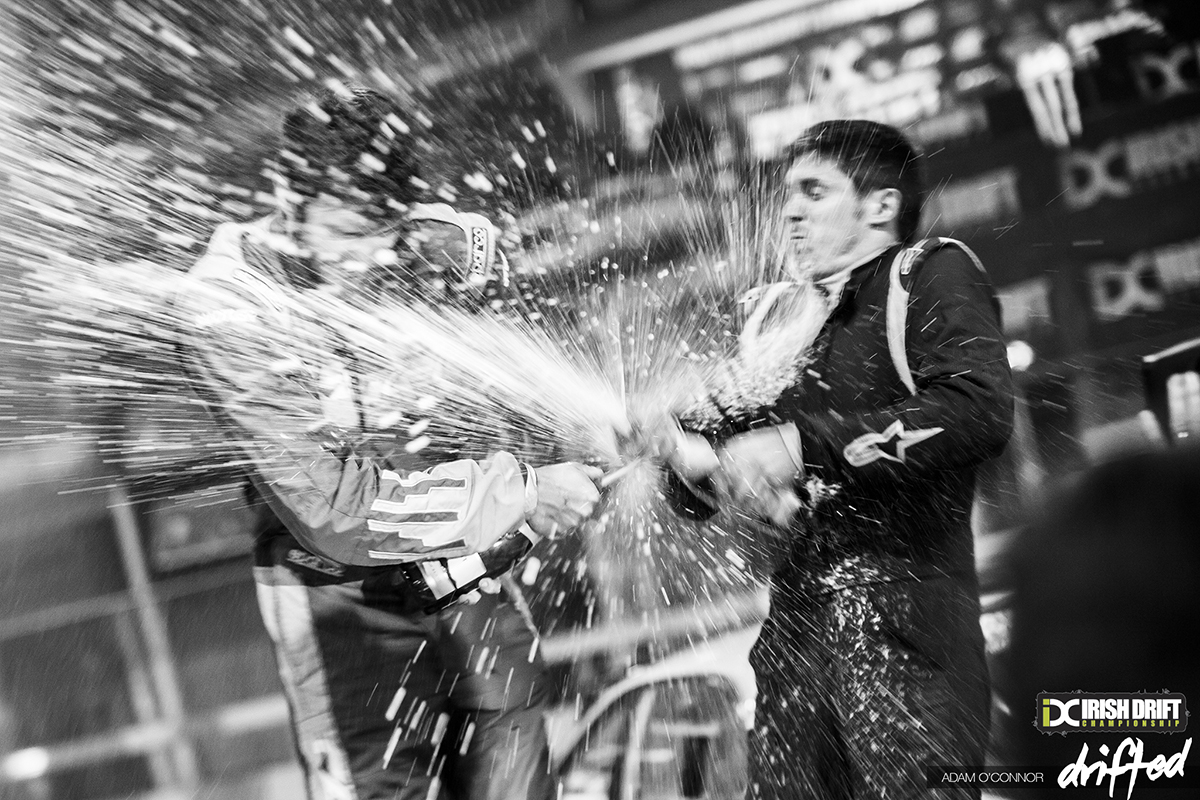 As the champagne settles, James must set his sights firmly on Europe with the defence of Drift Allstars championship starting this weekend in Essex.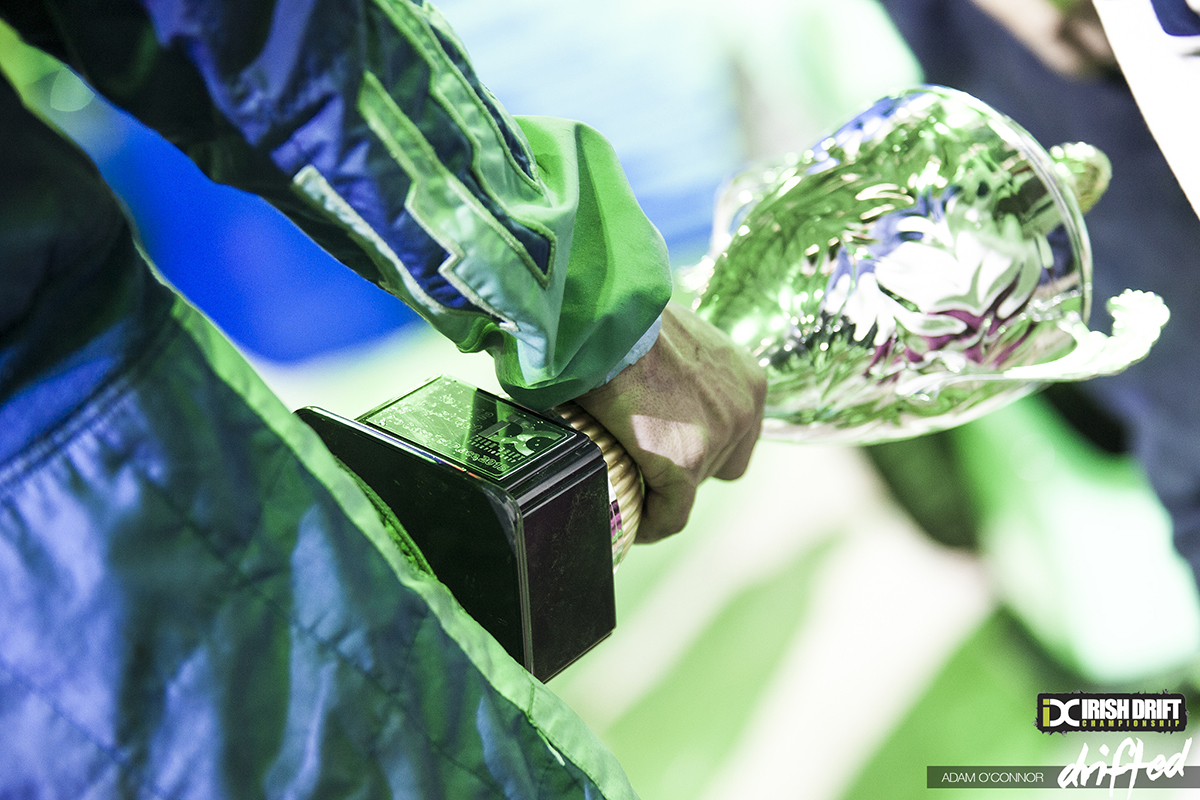 With the second round drawn to a close, it is time to reflect on what can be seen as a game changer. It was a memorable event across the board with drivers and spectators alike praising the break from the norm. Holding indoor events may have created some teething problems for Dave Egan and the Irish Drift Championship crew but none that can not be overcome, and possibilty of an annual event under the spotlights of the Green Glens is all but possible.
For now though, it's teal and blue that once again as a stronghold of the silverware and as we head to Mondello Park for Global Warfare 2, Deane will have strong competition with Daigo Saito, Robbie Nishida, Phil Morrison and Luke Fink waiting to go on the grid with him.
Images & words: Adam O'Connor