EVENT: KD European DNYRacing Lousada 2011 Part II
If you missed Part I – check it out first! I was kindly invited over to Lousada, Portugal to cover the annual KD European DNYRace, an invitational event playing host to 50 drivers from 5 countries, battling it out for a €4000 prize fund and respect at one of Europe's most unforgiving and technical tracks.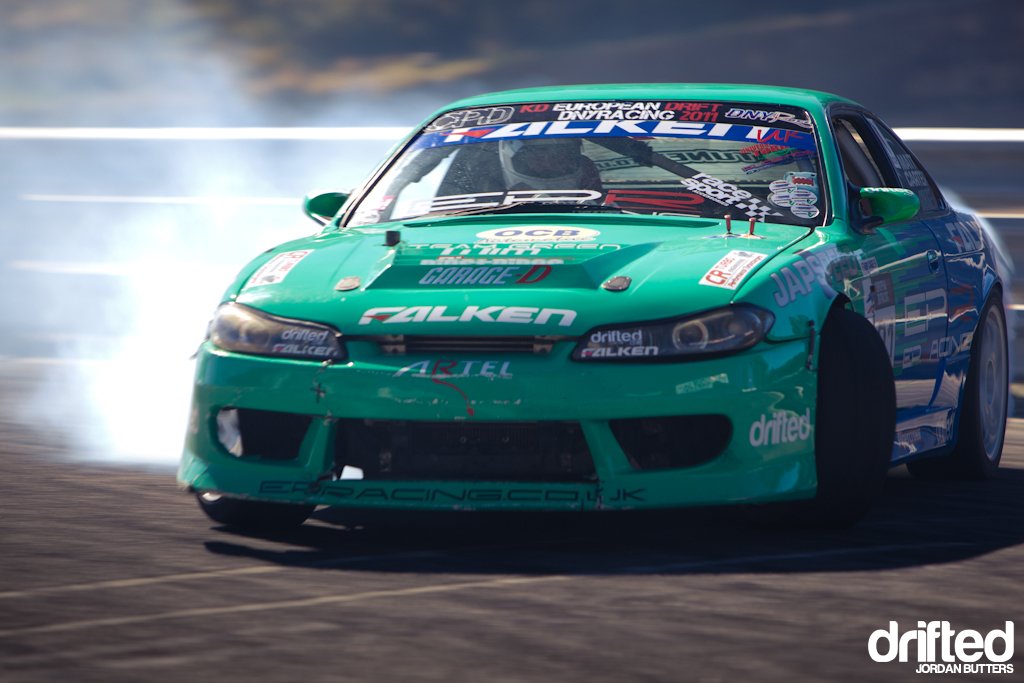 The previous two year's events have been dominated by Team Falken's Matt Carter. There was debate as to whether Matt would return to defend his title but the lure of Lousada proved too much of a tempation.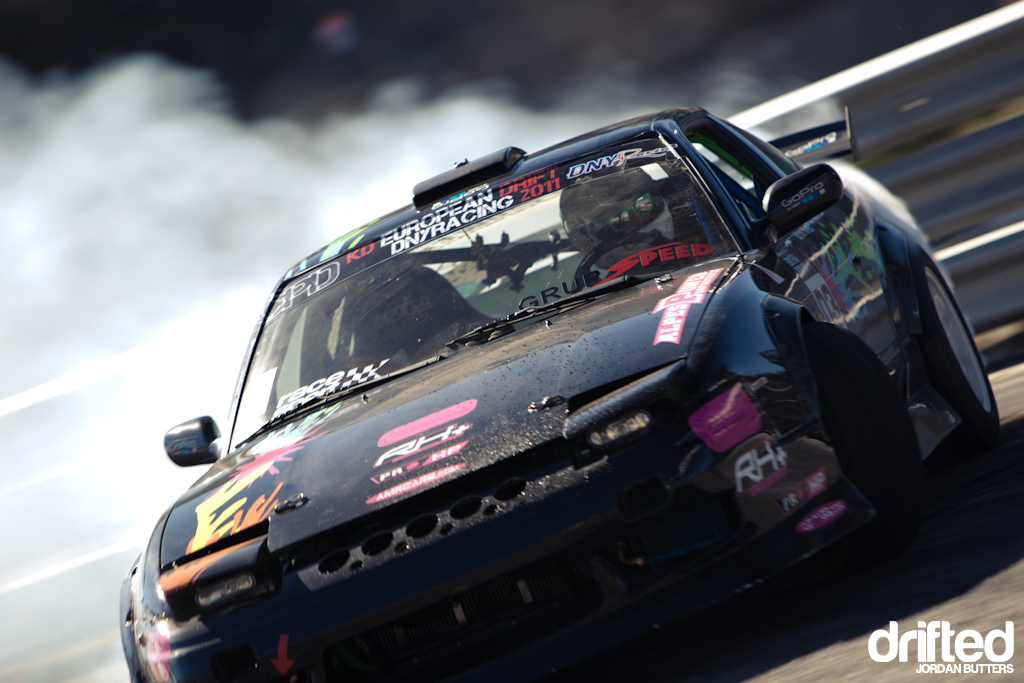 Louis Lopez was a strong contender. Fresh off a victory in the Spain vs Portugal event the night before and throwing down some huge angle thanks to the rather trick Driftworks GeoMaster hubs, Louis was at the top of his game.
Sadly Paul Howard of JDM Garage's 'Angry Pirate' RB25 180sx was out of action for the Sunday following an engine failure the day before.
Team mate Mark Needs was out on track and lapping nicely getting to grips with his Supercharged Titan engined G35.
Sadly a steering failure during the twin battles left him nowhere to go except into the armco. And no-where for the chase car to go except into the back of him, making a mess of the Nissan. Hopefully it's fixable and we'll see Mark and this amazing car back next season.
Before the track was opened for competition the three international judges took the time to explain (in several different languages) exactly what they wanted to see from the drivers.
Nothing was lost in translation and concentration on driver's faces was apparent! Several were here for the win.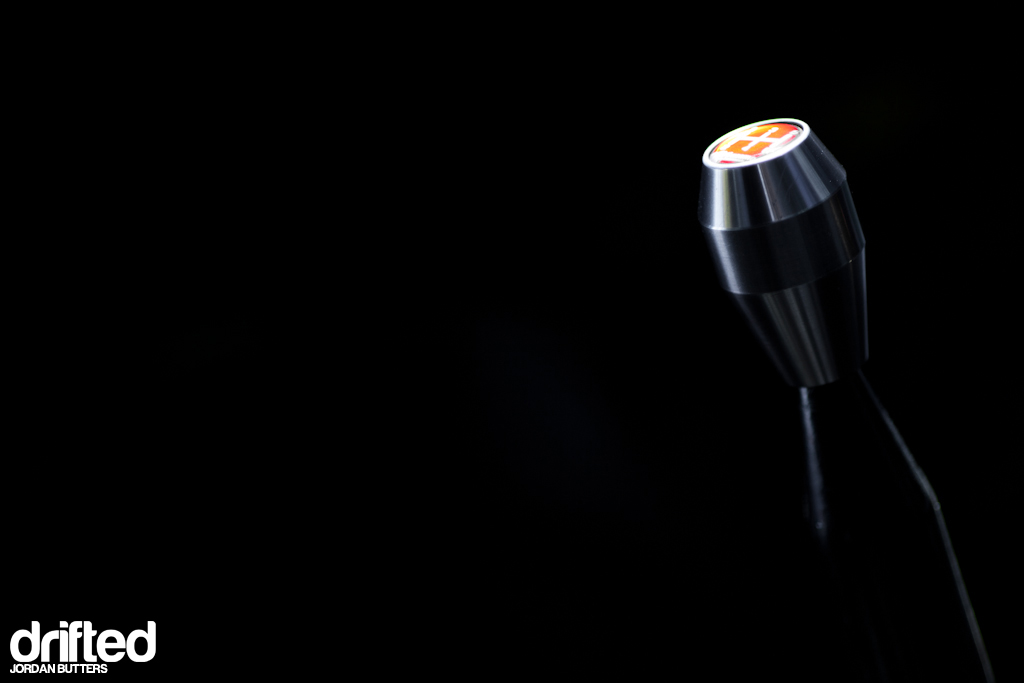 As the drivers readied themselves for the track I stole a last minute to capture some of the details.
The light here in Lousada is pretty damn amazing.
I think it's often easy, as a photographer, to get distracted by the noise and smoke at a drift event, you miss out on the little things that really help set the atmosphere.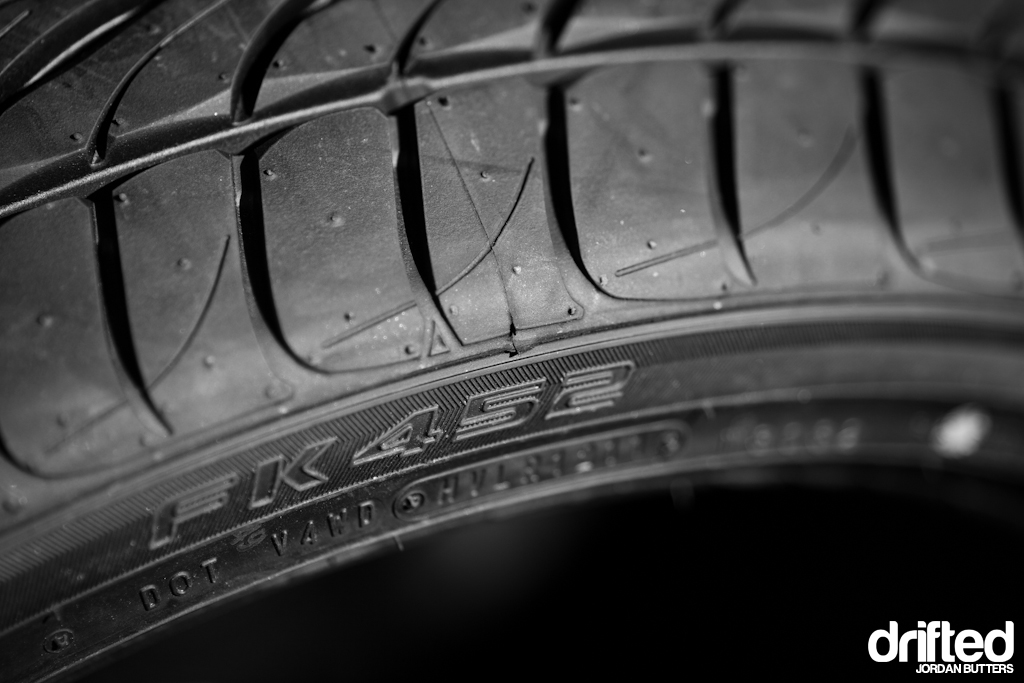 And atmosphere is often difficult to capture in stills. Hopefully these shots help build the picture for you somewhat.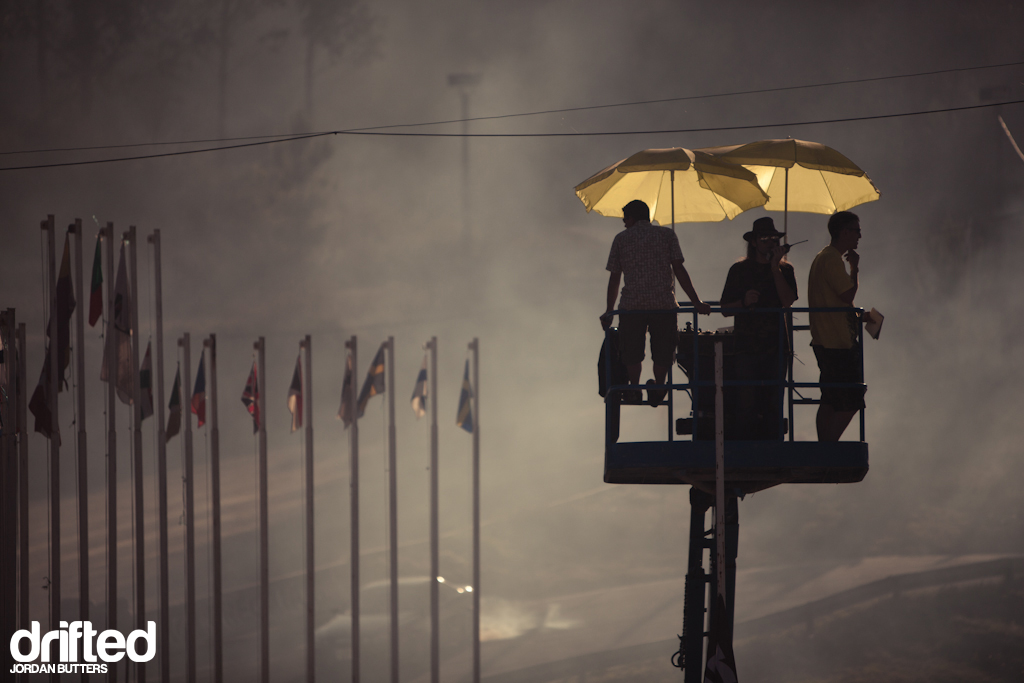 As the judges raised themselves high above the track we were ready for action.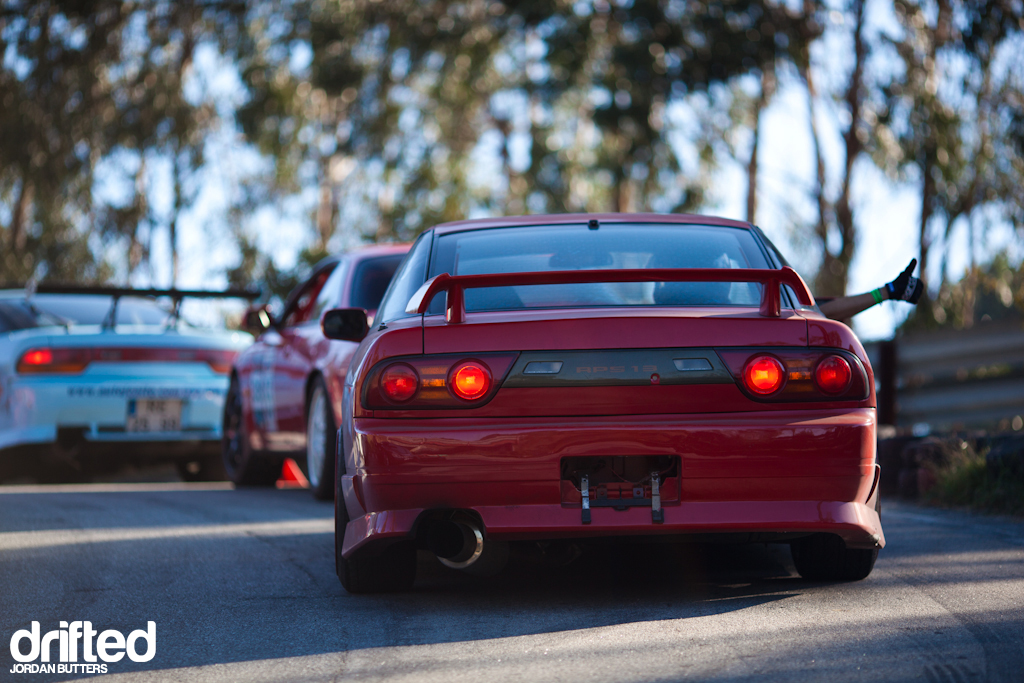 As were the drivers. Thumbs up for go!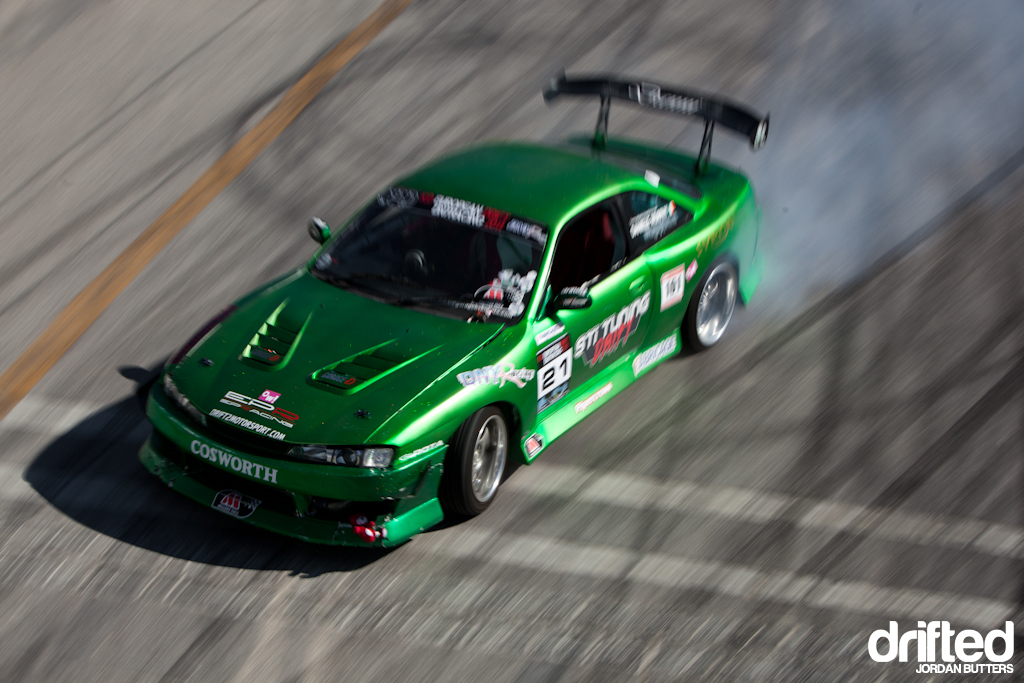 Irish driver Danni Murphy has attended Lousada a few times in the past couple of years and is popular with the local fans, however she took an unexpectedly early exit from the competition.
Portuguese youngster Andre Silva was piloting his Kouki S14 in the competition.
Luckily a fuel leak from Andre's filler cap was spotted early on in the day, otherwise his competition runs could have ended early!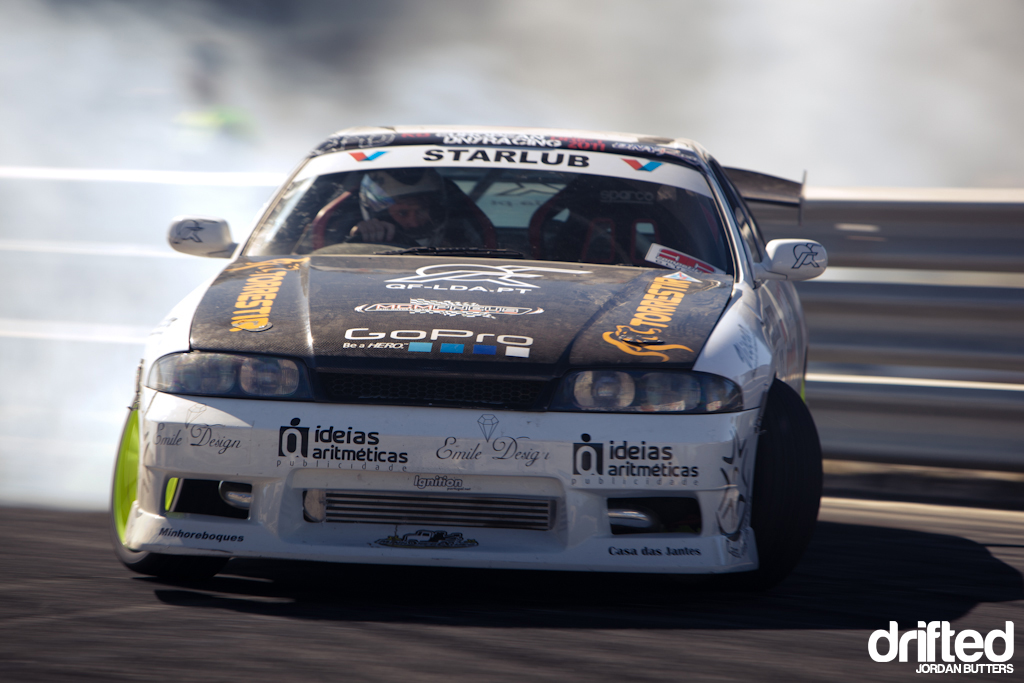 Alongside UK ex-Japspeed driver Danny Eyles piloting Andre's R33 which he used last year in Lousada.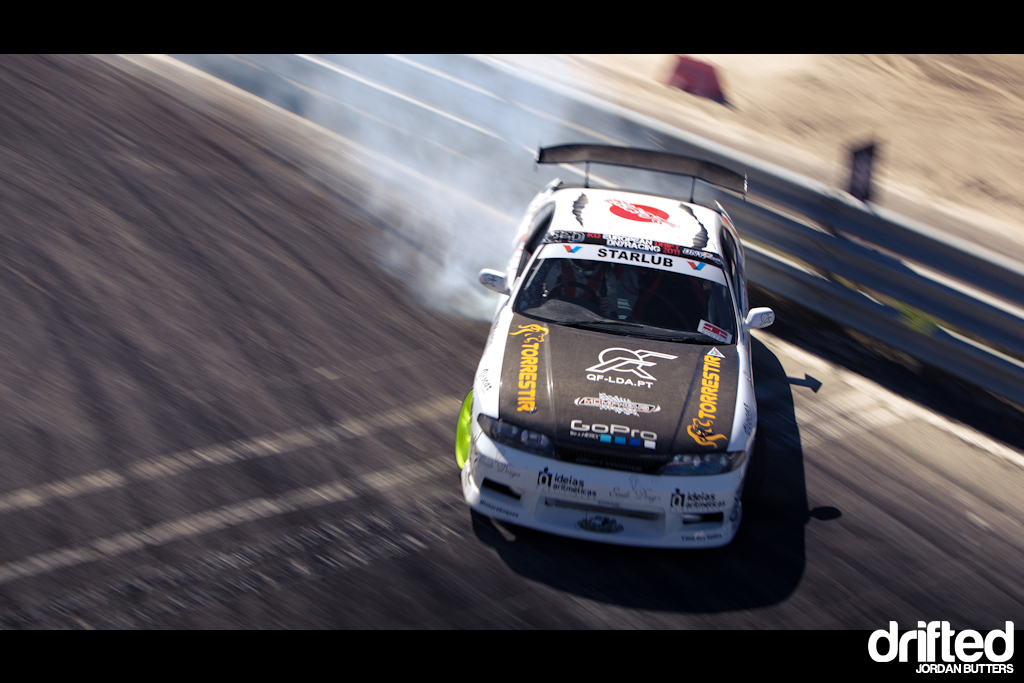 Danny was in Lousada to prove a point and mark his comeback to drifting.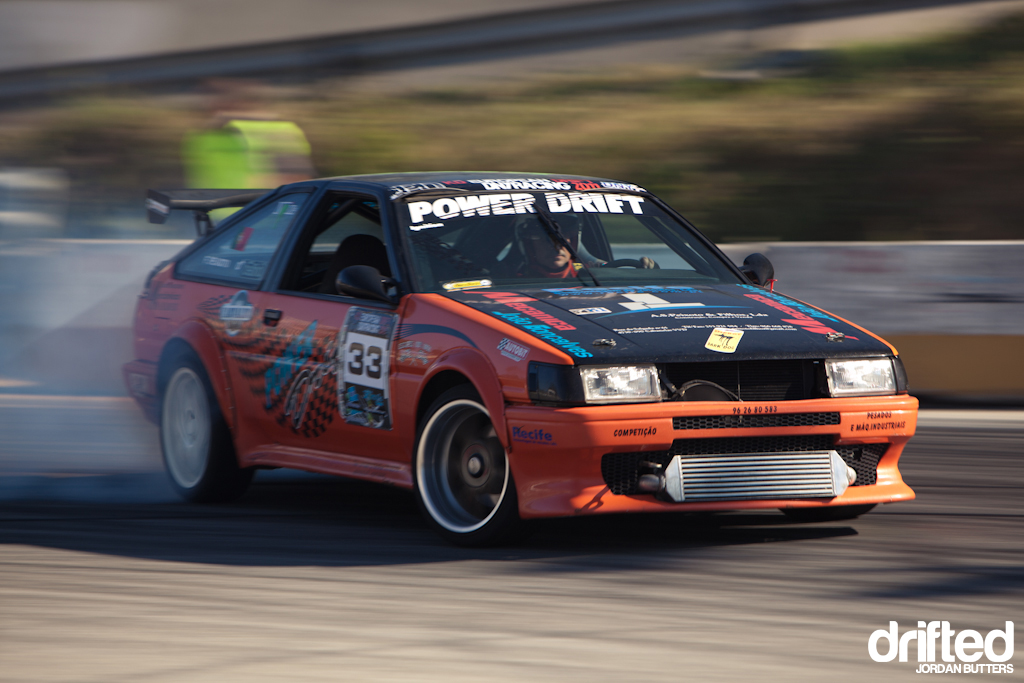 We first saw Firmino Peixoto's Audi Quattro-powered AE86 last year in Lousada. Yes, you ready that right….Audi Quattro turbo power within. The chassis and engine combination may be unexpected but it works well!
João Gonçalves' BMW was running bonnet-less throughout the event. Probably due to the huge turbo obstructing the bonnet from being anywhere near correctly fitting!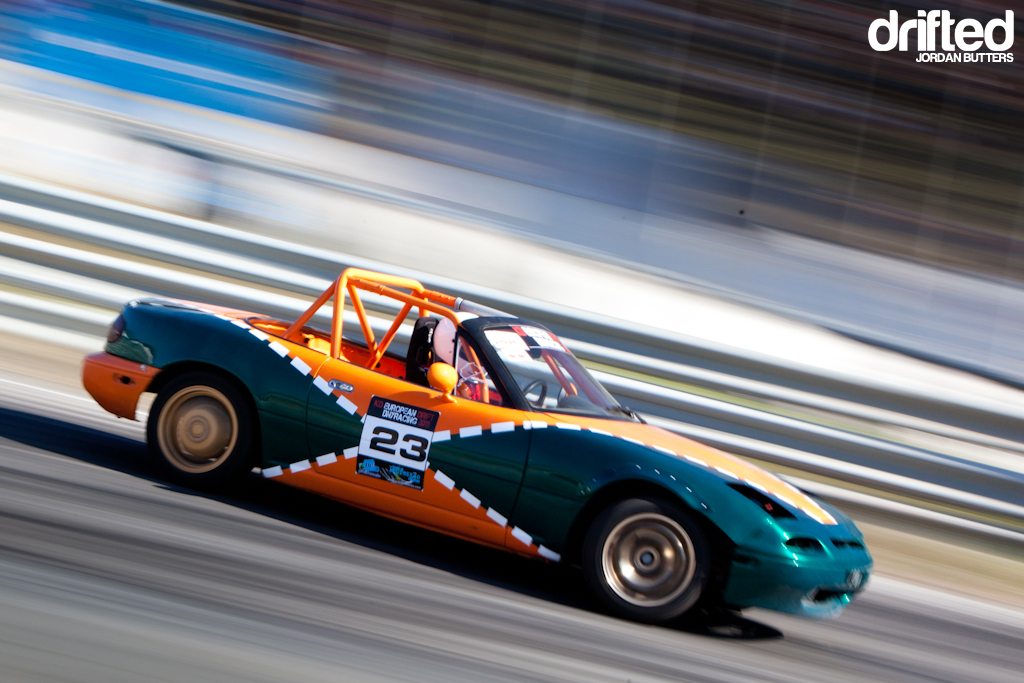 David Moreno's Miata wears the legendary Renown colours first seen on the Mazda 787B. This is pretty much the loudest car I've ever heard, despite the small capacity engine David runs a straight pipe on the little Mazda with no silencing. It really is quite loud!
Gary Hughes made his debut at Lousada in a car which two weeks earlier he had actually sold! After having seller's remorse he quickly bought it back and parked it on a boat to Portugal!
On the flip side fellow Englishman Matt House is no stranger to Lousada's armco in his LS-powered FD. Last year Matt had a few run-ins with the banks and walls and left his Mazda looking a bit on the sorry side!
This year was no different and Matt's competition ended earlier after meeting the first clip side-on.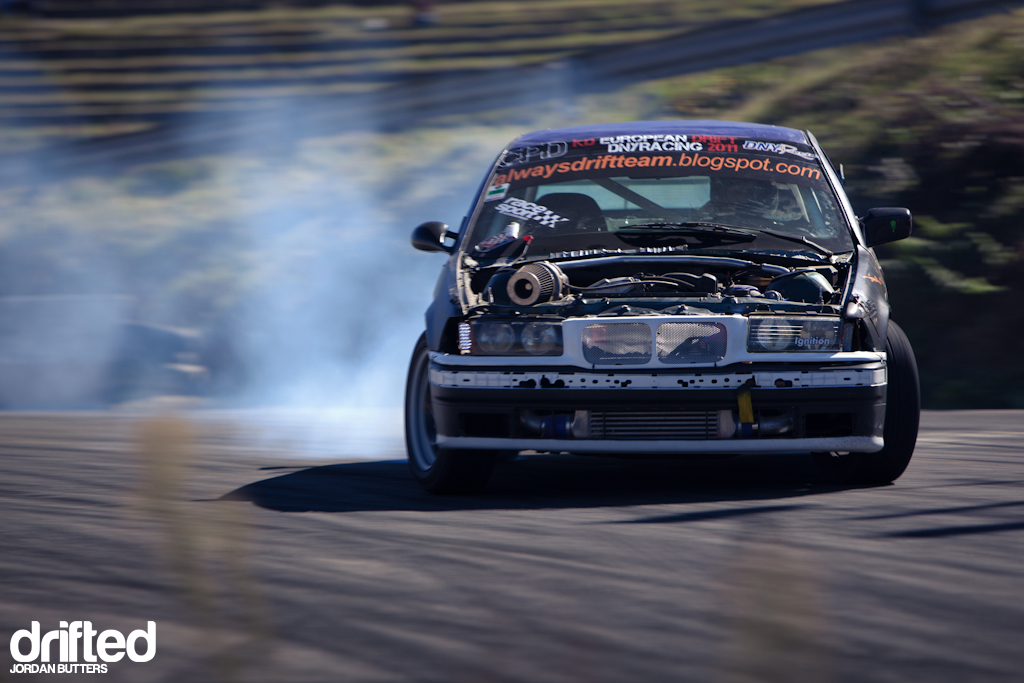 Carlos Veiga, above, in his turbo'd E36…..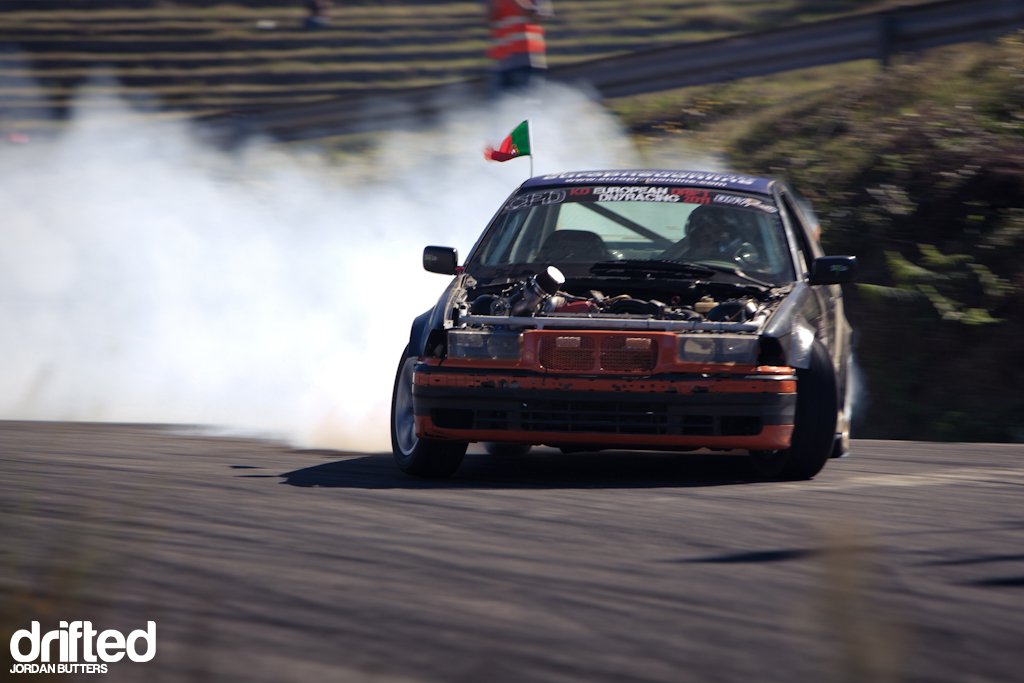 ….and team mate Vitor Mota were both on form, Lousada being their 'home' venue as such, they had track-advantage.
Johny Light's sweet Kouki 180sx is one of the most photogenic cars I've shot. It kinda looks like a still from Forza or Gran Turismo above.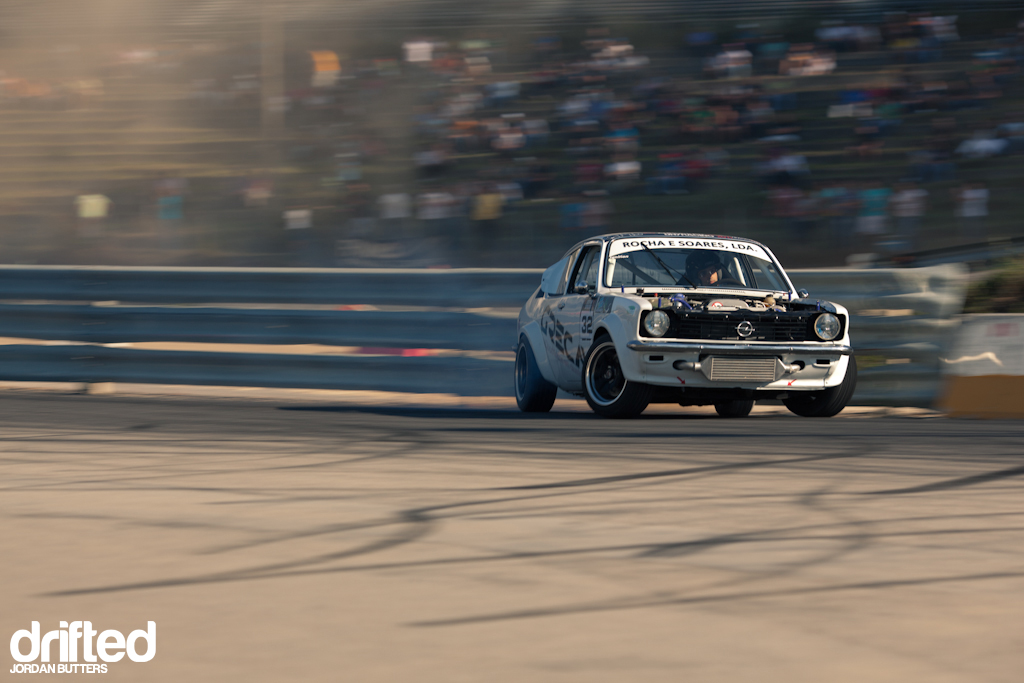 Speaking of photogenic. You don't often get a chance to shoot one of these in my line of work – Nelson Rocha's Opel Kadett was pushed hard on the day, sadly a mechanical failure cut his day short. Pity as I really wanted to see him and a certain Irish Mk2 Escort driving lunatic go head to head in the ultimate retro drift battle!
Speaking of which, the tight technical track really suited Declan's driving style and the nimble Mk2.
As the drivers paired off for their twin battles the stands packed out with both local and travelling fans/teams.
The Amateur Class was settled first with Ricky Emery taking third in his first competition event.
Following some amazing driving Mark Lappage took second after sadly meeting the wall in the final.
First place was secured by Eduardo Jorge. Celebratory burnout's are a must of course!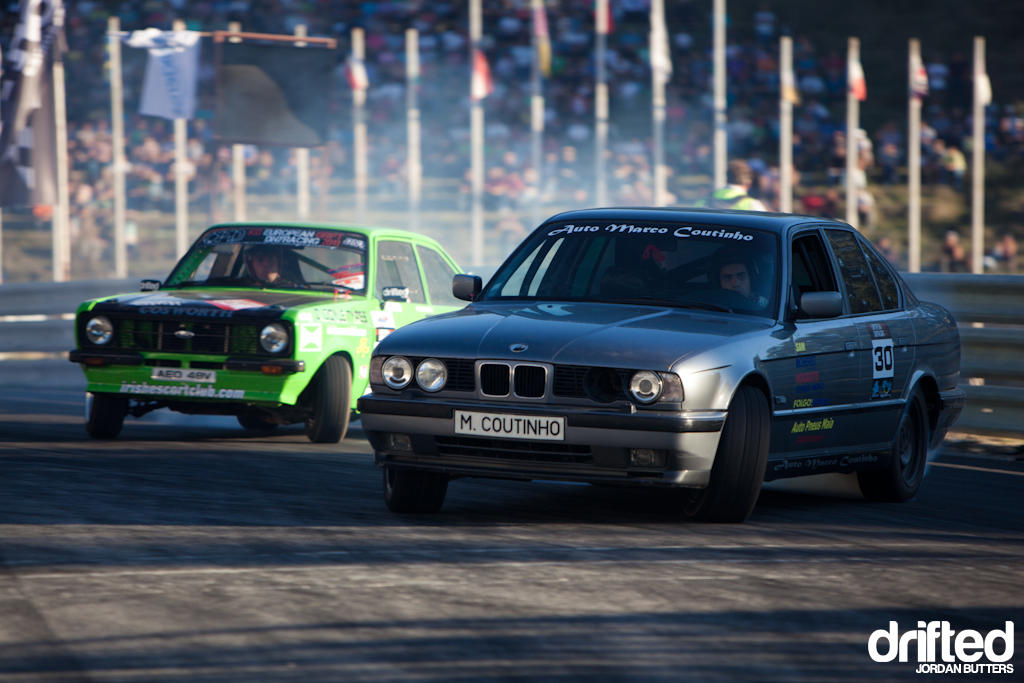 Into the Pro Class Declan's Mk2 Escort had a nimble advantage over the 5 series of Coutinho.
Andre Silva ran away from fellow Portuguese driver Jose Lopes.
Reigning champion Matt Carter in the Falken S14.5 was sent packing early by fellow Englishman Danny Eyles in the R33 following a light tap on the tight hairpin.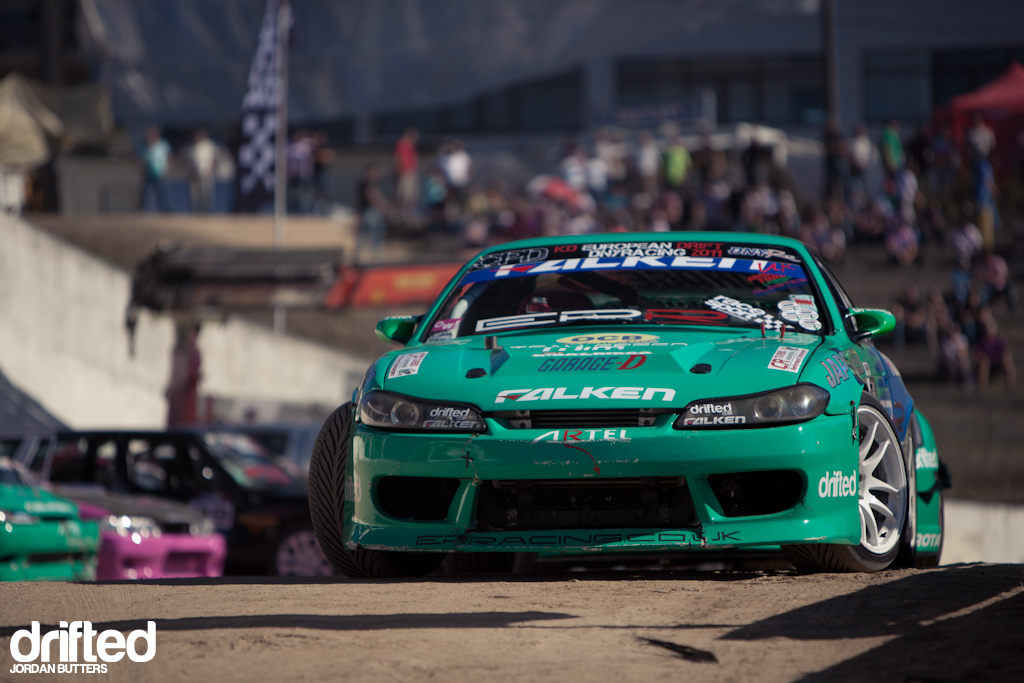 Matt's car is instantly recognisable to the Lousada locals so to see it parked out of action so early in the day must have been quite unusual!
If you ever wanted to see a mismatch you're in for a treat. Frédéric Ferreira's Supercharged M5 went up against the Opel Kadett of Nelson Rocha. Sadly a mechanical fault ended the little Opel's day.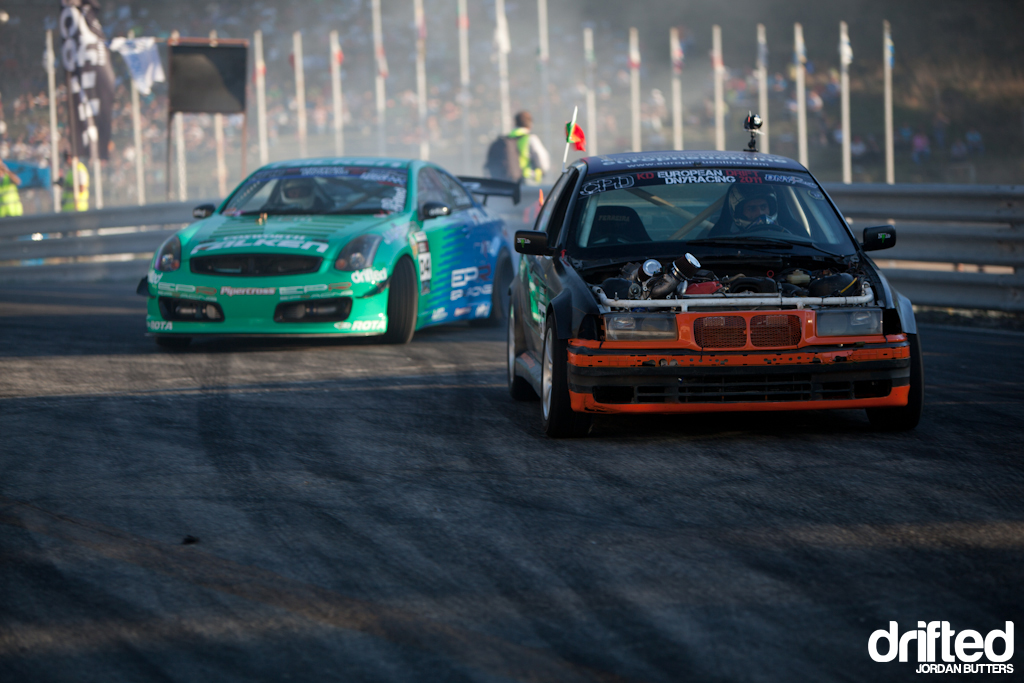 Team Falken's Paul Cheshire found form in his G35 at the final event of the season, first sending packing and on-form Vitor Mota.
….and then the blue and green S14.5 of team mate Alan Green….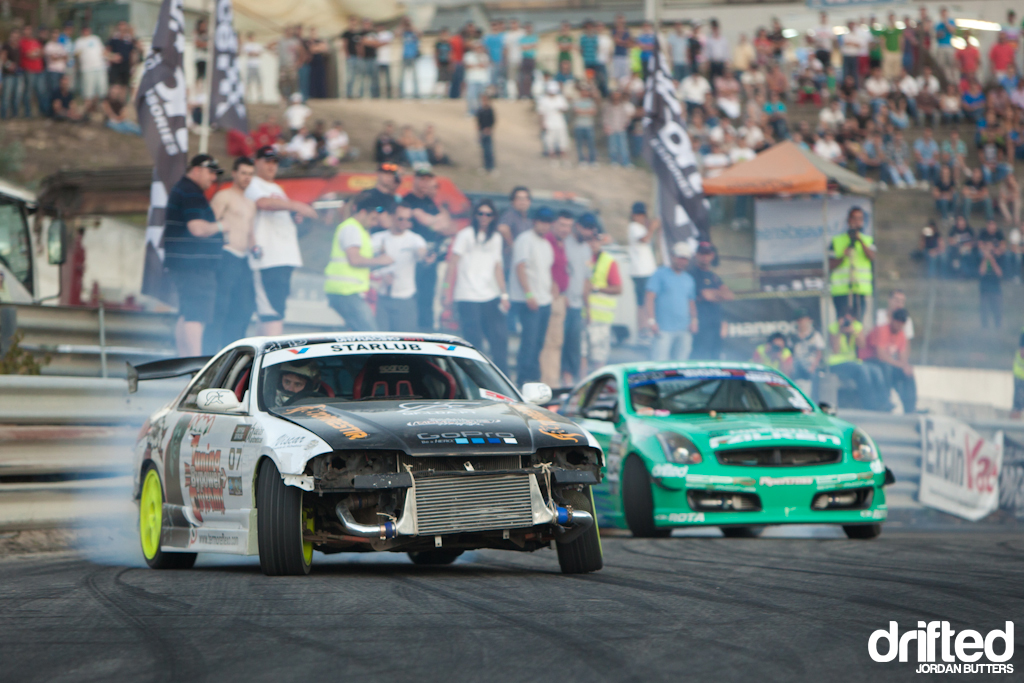 ….before losing out to Danny Eyles in the Semi Finals.
Friend of the site Hugo Fernandes was on form in his Soarer, making it as far as third-place play off.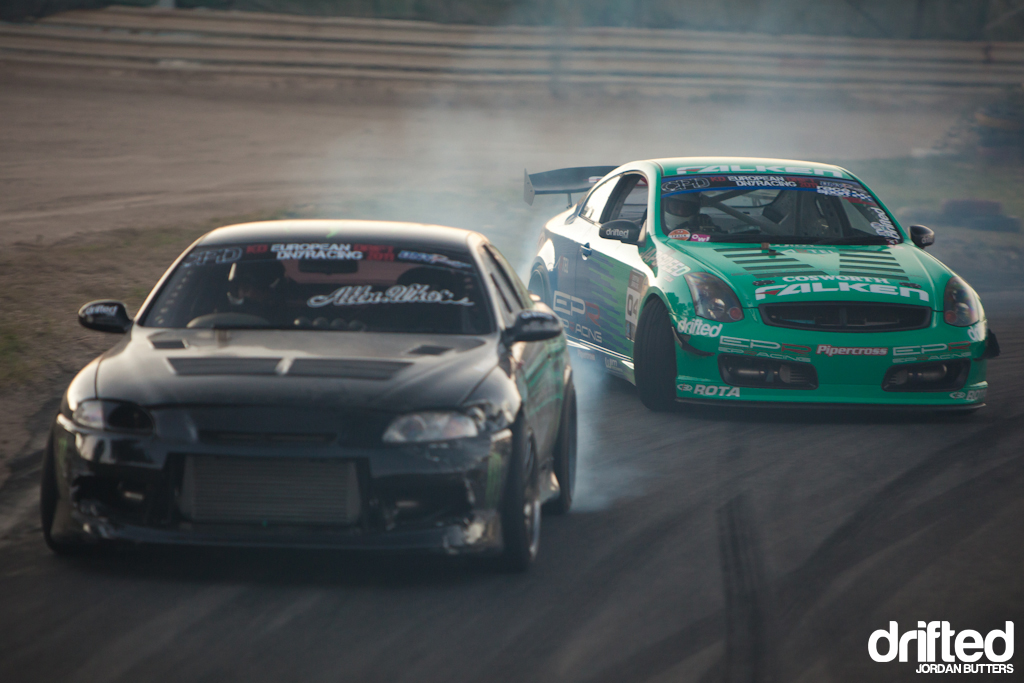 Where some super-close battles with Paul Cheshire saw Hugo secure third by the narrowest of margins.
Paul's efforts have to be commended though and we can't wait to see how he does in 2o12 with his new found confidence in the G35.
But as per the previous day the man of the moment was Louis Lopez and his crazy-angle throwing S13.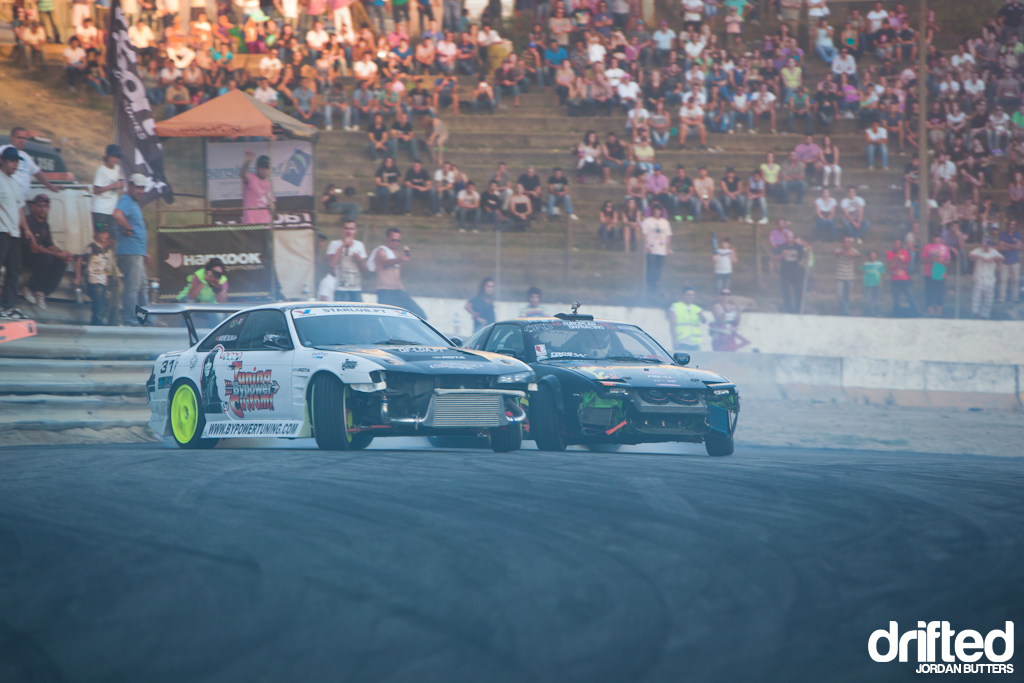 Louis made progression past Andre Silva in the Top 8.
And took Hugo Fernandes to One More Time.
And several more OMTs!
Louis had made it into the Finals against Danny Eyles.
Danny running a very wide line into the first corner, with Louis tucking up on the inside slightly. The judges had decided on a winner.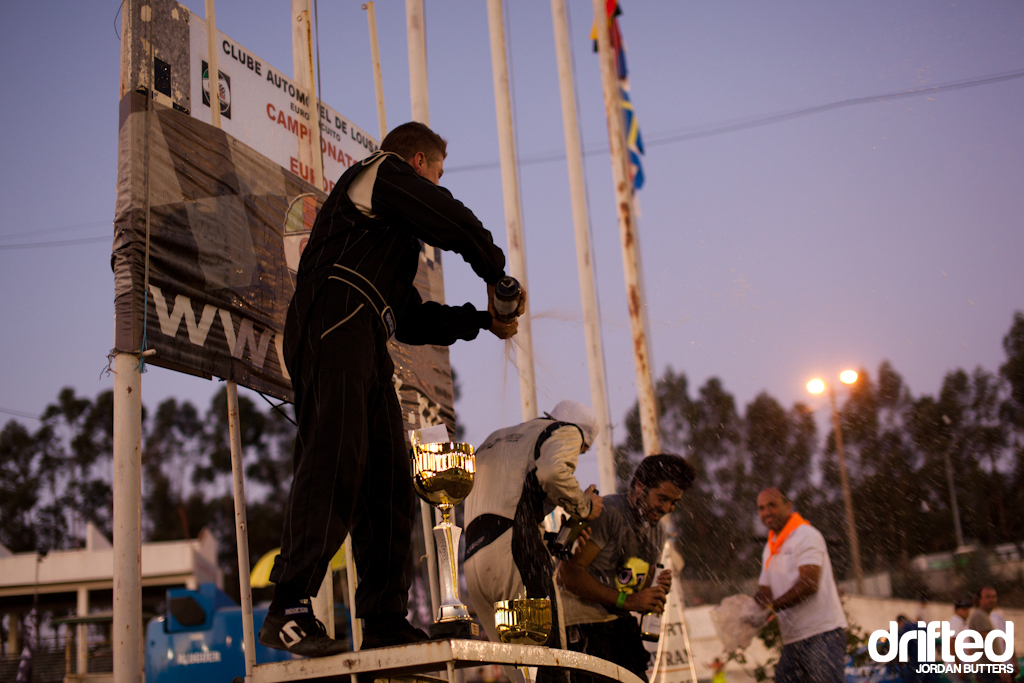 Louis Lopez takes the win with Danny Eyles second and Hugo Fernandes third!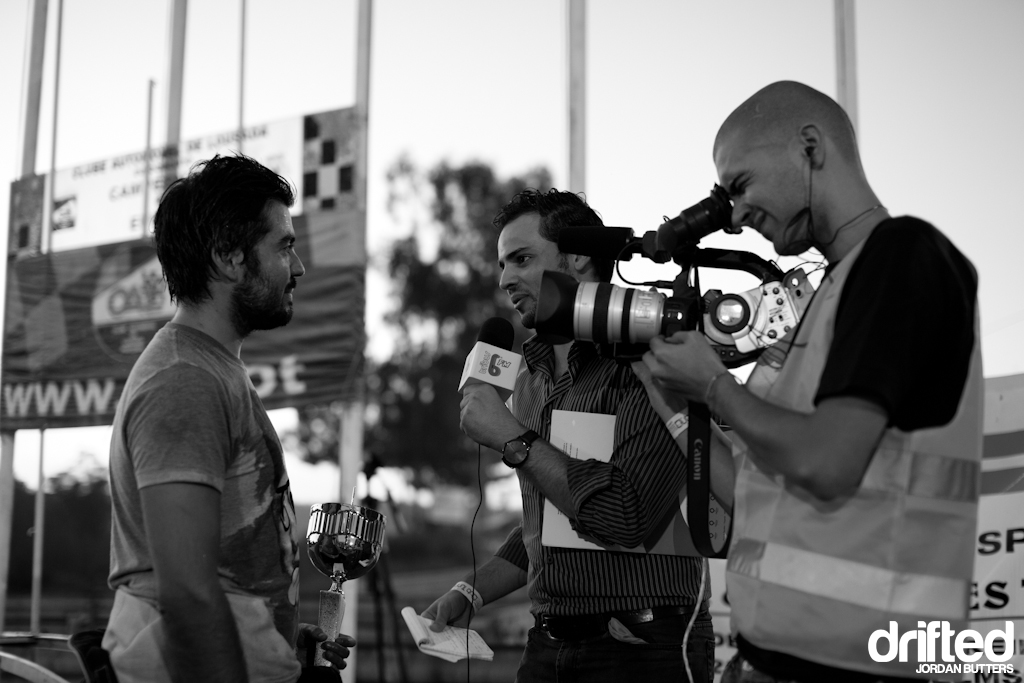 As the Portuguese media take a moment to interview their local drivers the stands empty and Lousada is in the bag for another year.
The wounded and damaged are loaded back up ready for the long journey home.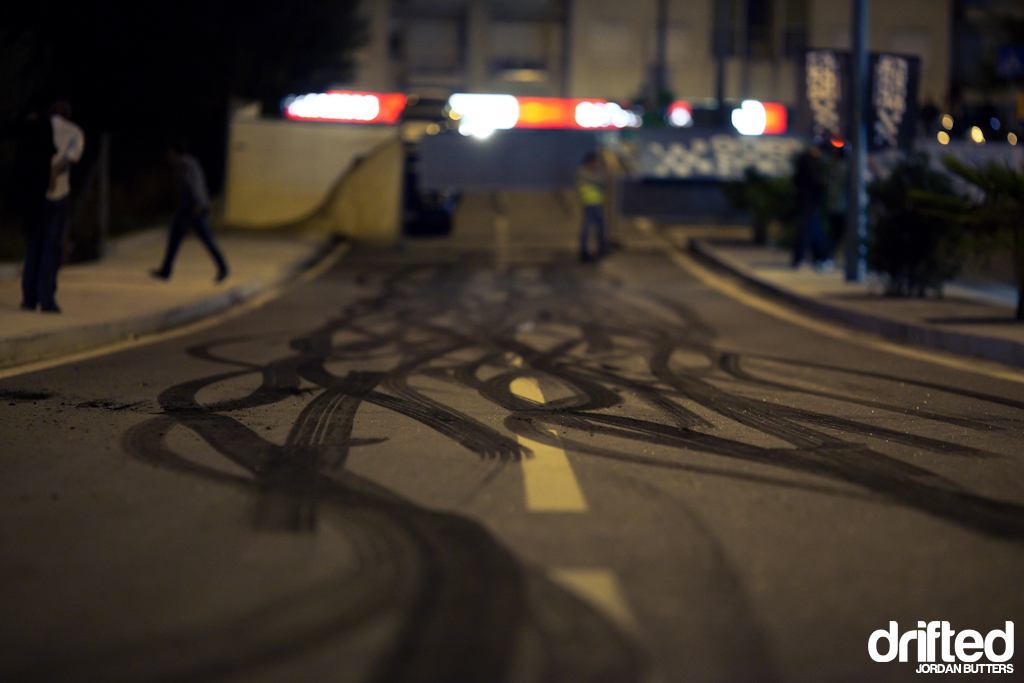 Lousada has been outstanding again. I've said it before and I'll say it again, if you can, get here next year. I can guarantee you won't be disappointed.