EVENT: Practice and Qualifying from Formula D Wall, NJ 2013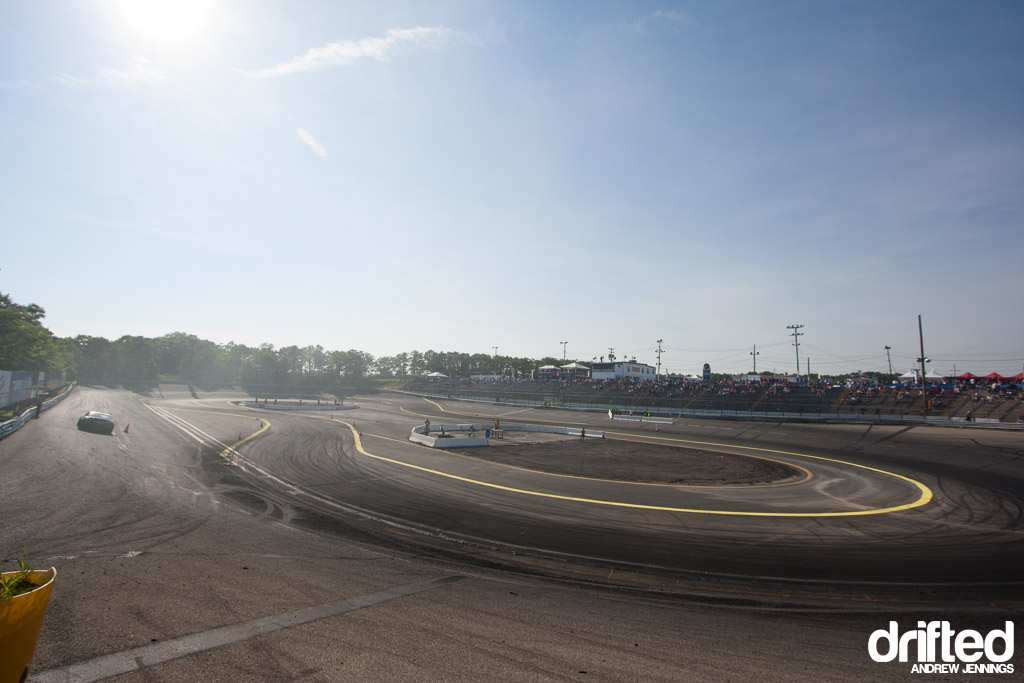 For the fourth stop on the 2013 Formula Drift calendar, the series headed to Wall Stadium in New Jersey. This race traditionally finishes the East Coast run of the season before the competition shifts back West for the second half. Unlike past years, the track map had been changed by the organizers to more of a snail's shell layout, vs. the figure eight that was done previously. Read on to find out how practice and qualifying went down on Friday with this new route.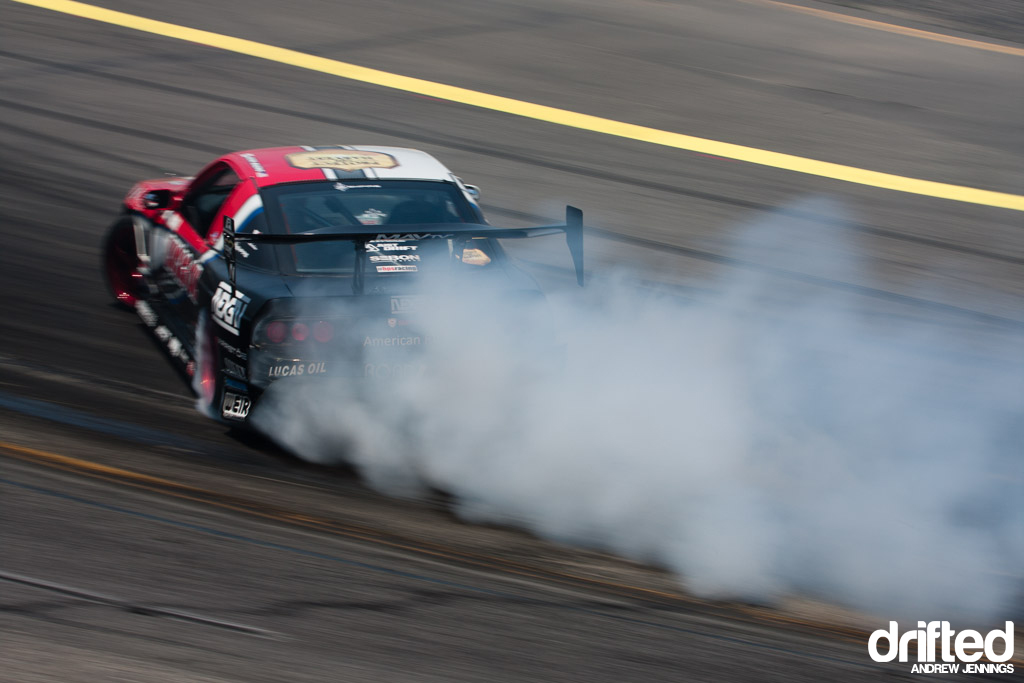 Joon Maeng always enjoys tackling new tracks. Like many of the competitors he views it as a new opportunity to grow as a racer, rather than just sticking with the same old thing. Joon caught on to the line fairly quickly, but his qualifying runs were sub-par, leaving him out of the main event.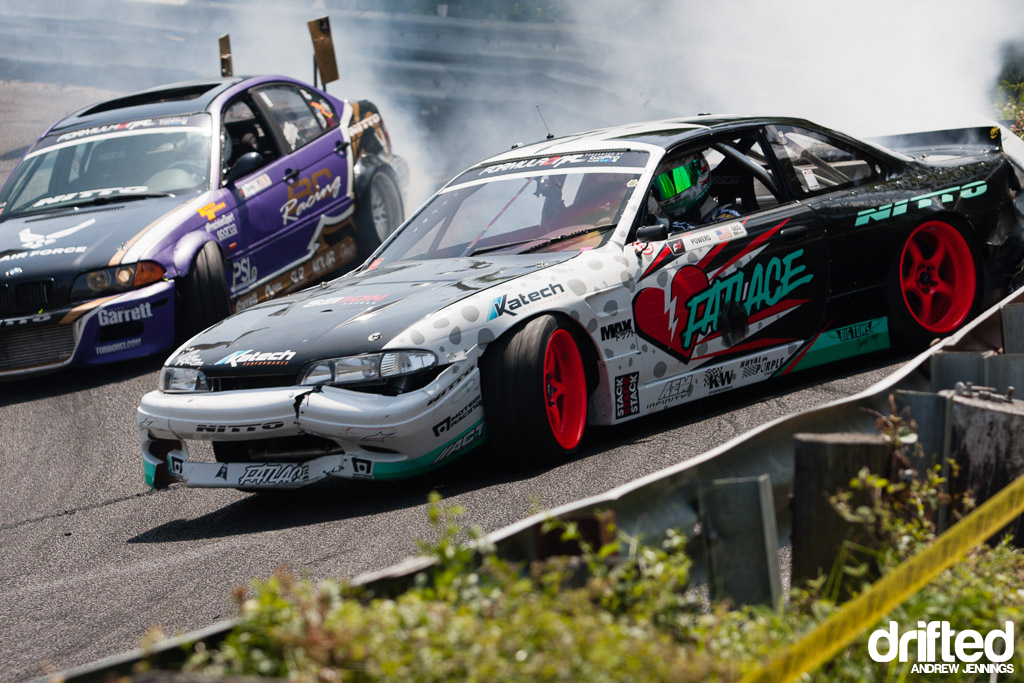 In practice, some of the drivers were taking things easy and just figuring out the right way around the banking. Others, like Matt Powers and Chelsea DeNofa, couldn't hold back. They took hard tandem runs every time, qualifying 24th and ninth respectively. Powers was a little bit too aggressive as usual, clipping his bumpers multiple times, but in the end he was just glad to make it into the main competition after failing to qualify in Florida. It was a similar story for DeNofa who has demons at the Wall track, conquering any fears leftover from last year's heartbreaking turn of events.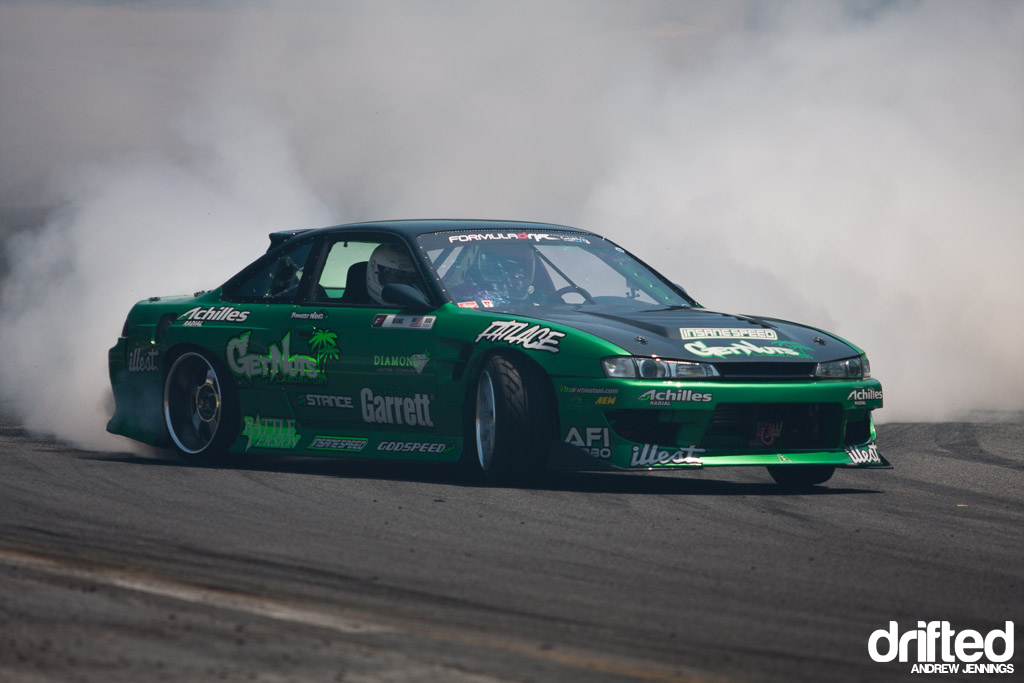 Forrest Wang was another S-chassis driver that looked good in his solo practice runs, putting down plenty of smoke on the flat sections, but was unable to convert this effort into qualifying pace. He'll be looking for another shot at the Top 32 in Seattle.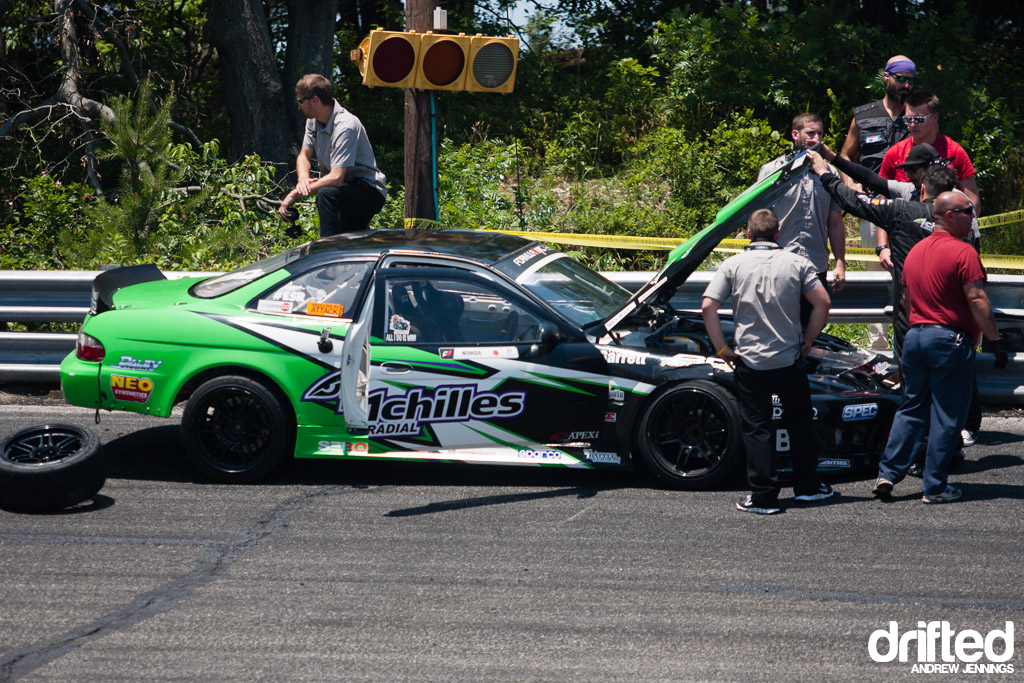 During practice, Robbie Nishida was one of the first to have a serious run-in with the high guardrails. He managed to hit it so hard on entry that his front left wheel came off of the hub. The Achilles team were quick to mend the broken Lexus however, and he was able to come back and qualify a strong seventh.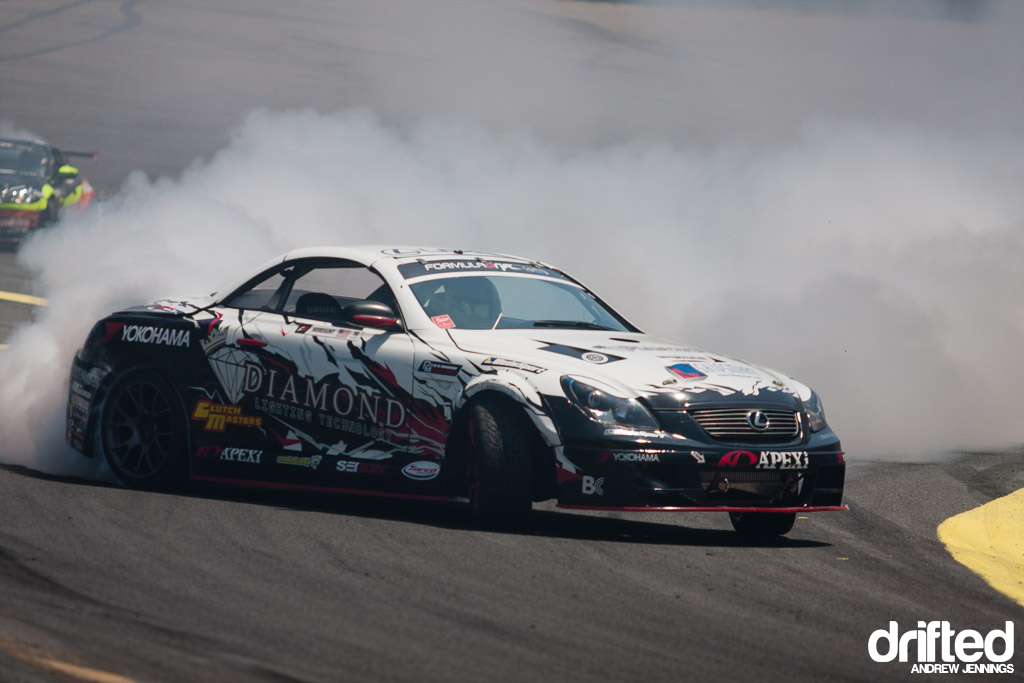 Now that Formula Drift is keeping track of manufacturer's standings alongside Tire brands and overall driver points, it is worth taking a look at how one of the other Lexus competitors faired. Pat Mordaunt continues to struggle in his Diamond Lighting SC430 unfortunately, and was unable to qualify in the top 32.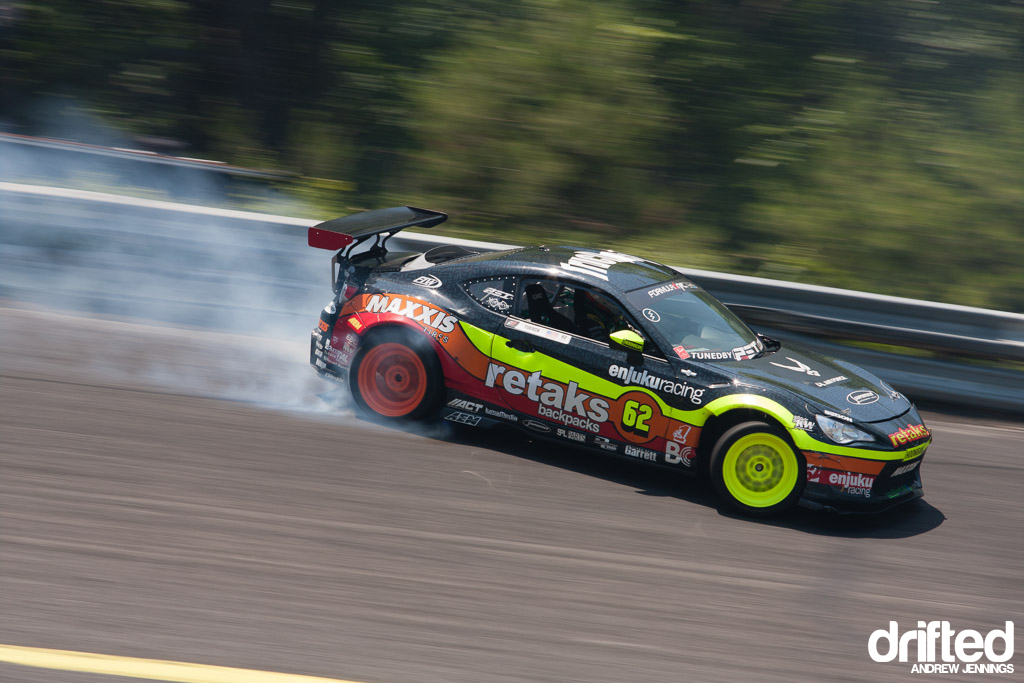 Over on the Scion side of things, Ryan Tuerck was up to his usual tricks around the banking. He held back a little bit in practice, avoiding the smoke screen from other drivers ahead to nail his line, allowing him to qualify 18th.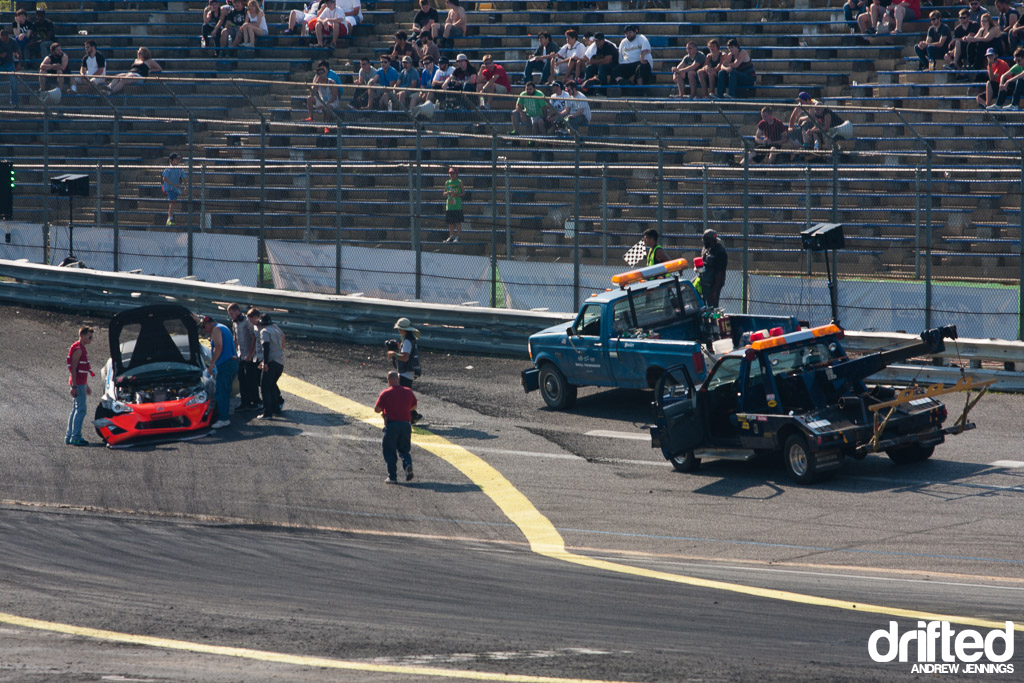 Tony Angelo was not as fortunate. After struggling on Thursday and Friday with his car in practice, it seemed to be dialed in just right for the two qualifying runs. The second run proved to be the killer, slamming into the barrier just at the exit of the banking to end his chances of the top 32.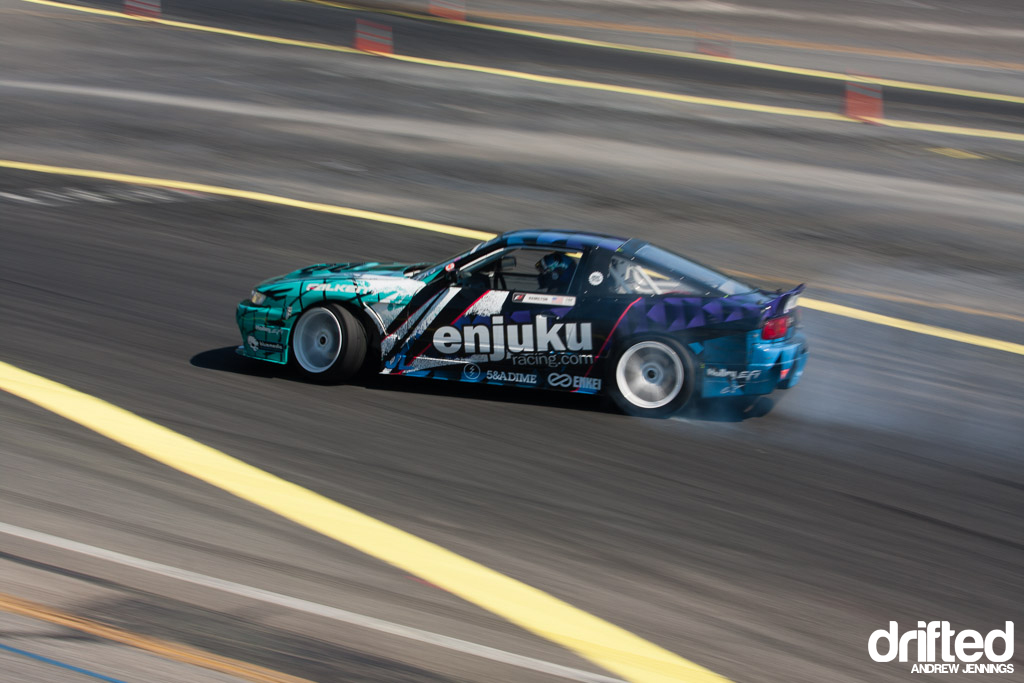 With regular top 32 drivers like Maeng and Angelo out of the running, it was time for the rookies to step up and show that they had what it took to play with the big boys. Nate Hamilton squeezed by in the slightest of margins, qualifying 32nd overall.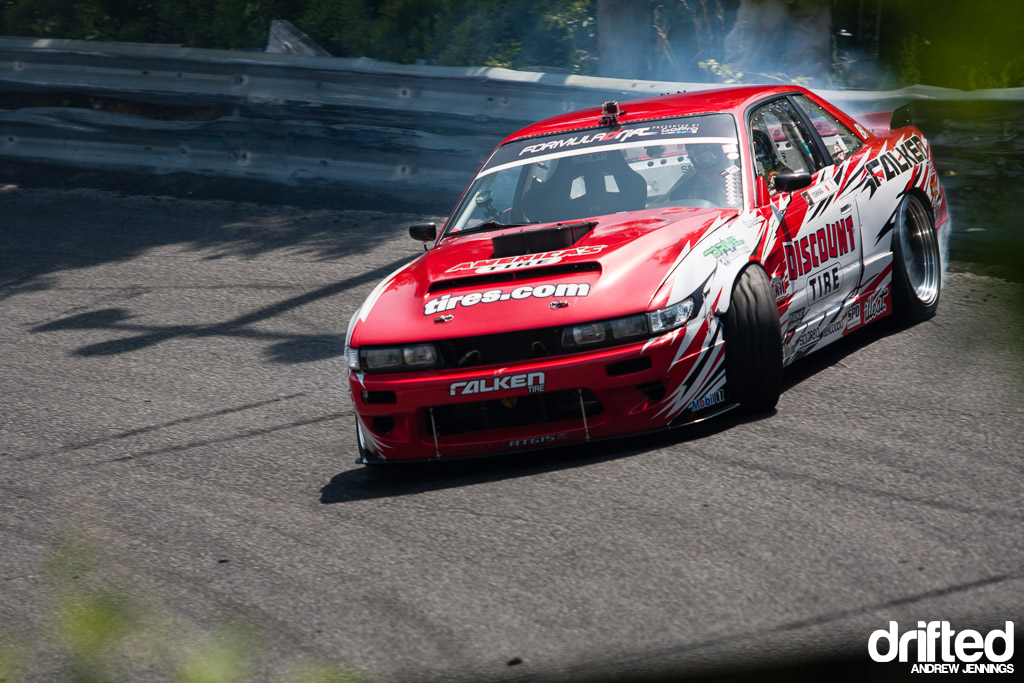 Surprisingly, Daijiro Yoshihara was another driver to struggle this year. He has historically done well at Wall, but the best he could manage in qualifying was 30th, proving again that 2013 just isn't his year.  You certainly can't fault his car's paint though, which was perhaps the most beautiful in person under the sunlight.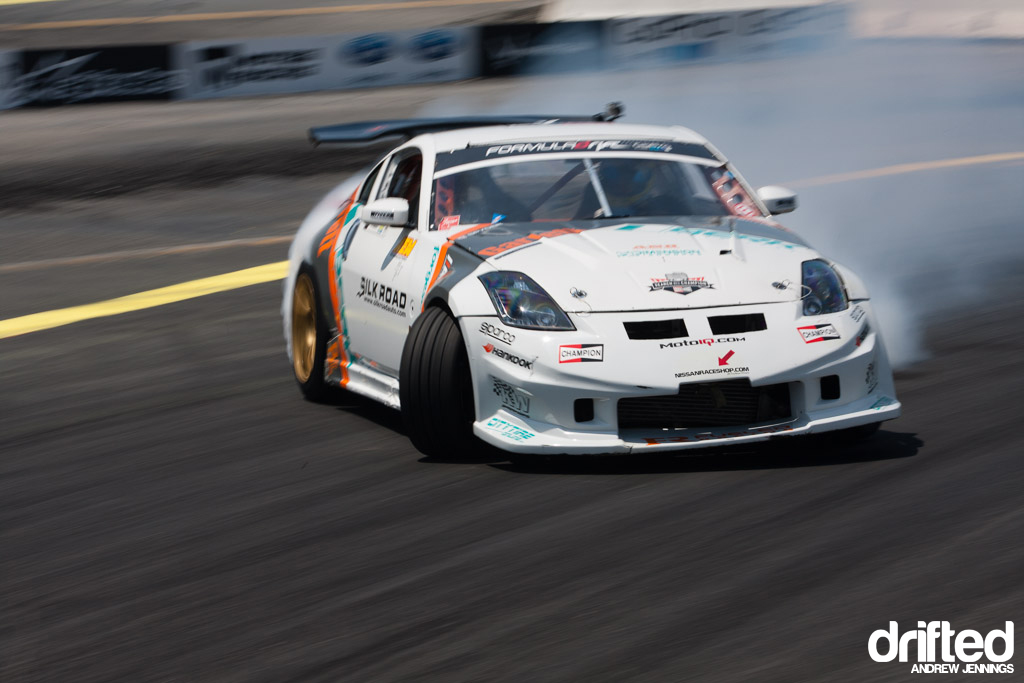 Carl Rydquist may be a fairly new name to drifting fans, but he is well versed in many forms of grip racing. His aggressive style and eagerness to hit every clip showed in his runs, managing to snag 29th place in qualifying.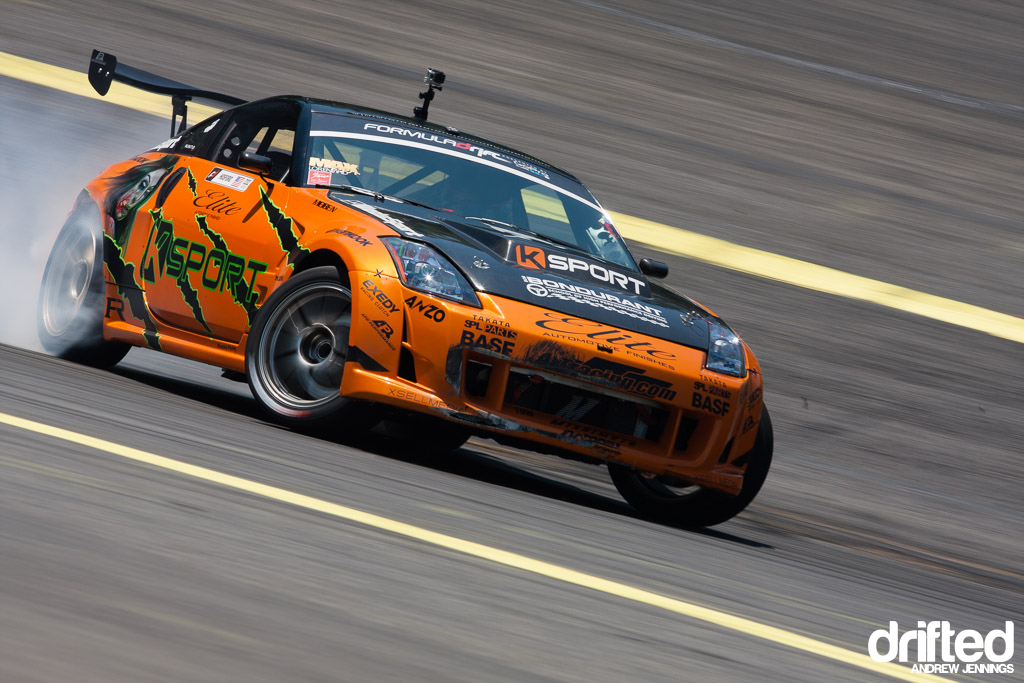 One of the other 350Z drivers was not far ahead. Corey Hosford kept it under control in qualifying despite some brushes with the wall, claiming the 26th spot.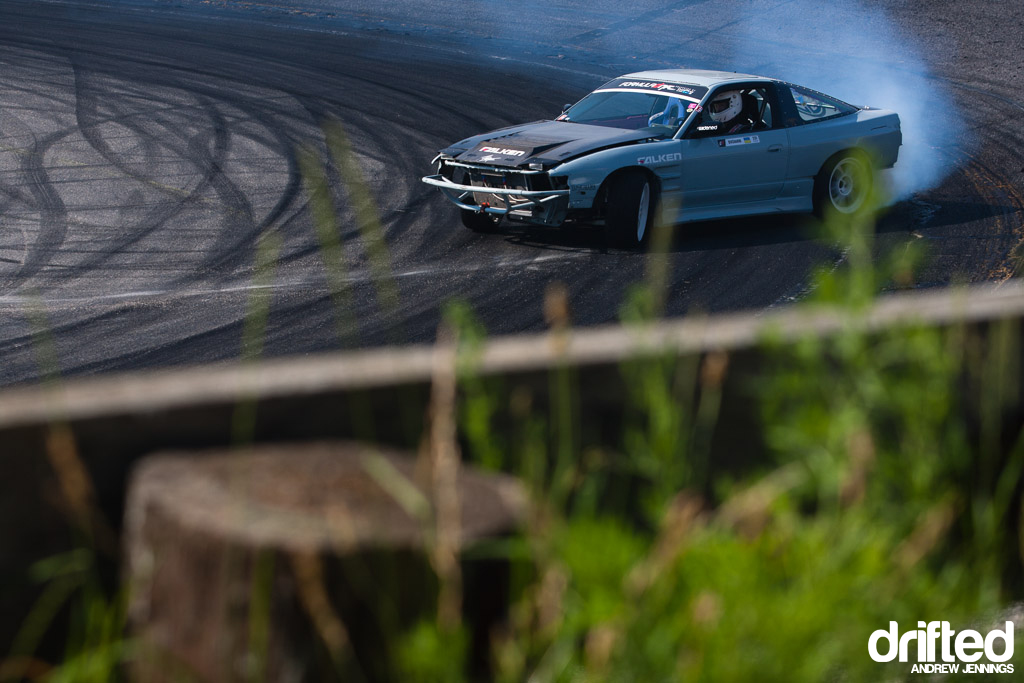 Ukrainian driver Miro Ovcharik has been quietly gaining positions through consistency this season. His basic LS3-powered S13 was looking more like a missle-car at this event, rarely seen with its front bumper in tack. Ovcharik slotted into 25th, having now qualified in the top 32 for every event this year. Hopefully I am not the one who jinxes him for the next round! If he keeps this up, I expect we'll see bigger sponsor names on the side of that car next season – he is currently sitting ahead of Ken Gushi in the overall standings.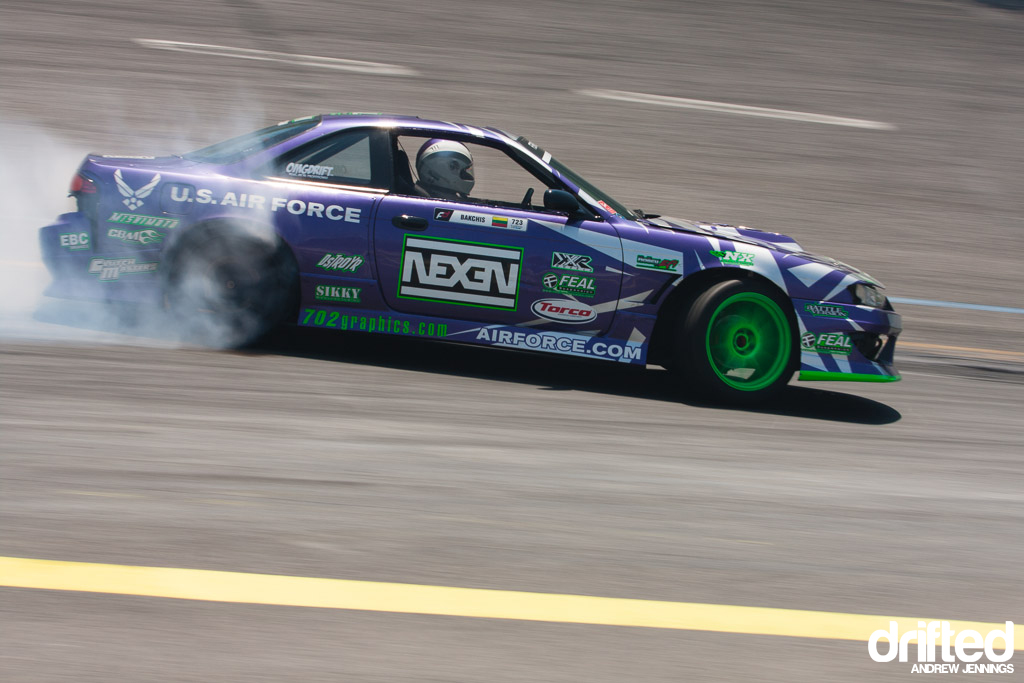 Last year's top qualifier Odi Bakchis didn't seem to have the same pace. His Nexen Tires S14 laid down clean runs, but lacked some of the speed and angle we're used to seeing from him. 23rd would have to suffice this year.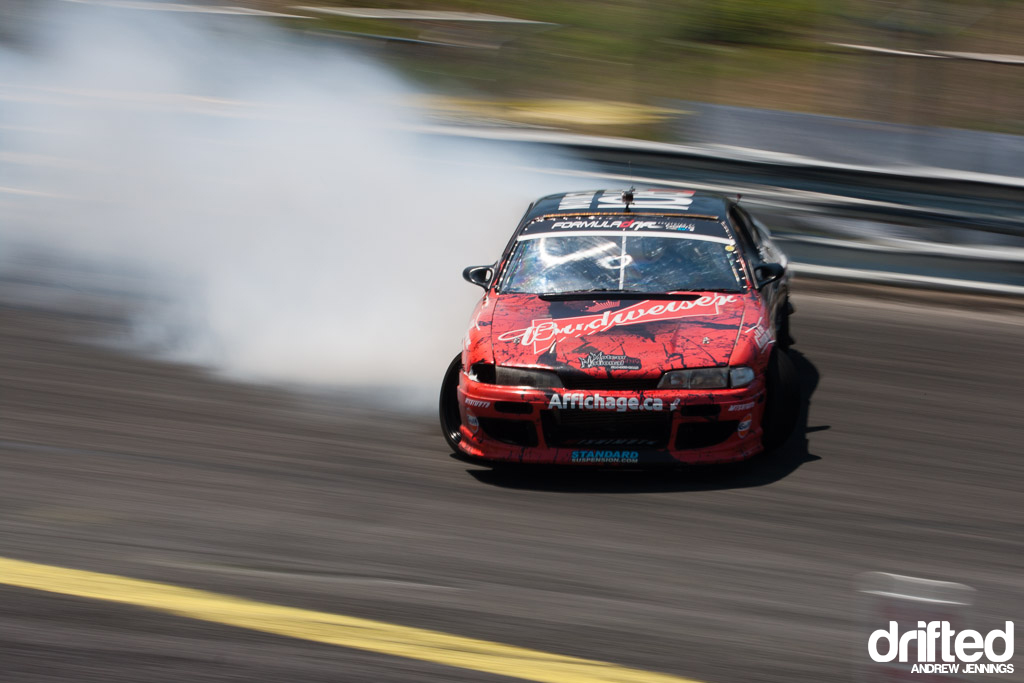 French Canadian rookie Marc Landreville was a surprise entrant into this year's field. He came almost out of nowhere but took quite a lot of practice runs, enjoying every minute of his time in the big leagues. The lack of experience didn't seem to hurt him, climbing his way into the top 32 in 21st place.
Just ahead, another S14 chassis driver was smoking up the bowl at Wall. Matt Field in his CX Racing Nissan took 19th position in qualifying and continues to rack up fans after his daring moves in Florida.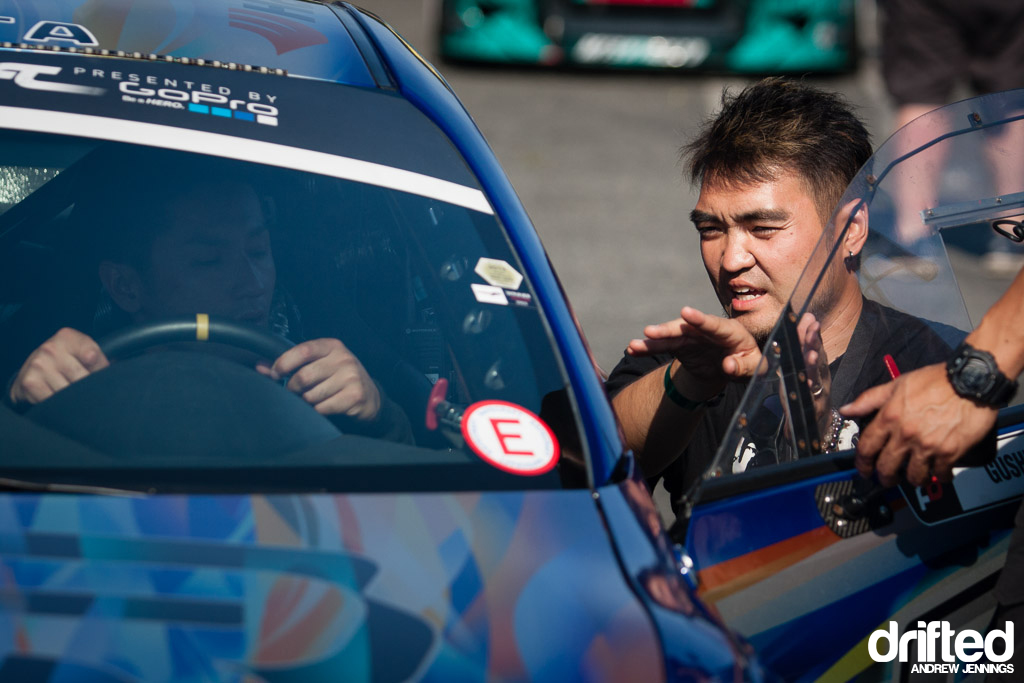 Back at the grid, the new knockout qualifying format was spicing things up with a slimmed down competitor lineup. After the first 16 are placed, they can go back to the grand stands to learn about their competition. Robbie Nishida had observed Ken Gushi's first run, and stopped by to give him some advice before the second pass.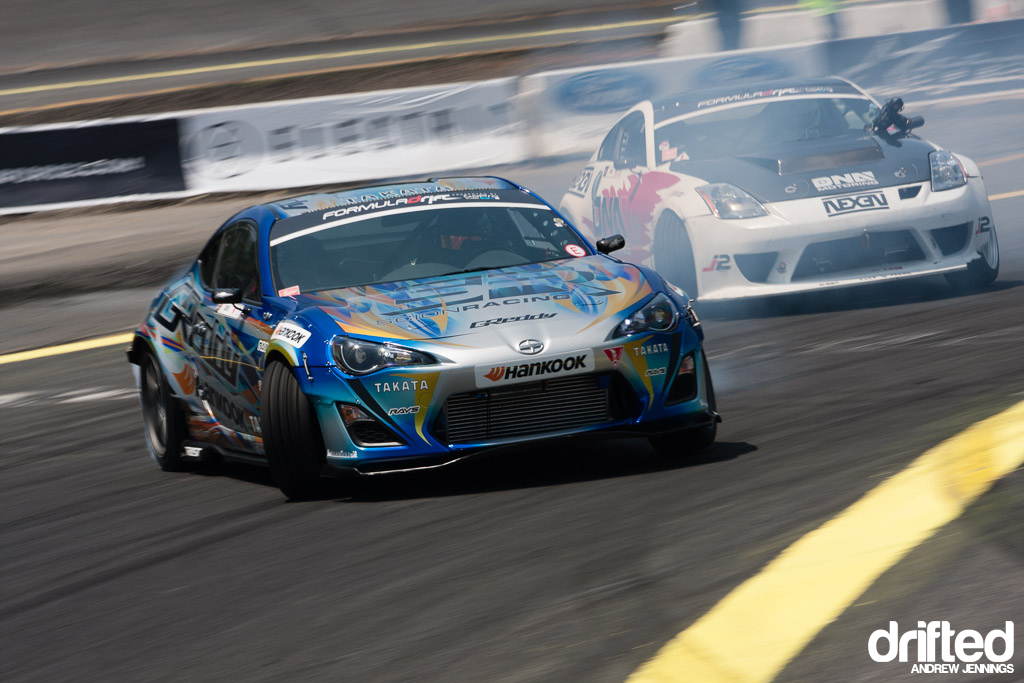 The advice seemed to help as Gushi was able to jump up to 22nd place in his second qualifying run.
Perhaps the man he should have gotten a word with was Ryan Kado however. The 21-year old showed how the new knock-out qualifying format can hurt sometimes, achieving the highest score out of the entire field on his second run. The best this could get him was 17th place, outside of earning any big points for the round unfortunately.
Danny George by contrast may not have had a best run of the day, but he laid it down during the first set of qualifying heats, earning him the 16th spot.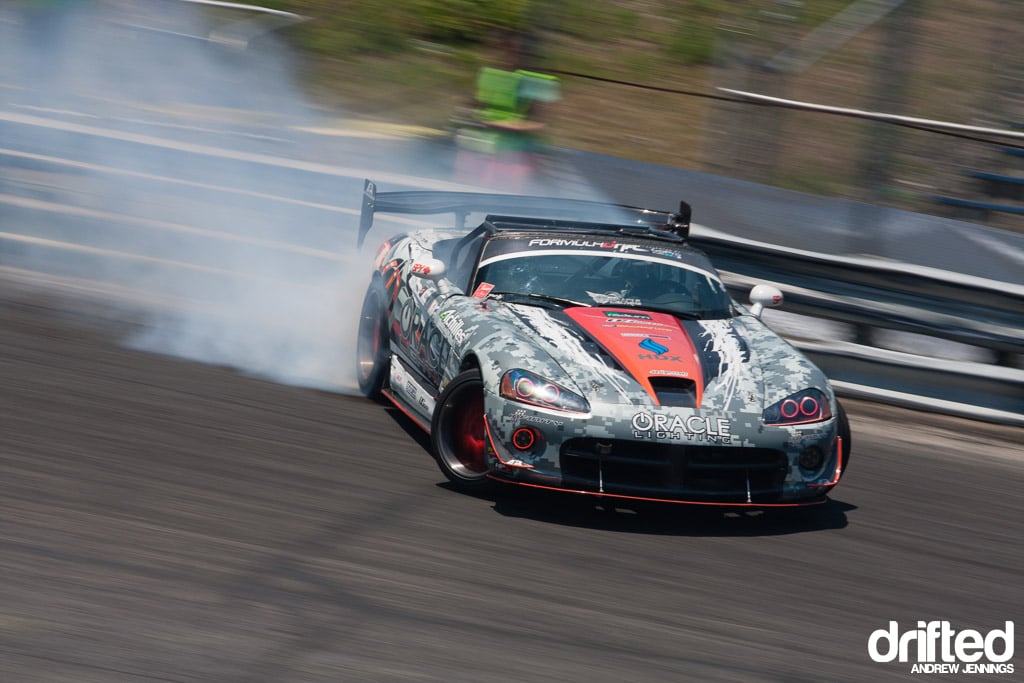 Like stable-mate Nishida, Dean Kearney also suffered some car trouble during the weekend. A transmission failure after Thursday's closed practice session left the team scrambling for a solution before qualifying. Luckily, they were able to source a replacement for his Oracle Lighting Dodge Viper, and Kearney let it all hang out to qualify 15th overall.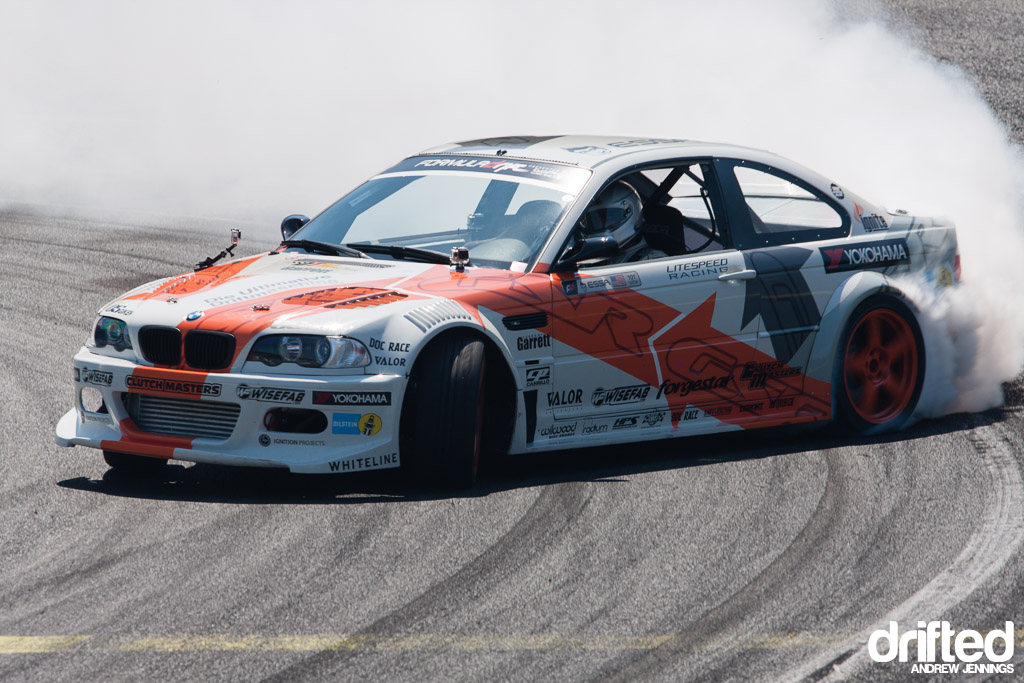 Michael Essa always looks at ease in the paddock, but this time must have been especially sweet. He came to New Jersey off of his maiden victory in Florida with everything to gain, knowing the best way to pick up more points was to stay off the guardrails. His precision was rewarded with a 13th spot.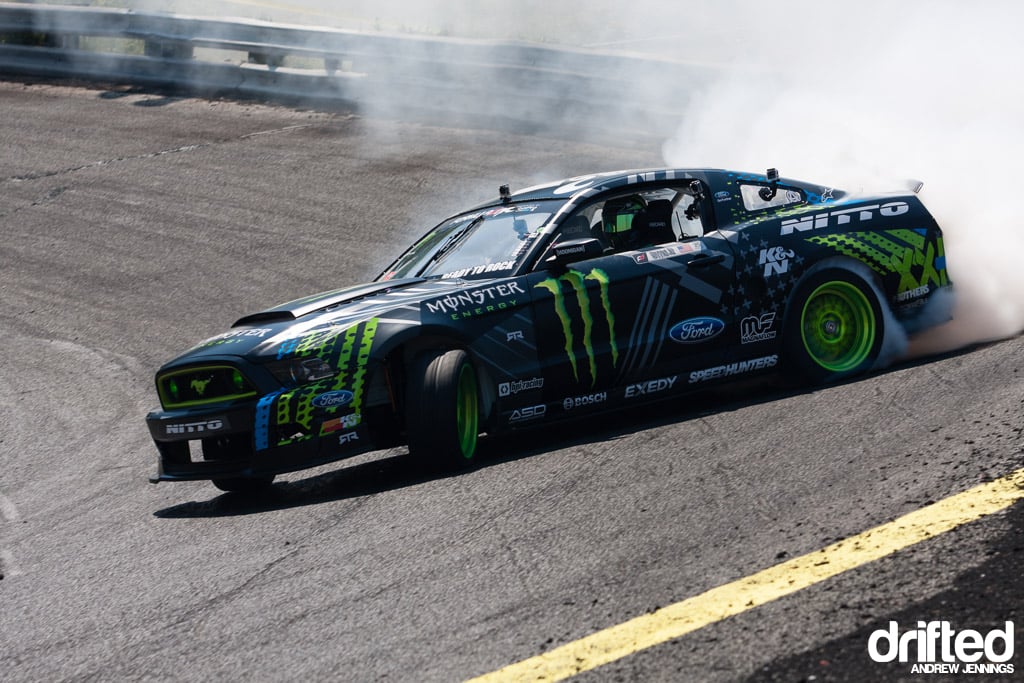 2010 Formula Drift Champion Vaughn Gittin Jr. knows how to ride the banking at Wall. He qualified high last year, and was looking for a repeat in 2013 to pick up some points ahead of rival Saito in the overall standings. It wasn't meant to be however, as car balance issues hindered his single shot run and he had to settle with 11th.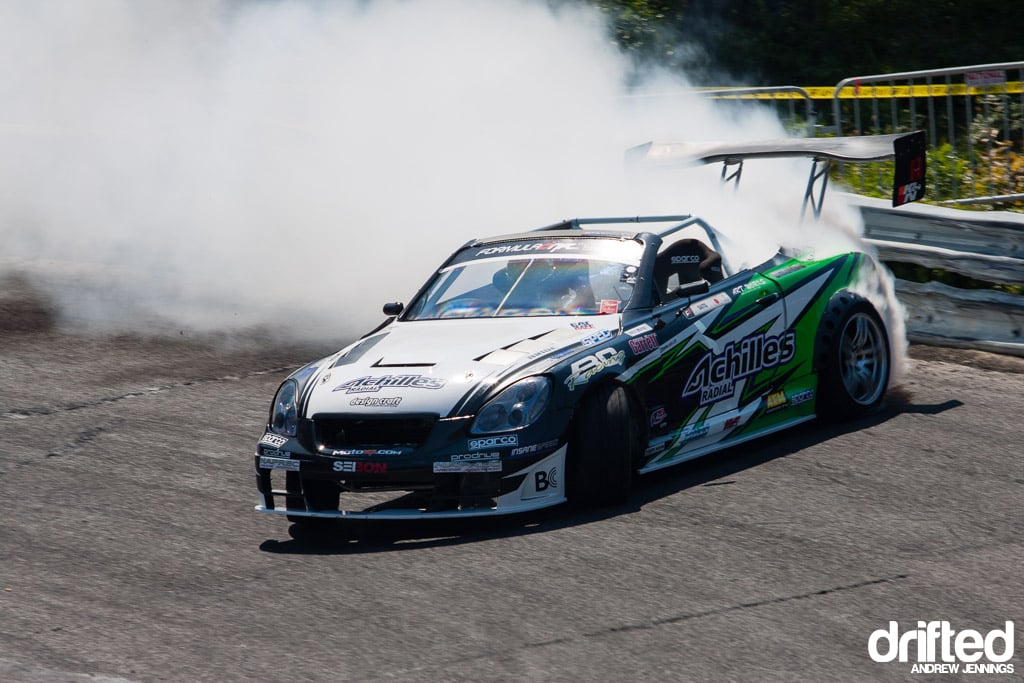 Speaking of the 2012 Champ, Daigo Saito was equally motivated to extend his lead in this year's standings over Gittin. Entering qualifying in the new format is always tough for the points leader, meaning that he had to set the benchmark higher than everyone else that was to follow him in the knock-out. Saito's run held steady at sixth place, good enough for a few more precious points.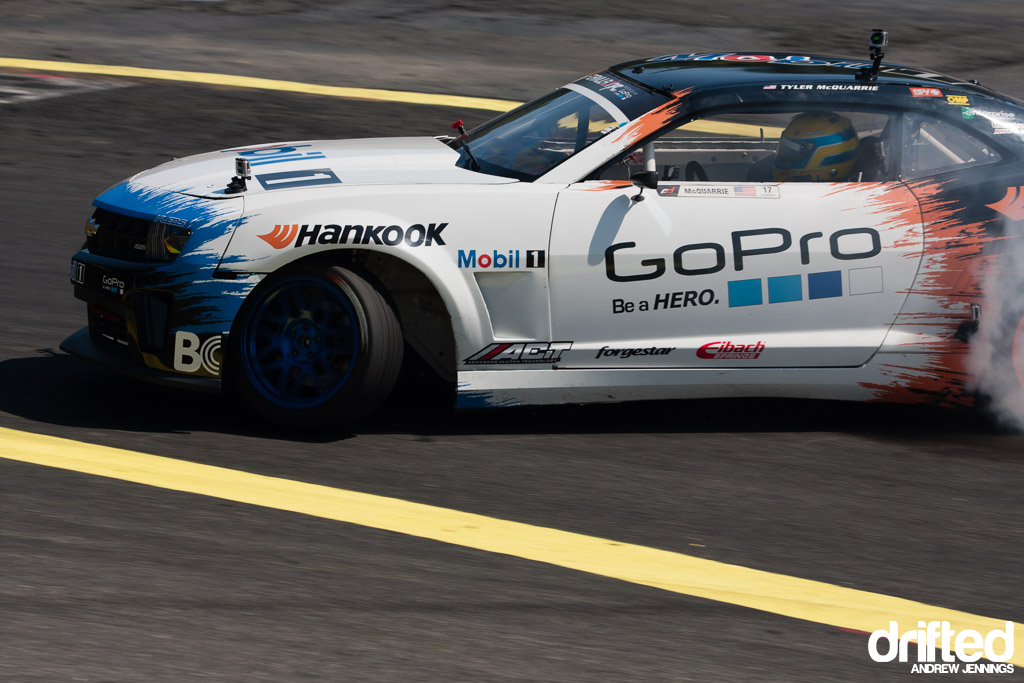 Where others had trouble with their rides, Tyler McQuarrie's gremlins seemed to be behind him. He failed to do well in the first three rounds of the championship, but it all came together on Friday at Wall as he laid down a killer run to grab fifth place in qualifying.
Every driver is motivated to do well at their home track, and for Chris Forsberg that means New Jersey is the closest he will get. The smoke chimneys on his NOS Energy Nissan 370Z were on full blast, almost as though his car was powered by white coal rather than petrol. A single fast run was all he needed to qualify fourth.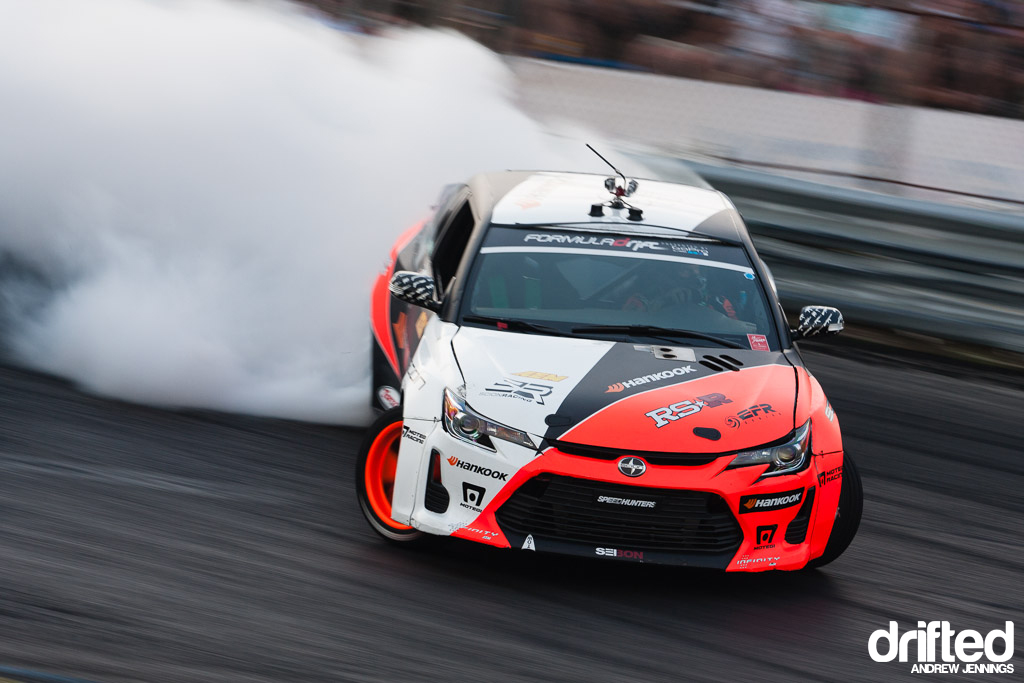 Fredric Aasbo has been qualifying well this year. The Norwegian driver took top honors in Atlanta, and was looking to do the same again as he stormed out of the gate, putting down the most smoke of any driver. Overall impression can only take you so far, and his speed and line were not quite as good as two others in the field. Aasbo qualified third for Saturday's main event.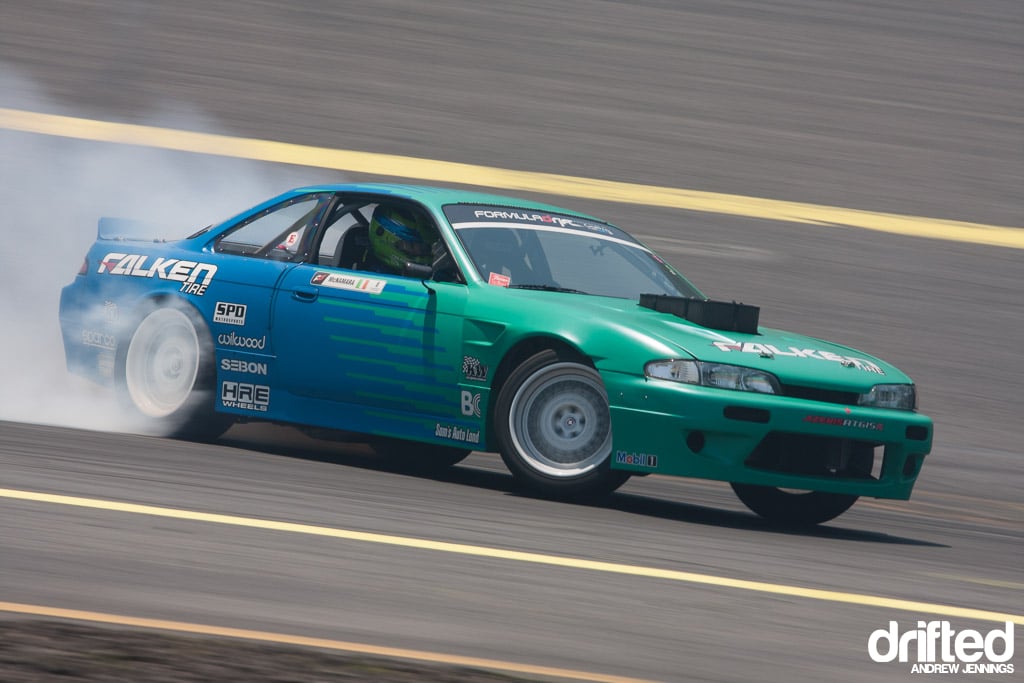 Darren McNamara has seen his share of success at Wall, and qualifying treated him well this year. He put his right-hand drive Falken Tire Nissan S13 in all the right places, hitting the outside zones perfectly with great angle to be awarded second place.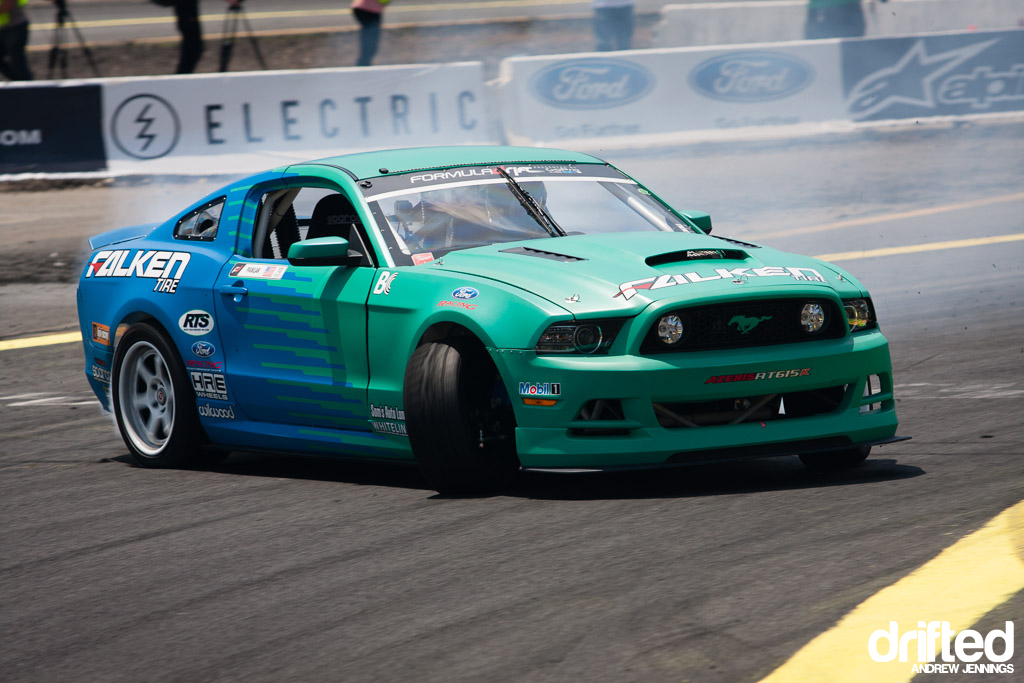 Teammate Justin Pawlak had something to say about it however, wanting to stamp his authority in a team that is no longer ruled by Gittin. Pawlak is now emerging as the big name at Falken, and the 12 points he gained by qualifying first at Wall will help that position as the season progresses.
With Pawlak first and McNamara second, the stage was set for an epic top 32 bracket in Saturday's main event. Would the two Falken drivers find each other at the end of the scuffle to decide the podium? Or would another hopeful emerge to challenge them for bragging rights on drifting's biggest stage?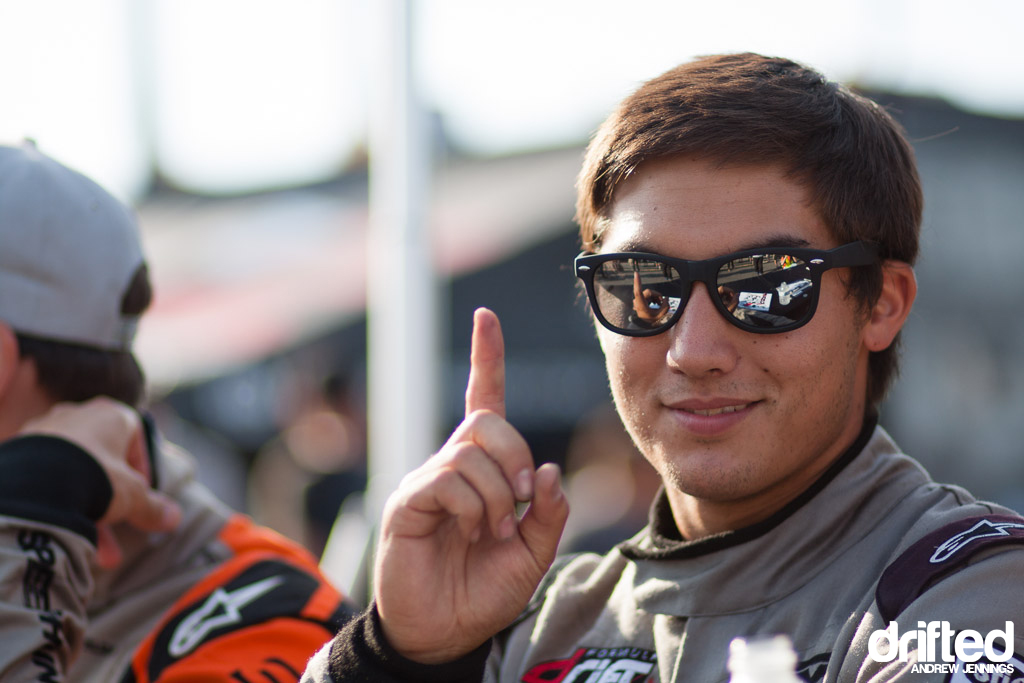 For now, we'll leave you with this portrait of Ryan Kado, the man to earn the highest score in qualifying. Thanks for checking out this piece of our round four coverage of the 2013 Formula Drift season. Keep your browsers tuned here for the recap of the main event coming soon!
Final qualifying results from Formula Drift Round Four, Wall, NJ 2013:
1. Justin Pawlak
2. Darren McNamara
3. Fredric Aasbo
4. Chris Forsberg
5. Tyler McQuarrie
6. Daigo Saito
7. Robbie Nishida
8. Conrad Grunewald
9. Chelsea DeNofa
10. Kenneth Moen
11. Vaughn Gittin Jr.
12. Kyle Mohan
13. Michael Essa
14. Jhonnattan Castro
15. Dean Kearney
16. Danny George
17. Ryan Kado (highest score in qualifying)
18. Ryan Tuerck
19. Matt Field
20. Chris Ward
21. Marc Landerville
22. Ken Gushi
23. Odi Bakchis
24. Matt Powers
25. Miro Ovcharik
26. Corey Hosford
27. Taka Aono
28. Jeff Jones
29. Carl Rydquist
30. Daijiro Yoshihara
31. Pat Goodin
32. Nate Hamilton
Andrew Jennings is a photographer and editorialist based out of Nashville, TN. He has been covering the American drift scene since 2007, and his work has been published in nationally syndicated magazines such as Modified Magazine, Import Tuner, Performance Auto and Sound, and RIDES. Andrew may be contacted through his professional online portfolio, or the social networks listed below.
Professional Portfolio: http://www.andrew-jennings.com
Facebook | Twitter | Google Plus | Flickr | PBase