EVENT: Drift Allstars Round One 2013 – Drift GP of Poland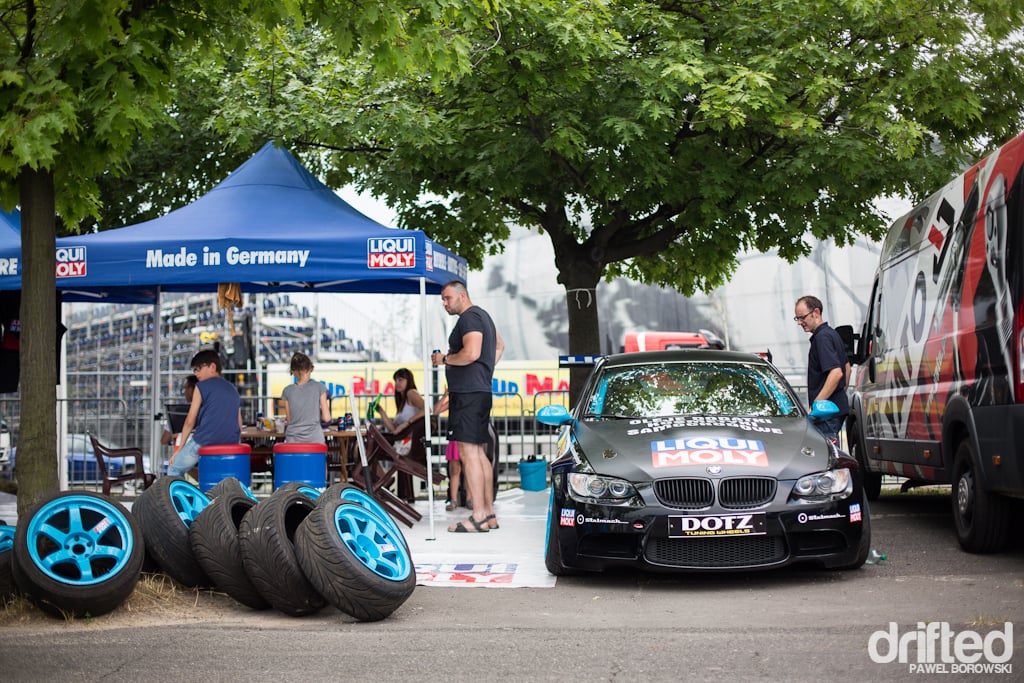 The Drift Allstars European series would kick off its fifth year for the first time in Europe. The BudMat Driftshow in association with the PFD Polish national series would be quite the season opener. With Drift Allstars being present in Poland for four years and Polish drivers coming to the UK to Drift Allstars events it was only fitting one day that the best drivers from Western Europe would clash in this trend-setting European championship.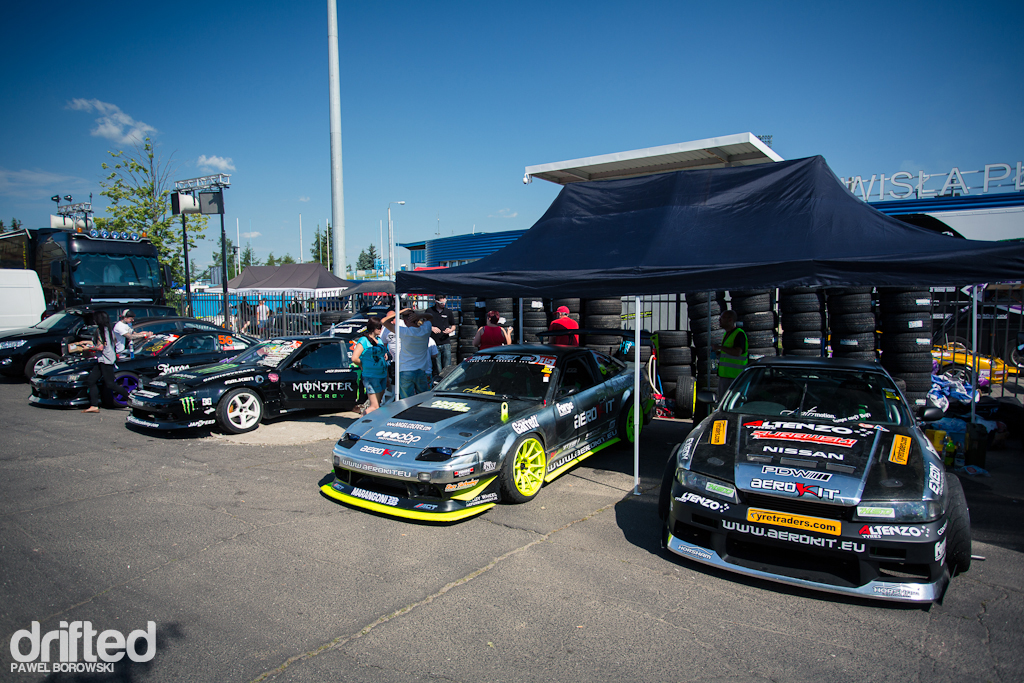 Amongst the international drivers present were the newly formed Team Aerokit. Consisting of Marangoni Tires' Nigel Colfer in his Marangoni Tire Nissan S13. Martin Richards in his Altenzo Tire Zurwaski 1JZ Powered Nissan R33.
Jack Shanahan in the Monster Energy S13 would also make his International debut after getting the call up. BMX and Action sports star Mark Webb would also make his international debut - he's already being pipped as the next Luke Fink, making the jump from BMX over to drifting.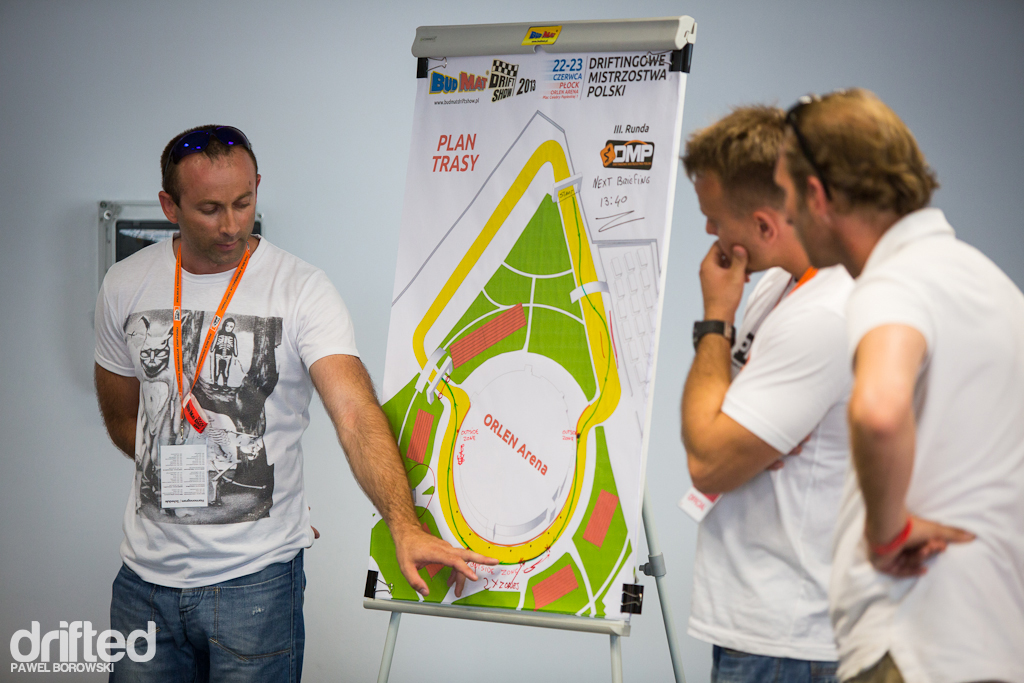 The judges would lay out a demanding track layout consisting of four rear clipping points.This was a true concrete jungle if there ever was one and gave room for no error.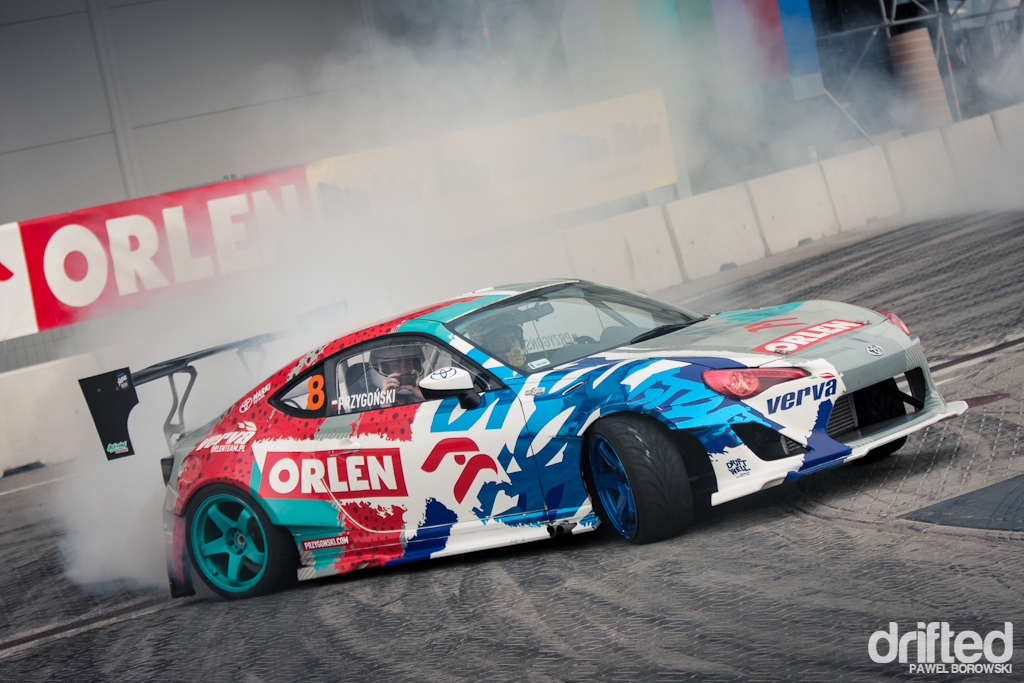 Kuba Przygonski in his brand new Orlen/Red Bull 1000hp GT86 would also be competing at his sponsors home event at the Orlen Arena. Kuba won this event in 2012 in his EVO powered AE86 but with big upgrades for the 2013 season all eyes where on him. Kuba is also a professional motorcycle racer in the FIA Cross Country Rally World Cup, taking time out from his very busy schedule to compete.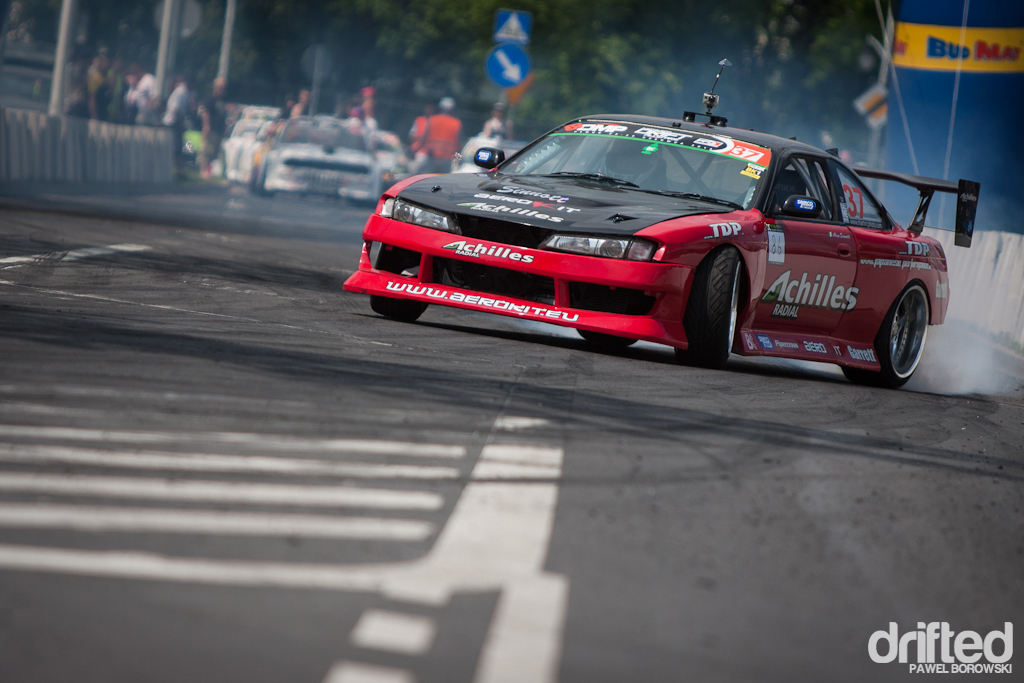 2012 Drift Allstars European champion Alan Sinnott would also make the trip over for this event. For 2013 Sinnott has made some big changes - he has moved to the Achilles Tires camp and now his Nissan S14 runs a 650Hp 2JZ with Garret GTX 35 Turbo - he is now more competitive then ever. Can he back up his 2012 championship win?
What do you think of Martin Richards' stainless steel-effect wrap. Martin had just five weeks to build this car and was still putting the final touches to the car in the final practice session. With one of the most comprehensive Nissan R33 builds ever in professional drifting, a huge credit to Zurawski Motorsport in the short timeline they have had.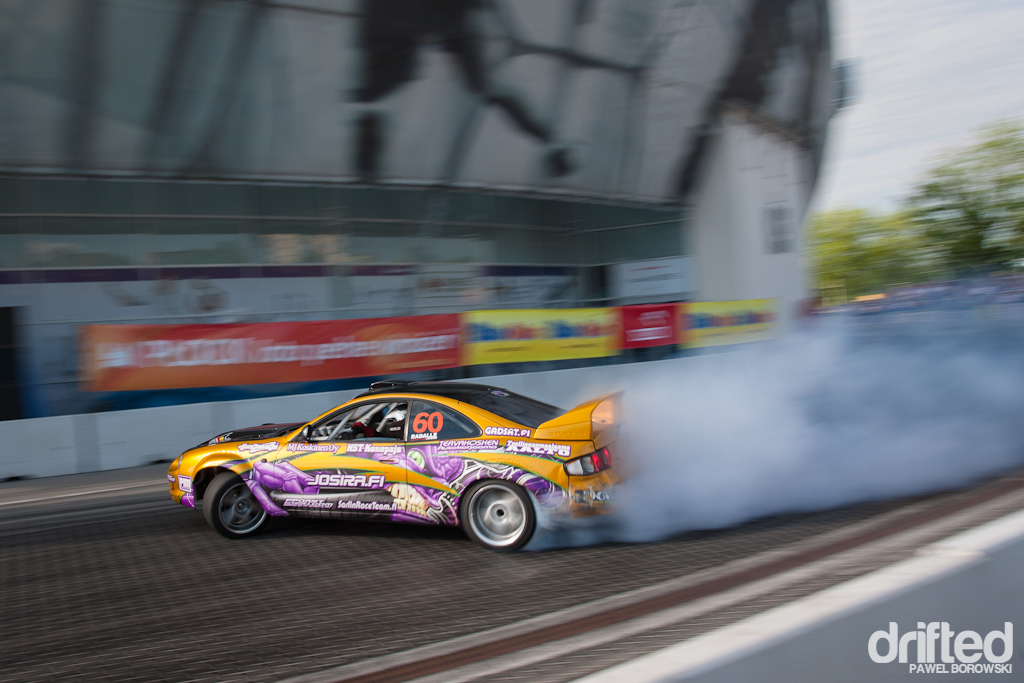 Pasi Koliseva would make the long trip from Finland. Now a team mate to the well known Juha Rintanen, 2013 will be a learning year for him in his 1JZ powered Toyota Celica.
Przygonski doing what he does best smoking out the Orlen Arena in Plock.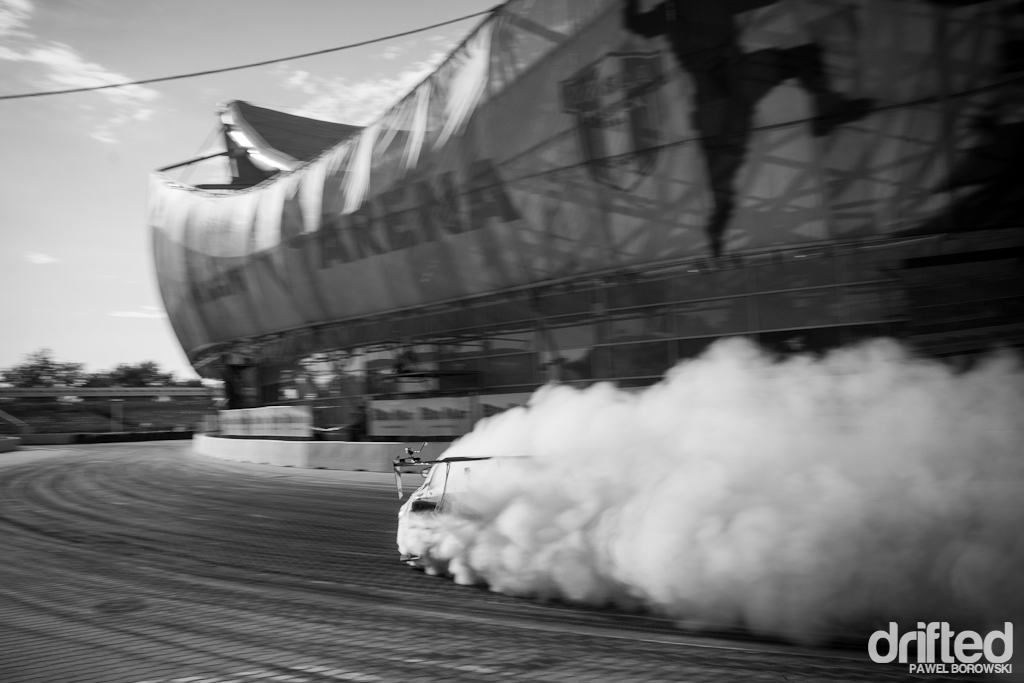 Piotr Wiecek was also on top form, he was swapping between his Budmat Auto RB Nissan S14 and R34 on friday trying to find the right setup. He would later choose to stay in the S14 which was a bit more nimble around the Plock venue. Piotr is the local hero residing in the town of Plock and being the top driver at the Budmat Auto RB team. He is also placed 2nd in the PFD Series.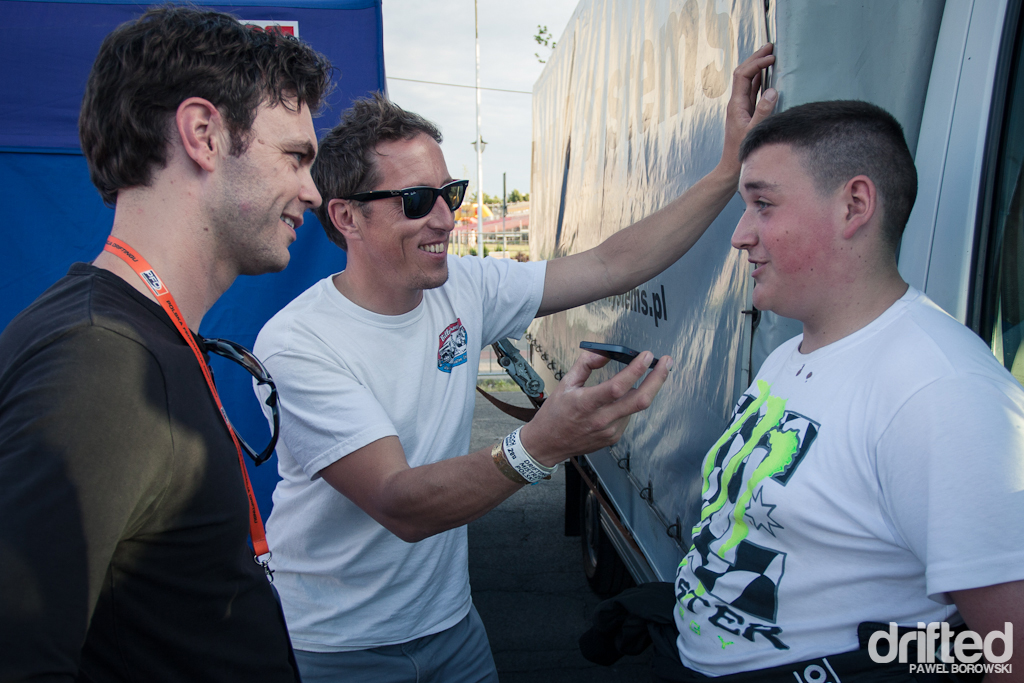 The media where out in force both days.The new look Drift Allstars European Championship taking more of an emphasis on live information via livestream highlights packages and audio interviews. Here Drift Allstars presenters and hosts Bryn Musselwhite and Peter Walsh speaking to the teenage sensation Jack Shanahan after his first practice.
James Deane, Drift Allstars 2011 Drift Allstars European champion, was in attendance on spotting duty for Jack Shanahan. James has been coaching his protege Jack for the past 12 months and, with them closely working as a team, expect big things from this pair later in the year. James' car could not make the trip due to him just coming back from Australia but I am sure we will see him later on in the season.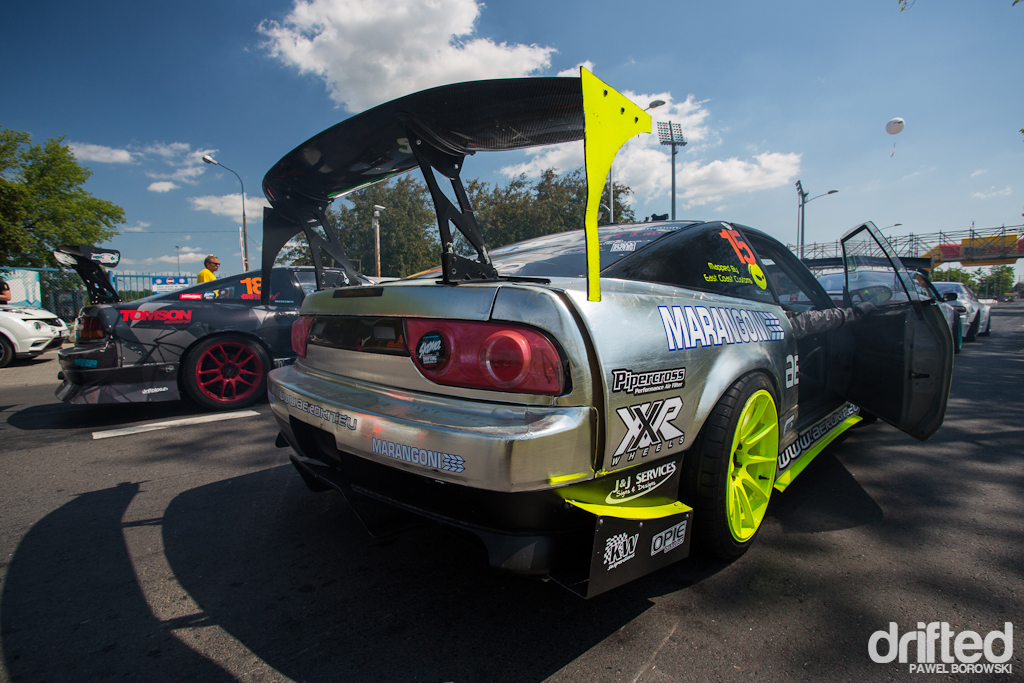 Nigel Colfers Marangoni Tire Aerokit with Koguchi power fenders on the startline looking fresh. This has to be one of the best looking S13's in the world!
Juha Rintanen Returns for season two. He has unfinished buisness and the flying Fin has changed teams to NEXEN tire Europe. Can the Finnish smoke machine improve on his 3rd placing 2012 standing?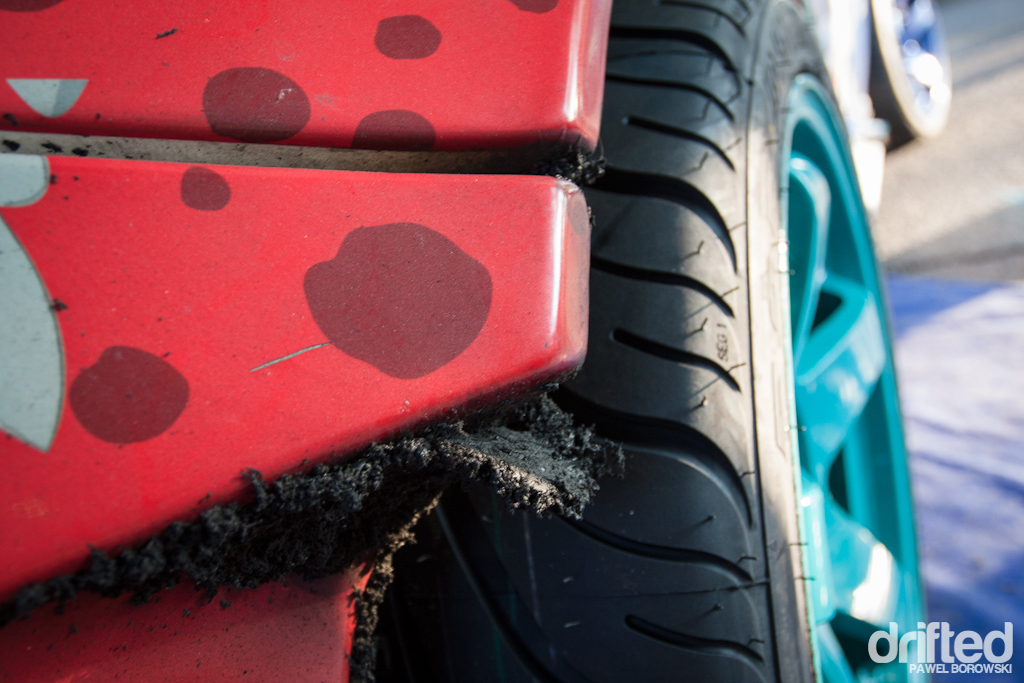 This is what happens when you put a 1000hp through sticky Federal RSR tires!
The Achilles LBD camp was busy all weekend. The world famous Nissan PS13 V8 has two championships to its name. This season it's piloted by Martin Ffrench, one of the best drivers in Europe never to win a championship. Pre-event Ffrench had the car at Wexican otorsport for an intensive rebuild, the team would suffer with fuel pump issues on the friday but nothing would stop team LBD.
The LBD Achilles Tire Nissan S13 was screaming all weekend deafening fans all around the Orlen Arena. The Polish fans went crazy for Ffrench everytime he hit the track!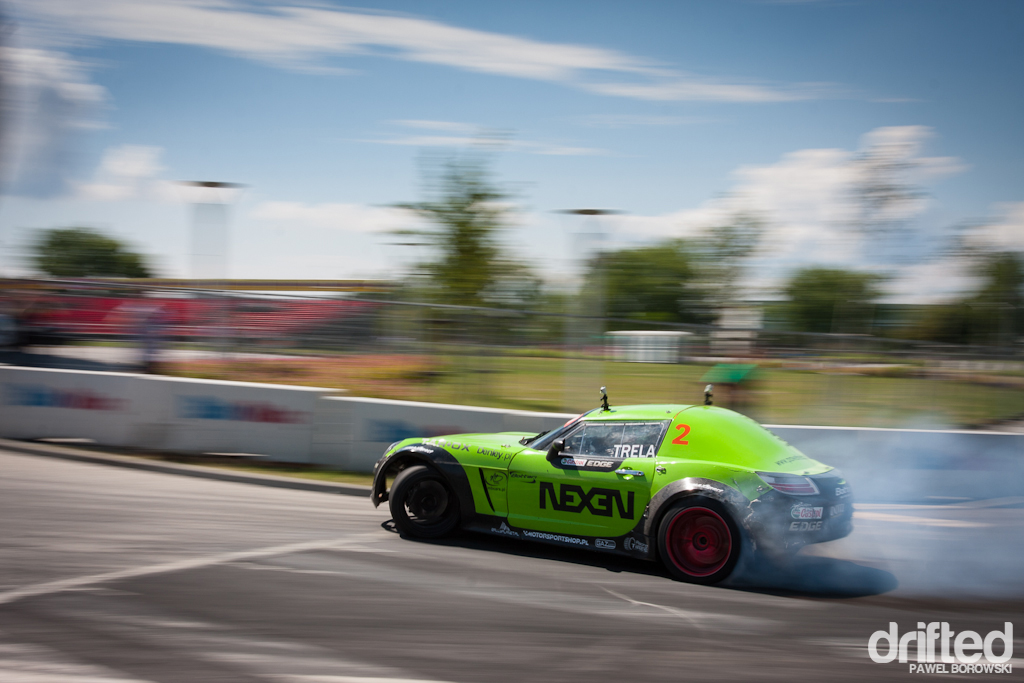 Pawel Trela would also debut a new car; a 2JZ Powered Opel GT (Pontiac Solstice/Saturn Sky) in the USA. With this being a development year expect big things later in the season but Trela already seems to be used to the new car. He also joins Nexen Tire Europe with Juha Rintanen. Expect them to be a force in this year's championship.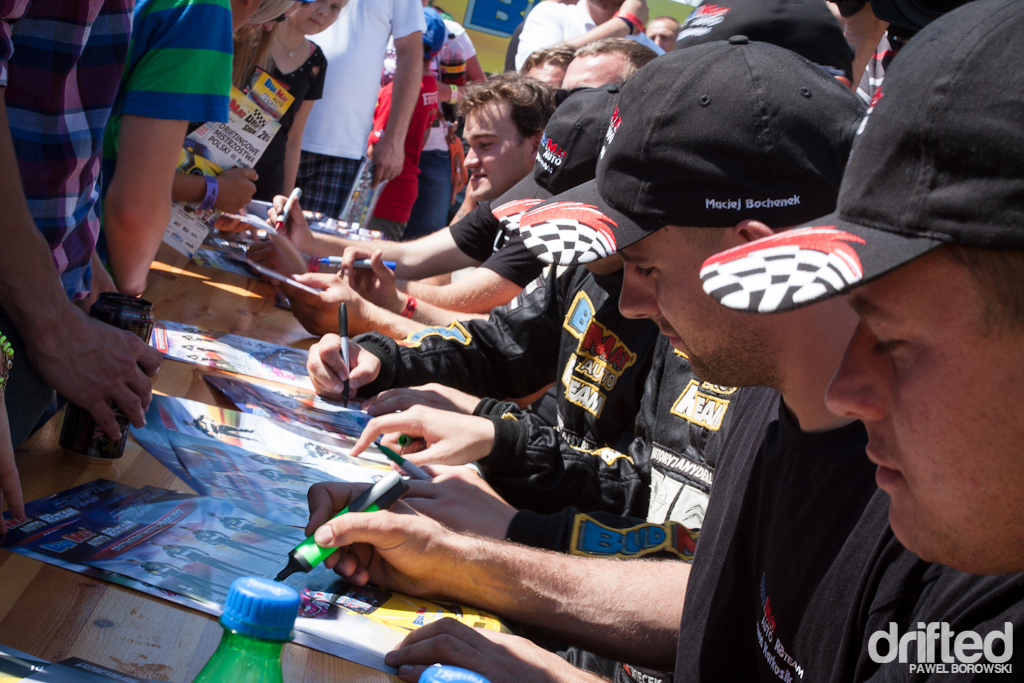 Autograph signings are always popular with the fans and local team Budmat got a lot of love!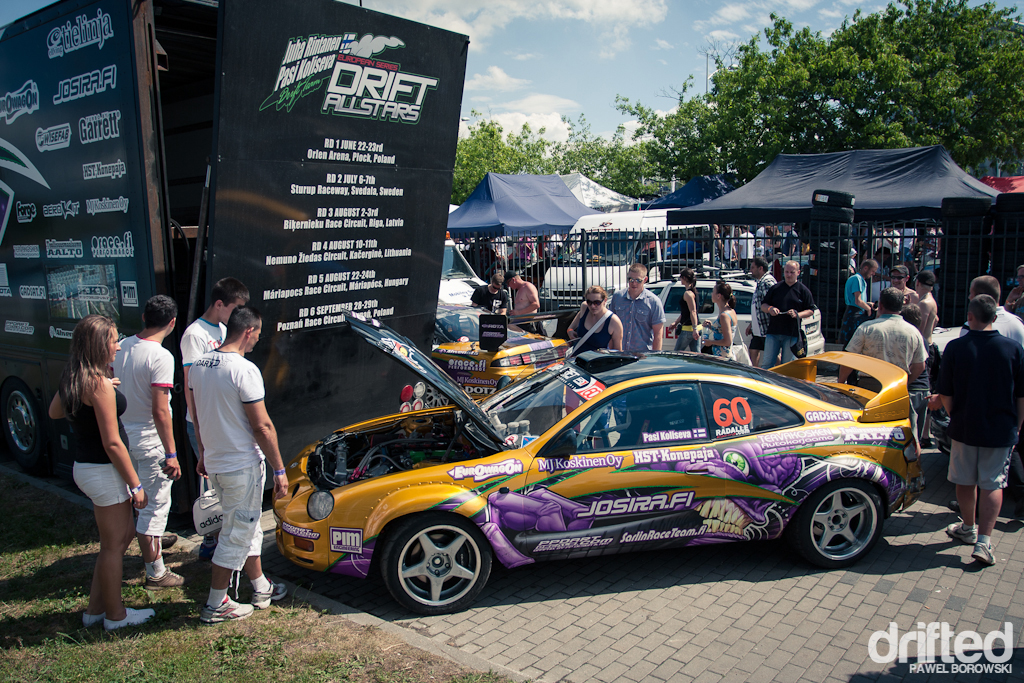 Team Rintanen's Celica certainly drew a crowd too!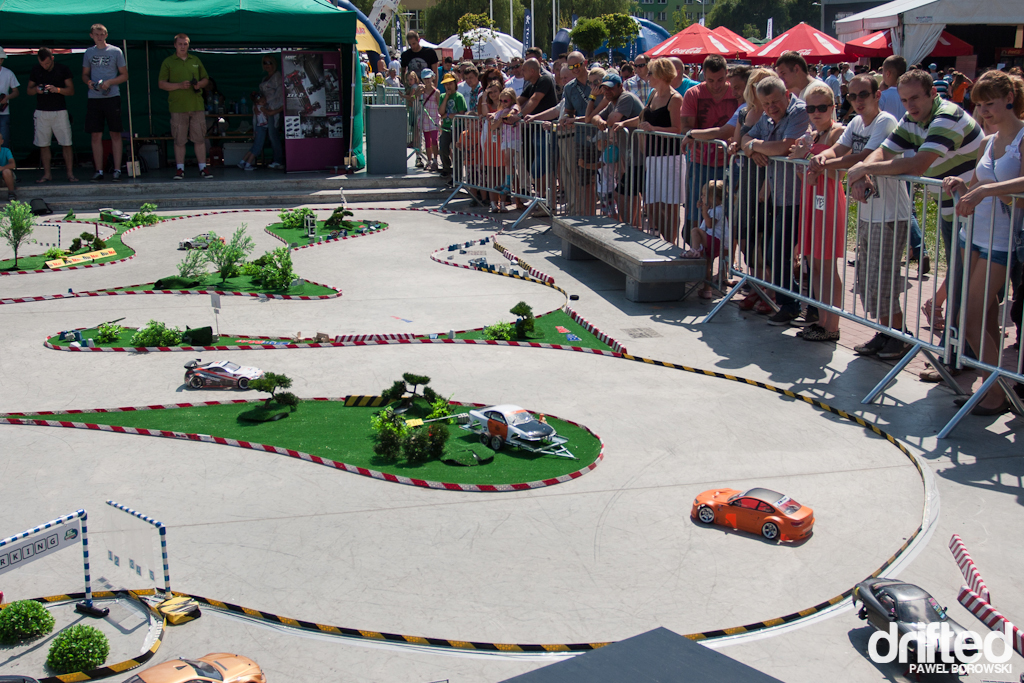 RC Drifting now seems to be getting a lot of momentum worldwide. The Polish RC fans are fanatics and put a lot of detail into this course, which was great to see.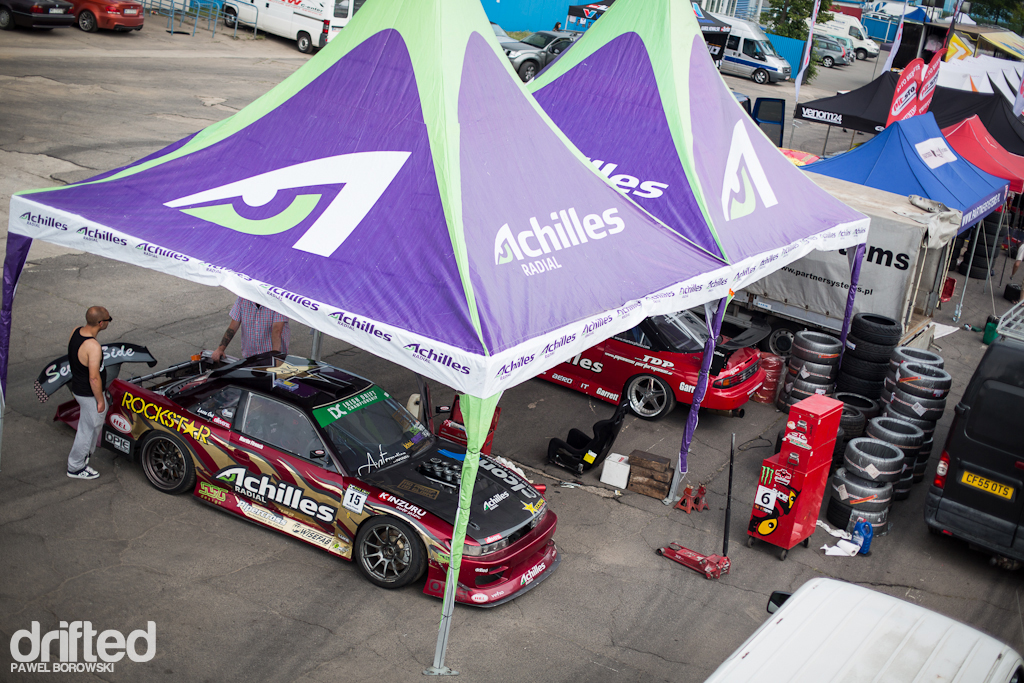 Team Achilles Tires Europe, comprising of Alan Sinnott and Martin Ffrench, with a fresh stack of Achilles to smoke!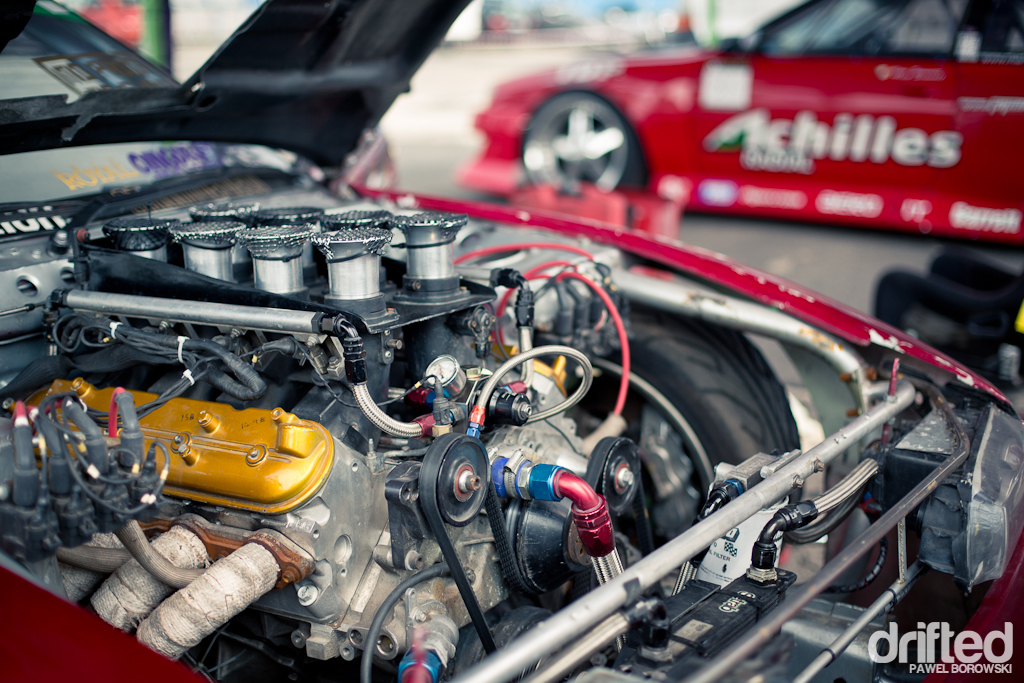 The Low Brain Mosler Race-built LS1. V8 + ITBS = Noise
Juha Rintanen checks in for tires. This extreme S14 certainly turns heads!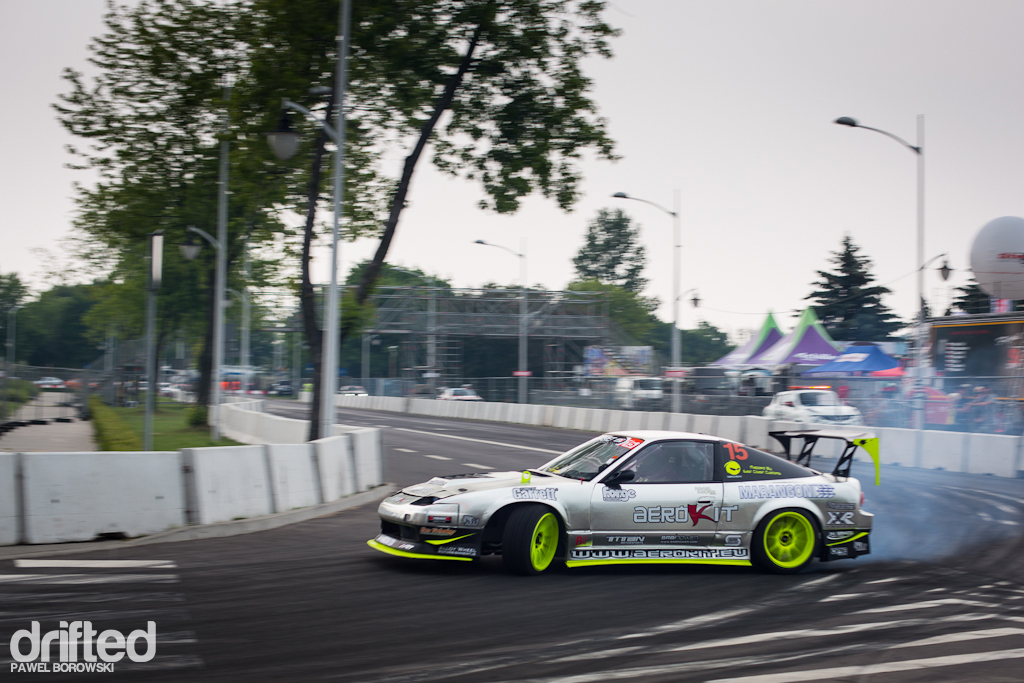 Nigel Colfer hitting the track in his Nissan S13. Turn One at Plock reminds me of Long Beach - launching off a main road onto a custom course.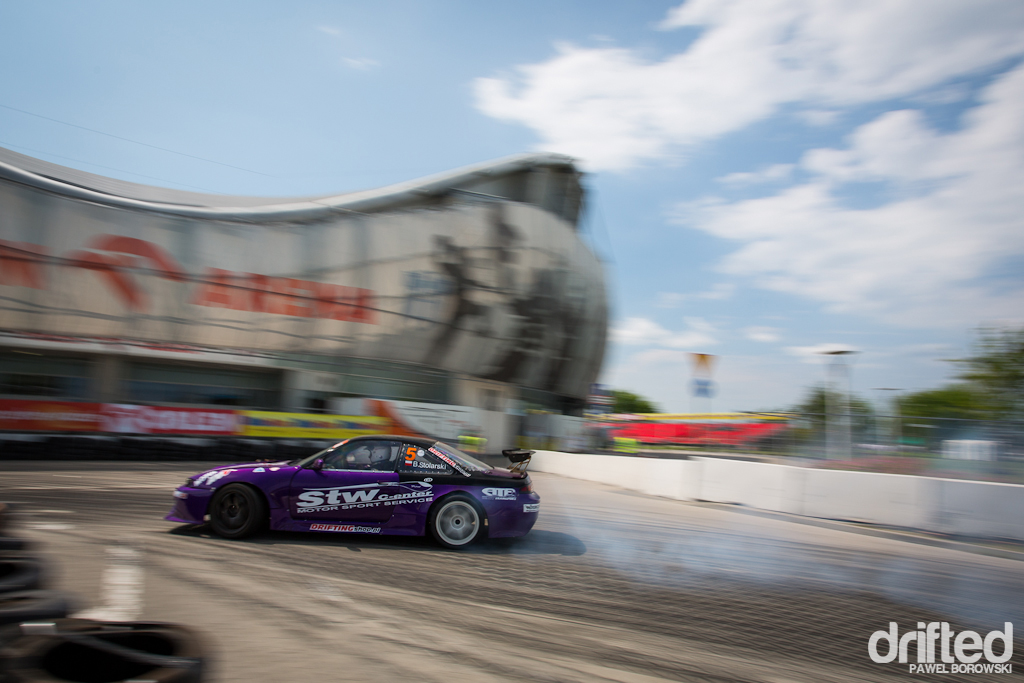 Bartosz Stolarski now with team STW was a force to watch from the off. He runs a race built LS1 engine with a Garret GTX 45 turbo!
Martin Richards transitions from Turn One to Two. A tricky switch with a slight rise in the tarmac which saw some cars get airborne.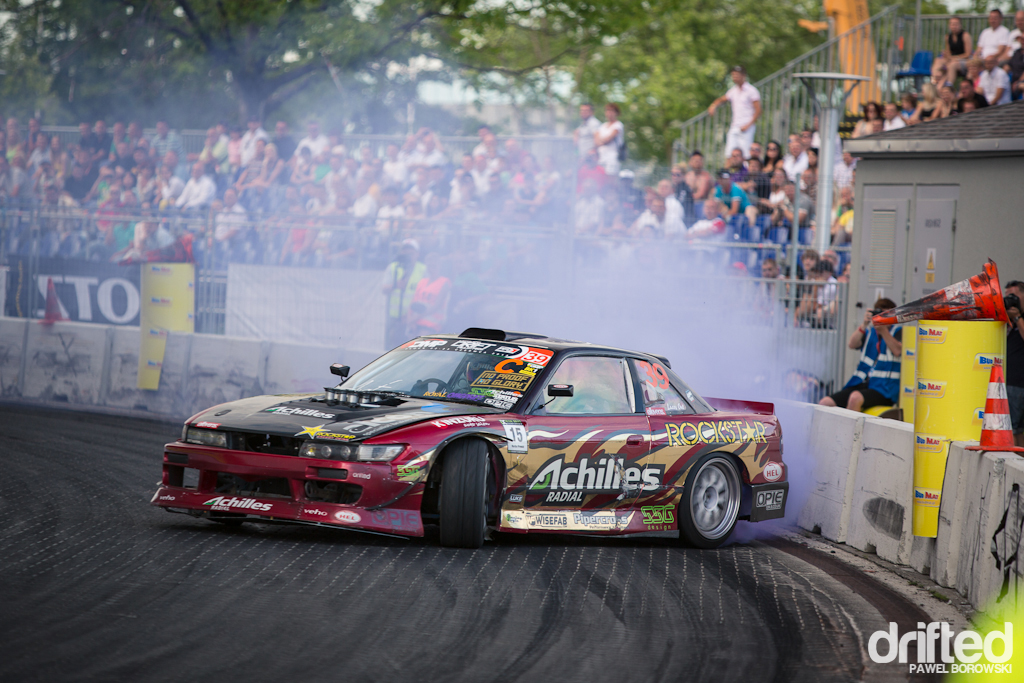 As cars left Turn Two they then up-shifted and powered 3/4 of the way around the stadium. Gearing and setup was a huge task all weekend and a lot of drivers noted that the surface was way grippier then traditional tarmac.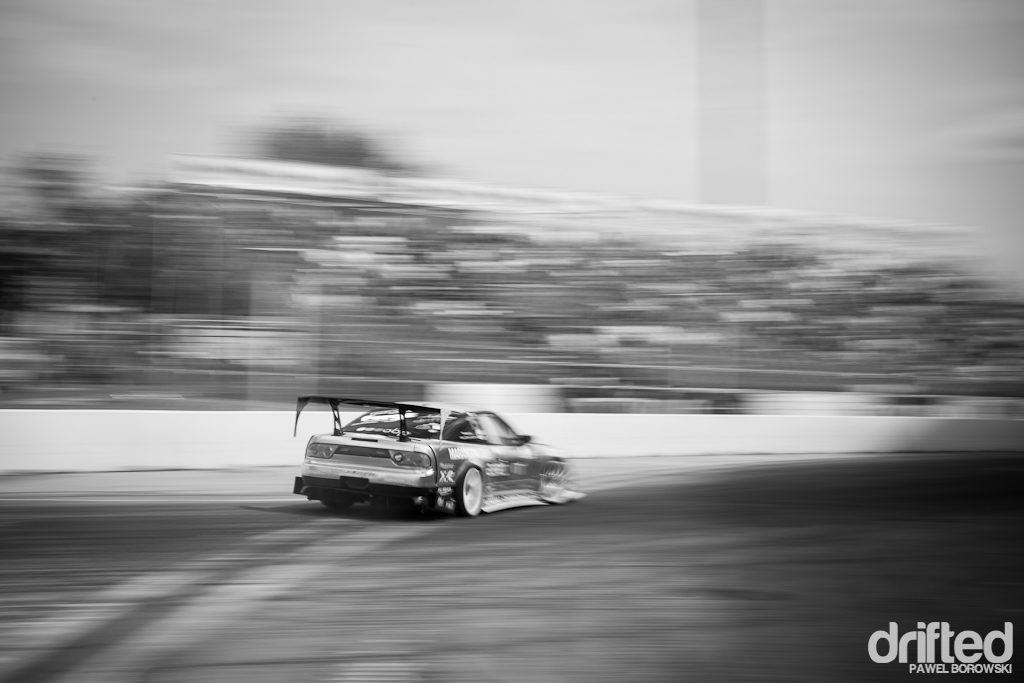 Nexen Tire smoke out by the flying Finn Juha Rintanen.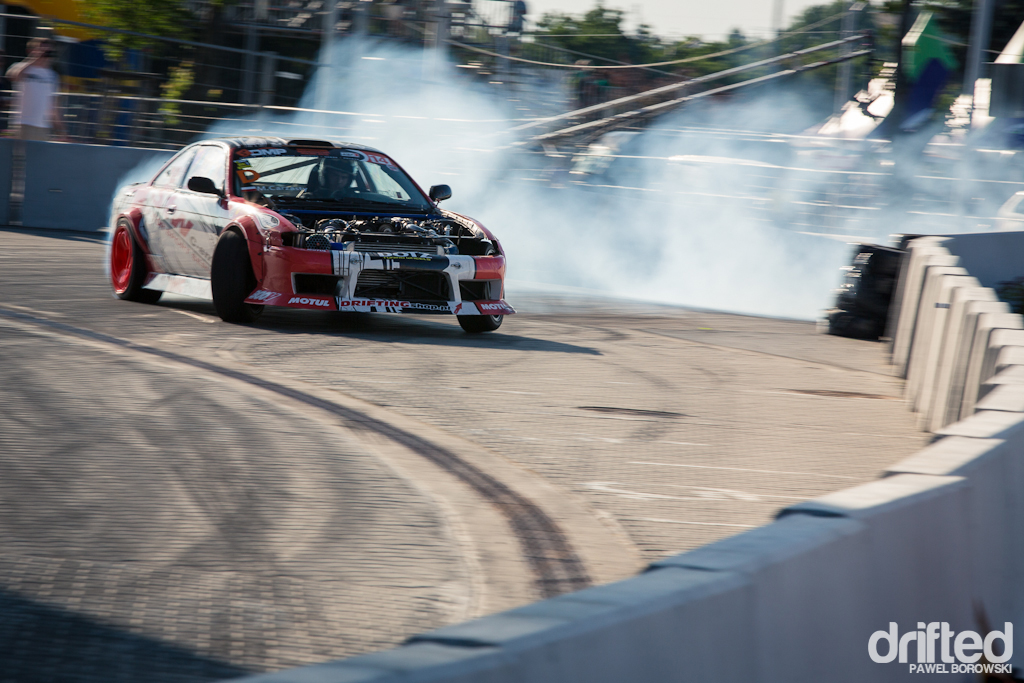 Marcin Steve Carzasty of Team STW was on it all weekend. The number one ranked driver in the PFD series at the moment had some amazing runs and locked out P2 in qualifying.
This is why he took P2 in qualifying - just amazing to watch.
The press and media get together sharing pictures from an amazing day of qualifying.
The day ended up -
1.Kuba Przygonski – Toyota GT86 ORLEN Team Red Bull
2.Marcin Steve Carzasty – Nissan S14 2J STW Drift Team
3.Maciej Bochenek – Nissan S13 RB25 Budmat Auto RB Team
4.Piotr Wiecek – Nissan S14 2JZ Budmat Auto RB team
5. Alan Sinnott – Nissan S14 2JZ Achilles Low Brain Drifters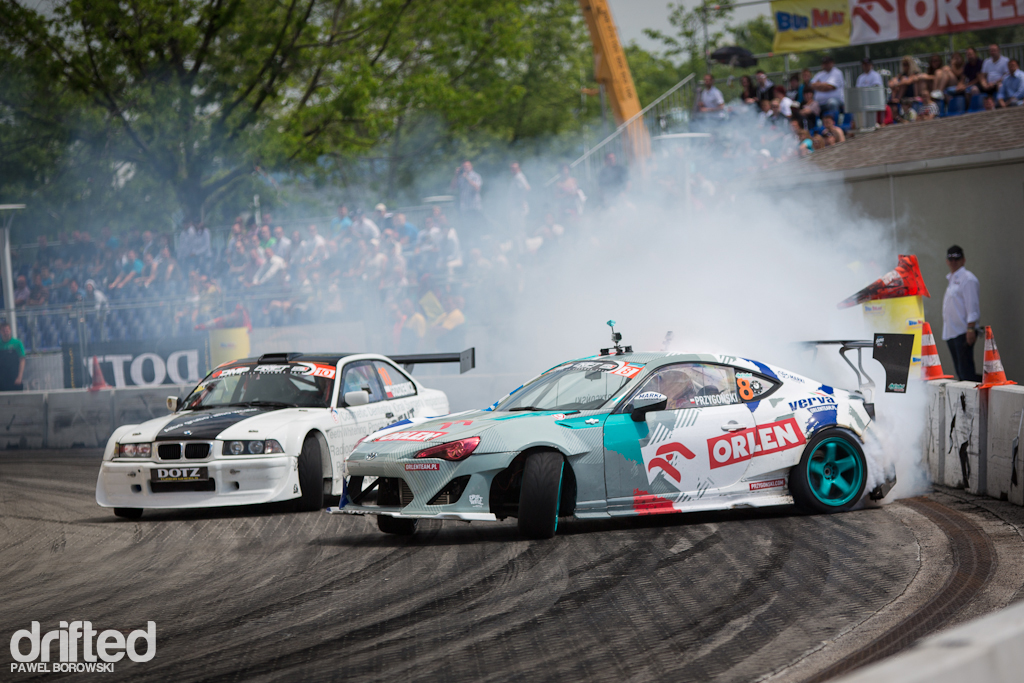 The Final day would present some big surprizes. Przygonski in his GT86 would get knocked out early after a mistake in his battle against Wojciech Goździewicz.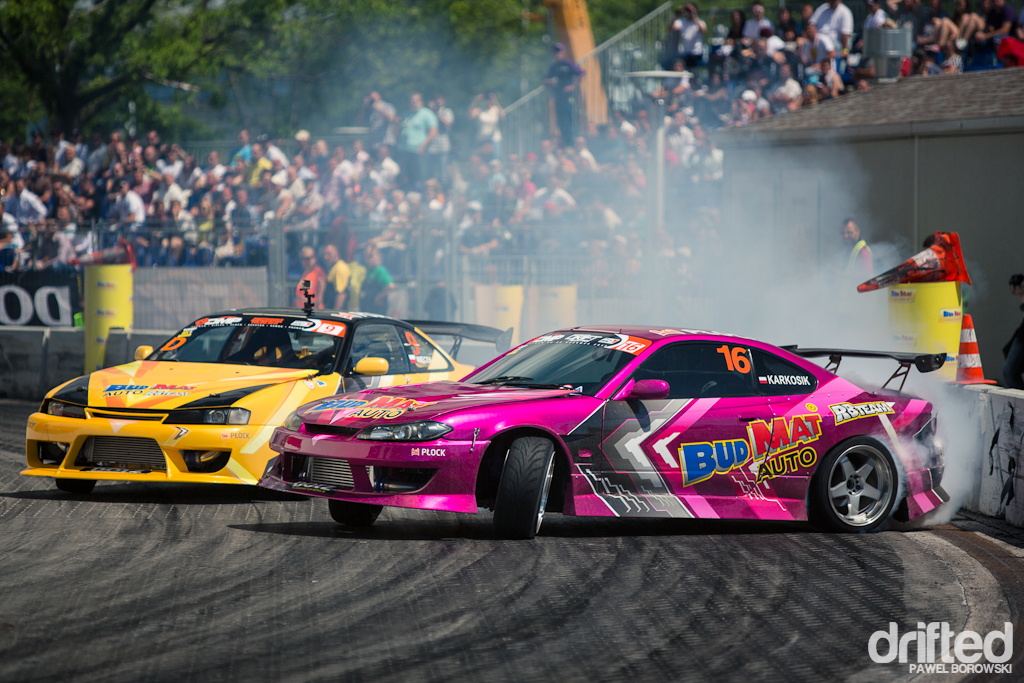 You have to applaude Team Budmat - they are one of the best and most professional turned out teams in mainland Europe at the moment. Here you can see both team mates battling, a mistake by Wiecek would give Karkosik the win.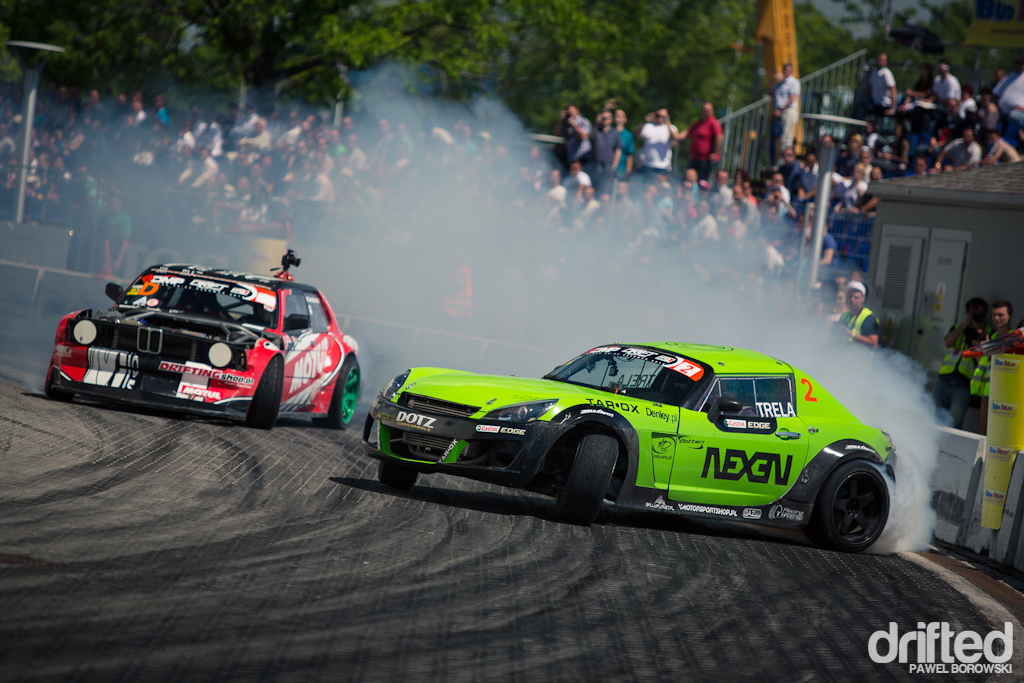 Pawel Trela and Marek Wartałowicz would do battle next.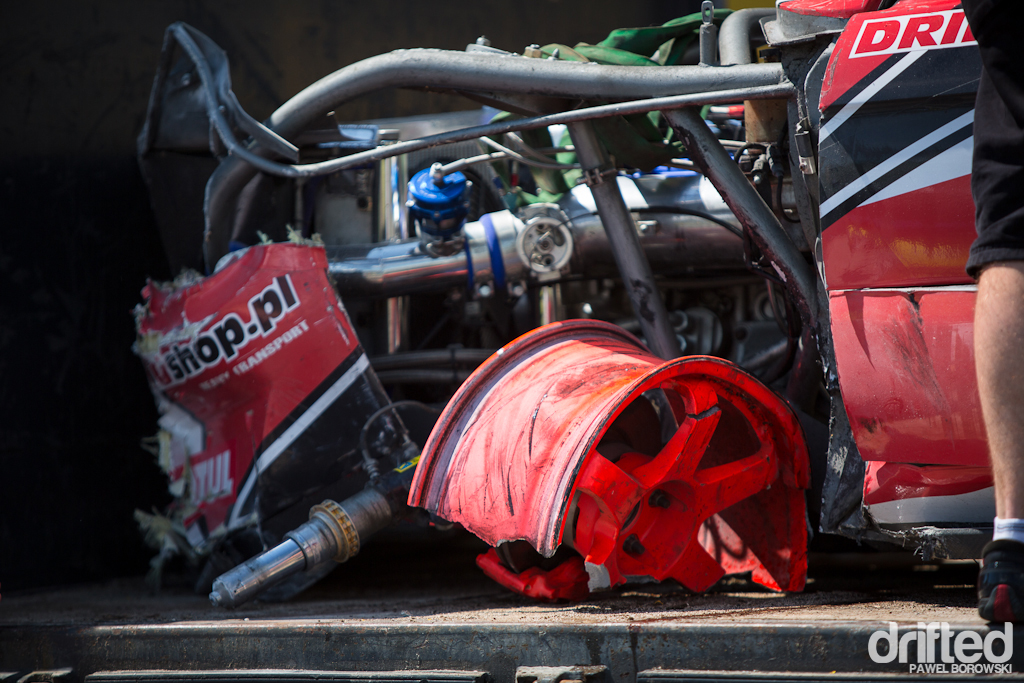 After two collisons, a big shunt and a cone clip and appeal, Marek would be given the win. Both cars receiving alot of damage in the process.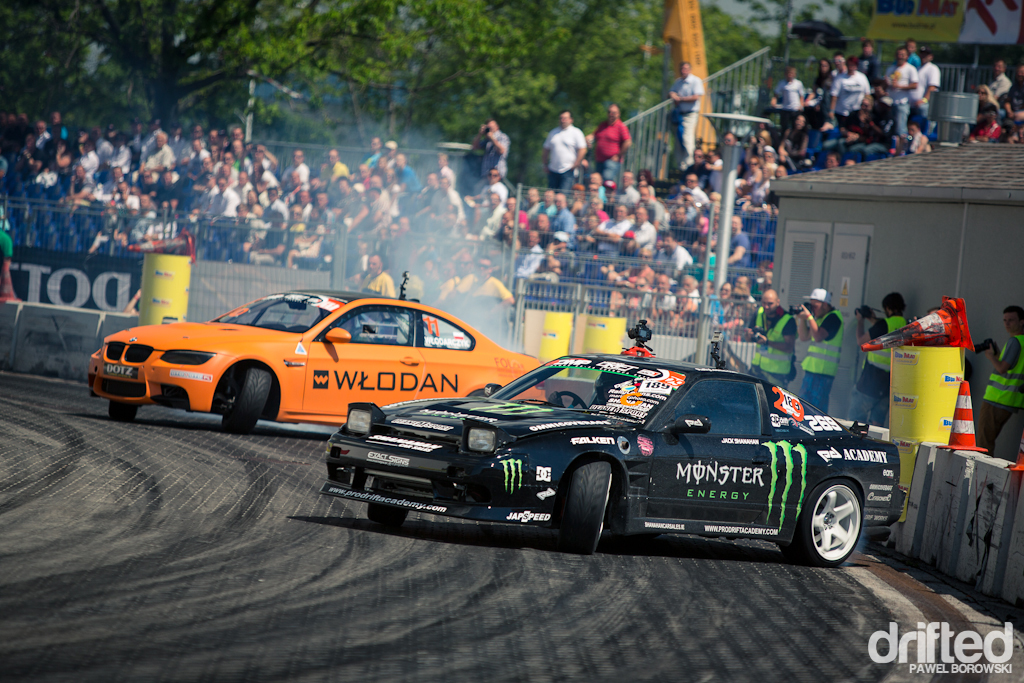 Jack Shanahan was on the run of his life after qualifying P7. He would draw Mateusz Włodarczyk in his supercharged V8 E92 M3. Włodar drove great all weekend but did not have enough space for the teenage sensation Shanahan.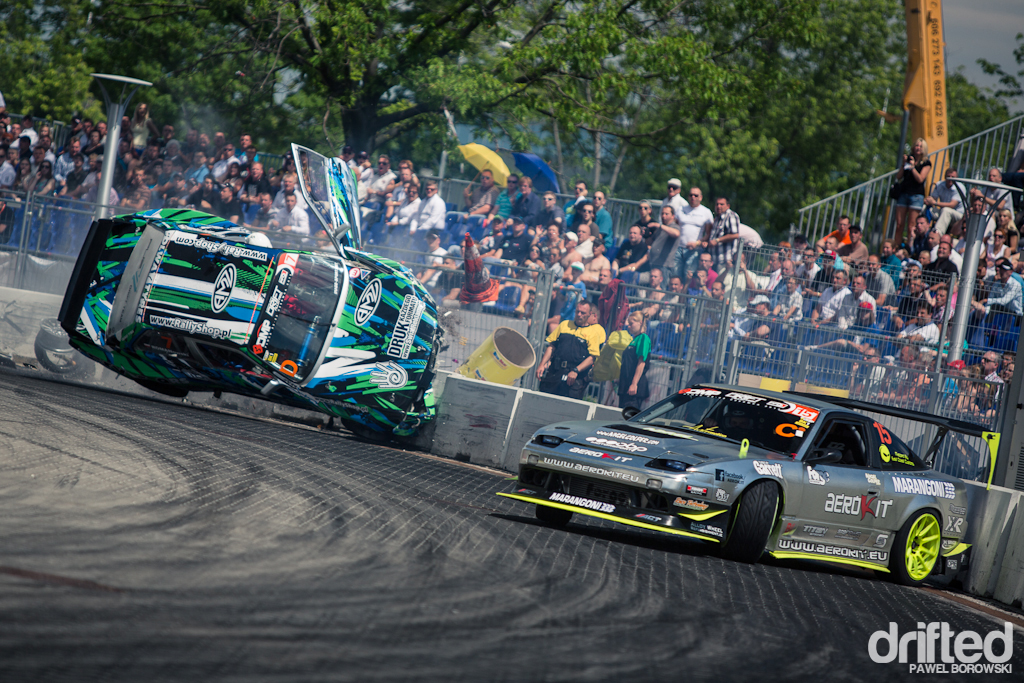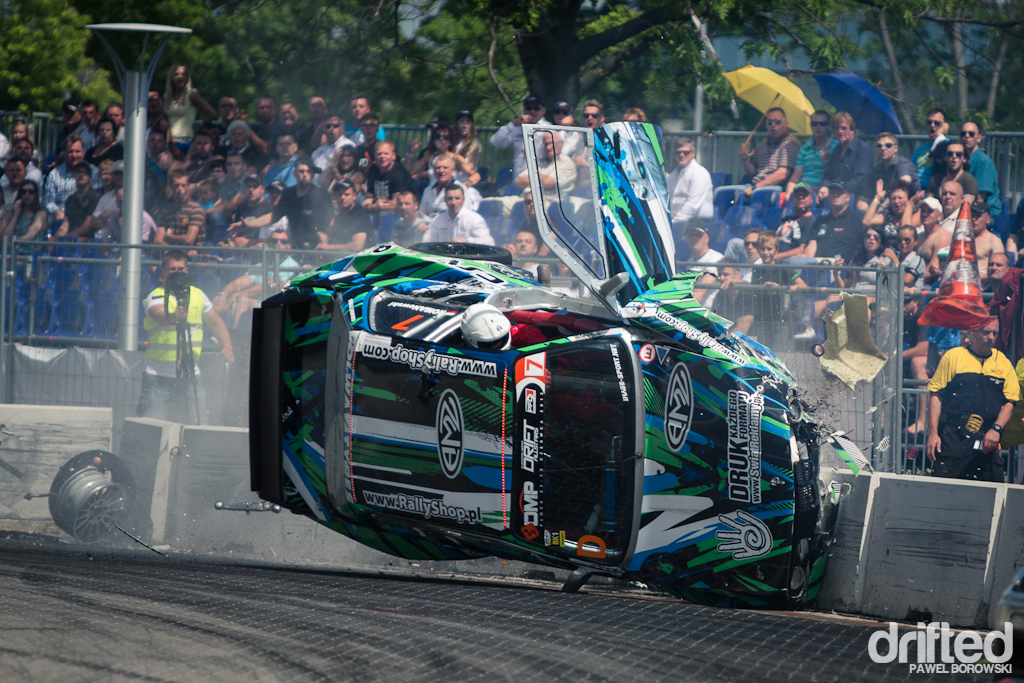 To end the top 32 there would be a huge shunt. Nigel Colfer would be pushing to the limit in his Marangoni Tire Nissan S13 - his pace just too much for Romanowski in the Team Puz E30. Colfer would just graze and rub the wall and Romanowski was unable to scrub off the speed, colliding with the wall and in the process rolling the car. This track was taking no prisoners! Thankfully, he wasn't hurt.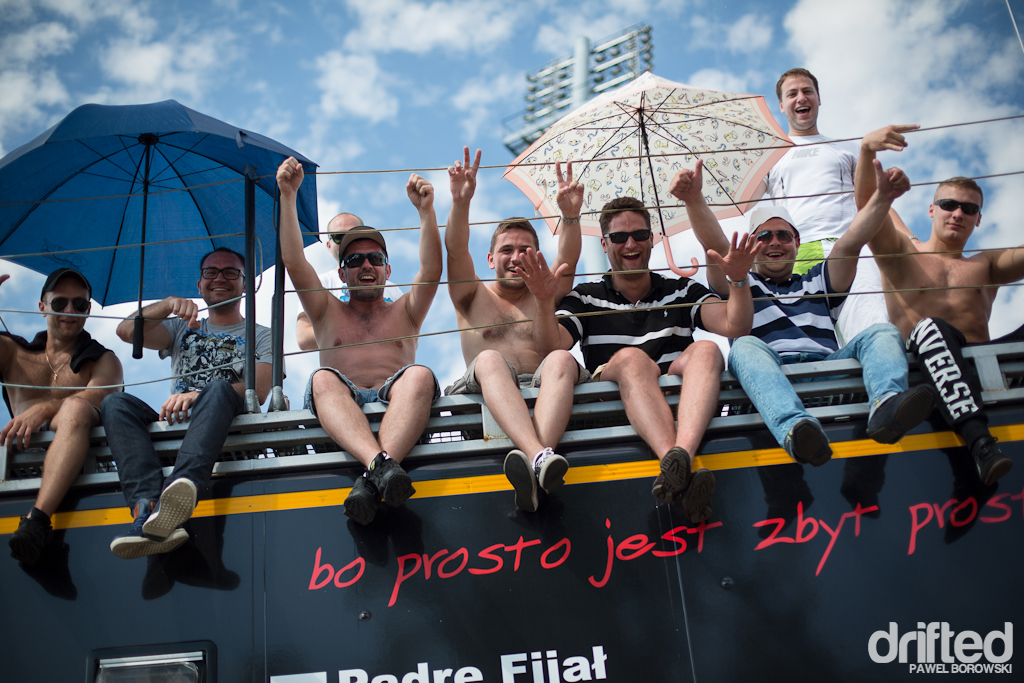 The Polish fans are hardcore, finding any space visible to view the action. Luckily big screens around the arena made sure you never missed a bit of the action.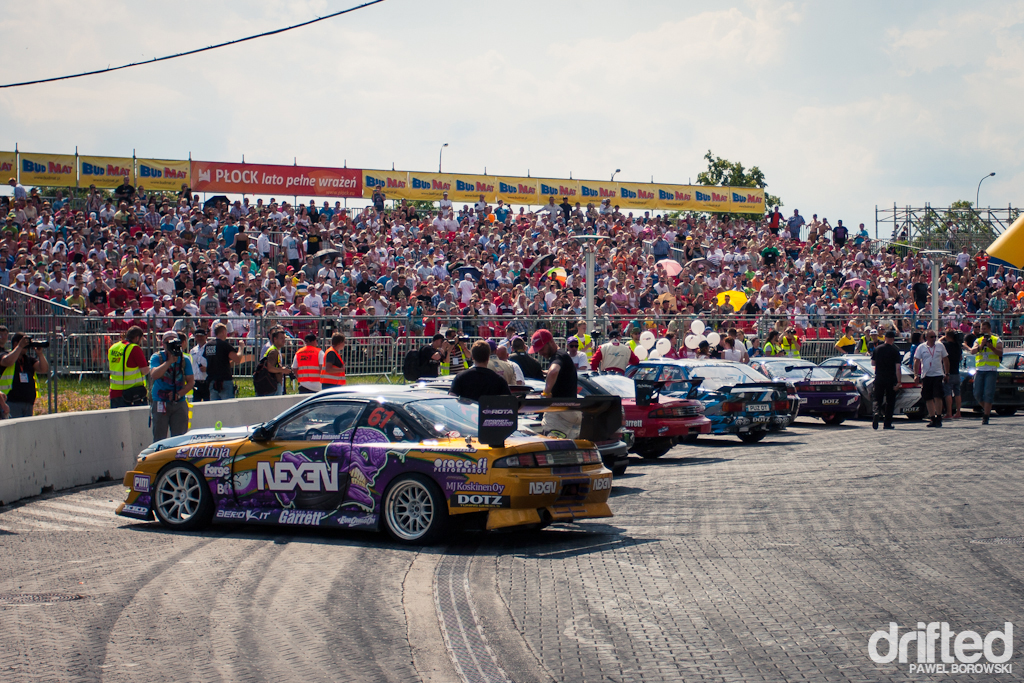 The Top 16 ceremony kicked off and what a line-up, crowd and event. With all five grandstands at capacity and all standing space occupied, a reported 23,000 fans were in attendance. This was going to be a major day in European drifting.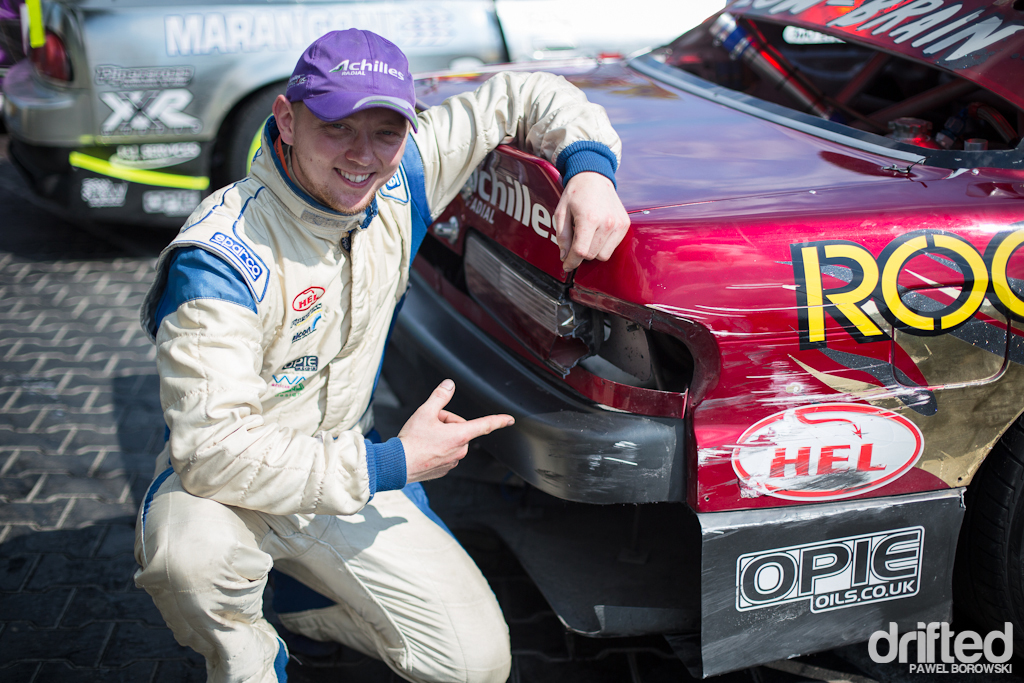 Martin Ffrench rubbing some walls in the Achilles /LBD - a standard sight to see!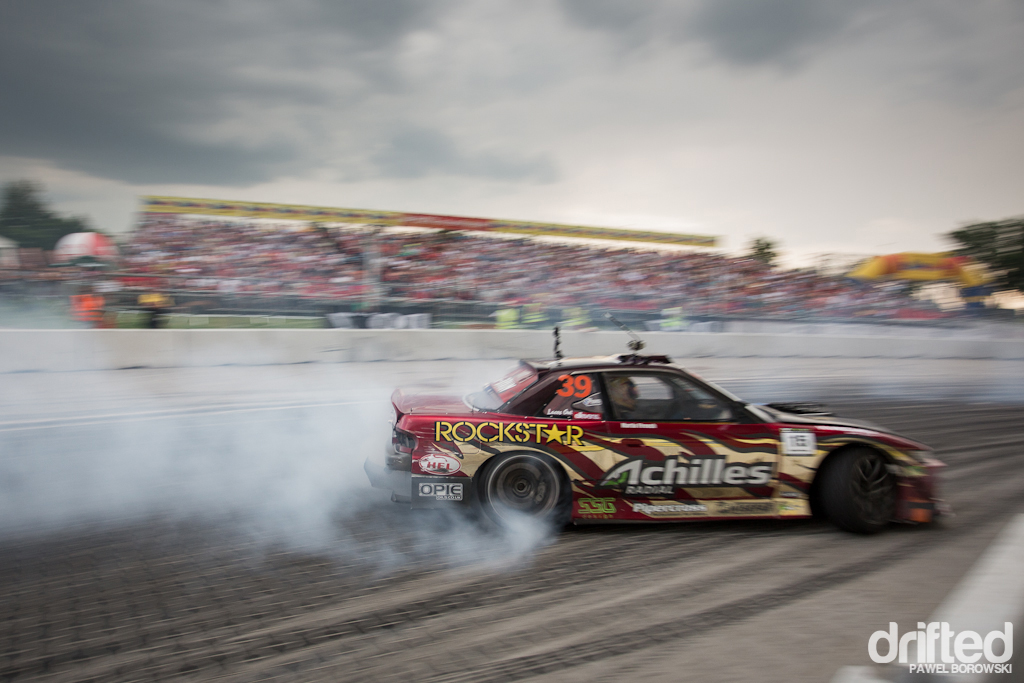 Ffrenchy smoke out! He was a clear favourite with the Polish fans and the media being around the Achilles pit all weekend! Will 2013 be his year and Achilles' first championship in Europe?
Juha Rintanen would take the win over Polish number one Stevie Carzasty in the Top 16.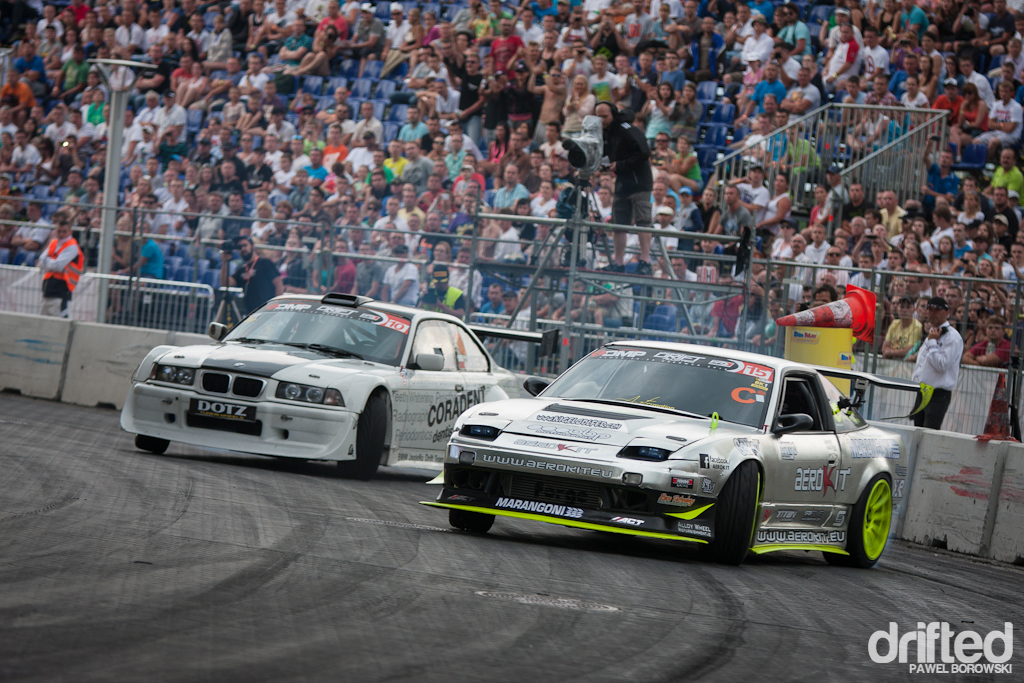 In the end the Final four would come down to Poland Vs Ireland. Colfer would face off against Wojciech Goździewicz in his BMW for the third place play off, Colfer would take the win after more consistant lines and pace at the venue.
The final between Sinnot and Stolarkski was super competitive with both drivers steering big powered Nissan S14's with over 600hp.
Stolarski with the support of his home fans just lifted it another level, displaying the extra speed and line to make his runs look even more impressive resulting in him taking the win at the Budmat Driftshow 2013.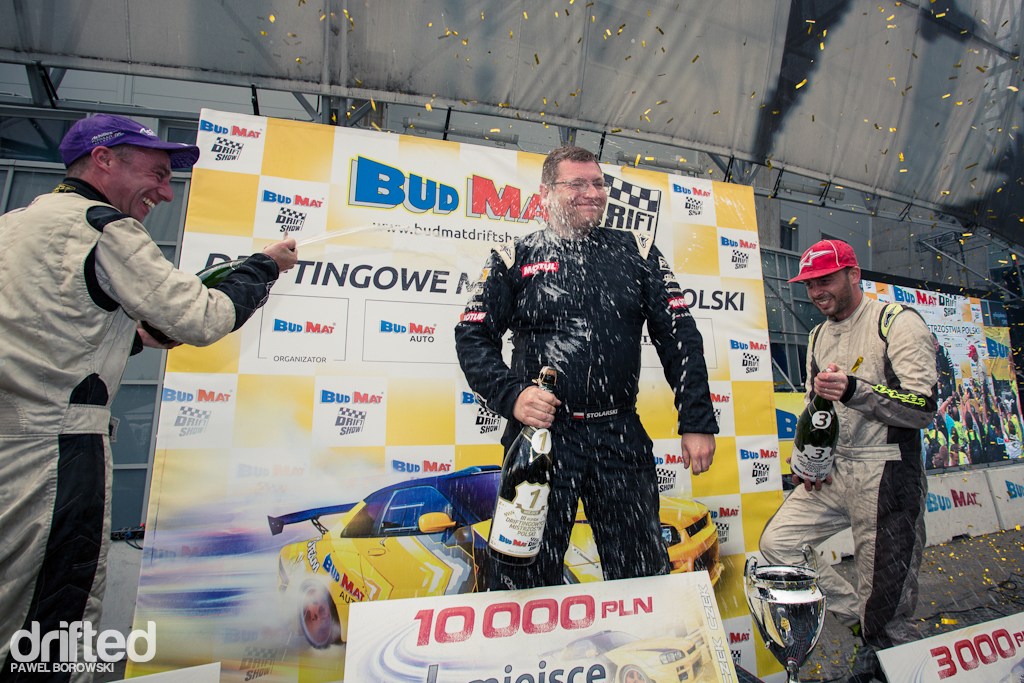 Final results
1.Bartosz Stolarski -Team STW / Poland
2.Alan Sinnot -Achilles Tires LBD / Ireland
3.Nigel Colfer -Marangoni Tire/Aerokit /Ireland
Sinnot getting used to spraying champagne! The 2012 Champion back in force!
Nigel Colfer and his spotter for the event James Deane!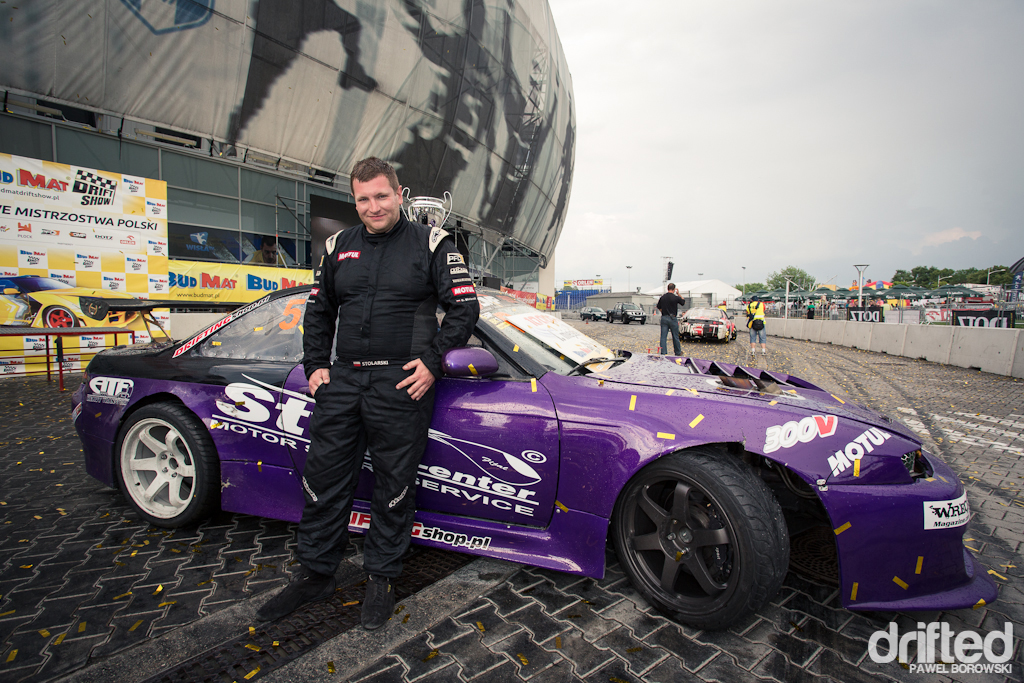 The winner the Mad Man Stolarksi - little do people know he broke his foot two hours before the finals! Props to the man to drive through the pain fuelled by adrenaline!
The next stop on the tour is Drift Allstars Drift GP of Sweden Sturup raceway where 50 drivers will be tackling this legendary circuit. We'll see you there!