EVENT: Qualifying for Formula Drift Wall, NJ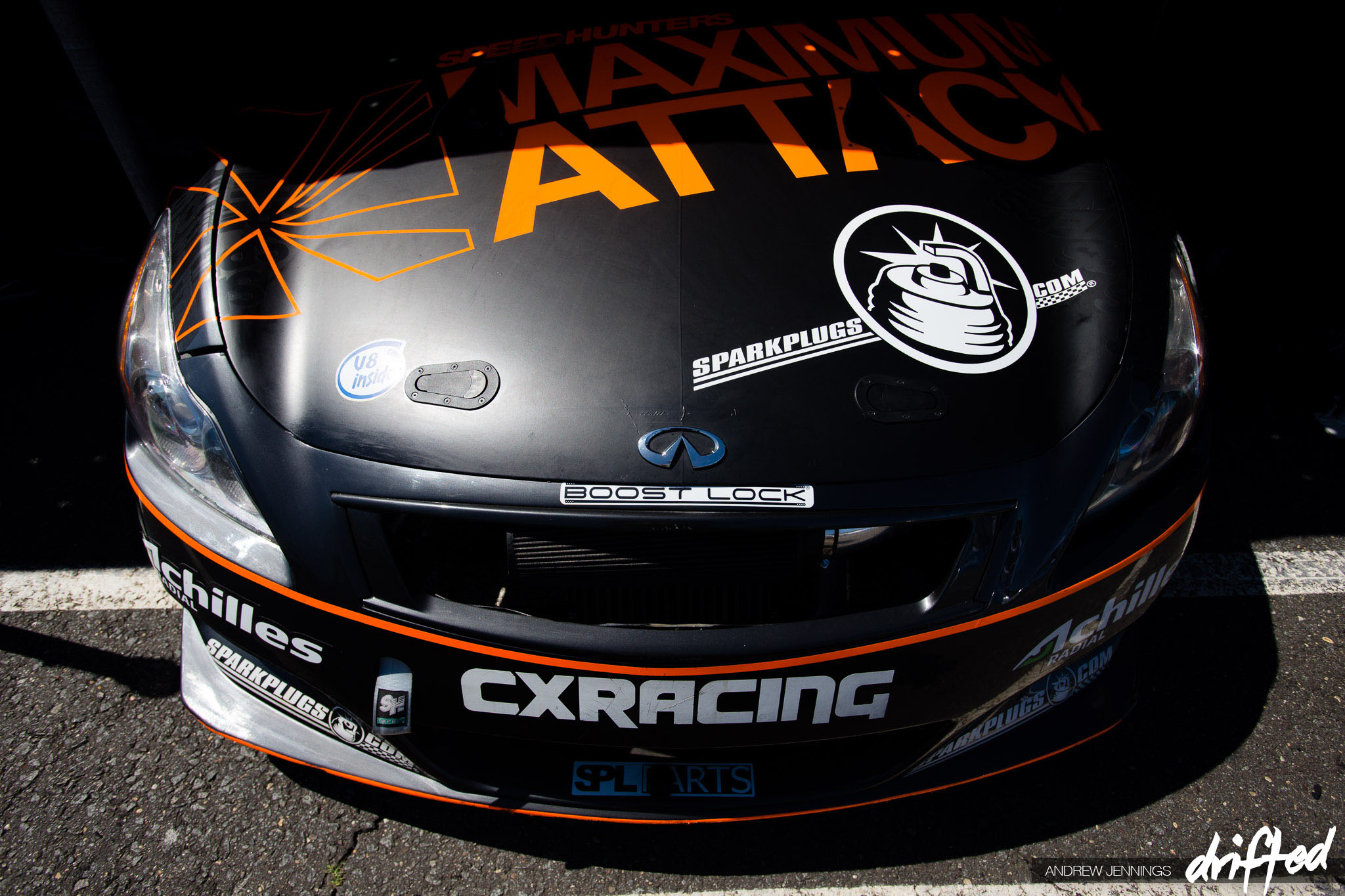 Formula Drift reached the halfway point of the season with Round Four from Wall Stadium Speedway in New Jersey. The event marked the last in the series' three event run on the east coast of the USA. It is also traditionally one that draws a larger international crowd, due to proximity with Canada, and the slightly-shorter shipping over the Atlantic from Europe. Going into the weekend, 2009 Champion Chris Forsberg lead the standings, with 2010 ace Vaughen Gittin Jr. only ten points back. Both have had plenty of success in NJ over their careers, so it was anybody's game to see which would emerge ahead as the battle rages onward for the 2014 season.
Leading up to Friday's qualifying session, the atmosphere in the paddock was calm and relaxed. Rain had hampered Thursday's optional practice sessions, but the rest of the weekend's forecast was for clear skies. If you've ever wondered how drivers from different teams view their rivalries, DeNofa and Essa would say there is little to be kept secret. The two BMW pilots exchanged info during the morning about setup and steering knuckles – DeNofa known for having some of the craziest opposite lock in the business. Later we'll revisit this event, and the implications it may have had on qualifying.
Ryan Tuerck always loves racing in New Jersey. The whole Tuerck clan can down from their home in rural New Hampshire to see him compete, along with his Network A buddies to do some filming. His car was also in a better place than previous rounds, noting that most of the turbo issues were not sorted out so he could just drive his own race.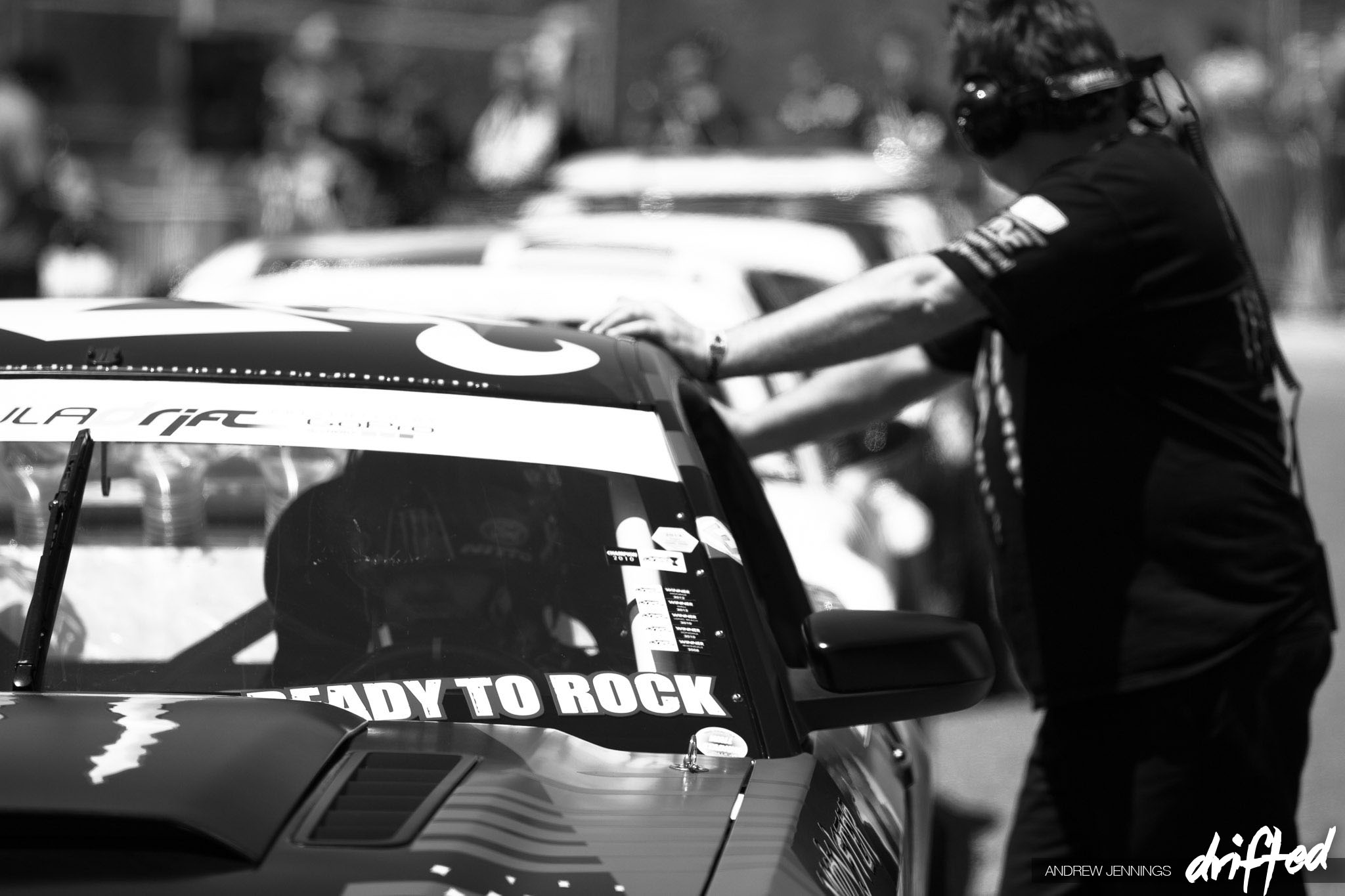 Tensions always rise as the cars line up single file to ready for on-track action. New Jersey is a unique venue because there is very little space allocated for grid. The cars are forced to caterpillar around half the paddock area to make their queue, something that the fans appreciate since it lets them get very close to the rev'ed up machines.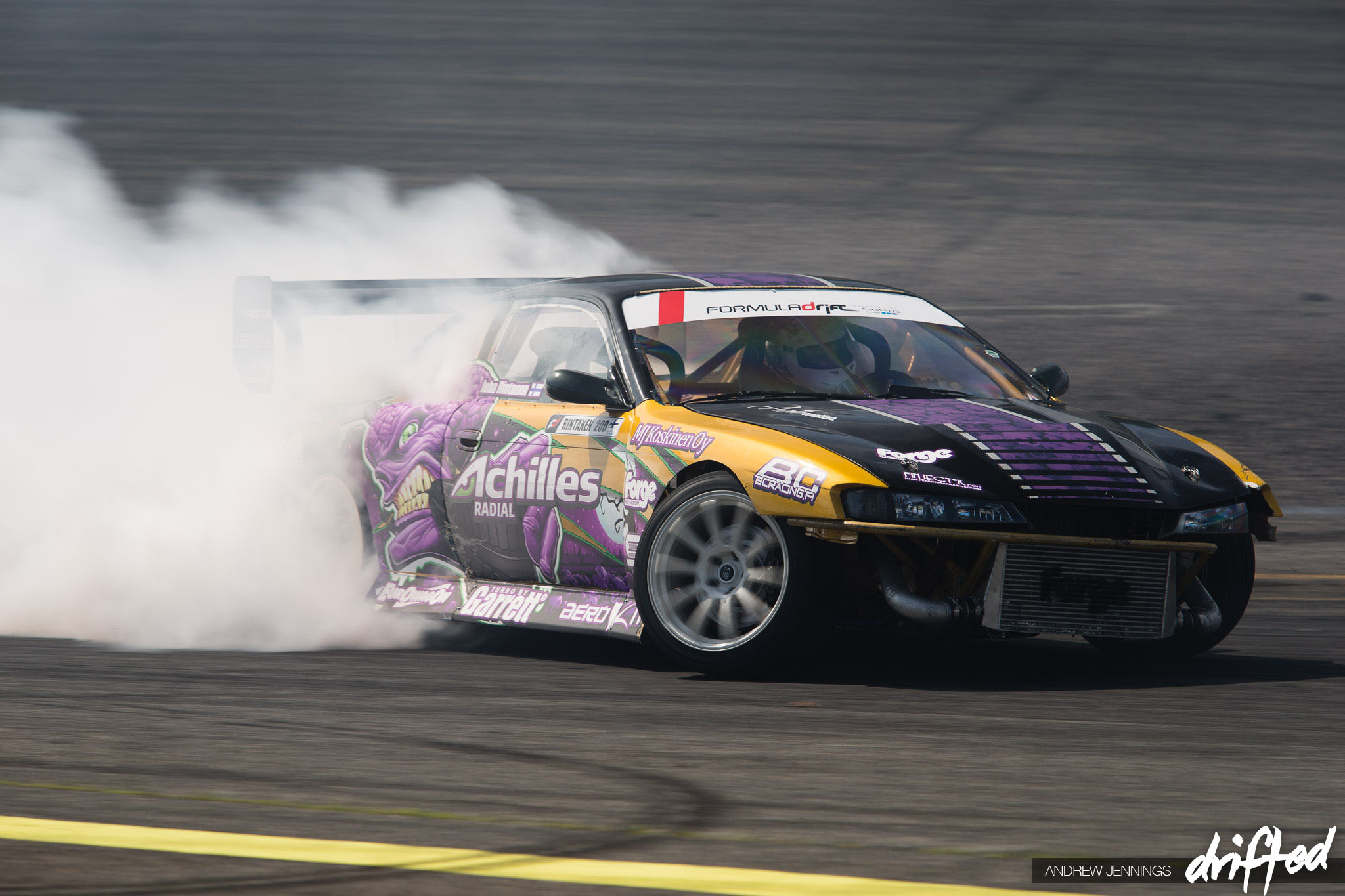 One of the international drivers to cross an ocean for Round Four was none other than Juha Rintanen. When his car arrived in the morning, it was just like reading an article out of the pages of this blog, and a bit surreal to see in the flesh. Unfortunately, Rintanen had trouble with the infamous guardrails around Wall Stadium Speedway's banked oval. He crashed one of his early practice runs, and was only able to get the car repaired to do one single qualifying run (as opposed to the two allowed for the field). Rintanen failed to make the cut for the Top 32.
Pat Cyr, a fan favorite in Canada, also came down to get some extra seat time behind his newly built Scion Racing FR-S. He seemed to be playing things conservatively (perhaps on account of Rintanen's crash), keeping some distance from the wall. His angle, and lack of tire smoke during qualifying meant that he too failed to make it into the main event. Look for him to keep competing in the DMCC throughout the rest of the year.
Tyler Wolfson, one of the few rotary drivers on the grid in a RHD FD RX-7, was one of the bigger victims of the wall's bite. A poor entry initiation set the front left corner straight into the guardrail, side lining his car for the remainder of the weekend. Thankfully, Wolfson walked away with only his ego bruised.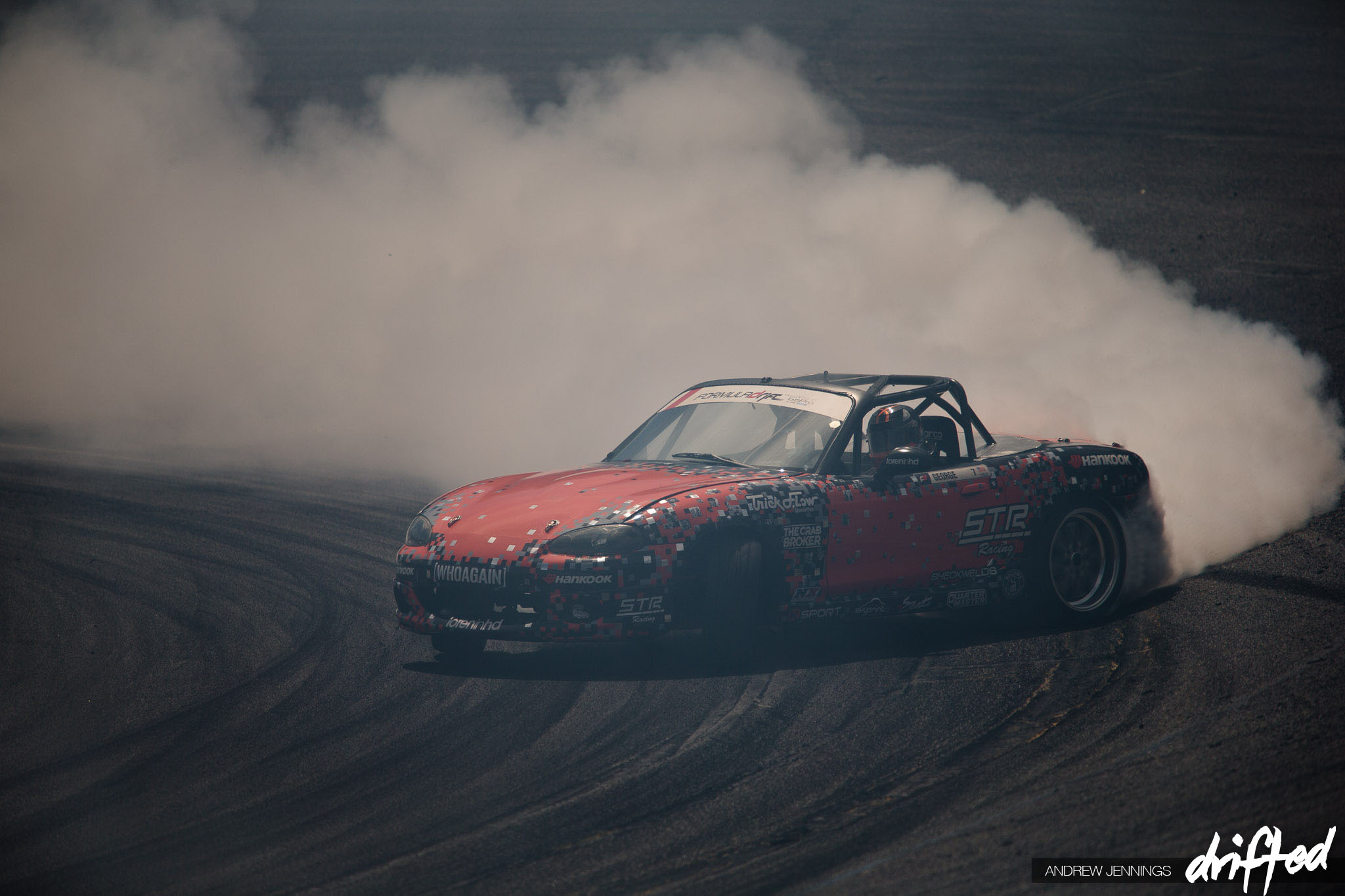 Fan favorite and internet crowd-sourcer Danny George did well in 2013, but couldn't find the right rhythm this year. He failed to make it out of qualifying, a sign that even established drivers have to step up at every event given the pool of talent in the sport now.
Privateer Joon Maeng just barely managed to slip through to the main event in 32nd place. His S13's power output was increased for this season via a supercharger to a whopping 1,100 hp, matching that of the best in the biz.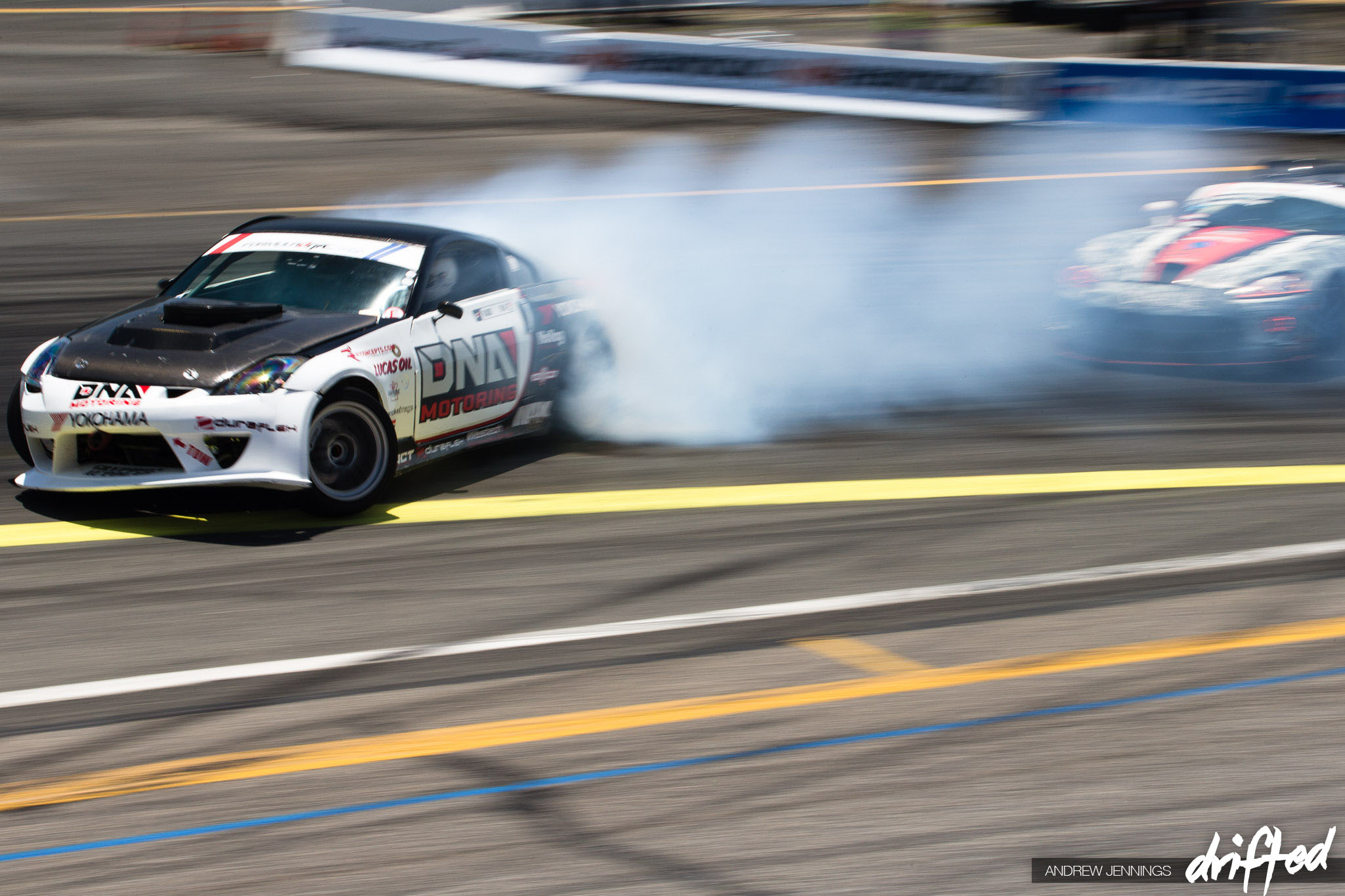 Ryan Kado continues to let his 350Z fly with an unrestrained front fascia. The two transitions of Wall Stadium Speedway showed just how flexible it can be. While that bendiness didn't score him any extra points, he still made it through in 28th. Shown above following Kado, Irishman Dean Kearney also made it through in 30th.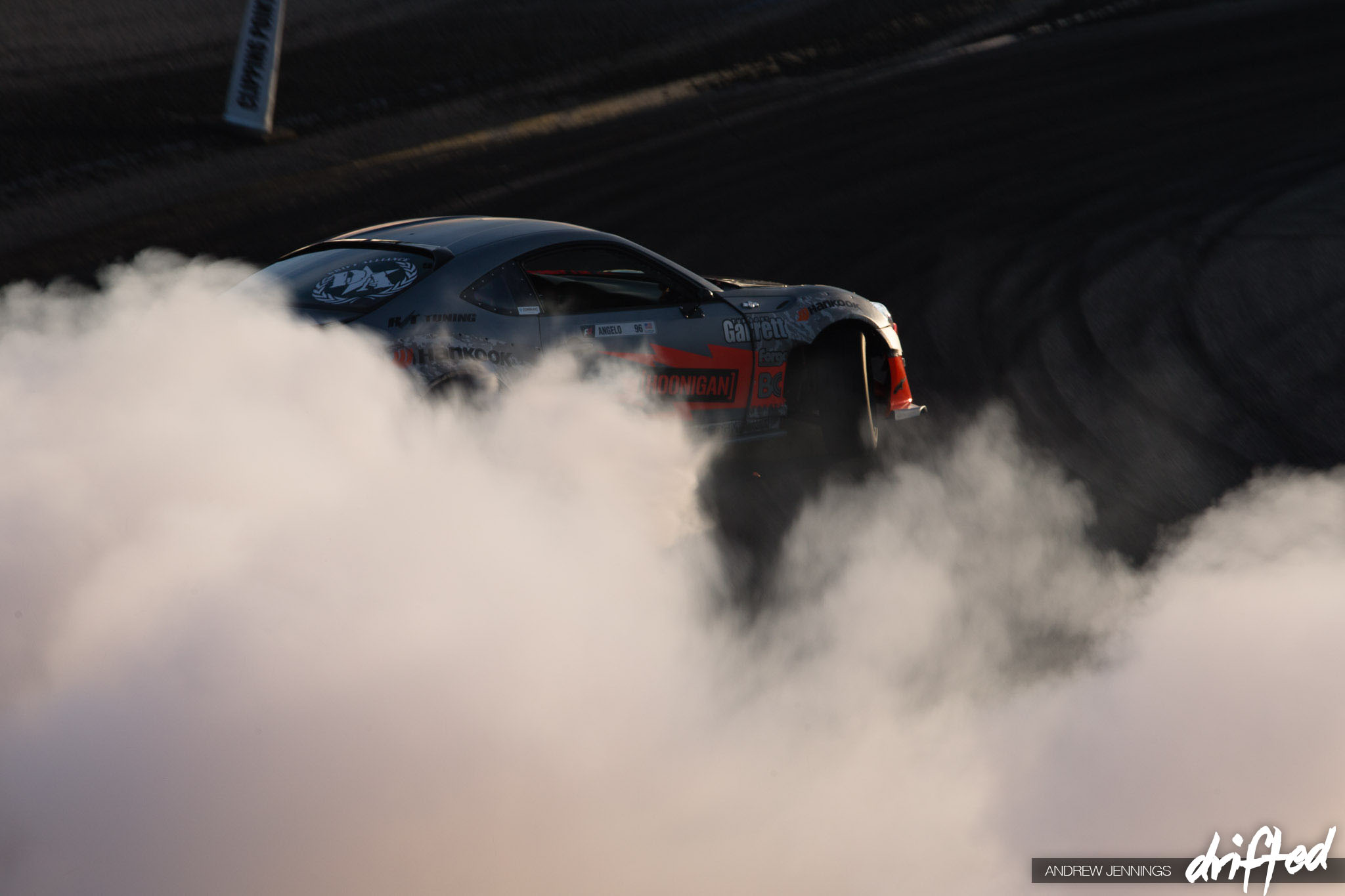 After transitioning from judge back to competitive driver, Tony Angelo's road has not been an easy one. 2014 looks to be a good year as his Scion FR-S performs better and better with each outing. He qualified 26th.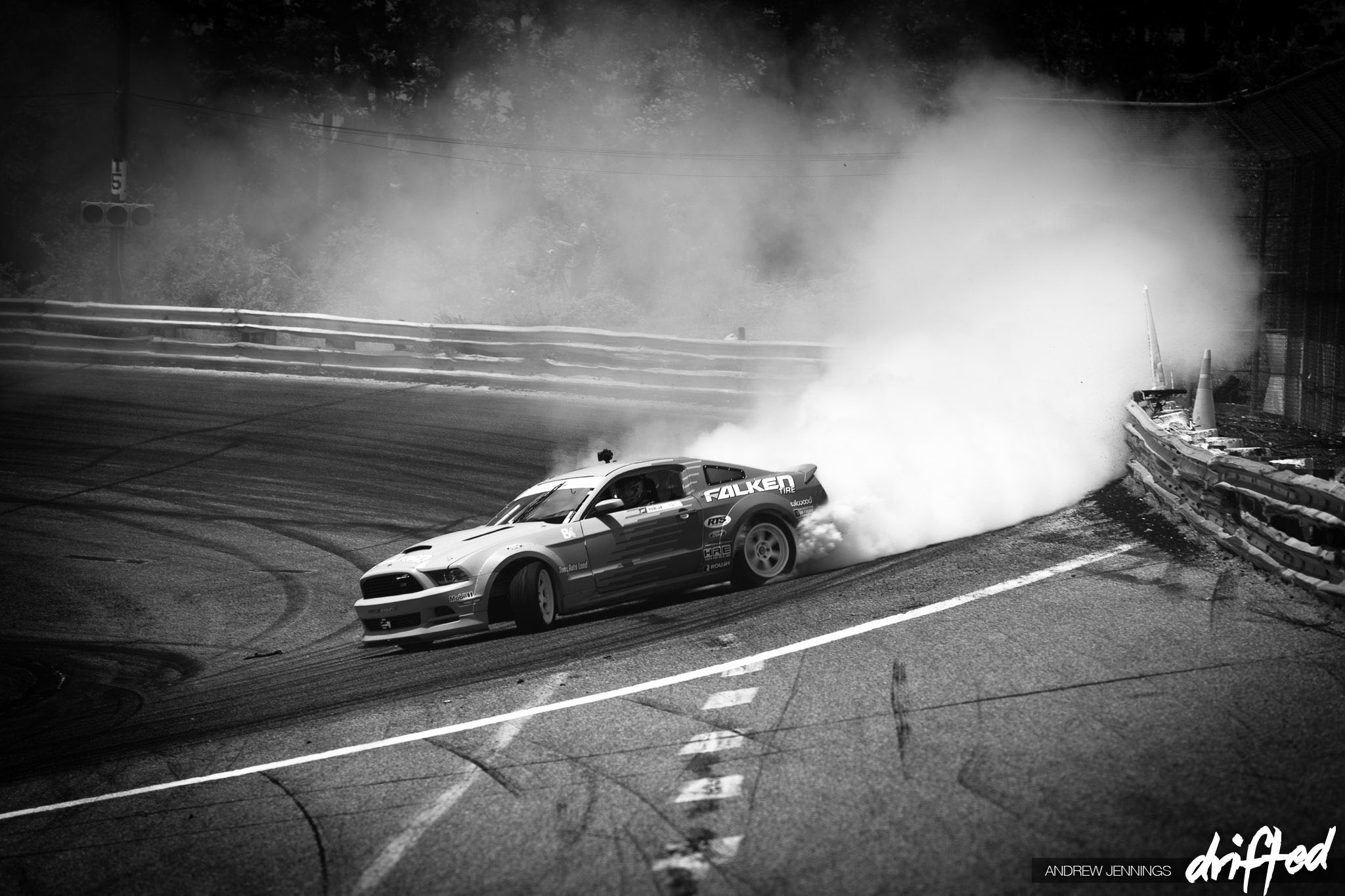 It's hard to believe that this is Justin JTP Pawlak's fourth consecutive year at the helm of the Falken Tire Ford Mustang. New Jersey was not his best showing of the year, but he still managed to qualify 22nd overall.
Where to begin with Daigo Saito. He won the whole event in New Jersey last year, but something has been bugging the 2012 Champion's form this season. He languished down in 20th place, well below a few of his Achilles Radial team mates.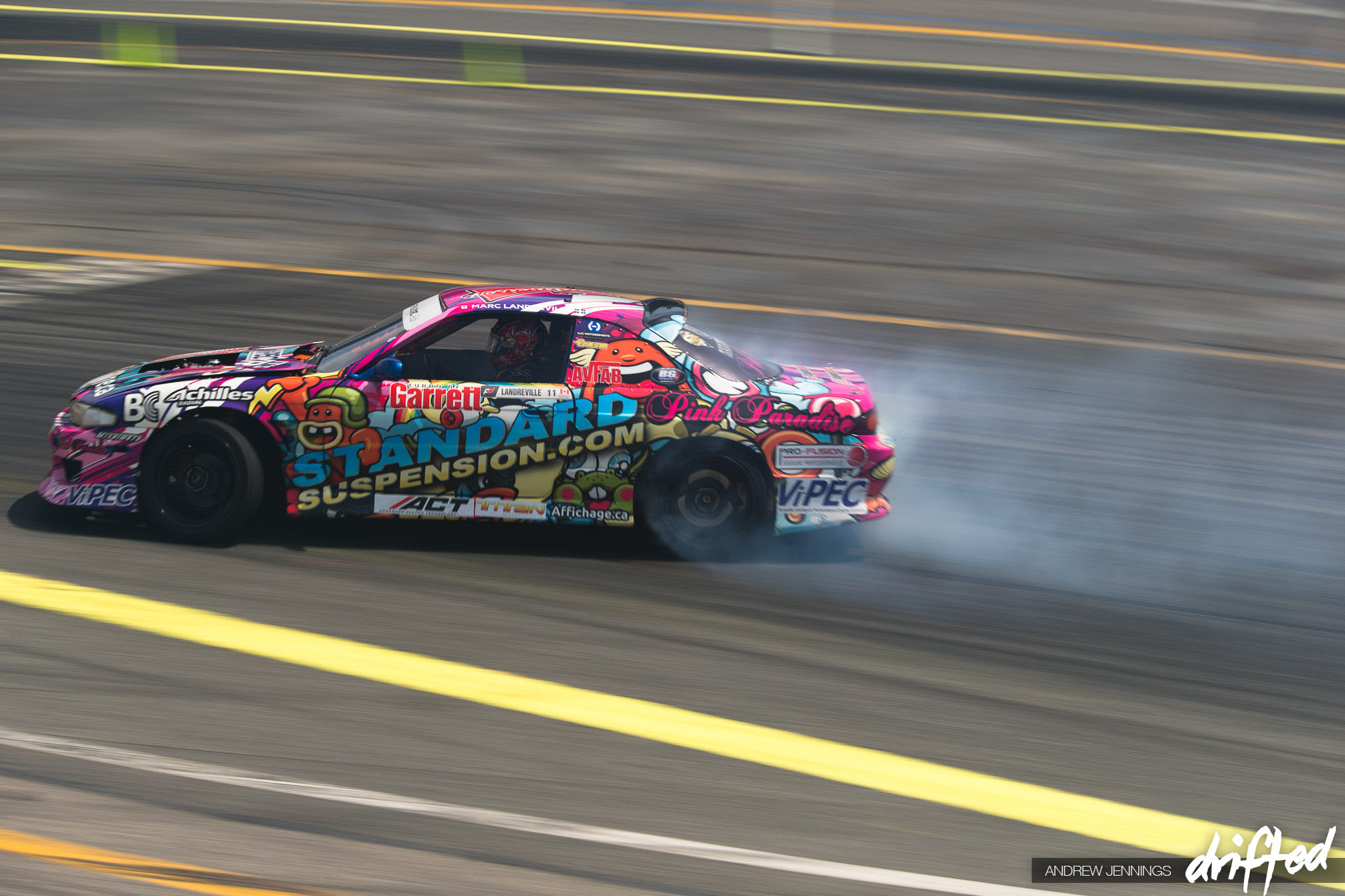 Canadian Marc Landreville's first Formula Drift event ever was in Wall Stadium Speedway just one year ago. Now he returned with an all-new Nissan S14 chassis, ready to repeat his strong performance. He qualified in 17th, setting him up against Robbie Nishida who was right alongside in 16th.
Darren DMac McNamara is not afraid to leave a little bit of paint (or vinyl wrap) on the guard rails at Wall. He pushed his Falken Tire Nissan S14 without hesitation up to 15th place.
Despite some issues with debeading tires in practice, Vaughen Gittin Jr. got everything together when qualifying time came around. He made it up to 14th on the grid, not high enough to score some valuable championship points.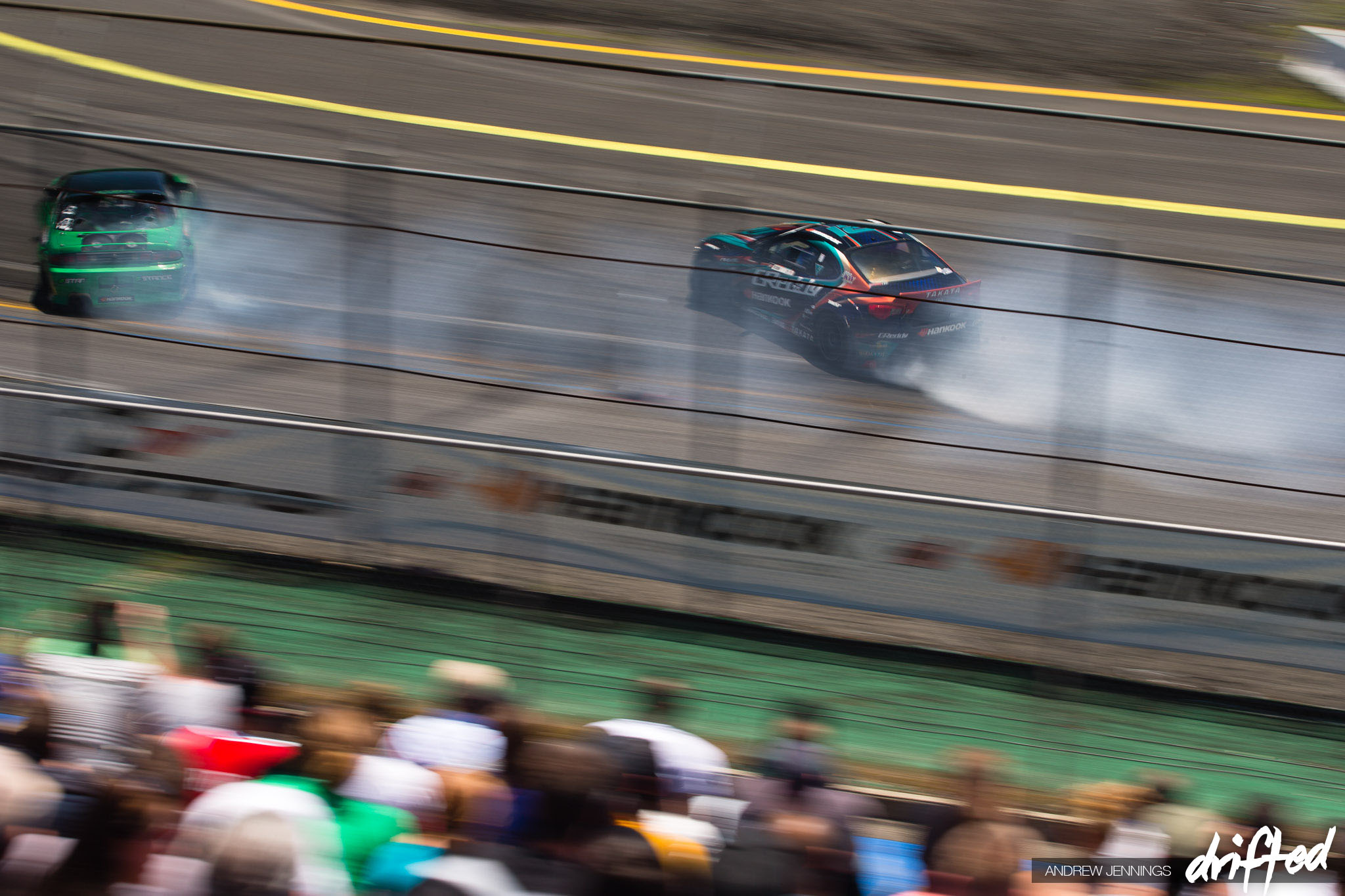 Forrest Wang continues to impress in his Get Nutz Lab Hankook Tire STR Racing S14. His strong angle around the sweeping right handers earned him tenth place in qualifying. Behind, Ken Gushi could only get as high as 25th. Gushi's confidence was a little shaken with a hard wall hit in Thursday practice, so I'm sure he was just happy to make it through at all.
Long wheelbase muscle cars have often done well in New Jersey, and Conrad Grunewald knows how to put his in all the right places. He lined up in ninth on the grid.
Kenneth Moen continues to lead the Bridges Racing/Achilles Tire team for 2014, moving into the qualifying points positions yet again with eighth place. Trailing him above, young gun Karl Osaki has finally gotten his DNA Motoring/Yokohama Tire Nissan S14 race ready, and putting it to good use. He qualified 24th, ahead of his more experienced team mate Ryan Kado.
As you may have heard by now, Fredric Aasbø did pretty well for himself in New Jersey. He started the weekend off with a solid seventh in qualifying. We'll have more on the main event, and Aasbø's exciting charge later in the week.
The other Camaro on the grid, Tyler McQuarrie, managed to take the top muscle car honors by qualifying sixth. Perhaps fielding only one car in the team this year is doing them some good, as McQuarrie has seen far fewer mechanical issues.
Formula Drift's latest rising star, Aurimas Odi Bakchis, seems to be taking a page out of former Nexen teammate Kado. His front fascia looked a little unsecure, but it didn't stop the rest of his car from absolutely tearing up the track on route to fifth place in qualifying.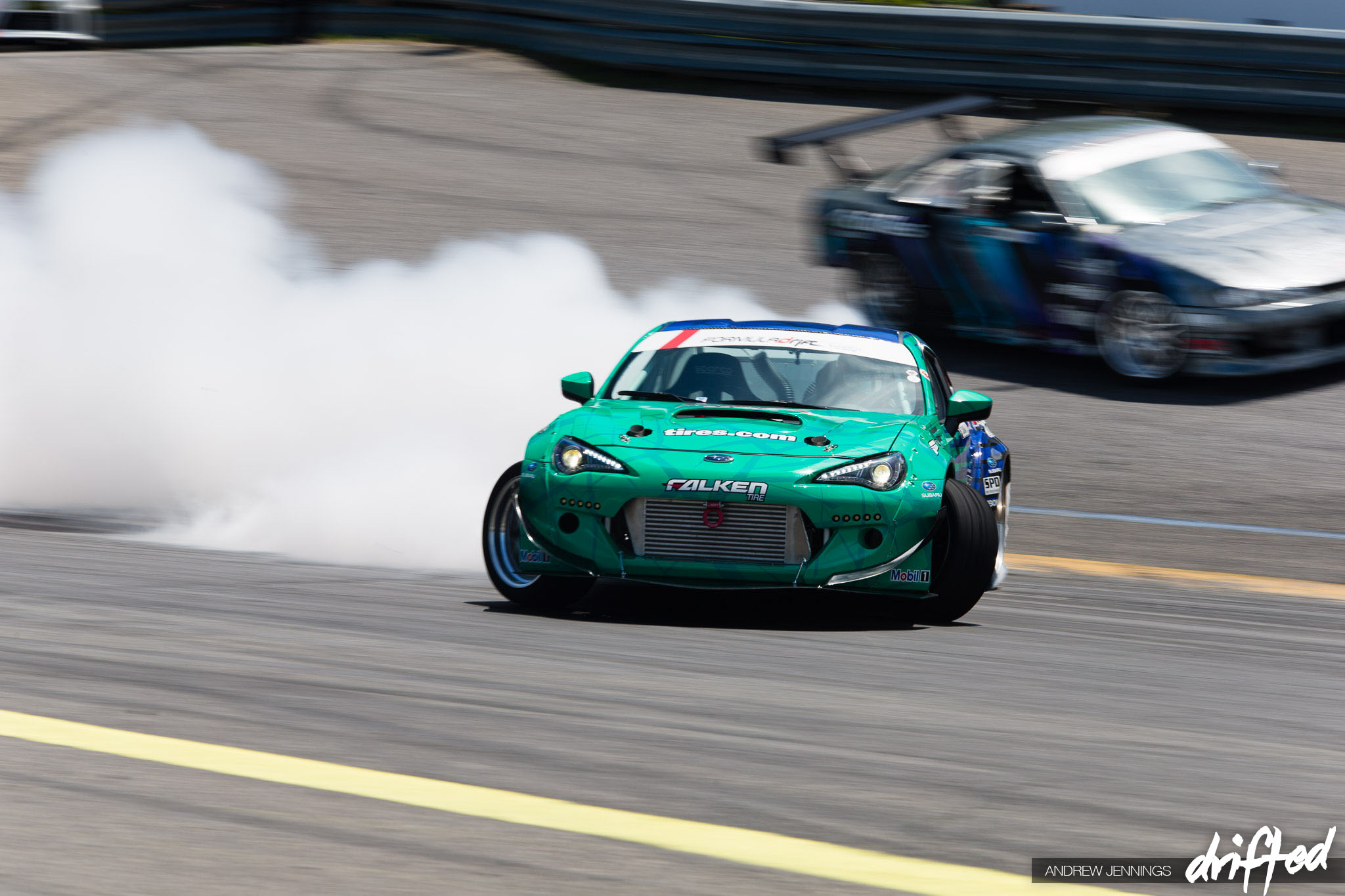 McQuarrie may have taken bragging rights among the muscle car crowd, but Daijiro Yoshihara was able to do even better with the 86-chassis. His Discount Tire/Falken Tire Subaru BRZ looked very planted, good enough for fourth place.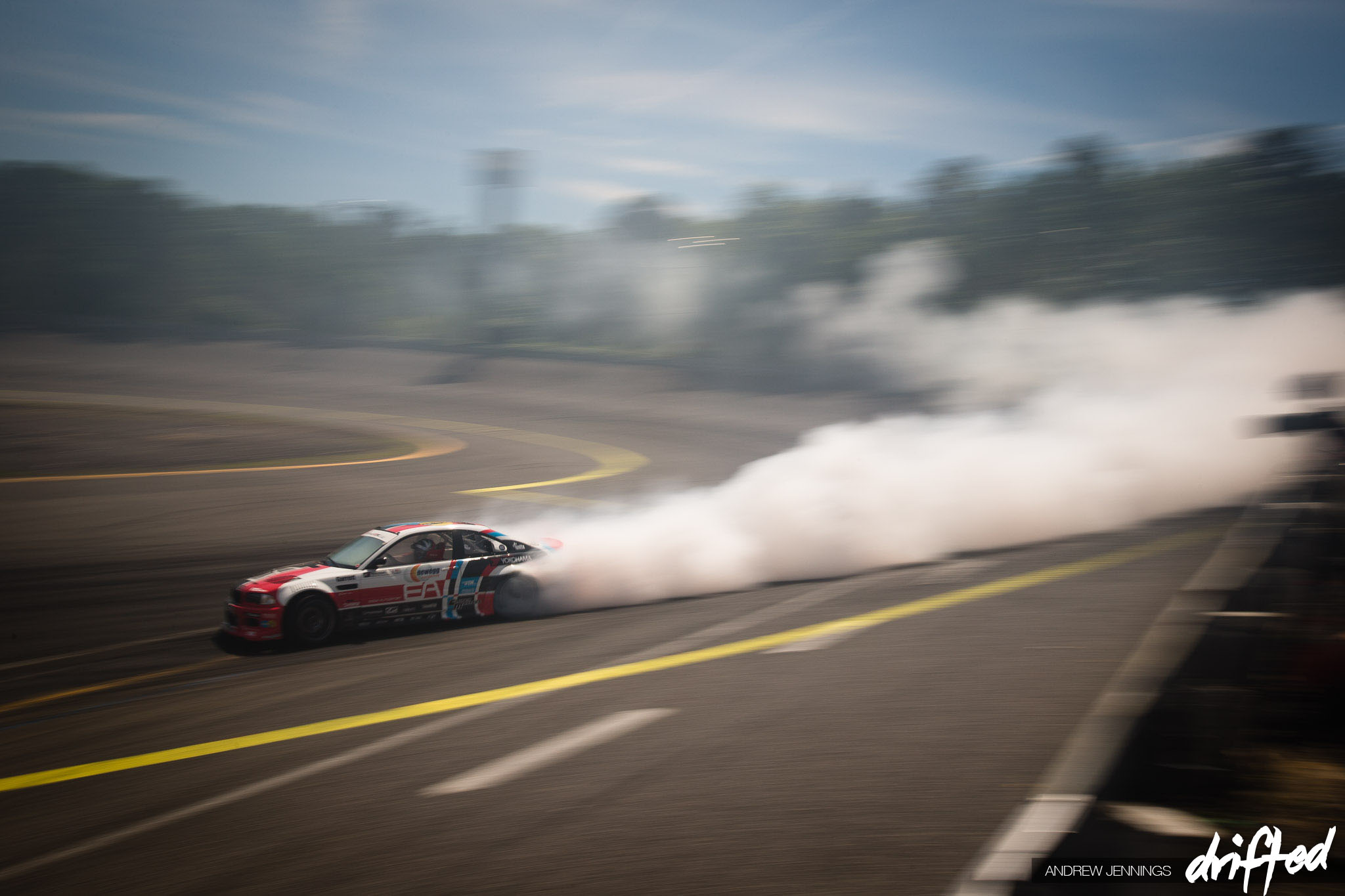 Qualifying consists of two runs for all the drivers, and the top score is used to determine grid position. Michael Essa could have stopped after just his first run, sitting very close to the top of the time sheets with plenty of rubber to spare. In the end, he earned third place.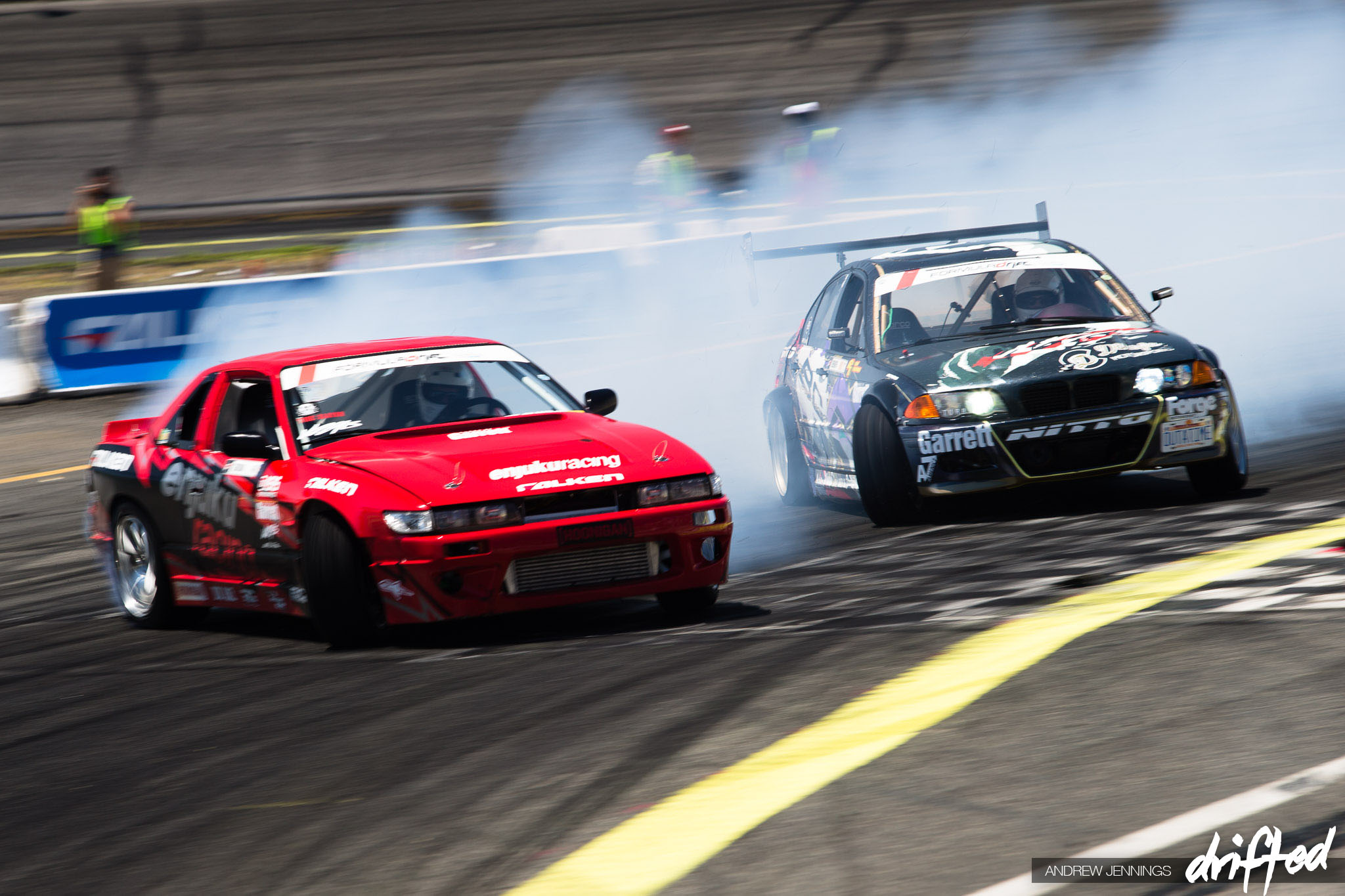 Remember how Essa and DeNofa were swapping notes about setup for Wall earlier in the day? Well, whatever their secret sauce was, it seemed to work. DeNofa lead the time sheets after the first set of runs, and looked to continue that through the second set. One man had the balls to eclipse him, dropping DeNofa to second overall. (Oh, and Pat Goodin who is also pictured brought it home in 18th.)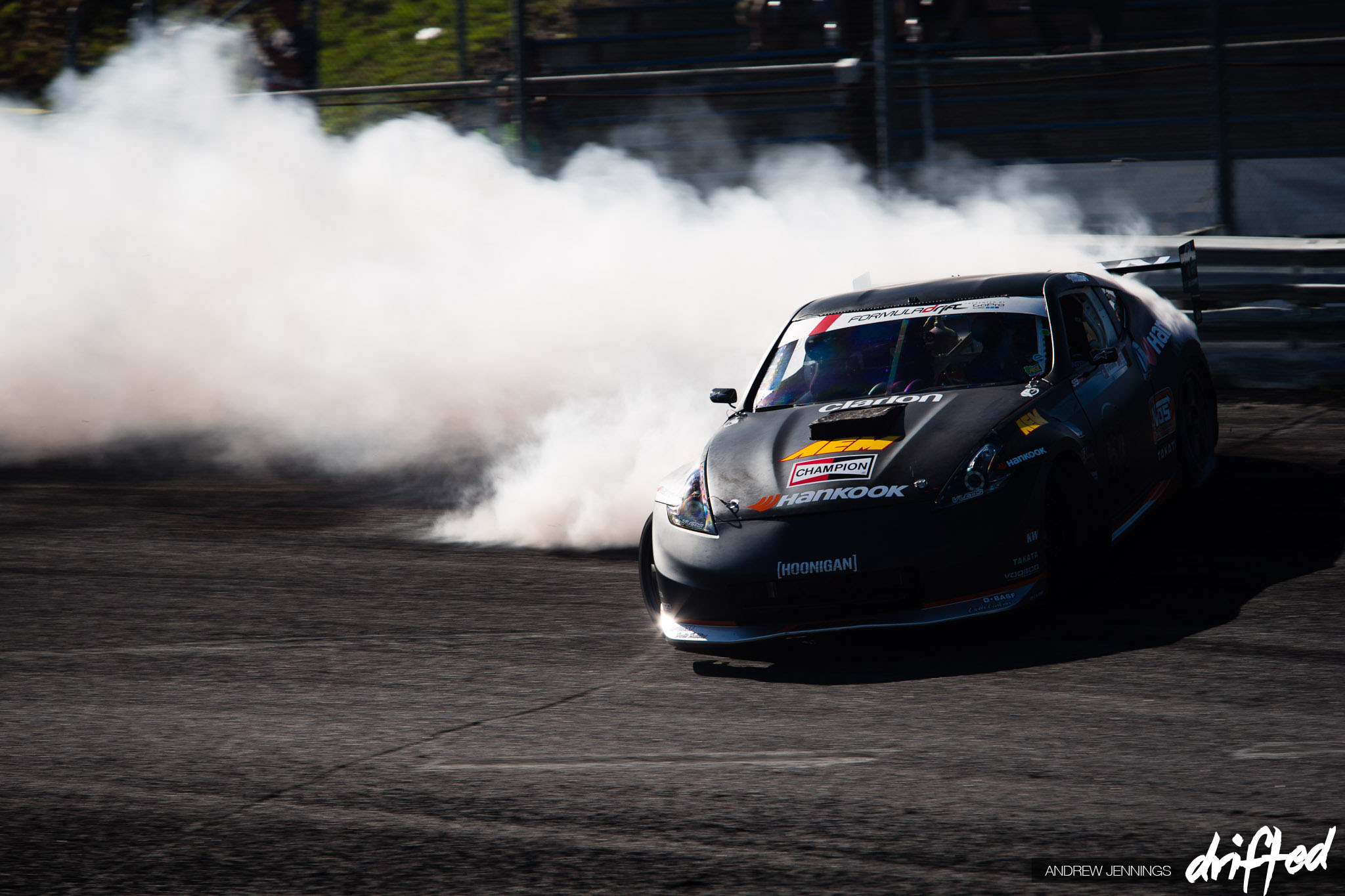 That man? Hankook Tire Nissan 370Z driver Chris Forsberg. On the last lap of the qualifying session as the sun began to set, Forsberg let it all hang out and put down the best run of the day. His angle coming off of the bank was epic, reaching a limit that almost looked like a spin waiting to happen. It's like in skateboarding when a trick is landed that looked like it was on the edge of wiping out – this run was so good, it almost looked unreal. Kudos to Forsberg, taking first place for the Top 32, and a bonus ten points towards his championship race.
That's all for now from New Jersey. Thanks for reading, and stay tuned for our main event coverage from coming soon!