EVENT: Road Atlanta's New Challenge for Formula D 2012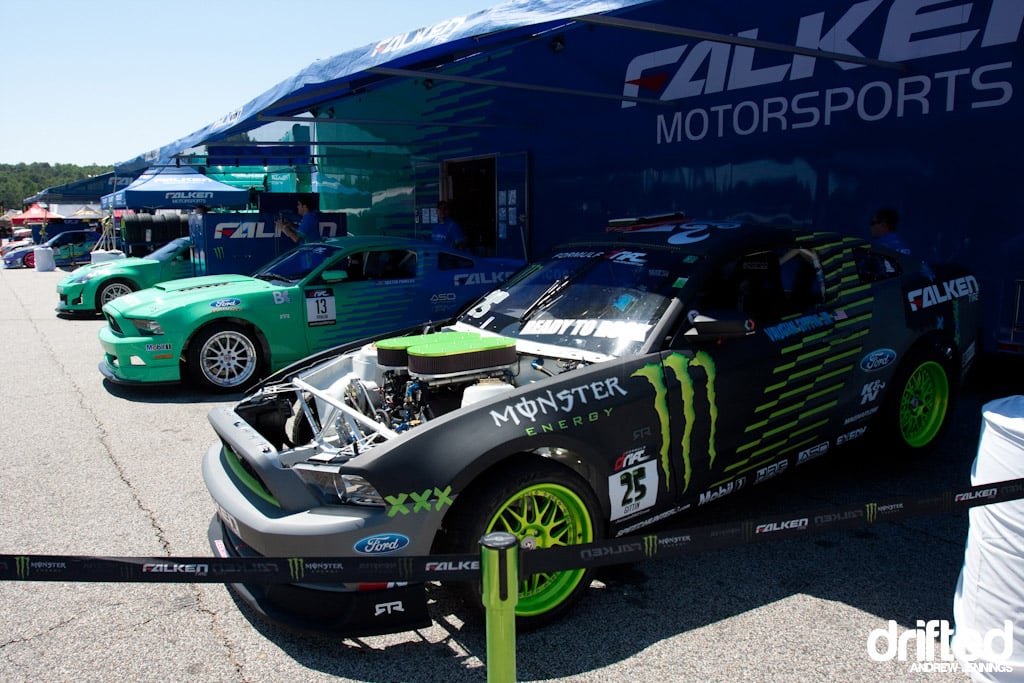 Although 2012 marked was Formula Drift's 9th consecutive year coming to Road Atlanta, a new course flow and tons of new cars on the grid meant all bets were off when practice got underway on Friday. Read on to find out how things shook out, and what impact the revised track layout had on the running order.
Above, 2010 Champion Vaughn Gittin Jr.'s latest Ford Mustang sits alongside Justin Pawlak's Mustang and Darren McNamara's 350Z. Take a closer look at the font face used for the "25" on Gittin's front fender. As Oliver noted in his coverage of Formula D Long Beach, the rules have changed in 2012 and teams are now allowed to submit their own design for the printed car numbers. Gittin's numbers tie into the overall theme of his Monster Energy drink livery, with larger tops almost like the big forehead on Frankenstein's monster.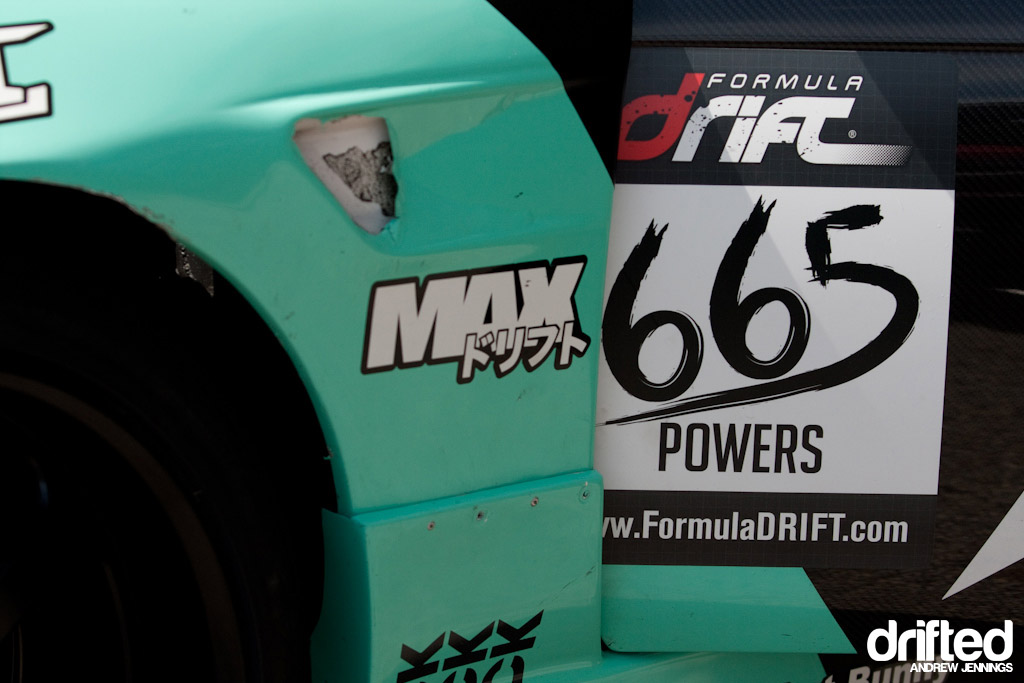 Here's a close up of another unique number for Matt Powers' Team Need for Speed/Nitto Tire Nissan S14. It looks to be inspired by Japanese calligraphy with the trailing 5 running under the 6s, but at the same time it reminds me of the marks made by tires sliding across pavement, almost like a victory burnout.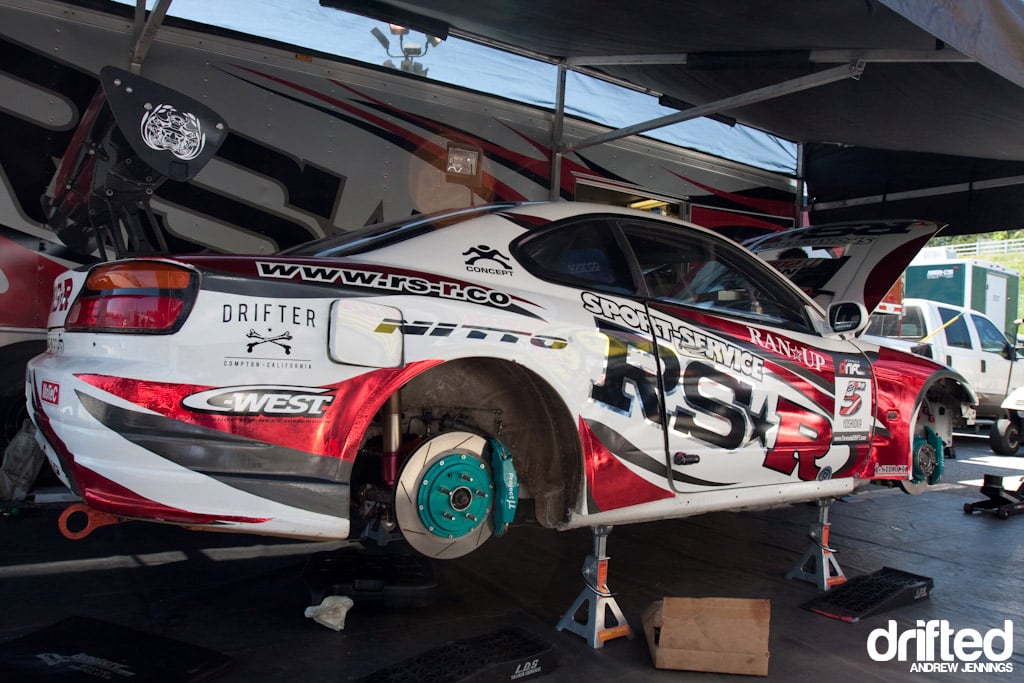 Toshiki Yoshioka's new RS-R Nissan S15 is all new for the 2012 season. I'm glad that I caught this glimpse of it with the wheels off. Of all the aftermarket brake companies out there, Project Mu definitely give me the most goosebumps whenever I see them up close. His car is definitely has the most JDM style of any in the paddock, topped off with RS-R's signature high gloss red wrap.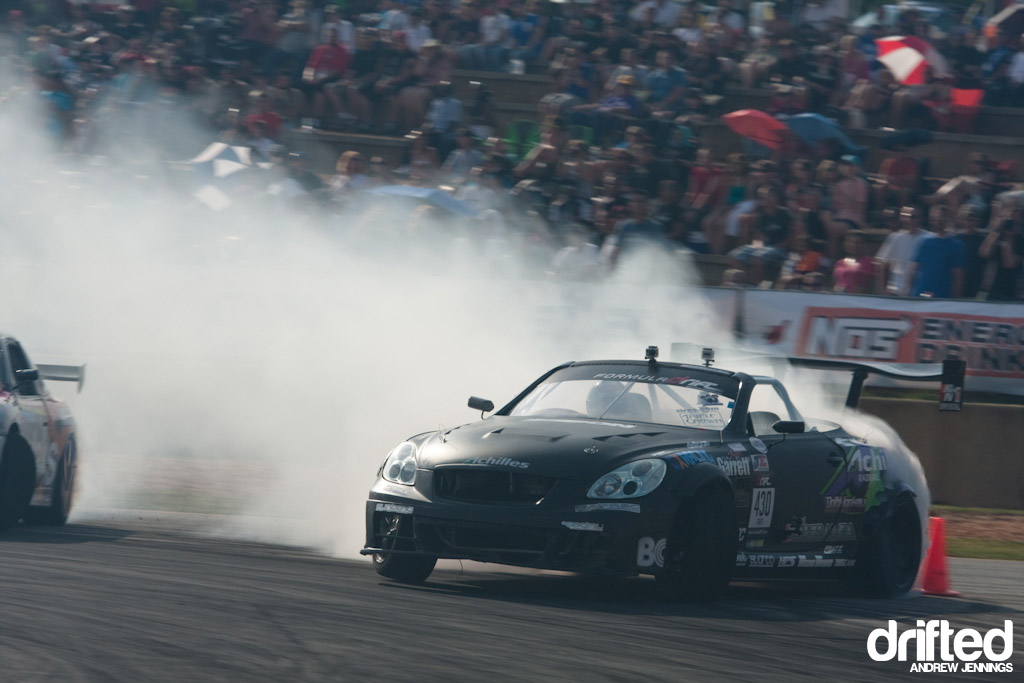 Speaking of JDM, the most highly anticipated entry of the race was certainly Daigo Saito's Achilles Tires/Bridges Racing Lexus SC430. In Long Beach the former D1GP ace set the bar high by finishing a clean 3rd place, but Road Atlanta is a totally different animal. How would he fair with such a steep elevation change and one of the longest laps on the circuit? More on that later…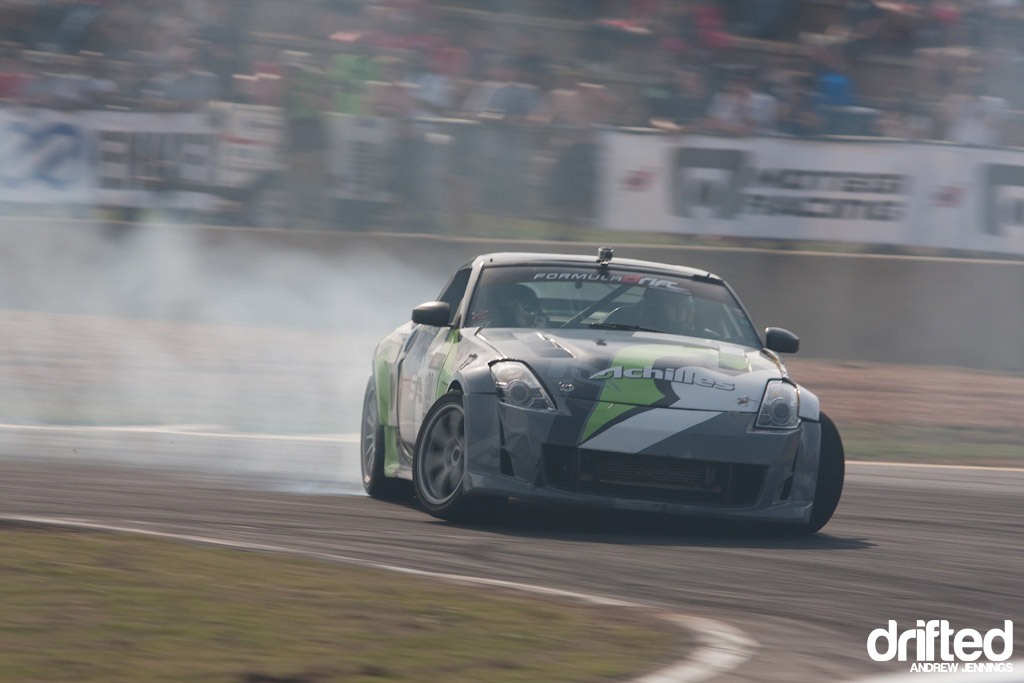 Saito's teammate Emmanuel Amandio in the Nissan 350Z seemed to struggle a bit with finding the flow of the course. The 19-year old Indonesian driver failed to qualify for Saturday's main event, but put in a good effort and learned a lot from Atlanta. Keep an eye on him as the season progresses and I'm sure he will continue to improve as the car's balance is refined.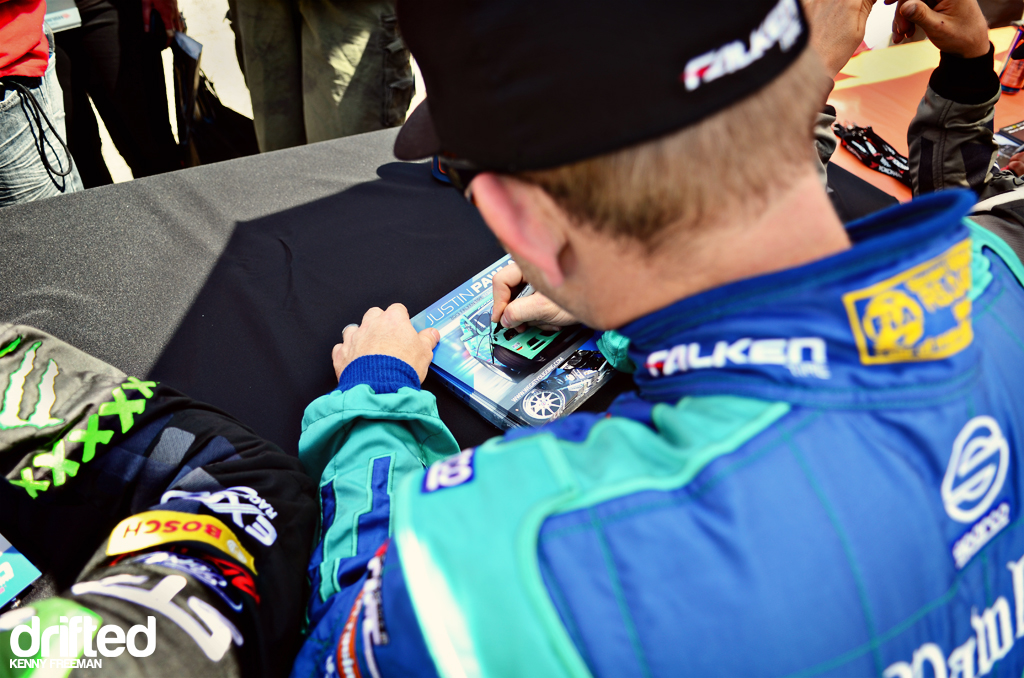 Coming off of his win in Long Beach, Justin Pawlak was enjoying the limelight in Atlanta. His autograph technique is pretty refined at this point.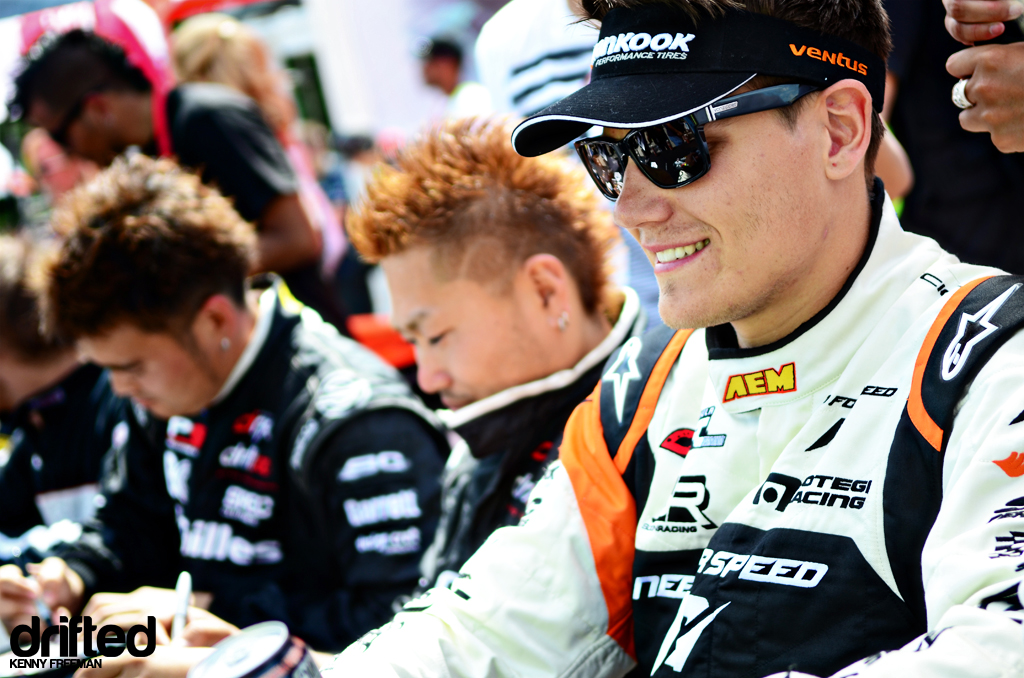 Fredric Aasbo was positioned down at the farther end of the autograph line. I always find it interesting to see which drivers sit together during this part of the event. I think it is just coincidence that the Norwegian happened to be sitting next to two other non-American drivers, Daigo Saito at center and Robbie Nishida at left, both from Japan.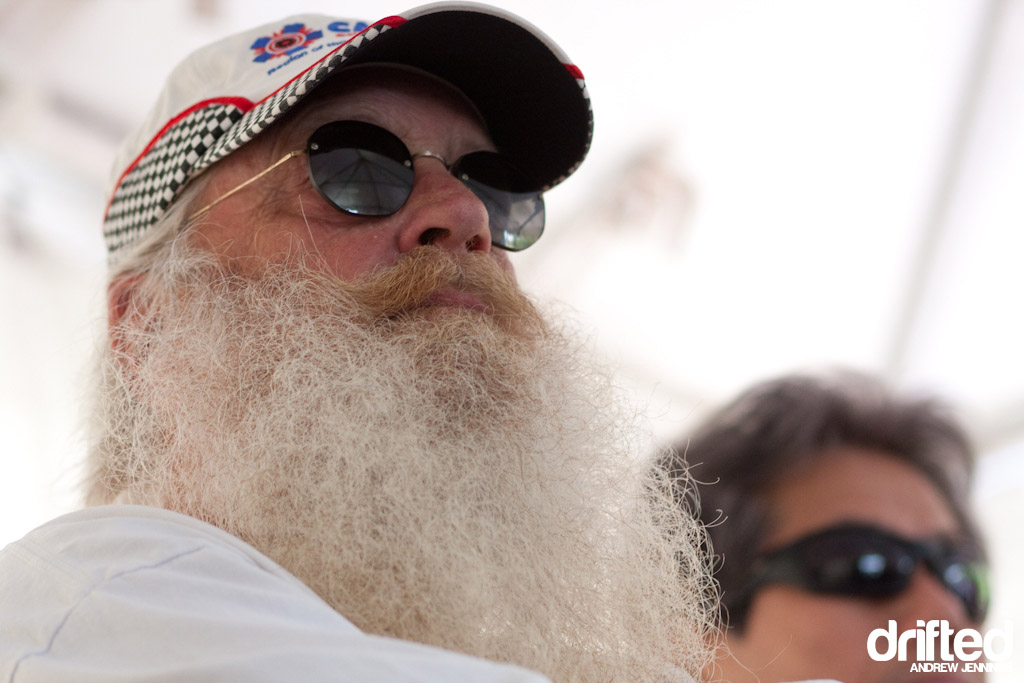 The drivers weren't the only celebrities on hand at the event. During the first driver's meeting a familiar face from Long Beach was present among the many drivers and team leaders. None other than Bil "Santa" Baldwin, the fearless flag master extraordinaire, made the trip all the way out here for his first taste of Southern hospitality. Danny George is to thank for Bill's visit, offering to cover all of Bil's travel expenses after the two met at Round 1 last month.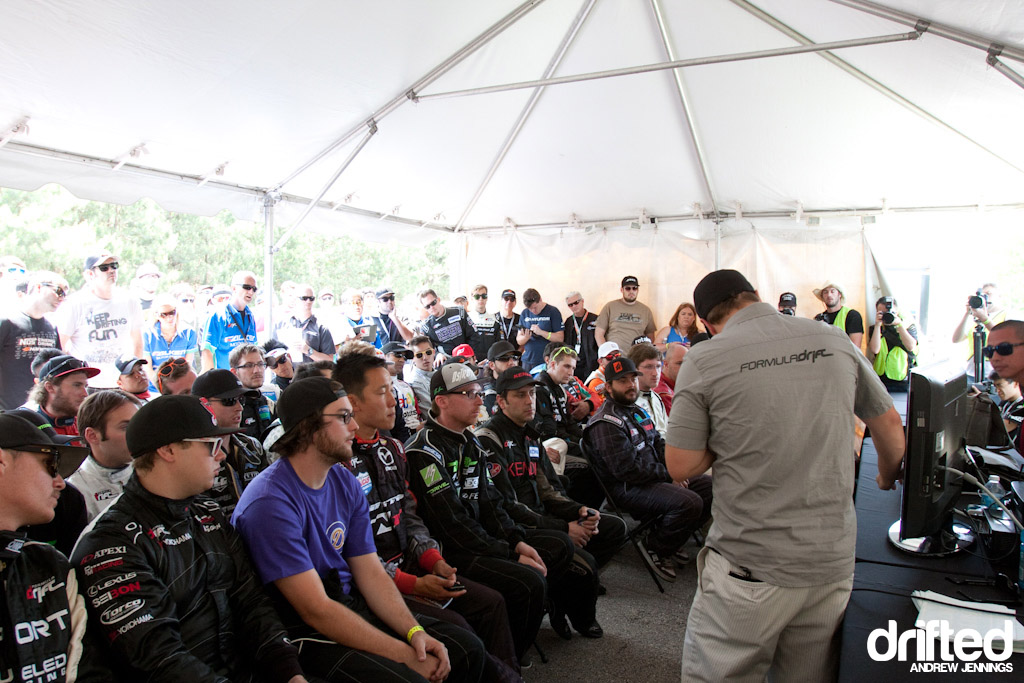 Back to the driver's meeting, everyone's focus was on the new track layout. Unlike last year (you can read my full write up for the details here) the course was redesigned so that drivers would have to stay left and tackle the long uphill climb towards the Suzuki bridge before entering the horseshoe at the top. There were a lot of questions in the meeting about how to position the car for the best line, when to brake, when to close up on the car in front, etc. The topic of passing even came up, and although passing is not officially endorsed in the Formula Drift rules, the judges seemed willing to make an exception for this event at one specific location.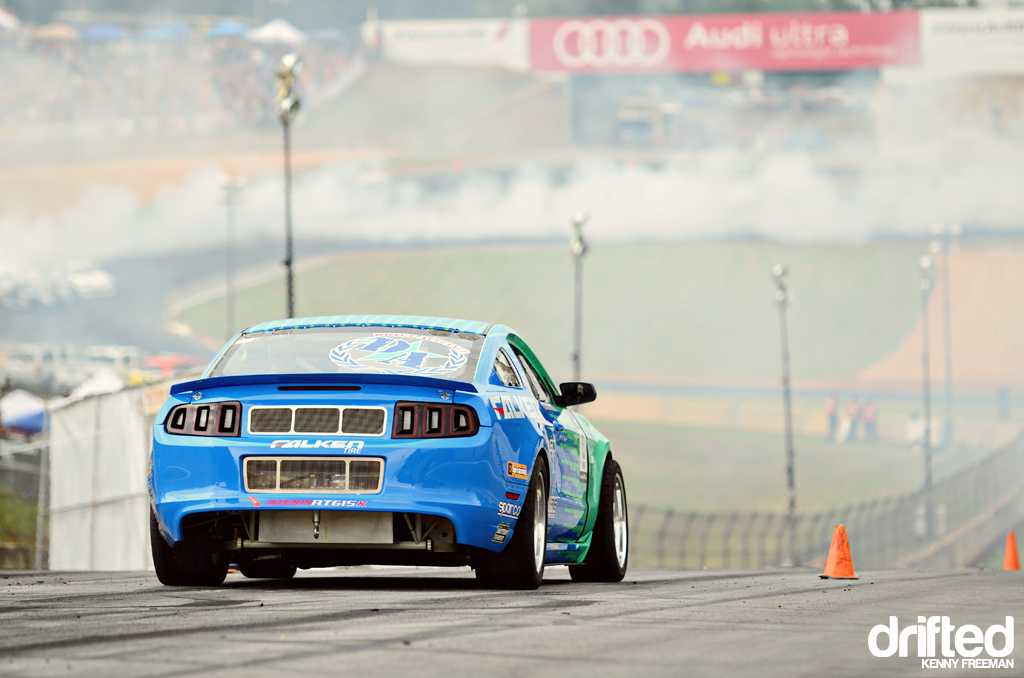 This angle from the starting line gives a good view of the track. Justin Pawlak is lined up and ready to make the long descent into Road Atlanta's turn 10A, a sharp left hander. At the same time, two other cars have just exited the infamous horseshoe section. Notice how the smoke trail shows they went around clockwise through the top right in front of the fans.
The first turn is basically unchanged from the previous year. It's a very tricky left that each driver has a slightly different method of attacking. Here Ken Gushi in his new Greddy Performance/Scion Racing FR-S shows you how it's done with a fair amount of counter-steering, but not so much lock that you scrub off a lot of speed. Keeping the speed up is crucial to this corner.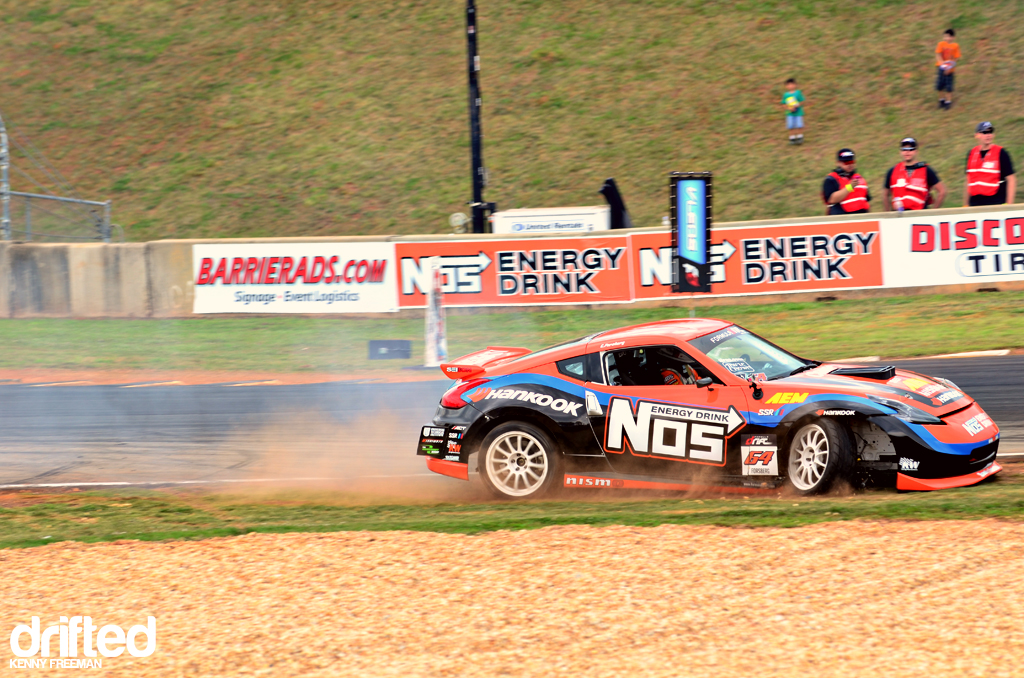 One person who got this turn very wrong was Chris Forsberg (spoiler alert!). During the top 32 competition he essentially took himself out trying to initiate for the entry when his his front suspension broke and sent him skidding right into the gravel trap.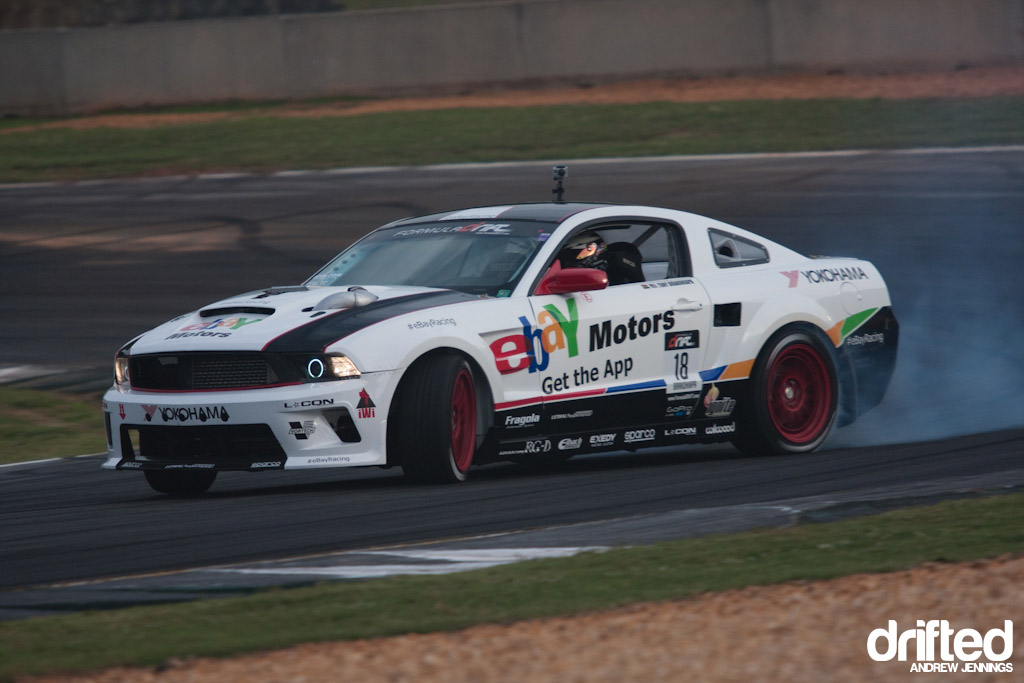 After turn 10A, the cars have to immediately flip their angle for 10B, a sweeping right turn which will take them all the way up the hill. Here Tony Brakohiapa's Ebay Motors Raying Ford Mustang had plenty of power to keep him going the distance, but other cars really had to work at getting up the hill with less horsepower on tap.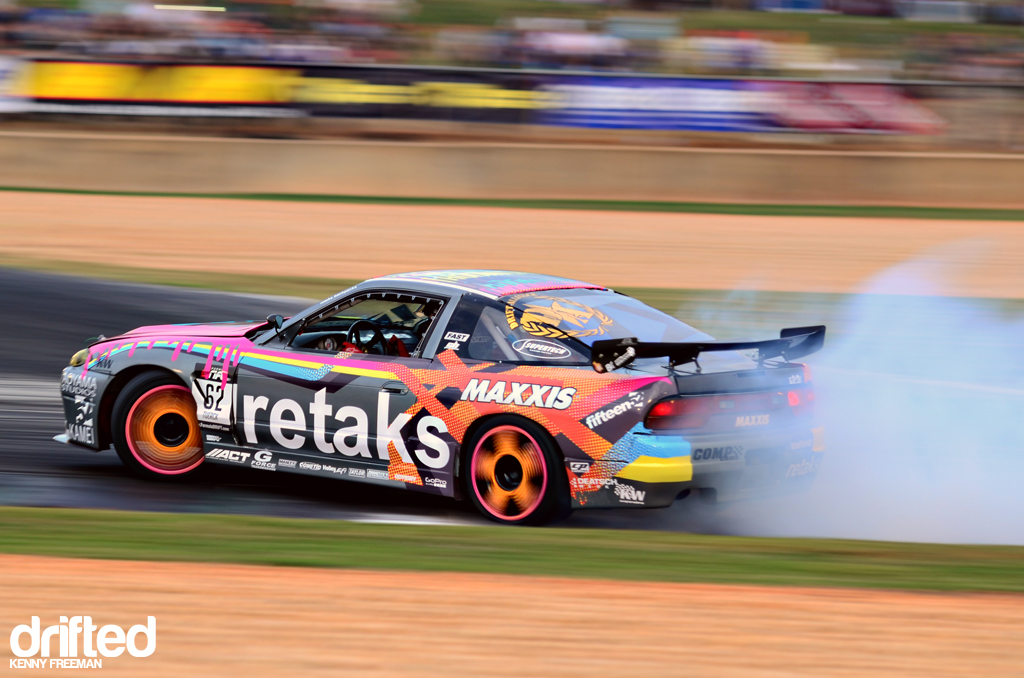 Ryan Tuerck in his new Retaks Nissan 240LS didn't have much trouble going up either. You can see in the shot of Brakohiapa the beginning of the rumble strip that lines the left side of the ascent. Tuerck rode the fine line between getting the car's back end over these plates, and getting into the really bumpy section. We'll recap during qualifying how at least one car got bitten by taking too much curb in this area.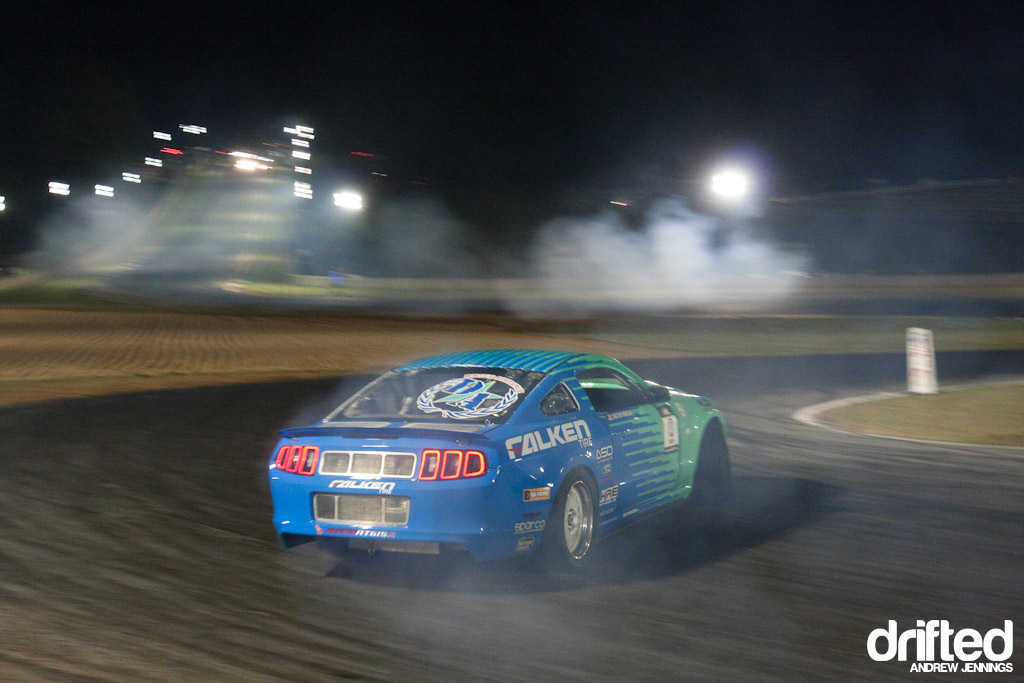 Once they reach the top, the cars keep that same angle going as they enter the horseshoe and loop around for nearly 180 degrees. Looking past Justin Pawlak's Team Falken Tire Ford Mustang you get a glimpse of the entry hill to turn 10A (at left) and 10B (right offscreen). You can also see the white clipping point sign which marked the inside edge of the horseshoe drivers were asked to aim for.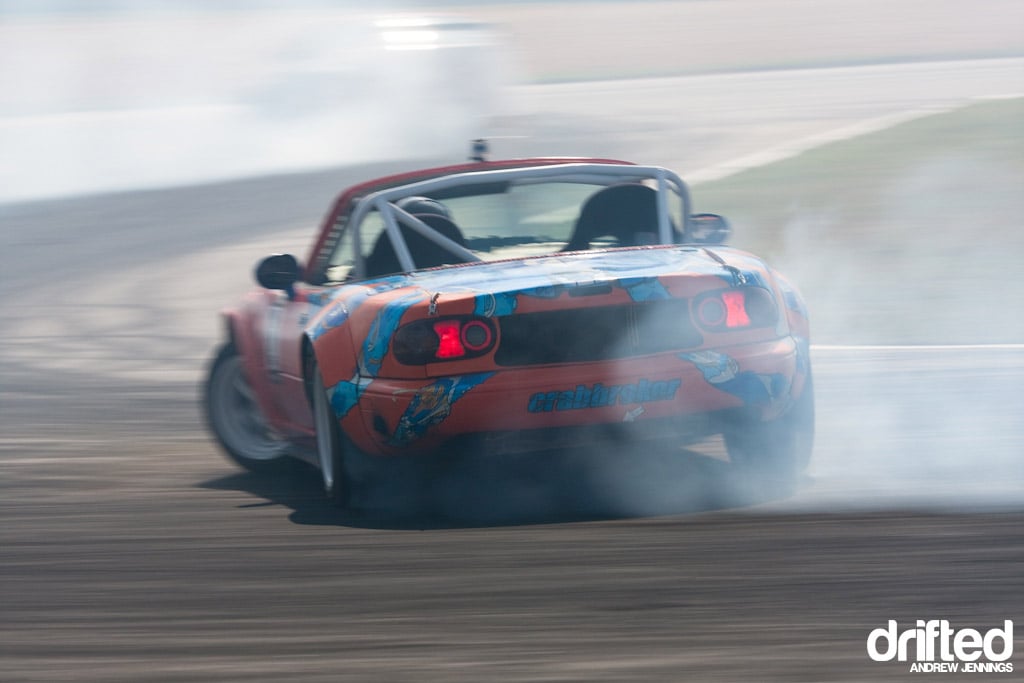 That clipping point proved the make it or break it point for a lap. The tarmac is off camber with the downhill grade, and yet the clipping point suggests that the car's front end should almost be pointing back uphill again. Anyone who tried to jam on the throttle would feel the back end of the car slipping away down the hill and miss the inside line, so it was a very fine balance to purposefully lose some speed to suck up towards the apex before getting back into the gas and escaping the horseshoe cleanly.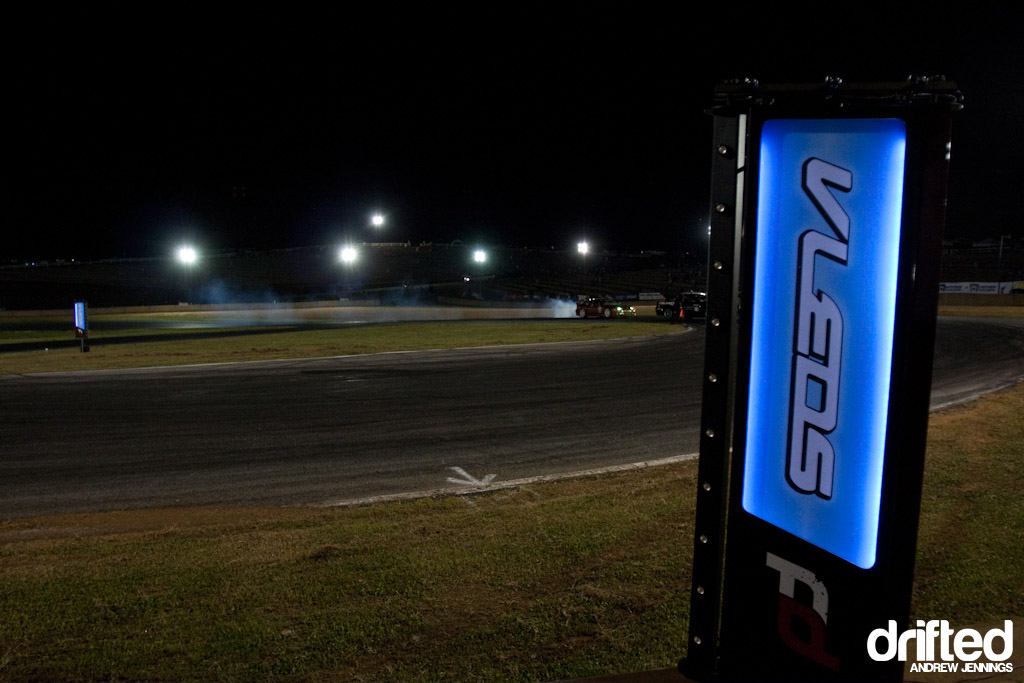 Positioned around the course for 2012 were these VLEDs clipping point boards. A proximity sensor would set them off anytime a car drove within a certain distance of the intended line.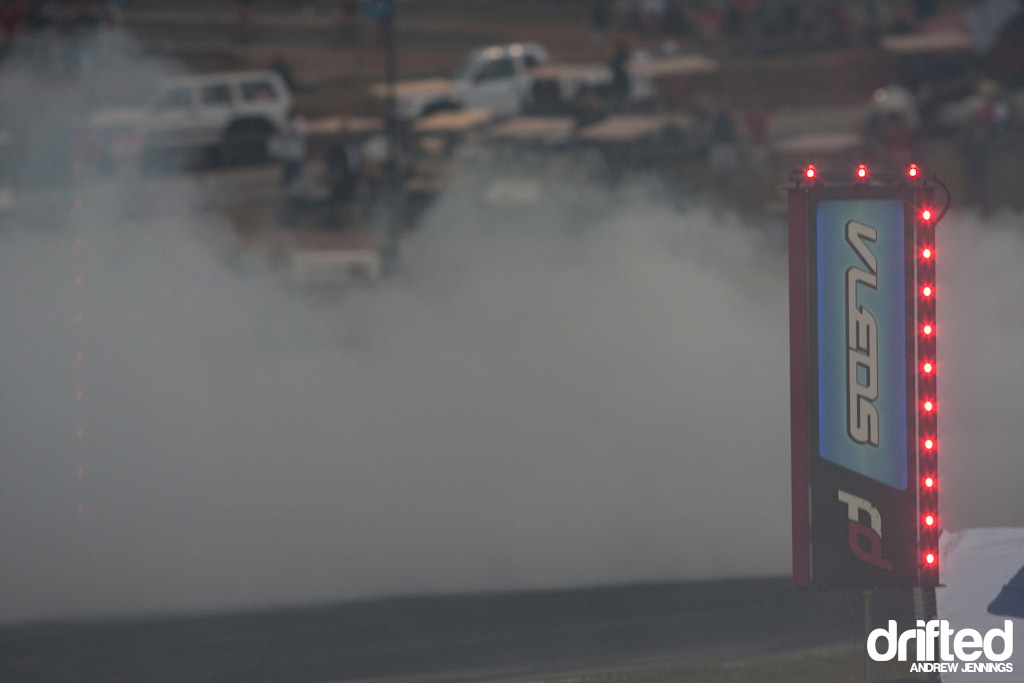 The boards were a cool visual aid around the track, making it easy for fans (and media) to know exactly when the cars were close to the edge. On some runs it looked like a life-size version of a pinball machine though, with these red lights popping on as the cars bounced back and forth across the track.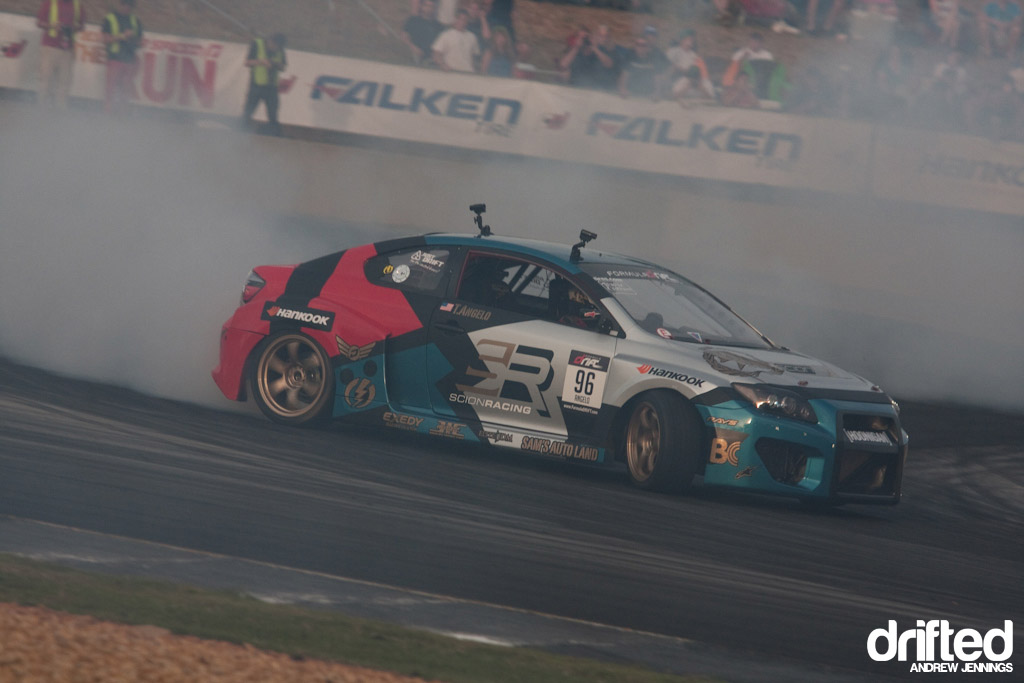 Finally, Tony Angelo demonstrates the right angle for exiting the horeshoe in his Scion tC, heading back down towards turn 10B and eventually ending at the start/finish straight.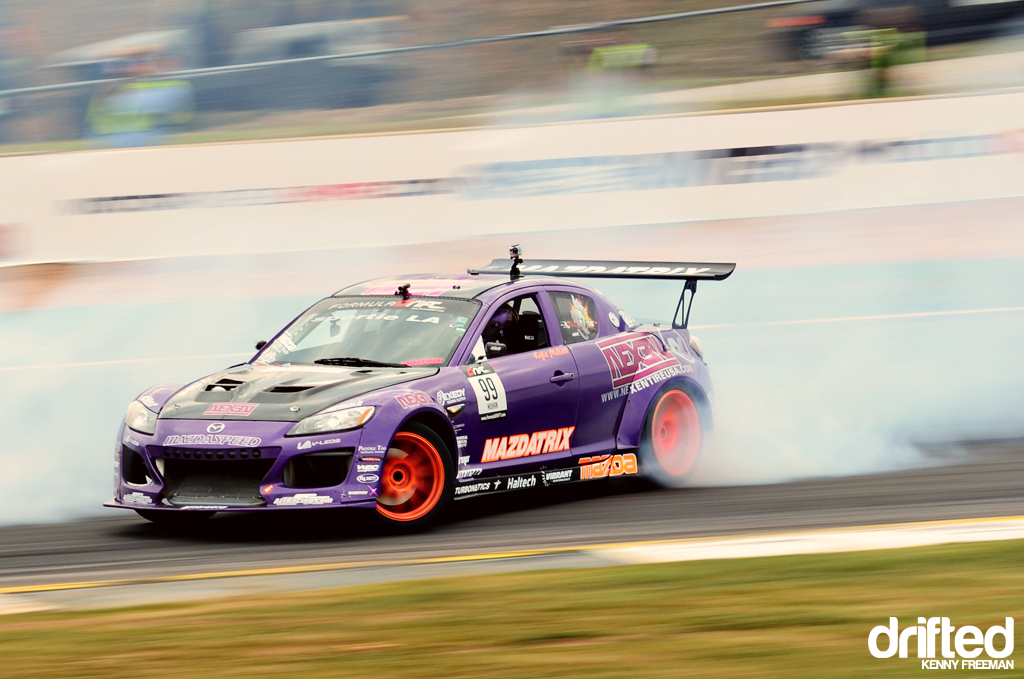 The final left hand run down the hill also provides a good place to light up a set of tires, something that Kyle Mohan had no trouble doing in his Nexan Tire Mazda RX-8.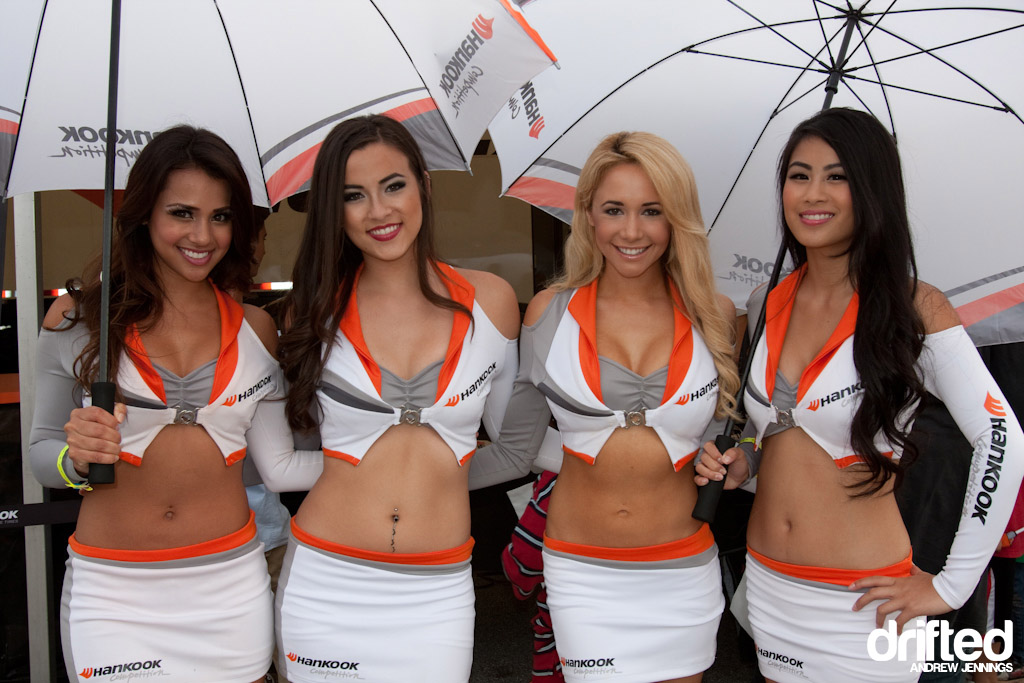 One thing that hasn't changed in a year however are the Hankook Tires umbrella girls. They always make for a nice image to end on, so that's it for today. Thanks for reading, and check back again soon for our full coverage of qualifying for Round 2 of Formula Drift from Road Atlanta!
Kenny Freeman contributed photographs to this post, written by Andrew Jennings.
Andrew Jennings is a photographer and editorialist based out of Nashville, TN. He has been covering the American drift scene since 2007, and his work has been published in nationally syndicated magazines such as Modified Magazine, Import Tuner, Performance Auto and Sound, and RIDES. Andrew may be contacted through his professional online portfolio, or the social networks listed below.
Professional Portfolio: http://www.andrew-jennings.com | Personal Blog
Tags: 2012, 350Z, Achilles Tire, Andrew Jennings, Andrew Jennings Photography, Andrew-Jennings.com, Aurimas Odi Bakchis, Bill Baldwin, blog, Daigo Saito, Danny George, Darren McNamara, drift, Drifting, Ebay Motors, Emmanuel Amandio, Falken Tire, FD, ford mustang, Formula D, Formula Drift, Fredric Aasbo, gittin, Greddy, Hankook Tires, http://www.andrew-jennings.com, Indonesia, Japan, jdm, justin pawlak, Ken Gushi, Lexus, Matt Powers, mazda, miata, mustang, mx-5, Nissan, Nitto Tire, Odi Bakchis, pawlak, Project Mu, Road Atlanta, Road Atlanta Raceway, RS-R, s14, s15, Santa, SC430, Scion, Scion Fr-S, tire smoke, tires, Tony Angelo, Tony Brakohiapa, Toshiki Yoshioka, umbrella girl, vaughn gittin jr, VLEDS, walker wilkerson
Subscribe to Drifted
If you like this article why not subscribe to Drifted and we will email you our freshest content for free!