GRASSROOTS: S2 Drifting Events – Drift Again
Its hard to think about whats going on in the world around you when you're sliding in the car you've built in your garage. The car that took blood, sweat and several girlfriends. The car that you love and the same car that will take the abuse you give it, be it kicking, hitting, head butting or even biting. Too bad that whilst we drift in Atlanta, we are still fighting to keep drifting in the city. We fight to keep "the kids" drifting in a closed and secure area instead of them having to resort to the streets. This event was a few weeks before the news hit about the Mayor of Atlanta trying to pass an amendment to ban drifting, because of a sound ordinance. We still knew it was coming. In the past years of drifting at Turner Field, the residents have complained about how they didn't enjoy the noise and wanted to do something about it. Well they did and here we are now. If you don't know what I am talking about, please go to The Petition site and read more about this issue, then please sign the petition. Help your fellow drifters out.
This post isn't about the banning of drifting in Atlanta; it's about the grassroots event that is so well known in the area. It's about the drivers that come regularly to drive in an amazing city and around this stunning scenery. I have to deal with shots that capture the cars sliding with the Atlanta skyline, Turner Stadium or even the Olympic rings. I know someone has to do it, guess it has to be me. Its such a sick spot to drive because we are surrounded by streets that butt right up against where the drivers are throwing rubber. This allows people who have never heard of drifting before to be able to enjoy the sport and learn what it is all about. This lets people like Matt Schoder show off their skills by getting major angle as they slide into the first turn at the top of the hill. I know I am pumping it up but it really is a fun parking lot to drift in and these guys love it just as much as I do.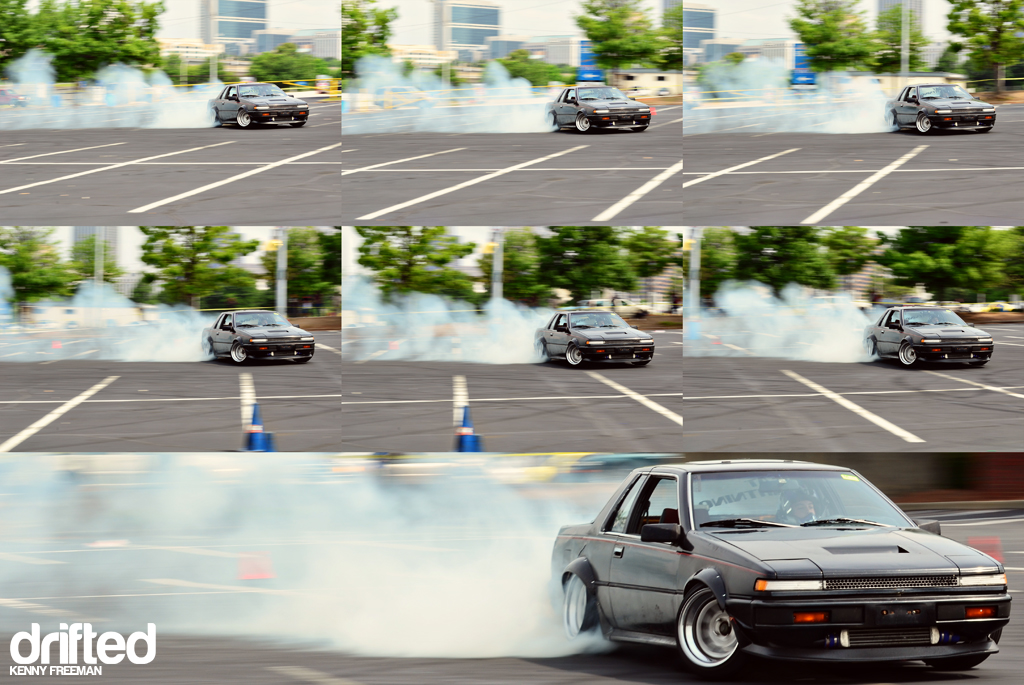 Until about 30 minutes ago I didn't even know this guys name. I know its bad, but last time I did anything drifting related was last year at Formula Drift Road Atlanta Round 2. So a year goes by and new cars and new drivers appear out of no where. Like this guy, Johnny Proffitt and his Nissan 200sx; one of the many guys I haven't seen before. I love it because it almost looks like he struggles to see over the wheel but he still rips and pours smoke from the rear of his car.
During the Team Tandem runs,  Alex Grant, Josh Clay and Eugene Chou  get split up at the first turn but still make it look pretty. You just cant keep your eyes off these cars and neither could my lens. By the way, there are the Olympic rings left behind from the 1996 summer Olympics in Atlanta. Just another another reason I love coming to these events.
In my last post leading up to Formula Drift Atlanta 2012 I wrote about the highlights on last years event and I introduced a local driver that last year was a ProAm driver. Chris Ward is the next big thing to come out of Atlanta and he has been driving this parking lot and other local venues for years. Here he pulls in John McDonald coming up the hill in the parking lot as they both leave some drift art behind.
Even though you will hardly see Turbo Dave driving his wagon, he will gladly show you his new diesel burning creation. Turbo Dave usually slides his 1989 Toyota "General Lee 01" Pickup but he is always creating a new beast to show off on the track. Last year I had the enjoyment of riding along with two of his drivers up to Tennessee to shoot with his team, Team Ginger Beard. Dave couldn't make it but I am sure if he did he would have killed Sean Morgan and Harrison Ritchie, his two sponsored drivers, for all the craziness we all got into. Sorry Dave 🙂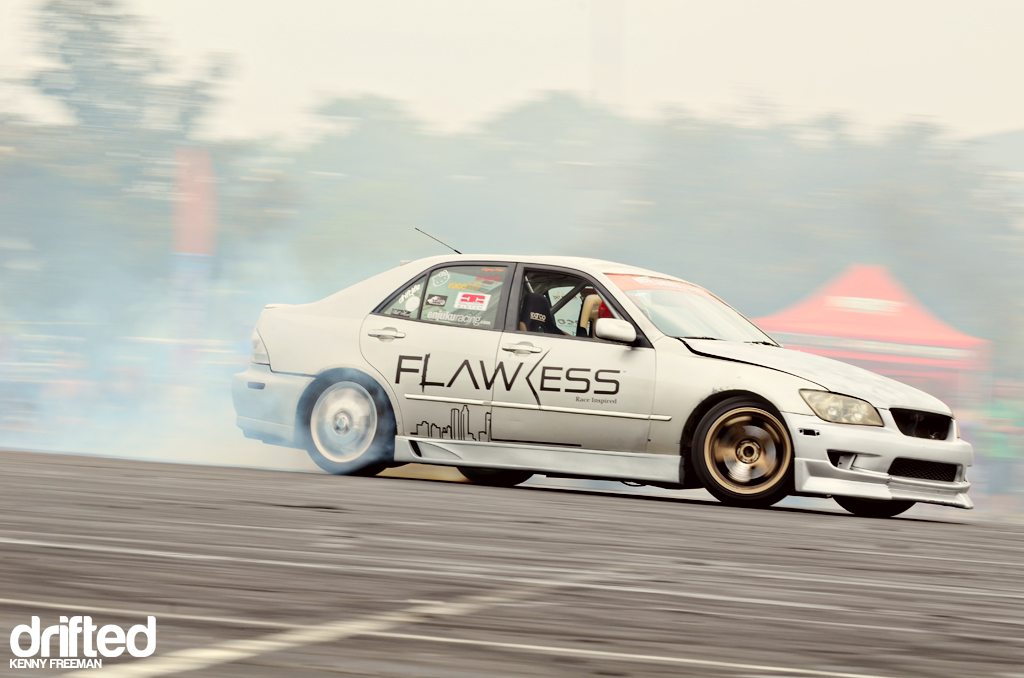 Jonathan Stancel (first) and Tony Gonzalez (second) are the two guys that both run Lexus IS300s. The day after this event Tony was at a car show event in the same parking lot. Tony was leaving the event and was rear ended. Not sure if his car was totaled but from the photos he posted up, it was pretty bad. Not sure if we will see this car again, but knowing Tony, he will return!
This is one of those cars that makes you think 'I have seen that somewhere before' and yes you have. The Infiniti G35 used to be a part of a twin pack with Drift Emporium based here in Georgia. It is presently painted blue and ran side by side with its twin, painted bright orange. After the shop went down hill the cars along with the rig they were hauled in were sold. The blue one was kept and painted dark green, still ran by Jodin Lejeune until recently. Now Ron Ewerth sits behind the wheel of this beast and controls it as it billows smoke every time he gets it side ways.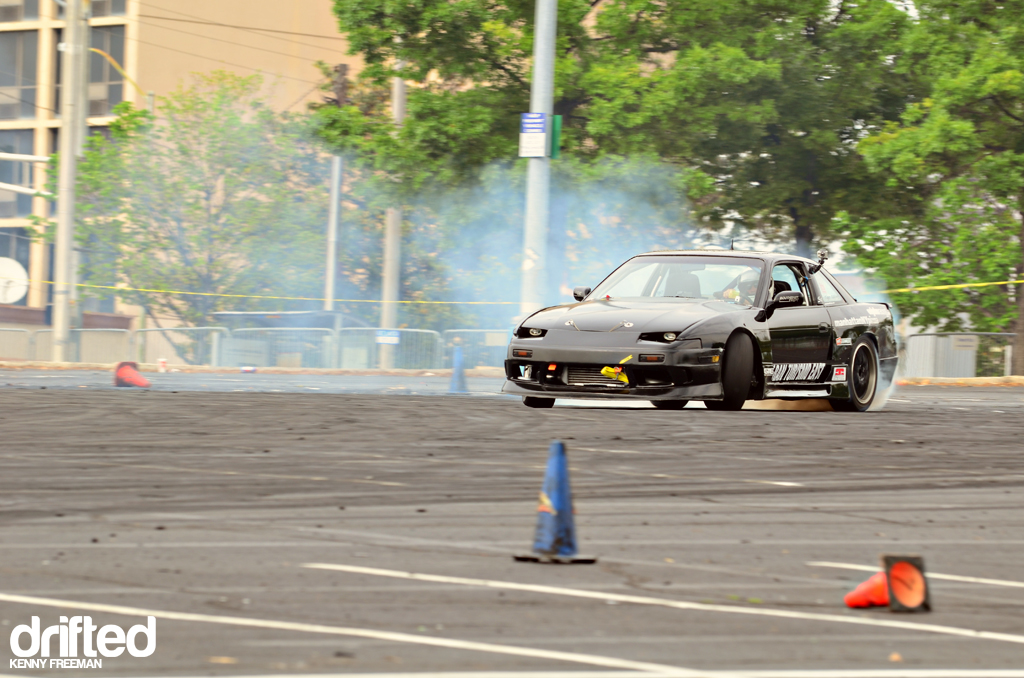 Howard Smith (first) and Andy Sapp (second/third) are two of the most well known names in the Atlanta drift scene, but in two really different ways.  Andy is a huge part of Motor Mavens, Keep Drifting Fun and he also used to drive for Batlground in the Formula Drift series. He is a huge influence to the drift scene now, driving in every event in the Atlanta area and doing amazing at it. You may have seen him sliding in the WSB Channel 2 News parking lot to help raise awareness of the banning drifting in Atlanta. On the other hand, Howard Smith is the most well known drift event coordinator in the Atlanta area. He has put on many, many events over the years and has been apart of South East Drift and even helped out some with the event I put on last year, DSD Dirty South Drift. Howard now puts on his own events called S2 and has also been a huge part of helping fight for drifting in Atlanta. After saying all that, I need to personally thank them both for what they are doing for the drift scene in Atlanta. Thanks guys for all your time and effort.
The two guys above have come a long way from when I used to sh0ot them a year ago. They actually impressed me with how much they have improved. J.J. Alfano (first) and Alex Youe (second) conveniently drive together in the Team Tandem competition and at this event took first place. On top of that, in the Wild Entry competition, J.J also took first place.  Look for these guys through out this years grassroots competitions and next year when they both go for their FD Licenses.
The video complimenting on how great this area is to drive. Enjoy!