Gary's Inspiring AE86 RC Drift Car
We shine the spotlight on RC Drift Cars and unpack the exquisite details of Gary's stunning AE86.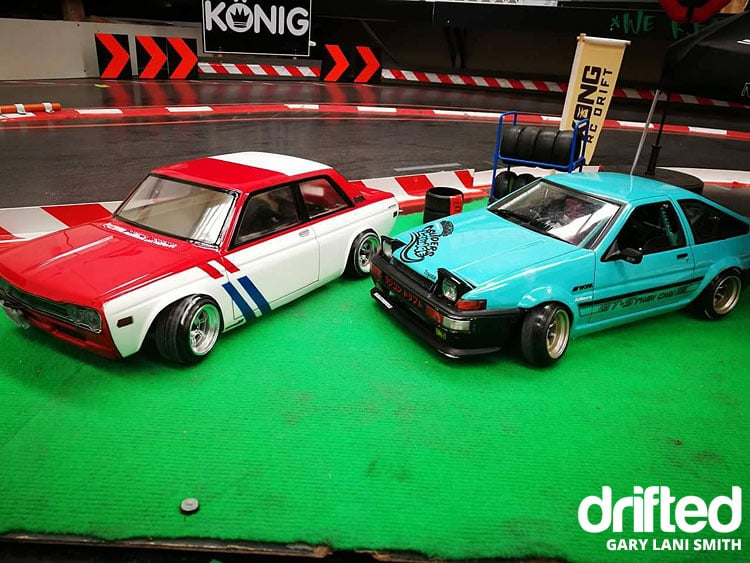 The team here at Drifted have been covering drift content for over seven years. We have reported from across the globe, from the United States all the way to Japan, Europe, Russia, UK and many places in between. We have featured the cars, the events and the people of drifting.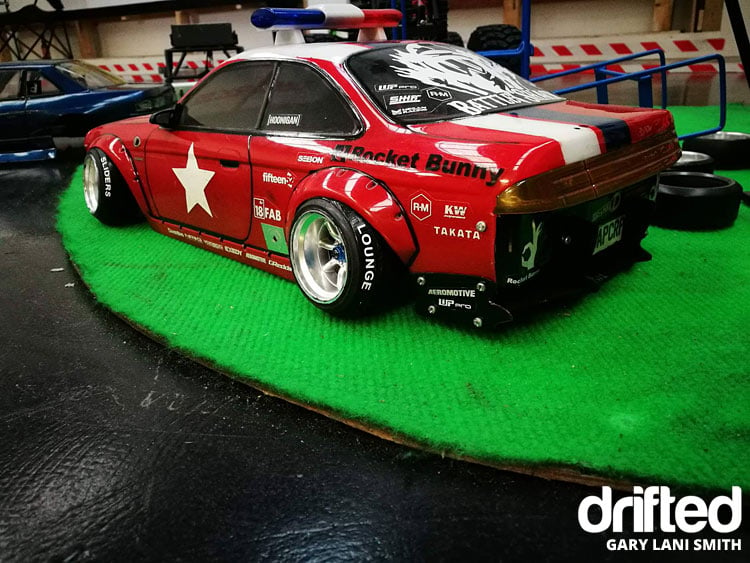 One part of the drifting culture that we have yet to touch upon is radio controlled (rc) drift cars.
What are RC drift cars?
Wikipedia tells us: "Radio-controlled drifting refers to the act of drifting with a radio-controlled car (R/C car). Special R/C cars are equipped with low-traction tires to aid in the ease of inducing and maintaining controlled oversteer."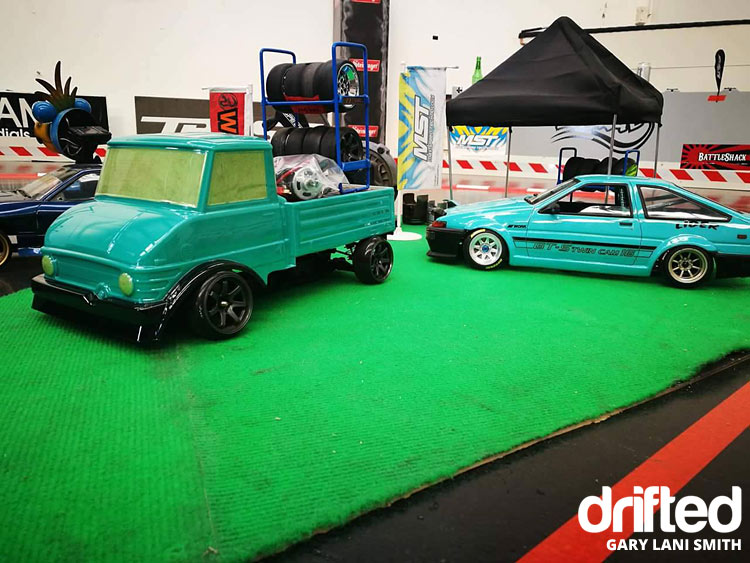 It goes on to say: "Car setups are often modified to allow the car to drift more easily, by replacing motors, shocks, tires, weight balance, brakes, and other factors. R/C drifting is typically performed with four wheel drive (4WD) electric R/C cars, although some practitioners use gas and nitro powered R/C cars and/or rear-wheel drive vehicles.".
Want to try RC Drifting for yourself? Pick up a car from our 19 Best RC Drift Cars For 2018 guide.
So why are we talking about rc drift cars?
Because for many keen drift enthusiasts the costs of buying, building and maintaining a drift car are prohibitively expensive.
For other people a lack of accessible circuits, strict laws, family commitments or even health issues mean that drifting not an option for them.
This is where rc drift cars show their value.
While you would not call an rc drift car hobby cheap by any stretch of the imagination, when compared to buying and running the full sized cars it is a far more accessible way to enjoy the hobby.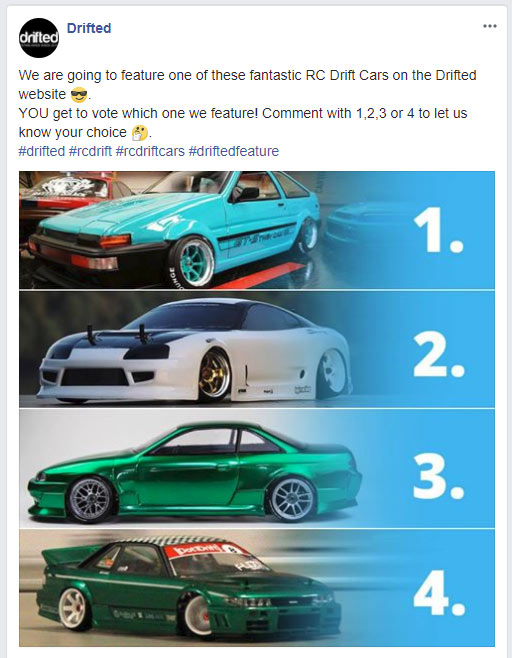 This is where Gary Lani Smith enters our article; his stunning Toyota Corolla AE86 rc drift car won our Facebook competition to be featured here on Drifted.
Over a hundred people voted to see more photos and details of this awesome Hachi Roku so to those that voted; enjoy!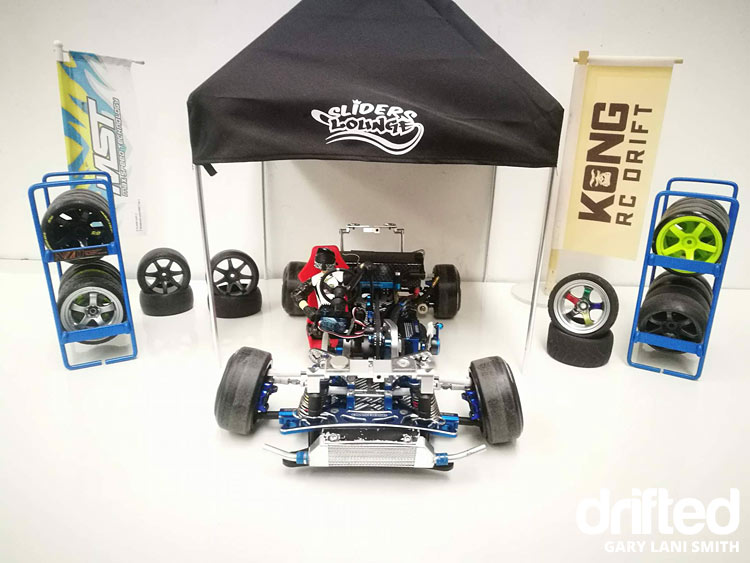 Gary's Toyota Corolla AE86 RC Drift Car
Gary's AE86 is based around a Yokomo
DRB chassis. He tells us that the DRB was a serious game-changer in the world of RC drifting when it was launched as it uses a countersteer 4WD configuration. Gary's DRB has been customised to run in RWD only.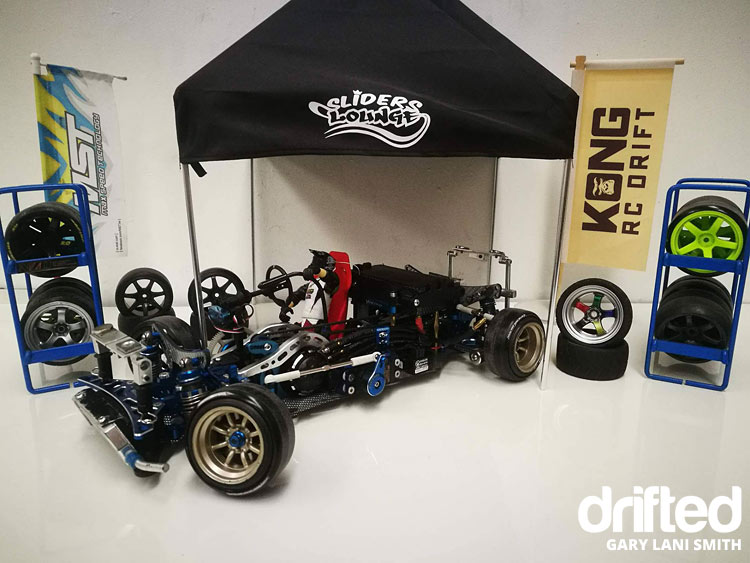 This project uses a lot of Overdose Decks components including OD towers, OD front and rear arms, OD rear uprights and OD servo horn servo mount.
For suspension Gary has chosen matching OD suspension mounts, upper arm, antenna, suspension pins and bumper mount. It also uses OD steering and extensions.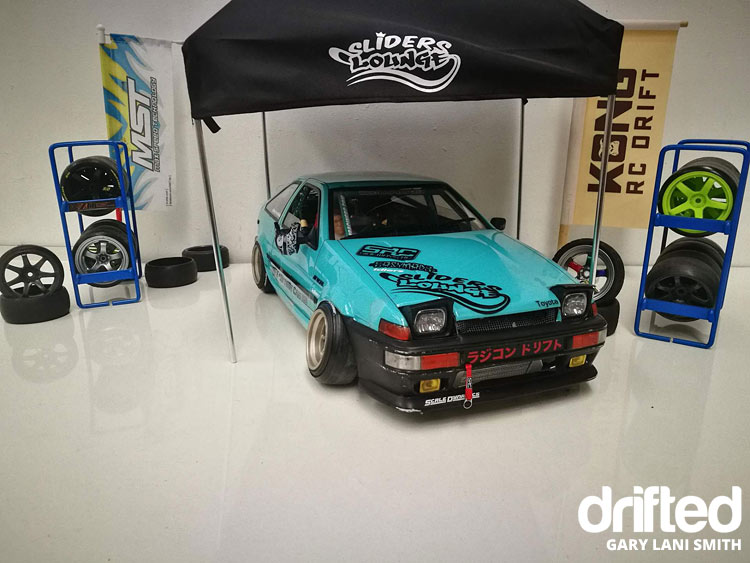 The powerplant of this great looking mini drifter is a Hobbywing 160amp XR10Pro ESC with a Hobbywing 17.5T engine running 0boost and turbo. It also uses a home made weight shift mod for the battery.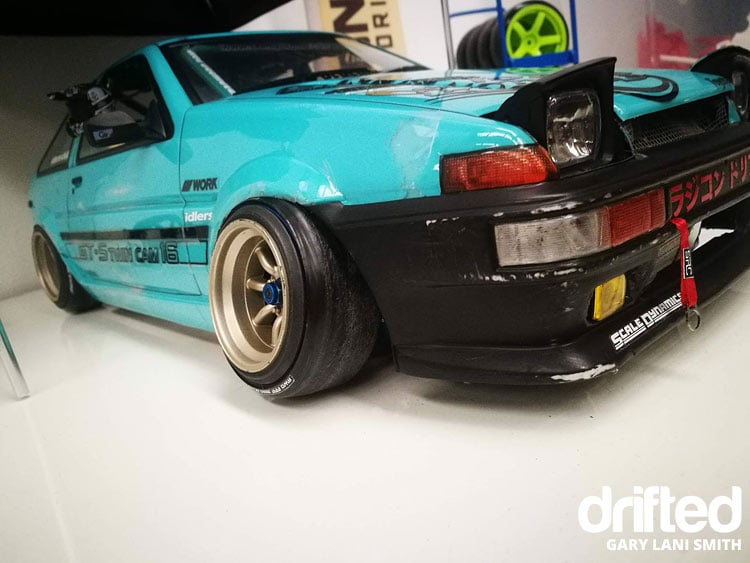 The exterior of this car is painted in an eye-catching mint green. It has been treated to a full pop up headlight conversion from Disco Option. It runs a set of DS Racing FFF RW tyres on 6mm offset scale Dynamics Tanabe bronze and silver rims.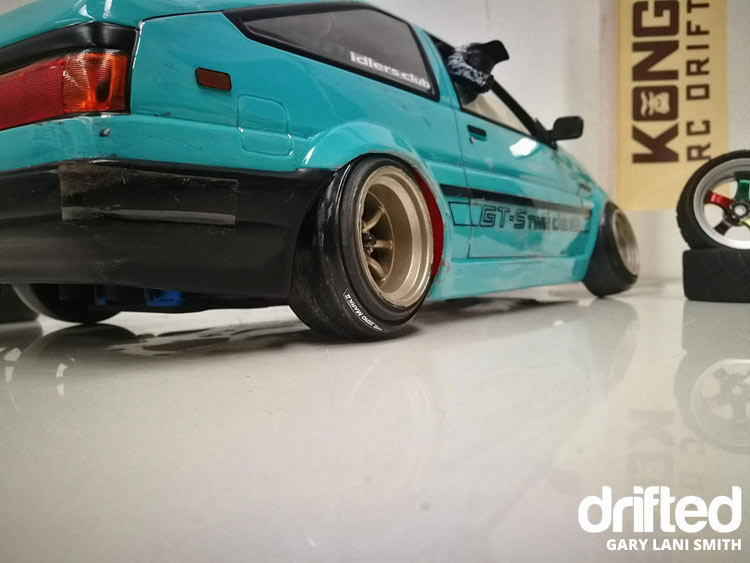 Gary delegates driving duties of his beloved RC drift car to his friend Brian Degan. To help control the car Brian uses a steering wheel that is synced with the front wheels of the car.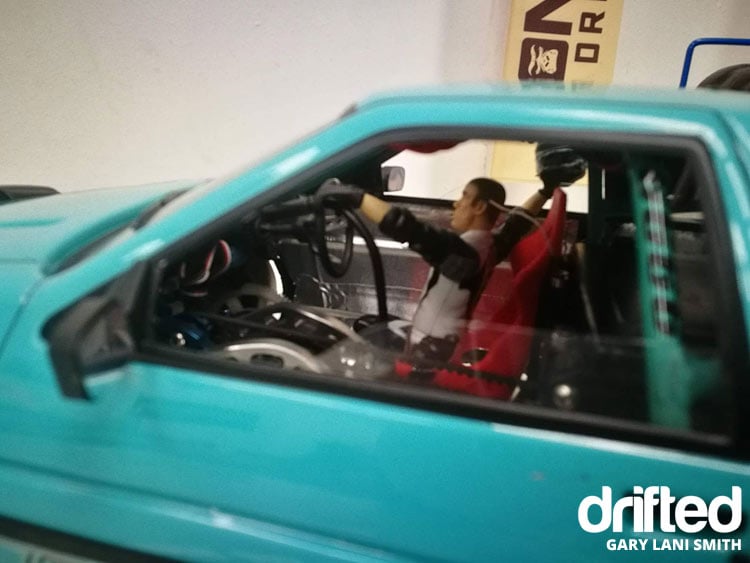 If you want to see this car in action you need to get yourself to the Slider's Lounge indoor circuit in Christ Church, New Zealand. They also race at Battle Shack circuit. Gary used to run a Nissan Silvia S14 BOSS running the same colour scheme.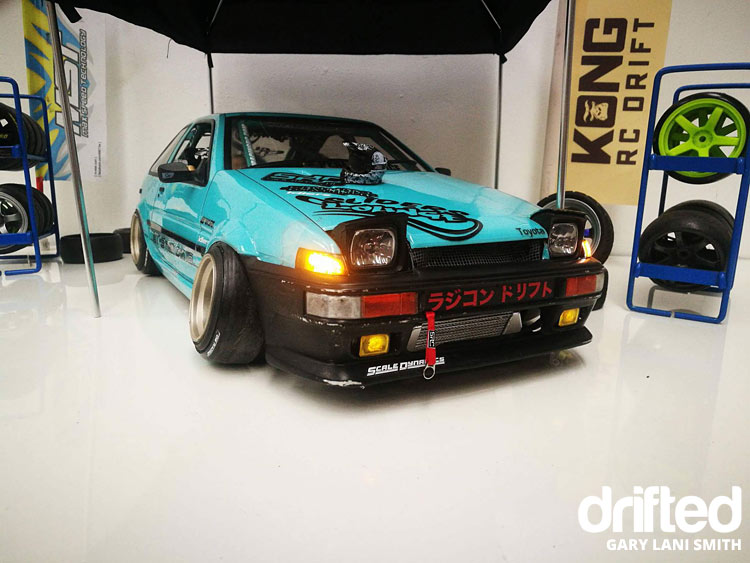 The working indicators are so neat!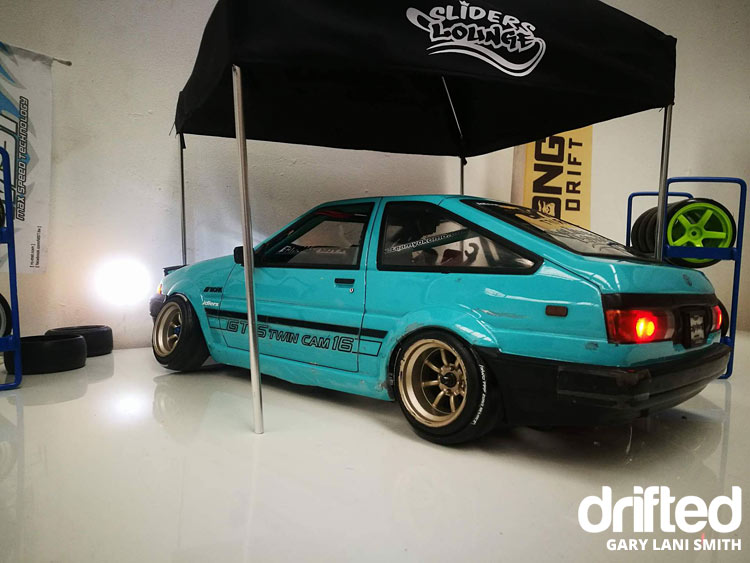 Gary wants to give a shout out to some of his supporters in this build:
– Kong RC
– Hobby Station
– Battle Shack Christ Church, New Zealand
– Slider Lounge Christ Church, New Zealand
Cutting room floor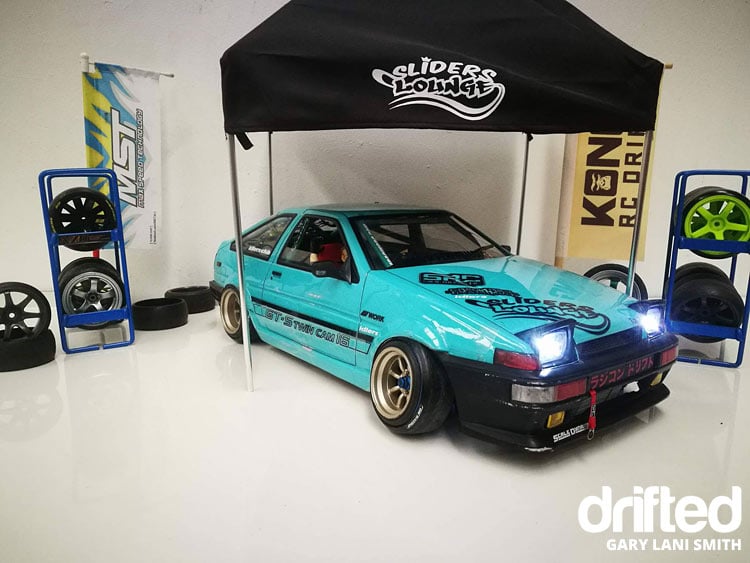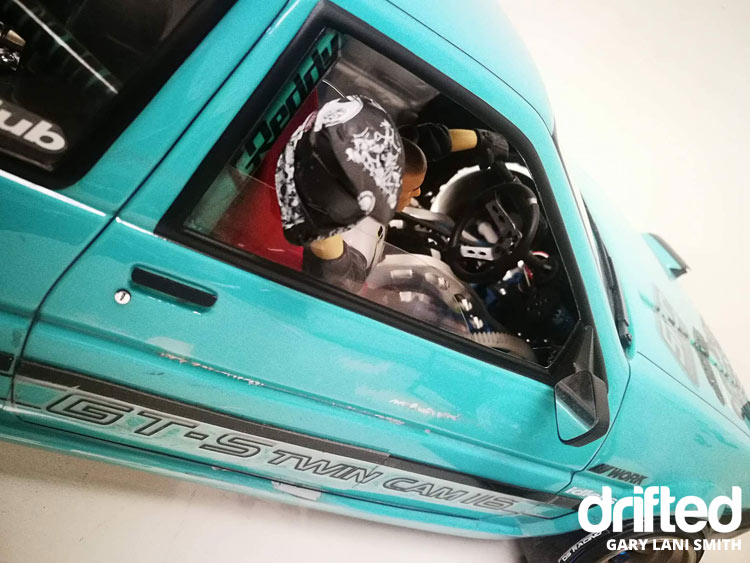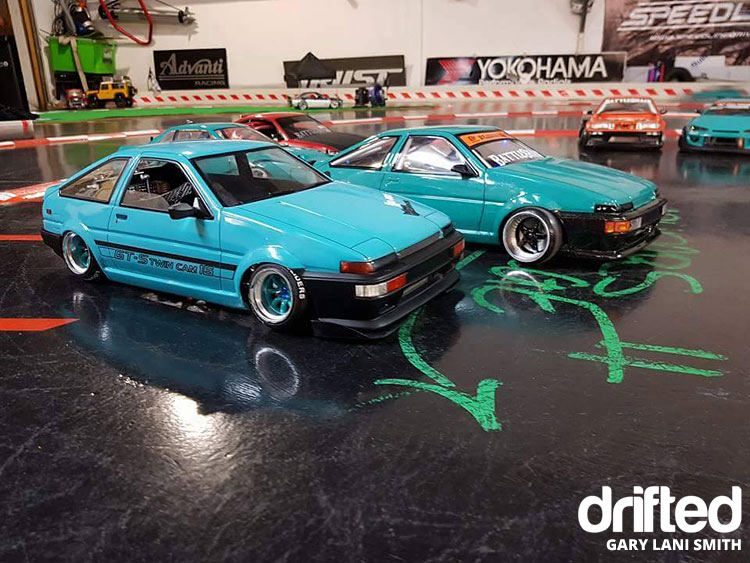 Stay tuned to Drifted for more rc drift features and event coverage. Remember to visit our drifting games section to get your instant drifting fix.
Check out our selection of the best-rated micro RC cars on the market!