GRASSROOTS: Capital City Drift, Vancouver Island
Two weeks ago I was disappointed to find out that I couldn't make the trip down to Venice Beach to rock out at Hellaflush 8, but as that door closed, another one opened. The few Vancouver Island guys that have made it out to our mainland drift days always tell us to come out and check out their events on the Island. Vancouver Island has always been a place I love to visit and I hadn't been there for a few years, so I decided to take this free weekend to skip across the Straight of Georgia to Victoria to check out the Island scene.
Capital City Drift (CCD) is a light-hearted competition series held at Western Speedway in Victoria, British Columbia. Being on Vancouver Island, an almost 2 hour ferry ride from the coast, it is almost like BC's hidden drift gem. Not many people make the trip from the mainland, but those that do know what's up. In true Island-style, the events are incredibly laid back and focus on fun.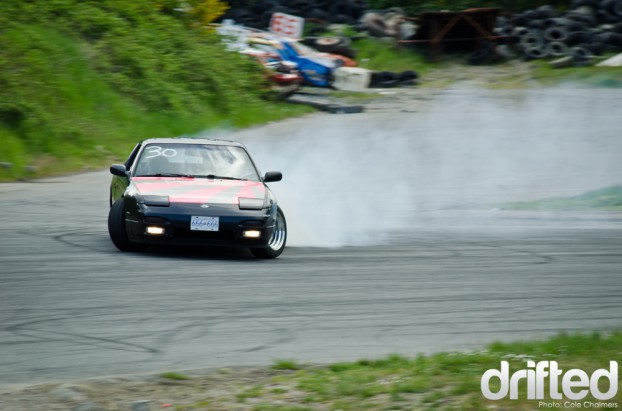 Cody Ross took the win in the competition, he also won the last CCD event. Slaying it with KA power.
The competition is set up the same as most, single-run qualifiers leading into top 16 tandem battles. Signing up for the day doesn't mean you need to compete though, track is open for hours before actual competition begins and again after the competition is over, there's even time to slide in-between competition runs! It makes it super new driver friendly, allowing them to compete if they feel up to the challenge but not forcing them to go out of their comfort zone.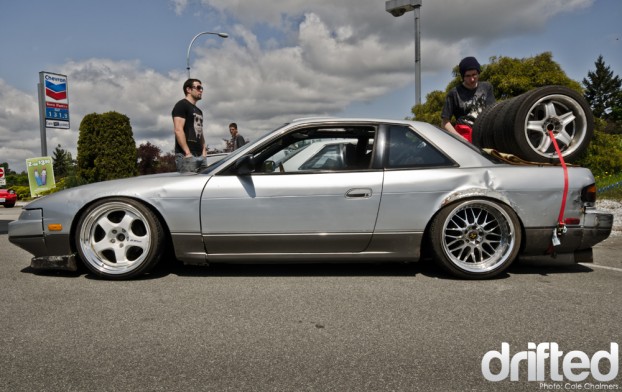 The Island has a style all of its own, Chris Vriend's S13 still looks incredibly gangster, despite the battle damage, and rolls hard to the event. Hatches? who needs em'.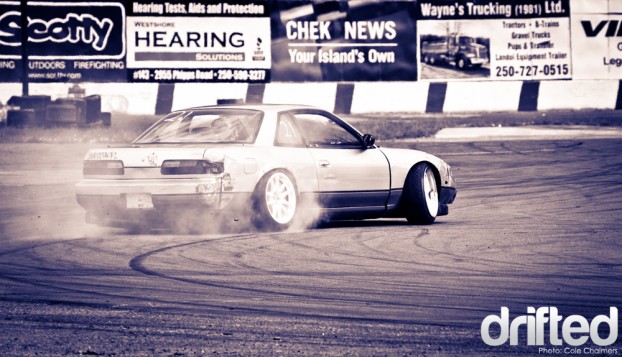 He rolls hard on the track too.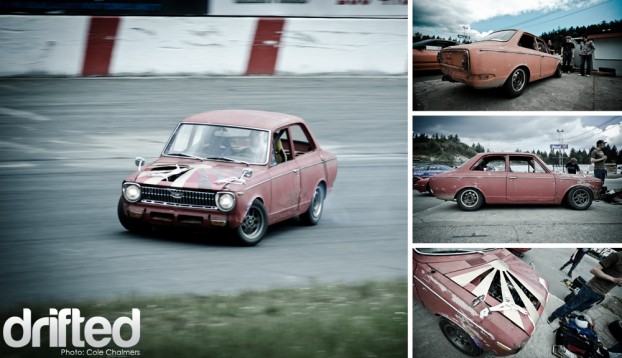 This '69 Corolla is one of the most unique cars I have ever seen. So much character. You never see these cars on the street, let alone sliding, and Corey Bergerud tosses this thing around the track. So rad!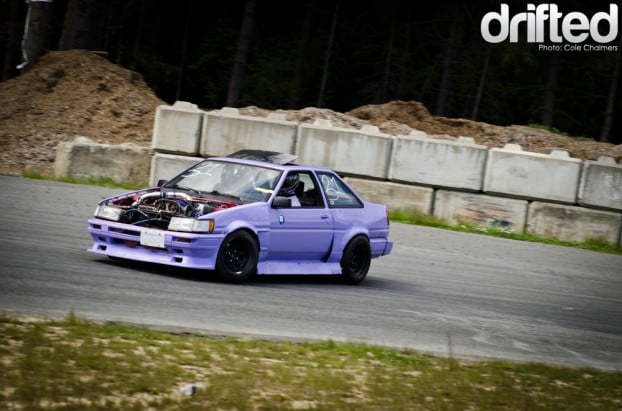 While a lot of the cars were unique on the outside, Mike Restall's Corolla coupe has a pretty one-off swap powering it around the track. He somehow managed to cram in a 5MGE, the same motor found in 80's Cressidas and Mark2 Supras, and as if that wasn't enough he slapped on a turbo from a 7MGTE. His purple Levin shredded with that inline six until a near 5 minute burnout literally exploded his radiator.
Daniel Cormier's Nissan 200SX is unique inside and out. Bits and pieces from multiple cars make up the exterior and suspension, and an RB25 lights up the tires with ease. The amount of stuff that has gone into this car deserves it's own article, and it will get it, so keep an eye out for that in the future. I promise it will be an interesting read haha.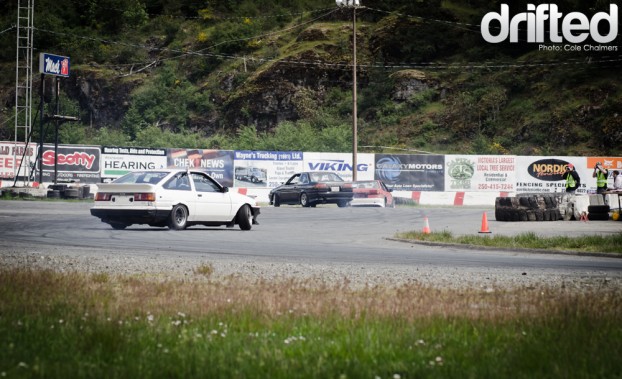 There was plenty of tandem runs going on long before competition even started. 36 drivers showed up for the event and plenty of them had the skill and/or the guts to keep it close to the other drivers.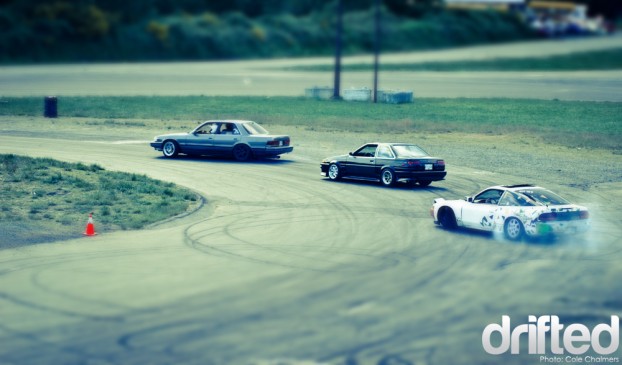 Pete Schroeder leads Trevor Pudar and Josh Whitenuts.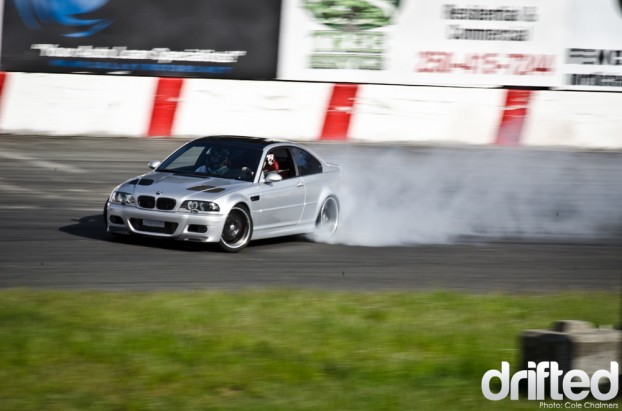 Somehow Josh Whitenuts got behind the wheel of a friends M3 BMW. It took a bit to figure out how to turn traction control off, but as soon as those tires started slipping smoke poured out behind the Beemer. Seeing a clean, newer BMW flying sideways isn't too common this side of the world!
I was playing with super slow shutter speeds most of the day, it ruined a lot of pictures but a few were made better by the motion blur, in my opinion. Here Pete Schroeder flicks along the wall underneath me. Pete Took third in the competition, coming in just behind Chris Scremin, who was rolling in a borrowed Corolla.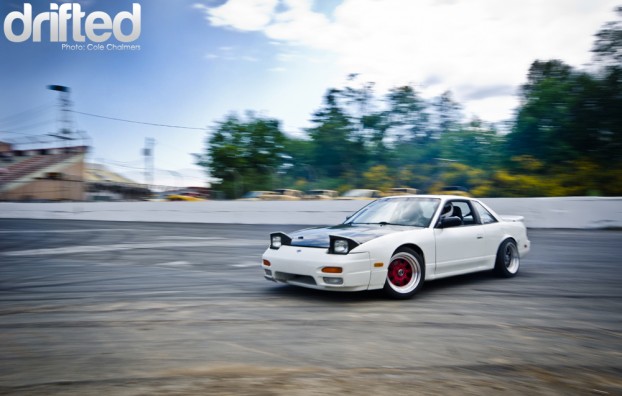 Nick Oldford is one of the Island locals who makes regular trips to the mainland to hit Drift Union's D-Days. He recently swapped an SR20DET into his S13 coupe, he had some timing issues early in the day, but once he got it figured out he was tearing up the track and picked up 4th behind Pete.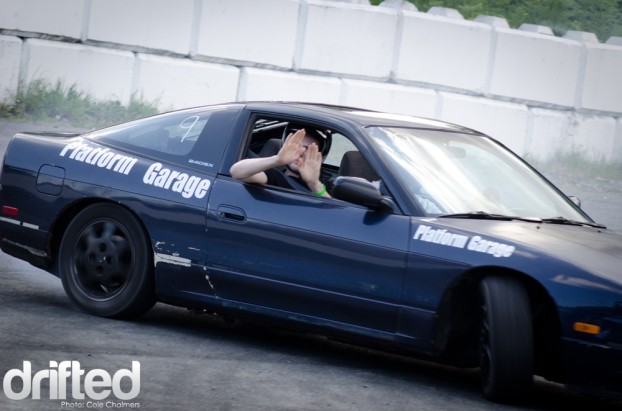 Apparently some people weren't too keen on getting their photo taken.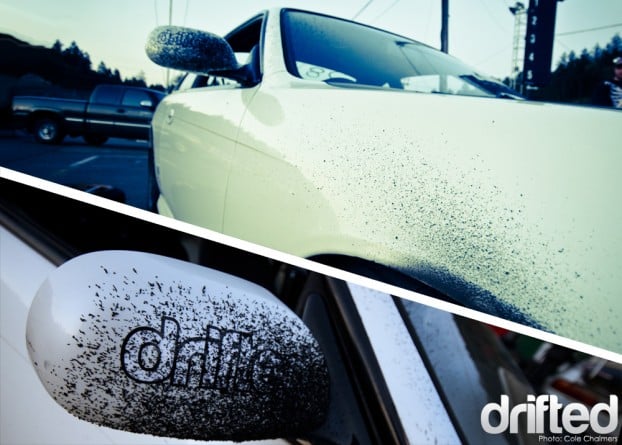 Jason Debruyn was rocking one of our Drifted stickers on his mirror. A little tire rubbing all day made it a little difficult to see though, hopefully he's not trying to say something bad about us here…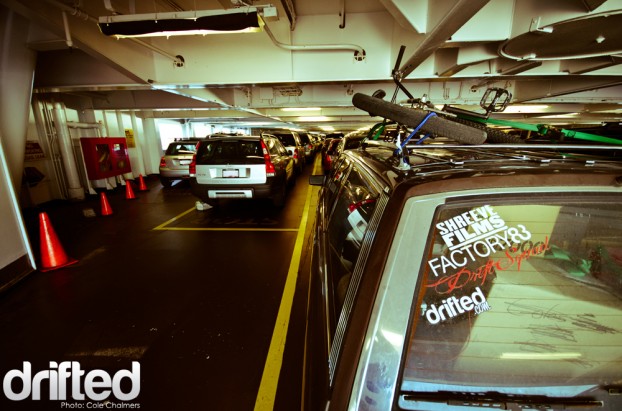 After my long overdue trip to the Victoria, and an incredibly fun weekend, some chance circumstances came to fruition. A week later I had my entire life packed into my Cressida wagon and I was back on that ferry. The Island was calling me, I had to answer! Expect to see a lot more media from an area that truly deserves more of it and if you see the brown wagon cruisin' around be sure to give me a wave!