GRASSROOTS: Drift Union's: D-Day 12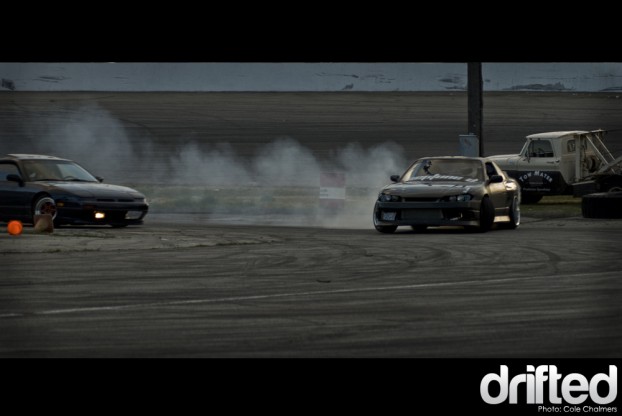 The past four D-Days at Penticton Speedway were nothing but sunshine and hot weather, and this past weekend I expected nothing less. Remembering my terrible sun burn from D-Day 11, I lathered up in sun-screen. Thinking of the beating heat from the relentless sun, I dressed lightly in shorts and a white basketball jersey. I walked out my front door, camera gear in hand, and only spotted a few clouds. At the time, I thought little of them… but I was in for a chilly day. The action on the track, however, was far from cold! Let's get right into it!
Jack Connelly ripped in his JDM Toyota Cresta.
D-Day is an open drift event organized by Shawn Browne of www.DriftUnion.com. The laid back days at Penticton Speedway attract drivers from all round Canada's west coast. Local drivers all try to make it out to at least watch if they can't participate, a large group of guys from the coast make a regular appearance, a few die-hards that make the journey from Vancouver Island, and on this D-Day we had our first out-of-province guests, Jack Connelly and Eric Zapada from Alberta.
Jack's teammate Eric Zapada was also charging in his SR20 powered 240sx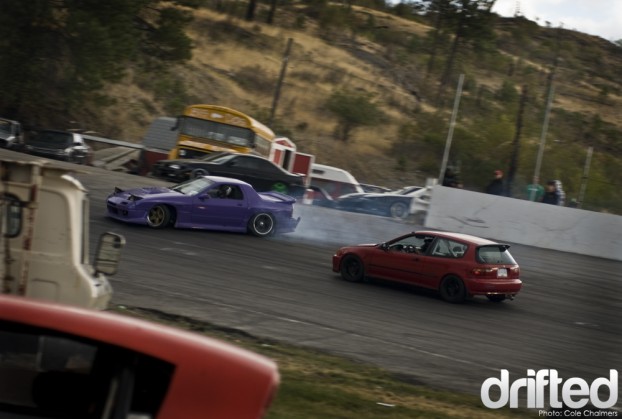 Shawn was missing his usual purple partner in crime, Logan Noel and his Subaru Legacy, due to Logan taking off to show his momma some love for her birthday. But that didn't stop him from getting some solid tandem time in… but wait? What is he tandeming with up there? Could that Civic be rear wheel drive?
While we do have one rwd converted Honda in town, the answer is no. But equally as awesome, Shane Jensen loaded his supercharged Civic up with Go-Pro camera's all day and chased the drifter's around the track. No stranger to door to door racing, Shane was getting really – REALLY close to the other cars. His fearless and skilled driving should make for some epic footage.
While Logan's purple tire eater was MIA, another stepped up to tire munching duty. Ryan Watson's freshly painted AE86 is powered by a blacktop SR20DET Nissan motor, installed by Limit Factory. Ryan is a recent addition to the Drift Union roster and was lighting tires up with ease with his SR86. I'm pretty sure that paint has speed ripples in it now from the drive to the track, it was painted the night before.
"I'm on a boat!" lol.
Our Aussie import, Steve Thompson, from OZ Designs was back out on the track with his 2JZ'd Soarer after snapping his rear-upper control arm last weekend at Pacific Grand Prix. While the Soarer held it's own in the tight corners of PGP, it definitely looked more at home in an open track where it had lots of room to get some nice long smokey slides.
Pete Schroeder was shredding consistently all day in his S13.5
When Kohei Nakamura hits the track there's sure to be a smoke out!
Ramsay Trew's FC looks like it could eat more than just tires!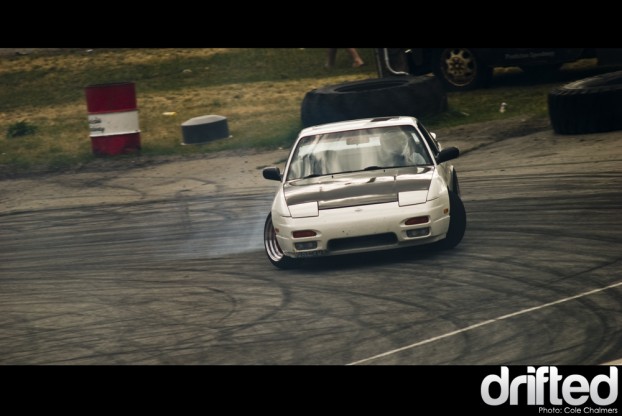 Throughout the day Shawn had come up with a few awards, some legit and some funny. One of those legit ones was the "Dedication Award" that went to Nick Oldford in his white 240 coupe, who has made the expensive trip from the Island multiple times.  His prize was an Ed Hardy air freshener "so he could smell nice on those long drives to and from Victoria". On the other end, Kohei got stuck with the granny panties for showing up late haha.
Lookin' good Kohei!
I built a mount for my camera on the front of my beater daily to try out some chase camera action. The end result was cool, but needs to be refined for sure. Slower shutter speeds and I need to get way closer. I decided to follow Court Souder around the track to test it out, thinking in my head that a Toyota Cressida should be able to keep up with a 4AGE.
Apparently that's not the case with 25 year old saggy suspension rolling me around, on top of that, Court pushes his corolla to the limit 24/7. So after 3 laps trying to chase Court down I decided there was no way I was going to keep up with anybody and went back to shooting on solid ground.
Until next time, Pink Flamingo…
As the day was coming to a close, it was becoming pretty apparent that the flamingo was going to survive until next season, though Cody Ross was trying  his hardest to make that thing pop!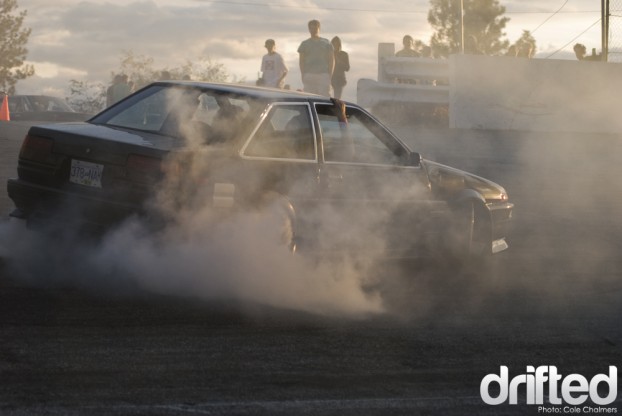 The driving was finished off by a big smokey burnout by a carbon-fiber covered corolla coupe (hows that for alliteration?). As the smoke wofted into the evening air, the sun finally broke through the clouds and made for an almost heavenly lighting.
Shawn had decided that the top drivers of the day were to be chosen by their manliness. In 3rd place, for making the manly drive from Alberta, Jack and Eric. Round out the middle in second, was Kohei, as he drove like a man and was allowed to remove his granny panties by doing so. The manliest drive of the day went to Cody Ross, for sending it, charging hard, driving gnarly, and being a man!! Cody always throws down hard every time he hits up Penticton and is a treat to watch! The winners received 'man shirts' and healthy dose of champagne for their manly efforts.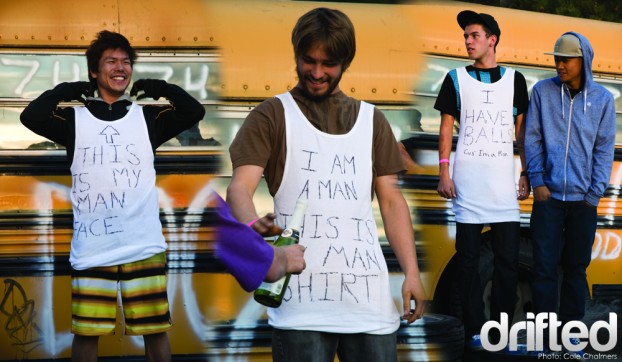 Well I'm pretty sure that's it for Penticton and D-Day's this year, so I'm going to have to start making some trips to get my content. I can't wait until D-Day 13, though, for another bro-down. Days like these are worth waiting all winter for…