GRASSROOTS: Evergreen Drift School 2011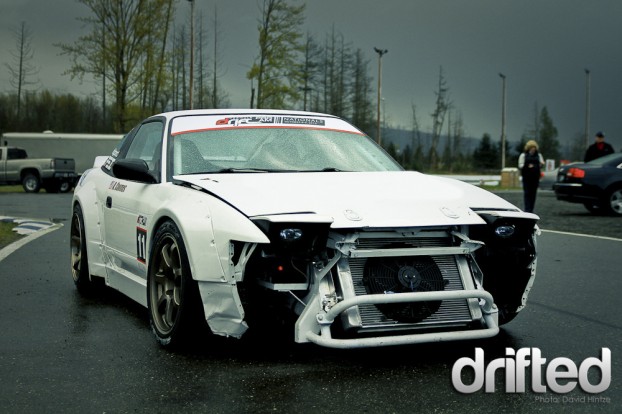 Every year Evergreen Speedway puts on a drift school to help drivers new to the sport get their cars as slideways as possible. The day started out rainy and kinda sloggy, but made for this great photo of Pro Am driver Andrew Coomes. Some pro drivers and well known faces were the teachers for the day, instructing the new faces during the day. Check out the below video for a sneak peak of the action as drivers progressed throughout the day.
Pictures above is Wyatt Sloan who is one of our local Pro Am drivers. I had a chance to meet him recently at an open drift event, and experienced first hand his skill behind the wheel. Unfortunately rainy conditions and slick tracks were the culprit behind an unfortunate crash, to be talked about in a future article. But let me say, I now know what going 40mph into a concrete wall feels like.
Here's Andrew Larson's 350Z (Tank). The student who rode along with him may have been in for more than he bargained for when Andrew went off the bank for a little hill sliding. By far one of my favorite cars to watch around the track.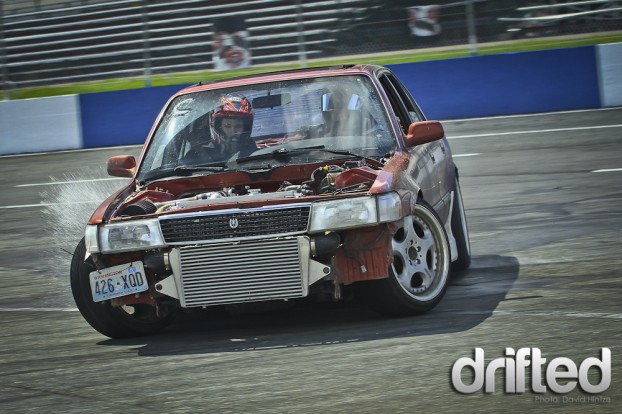 Featured above is Galen Callahan and his instructor Brad Elder. I wont say who's actually driving, but both guys have really gotten it down faster than many others. Check out the last bit of water being thrown up as the day finally became sunny enough to start drying out the track.
Here's Galen on the 3/8ths bank totally cool and unnerved. By this time in the afternoon the sun had pretty much dried off all the track and is was to his benefit as he was tearing it up!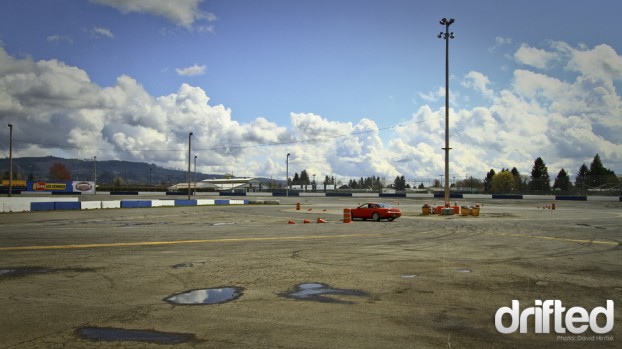 The track course was reversed for the beginners at first and later during the day drivers were allowed to try the 3/8th bank and come around the right side of that light pole and continue on to turns 3 and 4.
While I never caught this drivers name it was fun to watch him slide around the track, getting more sideways than a lot of the other drivers.
Even the driver of this Ford Mustang was able to get his slide on and while he may have spent more time at the beginning of the day getting figure 8's down, by the end of the day he was looking good, and feeling comfortable about it to, thanks to a nice leather seat interior that I got to sit down and relax in for a bit while he did some practice donuts.
You can check out the full gallery at the below link:
http://www.GwagDesigns.com/driftschool2011