GRASSROOTS: Tennessee Drift Practice Day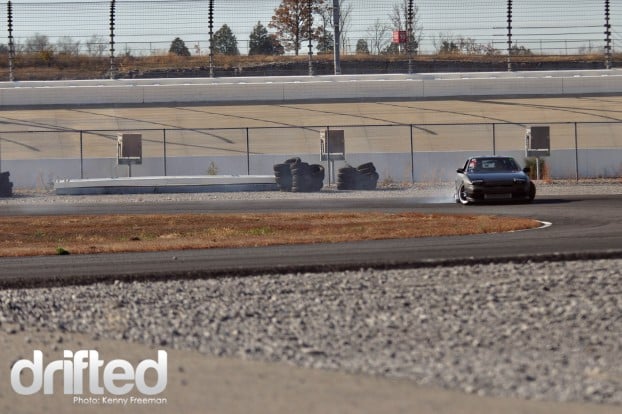 Nashville Super Speedway, Nashville Tennessee.
What a great track, for only about a five hour drive from me in Atlanta Georgia. NSS is a Nascar type track that will pit drivers at around 100+ mph entries into the first turn. In fact there were 3 drivers that I know of that hit over a 100mph entry several times. The best of the day was Sammy in his Tiger Racing S13 vert doing a insane 118 mph!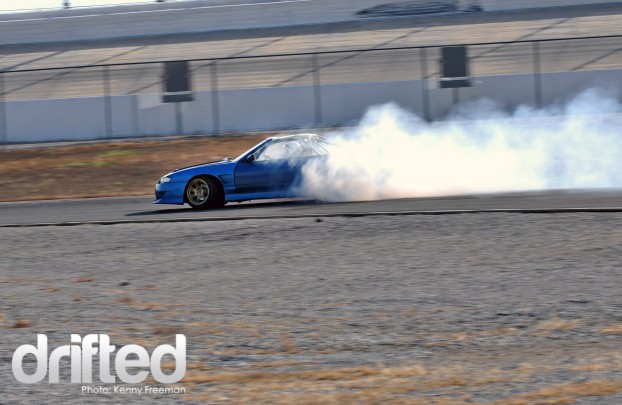 The weekend started the night before with The Turbo Dave crew, or know as Team Ginger Beard, watching them all at the shop getting everything ready to get on the road. At around 4pm Dave was actually just putting his engine in his Datsun "The General" Drift Truck. Unfortunately by the time we were packed and loading up Dave was just getting the headers in place and kicking us out the door.  So we headed to the track without Dave, towing just Sean Morgan with his S13 and Harrison Ritchie with his Celica.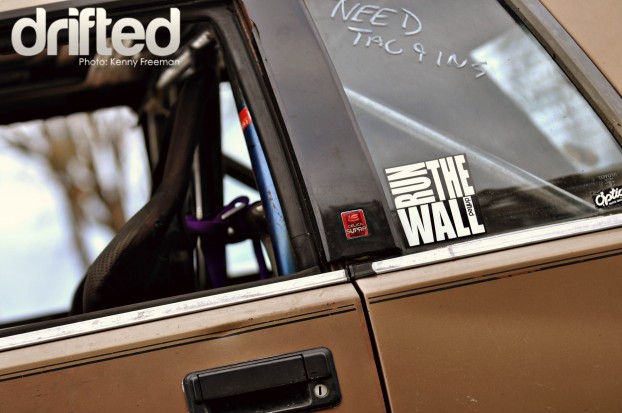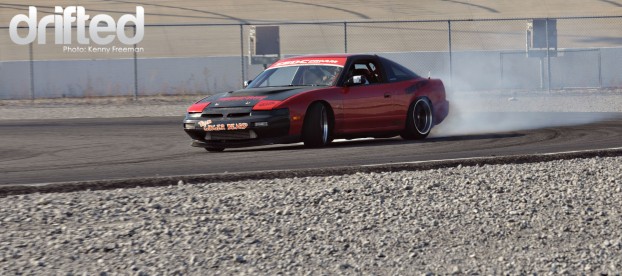 By the time morning came we were too pumped to be tired. So grabbing some breakfast and a few energy drinks we headed to the track. The day was just a practice day so there were only 15 spots open to the first people to register. That made it so anyone could come out if they signed up and they could run as many laps as their tires could handle.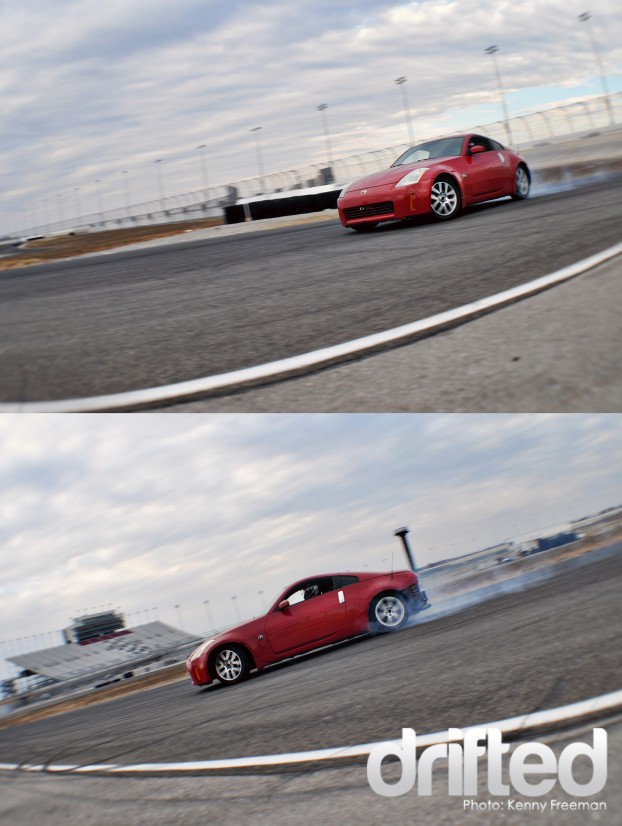 Beginners to seasoned regulars were out at the track.  Sammy, Sean and Harrison were all getting some great angles and keeping some very tight lines.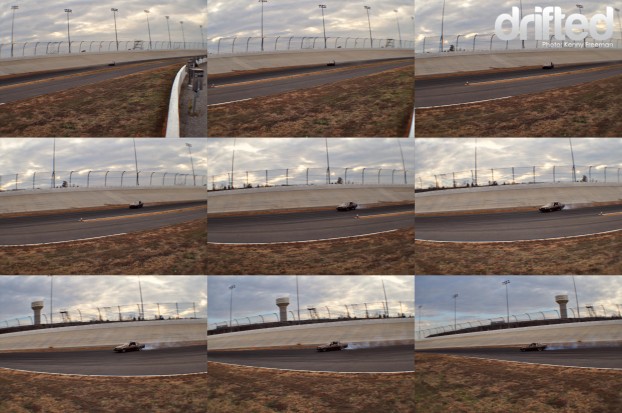 The first long stretch was the obstacle of the day, guys ended up in the dirt all day. Some just trying to conquer this turn, like Harrison above. This guy made about 10 passes on this one turn to get it perfect before he even thought about the rest of the track. Once he got the perfect drift, then he slid into the other turns. One of his best runs was caught on the Go Pro and is in the video posted at the end of this post.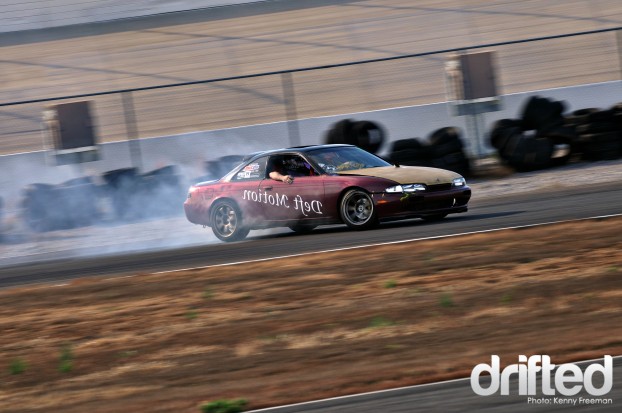 First time ever seeing this guy, Josh Murphy and his S14 looked great out on the track, drifting some beautiful lines and being consistent.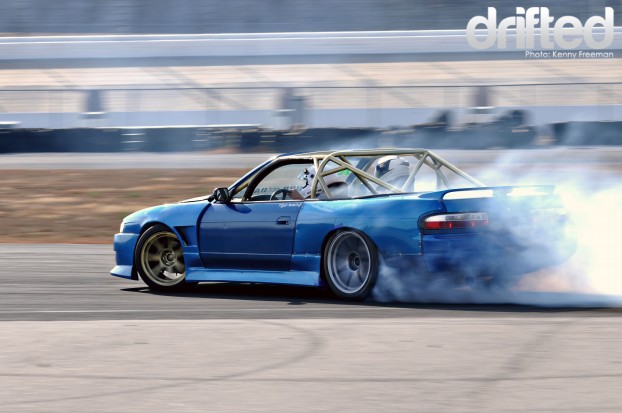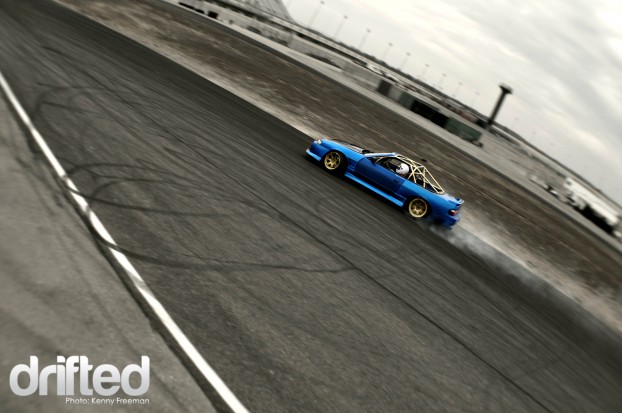 Sammy tearing it up all day in his S13 vert. Riding with 2 of the guys that day, Sammy being one of them and also the only one that has ever made me kinda sick to my stomach after the joy ride.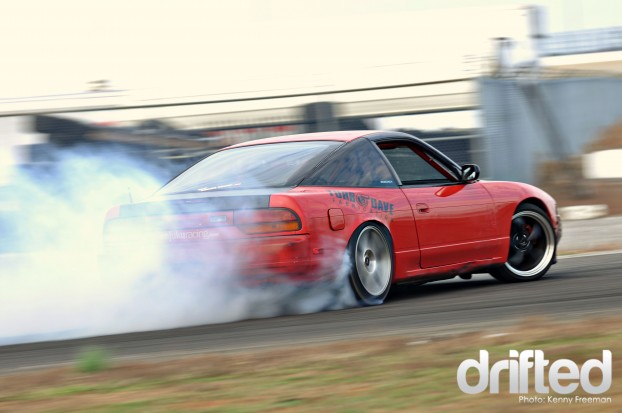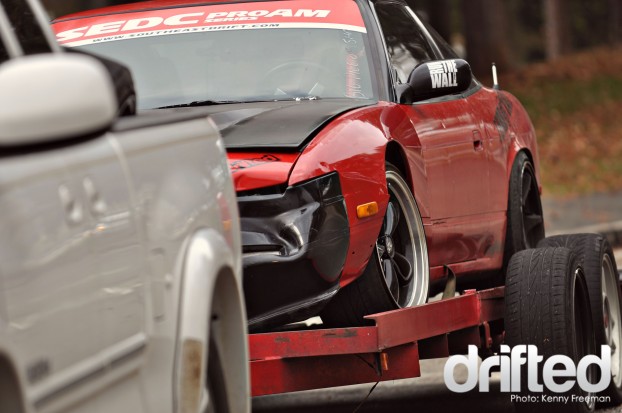 Sean Morgan, was one of the most insane drivers on the track. Sean was out on the track all day long and going through tires like crazy. He even took a chance to chase down a truck with me in the back of it , strapped down to a racing seat. Sean and Josh both went hard all the way to the last turn. Unfortunately Josh lost control and spun around into Sean, hitting each other head on. To make him happy, Sean declared "ITS NOT MY FAULT" after it was all done.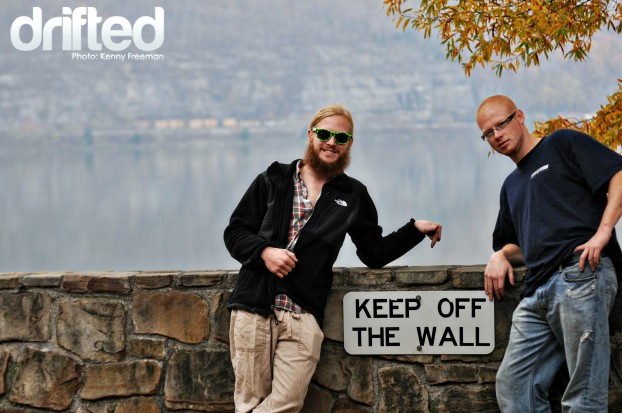 Harrison on the left, Sean on the right. Just a side note. Harrison was one of the first guys to get a RUN THE WALL sticker from me. That night at a drift practice day, Harrison actually RAN THE WALL and totalled out his car.  When I saw the sticker on his new Celica he ran at this event I asked his where did he get another sticker from. He told me that he liked it so much that he ended up peeling it off his old car and put it on his Celica. It lives to scrape another day!
Please check out my website and Flickr account, also go and be a fan of my Facebook page.
Thanks Kenny Freeman