JDM Allstars 2010 Round 1 – Manchester
I rolled into Manchester via the delightful UK rail network mid-way through Saturday's qualifying session. It was a tough decision whether to blast my FC3S the 140-odd miles north to catch this opening round of JDM Allstars 2010 or relax on the train on the way up. Going by how I feel now, I"m glad I chose the latter!
I was picked up from the station by BDC commentator Paul Mott who gave me the run down on how qualifying was going. Local lad Anthony 'Google' Cahill was apparently on fire and nailing the track time and time again! As we pulled off the M60 we were greeted by a haze of smoke near the enormous Trafford Centre (part tyre-smoke/part Icelandic volcano fall-out?!) and the sight of the mammoth track JDM had set up in the overflow carpark below us.
The runs were just finishing up for the day so I milled around the pits, grabbed some shots and caught up with some of the drivers before retiring for a (not so) light evening's socialising with Team Japspeed.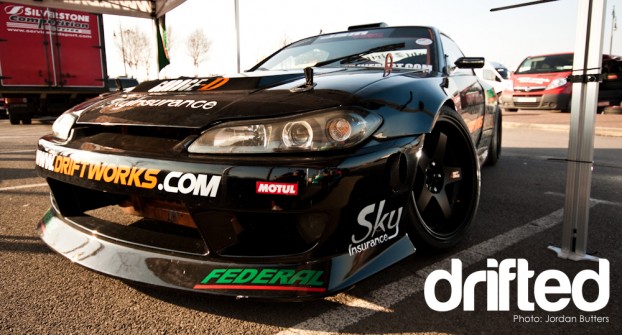 Driftworks' Phil Morrison has just overhauled his 2JZ S15 with a fresh 'street style' look for 2010. Ditching the Do-Luck Double Six wheels (partly due to damage at BDC R1) in favour of Rota's new 18x10J/18x12J (!) GTR-D wheels in matt black and opting for a nice D-Max rear lip/roof spoiler combo has given the car a completely different look. It looks more angry than ever, if thats possible!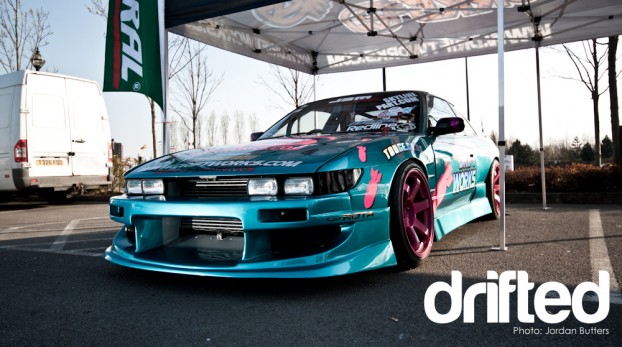 Dan Chapman's PS13 was parked up next door, sporting hot pink wheels and new 'POW!POW!POW!' graphics, this is definitely my favourite look so far for this car! Dan drives the car hard and was giving the rear clipping points a beating all day long.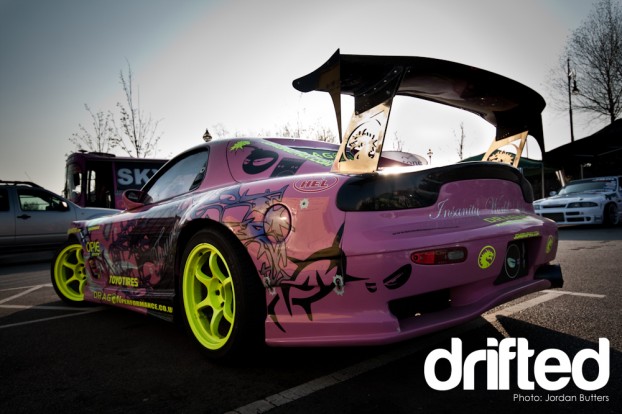 The Dragon Performance FD3S looked equally as lairy sat in the pits as the sun went down over Manchester.
Alan McCord's LS2 engine'd S15 sounded UNREAL. I had previously thought BDC driver Matt House's LS3 FD3S was the best sounding drift car, but the S15 takes the ticket. The ground shook when Alan pressed the loud pedal.
So Sunday morning came around far too soon and bleary-eyed we made our way to the track again. Everyone at Team Japspeed was keen to get to work on Shane Lynch's newly-transplanted twin-turbo V8 S15, as it had developed running problems the day before, when it was due out on it's maiden voyage.
How mean does this look from the front?! The engine is now a VH45DE running twin turbos. It produces a modest 490bhp and a not-so modest 600lb/ft torque!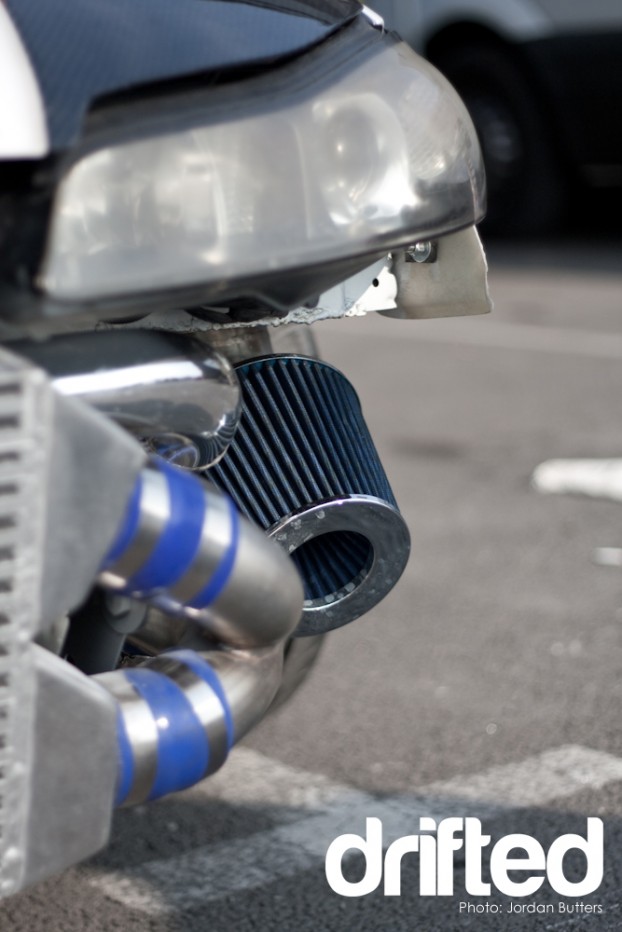 I think Japspeed should run with no bumper by law, the fabrication and workmanship is too good to hide!
Team Japspeed driver Danny Eyles watches on in anticipation as the team try and solve the problems!
Driftworks' Ben "Bon Bon' Broke-Smith had arrived in his freshly-aligned, freshly mapped 1JZ R32. The R32 has recently been the subject of ALOT of suspension development work, allowing them to use the Driftworks HSD CS2 S14 front suspension components on the car. Yes, that meant converting from a double wishbone set up to MacPherson struts. A world first?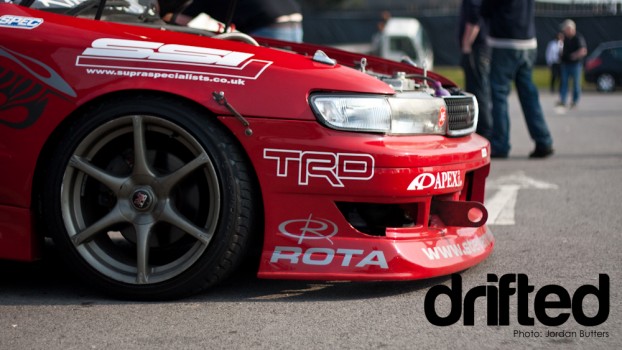 This Chaser was rumoured to be running BIG power, and the driver sure loved to use the Bee-R Rev Limiter.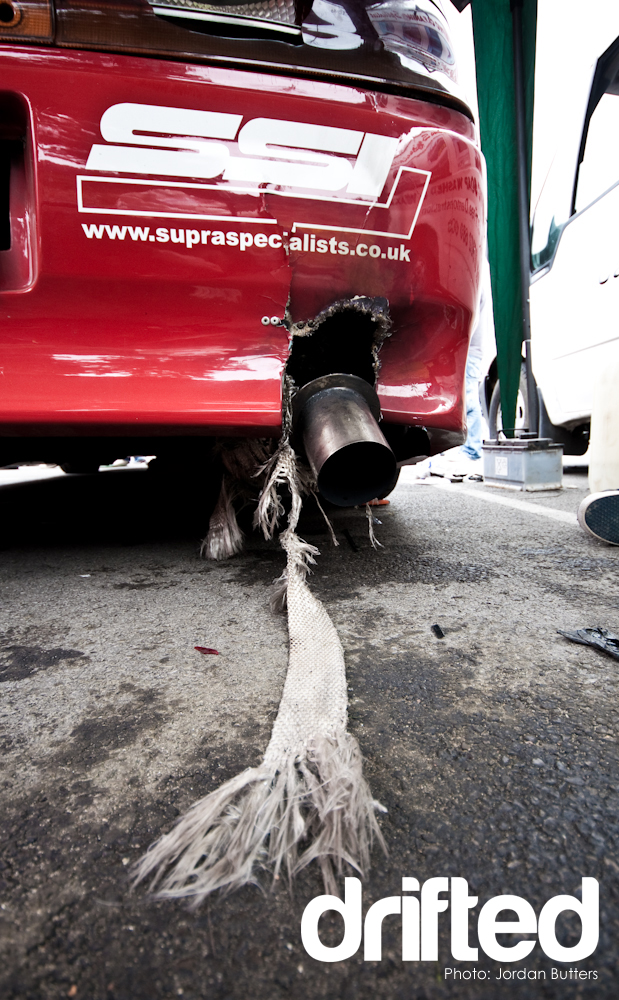 In fact, he blew the back-box on the car clean to bits, it was SO loud.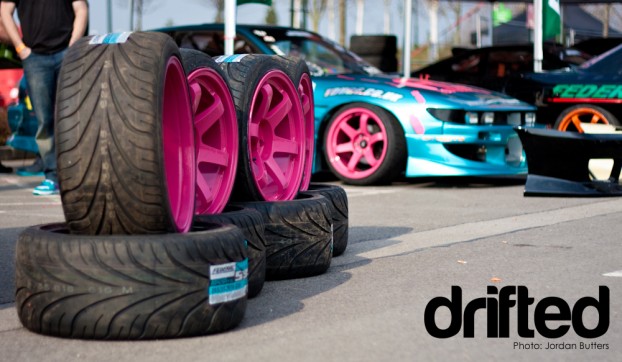 Dan Chapman's spare wheels wrapped in Federal tyres sit ready to be strapped on for some abuse.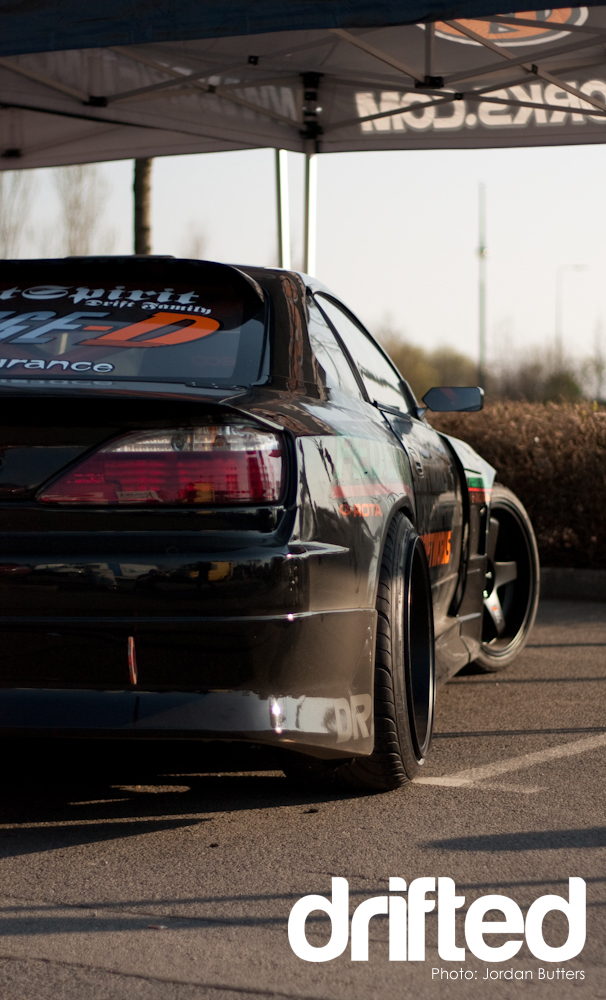 Phil's day was sadly to be cut short due to a clutch problem, the Driftworks team spent most of the afternoon under the car trying to fix it, but to no avail unfortunately.
Manchester local Ant Cahill's rear bumper, representing drifted.com after some rear clipping point abuse!
This turbo'd E36 was running 800bhp! It had crazy lock and the driver crazy skills. He seemed the struggle in the competition but was doing some of the day's best drifting during the demo and passenger ride intervals. So fast.
During the twin battles there were a handful of drivers who stood out from the start. Dan Chapman and Luke Fink had some of the most INSANE twin battles I have ever seen, rubbing wing mirrors at one point! Ant 'Google' Cahill put in some solid and consistent driving and knocked out Prodrift driver Martin Ffrench, Anthony had the crowd behind him all day and didn't stop smiling! John Calvert was driving BDC driver Ian Phillips' R33 Skyline and was unbelievably accurate all weekend, and also provided the crowd with some of the most aggressive initiations they'd ever seen. Finally Mark 'Buff' Luney put on a smoke-screen in the BN-kitted Supra, getting super close to the clips but not once hitting them – thats a measure of skill!
If you haven't already, check out our Facebook Fan Page for the run-down of today's action. The final results were –
John Calvert
Mark Luney
Dan Chapman
Luke Fink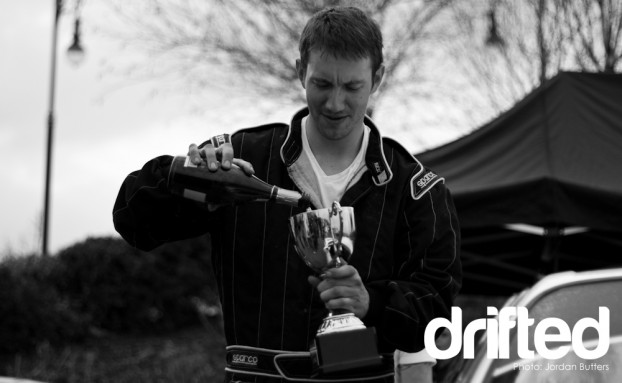 Team Sunset's Jon Calvert celebrates his victory at JDM Allstars Round 1.